Tag: dance
.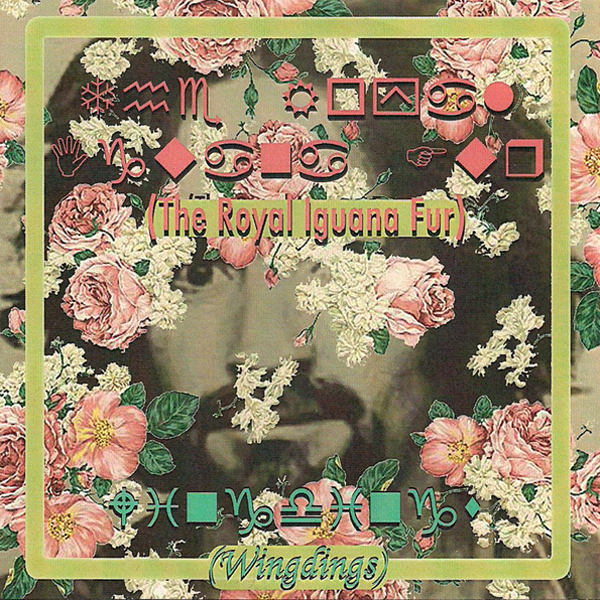 The Royal Iguana Fur
Wingdings
Edmonton, AB
From the Heinz creek of Jesse Locke:
These bed-headed blasts from the Royal Iguana Fur carry on the hazy humour and culture jam damage of R. Stevie Moore, Ariel Pink or Greydyn H. Wolfcow. Opening your album with a riff on The Mickey Mouse Club is every bit as cracked as covering the theme from Andy Griffith, and Wingdings continues its wriggle through decades of pop culture detritus. From Ouija boards to Easy Bake ovens, Devo to Pinterest, a soda shop tribute to Satan to the creeper on the cover, no schlock is left unturned.
Du ruisseau Heinz de Jesse Locke:
(Traduit par Andreanne Dion)
Ces explosions aux cheveux ébouriffés de Royal Iguana Fur poursuivent l'humour flou et les détournements culturels de R. Stevie Moore, Ariel Pink ou Greydyn H. Wolfcow. Commencer un album en improvisant sur The Mickey Mouse Club est tout aussi dingue que de faire un cover de la chanson thème d'Andy Griffith, et l'album Wingdings continue à se tordre à travers des décennies de détritus tirés de la culture populaire. Du Ouija aux fours Easy-Bake, de Devo à Pinterest, de l'hommage bonbon à Satan à l'homme louche sur la couverture, tout y est.
The Royal Iguana Fur – Synth Summer Fun (Play With Guns)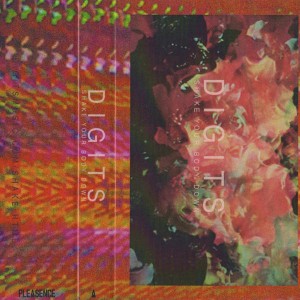 Digits
Shake Your Body Down
Toronto, ON
From the polyphonic pen of Ryan Warner:
Armed with Moroder-style synths and a penchant for high drama, Digits' latest mixtape Shake Your Body Down seduces listeners into a sensual realm of disco paranoia. The tape offers a smorgasbord of original tunes, remixes, reworkings and collaborations with Toronto's Doomsquad and Digits side-project Bad Passion. The music here is texturally rich, deeply saturated and full of attention grabbing sonics (no doubt due to Alt Altman's Artscape residency). However, it isn't studio wizardry that makes this tape intoxicating; the high quality of songwriting and deft arrangements keep it on steady loop.
Du stylo polyphonique de Ryan Warner:
(Traduit par la richesse musicale de Julie Forget)
Armé de synthés de style Moroder et d'un penchant pour le grand drame, le dernier mixtape de Digits, Shake Your Body Down, entraîne les auditeurs dans un royaume sensuel de paranoïa disco. La cassette offre une panoplie de chansons originales, de remixes, de reprises et de collaborations avec Doomsquad, de Toronto, et avec le projet parallèle de Digits, Bad Passion. La musique est riche en textures, profondément saturée et remplie de sons attirant l'attention (sans doute grâce à la résidence d'Alt Altman à l'Artscape). Toutefois, ce n'est pas la magie du studio qui rend cette cassette enivrante; la grande qualité de la composition des chansons et les arrangements habiles maintiennent sa complète harmonie.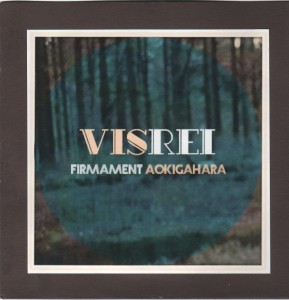 Visrei
Firmament / Aokigahara
(Self Released)
Montréal, QC
From the dreaming heart of AnneMarie Papillon:
(Translated by AnneMarie Papillon)
Take a deep, cleansing breath and exhale all your worries, far from the scholarly chaos, far from the 9 to 5. Take a break from the uncontrollable speed with an alternative pace, full of contemplative electronica and urgent beats. A defiance to surrender, Visrei might be the sheer personification of escape. It's both an element of and a remedy to this rapid melancholy of our hearts constantly dreaming of an easier, slower life. In this place, our eyes linger longer at the majesty of the night sky, illuminated with sincerity.
Du coeur rempli d'étoiles d'AnneMarie Papillon:
Prenez une grande inspiration restauratrice, puis expirez tous vos soucis, loin du chaos estudiantin, loin du 9 à 5. Accordez-vous une pause loin du mouvement effréné pour prendre le temps de contempler les mélodies électroniques et les rythmes fébriles. Ennemi de l'abdication, Visrei incarne l'évasion même. Partie intégrante de cette fièvreuse mélancolie qui fait battre nos coeurs perpétuellement en quête d'une vie plus facile, plus lente, il en est également le remède. Une vie où nos yeux peuvent s'attarder plus longuement sur la majesté d'un ciel étoilé, illuminé de sincérité.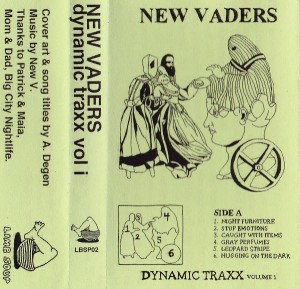 New Vaders
Dynamic Traxx Vol. 1
Vancouver, BC
From the sparkling caverns of Penny Clark:
The tape presents its songs in fragments, as if each were its own dream. Low, isolated notes take quick, staccato steps underneath a sun-streaked sky made of expansive chords and chirping melodies. Prismatic lines of sound intertwine with each other to create music that is complexly geometrical. Tom Whalen has consistently proven himself as a uniquely talented songwriter and a master of evocative harmonics. With his New Vaders project, he sends the listener through deep, sparkling caverns, into phosphorescent dust storms, across desolate moons and velvet icy space.
Des cavernes scintillantes de Penny Clark:
(Traduit par la résonance orbitale de Catherine Gaucher)
Cet enregistrement présente des chansons en fragments, comme si elles étaient chacune leur propre rêve. Des notes basses et isolées avancent rapidement en staccato sous un ciel strié de soleil fait d'accords vastes et de mélodies stridulantes. Des lignes prismiques de sons s'entrelacent pour créer une musique géométriquement complexe. Tom Whalen s'est toujours avéré être un auteur-compositeur exceptionnellement doué et un maître des harmonies évocatrices. Avec son projet New Vaders, il transporte l'auditeur à l'intérieur de profondes et scintillantes cavernes, dans de phosphorescentes tempêtes de sable, à travers des lunes sombres et dans la froideur d'un espace de velours.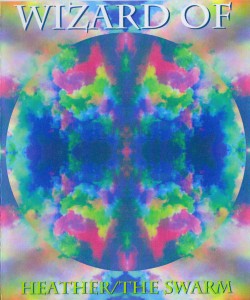 Wizard Of
Heather / The Swarm
(Inyrdisk)
Toronto, ON
From the caffeine rush of Catherine Debard:
(Translated by Catherine Debard)
Ravers from a new era unite and bounce to Wizard Of's multicoloured spells. Loud hip-hop flavored basslines are syncopated at the speed of sound. His music fits perfectly in today's revival (or let's say re-work) of the almost forgotten (and truly exciting) world of IDM. Breakbeat, broken beat, acid dreams, running fast (runlolarun), breathless videogame heartbeats, psychedelic handbang, hardcore electronica, braindance revolution. The dark experimental side of dance music is mesmerizing, dangerously catchy, and meaty like a rare steak. Wizard Of expends the "techno" frontiers into the realms of $wag beats, deep samplin' and never lets you take a break. Gotta fight like high-speed positive warriors, dance like there's no future, create magic.
Du tremblement cafféiné de Catherine Debard:
Ravers d'une ère nouvelle, unissez-vous et déchaînez-vous sur les incantations multicolores de Wizard Of. De lourdes lignes de basse saveur hip hop sont syncopées à la vitesse du son. Sa musique s'inscrit assurément dans le regain actuel (ou plutôt la réappropriation) du monde presque oublié (et extrêmement excitant) de l'IDM. Breakbeat, rythme brisé, rêves acides, courir en malade (courslolacours), à bout de souffle, rythme cardiaque jeux vidéos, psychédélique headbang, hardcore électronica, braindance révolution. Le côté obscur expérimental du mouvement dance est dangereusement aguichant, consistant comme un bon steak bleu. Wizard Of repousse les frontières de la musique techno dans le royaume du $wag Beats et du sampling profond et vous garde captifs, en sueurs, tout le long de cet album. Il faut se battre en guerriers positifs, danser sans lendemain et créer la magie.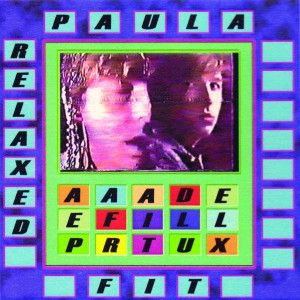 Paula
Relaxed Fit
Montréal, QC
From the blue sunrise of Simon Frank:
More than a year after it was released online, Paula's Relaxed Fit hits the vinyl big time. In the meantime, Tops guitarist David V. Carriere's alter ego has helped me soundtrack 12-hour bus rides, poured out of roommates' speakers during exam season, and made it to the playlist at a party or two. Relaxed Fit is a high-quality collection of semi-electronic, hyper-positive pop miniatures. Punchy drum machines, synth hooks, and cut-up processed guitars set up meaningless/meaningful, melancholic/euphoric lyrics. Even Cadence Weapon stops by for a guest verse, and on "Totally Nice" (one of two previously unreleased tracks) most of the chorus is just "ecstasy!" shouted out. So only one question remains: when we will get the Prime Cuts 12"?
American dreamers: David Carriere from Paula is currently on tour with his other band TOPS. They're playing shows with Sean Nicholas Savage and King Krule. See the Arbutus Records page for more info!
Du lever de soleil bleu de Simon Frank:
(Traduit de l'aube azur de Catherine Gaucher)
Plus d'un an après sa sortie en ligne, Relaxed Fit de Paula nous frappe de plein fouet en vinyle. Entre-temps, l'alter ego de David V. Carriere, guitariste de Tops, m'a déjà fourni la bande sonore pour mes interminables périples d'autobus, a joué dans les haut-parleurs de mes colocs durant les fins de session et s'est immiscé dans une fête ou deux. Semi-électronique et ultra-positif, Relaxed Fit est une brillante collection de miniatures pop. De percutantes boîtes à rythmes, des synthés entraînants et des collages de guitares modulées mettent la table pour des paroles insignifiantes/signifiantes, mélancoliques/euphoriques. Même Cadence Weapon s'invite le temps d'un couplet, tandis que le refrain de «Totally Nice!» (l'un des deux titres précédemment inédits) est un pur cri d'« extase! ». Une seule question demeure : quand aurons-nous droit au 12 pouces de Prime Cuts?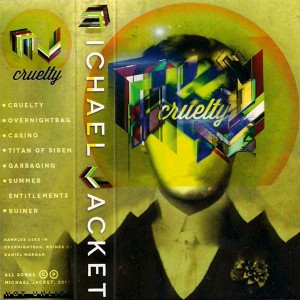 Michael Jacket
Cruelty
Toronto, ON
From the speed read of James Lindsay:
The man behind the signature industrial-punk beats of Odonis Odonis and THIGHS takes a speed read from the IDM codex that leaves you breathless and wanting more. These brief tracks make it possible to discuss Skinny Puppy and Autechre in the same breath, all while sipping whiskey and thinking abut new things to do in the intersections. Consider this cassette alongside likeminded releases from Toronto percussionists Sexy Merlin, Petra Glynt and Mas Aya, and an interesting trend towards the cerebral dance floor begins to emerge.
De la lecture rapide de James Lindsay:
(Traduit par Jacinthe Laplante)
L'homme derrière le rythme punk-industriel emblématique d'Odonis Odonis et de THIGHS fait une lecture rapide du codex IDM qui vous laisse à bout de souffle et en demandant davantage. Ces courtes pistes permettent d'évoquer Skinny Puppy et Autechre du même souffle, tout en dégustant un whiskey et en pensant aux nouvelles choses à faire aux intersections. Il faut considérer cette cassette dans la même ligne de pensée que celles produites par les percussionnistes torontois Sexy Merlin, Petra Glynt et Mas Aya, et une tendance fascinante se met à apparaître près du plancher de danse cérébral.
Michael Jacket – Summer Entitlement
Everyday Marvels
Toronto, ON
From Jenya Doudareva:
What about a table? You put your food, your papers and your computer on it. Sometimes your feet go on it. Hot tea gets spilled. A sticky unidentified stain. Dust, fingerprints, dents. The table is specifically designed to carry weight while allowing you to sit comfortably with your legs underneath it. Have you ever thought about how cool that is? Everyday Marvels has.
Sometimes one art form spills into another and they begin a strange symbiosis. A playful written meditation about everyday objects has found its way into experimental contemporary dance and together they exposed the souls of bicycles, doorknobs, midnight news, mirrors, radiators, brains, tables… People and their voices and their emotions became objects. Objects, in turn, became sentient. Every day we use and abuse so many things that were made by our own hands that it's strikingly easy to forget that they were ever special.
Everyday Marvels is honouring the bicycle. While a warm voice is reciting an ode to this simple creation, the three riders are ecstatic to be able to rush freely down the countryside, wind messing with their hair, insects buzzing by. The physicality of riding a bicycle is intoxicating – the burn in your thighs, pounding heart, balance. The riders are falling in love, laughing, talking – you learn these things once and you never forget how to do them. Just like riding a bicycle.
Honouring our brain. Electronic components, wires, typing on a blue luminous jelly and projecting that text onto a large black screen. While strange mechanical sounds are filling the space, the competing white-robed embodiments of thoughts get engaged into an intricate dance, their interaction at times hostile, at times cooperative. They are pushing each other away as they try to create a coherent mental picture. Meanwhile, the host of the brain seems oblivious to all the commotion around it, she is immobile and peaceful. The fact that humans even have a conscience and self-awareness is almost absurd, given how much chemical machinery has to interact just perfectly.
Everyday Marvels made me think about a table – it is actually marvellous that millennia ago humans have crafted this object that has a very specific purpose. Just like the dancer viscerally sinks his fingers into the thigh of his partner, so does a craftsman sink his saw into the flesh of a tree. Though the process is violent, the finished product is functional and beautiful. In the age of delirious consumerism, it's refreshing to be reminded that objects are made by people. Even if they are disposable – objects that we create are us.
Écrit par Jenya Doudareva:
(Traduit par Alexandre Allouch-Micati)
Qu'y a-t-il à dire au sujet d'une table ? Vous y déposez vos plats, vos papiers ou même votre ordinateur. Parfois, vous y posez les pieds. Du thé chaud s'y renverse. Une tache non identifiée et collante. De la poussière, des traces de doigts, quelques bosses. La table est toute désignée pour porter un poids, tout en vous permettant de vous asseoir confortablement, les pieds en dessous. Avez-vous déjà pensé, ne serait-ce qu'un instant, à l'importance de la table ? Si non, Everyday Marvels l'a fait pour vous.
Une forme d'art fusionne parfois avec une autre, donnant naissance à une symbiose étrange. Une médiation joyeuse écrite au sujet d'objets de tous les jours s'est ainsi retrouvée dans un numéro de danse contemporaine. Ces deux formes d'art jettent la lumière sur l'âme des bicyclettes, des poignées de portes, des nouvelles de minuit, des miroirs, des radiateurs, des cerveaux et des tables. Les gens, leurs voix et leurs émotions deviennent des objets, qui à leur tour, deviennent conscients. Tous les jours, nous utilisons et abusons tellement d'objets faits de nos propres mains qu'il est très facile d'oublier leur caractère spécial.
Everyday Marvels honore la bicyclette. Alors qu'une voix chaude récite une ode à cette création simple, les trois promeneurs sont fous de joie à l'idée de pouvoir se balader librement sur une route de campagne, le vent ébouriffant leurs cheveux, les insectes volant autour d'eux. La réalité physique découlant de la bicyclette est intoxicante : les brûlures dans vos cuisses, votre cœur battant, votre équilibre. Les promeneurs tombent amoureux, rient, parlent. Vous apprenez ces choses une seule fois et elles restent ancrées dans votre mémoire. Un peu comme la bicyclette.
Un hommage au cerveau. Des composantes électroniques, des fils, des lettres tapées sur une gelée lumineuse bleue et la projection du texte sur un grand écran noir. Alors que des sons mécaniques étranges envahissent l'espace, les représentations des pensées, vêtues d'une robe blanche et se faisant concurrence, dansent de façon complexe. Leur interaction est parfois hostile, parfois coopératrice. Elles se poussent mutuellement, tentant de créer une image mentale cohérente. Pendant ce temps, l'hôtesse du cerveau ne semble pas voir l'agitation qui se déroule autour d'elle. Elle est immobile et calme. Que les humains aient une conscience et une connaissance de soi est presque absurde considérant à quel point la machinerie chimique doit interagir à la perfection.
Everyday Marvels m'a fait penser à une table. C'est tout à fait merveilleux de penser que les humains ont conçu cet objet unique dans un but spécifique il y a des millénaires. Tel un danseur coulant ses doigts sur la cuisse de son partenaire, l'artisan plonge sa scie dans la chair de l'arbre. Bien que le processus soit violent, le produit fini est fonctionnel et beau. En cette ère de consommation à outrance délirante, il est rafraîchissant de se remémorer que les objets sont conçus par des humains. Même s'ils sont jetables – nous sommes les objets que nous créons.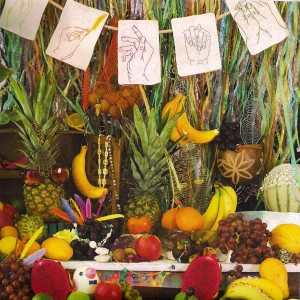 Various Artists
F R U I T S
Toronto, ON
From the Carmen Miranda rights of Jesse Locke:
This platter flows over with a prismatic array of bodacious sounds and mixed mood-inducers from Toronto's female class of fall 2013. The nine exclusive tunes include Isla Craig's soft shimmer, Bile Sister wave-dancing in her rave cave, and a freshly bucked 'n' blended devotional banger from Tenderness. The righteous Lido Pimienta leads the charge with martial snares and multi-tracked vocals that could summon the revolution, while the all-powerful Petra Glynt booms through a blacklit underground opera hall. Grip this disc quick and get a bonus baggie of bath salts from the krautrock-inspired scents of Spa Kosmische.
D'après les droits Carmen Miranda de Jesse Locke:
(Traduit dans un rythme tordant de Dominic MPILÉ)
Ce disque résonne de façon remarquable au moyen d'une gamme prismatique et d'une sensibilité inductrice jouées par des Torontoises de la cuvée printemps 2013. Les neuf chansons exclusives incluent le doux chatoiement d'Isla Craig, l'onde dansante à caractère rave de sous-sol de Bile Sister, et le tout nouveau lancement de ruade tordant, plein de dévotion de Tenderness. La vertueuse Lido Pimienta mène la cadence avec des pièges martiaux et de multiples pistes vocales qui pourraient appeler à la révolution, pendant que l'omnipotente Petra Glynt retentit dans une salle d'opéra souterraine éclairée à contre-jour. Procurez-vous rapidement ce disque et obtenez en bonus un sac de bain de sel au parfum d'inspiration krautrock de Spa Kosmische.
Tenderness – Orphans Howling in the Wild (Bucked & Blended Mix)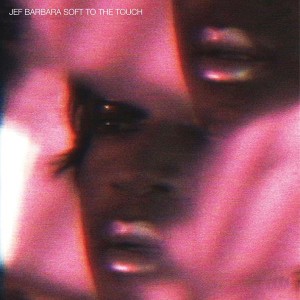 Jef Barbara
Soft to the Touch
Montréal, QC
From the loose diamonds of Jesse Locke:
Gliding through the glitz, glamour and grime of Montreal's late nite/all nite party, pop provocateur Jef Barbara has emerged as a modern day disco evangelist. Soft to the Touch is a neo-NRG masterclass of nightsuit strut, emotional rescue and six-string scorch delivered by one of the best backing bands in the biz: Jack Mac of Sheer Agony, Shub Roy of Dirty Beaches and Asäel Robitaille of Bataille Solaire. Vive le Kebekelektrik!
Des diamants en vrac de Jesse Locke:
(Traduit par la corde vocale de JulieForget)
Se glissant dans l'extravagance, le glamour et la crasse des fêtes nocturnes de Montréal, le provocateur pop Jef Barbara apparaît comme un évangéliste disco contemporain. Soft to the Touch est un cours de maître de néo-NRG qui enseigne à se pavaner en habit de soirée, un secours émotionnel et une brûlure à 6 cordes livrés par un des meilleurs groupes d'accompagnement du business : Jack Mac de Sheer Agony, Shub Roy de Dirty Beaches et Asäel Robitaille de Bataille Solaire. Vive le Kebekelektrik!
Jef Barbara – Soft to the Touch
Jef Barbara – I Don't Know What's Going On But Something's Coming On
---