Tag: crosss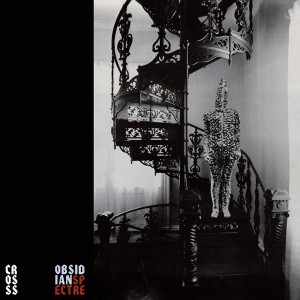 Crosss
Obsidian Spectre
Hamilton, ON
From the mantra-verse of Taylor Burgess:
"Look now, it's past twelve. The witching hour is nigh. Use the evil eye." Left-handed guitarist Andy March leads this disc into the chalked-up garage for a solemn ritual to open portals between two worlds: sludge doom and punk giddiness. Once invoked, the obsidian spectre is both punishing and playful, teaching tricks and reminding us of the golden fight. The stripped-down trio Crosss play along, bouncing reverb-drenched licks off the walls to make their mantra-verse-mantra songs pop. But when the 20-minute B-side "Will-o'-The-Wisp" hits, there's no structure in sight. It's like you've gotten lost in the dark, psychically gripping for any familiar sensation, eventually relieved to encounter mysterious light.
Du refrain-mantra de Taylor Burgess:
(Traduit du spectre de l'obsidienne de Dominic Mpilé)
"Regarde, il est minuit passé. L'heure des sorcières approche. Utilise le mauvais œil." Le guitariste gaucher Andy March mène cet album dans le garage au pentacle de craie pour un rituel solennel afin d'ouvrir les portails entre deux mondes : le sludge doom et le punk vertigineux. Une fois invoqué, le spectre de l'obsidienne s'avère à la fois cruel et ludique, nous enseigne des tours tout en nous rappelant la bataille flavescente. Le trio minimaliste Crosss envoie rebondir contre les murs ses riffs noyés d'écho pour que surgissent leurs chansons mantra-refrain-mantra. Or quand s'abat "Will-o'-The-Wisp", la face B de 20 minutes, il n'y a plus de structure à l'horizon. Perdu dans les ténèbres, à tenter de vous accrocher mentalement à quelque sensation familière, vous serez enfin libéré au moment de pénétrer la lumière mystérieuse.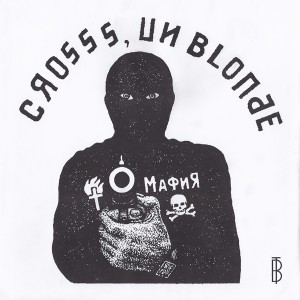 Un Blonde // Crosss
Split
Calgary, AB // Hamilton, ON
From the obsidian blues of Javier Fuentes:
Night-time rituals conducted inside obsidian caverns. Crosss play on with trembling rhythms and buzzing guitars that challenge and guide the uninitiated to the psychedelic unknown. The haunted six string melodies of a prolific Calgarian echo deep into the walls. Un Blonde's ceremonial chants delivered like a prairie druid leading us into rock and roll revival. This is transformation through reverberation.
Du cafard d'obsidiennes de Javier Fuentes :
(Traduit par les chants religieux de Julie Forget)
Des rituels nocturnes sont menés à l'intérieur de cavernes d'obsidiennes. Crosss continue à jouer avec des rythmes tremblants et des guitares bourdonnantes qui défient et guident les non-initiés vers l'inconnu psychédélique. Les mélodies hantées à six cordes d'un Calgarien prolifique résonnent dans la profondeur des murs. Les chants cérémoniels d'Un Blonde sont émis comme un druide des Prairies qui nous mène vers un renouveau rock and roll. Voici une transformation par la réverbération.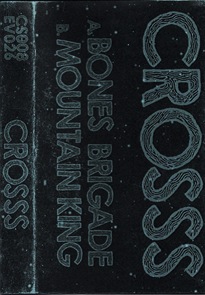 Crosss
Bones Brigade b/w Mountain King
Toronto, ON

Craft Singles chief exec Andy March puts his best
flower power
foot forward on this scorched denim vest jambone. Anglofied undulations linger in the myst of heart-shaped hooks and the algebraic pterodactyl armed stick work of a
Haligonian stalwart
, which is all just an ostentatious way of saying that these songs totally rock.
Audio clip: Adobe Flash Player (version 9 or above) is required to play this audio clip. Download the latest version here. You also need to have JavaScript enabled in your browser.
Audio clip: Adobe Flash Player (version 9 or above) is required to play this audio clip. Download the latest version here. You also need to have JavaScript enabled in your browser.
Various Artists
Khyber Compilation
(Self Released)
Halifax, NS

Halifax's premier fringe-art
playhouse
has pulled together a mammoth compilation capturing the recent wave of do-it-with-everyone artists roaming the Haligonian landscape. Where other cities devolve into scene sectarianism, Halifax bursts with cross-genre vigor, laying the streetwork for steadfast artifacts like the
Khyber Compilation
. Similar in spirit to the
Emergency Room
comp.,
Khyber
wins for the sheer spread of pressure-waves; from the red-lined raw-fi of Fuck Montreal to the casio-blown R&B of Pastoralia, it seems that every buckeyed freak managed to explode with colour beneath the Khyber's magnificent arches. Includes many new-jacks to the scene, too! Proceeds from the tape go to future renovations at the Khyber. Bands included:
Cousins
,
Soaking Up Jagged
, Fresh Flesh,
Special Noise
, Cactus Flower,
It Kills
,
Secret Colours
,
Fuck Montreal
,
DUZHEKNEW
,
Bloodhouse
, Trash Heap,
Play Guitar
,
Mean Wind
,
Bad Vibrations
,
Datacave
, CROSSS,
Catbag
,
The Rhythm Method
, and
Pastoralia
.
Audio clip: Adobe Flash Player (version 9 or above) is required to play this audio clip. Download the latest version here. You also need to have JavaScript enabled in your browser.
Audio clip: Adobe Flash Player (version 9 or above) is required to play this audio clip. Download the latest version here. You also need to have JavaScript enabled in your browser.
Mean Wind – Down for the Count
Audio clip: Adobe Flash Player (version 9 or above) is required to play this audio clip. Download the latest version here. You also need to have JavaScript enabled in your browser.
---