Tag: casio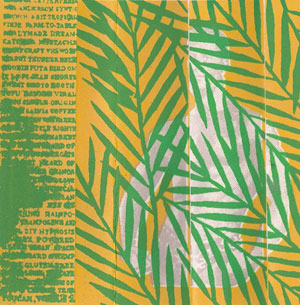 Ocular Gymnastics
Vol. 1
Montréal, QC

Encased in a squeeze box of screen printed palms, Ocular Gymnastics' debut transmission is as
lavishly packaged
as it is blissful. Pedal-jammed Casio meditations cast ripples across the mind-pond while the mountain of found-sound percussion clanks and rattles down the cortex. Only
Moduli TV
could provide suitable visual accompaniment for these
C.H.U.D. ravers
in a tropical time-warp à la
Bamboo For Two
.
Audio clip: Adobe Flash Player (version 9 or above) is required to play this audio clip. Download the latest version here. You also need to have JavaScript enabled in your browser.
Audio clip: Adobe Flash Player (version 9 or above) is required to play this audio clip. Download the latest version here. You also need to have JavaScript enabled in your browser.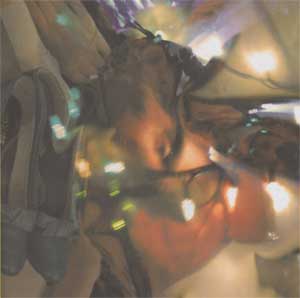 Young Truck // Man Made Hill
Work Stress // Disco Prison
Toronto, ON

Two sides of basemental groove thread
Pleasence Records
' latest three-three-one-three oblation. Young Truck assaults with vibronic angular disco, littering their rhythmic chaos with
atonal shreddery
and mystic digitalis. On the flip, wigs get a
second pealing
after dual doses of Man Made Hill's tweaked bone. Hypothetical damage and degenerate groove spring
Disco Prison
into an ultraverse of mutant Prince and
casio-Konrad
. Heavy grippage.
Audio clip: Adobe Flash Player (version 9 or above) is required to play this audio clip. Download the latest version here. You also need to have JavaScript enabled in your browser.
Audio clip: Adobe Flash Player (version 9 or above) is required to play this audio clip. Download the latest version here. You also need to have JavaScript enabled in your browser.
Man Made Hill – Hard Breeze (Is Gonna Blow)
Audio clip: Adobe Flash Player (version 9 or above) is required to play this audio clip. Download the latest version here. You also need to have JavaScript enabled in your browser.
Audio clip: Adobe Flash Player (version 9 or above) is required to play this audio clip. Download the latest version here. You also need to have JavaScript enabled in your browser.
Man Made Hill – Serve Them Virgins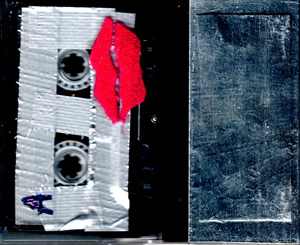 Géraldine
Baiser avec un miroir
(Autoproduit/Indépendant)
Montreal, QC

En novembre 2010, Géraldine, sa voix de poupée et son acolyte Navet Confit ont fait paraître
Sold-out Capitalisme
un LP instrumenté, intriguant et complexe de gaffer pop ludique et de grunge
cagoulé
. Cinq mois plus tard, ils sortent leur four-tracks et reviennent avec une cassette sur laquelle ils reprennent et salissent plusieurs des pièces de l'album avec un Casio pis une boîte à rythmes, pour un rendu spontané et encore plus amusé qui va du proto au post tout en gardant les choses assez simples pour
faire peur
aux enfants et
faire danser
les artsy kids. (Pis le côté B contient les mêmes tounes que le côté A, mais
à l'envers
– miroir!)
From the reversed face of Benoit Poirier:
On November 2010, Géraldine, her doll voice and her accomplice Navet Confit put out Sold-out Capitalisme, an intriguing and complex LP of playful gaffer pop andhooded grunge. Five months later, they take out the four-tracks and are back with a tape on which they revisit and thrash down a bunch of the songs from the album with a Casio and a beatbox. The result is a far more spontaneous and jauntier rendering that goes from proto to post while keeping things simple enough to scare the little kids and make the artsy ones dance. (Best of all, side B contains the same tunes as side A, but in reverse – miroir!)
Audio clip: Adobe Flash Player (version 9 or above) is required to play this audio clip. Download the latest version here. You also need to have JavaScript enabled in your browser.
Audio clip: Adobe Flash Player (version 9 or above) is required to play this audio clip. Download the latest version here. You also need to have JavaScript enabled in your browser.
Audio clip: Adobe Flash Player (version 9 or above) is required to play this audio clip. Download the latest version here. You also need to have JavaScript enabled in your browser.
The Stolen Organ Family Band
Horse Treats
(Babynuts Records)
Vancouver, BC
::web/sounds::


From the xian-beehive K-Mart closet of Jesse Locke:
It'd be pretty dim to call 'em Proggy, but with their multiple movements, tempo changes and quickly shifting moods, the tweaked, twangy tunes of the Stolen Organ Family Band come across like some backwoods strain of Bohemian Rhapsody. Lyrically, singer, songwriter and six-string slinger Conor Mack shares campfire stories of shitty hometowns, divorce and excitable puppies with syrupy sweet choruses that'll get wedged in your brainpan and rattle around for weeks. With back-up vocals, blown-out Casio FX and suitcase percussion by the lovely Miss Kelly Badger plus the Zen-like steadiness of bassist Ari Cipes, the Stolen Organs bring to mind Jonathan Richman and his Modern Lovers slumming it as subway buskers. You might also think of the Meat Puppets when you're listening to these country-fried home-recorded rambles, but the shadow of the almighty Ween looms the largest. Horse Treats is a kind of 'greatest hits so far', and the manifesto on the back might just say it best: "Ain't down with hiss, ain't down with this."
[Levin's Note: Never underestimate the power of Casio.]
Audio clip: Adobe Flash Player (version 9 or above) is required to play this audio clip. Download the latest version here. You also need to have JavaScript enabled in your browser.
The Stolen Organ Family – Plums
Audio clip: Adobe Flash Player (version 9 or above) is required to play this audio clip. Download the latest version here. You also need to have JavaScript enabled in your browser.
The Stolen Organ Family – Baby, What's Your Phone Number?
---