Tag: calgary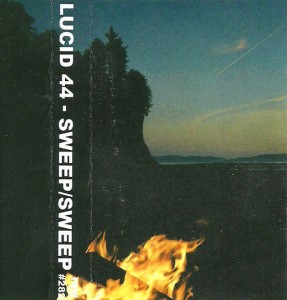 From the grease fire of Kevin Stebner:
The untrackable and unknowable Markus Overland (a.k.a. Lucid 44 a.k.a. Beerwolfe, etc.), Calgary's most singularly undersung genius, comes at us once again. This tape/CD-R of understated jams channels his family's fervour, grumbly grunge dirge and Uncle Neil's stage presence. The vision is so interior, we are lucky to hear the reverberations of his muse. He won't look at the crowd, the crowd cannot fathom his gaze.
Du feu de graisse de Kevin Stebner:
(Traduit par les visions de Julie Forget)
L'intraçable et mystérieux Markus Overland (alias Lucid 44, alias Beerwolfe, etc.), le génie calgarien le plus singulièrement méconnu, nous revient une fois de plus. Cette cassette/CD-R de jams raffinés rassemble la ferveur de ses ancêtres, un [chant funèbre de grunge râlant et la présence sur scène d'Uncle Neil. La vision est d'une telle intériorité que nous sommes chanceux d'entendre les réverbérations de sa muse. Il ne regarde pas la foule, la foule ne peut sonder son regard.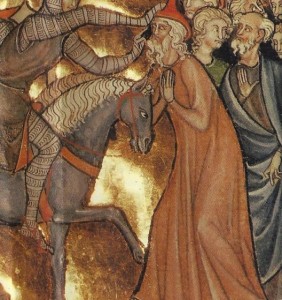 Faux Fur
Faux Fur
(Self Released)
Calgary, AB
From the not-so rough palms of Javier Fuentes:
Prairie turbines spin and sway to the odd patterns of an interstellar wind. Their movements are not uniform, each falling under the influence of a different timekeeper. The dissonant choreography confuses drivers passing through the area, with the FM radio perhaps serving as an antidote to the liberation that awaits outside. The day gets longer and inevitably forces a few travellers to stop and take a break. Looking out at the swinging blades, the rotations entrance and melt into a projection of the mind. A strong gust pushes the body off balance and it finds itself in the midst of a growing rhythm. Every change is felt now, the pace picking up in search of a new pattern for communicating with the cosmos. The sun falls below the horizon and the ensuing calm opens the eyes to a different vision. The scene here has no spinning blades in sight, just fingers running sprints across strings while a crowd sways to interlocking notes that talk in youthful excitement. Their conversation is a joy to behold.
Des palmes pas si rêches de Javier Fuentes:
(Traduit par les lames tournoyantes de Hugo Hyart)
Les éoliennes de la prairie tournent et se balancent au rythme d'un vent interstellaire étrange. Leurs mouvements ne sont pas uniformes, chacun d'entre eux étant influencé par un différent maître du temps. La chorégraphie dissonante jette la confusion sur les conducteurs traversant la zone, la radio FM servant peut-être d'antidote à la libération qui attend dehors. Le jour s'allonge et force inévitablement quelques voyageurs à s'arrêter pour souffler. Celui ou celle qui jette un oeil aux lames tournoyantes se voit plongé dans une transe où rotations se fondent en projection de l'esprit. Une puissante bourrasque fait perdre l'équilibre au corps et le voilà qui se retrouve au milieu d'un rythme en expansion. Chaque changement est ressenti maintenant, la cadence s'accélère à la recherche d'une nouvelle direction pour communiquer avec le cosmos. Le soleil se couche à l'horizon et le calme qui s'ensuit ouvre les yeux sur un paysage nouveau. Plus de lames en rotation en vue, seulement des doigts en plein sprint le long de cordes tendues tandis qu'une foule se balance au son de notes imbriquées qui parlent dans une excitation juvénile. Leur conversation est une joie à contempler.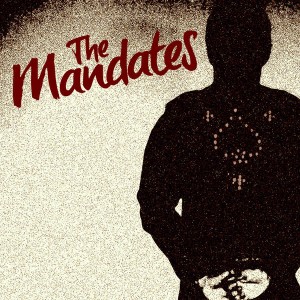 The Mandates
The Mandates
(Self Released)
Calgary, AB
From the secret cave hideaway of Matthew Lazenby:
The Mandates trade in greasy, sleazy rock 'n roll without a care in the world, yet every moment is tight and compact. Some may hear this collection of fist-pumping gems and refer to it as a throwback: three-minute tunes basking in timeless traditions of balls-out rock. And while it's true that songs like "Gotta Forget That Girl" and "Daggers Girl" get me thinking about the Dead Boys or Richard Hell and the Voidoids, the sheer pluckiness and charm of this record is pretty irresistible. "She's Walkin' Over" closes the album in style with a driving beat, trashy power chords, and infectious hooks. Simply put, the Mandates' new record is a barrage of snot-nosed guitar-laden fun.
De la cave secrète de Matthew Lazenby:
(Traduit par Catherine Gaucher)
The Mandates font dans le rock 'n' roll graisseux, mal famé, sans le moindre tracas du monde, et pourtant chaque instant qu'ils produisent est juste et concis. Percutant comme un coup de poing, certains diront de ce rassemblement de petits bijoux qu'il est une visite dans le passé : des chansons de trois minutes faites dans les traditions pures d'un rock couillu. Même s'il est vrai que des titres comme « Gotta Forget That Girl » et « Daggers Girl » me font penser aux Dead Boys ou à Richard Hell and the Voidoids, la pure bravoure et le charme de cet album sont assez irrésistibles. Dans un rythme déferlant, c'est avec style que « She's Walkin' Over » clôt cet album grâce à ses power chords trash et ses hooks contagieux. En bref, ce dernier album de The Mandates est rempli d'un plaisir chargé d'arrogance et de guitares.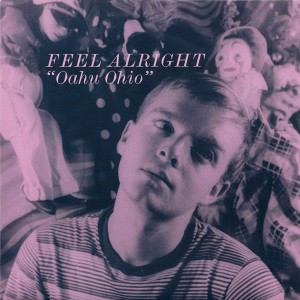 Feel Alright
Oahu Ohio
Calgary, AB
From the fevered dance of Javier Fuentes:
The thermostat may be telling you to drag out your warmest attire, but one spin of this Feel Alright 7" will start the search for your palm printed shirts and sand soaked shorts. Memories of winter goths get cast to the side under the melting vocal spells of Craig Fahner. Giddy guitars tickle you out of your static stance and into a fevered dance. Take your sled out for a spin on the snowy hill and watch as it turns into a slick surfboard. Shorter days call for an action plan to get the most of your time, so take these songs as your first step.
De la danse fiévreuse de Javier Fuentes:
(Traduit par le thermomètre de Catherine Gaucher)
Même si votre thermostat semble vous indiquer qu'il vous faut revêtir vos vêtements les plus chauds, une seule écoute de ce 7 pouces de Feel Alright déclenchera en vous la recherche pour retrouver vos chemises aux imprimés de palmiers et vos shorts couverts de sable. Sous les sorts vocaux envoûtants de Craig Fahner, les souvenirs de Winter Goths sont mis de côté. Des guitares vertigineuses vous balancent en dehors de votre statisme et vous jettent dans une danse fiévreuse. Sortez votre traîneau pour une glissade sur une colline enneigée et voilà que ce dernier se transforme soudainement en une belle planche de surf. Parce que les journées écourtées exigent un plan d'action pour tirer le meilleur parti de votre temps possible, prenez ces chansons comme une première étape.
Feel Alright – Dark Incantations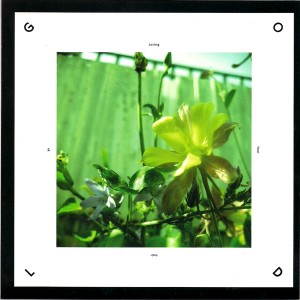 Gold
Losing Your Hair
Calgary, AB
From the gossamer yearnings of David Ferris:
When it's cold as fuck, put the top down and make a sojourn to a place which is beautiful, bittersweet and sepia-toned. The cymbals wash on forever and the almost-psychic interplay of guitars and harmonies chase each other, intertwining all plaintive and beautiful-like — all of this cast under a towering, sublime shadow.
In 2012, Kaelen Ohm and Rena Kozak, along with Chris Reimer and Matt Swann, recorded four excellent and affecting songs, and the context of the EP may be familiar to many of you.
The reason there are no proper synonyms for "bittersweet" is because these things seem obvious and natural to us until we attempt to nail them down. Breaking them up into smaller, more articulable components, we can never seem to capture it in the least, and all we are left with are gobbledygook fragments (like this very write-up). Let's just leave this for now with "Drugs" being a straight-up perfect pop song: the right people in a room at the right time.
Des aspirations étoffées de David Ferris:
(Traduit de la trajectoire douce-amère de Catherine Gaucher)
Lorsqu'il fait foutrement froid, descendez votre toit ouvrant et dirigez-vous vers un endroit magnifique, doux-amer teinté de sépia. Une ombre sublime imprègne le microcosme où des cymbales s'effacent éternellement et où une interaction quasi-psychique s'établit entre guitares et harmonies qui se pourchassent, s'entrelacent, toutes aussi plaintives et belles qu'elles soient.
En 2012, Kaelen Ohm et Rena Kozak, accompagnés de Chris Reimer et Matt Swann, enregistrent quatre excellentes et émouvantes chansons. Certains d'entre-vous êtes familiers avec le contexte du EP en question.
Aucun synonyme ne peut exprimer l'exactitude symbolique du mot «doux-amer» parce que les choses ne nous semblent évidentes et naturelles qu'avant que nous ne tentions de précisément les définir. Même en les subdivisant en composantes plus petites, plus précises, nous n'arrivons jamais à les capturer le moins du monde et au final, nous nous retrouvons avec des fragments de charabia (comme cette critique). Laissons cela de côté pour l'instant avec « Drugs », une parfaite chanson pop sans détour : être avec les bonnes personnes, au bon endroit, au bon moment.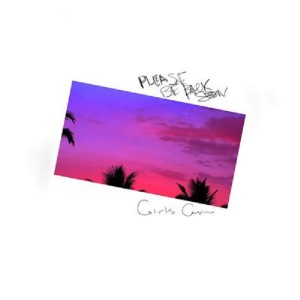 Girls Casino
Leave It To Them
(Self Released)
Calgary, AB
From the teenage dreams of Mann Durian:
In every adult there are feelings of fleeting adolescence that never quite fully diminish. These are visual feelings in nature; communal in their universality, emotional and intensely focused on the sensorium of the individual. Girls Casino is the sonic embodiment of these feelings. Under a lush mist of shimmering synths and Balearic beats, an androgynous voice chants mantras like pink Sunny-D. These songs live in a world where every friendly hello, brush of the skin or passing glance in the hallway means so much more. Where every house party or starlit Friday night presents another endless pool of possibilities to truly soak in the foolish freedom of being young.
Des rêves d'adolescent de Mann Durian:
(Traduit par l'hypnogramme de Catherine Gaucher)
Au tréfonds de chaque adulte, les sentiments fugaces de l'adolescence ne disparaissent jamais totalement. Ce sont des émotions de nature imagée : collectives de par leur universalité, émotionnelles et intensément focalisées sur le sensorium individuel. Girl Casino est l'incarnation sonique de ces sentiments. Sous une bruine luxuriante de synthés chatoyants et de Balearic house coule une voix androgyne chantant des mantras rose Sunny-D. Ces chansons vivent dans un monde où chaque salutation amicale, chaque effleurement de la peau ou chaque bref passage dans un couloir ont une plus grande symbolique encore. Où chaque fête à la maison ou chaque vendredi soir étoilé présente une mer infinie de possibilités dans laquelle nage une liberté insensée d'être jeune.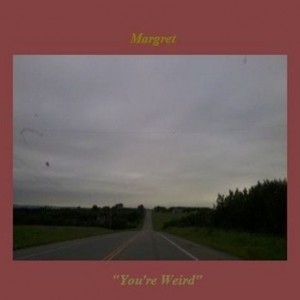 Margret
You're Weird
(Self Released)
Calgary, AB
From the Nowhere of Joseph Stephenson Taylor:
Perhaps it was you, the invisible finger hooked in our belt loop, suspending us for no more than a blink at our downswing on the swing set. Or were you the antique bellows working hard to knit together sparks that would yield for us, a fire to share? Could it be that you are the impossible plume of smoke that hangs in the cold night air as we toke under none light but the moon and stars? We could identify you as the leisured amble to Nowhere, while at the same time it is painfully clear that you are the Nowhere. You're odd; lost in the light. You're strange; unmissable in the foggy dark. You've made us comfortable with not knowing, but also set us at ease with our new favourite feeling: Anticipation. You used to be darker, then you got lighter, then you got dark again. You're weird, Margret, and we love you.
Du nulle part de Joseph Stephenson Taylor:
(Traduit par les doigts aimantés de Julie Forget)
C'était peut-être toi, le doigt invisible accroché à notre boucle de ceinture, nous suspendant le temps d'un clignement des yeux à notre descente sur la balançoire. Ou bien étais-tu le soufflet antique travaillant fort pour unir des étincelles qui cèderaient la place à un feu à partager ? Serais-tu la colonne de fumée impossible qui flotte dans l'air froid nocturne alors que nous prenons une bouffée à la seule lumière de la lune et des étoiles ? Nous pourrions t'identifier comme étant la promenade vers Nulle part, bien qu'il soit en même temps douloureusement clair que tu es ce Nulle part. Tu es bizarre; perdue dans la lumière. Tu es étrange; inratable dans la noirceur brumeuse. Tu nous as mis à l'aise avec le fait de ne pas savoir, mais tu nous as aussi mis à l'aise avec notre nouveau sentiment favori : l'Anticipation. Tu étais plus sombre, tu es devenue plus clair et tu es devenue sombre à nouveau. Tu es étrange Margret, et nous t'aimons.
Everything Is So Political
Edited by Sandra McIntyre
Calgary, AB
From the ubiquity of Jenya Doudareva:
Jumping from a story of life during the war in Northern Ireland to a narrative of a young woman selling her body for a water bottle that she can then exchange for money, and then to a tragedy of a man whose job it is to photograph prisoners about to be executed, you might ask: "Is everything around us really so political? Why does everything have to be political?"
Many of us don't think of ourselves as political people, because politics is almost a dirty word with a reputation for being duplicitous and ruthless. For this reason we might be compelled to ignore the political aspects of our everyday experiences, which is easy to do if we avoid dealing with the government, laws, and regulations. And when we do come in contact with these things, we accept them as much as an invasive physical exam – necessary but unpleasant.
Nevertheless, the word politics comes from Greek, where politikos means "of, for, or relating to citizens". In that sense, everything is political. Everything Is So Political – a compilation of short fiction by Canadian authors edited by Sandra McIntyre – is exactly that. This collection is exceptionally Canadian in nature, and highlights one of our nation's most distinctive aspects – that of culture and identity. It can be easy to take Canadian multiculturalism for granted and not to dissect how it has been shaping the country; it is very difficult to make sure that everyone's experience is honoured. Everything Is So Political shows how hauntingly distinct the stories that create the fabric of our society can be. The contrast between each individual narrative is as harsh as a slap in the face, and it must be that way if you want to send a message.
De l'ubiquité de Jenya Doudareva:
(Traduit par Alexandre Allouch-Micati)
Alors que vos yeux virevoltent d'une histoire se déroulant lors de la guerre en Irlande du Nord à une autre tournant autour d'une jeune femme qui vend son corps pour une bouteille d'eau qu'elle échangera ensuite contre de l'argent, en passant par la tragédie qu'éprouve un homme qui photographie des prisonniers sur le point d'être exécutés, vous vous demandez : « Est-ce que toutes les choses qui nous entourent sont à ce point politiques ? Pourquoi doivent-elles l'être ? »
La plupart d'entre nous ne nous considérons pas politiques, car le mot en soi est une quasi-insulte, un terme fourbe et sans pitié. C'est pourquoi nous sommes portés à ignorer les aspects politiques de nos expériences quotidiennes, la manière la plus facile étant d'éviter de s'occuper des affaires gouvernementales, des lois et des règlements. Lorsque nous entrons en contact avec ces éléments, nous les acceptons dans la même perspective qu'un examen physique invasif : nécessaire mais déplaisant.
Cependant, le mot politique provient du mot grec politikos qui signifie « du citoyen, pour le citoyen, relatif au citoyen ». En ce sens, tout est politique. Everything Is So Political, une compilation de courts textes de fiction écrits par des auteurs canadiens et édités par Sandra McIntyre, se situe dans cette optique. La collection de nature tout à fait canadienne jette la lumière sur l'un des aspects les plus significatifs de notre pays : la culture et l'identité. Il peut être facile de tenir le multiculturalisme canadien pour acquis et de ne pas analyser l'influence qu'il a pu avoir sur le pays ; il est très difficile de s'assurer que les expériences de chacun sont honorées. Cet ouvrage montre à quel point les histoires qui créent notre société peuvent différer. Le contraste entre chaque récit est aussi fort qu'une claque en plein visage et c'est la meilleure façon de faire pour passer un message.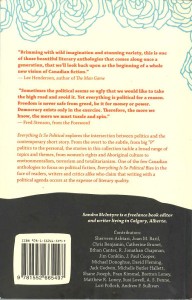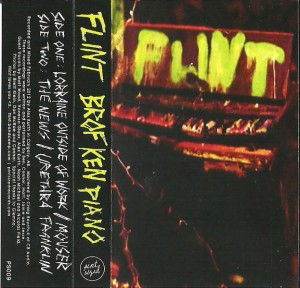 Flint
Brof Ken Piano
Calgary, AB
Du déluge discordant de Kevin Stebner:
(Traduit par la musicalité de Julie Forget)
J'ai déjà utilisé la métaphore du blender pour décrire le son vaseux de Flint, mais leur vidéo pour « The News » en utilise littéralement un. Les gars ont pris ce quelque chose de mongol datant de leur époque Fuck the Tundra, y ont ajouté un char pis une barge de BROUHAHA de guit à la Trumans et ont crotté le tout plus que jamais. Faites la fête jusqu'à en vomir.
Hag Face
Hag Face
(Self-Released)
Calgary, AB
From the creep-surf of Penny Clark:
This album sounds like a slew of demons tearing it up at the biggest house party. On a tropical island. With surfing. During a lightning storm. After an ominous introduction, the album sprints with wicked fast creep-surf riffs, metallic wah wah and cackling vocals. Careening basslines slash through with the fury of a Bash Brother and the pull-no-punches drummer punctuates the joyously vicious lyrics. Screeching guitar feedback glistens alongside their seething rhythms. Closer "Shake" shifts the tone and becomes even noisier, which creates an effect of distance as Hag Face withdraw into the night's fog.
Du creep-surf de Penny Clark:
(Traduit de l'île tropicale de Justine Gabias)
Cet album sonne comme un tas de démons s'envoyant en l'air dans un immense house party. Sur une île tropicale. Avec du surf. Pendant un orage électrique. Après une introduction menaçante, l'album déferle avec des riffs effrénés de creep-surf, du wah wah métallique et une voix crépitante. Les jeux de basse chancelants tranchent avec la furie d'un Bash Brother et la batteuse, qui ne fait pas de quartiers, souligne des paroles joyeusement vicieuses. Le feedback grinçant des guitares miroite aux côtés de leurs rythmes enragés. La piste finale « Shake » change le ton et devient encore plus bruyante, ce qui crée un effet de distance alors que Hag Face se retire dans le brouillard nocturne.
---