Tag: calgary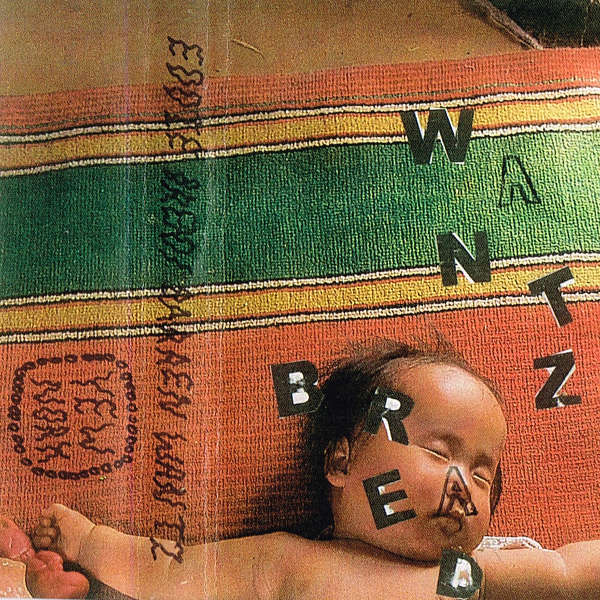 Edie Bread // Darren Wantz
Split Tape
(Yew Nork)
Calgary, AB // Montréal, QC
From the bargain bin of Javier Fuentes:
Frequent collaborators Raff McMahan and Jean Sebastien Audet take turns staring into paisley coloured pastures as they assemble strips of magnetic lysergia. Jean's turn as Darren Wantz plays out under dimmed lights with bargain bin VHS tapes rolling in the background. Memories of summer flash by as we become lost in the disarming melodies. Edie Bread lifts the melancholic mood with a touch of fuzz and a warbling set of hooks that is sure to turn a soft crush into an all out gripper's obsession. Dig in to another golden entry from these two prolific minds.
Du bac de liquidation de Javier Fuentes:
(Traduit par les encouragements méthodiques de Julie Forget)
Les collaborateurs habituels Raff McMahan et Jean Sebastien Audet se relaient pour contempler les pâturages à motifs cachemire en assemblant des bandes de lysergide magnétique. Sous le pseudonyme de Darren Wantz, Jean s'exécute sous les lumières tamisées au son de cassettes VHS en liquidation. Des souvenirs d'été jaillissent alors que nous nous perdons dans les mélodies désarmantes. Edie Bread égaie l'atmosphère mélancolique d'une touche de fuzz et de trilles accrocheuses qui transformeront à coup sûr votre doux béguin en une obsession pure et simple. Laissez-vous entraîner par cette nouvelle proposition en or de ces deux esprits prolifiques.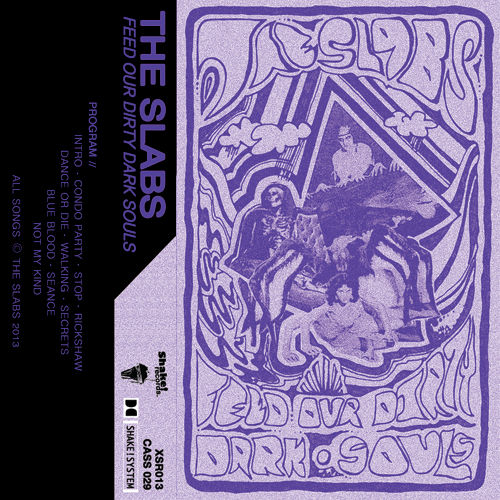 The Slabs
Feed Our Dirty Dark Souls
Calgary, AB
From the coffee-stained mug of Josh Silver:
A sunset stroll down 17th avenue, past condo towers in the East Village. As the Rockies rise in the west above suburban wasteland, something wicked this way comes. The Slabs are a composite, melding diversity of members into something new. This mix of overt, subversive punk and melodic, otherworldly psych-rock leads to a singularly Calgary sound: riff-laden, rough, and uncensored. Feed Our Dirty Dark Souls is then one translation of the city, in all its strangeness and multiplicity, to the ears of the listeners.
De la tasse tachée de café de Josh Silver:
(Traduit par l'énergie de Julie Forget)
Une promenade au coucher du soleil sur la 17e Avenue, après les tours à condo du East Village. Alors que les Rocheuses se dressent dans l'ouest au-dessus d'un terrain vague de banlieue, quelque chose de fou fait son apparition. The Slabs est une diversité composite de membres qui s'associent pour constituer quelque chose de nouveau. La combinaison de punk manifeste et révolutionnaire et de rock psychédélique mélodique et mystique fait naître un son singulièrement calgarien : chargé de riffs, râpeux et non censuré. Feed Our Dirty Dark Souls est donc une traduction de la ville dans toute son étrangeté et sa multiplicité destinée aux oreilles de ceux qui l'écoutent.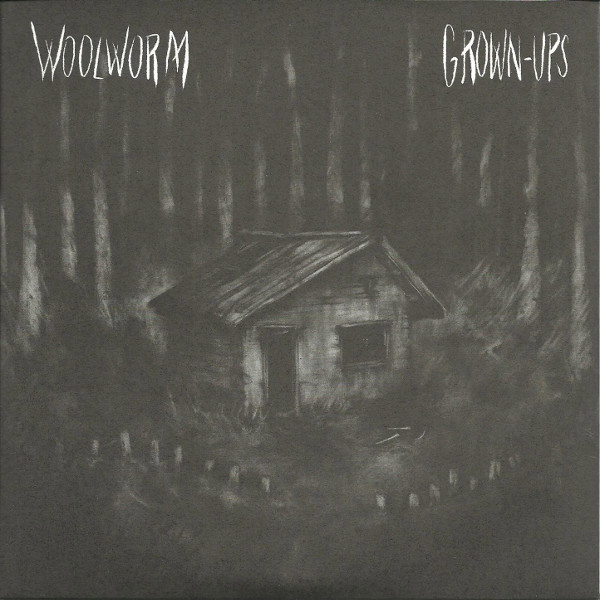 Woolworm // Grown-Ups
Split 7"
Vancouver, BC // Calgary, AB
From the pigpen hoedown of Kevin Stebner:
Solid split from two of the West's punk-pedigree — but on their home turf essentially contemporary-less — bands. Woolworm forgo the emo of their namesake (I see you, angry son) for some more jangle styles via hardcore past, squeezed into two songs of frustrated/held-back indie-pop. Distortion pedal dreams. On the flip, Grown-Ups dish-up their farewell swan song(s). Curiously, "Pigpen" could very well be the slickest and possibly strongest song from their robust output. Mid-fi button the whole way through. Insert lazy rock-journalist pun about growing up here.
Du bal porchère de Kevin Stebner :
(Traduit par Natalie Binda)
Une solide rupture de deux groupes au pedigree punk — mais essentiellement non-contemporain à domicile — de l'ouest. Woolworm renonce à la tendance emo de leur homonyme (Je te vois, Angry Son) pour un style agité de musique tirant d'un passé hardcore, le tout entassé entre deux chansons regorgeant d'un style indie-pop de frustrations contenues. De vrais rêves remplis de pédales à distorsion. En revanche, Grown-Ups font ressortir des chants de cygne d'adieu. Curieusement, « Pigpen » pourrait bien être la meilleure et possiblement la chanson la plus forte de leur robuste production. Le bouton « moyen régime » utilisé durant toute la séquence. Insérez ici un jeu de mots qui parle de grandir de la part d'un journaliste de rock paresseux.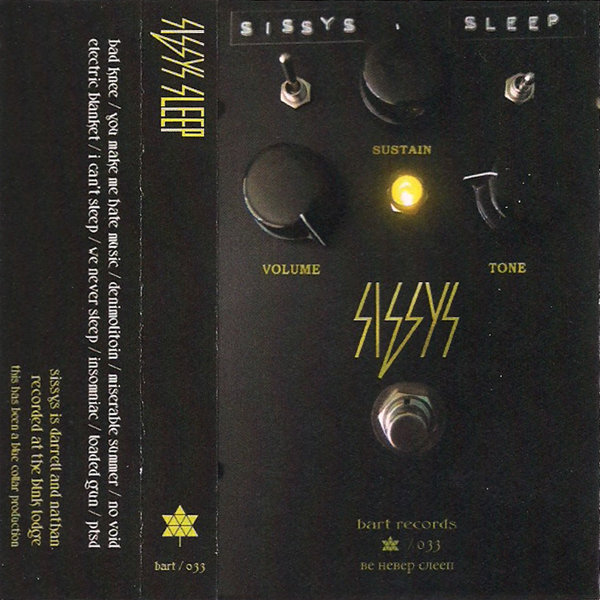 From the circuit schematic of Stephen Guy:
Here's the adult side of the Southern Albertan punk scene, where the most tasteful elements of turn-of-the-century post-hardcore are still savoured with forceful melancholy. This tape is called Sleep because Sissys can't get any of it. It's easy to imagine them staying up late with a soldering iron and a circuit schematic, searching for the best way to make their discomfort and exhaustion an aural sensation. Subjects addressed in addition to sleeplessness include creaky joints, expiring friendships, and boring songs. But Sissys are probably most annoyed when they're asked to turn down.
Du schéma de circuit de Stephen Guy:
(Traduit du sommeil court-circuité de Geneviève Simard)
Voici le côté adulte de la scène punk du sud de l'Alberta, où les meilleurs éléments du post-hardcore du tournant du siècle se savourent encore avec une forte mélancolie. Cette cassette s'intitule Sleep (dormir) parce que Sissys ne le font tout simplement pas. C'est facile de les imaginer tard le soir avec un fer à souder et un schéma de circuit, cherchant la meilleure façon de rendre en sensations auditives leur inconfort et leur épuisement. En plus de l'insomnie, les thèmes abordés comprennent les articulations qui craquent, les amitiés qui prennent fin, et les chansons ennuyantes. Mais Sissys sont probablement le plus irrités quand on leur demande de baisser le volume.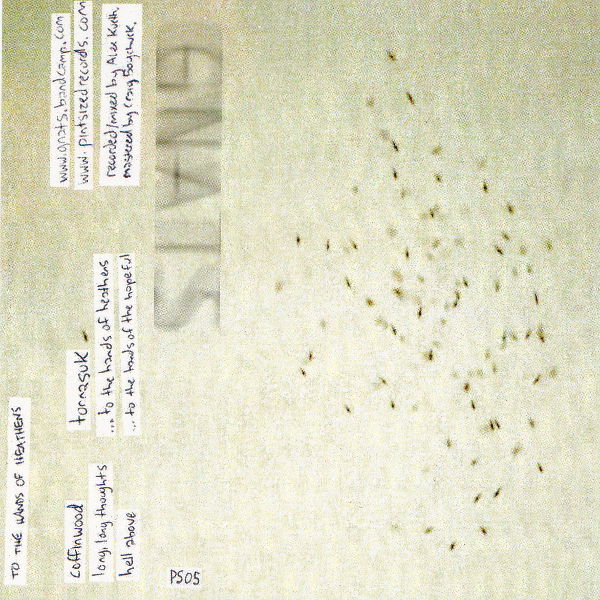 Gnats
To the Hands of Heathens
Calgary, AB
From the noumenal object of Josh Silver:
Gnats' layered noise-punk is a musical punch in the face, wrenching listeners into a frenzy of flailing instrumentation. The chaos is held in check by snare blasts through the storm of distortion, a swarm of unconventional musical runs with a logic of its own. As a necessary element of the music instead of mere ornamentation, the noise take precedence as it gains its own melodic nature. This forms a complex composition revealed through the sonic commotion.
De l'objet nouménal de Josh Silver:
(Traduit dans la pureté de l'abstraction par David Kohler)
Le bruitisme punk de Gnats est un coup de poing musical dans la face; il déchire les auditeurs dans une frénésie instrumentale déboitée. Le chaos est contenu par des pièges à souffles au travers d'un orage de distortion, un essaim de musique non conventionnelle s'envolant avec une logique qui lui est propre. En tant qu'élément nécessaire à la musique plutôt que simple ornement, le bruit prédomine et nous démontre sa propre nature mélodique. Ceci forme une composition complexe, révélée dans cette commotion sonore.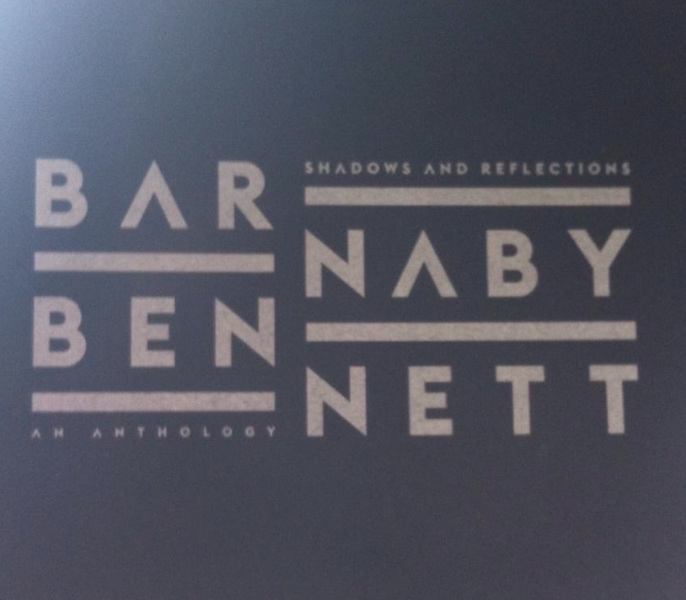 Barnaby Bennett
Shadows and Reflections
Calgary, AB
From the wistful murmurs of David Ferris:
This Calgarian cosmonaut and MTT-wunderkind sits a spell on the banks of the elysian ocean, strumming his guitar and occasionally dipping his toes into the celestial well-spring. His sound might seem paradoxical at first, but the goal here isn't to bury/subvert folk or country, instead seraphically lifting them up up up. In "A Satisfied Mind," chugging psychedelics, in the form of a burnt-out dub, give way to Bennett's cosmic croons — Flying Burrito Brothers comfortably in orbit. "Mystery Girl" does the opposite, with its hushed strums retreating back into the void. This anthology spanning six years and 20 (!) songs is lovingly delivered between worlds, outside the entrance to the Church of Parsons.
Des murmures nostalgiques de David Ferris:
(Traduit par les orteils mouillés de Vincent Rondeau)
Originaire de Calgary, le cosmonaute et organisateur prodige du festival MTT s'assoit brièvement sur les rives de l'océan élyséen, grattant sa guitare et se mouillant les orteils de temps à autre dans la source céleste. Si ses sonorités peuvent paraître paradoxales, son but n'est pas d'ensevelir ou de détourner le folk et le country, mais de les élever angéliquement vers le firmament. Sur « A Satisfied Mind », le souffle psychédélique d'un dub brûlé croûle sous le charme cosmique de la voix de Bennett, comme les Flying Burrito Brothers décrivant une orbite douillette. Les accords feutrés de « Mystery Girl » s'inscrivent dans un mouvement contraire, se repliant vers le néant. Cette anthologie de 20 (!) chansons, couvrant six ans de travail, vient au monde entre les mondes, sur le parvis de l'Église de Parsons.

Barnaby Bennett – A Satisfied Mind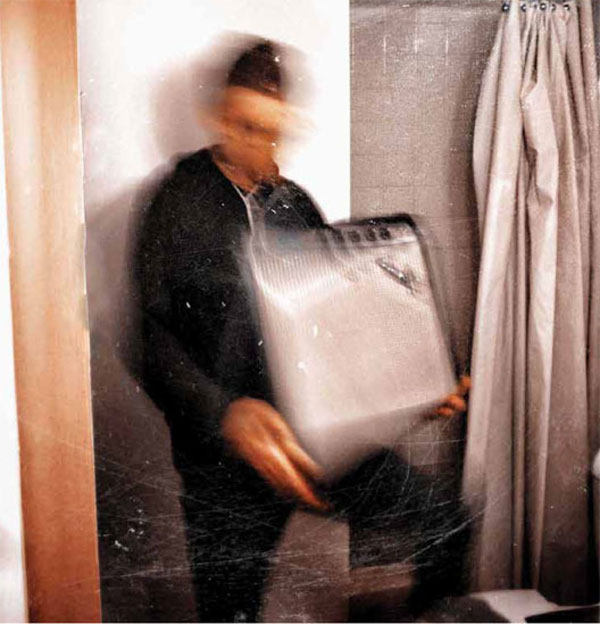 Astral Swans
You Carry A Sickness b/w Park Street
Calgary, AB
From the phantom hymns of Josh Rohs:
Super cheerful poltergeist Matt Swann returns under the guise of Astral Swans. As the first release on Dan Mangan's Madic Records, this 7" contains a pair of phantom hymns cut from the same cloth as the melancholic psychedelia Swann makes as Extra Happy Ghost!!!, albeit taking a more minimalistic approach. On "You Carry a Sickness", his unembellished vocals float atop a spectral reverie, anchored by sparse percussion and permeated by rays of '60s-organ sunshine. "Park Street" is an even starker outing, complete with a sample of the late Chris Reimer's "Truck Middle" that hums and buzzes throughout like some audible form of cosmic background radiation. Take a minute to get lost in the ether — I'll meet you on the astral plane.
Des hymnes fantomatiques de Josh Rohs:
(Traduit par Vincent Rondeau)
Le poltergeist particulièrement enjoué Matt Swann nous revient en tant qu'Astral Swans. Les deux hymnes fantomatiques de cette galette de 7", première parution de l'étiquette Madic Records de Dan Mangan, sont faits de la même étoffe mélancolique et psychédélique que l'autre projet de Swann, Extra Happy Ghost!!!, quoique son approche soit ici plus minimaliste. Sur « You Carry a Sickness », sa voix plane sans ornement au-dessus d'une rêverie spectrale ponctuée de percussions discrètes et illuminée par un orgue sixties ensoleillé, tandis que « Park Street » est encore plus dépouillée, avec un échantillon bourdonnant de « Truck Middle », de feu Chris Reimer, qui résonne à travers la pièce comme un rayonnement de fond cosmique. Prenez un instant pour vous perdre dans l'éther, on se revoit sur le plan astral.

Astral Swans – You Carry a Sickness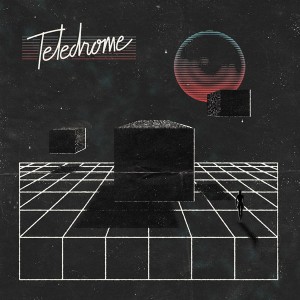 Teledrome
Teledrome
Calgary, AB
From the ultra instant of Nivedita Iyer:
This virtual galactic domain has suddenly grown hot. The cybernated neutron star is pulsing in binary code to distant nebulae and the data overload has begun, succumbing to computer-generated gravity. Critical density has been reached, and Teledrome is a digital collapsar with hyper-momentum made angular and hexagonal. The pathway to the 12th dimension is now bona fide. You will be absorbed into their stellar black hole, and the spatio-temporal fabric will distend, but time was never real anyway.
De l'ultra-instant de Nivedita Iyer:
(Traduit par le tissu spatio-temporel de Vincent Rondeau)
Le domaine galactique virtuel se réchauffe soudainement. L'étoile à neutrons cybernétisée émet une pulsation binaire en direction des nébuleuses lointaines. Les données s'accumulent en un raz-de-marée, succombant à la gravité synthétisée numériquement. Nous avons atteint une densité critique : Teledrome est un collapsar informatique rendu angulaire et hexagonal par l'hyper-mouvement. Le chemin vers la douzième dimension est dorénavant authentique. Vous serez absorbés dans le trou noir stellaire, le tissu spatio-temporel se distendra – qu'importe? Le temps n'a jamais vraiment existé.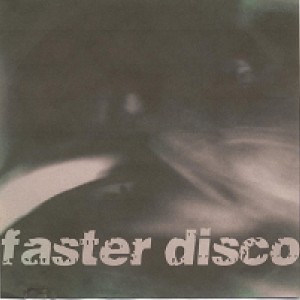 Faster Disco
Faster Disco
(Self Released)
Calgary, AB
From the funhouse mirror of Cassilou Landra:
Welcome to the world of Mark Fleischhaker. Existing somewhere between Yamatsuka Eye's work with John Zorn's Naked City, Mike Patton's freak-out scat, and the surrealist comedy skits of Sun City Girls, the spazz-beat of this duo with drummer Joe Serdarevic is just one of the weapons in the man's arsenal. A fixture in Regina and Calgary's music scenes for nearly a quarter century, Mark and his compatriots deliver abrasive catharsis and primal pleasure like acid rain during an equinox. His YouTube channel is a library, archiving every studio creation, live recording, and personal influence that has manifested in experiments and collaborations. These include solo collage noise, Residents-esque readings of beloved children's books, fiery experimental rock with Calgary lynchpins Chris Dadge (Lab Coast, Bug Incision) and Scott Munro (Viet Cong), twisted ambient soundscapes that recall the KLF at their most chill, and '90s alternative rock that, oddly enough, was featured twice in a 1997 ABC TV movie. Enter the funhouse.
De par le miroir du palais du rire de Cassilou Landra:
(Traduit de l'autre côté du miroir par Catherine Gaucher)
Bienvenue dans l'univers de Mark Fleischhaker. Existant quelque part entre le travail de Yamatsuka Eye pour le groupe Naked City de John Zorn, le déboussolant scat de Mike Patton et les sketches comiques surréalistes de Sun City Girls, la cadence spasmodique composée en duo avec le batteur Joe Serdarevic n'est qu'une des multiples armes de l'arsenal de cet homme. Un incontournable des scènes musicales de Regina et de Calgary depuis près d'un quart de siècle, Mark et ses compatriotes produisent ensemble une catharsis abrasive et un plaisir primaire, telle une pluie acide tombant durant un équinoxe. Sa page YouTube est une bibliothèque archivant chaque création en studio, chaque enregistrement en direct ainsi que ses influences personnelles se manifestant dans ses explorations et collaborations. Ceux-ci incluent de bruyants collages en solo, des lectures Residents-esques de livres pour enfants, du rock expérimental fougueux avec les piliers musicaux calgariens Chris Dadge (Lab Coast, Bug Incision) et Scott Munro (Viet Cong), de paysages sonores ambiants tordus qui rappellent KLF à leur heure plus posée et du rock alternatif des années 90 qui, curieusement, a figuré deux fois dans un film d'ABC TV de 1997. Veuillez entrer dans le palais du rire.

Faster Disco – 56 Songs in in 17 Minutes (Excerpt 1)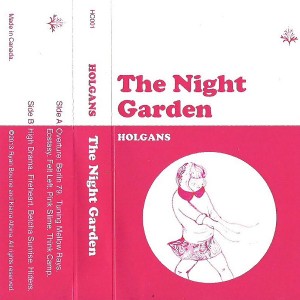 Holgans
The Night Garden
(Self Released)
Calgary, AB
From the polygonal flora of Adam Bradley:
Frogs chirrup in a bog of midnight synth muck. Pixel-men glitch and flit through polygonal flora, navy, mustard, scarlet. Post-organic romance tickles the tympanic membrane of a ruined universe with lilting songs of chromatic chaos. Cross-legged star-travelers pluck banjos of string theory lore, reading from notation inscribed upon the mind of a slumbering data-beast. The Internet implanted begins a slow drag outward to meet a core of light, perfect, immaculate. Oceans unimagined collapse and undulate in eternal trigonometry. A window opens to the last bedroom, an ear hears a hymn, a tear squeezes free from steel. Glory erupts in a light speed rainbow helix flare and crashes into the closing credits of the film of existence. All this enclosed in a tome kept static at the centre of a black hole.
De la flore polygonale d'Adam Bradley:
(Traduit par les océans inimaginés d'Aliké Harel)
Des grenouilles coassent dans la vase analogique d'un marécage nocturne. Des hommes-pixels avancent par pulsion et oscillent dans la flore polygonale, marine, ambre et écarlate. La romance post-organique titille la membrane du tympan, éveillant un univers en ruine bercé par la mélodie chromatique du chaos. Des voyageurs célestes, en position du lotus, jouent l'immémoriale théorie des cordes au banjo, en lisant une partition gravée dans l'esprit d'une bête de données sommeillante. L'Internet implanté déclenche la longue traversée vers le monde pour y rencontrer un noyau lumineux, parfait, immaculé. Des océans encore inimaginés s'effondrent et ondulent dans l'éternelle trigonométrie. Une fenêtre s'ouvre sur la dernière chambre, l'oreille entend un hymne et une larme s'extirpe de l'acier. À la vitesse de la lumière, la gloire jaillit sous forme d'un arc-en-ciel hélicoïde et s'écrase dans le générique du film de la vie. Le tout encapsulé dans un tome immobilisé au cœur d'un trou noir.
---