Tag: calgary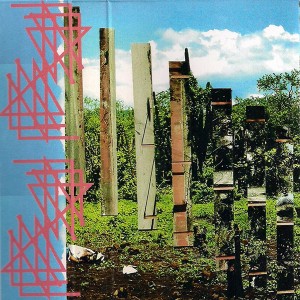 Burro
Tangerine Rising
(USSR)
Calgary, AB
From the strange grassland of Claire Guimond:
"How long have I been here?" Seems like it takes more effort than usual to access your short-term memory, yet it must be there, somewhere, under these heavy planes of uncharted cognition. There's no solar time reference in this strange grassland, though you can barely remember what the sun feels like — is it always so dark at this time of day? If you could just clear your head, block out the noise from the freak sandstorm pressing in on all sides…
But for near-massless particles of sand, like yourself, this storm is your providence and you're not quite ready to be alone and invisible. How could you even go anywhere without a weather system? You're just obeying laws, looking for lower pressure zones, trusting the driving dynamics of the atmosphere. This chaos is controlled, right? How dangerous could it be?
You realize the only way to go is up, so you wait for the countdown that will launch you into space. T minus 2… 1… 0.5… 0.25… 0.125…
De la prairie étrange de Claire Guimond:
(Traduit par Jehane Yazami)
« Depuis combien de temps suis-je ici? » Il semble que l'accès à ta mémoire à court terme demande plus d'efforts que d'habitude, mais pourtant elle doit bien être là, quelque part, sous ces lourds plans de connaissances inexplorées. Le temps solaire n'offre pas de point de repère dans cette prairie étrange, et tu peux à peine te rappeler de la sensation du soleil – fait-il toujours aussi sombre à cette heure? Si seulement tu pouvais remettre de l'ordre dans tes idées, repousser le bruit de la tempête de sable insolite qui t'entoure…
Mais pour une particule de sable qui n'a presque pas de masse, comme toi, cette tempête est une providence et tu n'es pas tout à fait prêt à être seul et invisible. Comment pourrais-tu aller où que ce soit sans un système météorologique? Tu obéis aux lois, cherchant les zones de basse pression, faisant confiance aux dynamiques motrices de l'atmosphère. Il s'agit d'un chaos contrôlé, n'est-ce pas? Pourquoi est-ce que ce serait dangereux?
Tu réalises que le seul endroit où aller est vers le haut, et donc tu attends le compte à rebours qui te lancera dans l'espace. T moins 2… 1… 0.5… 0.25… 0.125…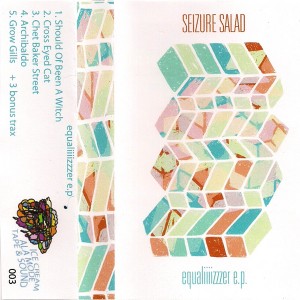 Seizure Salad
Equaliiiizzzer EP
(Ice Cream Ala Mode)
Calgary, AB
From the intergalactic infancy of Jenya Doudareva:
Seizure Salad are noise-whisperers. They capture savage sounds without building traps or setting nets, but instead, grab it with their bare hands. These metamorphose while the noise is still prickly, kicking and pulsing chaotically. This five-song cassette is an otherworldly creature.
The EP starts with "Should Of Been A Witch" (sic), an eerie, energetic and engaging piece. "Cross Eyed Cat", brings forth alien industrial sounds, while "Chet Baker Street", transforms into an unsettling lullaby for an infant born outside this galaxy. The feral creature continues to evolve on "Archibaldo", hinting at the continuous cycle of breakdown and rebuilding of a grand and complicated mechanism. Finally, on "Grow Gills", the screechy chaos gives rise to something beautiful.
De la petite enfance intergalactique de Jenya Doudareva:
(Traduit par le tourniquet spacial de Julie Forget)
Les membres de Seizure Salad sont des chuchoteurs de bruits. Ils capturent des sons sauvages sans utiliser de pièges ni de filets, mais en s'en emparant plutôt à mains nues. Ces sons se métamorphosent alors que le bruit est encore épineux, frappant et pulsant chaotiquement. Cette cassette de cinq chansons est une créature d'un autre monde.
Le EP commence avec « Should Of Been A Witch » (sic), un morceau étrange, énergique et charmant. La pièce « Cross Eyed Cat » propose des sons industriels extraterrestres, alors que « Chet Baker Street » se transforme en une berceuse troublante destinée à un nourrisson né à l'extérieur de notre galaxie. La créature sauvage continue d'évoluer sur « Archibaldo », faisant allusion au cycle continuel de décomposition et de reconstruction d'un mécanisme formidable et compliqué. Finalement, sur « Grow Gills », le chaos hurlant donne lieu à quelque chose de superbe.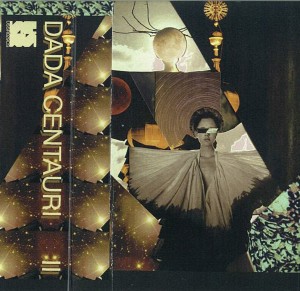 Dada Centauri
II
Calgary, AB
From the space jamb of Bryce Warnes:
When Max Ernst's clone is recruited to design the next ISS module, you can expect that he'll require the on-board sound-system to blast this tape at full volume. Andrew Hume and Whitney Ota of Burro fame reunite under the Dada Centauri banner to pump out a C60′s worth of nebulous space jams. II careens from cosmic tideline ambience to foreboding quasar pulse, computer bleep-bloop to the drone of singing spheres. Occasionally, a loop or phrase straight from the library raises its hauntological head. A stellar grip courtesy of the astro-avant-garde.
Du montant spatial de Bryce Warnes:
(Traduit du balcon d'Andréanne Dion)
Quand le clone de Max Ernst est recruté pour créer le prochain module de la Station spatiale internationale, on peut s'attendre à ce qu'il ait besoin de la chaîne audio à bord pour faire jouer cette cassette à plein volume. Andrew Hume et Whitney Ota, connus pour leur rôle dans Burro, sont réunis à nouveau sous la bannière de Dada Centauri pour produire l'équivalent d'une C60 de sessions spatiales nébuleuses. II oscille entre une ambiance de démarcation cosmique et les battements prémonitoires des quasars, entre les bruits d'ordinateurs et le ronronnement de l'Harmonie des sphères. De temps à autre, un son en boucle ou une expression directement tirée de la bibliothèque pointe le bout de son nez fantomatique. Une emprise stellaire, offerte par l'avant-garde astrale.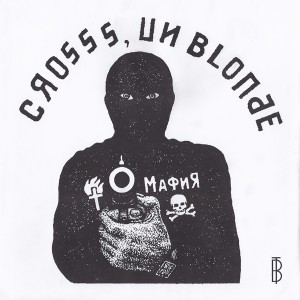 Un Blonde // Crosss
Split
Calgary, AB // Hamilton, ON
From the obsidian blues of Javier Fuentes:
Night-time rituals conducted inside obsidian caverns. Crosss play on with trembling rhythms and buzzing guitars that challenge and guide the uninitiated to the psychedelic unknown. The haunted six string melodies of a prolific Calgarian echo deep into the walls. Un Blonde's ceremonial chants delivered like a prairie druid leading us into rock and roll revival. This is transformation through reverberation.
Du cafard d'obsidiennes de Javier Fuentes :
(Traduit par les chants religieux de Julie Forget)
Des rituels nocturnes sont menés à l'intérieur de cavernes d'obsidiennes. Crosss continue à jouer avec des rythmes tremblants et des guitares bourdonnantes qui défient et guident les non-initiés vers l'inconnu psychédélique. Les mélodies hantées à six cordes d'un Calgarien prolifique résonnent dans la profondeur des murs. Les chants cérémoniels d'Un Blonde sont émis comme un druide des Prairies qui nous mène vers un renouveau rock and roll. Voici une transformation par la réverbération.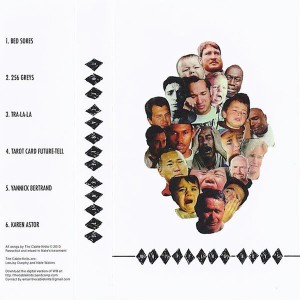 The Cable-knits
Whipping Boys
(Self Released)
Calgary, AB
From the summer scorch of Javier Fuentes:
The second cassette from Calgary guitar/drum duo the Cable-knits delivers songs for scorching summer days spent closer to concrete jungles than sandy beaches. Sharp guitar lines cut through fuzz and pounding drums in an attempt to navigate an intricate maze. This might be the closest result to a meeting between a good neighbour and a midnight bandit.
Des jours d'été brûlants de Javier Fuentes:
(Traduit sous un soleil brûlant par Audrey Roy)
En provenance de Calgary, le duo de guitare et de batterie the Cable-knits livre sa seconde cassette de chansons pour des jours d'été brûlants où l'on passe plus près des jungles urbaines que des plages de sable. La mélodie de la guitare tranche dans la brume de la batterie retentissante pour naviguer en cet inextricable labyrinthe. On assiste au résultat le plus probable qui surviendrait de la rencontre entre un bon voisin et un criminel nocturne.
Gretchen
Gretchen
(Self Released)
Calgary, AB
From the final destination of Javier Fuentes:
Three Calgarians trapped in constant motion. Gathering steam as they head down dimly lit highways en route to a secret destination. Passing by airfields filled with the empty space cleared out by another case of fretboard chaos. Wheels turn in motorik patterns as images dissolve in the pavement under punishing heat waves. Bright and jangled lines guide the way forward. The final destination appears beyond the valley. ETA unknown.
De la destination finale de Javier Fuentes:
(Traduit par la lumière au bout du tunnel de Julie Forget)
Trois Calgariens pris au piège dans un mouvement constant. Accélérant, ils parcourent les autoroutes sombres vers une destination secrète et passent devant des terrains d'aviation, dont l'espace inoccupé a été vidé par un autre exemple de chaos de frette. Les roues tournent de façon motorik alors que les images disparaissent dans la chaussée sous des vagues de chaleur sévères. Des lignes lumineuses cliquetant indiquent la voie à suivre et leur destination finale apparaît derrière la vallée. Heure d'arrivée prévue : inconnue.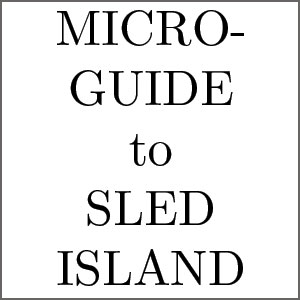 In honour of Sled Island's seventh year, we bring you a curated slice of the Weird Sled experience! An all-Canadian, bone-free indulgence of northernly fringe!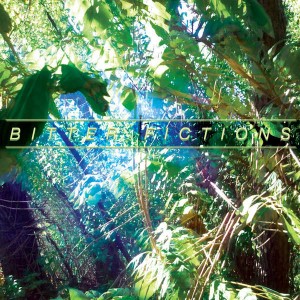 Bitter Fictions
Bitter Fictions
Calgary, AB
From the drifting cacophony of David Ferris:
For a guy who spends all day selling / writing about records — working at the much beloved Sloth and penning his weekly column for FFWD, Calgary's arts and news rag — Devin Friesen must relish the opportunity to revel in the disruption of the self-repressive fictions of "one-person/one-guitar," which he lays to waste in his Licht-ian/Niblock-ian efforts. Instead of singer-songwriter sensitivities, post-rock's predictable set-plays of major key peaks and valleys (or anything else generally expected), we are given eight patient and slow-burning pieces for chiming guitars, stochastic piles, negative space, extended technique, needles and pins, dense haze, ringing tones and expansive drones. Unpredictable, but not frenetic: one man's love affair with feedback, documented with the discerning expertise of when to dog-pile sounds and when to let them breathe.
De la dérive cacophonique de David Ferris:
(Traduit par Vincent Rondeau)
Pour quelqu'un qui passe ses journées à vendre des disques au comptoir bien-aimé de Sloth et à écrire des critiques musicales hebdomadaires pour le magazine culturel de Calgary FFWD, Devin Friesen doit se délecter de pouvoir détruire à souhait les fictions auto-répressives qui entourent « un homme et sa guitare », ce qu'il fait avec un effort lichtien, voire niblockien. Plutôt qu'une sensibilité d'auteur-compositeur-interprète ou de post-rockiste prisonnier des accords majeurs, des crêtes et des creux propres au genre, on a droit à huit pièces, à combustion lente et délibérée, pour guitares sonnantes, accumulations stochastiques, espaces négatifs, techniques étendues, fourmillements, brouillards denses, sonorités brillantes et bourdonnements. Le tout est imprévisible, mais pas frénétique. C'est l'histoire d'amour passionnée entre un homme et le feed-back, ayant pour pierre d'assise l'expertise judicieuse de Friesen, qui sait quand empiler les sons et quand les laisser respirer.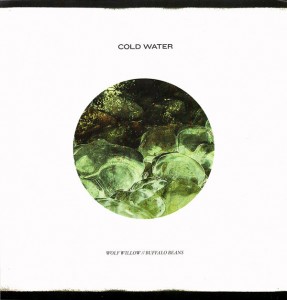 Cold Water
Wolf Willow b/w Buffalo Beans
Calgary, AB
From the gruff stuff of Jesse Locke:
That voice emanating from the mouth of Kevin Stebner might sound unreal, but this is a man who has earned his Beaver Badges and become fully grown. Slowing the post-hardcore roll of of his stalwart project while maintaining the inimitable qualities of new/old Canadiana, he stays frosty with the country-rock turns of Cold Water. The songs of this 7" are no longer seasonally appropriate, but their heart-on-flannel-sleeve feeling will stay with you year-round.
De l'attitude bourrue de Jesse Locke:
(Traduit avec la main sur le cœur de Dominic Mpilé)
Cette voix sortant de la bouche de Kevin Stebner peut sembler irréelle, mais voici un homme qui a gagné ses galons et mangé toutes ses croûtes. En ralentissant le rythme post-hardcore de son autre projet Stalwart Sons tout en maintenant la qualité inimitable de la griffe new/old Canadiana, il garde le cap avec le virage country-rock de Cold Water. Les chansons de ce 7" ne sont plus saisonnières, mais leurs émotions à fleur de peau resteront en vous toute l'année.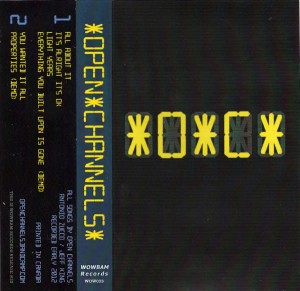 Open Channels
Open Channels
Lethbridge, AB // Calgary, AB
From the biff bang pow of Paul Lawton:
Schizoid collab. Jeff King brings the stimulating, plaintive, post-singles format of the '60s — brisk pacing, great hooks, crisp playing, bright production — with a precision that warms to the touch. Meanwhile, Tony Zucco is an ice-cold pop-manipulator embedding heavy catch into deceptively simple structures. This is music enthusiasm with zero pretension and implicit sincerity.
Du piff paff pow de Paul Lawton:
Collaboration schizophrène s'il en est une. Jeff King apporte le stimulant et le plaintif caractéristiques au format post-simple des années 60 – rythme fébrile, mélodies accrocheuses, jeu vif, production lumineuse – avec une précision qui réchauffe le coeur. Pendant ce temps, Tony Zucco, le bidouilleur pop au sang-froid, incorpore des canons bien sentis au sein de structures d'une simplicité trompeuse. De l'enthousiasme musical d'une sincérité implicite sans prétention aucune.
---