Tag: calgary
Hag Face
Hag Face
(Self-Released)
Calgary, AB
From the creep-surf of Penny Clark:
This album sounds like a slew of demons tearing it up at the biggest house party. On a tropical island. With surfing. During a lightning storm. After an ominous introduction, the album sprints with wicked fast creep-surf riffs, metallic wah wah and cackling vocals. Careening basslines slash through with the fury of a Bash Brother and the pull-no-punches drummer punctuates the joyously vicious lyrics. Screeching guitar feedback glistens alongside their seething rhythms. Closer "Shake" shifts the tone and becomes even noisier, which creates an effect of distance as Hag Face withdraw into the night's fog.
Du creep-surf de Penny Clark:
(Traduit de l'île tropicale de Justine Gabias)
Cet album sonne comme un tas de démons s'envoyant en l'air dans un immense house party. Sur une île tropicale. Avec du surf. Pendant un orage électrique. Après une introduction menaçante, l'album déferle avec des riffs effrénés de creep-surf, du wah wah métallique et une voix crépitante. Les jeux de basse chancelants tranchent avec la furie d'un Bash Brother et la batteuse, qui ne fait pas de quartiers, souligne des paroles joyeusement vicieuses. Le feedback grinçant des guitares miroite aux côtés de leurs rythmes enragés. La piste finale « Shake » change le ton et devient encore plus bruyante, ce qui crée un effet de distance alors que Hag Face se retire dans le brouillard nocturne.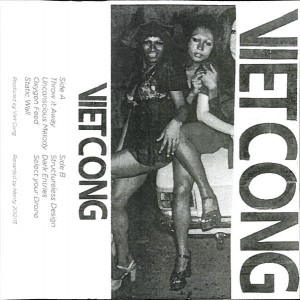 Viet Cong
Cassette
(Self Released)
Calgary, AB
From the unconscious melody of Claire Marie Guimond:
The elevator doors ring at the end of the countdown, and you couldn't have been kept any longer. You get out of there before the exit is wide enough, dragging it open – you land on one foot and are off sprinting with a half-stumble. Don't let yourself think about how close they are behind you, just pray that your head start will be enough. Grazing a corner you hear something fall, but you can't worry about that now. It's so very vital that you're absolutely focused. Then the sun hits — you've reached the outside — and you're much higher than you thought. A siren creeps in from somewhere and your stomach sinks, but it passes: this one's not for you. Concentrate. Steel ramparts are rushing by. Are you sure that you've been the one running away? It doesn't matter, just don't get interrupted, and don't get scared. The heat of your target is blinding — and now everything is silent. You feel absolutely nothing, which is exactly what you need. There's a wall coming up fast ahead. You're going straight through it. All this energy is only generated inside you. These serrated bricks are going to shatter and you must be powerful enough, you were designed to break walls.
The name of this band is Viet Cong; they are the finish line of Calgary's race to overtake the postpunk eruption building within itself through the past six years. Members of Women, the Chad VanGaalen band, Sharp Ends and Feel Alright have crafted something so gripping that they will clearly soon be Canada's favourite new band. Pass it around.
De la mélodie inconsciente de Claire Marie Guimond:
(Traduit de la chair de poule de Catherine Debard)
Le compte à rebours prend fin et l'ascenseur sonne; vous n'auriez pu attendre plus longtemps. Vous sortez dès que possible en ouvrant la porte de force. Ne pensez surtout pas à eux, qui se rapprochent de plus en plus, mais priez pour que votre longueur d'avance tienne. Effleurant le coin d'un mur, vous entendez quelque chose tomber, mais impossible de s'en inquiéter maintenant. Toute votre attention se focalise en ce moment crucial. Soudain, le soleil cogne —- vous êtes à l'extérieur, beaucoup plus haut que vous ne l'auriez cru. Une sirène retentit au loin, une crampe vous saisit au ventre, mais disparait aussitôt : celle-là n'était pas pour vous. Restez concentré. Les remparts d'acier défilent à toute allure. Êtes-vous certain que c'est bien vous qui vous sauvez? C'est sans importance, ne vous laissez pas interrompre, et surtout n'ayez pas peur. Votre objectif vous aveugle, et maintenant tout est silencieux. Vous ne sentez absolument rien, exactement ce qu'il faut. Un mur se rapproche rapidement. Vous vous dirigez droit sur lui. Toute cette énergie est générée à l'intérieur de vous. Ces briques dentelées vont voler en éclats, mais vous devez être assez puissant, car vous êtes né pour briser des murs.
Le groupe s'appelle Viet Cong et il couronne cette course qui perdure depuis six ans au sein de la scène post-punk toujours grandissante de Calgary. Des musiciens de Women, du groupe de Chad VanGaalen, de Sharp Ends et de Feel Alright ont créé quelque chose de si saisissant qu'ils deviendront bientôt le groupe favori du Canada. Passez le mot.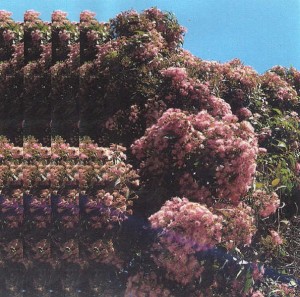 Fuck Off Dad
Fuck Off Dad
Calgary, AB
From the faded subconscious of Cameron Noble:
A quick online search for "fuck off dad" delivers varied results: A Twitter account dedicated to leaving angry messages for oblivious fathers, plus YouTube confessionals ranging from mildly entertaining to heart wrenching. And then there's the duo from Calgary who leave no room for subtlety. Fuck Off Dad's self-titled release is a no-holds-barred 30 or so minutes of noise. Their particular brand — a series of crashes, fills, solos, guitar screeching and feedback — both commands your attention and fades into the subconscious. At times, they are reminiscent of Fantomas (Mike Patton's avant-garde acid metal band) or John Zorn translated into distorted guitar. The outlier track, simply titled "B2", is a quieter version of the previous chaos. Unsurprisingly, it stands out by proving that they do in fact possess restraint. Fuck Off Dad eschews any form or structure, which can be liberating and must be cathartic for the players involved. Not recommended for mixtapes.
Du subconscient estompé de Cameron Noble:
(Traduit entre Montréal et Toronto par Andréanne Dion)
Une recherche rapide en ligne des mots « fuck off dad » donne des résultats variés: un compte Twitter consacré à laisser des messages haineux à des pères indifférents, et des confessions sur YouTube, allant du passablement divertissant au tout simplement déchirant. Et puis, il y a le duo de Calgary qui ne laisse pas de place à la délicatesse. L'album éponyme de Fuck Off Dad offre 30 minutes ou presque de bruit sans ménagement. Leur genre de musique — une série de fracas, de remplissages, de solos, et le son perçant des guitares et du feedback — attire l'attention et s'estompe dans le subconscient tout à la fois. Par moments, ils évoquent Fantomas (le groupe de métal acid avant-garde de Mike Patton), ou encore John Zorn joué sur des guitares distordues. Le morceau d'exception, simplement intitulé « B2 », est une version plus calme du chaos précédent. Cette chanson se démarque, car elle prouve qu'ils savent faire preuve de retenue. Fuck Off Dad rejette toute forme de structure, ce qui peut être libérateur et sans doute cathartique pour les musiciens. Ce n'est toutefois pas recommandé pour les mixtapes.
Lab Coast
Walking on Ayr
Calgary, AB
From the tea cozy cupboard of Joseph Stephenson Taylor:
Where are our cats? We need a furry purr by our side to accompany this twee cacophony. Real and reliable, this is a sure-fire remedy to break the monotony of an extended prairie drive or expel the anxious comedown of a lively sock hop. The broken glasses croon and slapback delayed axe give us warm fuzzies, while the thump-thump of the bass and the dust storm from the drums keeps it punk rock enough for us to consider stealing cigs from our boss's backpack. All the teacups are sitting in the sink and it's too hot for a colourful sweater, but we know they belong here with us, our fat tabbies and Lab Coast's Walking on Ayr.
Du douillet placard à thé de Joseph Stephenson Taylor:
(Traduit par le ronron à fourrure tigrée de Hugo Hyart-Dauvergne)
Où sont nos chats ? Nous avons besoin d'un ronron à fourrure sur les genoux pour accompagner cette adorable cacophonie. Réel et fiable, ceci est un remède parfait contre la monotonie d'un trajet prolongé en voiture à travers les prairies ou pour calmer l'anxiété d'un après-bal de fin d'année animé. Les verres cassés chantent et une guitare à long retardement réchauffe nos jolis coeurs, tandis que le dum-dum de la basse et la tempête de sable de la batterie garde le tout assez punk rock pour nous donner l'idée de voler les clopes dans le sac à dos de notre patron. Toutes les tasses sont dans l'évier et il fait trop chaud pour mettre un pull bariolé, mais nous savons qu'ils ont leur place ici avec nous, nos gros chats tigrés et Walking on Ayr de Lab Coast.
Lab Coast – Don't Wanna See You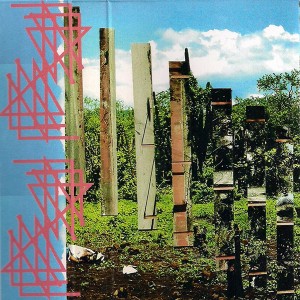 Burro
Tangerine Rising
(USSR)
Calgary, AB
From the strange grassland of Claire Guimond:
"How long have I been here?" Seems like it takes more effort than usual to access your short-term memory, yet it must be there, somewhere, under these heavy planes of uncharted cognition. There's no solar time reference in this strange grassland, though you can barely remember what the sun feels like — is it always so dark at this time of day? If you could just clear your head, block out the noise from the freak sandstorm pressing in on all sides…
But for near-massless particles of sand, like yourself, this storm is your providence and you're not quite ready to be alone and invisible. How could you even go anywhere without a weather system? You're just obeying laws, looking for lower pressure zones, trusting the driving dynamics of the atmosphere. This chaos is controlled, right? How dangerous could it be?
You realize the only way to go is up, so you wait for the countdown that will launch you into space. T minus 2… 1… 0.5… 0.25… 0.125…
De la prairie étrange de Claire Guimond:
(Traduit par Jehane Yazami)
« Depuis combien de temps suis-je ici? » Il semble que l'accès à ta mémoire à court terme demande plus d'efforts que d'habitude, mais pourtant elle doit bien être là, quelque part, sous ces lourds plans de connaissances inexplorées. Le temps solaire n'offre pas de point de repère dans cette prairie étrange, et tu peux à peine te rappeler de la sensation du soleil – fait-il toujours aussi sombre à cette heure? Si seulement tu pouvais remettre de l'ordre dans tes idées, repousser le bruit de la tempête de sable insolite qui t'entoure…
Mais pour une particule de sable qui n'a presque pas de masse, comme toi, cette tempête est une providence et tu n'es pas tout à fait prêt à être seul et invisible. Comment pourrais-tu aller où que ce soit sans un système météorologique? Tu obéis aux lois, cherchant les zones de basse pression, faisant confiance aux dynamiques motrices de l'atmosphère. Il s'agit d'un chaos contrôlé, n'est-ce pas? Pourquoi est-ce que ce serait dangereux?
Tu réalises que le seul endroit où aller est vers le haut, et donc tu attends le compte à rebours qui te lancera dans l'espace. T moins 2… 1… 0.5… 0.25… 0.125…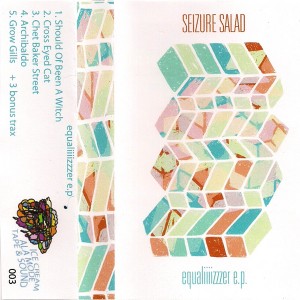 Seizure Salad
Equaliiiizzzer EP
(Ice Cream Ala Mode)
Calgary, AB
From the intergalactic infancy of Jenya Doudareva:
Seizure Salad are noise-whisperers. They capture savage sounds without building traps or setting nets, but instead, grab it with their bare hands. These metamorphose while the noise is still prickly, kicking and pulsing chaotically. This five-song cassette is an otherworldly creature.
The EP starts with "Should Of Been A Witch" (sic), an eerie, energetic and engaging piece. "Cross Eyed Cat", brings forth alien industrial sounds, while "Chet Baker Street", transforms into an unsettling lullaby for an infant born outside this galaxy. The feral creature continues to evolve on "Archibaldo", hinting at the continuous cycle of breakdown and rebuilding of a grand and complicated mechanism. Finally, on "Grow Gills", the screechy chaos gives rise to something beautiful.
De la petite enfance intergalactique de Jenya Doudareva:
(Traduit par le tourniquet spacial de Julie Forget)
Les membres de Seizure Salad sont des chuchoteurs de bruits. Ils capturent des sons sauvages sans utiliser de pièges ni de filets, mais en s'en emparant plutôt à mains nues. Ces sons se métamorphosent alors que le bruit est encore épineux, frappant et pulsant chaotiquement. Cette cassette de cinq chansons est une créature d'un autre monde.
Le EP commence avec « Should Of Been A Witch » (sic), un morceau étrange, énergique et charmant. La pièce « Cross Eyed Cat » propose des sons industriels extraterrestres, alors que « Chet Baker Street » se transforme en une berceuse troublante destinée à un nourrisson né à l'extérieur de notre galaxie. La créature sauvage continue d'évoluer sur « Archibaldo », faisant allusion au cycle continuel de décomposition et de reconstruction d'un mécanisme formidable et compliqué. Finalement, sur « Grow Gills », le chaos hurlant donne lieu à quelque chose de superbe.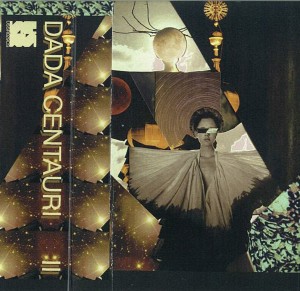 Dada Centauri
II
Calgary, AB
From the space jamb of Bryce Warnes:
When Max Ernst's clone is recruited to design the next ISS module, you can expect that he'll require the on-board sound-system to blast this tape at full volume. Andrew Hume and Whitney Ota of Burro fame reunite under the Dada Centauri banner to pump out a C60′s worth of nebulous space jams. II careens from cosmic tideline ambience to foreboding quasar pulse, computer bleep-bloop to the drone of singing spheres. Occasionally, a loop or phrase straight from the library raises its hauntological head. A stellar grip courtesy of the astro-avant-garde.
Du montant spatial de Bryce Warnes:
(Traduit du balcon d'Andréanne Dion)
Quand le clone de Max Ernst est recruté pour créer le prochain module de la Station spatiale internationale, on peut s'attendre à ce qu'il ait besoin de la chaîne audio à bord pour faire jouer cette cassette à plein volume. Andrew Hume et Whitney Ota, connus pour leur rôle dans Burro, sont réunis à nouveau sous la bannière de Dada Centauri pour produire l'équivalent d'une C60 de sessions spatiales nébuleuses. II oscille entre une ambiance de démarcation cosmique et les battements prémonitoires des quasars, entre les bruits d'ordinateurs et le ronronnement de l'Harmonie des sphères. De temps à autre, un son en boucle ou une expression directement tirée de la bibliothèque pointe le bout de son nez fantomatique. Une emprise stellaire, offerte par l'avant-garde astrale.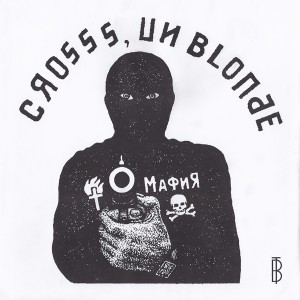 Un Blonde // Crosss
Split
Calgary, AB // Hamilton, ON
From the obsidian blues of Javier Fuentes:
Night-time rituals conducted inside obsidian caverns. Crosss play on with trembling rhythms and buzzing guitars that challenge and guide the uninitiated to the psychedelic unknown. The haunted six string melodies of a prolific Calgarian echo deep into the walls. Un Blonde's ceremonial chants delivered like a prairie druid leading us into rock and roll revival. This is transformation through reverberation.
Du cafard d'obsidiennes de Javier Fuentes :
(Traduit par les chants religieux de Julie Forget)
Des rituels nocturnes sont menés à l'intérieur de cavernes d'obsidiennes. Crosss continue à jouer avec des rythmes tremblants et des guitares bourdonnantes qui défient et guident les non-initiés vers l'inconnu psychédélique. Les mélodies hantées à six cordes d'un Calgarien prolifique résonnent dans la profondeur des murs. Les chants cérémoniels d'Un Blonde sont émis comme un druide des Prairies qui nous mène vers un renouveau rock and roll. Voici une transformation par la réverbération.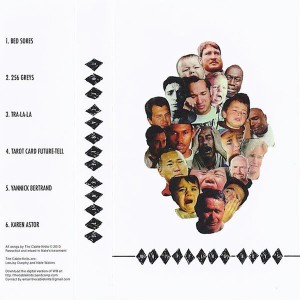 The Cable-knits
Whipping Boys
(Self Released)
Calgary, AB
From the summer scorch of Javier Fuentes:
The second cassette from Calgary guitar/drum duo the Cable-knits delivers songs for scorching summer days spent closer to concrete jungles than sandy beaches. Sharp guitar lines cut through fuzz and pounding drums in an attempt to navigate an intricate maze. This might be the closest result to a meeting between a good neighbour and a midnight bandit.
Des jours d'été brûlants de Javier Fuentes:
(Traduit sous un soleil brûlant par Audrey Roy)
En provenance de Calgary, le duo de guitare et de batterie the Cable-knits livre sa seconde cassette de chansons pour des jours d'été brûlants où l'on passe plus près des jungles urbaines que des plages de sable. La mélodie de la guitare tranche dans la brume de la batterie retentissante pour naviguer en cet inextricable labyrinthe. On assiste au résultat le plus probable qui surviendrait de la rencontre entre un bon voisin et un criminel nocturne.
Gretchen
Gretchen
(Self Released)
Calgary, AB
From the final destination of Javier Fuentes:
Three Calgarians trapped in constant motion. Gathering steam as they head down dimly lit highways en route to a secret destination. Passing by airfields filled with the empty space cleared out by another case of fretboard chaos. Wheels turn in motorik patterns as images dissolve in the pavement under punishing heat waves. Bright and jangled lines guide the way forward. The final destination appears beyond the valley. ETA unknown.
De la destination finale de Javier Fuentes:
(Traduit par la lumière au bout du tunnel de Julie Forget)
Trois Calgariens pris au piège dans un mouvement constant. Accélérant, ils parcourent les autoroutes sombres vers une destination secrète et passent devant des terrains d'aviation, dont l'espace inoccupé a été vidé par un autre exemple de chaos de frette. Les roues tournent de façon motorik alors que les images disparaissent dans la chaussée sous des vagues de chaleur sévères. Des lignes lumineuses cliquetant indiquent la voie à suivre et leur destination finale apparaît derrière la vallée. Heure d'arrivée prévue : inconnue.
---