Tag: blues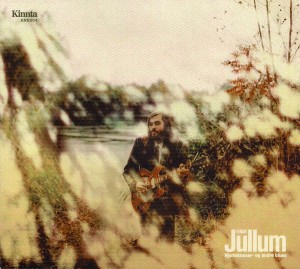 Einar Jullum
Hjerteknuser – og andre blues
Montréal, QC
From the heartworn highway of Harriet Wild:
These are blues for halcyon days, sky-blues and sea-blues that rent apart a grey status quo, revealing and revelling in melodic twangs and prairie noodling not dissimilar to Arthur Russell's folksier offerings. Jullum's guitar meanders, pulsates and jitters along a heartworn highway, filtered through feathered drumlines, 12-bar blues sewn to husky Norwegian annunciations. Pastoral pop contemporaries notwithstanding, Jullum is countrified without being Kentucky-fried.
De l'autoroute des coeurs usés de Harriet Wild:
(Traduit par le brin d'herbe à la bouche de Nicolas Coutlée)
Du blues pour les jours heureux, un ciel blues et une mer blues qui fendent la grisaille et font jaillir dans la joie des gerbes de mélodies des prairies qui rappellent les offrandes plus folk d'un Arthur Russell. La guitare de Jullum déambule, se démène et bat pareil aux coeurs usés d'autoroute, accompagnée d'une batterie poids plume, cousue de prophéties norvégiennes enrouées. Au-delà de ses accointances pop pastorales, Jullum se fait country sans tomber dans le frit Kentucky.
Einar Jullum – Hjerteknuser – blues
Einar Jullum – Er det for mye å kreve at det å leve er mer enn å streve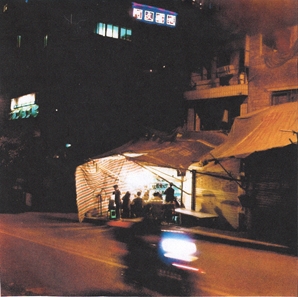 Parallel Pyres
Corrugated City
(Self Released)
Montreal, QC

Moving past his
Casio-panoramic persona
like a snake shedding its skin, the rhythmic heartbeat of
Hot & Cold
drifts into a holier plane with his latest CD-R. Re-animating
Bo
and maybe even
Booker
,
Corrugated City
brings blues and spiritual idioms into a haunted future-past of drum machines, fuzz organ and squealing six-string freak-outs. Who do you love?
Audio clip: Adobe Flash Player (version 9 or above) is required to play this audio clip. Download the latest version here. You also need to have JavaScript enabled in your browser.
Parallel Pyres – You Seen Her?
Audio clip: Adobe Flash Player (version 9 or above) is required to play this audio clip. Download the latest version here. You also need to have JavaScript enabled in your browser.
Audio clip: Adobe Flash Player (version 9 or above) is required to play this audio clip. Download the latest version here. You also need to have JavaScript enabled in your browser.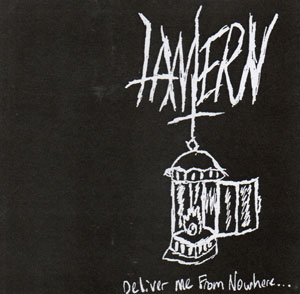 Lantern
Deliver Me From Nowhere…
Montreal, QC // Halifax, NS // Philadelphia, PA

Lantern, c'est le duo
Zachary Fairbrother
et Emily Robb, deux expatriés canadiens partis vers
la Ville de l'Amour Fraternel
. Mais pardieu, brisons-nous vraiment les règles de Weird Canada ? Oui, peut-être, mais ils ont encore leur passeports canadiens. Aussi faut-il savoir que cette première cassette est trop savoureuse pour rester silencieux. Six compositions qui empruntent au folk et au vieux blues américain, où l'on passe de la solitude désolante à l'harmonica jusqu'au fuzz-wah anéantissant de << Crude Vessels of Sound >>. Carburant à la guitare, c'est un beau retour aux sources du proto-punk et du blues sauce psychédélique, cover de Hasil Adkins inclus.
From the brotherly love of Gabriel Jasmin:
Lantern is the duo of Zachary Fairbrotherand Emily Robb, two recent Canadian expats gone to the City of Brotherly Love. Wait, are we violating Weird Canada rules? Well, I'm sure both still have Canadian passports, and this first offering is too rad to pass up. Six songs taking cues from early American folk and blues, from desolate quietness to a harmonica call and response to the blown-out fuzz-wah meltdown in "Crude Vessels of Sound." A grand foray into guitar-fueled proto-punk and psychedelic blues, Hasil Adkins cover included.
Audio clip: Adobe Flash Player (version 9 or above) is required to play this audio clip. Download the latest version here. You also need to have JavaScript enabled in your browser.
Lantern – Crude Vessels of Sound
Audio clip: Adobe Flash Player (version 9 or above) is required to play this audio clip. Download the latest version here. You also need to have JavaScript enabled in your browser.
---