Tag: babysitter
Babysitter
"Cemetary House"
(Directed by Phil Osborne)
Victoria, ON
From the melted mouth of Johnnie Regalado:
How quickly does the phrase 'face-melting' come to mind when you hear cuts from Babysitter? For the song "Cemetary House", which appears on both Tape 666 and the Monster Treasure split, Ottawa-based artist Phil "Uncle Phil" Osborne has sculpted and layered a video that aesthetically emulates these shredders' ability to mush your mind. That mask is probably what you looked like the first time you saw Babysitter live.
De la bouche fondue de Johnnie Regalado:
(Traduit par la fonte des glaces de Julie Forget)
À quelle vitesse est-ce que l'expression « face-melting » vient à l'esprit, lors de l'écoute d'extraits sonores de Babysitter ? Pour la chanson « Cemetary House », qui apparaît sur Tape 666 ainsi que sur le split Monster Treasure, Phil « Uncle Phil » Osborne, artiste établi à Ottawa, a sculpté et superposé en strates d'images une vidéo dont l'esthétique imite l'aptitude de ces destructeurs de son à mettre votre esprit en bouillie. Ce masque est probablement ce à quoi vous ressembliez après votre première présence à un show de Babysitter.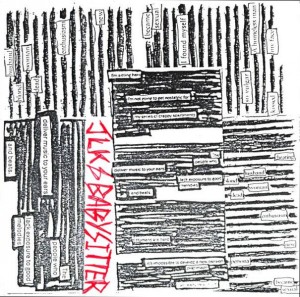 JLK & Babysitter
II
(Self Released)
Montreal, QC // Victoria, BC,
From the super highway of Eamon Quinn:
JLK & Babysitter's second collaborative release is every bit as gleeful as their first outing. This cassette documents the Victorian trio's trip down the rabbit hole as they and Jane L. Kasowicz wiled away a productive unofficial 2013 Montreal summer residency bein' illegal and developing a third eye revision of their sound. If previous releases showed off the group's lurching Bonehead Crushin' chops, even during the most song-oriented moments ("Super highway", "Fur rust ray shone"), II appears to hitch that vibe onto the cracked avant-garage of more emotionally-varied no-fi psych like Photograph Burns or, even more accurately, Cyborgs Revisited.
The rarest hear-it-to-believe-it takes, for my money, are on the spookier end of the affair. Here, JLK's voice is a standout: a downright chilling presence over the percussion-led unmade monster movie soundtrack "Humans are hard" or in her disembodied blues vocalizations on the way-gone lunar boogie of "A homeless man kissed my face". And finally, recalling the Haino / Fushitsusha school of world-embracing psych, the twin weepy balladeering guitars of album closer "All saints down" tunnel like two divining rods towards eerie, dizzying six-string excess. Nothing is left in its wake but the hope they've got their own Double Live in the works. Already sold out at the source, so look out for the upcoming reissue courtesy of Pleasence.
De la méga autoroute d' Eamon Quinn:
(Traduit de source sure par Nicolas Coutlée)
La deuxième collaboration entre JLK et Babysitter s'avère tout aussi jubilatoire que leur première. Cette cassette documente le périple du trio de Victoria jusqu'au fond du terrier du lapin, à l'occasion d'une résidence estivale non officielle d'une prodigieuse productivité à Montréal; en compagnie de Jane L. Kasowicz, les garçons se sont complus gaiement dans l'illégalité tout en révisant leur son à partir d'un tout nouveau troisième oeil. Si leurs parutions précédentes nous ont montré toute la brusquerie de leurs riffs à la Bonehead Crushers, II emboîte le pas (même durant les moments mélodiques de « Super Highway » et de « Fur rust ray shone ») et s'aventure sur les routes rocailleuses avant-garage au dénivelé émotionnel prononcé du no-fi psychédélique de Photograph Burns ou encore plus précisément de Cyborgs Revisited.
À mon avis, les morceaux qu'il faut entendre pour le croire se retrouvent du côté obscur de cette galette. La voix de JLK y est époustouflante : une présence à vous glacer le sang qui flotte sur la trame sonore percussive du film de monstres jamais tourné « Humans are hard » ou encore ces vocalisations blues désincarnées sur le [boogie lunaire] anémique de « A homeless man kissed my face ». Et pour finir, rappelant l'école psychédélique universelle de Haino/Fushitsusha, les guitares jumelles larmoyantes de la ballade ultime, « All saints down », s'élancent comme deux baguettes de sourcier vers un débordement étourdissant et effrayant de six cordes. Rien ne survit à cette éruption, sauf l'espoir qu'un Double Live soit en cours de production. Le tirage initial s'étant déjà écoulé, gardez l'oeil pour la réédition à venir sur Pleasence.
JLK & Babysitter – Super Highway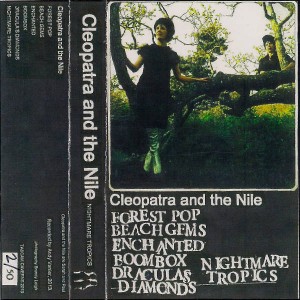 Cleopatra and the Nile
Nightmare Tropics
(Self Released)
Victoria, BC
From the eroded sapphires of Kristian North:
Cleopatra and the Nile is not a new band. They've been donning bejeweled turbans and creating haunted soundtracks to film projections for at least five years (if my damaged memory serves me). Nightmare Tropics, recorded live to tape at the Roxy Theatre, is the first release and it shreds like a monkey with a razorblade. Paul Pedrosa plays synths, bass, drum machines and always drives rad cars. Sarah Murphy plays the theremin all calm and cool with amazing technique (if you've ever waved yer hand in front of one of these things you know it's not the easiest instrument). Together they make music that's refreshingly organic in a genre that's moved so heavily towards laptops and all that man or machine shit. Dang-a-lang do they got style. When they play the anthemic Lil Wayne cum John Carpenter opening track "Dracula's Diamonds" live Paul runs his pre-recorded, Auto-Tuned vocals through the sampler and just plays the bass in his sweet getup, all dreaaamy. "Beach Gems" stalks you like a faceless serial killer in an attic and "Forest Pop" explodes like ballerinas falling through stained glass windows. Shades of hip-hop, science fiction, ambient noise, dated futures, Giallo, alien funk, neon lit diners, and every imaginary film playing inside yer head. xo.
Kristian North is the lead shredder in Victoria's Babysitter. Join their revolution by catching them on their infinite tour.
Des saphirs érodés de Kristian North:
(Traduit avec une touche giallo par Dominic MPILE)
Cleopatra and the Nile n'est pas un nouveau groupe. Ses membres ont porté des turbans décorés de joyaux et ont créé des bandes sonores hantées pour des projections de films pendant au moins cinq ans (si ma mémoire endommagée est bonne). Nightmare Tropics, leur premier album, a été enregistré en direct sur bande au Roxy Theatre, et déchire comme un singe avec une lame de rasoir. Paul Pedrosa joue du synthétiseur, de la basse et de la boîte à rythme, et conduit toujours des voitures formidables. Sarah Murphy joue du thérémine et reste de marbre, en jouant avec une technique incroyable (si vous avez déjà essayé, vous savez que ce n'est pas l'instrument le plus facile à jouer). Ensemble, ils font de la musique agréablement organique dans un genre qui est devenu énormément axé sur les ordinateurs portables et dont on se demande toujours s'il est produit par un homme ou par une machine. Ils ont un style fou lorsqu'ils jouent le morceau d'ouverture en spectacle, une hymne qui rappelle à la fois Lil Wayne et John Carpenter, intitulée « Dracula's Diamonds » : Paul fait jouer un pré-enregistrement de sa voix passée à l'Auto-Tune à travers l'échantillonneur, et joue simplement de la basse dans sa belle tenue, en nous faisant rêver. « Beach Gems » vous traque comme un tueur en série sans visage dans un grenier; et « Forest Pop » explose comme des ballerines qui tombent à travers des vitraux. Nuances de hip-hop, science-fiction,noise ambiant, futurs démodés, Giallo, funk extraterrestre, soupers aux néons…tous les films imaginaires jouent dans votre tête. xo.

Kristian North est le guitariste solo du groupe Babysitter, de Victoria. Joignez-vous à leur révolution en allant les voir en tournée.

Cleopatra and the Nile – Boom Box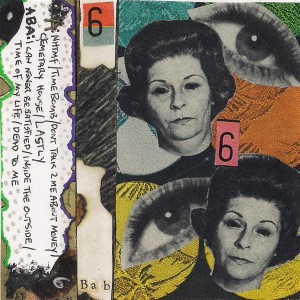 Babysitter
Tape 666
(Self Released)
Victoria, BC
From the deranged ride of Joel French:
Don't let the name fool you. Babysitter has no business being around children. They're loud. They've got riffs. They've got lots of hair. They can be as bizarre as they can be beautiful and it's all wrapped up in recordings so fuzzed out they hum. Tape 666 is a deranged ride (a six-sided triple cassette, to be specific) through the minds of wizards – pissed wizards who dig grunge, like to trip out and have one hell of a pop sensibility. Just lean back, close your eyes and see what dark corners and strange places these tapes will take you.
De l'embarqué déroutante de Joel French:
(Traduit par la plume voyageuse d' AnneMarie Papillon)
Ne vous laissez pas tromper par le nom. Babysitter n'est pas pour les enfants. Ils jouent fort. Ils ont des riffs. Ils ont du cheveu en masse. Aussi bizarre que sublime, leur son est tellement saturé qu'il en bourdonne. Tape 666 est une ballade déroutante (six faces réparties sur trois cassettes, pour être précis) au cœur de l'imaginaire de sorciers – des sorciers dérangés qui tripent sur le grunge, qui hallucinent fort et qui démontrent toute une sensibilité pop. Asseyez-vous confortablement, fermez les yeux et observez dans quelles contrées sombres et mystérieuses ces cassettes vous amèneront.
Babysitter – Way High on the Highway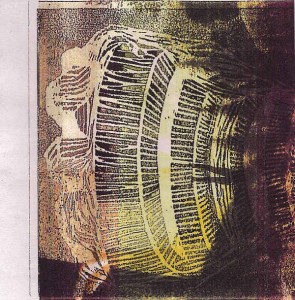 Highway X
Highway X
(Self Released)
Victoria, BC
From the eternal throb of Christopher Laramee:
Andy from Victoria BC's killer Babysitter lets one waft up to the ceiling in a full-blown drift study of wide and sky high proportions. Seven untitled parts slither into yer cortex and shake some serious dust from a bro's bootheels. The first near 11-minute epic sounds like being dragged underneath an 18-wheel semi trailer while some smartass trickles cough syrup and laughter on your forehead. Some dub shadows get thrown on the second track, Twin Peaks-stylee. Did I say this thing SLITHERS? Oh yeah, I did. For fans of strange late night pizza spots, tailpipes, fine cinema and even finer wine, throwing beers at buses and that thing that hurts so much, yet remains nameless. The second half of this fucker gets creepy quick, so make sure no Huns are present. We straight?
De l'éternel battement rythmique de Christopher Laramee:
(Traduit par Julie Forget)
Andy, du prodigieux groupe Babysitter (Victoria, C.-B.), vous fait flotter jusqu'au plafond dans une expérience complètement exaltante atteignant des proportions vertigineuses. Sept compositions sans titre se glissent dans votre cortex en soulevant brutalement la poussière de vos talons de chaussures. La fabuleuse première piste de presque onze minutes semble être traînée sous un 18-roues pendant qu'un petit malin fait dégouliner des gouttes de rire et de sirop contre la toux sur votre front. On reconnaît des traces de dub dans le deuxième morceau, Twin Peaks-stylee. J'ai dit se GLISSE? Oui, c'est bien c'que j'ai dit. Pour les fans d'étranges petites places à pizza de fin de soirée, de tuyaux d'échappement, de bons films et de vins encore meilleurs, pour ceux qui aiment lancer des bières aux autobus et cette chose qui fait si mal, mais qui demeure sans nom. La deuxième partie ne tarde pas à donner des frissons; il est déconseillé de l'écouter en famille. Vous m'comprenez?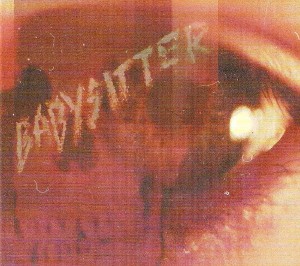 Babysitter
Eye
Victoria, BC
From the Canrock monarchy of James Lindsay:
For years, Babysitter's drop-out-fuzz lent itself perfectly to the less-than-perfect hiss of the cassette tape, so it took a great label like Psychic Handshake to have the keen ear to massage their sound onto long play vinyl without losing what was always so enduring. It still sounds like DRI jamming on Crazy Horse, but the music has taken on a more epic quality, something, that in the best sense of the denim/flannel stereotype, sounds Canadian as fuck while also evoking Grunge's greatest ideals. "Never gonna die! Never gonna die!" screams "Talking 'Bout The New Generation", an anthem for the ne'er-do-wellkids with hair in their faces and holes in their jeans, spilling Blue all over the basement floor as they slamdance to keep warm during long winters. With dedicated touring, prolific releases, and a new association with one of the country's best indies, Eye is set to position Babysitter as modern Canrock kings.
De l'humour Bleue de James Lindsay:
(Traduit par le rire jaune de Nicolas Coutlée)
Durant des années, le fuzz parasite de Babysitter s'est prêté parfaitement au sifflement moins-que-parfait de la cassette; il a donc fallu l'oreille attentive d'une maison de disques de renom comme Psychic Handshake pour transmuer leur son sur vinyle sans perdre ce qui a toujours fait sa marque. On a encore l'impression d'entendre DRI jammer avec Crazy Horse, mais la musique prend ici des proportions épiques, un son canadien comme le crisse, dans le meilleur sens du stéréotype denim/flanelle, qui évoque en même temps les plus grands idéaux grunge. « Never gonna die! Never gonna die! » entend-on hurler sur « Talking 'Bout The New Generation », un hymne pour les jeunes bons à rien, cheveux dans face et jeans troués, éclaboussant de la Bleue partout sur le plancher du sous-sol tandis que le mosh pit va bon train, question de se garder au chaud durant les longs hivers. Couplé à des tournées constantes, des parutions innombrables et une nouvelle collaboration avec l'un des piliers indie du pays, Eye place Babysitter en bonne position pour accéder au titre de rois des temps modernes du rock canadien.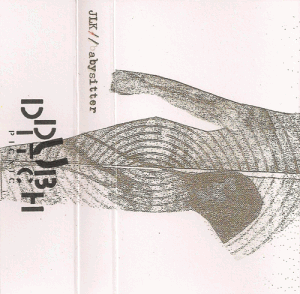 JLK & Babysitter
c30
Montreal, QC & Victoria, BC

Some more prime-ass outer limits holler courtesy of the fine folks at Winnipeg's
Dub Ditch Picnic
. The product of a healthy jam between Montreal's
JLK
and Victoria's
Babysitter
, this tweaker's moan sounds like they decided to do some straight up cover of Lynch's
Eraserhead soundtrack
, recorded inside of the chassis of some burnt out Greyhound bus. Not for the faint of heart or ear. Of these three tracks of lurker's compensation, this scribe's favourite has gotta be the last one, "Wanderings", a very apt description of what goes down. Is this blues? Yes it is, a very special and lonesome kind of blues. Sorta sounds like what it would be like to be a toddler and watch your favourite stuffed animal slowly light itself on fire. You've been warned…
Audio clip: Adobe Flash Player (version 9 or above) is required to play this audio clip. Download the latest version here. You also need to have JavaScript enabled in your browser.
Audio clip: Adobe Flash Player (version 9 or above) is required to play this audio clip. Download the latest version here. You also need to have JavaScript enabled in your browser.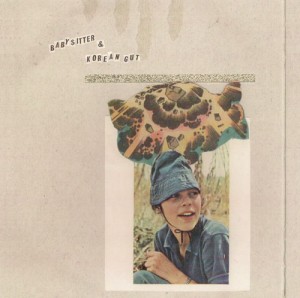 Babysitter // Korean Gut
Split 7″
Victoria, BC // Vancouver, BC

The coastal cavemen return with a reboot of two banner jammers plucked from the primordial muck of
Tape I
. As skuzzed as these recordings might sound to the untrained canal, they're at least a few
evolutionary steps
forward in the genetic drift (plus bonus sax wiggle). Van City surf-rats Korean Gut sound a little
tougher
than previous trips on the flip, making easy bedfellows with their beach blanket bingo master's breakout.
Audio clip: Adobe Flash Player (version 9 or above) is required to play this audio clip. Download the latest version here. You also need to have JavaScript enabled in your browser.
Audio clip: Adobe Flash Player (version 9 or above) is required to play this audio clip. Download the latest version here. You also need to have JavaScript enabled in your browser.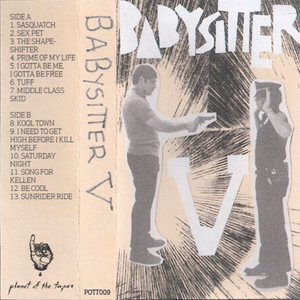 Babysitter
Tape V
Victoria, BC

It's no secret. The shadowy lizard government pulling the strings behind Weird Canada HQ is fully brainwashed by Babysitter's revolutionary rhetoric. The fifth chapter in their ever-evolving
saga
of sub-island urban wastoids is a fully realized dogma of red-lined rock absurdity. With western flair they drive through
60s mellow
with surprising seriousness, espousing their living word in trinkets as clear as "
I'm riding on a plane / a real astral plane
". The blend of rural-rock, 90s hair-pop, and completely burnt punk has never been weirder, as tracks like "be cool" and "sex pet" rip asunder fledging notions of genre. A serious favorite in the nation of fringe. GRIP AND GET FREE.
Audio clip: Adobe Flash Player (version 9 or above) is required to play this audio clip. Download the latest version here. You also need to have JavaScript enabled in your browser.
Babysitter – Middle Class Skid
Audio clip: Adobe Flash Player (version 9 or above) is required to play this audio clip. Download the latest version here. You also need to have JavaScript enabled in your browser.
Babysitter – I Gotta Be Me, I Gotta Be Free
Audio clip: Adobe Flash Player (version 9 or above) is required to play this audio clip. Download the latest version here. You also need to have JavaScript enabled in your browser.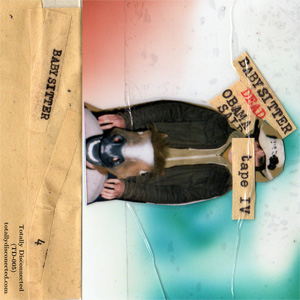 Babysitter
Tape IV
Victoria, B.C.

The latest chapter in the
Babysitter's club saga
finds Victoria's finest sticking to the plot with a few fresh twists. Tape IV's revolution rock riff-o-rama is as gloriously busted as ever, teeming with
teenage lobotomy jangle
and howled manifestos to tear down the walls. Yet this time around, the band also dims the lights for a
jellybean slow dance
with your junior high squeeze, then smokes out the gym for the eight-minute blazer jam "Marijuana Overdrive." Lock up your daughters and look for these hooligans crossing Canada in the fall.
Audio clip: Adobe Flash Player (version 9 or above) is required to play this audio clip. Download the latest version here. You also need to have JavaScript enabled in your browser.
Audio clip: Adobe Flash Player (version 9 or above) is required to play this audio clip. Download the latest version here. You also need to have JavaScript enabled in your browser.
Audio clip: Adobe Flash Player (version 9 or above) is required to play this audio clip. Download the latest version here. You also need to have JavaScript enabled in your browser.
---