Tag: alexander moskos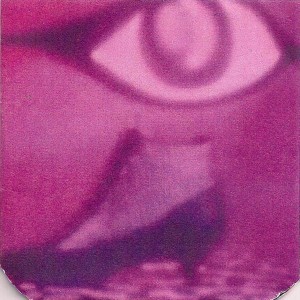 Wolfcow
Bad to the Rhinestone
(Inyrdisk)
Toronto, ON
From the heatpeepers of Alexander Moskos:
Roollin' uptee with Guy Les Lunettes (aka Michael Caffrey) and Beach Seat Black (aka Doominiq Alexander) aka the ROYAL HUZZLE CYPHER = PURPLE CAPE + HUSH PUPPIES x SLIME GREEN LACES + DOOM's COTTON PORTI-TENT and MAROONBERRY BERET, though, laying in the cut tight, inside VADER aka Caffer's 740 Swede Maheen Brick and natch'l blues DOOM is hipping the older gods (who need some hipping de temps en temps) on early NEW ROMANCE, even some proto-Ital-NEW ROMANCE (City, dude, try Googling that s/t lp -Dom) as well as some UK-Eighty-whatevers ish that sounds like basement 'tronics with USA-70 loner-folk vox o'ertoops. Fit right into my new curiosity-style; Shaps be waking the grumps cuz the Wizard of Kozz is zonetoning early Simple Minds with only thin-walled St. Henri shipwright construction separating his nug and Jim Kerr's not-so-ruff-hewn croon out the broown Tecnics, late.
If you've ever hit the weirdcan BBS message board archives you know I've lit Christmas with Wolfcow before, playbs. "No sheet, meeester". So stoked was the kozzmoobowl when Greydyn reminded her that Tones had sold him a sweet German tropi-sco side, summertime, debt unpaid, now paid, the greenside of which went to Snaps, the 3" of NEW CANADIAN OLD ROMANCE went directly into me Wolf Coow section. Because romance ripens, rather have it grown and warmed than young-blood cooled. Wolfcow is romantic like Sibelius (the Finnish composer not the software) is Romantic, not in some uptoon-yoothman-croon-wrapped-in microkoorg-hooz-that-sounds-like-a-hoockey-bag-spray-painted-black-filled-with-black-hand-sanitizer sense.
These are no mere mild wonders; the songs here are stunners, or no, more like putting on stunners you bought for five zones in Kensington Market in order to shade your little ninja eyes from the huge shards of hot light that reflects off the salmon pink Royal Bank Tower at Bay and King, whose source is the two suns setting out across great Lake Ontario, glowing nuclear red on The Hammer, late-day pink on Goderich, motarded fuchsia on Oshawa, a glorious blown out gold on Caledon and, natürlich, or should I say natürlicht, an almost neon hue, nearly topaz in the far corners of the sky but decidedly hot amber and PURPLE on the GO Bus traced streets of Newmarket…And the crew salaciously awaits Wolfcow wax. Who's stepping up? Greydyn's hot light genius can't be crammed onto 3" forever.
Your Pal,
Tones
Ps: Contains guest vocalists. In the case of these cuts below, Dave Evans of the Soopcans and on the lush crooz-lit "Bad To The Rhinestone", some randoo named Jon.
Pps: Mid-period CANTORRecs WCBBSMB record porn is SFW unless Fern Ledouce in the cubes next to you is deeply offended by Ikea shelves adorned with Albertan Folk-lones… find yourself in conflict resolution, Fern spinning his pen Chinese-math student style, the mediator rippin' a Tims, you resolute with a MacDos free grip feelin the only way out is to ADMIT to your addiction, hell, when you log in as USERNAME: HEATPEEPER the desktop image is a seductively cropped close-up of a Swede Pressing of Bo Hansson's "El-ahrairah" lp.
Wolfcow – Exsanguination, I Presume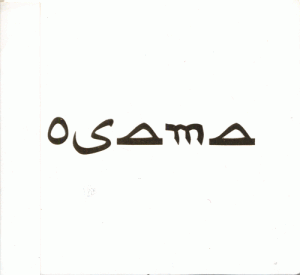 Sam Shalabi
Osama
Montreal, QC
Originally Released: 2003

Remember about ten years ago when taking risks wasn't so rare as to constitute an event like it is now?
(1)
Welcome to 2003, and here's Sam Shalabi and his erstwhile record label Alien8 taking a huge risk on strange music. Thank Cheeerist! We kind of lost that facility in Montreal at some point in the last few years. Maybe it's the landscape of Modo furniture showrooms.
All contained within Osama: Bursts of chiming FM synth over guitar sprawl, tap dancing, percussion overdubs, odd spoken sections, sounds of bawling and whipping intercut with Sam in discussion with Leila Pourtavaf (2), blundering chug rock, a juxtaposed pastiche editing style, gorgeous vocal arrangements, Walter Benjamin quotes and a general head-scratcher of an approach. Anyone remember The Donkeys? (3)
The album's title comes from Sam Shalabi's given first name. Immediately post-9/11 Sam and the million other Osamas in the world found themselves sharing a name with a spectral presence invested with unspeakable evil, watching itself on TV.
In a statement on the Alien8 website, Sam says that Osama fails as a protest record about Arabophobia, and thank heavens for that; protest records as a genre tend to reek. There's a minor RIO (4) vibe but I'd almost say Osama comes closer to the Temptations' Sky's The Limit (5) or, even further along, Metallica and Lou's brilliant Lulu. Hell, there's even the Mayor of Mile End Billy Mavreas (6) doing his best Doggerel Bank "Skillicorn Dances" (7) impersonation.
Anyhoots, if it were up to me they'd give this record the Polaris prize every year and one to Alien8 for straight trucking as well.
Oh, and "Do you have a mandate?"
Get it here: http://www.alien8recordings.com/releases/osama
Audio clip: Adobe Flash Player (version 9 or above) is required to play this audio clip. Download the latest version here. You also need to have JavaScript enabled in your browser.
Sam Shalabi – Shitmobile, U.S.A. (Adam Frank and Sam Shalabi)
Audio clip: Adobe Flash Player (version 9 or above) is required to play this audio clip. Download the latest version here. You also need to have JavaScript enabled in your browser.
Sam Shalabi – The Wherewithalll
(1)
Ahhh artists and their fragile little selves. Once a practice is really set, the artists become hidebound and risk-averse, and as such maintain a status quo almost inevitably. As a type, "artists" are generally conservative. Give me a break.
(2) Formerly Montreal based activist and academic.
(3) Blundering steamroller rock quartet from Montreal. If I'm not mistaken they did release a record at some point in the early oughts.
(4) RIO stands for Rock in Opposition, a European music scene sprung up in the late '70s whose riotously fun project was to mix dialectical materialism and chamber-prog. Henry Cow's Legend is the go-to joint in this regard.
(5) The gorgeous 1972 album featuring the overtly heavy and political "Smiling Faces" among others. Pretty much immaculately made mainstream music via Berry Gordy and the crew and of course featuring our man "Detroit" Coffee in full buzzin' axe effect.
(6) Comic artist, shop owner, gallerist. He walks along St. Viateur and old ladies come running on out into the street to give him pieces of perfectly ripened fruit like he was some kind of Greek Corleone.
(7) The Doggerel Bank was a British "psychedelic funny" band. The Skillicorn Dances lp on The Famous Charisma Label isn't impossible to find in a cheap-0 bin.
Disguises
Live in Yonge-Dundas Square
[Director: Brian Seeger]
Toronto, ON

Well, this maybe made me cry because nothing has really seemed more significant recently: One of the greatest OUT Canadian bands of all time playing at the
sexiest intersection in the country
. Nobody showed up, except for the LEGEND Mark Maclean
(1)
and Brian Seeger
(2)
(documentarian). Whomever curated this stage was a GENIUS. Get Disguises to rip a set that sounds like someone shovelling glass trilliums overtop a TG rehearsal… at high-fucking-noon, at the epicentre of EVERYTHING. Before urban renewal, Yonge and Dundas was the only intersection in Canada that really felt like SOMEWHERE! That was before
Lastman
and his minions at city hall razed the pawnshops and porn-shops, the record stores and headshops, the dank jewellery markets, the diner joints and a whole slew of gorgeous heritage commercial architecture. I'm over it now and back to thinking it's the coolest intersection in Canada. And if you are old enough to remember Yonge and Dundas before the Great Flattening than you are old enough to remember
Disguises
with
Kevin Hainey
(3)
in the line-up on woowoowoowoooozy bass. Sometimes he would just stare at the bass and use his will to pitch its eternal wooing. Jon Shapiro
(4)
shreds bass here but he's best remembered kneeling on a table playing mixer feedback, tapes and a giant horn. Randy Gagne, who looks like a cross between Prince and the Coffee Time at the corner of Dundas and Pape, better known to YOU as
Man Made Hill
, is the shuffle in Disguises, the motion flow. And what of the roguish mug up front in the sick cyan plaid? That's Kevin Crumpp who runs
Wintage Tapes and Records
(5)
, crooning his little heart out, beating a rap, homeowner. The Disguises lp on Wintage (now OOP) is a chef d'oeuvre, recorded by Dale Morningstar at the legendary Gas Station Studio on Toronto Island
(6)
(which is historically significant
(7)
). People are so busy inquiring about the status of AIDS Wolf they forget to inquire about the status of Disguises, a more pressing question. And next year: Gastric Female Reflex featuring William Davidson at the Harborfront Center.
Addendum: If you're not jamming WITH the King, then you're jamming FOR the King, so might as well get with his majesty's Lute-through-too-much-Line-6-style and call it a deep, mind-melded, madrigal, there Troubadour!
(1) (Mark Maclean) Of the Sick Lipstick, Black Cat 13, Thrashed Genes and Induced Labour, but who recently chose Life and gave up on the permanent death-fetish that is rock n roll, ostie.
(2) (Brian Seeger) Of the Planet Smashers, Pon D'Replay, Wasted Nymph
(3) (Kevin Hainey) Who runs Inyrdisk, the label that released the killer Clinton Machine Lp and tons of Toronto Underground Sound Force related cds, former Exclaim contributor, author.
(4) (John Shapiro) Of Induced Labour, Conspiracy of Familiar Objects, 13 Moons, Almost Blue Sunshine, producer of the John Milner 7" on Pleasance… also runs LsdOTB records, one of the few labels to actually release an Afternoon Penis joint, remembers record shopping on Yonge St. in those Palaeolithic times, secret side doors to the Lion at College and Adelaide, long nights at the Bagel and the first great gig of 2005 as if it had been fried and served just now, Chuck Schuldiner briefly joined Slaughter for a few months and was seen straggling around York Mills for some reason, how the Jerks and Suicide played the Horseshoe, Major Street days, long-night living room gig scenes and onwards.
(5) Wintage, the non-internet-presence label, has released countless amazing underground titles. Recent zones have included releases by Thurston Moore, field recordings of a Japanese couple fucking, Knurl, Nihilist Spasm Band and Six Heads, the former three on wax! The former three are all stone-cold Canadian classics.
(6) (Gas Station Studio on Toronto Island) Of Diner is Ruined, possibly even the Rheostatics. Recorded plenty of records in his day, including sides by Gord Downie, Julie Doiron, the Woodchoppers Union and the second GYBE! record ect ect. The Diner is Ruined blew my adolescent mind bee tee double you, when they opened for Helium and Sonic Youth at the Warehouse circa 1995.
(7) Reminds me of my submitted piece on Black Sabbath's "Never Say Die" for Weird Canada's Departures Revisited, the draft of which came back to me defaced, in Levin's hand, by a giant MAPL system logo with only the "P" blackened.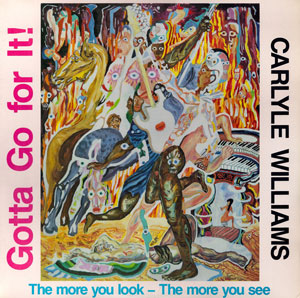 Carlyle Williams
Gotta Go For It!
(Eternal Art & Music)
Montréal, QC
Originally Released: 1988

Here it is: the Patron Saint of weird Canadian records. Alongside
Corpusse
's
Delusions
and
Bernard Bonnier
's
Casse-Tête
, Carlyle Williams'
Gotta Go For It!
forms the Holy Trinity of '80s Montreal
private press
beauty; each of them summing their parts and transcending with a one-man-one-wholly-formed vision possessed of unbridled id and utter disdain for the prevailing rules and praxis.
Forgotten in the usual fetishizing of the "filles du roi" cypher (1), beyond bloodlines French-royal and First Nation, is that Montreal's women posses the ultimate sexy quality: good taste. And so it went that Leila Majeri (2) and Marie-Douce St. Jacques (3) played me Gotta Go For It! and on each separate occasion, my mind split open, the air charged, everything changed, and the damn crew hasn't been the same since.
Released in 1988 and recorded at the Unidisc studios (4) in Montreal's St. Henri neighbourhood, Gotta Go For It!'s qualities are many: blocky Chung King Studios drum programming, a careening non-chops guitar style that sounds like The Birthday Party minus the fireworks-display fay hairdos, and streams of vocal overdubs that make whomever Tim Buckley thought he was on Starsailor seem like a sane and well adjusted man. Some tracks have a synthetic tropical vibe that predicates the various fi's (5) of the last half-decade like a boss, raising bloody hell in the listener's mind, forcing one to reconsider every aesthetic category.
For all its sonic density and deistic power, Carlyle's message, via truly inspiring vocal work, is positive: obsessive self-awareness and accompanying self-criticism can be reality forming, that the more you look INSIDE the more you will see. That, as he says on "No Reason", "There is no reason for your next depression. And that's the truth." Which as an underlying vibe makes Gotta Go For It! unique amongst the great works of 20th century Canadian art.
Gotta Go For It!'s sleeve states: "The more you look – The more you see", and like all amazing ass records, the more you listen, the more you hear.
Audio clip: Adobe Flash Player (version 9 or above) is required to play this audio clip. Download the latest version here. You also need to have JavaScript enabled in your browser.
Carlyle Williams – Self-Criticize Daily …
Audio clip: Adobe Flash Player (version 9 or above) is required to play this audio clip. Download the latest version here. You also need to have JavaScript enabled in your browser.
Audio clip: Adobe Flash Player (version 9 or above) is required to play this audio clip. Download the latest version here. You also need to have JavaScript enabled in your browser.
Carlyle Williams – The Price …
Audio clip: Adobe Flash Player (version 9 or above) is required to play this audio clip. Download the latest version here. You also need to have JavaScript enabled in your browser.
Carlyle Williams – Gotta Go For It …
(1)
These women, who were poor and undereducated, often orphaned, and in their teens or early twenties, were sent over from France for the men of Canada. The rumour-that-won't-die is that they were prostitutes.
(2) Screen printer extraordinaire, often using the nick Alphonze Raymond, and also the drummer in the amazing Yomul Yuk.
(3) Editor-in-chief of the awesome aMAZEzine, which lasted a few issues, came with a GYBE! 7" and generally covered a zone, Marie-Douce was also the Farfisa player and vocalist in Pas Chic Chic! I sat down with her to discuss this piece.
(4) Obviously, as the '80s wore on and disco, particularly the French-Canadian kind, receded in popularity, Unidisc fell on hard times and started renting out their facilities cheap. They were based in the RCA building, who obviously were slowing down themselves.
(5) Lo, no, slow, glow, hi and high fidelities, be it Ariel Pink, Spencer Clark, James Ferraro and the rest, you can hear Carlyle in the faux madness. The incredible Afternoon Penis tape on Heavy Tapes is the most obvious student of Gotta Go For It!, however. Worth looking into for fans of Carlyle.
AIDS Wolf
Tournée Banale Avant-Garde 5
[Dir. By: AIDS Wolf]
(European Tour 2011)

As desolate, existential waters begin to smother their touring banality, Episode 5 represents a shift into the bizzarre and serene. What is this sojourn through
Popol
paradise? The infinite sky and its scenic vistas rip through
Moskos
' vacation desires while road-side neglect stagnates their progress.
The wolf
persevere after gorging themselves on buckets of peanut butter. Cake was served. But why?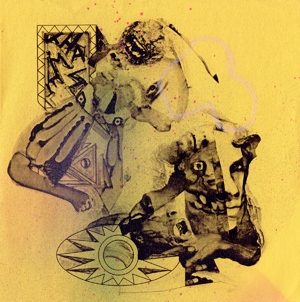 Thames
The Gift of Money b/w The Night She Became Me
Montreal, QC
::web/sounds::

Awake already walking with sideways sliding smiles. Dazed and drooping eyes. Wobbly liquid feet skating slick linoleum under overrun fluorescents. Again, the vaporous grinning at distorted non-beings. Eu-pho-ri-a! Dis-com-bob-u-la-tion… Crisp, murmured half-vocals, fighting with discernible lyrics amid slithering synth stutters, chugging
radiophonic
radiation, unbalancing new structures.
Twin Infinitives
broadcasting thru a black hole and out of Bermuda's Triangle. The invisible route was about to collapse into ectoplasm. It's only temporarily open every lunar quarter, so they've liberally recorded it from both ends. Simultaneously. And mixed it. Really well.
Plunderfuckingphonics
well. Double dip this 7″ with the new
Fluorescent Friends
tape,
THAMES VOL XIV
, n' y' can't miss. They're quite the pair. So are the two musicians here, Blake Hargreaves (Dreamcatcher,
Clinton Machine
, Cousins of Reggae) and Alexander Moskos (
AIDS Wolf
, Drainolith, Medicine Rocks), both keeping raw noise and electronics heads imploding since 2005, touring and collaborating all over our continent. Now they're getting weirder. Way weirder. First wax yet for the tape-heads, courtesy of
American Tapes
mogul /
Wolf Eyes
retina John Olson. Only 200, so run don't walk, you adventurous types.
Audio clip: Adobe Flash Player (version 9 or above) is required to play this audio clip. Download the latest version here. You also need to have JavaScript enabled in your browser.
Audio clip: Adobe Flash Player (version 9 or above) is required to play this audio clip. Download the latest version here. You also need to have JavaScript enabled in your browser.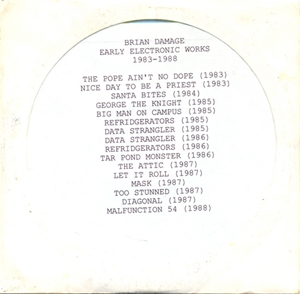 Brian Damage
Early Electronic Works (1983-1988)
(Self Released)
Sydney, NS
Originally Released: 2009

Two years ago Damage laid this collection on me and I somehow only got to it recently, reflecting on the need to stem the tide of things COMING INTO my zone. I've written about his Industrial band Phycus
over at Thee-Outernet
, and
Early Electronic Works (1983-1988)
collects releases made during those years under the name Data Strangler in
Sydney, Nova Scotia
. Damage claims he was trying to combine Judas Priest
and Men Without Hats, a sort of Canadian teen alchemy, but the results on the early version of "Refrigerators" sounds more like Red Krayola to me. So much brilliance here: an amazing basement vibe (apparently tracks were bounced between boomboxes and you can pretty much hear the wood panelling), crude synth punk, MB style electronic miniatures, synth pop, Kemberic tremolo'd organ zones and so on. Damage's songcraft is tight and he employs a varité approach to his lyrics which at times are hilarious ("Big Man On Campus"), creepy ("Refrigerators"), tragi-comedic ("Tar Pond Monster") and cyberpunkish "(Malfunction 54"). Here are two mp3s, but I imagine this is getting the wax treatment sooner than later.
Audio clip: Adobe Flash Player (version 9 or above) is required to play this audio clip. Download the latest version here. You also need to have JavaScript enabled in your browser.
Brian Damage – George The Knight (1985)
Audio clip: Adobe Flash Player (version 9 or above) is required to play this audio clip. Download the latest version here. You also need to have JavaScript enabled in your browser.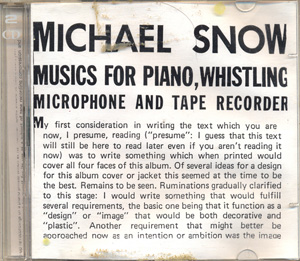 Michael Snow
Music For Piano, Whistling, Microphone and Tape
(Chatham Square Productions)
Toronto, ON
Originally Released: 1972

I'll admit to never having actually found this record despite having searched for years. Pictured is a homemade CD bootleg someone made in the '90s (1). Michael Snow's best work
hangs from the roof
in Toronto's
Eaton Center
(2) but this 2LP is so decidedly lo-fi and otherworldly that it belongs in the canon of Great Canadiana. Sadly, it will likely never be on any public school-system curriculum. Each of the four sides contain one long piece beginning with a solo whistling excursion, sounding at times like
pygmies
and at others like
Dolphy
. Snow just leaned over his reel-to-reel machine, puckered and blew a side of whistling, at times jaunty, at others, just straight OUT! Side 2 is repeated block chords slowly increasing in tonal violence, not unlike a piano version of the
Shepard tone
. Snow plays back side 2 on sides 3 and 4 at alternating speeds on the reel to reel machine, slowing it down so the low-end notes on his piano resonate glacially, coming off like a cruddy tape copy of Tim Hecker's better moments. The whole package comes wrapped in typically clever and self-referential liner notes written by the man himself.
(1) I remember buying a Well-tuned Piano booted CD-R set for an exorbitant price in those halcyon days.
(2) Snow's structural films are considered some of Canada's great works of 20th century avant-garde, albeit slow moving ones. Also, Snow managed to sue Eaton's for putting bows on his Flight Path installation. The thing resonates; hell, a V-formation just flew overhead now.
Audio clip: Adobe Flash Player (version 9 or above) is required to play this audio clip. Download the latest version here. You also need to have JavaScript enabled in your browser.
Michael Snow – Side A (excerpt)
Audio clip: Adobe Flash Player (version 9 or above) is required to play this audio clip. Download the latest version here. You also need to have JavaScript enabled in your browser.
---