Category: ontario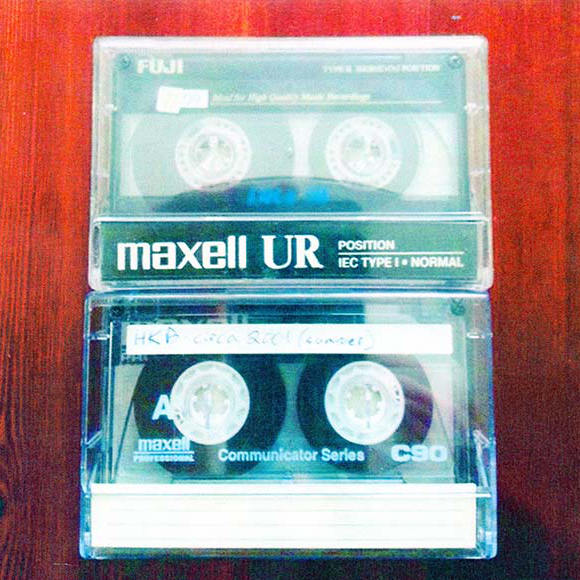 Hong Kong Bobo
Summer, 2001
Timmins, ON
From the desolate forest of Mark Gillis:
Amidst the sharp chill of an autumn breeze in Northern Ontario, the sounds of Hong Kong Bobo reverberate throughout the desolate forest as a stark reminder of how solitary life can be. As night falls and frost begins to form on the leaves, these sounds begin to delve into the unknown. The crisp air creates spinal shivers as the shrieks of the cacophonous night become more fierce and increasingly unsettled. The mysterious darkness intensifies as the aberrant noises amplify in your mind. Then, suddenly, a faint sliver of light reveals a new calmness and the agonizing beauty from behind the darkness.
De la forêt désolée de Mark Gillis:
Parmi le froid pénétrant d'une brise d'automne au nord de l'Ontario, la musique de Hong Kong Bobo résonne à travers la forêt désolée comme un rappel brutal de la nature solitaire de la vie. Au fur et à mesure que la nuit tombe et que la végétation se recouvre de givre, cette mélodie commence sa descente vers l'inconnu. L'air froid fait frissonner jusqu'à l'os alors que les hurlements de la nuit cacophonique deviennent de plus en plus violents et perturbés. Cette mystérieuse noirceur s'intensifie avec les bruits aberrants qui vous amplifient l'esprit. Puis soudainement, une faible lueur dévoile un nouveau calme ainsi que la beauté agonisante cachée derrière la noirceur.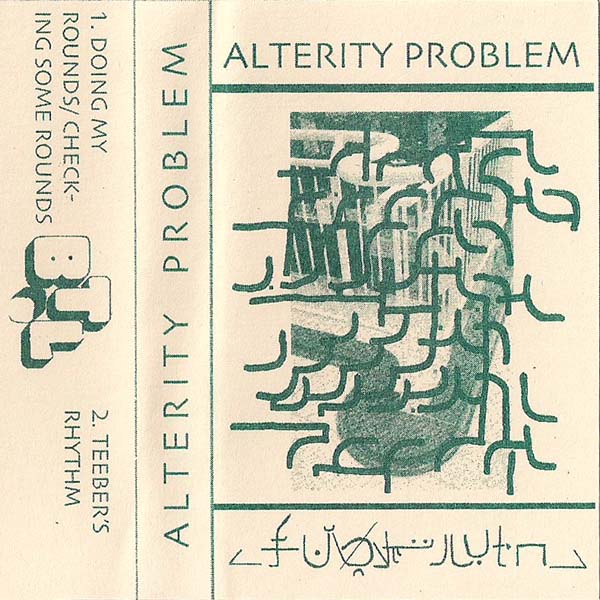 Alterity Problem
Doing My Rounds/Checking Some Rounds
Toronto, ON // Montréal, QC
From the moonboots of Jesse Locke:
The final release from Alterity Problem is a long-distance collabo from the long-running duo of burner mind Alex Moskos and beloved avant-comedian Joel Taylor. Before tragically succumbing to pancreatic cancer — "an old man's disease" writes Moskos in his lengthy, love-filled liners — the late Taylor laid down the guts for this skeletal squelch heater, "copping the groove" from a moony disco mix and rounding out into the infinite.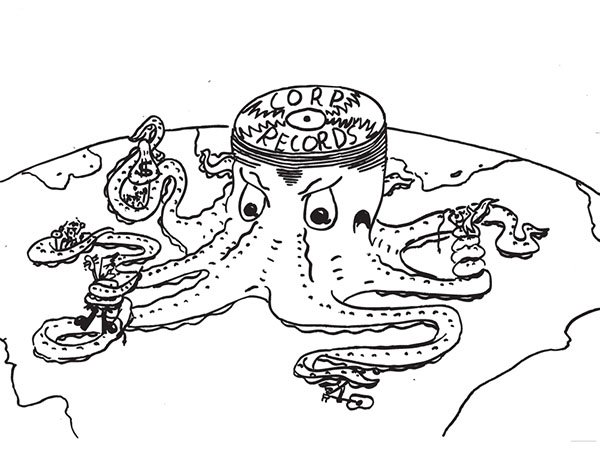 Designing a Stewardship Model for Digital Music Exchange
Brian Fauteux
Toronto, ON
From the great library of Brian Fauteux:
The sharing of digital music demands alternative legalities. Two guiding principles worth considering for rethinking digital music and copyright are The Great Library of Recorded Music and Stewardship, alternatives which seek to move beyond notions of piracy and private property towards a consideration of digital music as shared culture.
Introduction
In one of those odd paradoxes of technology, it has taken the digital revolution to reassert an ancient, oral tradition: music as shared culture. By extension, the system of copyright that has been crafted for recorded, mass-produced music is arguably outdated in the digital age. Digital music and the ways in which music and culture are shared online demand alternative legalities. Two guiding principles worth considering for rethinking digital music and copyright are The Great Library of Recorded Music and Stewardship. Both of these ideas attempt to move beyond notions of piracy and private property. Instead, these two concepts help to consider digital music as shared culture and a as a public good that could be financially sustained in ways that recognize direct relationships between artists and fans in the digital age.
The Great Library of Recorded Music
Over the last decade, the most striking failure of the music industry has been its inability to produce what technology promised and consumers wanted – a service that provides unlimited digital access to all recorded music. Arguably, copyright has strongly prevented the possibility of such a service. A private rights regime with so many layers and stakeholders, music copyright appears to deny even the possibility of unifying the various, requisite rights under one roof necessary for such an entity to be created legally. However, online extra-legal networks that facilitate the sharing of vast amounts of music between users have succeeded where the atomised rights of copyright have failed, collecting and maintaining the functional equivalent of all recorded music online. The problem is simple. The music industries cannot legally provide that which file-sharers have achieved extra-legally.
The Great Library of Recorded Music is the ultimate public cultural good without gatekeepers. Digitisation of music, the connectivity of the internet, and code-based innovations like BitTorrent compose the Great Library, exemplified by (but not limited to) invite-only music sharing sites operating outside of copyright, such as the defunct OiNK and its replacements, what.cd and waffles.fm. These online sites are carefully regulated communities where users must maintain healthy share ratios, which are maintained or increased by sharing (seeding) files so that other users can download them. Failure to do so typically results in suspension from the site, whether temporarily or permanently.
Administrators on these sites often demonstrate a standard that straddles Mark Schultz's norms of librarians and norms of hackers. On the one hand, as hackers they seek to undermine the existing legal structure of copyright, their interventions supported by a belief in free access to computers, the freedom of information, and a general mistrust of authority. On the other hand, as librarians there is a belief in the power of the public domain and a right to access. Users pour countless hours into maintaining the structure, integrity, and quality of file sharing trackers and archives.
The Great Library looms large in our digital imagination. It is a superior product and a public good, and it stands in stark contrast to what is possible under the fractured landscape of rights and interests that copyright currently provides. A common, pre-iTunes refrain was that the music industries needed to find a way to monetize online, digital music. However, such industry visions always left the proprietary copyright model intact, and the implication was the elimination of all digital sharing – the tearing down of The Great Library. In other words, dominant legal and industrial norms have refused to take the emergent and widespread cultural practice of file sharing seriously. Because of this, access to The Great Library is currently limited to those who have the technical knowledge required to share files extra-legally. The Great Library has existed, and it is a reality from which we must chart a path for rethinking copyright for digital music.
Stewardship
The Great Library of Recorded Music anticipates an alternative legality that is rooted in sustaining a public good, as opposed to managing private property rights. Digital music, the Great Library, and cultural practices of file-sharing, point to the potential for a stewardship model of exception for digital music.
Stewardship is a guiding principle that aims to produce a legitimate space for the digital circulation of music in which users are treated as stewards of cultural goods, rather than as trespassers of private rights. Contemporary cultural practices of quickly sharing music and connecting with other listeners and producers online suggest that it is time to treat file sharers not as "pirates" but as potential cultural stewards, whose possession of digital music would come with a duty to guarantee its sustainability and justice. It would also provide the space in which the benefits generated by sharing culture could be recognized. To share is to promote, and to share is to create capital, benefits entirely missed by the temporality of the copyright equation.
A stewardship property regime could serve as a copyright exception for digital music, one which would evenly balance the public good with compensation of creators. In contrast to the current private property regime, with cultural stewardship an individual's custody of a piece of digital music implies a duty to make such control just and sustainable. Users would share and maintain digital music libraries and be responsible for ensuring that creators are equitably compensated. Much like the Judeo-Christian concept of stewardship, where god entrusted humanity with creation but demanded its equitable care, the legal relationship that a stewardship model for digital music fosters is between user and artist, which still maintains the essential purposes of copyright – dissemination of works and just reward for artists. It would create a relationship of rights and duties between creators and users that would aim to render just and sustainable that which has been achieved online extra-legally: The Great Library of Digital Music.
Code is Law
How might a stewardship model of digital music be realized? It is potentially a question of how to put these ideas into practice in order to shape an alternative legality from the bottom-up.
In order for bottom-up, voluntary approaches to establish a stewardship regime for digital copyright, the methods employed need to successfully demonstrate the feasibility of an alternative legality. According to Lawrence Lessig's Code (2006), digital code itself is a way of accomplishing such a feat. "Code," also referred to as "computer code" or "source code" is the text itself that structures a computer program and regulates its use.
First published when a utopian view of cyberspace as beyond regulation predominated, Code argued, simply, that code is law, its architecture is regulation, and freedom on the internet is a result not of immanence but structure. The internet has no essential nature, but rather, online "we are nature" (2006: 338). Lessig explains that building infrastructure by code regulates online behaviour, and so code can be used to promote social aims and values, structuring our inter-relations as "legal code" does.
What is lacking from Lessig's analysis, but implicit in his construction, is that if code is law, then code can be written to establish new law. Certainly Lessig recognises that a value can be implemented from the bottom up: to quote, "the law could be rebalanced to encourage the freedom thought important, or this property could be redeployed to effect the freedom thought important" (2006: 199). A code which enables behaviour, embraces and validates norms, and facilitates the flow of capital is, as a result, effecting legal change. It proposes alternative legalities.
The Cultural Capital Project
These ideas are influential for (Cultural Capital) [http://cultcap.org], a collaborative research project that, in addition to myself, includes my colleagues Ian Dahlman and Andrew deWaard. Our primary goal is the creation of a non-profit patronage system uniting musical artists and fans. To accomplish this, we are working on designing a platform with two key dimensions: a social network that displays user-generated listening habits, and opt-in tracking software that harvests the musical listening patterns of users, then suggests and facilitates equitable compensation to creators through a micropayment subscription fee.
Micropayment refers to an online, financial transaction of a small sum of money, as low as a fraction of a penny, which adds up when enacted in scale. Opt-in tracking software would enable a user's listening patterns to be recorded, in a similar way that a service like last.fm keeps track of listening habits, and these patterns would determine how a subscription fee is allocated to artists. If a certain artist was a user's "most listened" for a certain month, then that artist could receive the majority of the subscription fee (an amount that would be determined by the user). Alternatively, other categories like "most local" or "most in need of funding for next recording" could determine how a user's subscription fee is divided.
The goal is that generated profits will be redistributed to artists and the fans whose cultural labour propels them, rather than industry "middlemen" or "gatekeepers." Cultural Capital aims to demonstrate the workability of a stewardship property regime for digital music, one which would evenly balance the public good with compensation of creators. As producers, consumers, promoters, distributors, curators and librarians, we should be treated as stewards of cultural goods rather than trespassers of a property that, in practice, is never private.
Brian Fauteux currently researches and teaches on radio and music at the University of Wisconsin-Madison. He is one of three co-founders of the collaborative Cultural Capital project, which you can read more about in the IASPM@Journal.
Tiré de la grande Bibliothèque de Brian Fauteux:
(Traduit par Jessica Grenier)
Le partage de musique numérique appelle la modification de certaines règles juridiques. Pour repenser les droits d'auteur à l'ère de la musique numérique, deux principes directeurs mériteraient d'être considérés : la grande Bibliothèque de la musique enregistrée et l'Intendance. En effet, ces deux principes cherchent à dépasser les notions de piratage et de propriété privée pour en arriver à présenter la musique numérique en tant que culture commune.
Introduction
C'est l'un des nombreux paradoxes de la technologie : la révolution numérique a permis de rappeler au monde une ancienne tradition orale, à savoir la musique comme culture commune. On pourrait donc avancer qu'à l'ère numérique, le système de droit d'auteur n'est plus adapté puisqu'il a été élaboré pour la musique enregistrée et produite en série. Tant la musique numérique que la façon dont la culture et la musique sont partagées en ligne appellent la création de nouvelles règles juridiques. Pour repenser les droits d'auteur en matière de musique numérique, deux principes directeurs pourraient être considérés : la grande Bibliothèque de la musique enregistrée et l'Intendance. Ces deux idées cherchent à dépasser les notions de piratage et de propriété privée en encourageant plutôt une vision différente de la musique, à savoir qu'elle est un bien public qui fait partie d'une culture commune et que, en cette ère numérique, elle pourrait être soutenue financièrement en mettant en relation directe les artistes et les amateurs de musique.
La grande Bibliothèque de la musique enregistrée
L'échec le plus cuisant de l'industrie de la musique ces dix dernières années a été son incapacité à offrir ce que la technologie promettait et que les consommateurs désiraient : un accès numérique illimité à toute la musique enregistrée à ce jour. Le système de droit d'auteur a sans aucun doute grandement nui au développement d'un tel service. Comme les droits d'auteur sur la musique sont privés et impliquent toute une série d'intervenants et de niveaux, il semble impossible pour le domaine musical de regrouper sous le même toit les nombreux droits nécessaires à la création légale d'une telle entité. Ceci étant dit, il existe des réseaux extralégaux en ligne qui facilitent le partage d'une grande quantité de musique entre les utilisateurs. Ils ont réussi là où les droits atomisés du droit d'auteur ont échoué : veiller à la collecte et au maintien d'un équivalent fonctionnel en ligne de toute la musique enregistrée à ce jour. Le problème est donc simple, l'industrie de la musique ne peut pas offrir légalement ce que le partage extralégal de fichiers permet.
La grande Bibliothèque de la musique enregistrée est le bien culturel public ultime puisqu'elle n'a aucun gardien. Elle est composée tant par la numérisation de la musique et la connectivité à internet que par les innovations en programmation comme BitTorrent. Les sites de partage de musique extralégaux fonctionnant par invitation – comme le défunt OiNK et ceux qui l'ont remplacé, what.cd et waffles.fm en sont de bons exemples. Les communautés de ces sites internet sont soigneusement réglementées : les utilisateurs doivent maintenir un ratio de partage acceptable, celui-ci étant influencé par le partage des fichiers que vous avez téléchargés afin que d'autres puissent les télécharger à leur tour (seeding). L'utilisateur en défaut est généralement suspendu du site de façon temporaire ou permanente.
Les administrateurs de ces sites suivent des principes qui s'inspirent des normes des bibliothécaires et des pirates telles qu'élaborées par Mark Schultz. D'une part, en tant que pirates informatiques, ils se méfient de l'autorité et sont mus par leurs croyances en la liberté de l'information et le libre accès à internet; ils cherchent donc à miner le cadre juridique actuel des droits d'auteur. D'autre part, en tant bibliothécaires, ils croient au pouvoir du domaine public et au droit d'y accéder. Les utilisateurs investissent d'innombrables heures pour maintenir et protéger l'intégrité de la structure et la qualité des serveurs permettant le partage et l'archivage des fichiers.
Dans notre imaginaire numérique, la grande Bibliothèque est gigantesque. En plus d'être un bien public et un produit supérieur, elle se positionne comme une éventualité contrastant violemment avec le paysage fragmenté esquissé par les droits et les intérêts des droits d'auteur actuels. Avant l'apparition d'iTunes, on disait souvent que l'industrie de la musique devait trouver un moyen de commercialiser la musique numérique en ligne. Cependant, comme cette vision ne touchait pas au sacro-saint système de droits d'auteur, cela impliquait que tout partage de musique numérique serait arrêté, donc que la grande Bibliothèque serait démantelée. En d'autres termes, les normes industrielles et juridiques dominantes ont refusé de prendre au sérieux cette pratique culturelle émergente mais répandue. En conséquence, l'accès à la grande Bibliothèque est, à l'heure actuelle, limité à ceux ayant les connaissances techniques nécessaires au partage extralégal de fichiers. La grande Bibliothèque existe, et nous devrions nous inspirer de cette réalité pour repenser les droits d'auteur sur la musique numérique.
L'Intendance
La grande Bibliothèque de la musique enregistrée prévoit un cadre juridique réformé qui s'intéresse à la préservation d'un bien public plutôt qu'à la gestion de droits de propriété privée. L'intendance en matière de musique numérique pourrait constituer une exception au droit d'auteur. On peut voir le potentiel d'un tel modèle tant dans la musique numérique et la grande Bibliothèque que dans les pratiques culturelles de partage de fichiers.
L'Intendance est un principe directeur qui cherche à créer un espace légitime pour la circulation de la musique numérique, espace dans lequel les utilisateurs sont traités comme des intendants de biens culturels plutôt que comme des individus violant un droit privé. Le partage et le réseautage rapides faits par les internautes entre eux et avec des producteurs de musique portent à croire qu'il serait grand temps de traiter ces personnes non pas comme des pirates, mais bien comme des intendants culturels dont le rôle serait de garantir durabilité et justice à la musique numérique qu'ils possèdent. Ce faisant, cela établirait également un espace dans lequel les bénéfices générés par les échanges culturels pourraient être reconnus. Partager, c'est promouvoir, donc créer du capital, ce qui n'est absolument pas le cas avec la temporalité des droits d'auteur actuels.
Un régime de propriété basé sur l'Intendance pourrait constituer une exception au droit d'auteur, une exception qui s'efforcerait d'équilibrer équitablement le bien public et la rémunération des créateurs. À titre de comparaison avec le régime de propriété privée actuel, dans le cadre d'une intendance culturelle, l'individu ayant en sa possession une pièce de musique numérique devrait s'assurer que son contrôle est juste et durable. Ainsi, les utilisateurs s'occuperaient du partage et de la préservation des bibliothèques de musique numérique, et seraient responsables de s'assurer que les créateurs reçoivent une rémunération équitable. Ce concept est semblable à celui de l'intendance judéo-chrétienne, selon lequel Dieu aurait confié la création à l'humanité, mais en lui demandant d'y veiller équitablement. L'intendance en matière de musique numérique mettrait en avant le lien juridique unissant l'artiste et l'utilisateur, ce qui reproduit le but premier du droit d'auteur : la transmission du travail et la rémunération équitable des artistes. Des droits et des devoirs lieraient donc les créateurs et les utilisateurs, visant ainsi à rendre juste et durable ce qui a déjà été atteint extralégalement en ligne : La grande Bibliothèque de la musique enregistrée.
Le code fait loi
Se demander comment réaliser un modèle d'intendance pour la musique numérique, c'est potentiellement réfléchir à la façon de mettre ces idées en application pour qu'elles construisent une toute nouvelle légalité, à partir de la base.
Pour qu'une approche ascendante et volontaire réussisse à établir un programme d'intendance pour les droits d'auteur sur les produits numériques, les méthodes utilisées doivent réussir à démontrer la faisabilité de cette nouvelle légalité. Selon le livre de Lawrence Lessig, Code (2006), le code numérique en lui-même est une façon d'y parvenir. « Code » (aussi appelé code machine ou code source) est un mot référant au texte qui structure un programme d'ordinateur et qui en réglemente l'utilisation.
Publié à une époque où les imaginaires étaient subjugués par une vision utopique de la liberté dans le cyberespace, le livre explique que le code fait loi, tout simplement, puisque la régulation résulte de son architecture et que la liberté sur internet est structurelle et non pas immanente. L'internet n'a pas de nature propre, ou plutôt, « nous sommes cette nature » (2006 : 338) [Traduction libre]. Lessing explique que le code en ligne, puisqu'il construit les infrastructures, est ce qui réglemente les comportements. Ainsi, il peut être utilisé tant pour promouvoir des visées sociales ou des valeurs que pour structurer les relations entre les utilisateurs, au même titre que le « code juridique ».
Bien que Lessig ne le mentionne pas dans son analyse, il laisse entendre implicitement que si le code fait loi, il est possible de le réécrire pour mettre en place une nouvelle loi. Lessig admet qu'une valeur peut être mise en place par une approche ascendante, puisque « la loi peut être rééquilibrée pour encourager une liberté jugée importante, ou une propriété peut être déplacée pour avoir des répercussions sur cette même liberté » (2006 : 199) [Traduction libre]. Ainsi, un code qui permet d'agir, qui adopte des normes qu'il valide, et qui facilite la circulation du capital provoque des changements juridiques. Il propose d'autres formes de légalité.
Le projet Capital culturel
Ces idées sont déterminantes pour le projet de recherche Capital culturel, pour lequel je travaille en collaboration avec mes collègues Ian Dahlman et Andrew deWaard. Notre principal objectif est la création d'un système de patronage sans but lucratif unissant les musiciens et les amateurs de musique. Pour ce faire, nous travaillons à l'élaboration d'une plateforme composée de deux éléments-clés, soit un réseau social permettant de visualiser les habitudes d'écoute des utilisateurs ainsi qu'un logiciel de repérage intégré qui dresserait une liste de ces habitudes et suggérerait ensuite une rémunération équitable en fonction de celles-ci, par le biais de micropaiements sous la forme de frais d'abonnement.
Les micropaiements sont des transactions financières en ligne correspondant généralement à de petites sommes d'argent, par exemple aussi peu qu'une fraction de sous, qui s'accumulent à l'échelle. Le système de repérage intégré permettrait d'enregistrer les habitudes d'écoute – de la même manière qu'un service comme last.fm conserve un historique des pièces écoutées – et ces habitudes serviraient à déterminer la façon d'allouer la rémunération aux artistes. Si un artiste est « le plus écouté » d'un utilisateur durant un mois donné, cet artiste recevra la majorité des frais d'abonnement payés par l'utilisateur (un montant déterminé au préalable par ce dernier). Par ailleurs, d'autres catégories telles que « le plus local » ou « le plus grand besoin de financement pour le prochain album » pourraient également influencer la répartition des frais d'abonnement.
L'objectif est de redistribuer les gains afin qu'ils profitent aux artistes et aux amateurs de musique qui les aident à avancer plutôt qu'à des « intermédiaires » ou des « gardiens » de l'industrie. Capital culturel cherche à démontrer la faisabilité d'un modèle d'intendance en matière de musique numérique, un modèle qui équilibrerait le bien public et la rémunération des créateurs.
En tant que producteurs, consommateurs, promoteurs, distributeurs, conservateurs et bibliothécaires, nous devrions être traités comme des intendants de biens culturels, et non pas comme des intrus sur une propriété qui, en pratique, n'est jamais privée.
Brian Fauteux, chercheur spécialisé dans les domaines de la radio et de la musique et enseignant à l'Université Wisconsin-Madison. Il est l'un des trois cofondateurs du projet collaboratif Capital culturel (Cultural Capital project), qui a fait l'objet d'un article dans IASPM@Journal.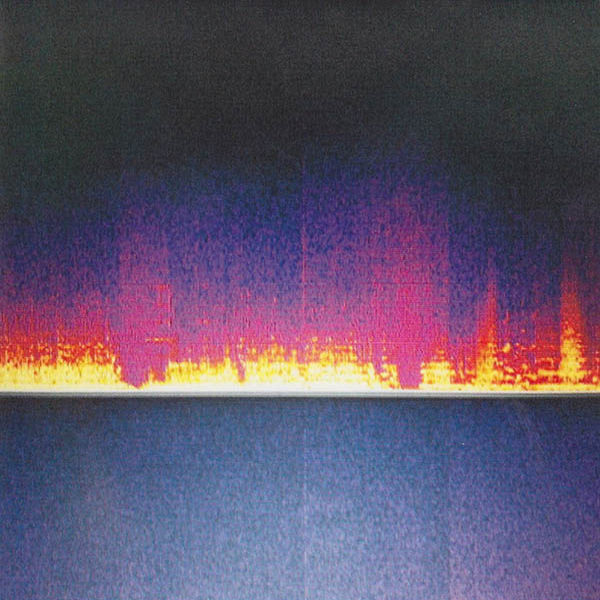 Spycam
Midnight in November
Timmins, ON
From the asymptotic squalors of Joshua Robinson:
Springing forth from the grandiose squallor sleep of the greying eye of the tempest storm, these lamentations of the calm heights of our sublunary world quiet the gales that stirr along synaptic asymptotes, slowly droning away from the edge of everything to return us to familiar landscapes where voices echo the northernly inflections of somnambulists caught in composite flux. These are architecturally vibrant lullabies, creaking in the frost with the fury of a temperance that colours and flows through our moodform afferents.
De l'immondice asymptotique de Joshua Robinson:
(Traduit par Jessica Grenier)
Surgissant de l'immonde sommeil grandiose de l'œil vieillissant d'une tempête orageuse, ces lamentations des hauteurs sereines de notre monde sublunaire calment les vents qui se déchainent le long des asymptotes synaptiques. Elles vont mourir lentement à la limite des choses, nous ramenant vers des paysages familiers où les voix font résonner les inflexions nordiques des somnambules prisonniers du flux composite. Ces berceuses à l'architecture vibrante font crisser le givre avec toute la furie de la modération qui colore en traversant nos afférents tempéramentaux.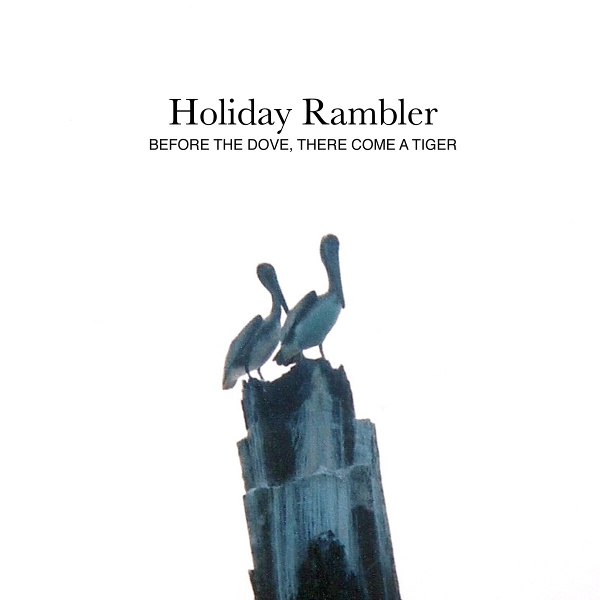 Holiday Rambler
Before the Dove, There Comes a Tiger
Toronto, ON
From the rusted shut chest of Adam Bradley:
From a humid country fog the Holiday Rambler comes. Will-o'-the-wisps gather and trail behind a missioning man of firm countenance and calculated composure, suitcase in hand, hat brim low. The songs of relic found here are of a dark alchemy. Each tune was sung and archived to tape in the belly of a great farm silo. Gems this way crystallized. The brightest of which is "Florida", a hallowed cover of the late and missed Vic Chesnutt. Before the Dove… is a rusted shut chest of ashen memory.
Du coffre scellé par la rouille d'Adam Bradley:
(Traduit par le familier festif de Jessica Grenier)
Holiday Rambler sort d'un humide brouillard de campagne. Les feux follets se sont regroupés à la suite de l'homme en mission, mallette à la main et chapeau enfoncé sur la tête, exhalant un calme composé et une contenance résolue. Les reliques se trouvant ici produisent le son d'une sombre alchimie. Chaque mélodie a été chantée et gravée sur une pellicule dans le ventre d'un gigantesque silo à grain – des gemmes cristallisées dont la plus scintillante est « Florida »; une reprise bénie du regretté Vic Chesnutt. Before the Dove… est un coffre scellé par la rouille qui renferme des souvenirs cendreux.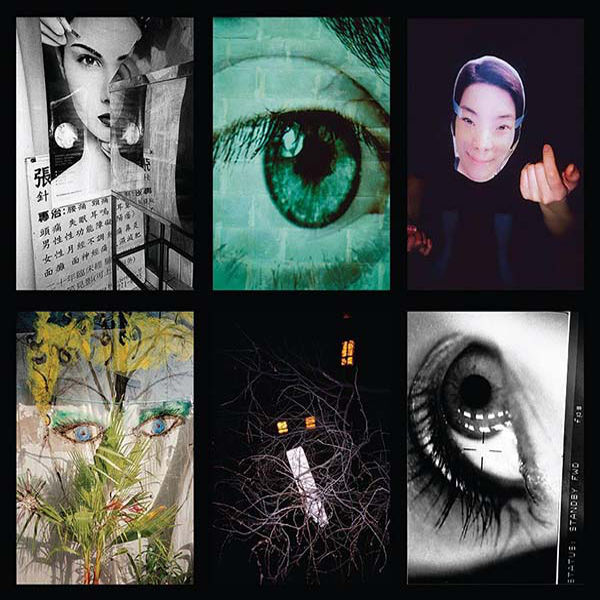 From the diner talk of Brad Casey:
There's this one boy in your class. He doesn't make eye contact with anyone. His hair is like a black rooster's comb. His jawline is so defined it's almost monstrous. He's thin but his skin is so tight he's vacuum sealed. Sometimes you glance across the expanse of bodies at their desks, hoping he'll look back, but he's casually drawing faces with a copycat Egon Schiele grotesqueness. His headphones drape around his neck like a dead animal. The bell will ring, and he'll walk out of the room shrouding the sides of his face with those same dead animal headphones while you wonder what he's listening to. You'll fantasize about telling him about Lee Paradise, how you'll put the needle to the record in his room. Everything smells like summer and he smiles and you could die like this. Just like this.
Du souper-causerie de Brad Casey:
(Traduit par Jessica Grenier)
Il y a ce garçon dans ta classe. Il ne croise jamais le regard des autres. Ses cheveux ressemblent à une crête de coq noire. Sa mâchoire est tellement bien dessinée qu'elle en est presque monstrueuse. Il est maigre – la peau étirée au point où il a l'air emballé sous vide. Parfois, tu jettes un regard sur l'étendue de corps assis à leur bureau en espérant croiser le sien, mais il est généralement en train de griffonner des visages grotesques à la Egon Schiele. Ses écouteurs pendent à son cou comme un animal mort. La cloche va sonner et il va se lever pour quitter la pièce, ensevelissant au passage les côtés de son visage dans ses écouteurs-animaux-morts pendant que tu vas te demander ce qu'il peut bien écouter. Tu t'imagineras lui parler de Lee Paradise. Déposer l'aiguille sur le disque dans sa chambre. On dirait l'été. Il sourit, et tu pourrais mourir à cet instant. Exactement comme ça.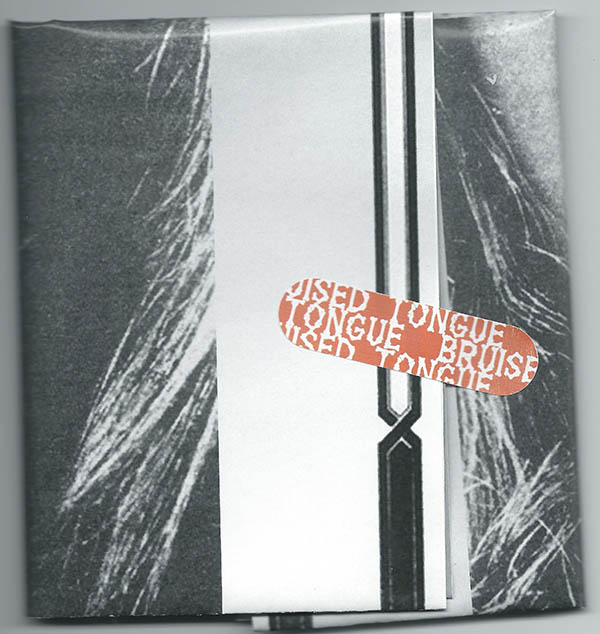 Various Artists
Afterburners Vol. 4
Ottawa, ON
From the free lunch stamp card of Alanna Yaraskavitch:
The fourth instalment of Bruised Tongue's post-Ottawa Explosion comp kicks off with a phone call from The Yips: Can you do dinner tonight at an inter-provincial, all-you-can-listen buffet of sonic delicacies? Call the sitter and clear your schedule, it's time to sip dandelion homebrew with Boyhood and sample wild game with Mark Alexander McIntyre. Look over there in the corner! Neck's eating mashed potatoes with their hands down their pants while Bonnie Doon devour $2 slices. It's time to pay, but the price is free – my compliments to the chef.
De la carte à tampon pour lunch gratuit complément d' Alanna Yaraskavitch:
(Traduit par la carte de fidélité certifiée Louis-Félix Pellerin)
Le quatrième tome de la compé post-Ottawa Explosion de Bruised Tongue commence avec un appel téléphonique de The Yips: Pouvez-vous vous occuper du souper ce soir, à un fin buffet sonique à volonté interprovincial? Appelez la gardienne et libérez-vous, c'est le temps d'aller siroter de la liqueur de pissenlit artisanale avec Boyhood et de déguster du gibier sauvage avec Mark Alexander McIntyre. Mais regardez qui est dans le coin! Neck se gavent de patates pilées les mains dans les pantalons tandis que Bonnie Doon dévorent des pointes à 2$. Il est venu le temps de payer l'addition, un gros GRATUIT est inscrit à la place du montant final; mes compliments au chef.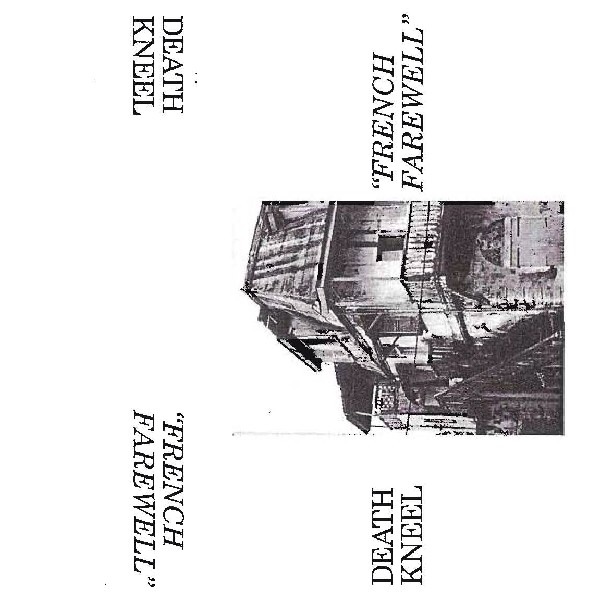 Death Kneel
French Farewell
Toronto, ON
From the cold, naked body of Griffin Martell:
There is a suffocating sense of abandon that pervades the power noise Max Klebanoff crafts as Death Kneel. 'French Farewell', the first release on Klebanoff's newly inaugurated Summer Isle label, encloses you in a chamber of predatory drones before abruptly thrusting your cold, naked body up to the panoptic surface. Not far off from the harsh industrial pummelings of early Tesco Organization releases, the A-side's throbbing low-end frequencies evoke the bracing spectacle of a precarious helicopter landing. On the B-side, Klebanoff douses the throaty vociferations he howls with New Armour in an acid wash of prickly noise. As this chaos subsides and you re-orient your senses, a somber send-off reminds you that someone's always watching.
Du corps nu et glacial de Griffin Martell:
(Traduit par le lavage de cerveau zombificateur de Louis-Félix Pellerin)
Il y a un sens de l'abandon suffocant imbibé dans le power noise que crée Max Klebanoff à travers Death Kneel. "French Farewell", la première sortie de Summer Isle, le label nouvellement-inauguré de Max Klebanoff vous enferme dans une chambre remplie de drones menaçants de avant de pousser soudainement votre corps froid et dénudé vers la surface panoptique. Non loin des martèlements industriels des premiers temps de Tesco Organization, les fréquences rythmiques bas de gamme du côté A évoquent toutes les sensations fortes qui viennent avec un atterrissage d'hélicoptère risqué. Sur le côté B, Klebanoff arrose ses vociférations rauques d'un torrent acide de bruit épineux à la New Armour. Alors que le chaos s'estompe et vous réorientez vos sens, un adieu sombre vous rappelle qu'il y a toujours quelqu'un qui vous observe.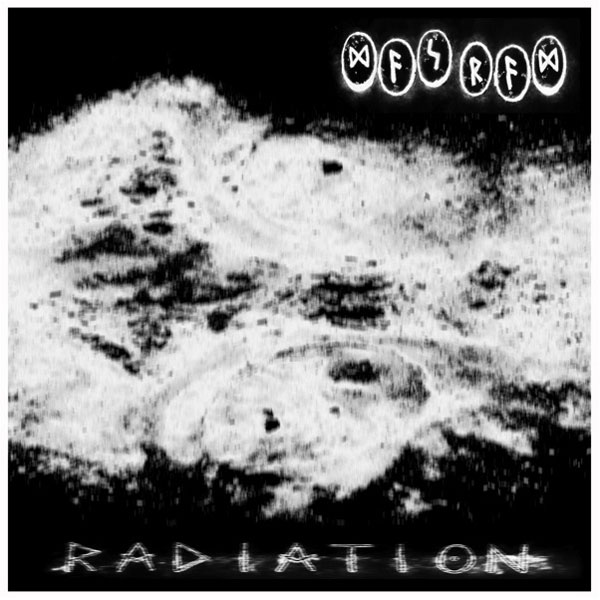 Das Rad
Radiation
Toronto, ON
From the drummed ears of Andy Clark:
The first two times I turned on Radiation, I immediately turned it down. After the initial blast of feedback subsided, the music became a wild expression of fuzz destruction: a truck driver drives their truck into the fog, later waking to find that they've arrived in a town where they are not the only visitor. "1331", "Sake of Sound" and "Afterbang" play like a gekiga comic: unassuming at first, until deep evil threads itself into reality. Beware the fog… was it a self-inflicted manifestation of guilt after all?
Des oreilles martelées d' Andy Clark:
(Traduit par Jessica Grenier)
Les deux premières fois que j'ai voulu écouter Radiation, j'ai immédiatement baissé le son. Mais une fois que la première explosion de feedback est passée, la musique devient l'expression sauvage d'un fuzz destructeur. Un camionneur conduit dans le brouillard, il est réveillé plus tard par la découverte qu'il est arrivé dans une ville où il n'est pas le seul visiteur. « 1331 », « Sake of Sound » et « Afterbang » ressemblent à un manga gekiga : des débuts sans prétention jusqu'à ce qu'une profonde noirceur se superpose à la réalité. Méfiez-vous du brouillard… est-ce qu'il s'agissait finalement depuis le début d'une culpabilité auto-infligée?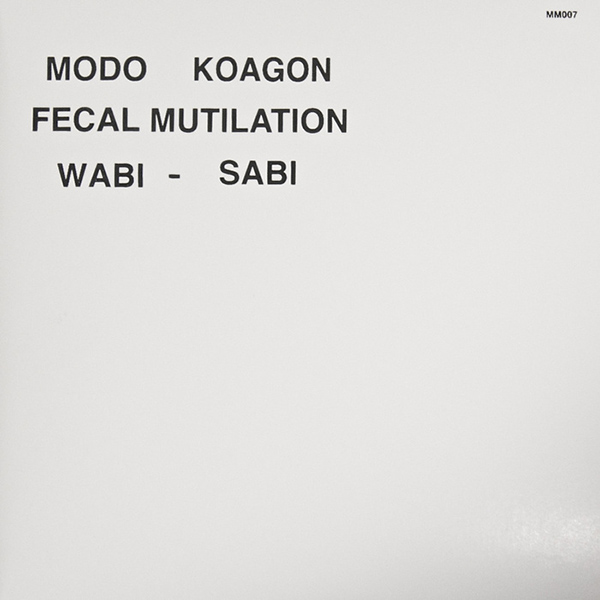 Modo Koagon // Fecal Mutilation
Wabi Sabi
Montréal, QC // Toronto, ON,
From the emergent phenomena of Josh Silver:
You're sitting down watching the cartoons: Wile E. Coyote attempts to trap the Roadrunner hoisting a one tonne anvil on a rope. The Roadrunner avoids this trap and the anvil falls directly onto the coyote. He then explodes into patterns of static and analog glitched video as colours dance and flash. The swirling fuzz fills the room wrapping your body in sculpted surfaces, each facet carrying texture, weight and presence.
Du phénomène émergent de Josh Silver:
(Traduit par Jessica Grenier)
Tu es assis, en train d'écouter des dessins animés : Coyote essaye d'attraper Bip Bip en hissant une enclume d'une tonne avec une corde. Bip Bip évite le piège et l'enclume tombe directement sur le coyote, qui explose en motifs de statique et de vidéo analogique boguée, les couleurs dansant en clignotant. Le fuzz tourbillonnant remplit la pièce, enveloppant ton corps de surfaces sculptées, chaque facette ayant une texture, une présence et un poids propre.

Modo Koagon // Fecal Mutilation – Saturday 1
---