Category: ontario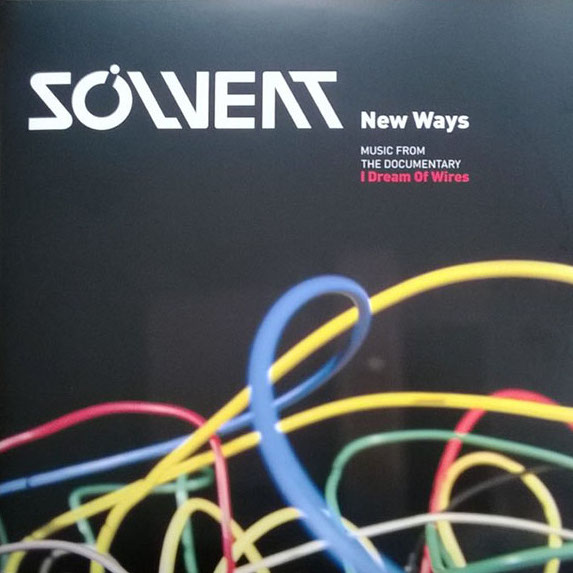 Solvent
New Ways: Music from the documentary I Dream of Wires
Toronto, ON
From the flangy frontispiece of Nick Smith:
I Dream of Wires connects your guzintas to the history and current state of modular synthesis. Solvent's Jason Amm has created the soundtrack, a gurgling-and-sputtering showcase of the synthesized diaspora in its sequenced and modulated forms. Hooked-On melodies share the upper-spectrum with white noise clouds, while the ping-pong motorik of bass and VCBeats provide the infinite-possibility landscape. Basking in a transistor sun with a bucket of patch cables on the wavetable never sounded so good.
Du frontispice taraudé de Nick Smith:
(Traduit par Andréanne Dion)
I Dream of Wires connecte vos appareils à l'histoire et à l'état actuel de la synthèse modulaire. Jason Amm de Solvent a crée une bande-son, une diaspora synthétique présentée sous forme de séquences modulées. Des mélodies accrocheuses se partagent le paysage avec des nuages de bruits de fond, alors que le motorik rebondissant de la basse et des VCBeats fournit un arrière-plan aux possibilités infinies. Se prélasser sous un soleil-transistor avec un seau de câbles à nos côtés ne nous a jamais semblé aussi attirant.

Solvent – Themogene (I Dream of Wires Theme)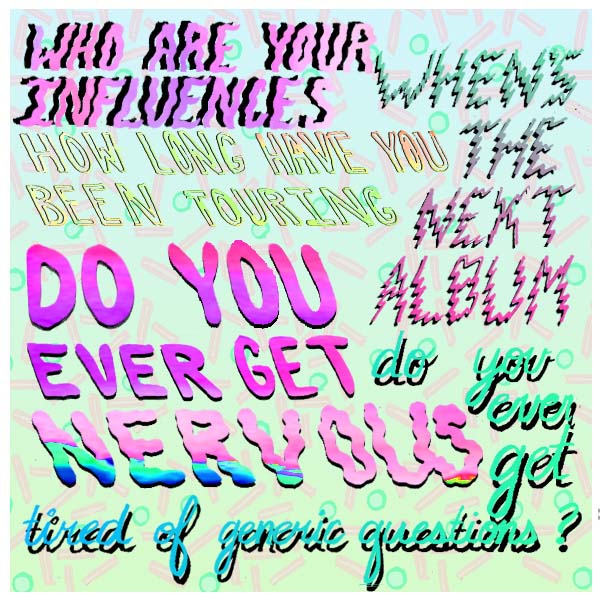 How to Interview
Alison Lang
Toronto, ON
From the weird Halloween cat show of Alison Lang:
Interviewing someone you've never met can be one of the scariest parts of covering the music scene. If you are shy/in awe of someone/not good on the phone/not in the mood/tired/hungover/under time constraints, the anticipation before you interview a musician can cause extreme anxiety. Then you actually have to do the thing.
Depending on the mood the musician is in, your interview can either be one of the most satisfying, inspiring conversations ever …or it can be totally horrible and you cringe your way to the end, praying for completion. Here's how to get the most out of your interviews:
1. Be prepared
This seems obvious but sometimes – especially when you are on a super-tight deadline – it is easier said than done. Whether you're interviewing someone for a zine or a newspaper or a blog, your life will be easier if you know as much as you possibly can about the person you're speaking with:
We are gifted to be living in the age of the Internet, where you can find out a lot of information easily and quickly. Read other stuff that's been written about the band.
Find the local paper or alt-weekly in their city and search those archives, dammit!
Go to zine archives and look around for fanzines that might have some pieces or stories from the bands. (Find the zine library or a good zine distro in or near your city. Anchor Archive Zine Library in Halifax, the Toronto Zine Library and QPIRG Concordia have a lot of resources both online and onsite. Maximum RocknRoll has an extensive web archive – for a small fee you can download a digital version of classic issues all the way back to '82.)
Check out show reviews from the plethora of Canadian music blogs out there – Exclaim, Grey Owl Point, Herohill, Southern Souls and more. If you know people who know the bands, talk to them. Find out what they love and hate.
2. Ease into the conversation.
Sometimes it's easiest to start things off by getting someone talk about something other than themselves and their work. Did the band/musician just play a cool festival recently? Ask them who they saw and who they loved. Did they eat the most amazing tacos? What a coincidence, you also love tacos. Are they super into cats? Tell them about the weird Halloween cat show you went to that one time. Be on the lookout for weird details that will lead to an interesting conversation– talk about a venue in Canada that you've both barfed in. If all else fails, talk about B.A. Johnston. Every musician in Canada has at least one B.A. Johnston story. These are conversational inroads. These are the jewels in your crown. Things to keep in mind:
It's ok to joke around and be a goof at first. Be disarming. Be yourself. If you're comfortable using a more formal "interviewer tone" that's fine if it works for you, but don't assume or pretend to know every reference and nuance that comes your way. Don't be scared to ask questions about stuff you haven't heard of – you'll get better answers!
If they are a band that gets interviewed a lot, they may have some unconscious barriers up, or they might be on their 8th interview of the day, and they're tired. If they are a band that is just starting out, this might be one of their first interviews, and they might be nervous too! Take it easy.
3. Try to ask the questions you need, but also ask the questions you want.
This is where reading old interviews with the band can help. They may get asked the same questions a lot – "What are your influences?" "What's it like being an all-female three-piece in a mostly male punk scene?" "Do you miss being at home?" Stuff like that. Sometimes this is unavoidable and you have to ask these questions to get the quotes you need for your story. Sometimes, though, certain questions can be re-phrased or avoided altogether and you can still have a good story.
If you're asking about being an all female three-piece, why not cite a specific event in the band's history and ask 'em for more detail about that? Why not, instead of asking about influences, mention a specific song from the band's record that reminds you of something else – a band you love, or an experience from your own life – and ask where their story came from?
Try not to recycle the same Q's if you can. Try to stump the band and surprise 'em.
And for sure, ask the crazy fanboy/fangirl questions you HAVE to know the answers to….but save 'em 'til the middle/end, once you've warmed them up and hopefully won them over.
4. Don't be afraid to stray away from your prepared questions.
If the conversation is going to an unexpected place, sometimes it's ok to let it go there – but sometimes it isn't. It's important to know when you should intervene and set the interview back on track.
If the musician is unleashing some philosophical and/or profound personal truths – or they're just telling a hilarious tale that might have nothing to do with any of their shows or their record – sometimes it's ok to just let it go there and enjoy what they're saying.
If they are launching into personal attacks or some kind of vendetta, this is not really something you can use in your story (unless you plan on getting the other side of the perceived grievance) so you may want to gently nudge them elsewhere.
5. For the love of God make sure your recorder is turned on and you have fresh batteries and/or make sure your phone is charged and make sure your recording app is on and running. EVERYONE MAKES THIS MISTAKE TRY NOT TO BECAUSE IT FEELS SO HORRIBLE.
6. Mark your spots in the conversation
You can do this by turning your recorder on and off, or some recorders will let you actually mark when a new question is asked. This will help you a lot when you're doing the transcribing, the most HATED PART of interviewing.
7. Don't get defensive.
Sometimes musicians are pissy or sassy or cranky or not very talkative. A lot of them will be talking to you from the road, and being on tour is exhausting and they are probably super tired and hungover or broke, or they might be coming off a bad show, or something else might be buggin' 'em. They're human. Don't take it personally – they don't know you, and it's not your fault they're in a shitty mood. It happens. If the interview seems to be going badly or stalling altogether, just try to get through your questions the best you can and wrap that shit up. If you have time, get an email address and mention you might follow up on a few things later, and they can reply to you when they want. Don't get snippy or cranky at them though, it won't help, and it might burn bridges down the road. Plus, you're the interviewer – you can take the high road.
8. Be gracious.
Unless the musician(s) were total unresponsive dicks, be grateful for your experience. Thank them. Thank the publicist who connected you. Let them know the interview went well (even if it was just ok). They want to know – it's part of the whole publicity game. Let the band/publicist know when your story is posted.
9. Make sure you're really LISTENING.
The interviewee may drop an interesting fact as an aside (maybe the fact that they're moving, or even that they might be leaving the band). Sometimes it's good to listen hard to pick up changes in tone, or little hints that the person might want you to ask about something that they're too shy/coy/anxious to bring out straightaway. Sometimes people need coaxing, and you need to be really listening to them to know when to jump in.
10. Don't be scared to go smaller/indie/local.
Everyone wants to interview their idols, but the most satisfying interviews are quite often the ones you don't expect – the road dogs who have an impassioned small-town fanbase, the locals who are just starting out and getting a tiny bit of buzz. These connections might last forever – one good experience can lead to you having a good rapport with a band for their entire career, and maybe they can help you out sometime too. If you put out good vibes during your interview you will invariably get something back in return. That's why we do this, right?
Interviewing is an amazing skill to develop, and if you approach it with the right preparation and mindset, it can be an immensely enriching experience regardless of the outcome. It will teach you how to be an active listener, and you will also learn insane things about what musicians do and get insights and stories that most people don't normally have the privilege of hearing. The skills of a good interviewer are also analogous to being a good conversationalist and can help you become a more empathetic, thoughtful human.
Alison Lang is the editor of Broken Pencil, a magazine that covers zine culture and the independent arts. The best interview she ever had was with voice actor Michael Winslow, who conducted half the interview in the voice of Stripe from Gremlins.
De l'étrange exposition féline d'Alison Lang:
(Traduit par Geneviève Faubert)
Interviewer une personnalité que tu n'as jamais rencontrée peut représenter l'un des défis les plus angoissants d'une couverture de la scène musicale. Que tu sois timide, en admiration devant l'artiste en question, mal à l'aise au téléphone, d'humeur peu encline, en proie à la fatigue, que tu aies la gueule de bois ou des échéances strictes à respecter, l'appréhension qui précède une interview peut causer une grande anxiété. Vient alors le moment de passer à l'action.
Selon l'humeur du musicien, l'interview peut se transformer en une conversation des plus inspirantes et gratifiantes… ou elle peut tourner au cauchemar et te faire grincer des dents en priant pour que ça en finisse. Voici divers conseils afin de tirer le meilleur parti de tes interviews :
1. Prépare-toi.
La préparation peut te sembler un facteur incontournable, mais il n'est pas toujours évident de bien se préparer, surtout si tu es confronté à une échéance serrée. Qu'elle soit réalisée pour un magazine, un journal ou un blog, l'interview se déroulera beaucoup mieux si tu te renseignes au préalable à propos des artistes en question :
Quelle chance de vivre à l'ère d'Internet : tu bénéficies ainsi d'un accès facile et rapide à une foule de renseignements. Lis les articles déjà publiés sur le groupe.
Trouve le journal local ou les hebdomadaires alternatifs de la ville du groupe et fouille dans les archives, bordel!
Consulte les archives de fanzines et recherche ceux pouvant contenir des articles ou des récits à propos du groupe. (Recherche la bibliothèque de fanzines, ou un bon distributeur, dans ta ville ou dans les environs. L'Anchor Archive Zine Library à Halifax, la Toronto Zine Library et le QPIRG (Quebec Public Interest Research Group) de l'Université Concordia offrent une multitude de ressources sur place et en ligne. Maximum RocknRoll regroupe des archives web bien documentées : moyennant une somme modique, tu pourras télécharger la version numérique de numéros classiques qui remontent à 1982.)
Consulte la myriade de blogues canadiens à la recherche de critiques de concerts : Exclaim, Grey Owl Point, Herohill, Southern Souls, etc. Communique avec tes connaissances qui entretiendraient des liens avec les membres d'un groupe. Apprends-en plus sur ce qu'ils aiment et ce qu'ils détestent.
2. Mets les gens à l'aise dès le départ.
Il est parfois plus facile d'entamer une conversation en faisant parler son interlocuteur d'autre chose que de lui-même ou de ses réalisations professionnelles. L'artiste ou les membres du groupe ont-ils participé à un festival cool ces derniers temps? Questionne-les à propos des concerts auxquels ils ont assisté ou des artistes qu'ils affectionnent. Ont-ils eu la chance de goûter aux meilleurs tacos? Quelle coïncidence : tu adores les tacos! Vénèrent-ils les chats? Parle-leur de cette étrange exposition féline à thématique Halloween à laquelle tu as déjà assisté. Sois à l'affût de ces détails bizarres qui mèneront à une conversation intéressante; par exemple, parle de cette salle de spectacle quelque part au Canada où l'artiste et toi avez tous deux vomi. Si rien de tout cela ne réussit, évoque B.A. Johnston. Tous les musiciens canadiens ont au moins une histoire de B.A. Johnson à raconter. Voilà quelques pistes de conversation, les armes secrètes dont tu disposes.
N'oublie pas les points suivants :
Il est tout à fait acceptable de blaguer et de faire le bouffon au début de l'interview. Use de charme et reste toi-même. Si tu es à l'aise avec le fait d'utiliser un ton plus formel, n'hésite pas si ça fonctionne pour toi, mais ne prétends ou ne présume pas connaître toutes les nuances et références dont on te parlera. N'aie pas peur de poser des questions sur ce que tu ne connais pas : tu recevras ainsi des réponses plus étoffées.
Si les membres du groupe sont abonnés aux interviews, ils se sont peut-être inconsciemment fixé des barrières, ou peut-être sont-ils fatigués après la huitième interview de la journée. Si tu as affaire à un nouveau groupe, il s'agit peut-être de la première interview des membres. Ils peuvent aussi afficher une certaine nervosité! Vas-y doucement.
3. Tente d'obtenir les réponses dont tu as besoin, mais pose aussi les questions qui te tiennent à cœur.
C'est ici que la lecture préalable de vieilles interviews du groupe peut te venir en aide. On pose peut-être souvent les mêmes questions : « Quelles sont vos influences? » « Comment un groupe composé de trois femmes évolue-t-il au cœur d'une scène punk qui compte surtout des hommes? » « Le confort de votre foyer vous manque-t-il? » Ces questions, et d'autres du genre, sont parfois inévitables dans l'obtention des citations dont tu as besoin pour ton article. Toutefois, tu peux parfois reformuler, ou tout simplement éviter, certaines d'entre elles et quand même mener à bien ton récit.
Si tu interroges les artistes sur le fait d'être un groupe constitué de trois femmes, pourquoi ne pas rappeler un événement spécifique de leur histoire pour obtenir plus de détails à ce sujet? Au lieu de les questionner sur leurs influences, fais mention d'une chanson particulière de leur album qui te rappelle autre chose (un groupe que tu aimes, ou une expérience que tu as vécue, par exemple) et demande-leur la source de leur inspiration.
Évite de toujours répéter les mêmes questions, dans la mesure du possible. Tente de prendre les membres du groupe au dépourvu et de les surprendre.
Bien sûr, pose toutes ces questions typiques de fan fini dont tu te dois de connaître les réponses… en prenant soin de les garder pour le milieu ou la fin de l'interview, une fois qu'ils seront réchauffés et que, espérons-le, tu auras gagné leur confiance.
4. N'hésite pas à t'éloigner des questions déjà préparées.
Si la conversation prend une tournure inattendue, il faut parfois laisser les choses aller, selon les circonstances. Il est important que tu saches quand intervenir afin de ramener l'interview sur la bonne voie.
Si l'artiste te confie des propos de nature philosophique ou personnelle, ou s'il te relate une histoire hilarante qui n'a peut-être rien à voir avec ses spectacles ou albums, le contexte te dictera parfois de laisser les choses suivre leur cours et d'apprécier l'histoire qui t'est racontée.
Si l'artiste se lance dans des attaques personnelles ou une quelconque vendetta, tu devrais peut-être le ramener gentiment sur la bonne voie, car ces propos ne te seront d'aucune utilité lors de la rédaction de ton article (à moins que tu ne veuilles obtenir l'autre version des faits du présumé conflit).
5. Je t'en supplie, assure-toi que ton enregistreur est en marche et que les piles sont neuves, ou que ton téléphone est chargé et que ton application d'enregistrement est en marche. CETTE ERREUR EST TRÈS COURANTE : ÉVITE-LA À TOUT PRIX OU TU VIVRAS UN MOMENT HORRIBLE.
6. Use de marqueurs de référence lors de la conversation.
Tu y arriveras en allumant et en éteignant ton enregistreur. Certains appareils te laisseront même créer une marque chaque fois qu'une nouvelle question est posée. Cette étape t'aidera beaucoup lors de la transcription de l'interview, la partie LA PLUS DÉTESTÉE du processus.
7. Ne sois pas sur la défensive.
Les musiciens sont parfois irritables, d'humeur massacrante ou peu bavards. Nombreux sont ceux qui seront en tournée lorsqu'ils te parleront : probablement fatigués, ils auront la gueule de bois et plus un sou en poche, leur plus récent concert se sera peut-être mal déroulé ou ils vivront une autre situation contraignante. Les artistes sont humains. Ne le prends pas personnel : ils ne te connaissent pas, et ce n'est pas ta faute s'ils sont d'humeur exécrable. Ce sont des choses qui arrivent. Si l'interview semble mal se dérouler ou encore stagner, fais de ton mieux afin de poser tes questions et de boucler l'entretien. Si le temps te le permet, demande un courriel aux musiciens en mentionnant que tu feras peut-être un suivi ultérieur sur certains points, auquel ils pourront répondre quand bon leur semblera. N'adopte pas une attitude hargneuse ou négative à leur égard, ce qui n'arrangerait rien et pourrait brouiller vos relations futures. C'est toi qui mènes l'interview, après tout : il ne tient qu'à toi de rester digne et de faire preuve de professionnalisme.
8. Témoigne de la gratitude.
À moins que les musiciens ne se soient comportés en parfaits bâtards insensibles, sois reconnaissant d'avoir passé ce moment en leur compagnie. Remercie les artistes, ainsi que l'agent de publicité qui t'a mis en contact avec eux. Dis-leur que l'interview s'est bien déroulée (même si tu l'as trouvée plutôt ordinaire). Ils veulent en savoir plus, ça fait partie du manège de la publicité. Informe le groupe ou l'agent de publicité de la date de parution de ton article.
9. Assure-toi de BIEN ÉCOUTER.
L'interviewé mentionnera peut-être au passage un fait intéressant (un déménagement ou le départ d'un membre du groupe, par exemple). Parfois, tu auras tout intérêt à tendre l'oreille afin de capter un changement dans le ton, ou de saisir une perche que l'artiste, trop timide, évasif ou anxieux, te tend à propos de sujets qu'il n'ose pas aborder directement. Tu devras parfois amadouer les gens, et une bonne écoute est nécessaire afin de saisir toutes les occasions de le faire.
10. N'aie pas peur de t'aventurer au coeur de la scène underground, indie ou locale.
Tout le monde rêve d'interviewer son idole, mais les interviews les plus gratifiantes sont souvent celles auxquelles on ne s'attend pas : les artistes en tournée perpétuelle qui comptent de fervents adeptes dans les petites villes ou les nouveaux groupes du coin qui génèrent un buzz à peine perceptible. Ces rapports pourraient durer au fil du temps : une bonne expérience t'amènera peut-être à tisser des liens solides avec un groupe tout au long de sa carrière. Peut-être même pourrait-il te donner un coup de pouce de temps à autre? Si tu dégages des ondes positives lors de l'interview, tu obtiendras invariablement quelque chose en retour. C'est la raison pour laquelle on fait des interviews, non?
L'art d'interviewer est une compétence extraordinaire à développer; si tu te prépares bien et que tu te présentes dans un bon état d'esprit, tu sortiras grandi de l'expérience, peu importe le résultat. Tu apprendras ainsi à faire preuve d'une écoute active, et tu découvriras des choses incroyables à propos de la vie de musicien, des histoires et des réflexions que la plupart des gens n'ont pas le privilège d'entendre. De plus, les aptitudes d'un bon intervieweur se transposent à l'art de la conversation et peuvent t'aider à devenir un être plus empathique et attentionné.
Alison Lang est la rédactrice en chef de Broken Pencil, un magazine sur la culture et les arts indépendants. Sa meilleure interview à vie a été celle de Michael Winslow, acteur spécialisé dans le doublage, qui a effectué la moitié de l'interview en empruntant la voix de Stripe du film Gremlins.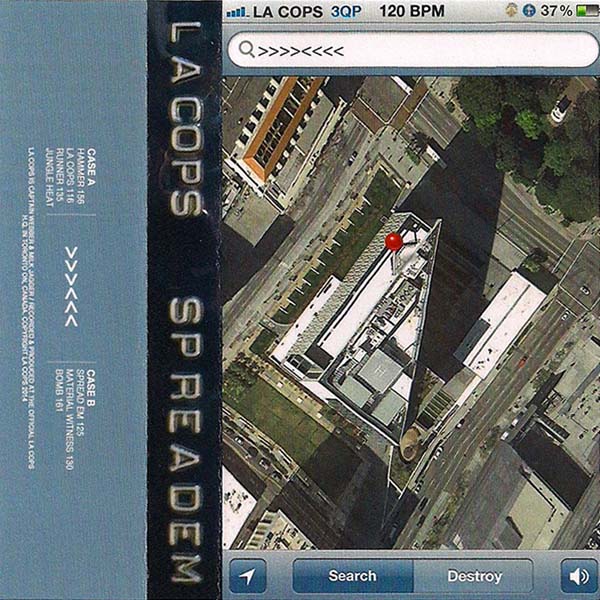 LA Cops
Spread 'Em
(Self Released)
Calgary, AB // Toronto, ON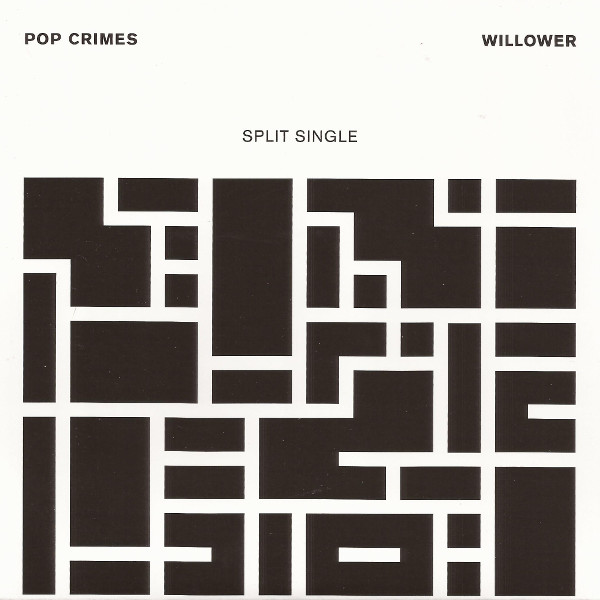 Pop Crimes // Willower
Split
Winnipeg, MB // Toronto, ON,
From the antennae occupation of Taylor Burgess:
This split is a slow, six-legged pull of your belly over the static and hum — before the RGB detonates and sends you into antennae-occupied space. Pop Crimes are brandishing buzzsaws while singer/guitarist Stefan Braun delivers a maniacal monologue of some sick Cronenberg persuasion; Long live the new flesh, and keep running around. Willower is on a modal meditation of what was once west, which winds can be commanded up, and whose waves will wind up on empty shores. The medieval script's source has yet to be unearthed, but Crosss' Andy March conjures the b-side all by his lonesome.
De l'occupation par les antennes de Taylor Burgess:
(Traduit par Jessica Grenier)
Ce split se fait sentir lentement, ses six pattes vous tirant par le ventre au-dessus des parasites vrombissants – juste avant que le RVB n'explose et vous envoie dans l'espace occupé par des d'antennes. Pop Crimes brandissent des scies mécaniques pendant que le chanteur-guitariste hystérique, Stefan Braun, se livre à un monologue tordu à la Cronenberg. Longue vie à la nouvelle chair, qu'elle poursuive son œuvre. Willower s'adonne à une méditation modale sur ce qu'était jadis l'Ouest, sur quels vents peuvent être commandés et sur quelles vagues viendront s'abattre sur le rivage désert. La source de l'écriture médiévale demeure enfouie, mais Andy March, de Crosss, sait évoquer la face B seul.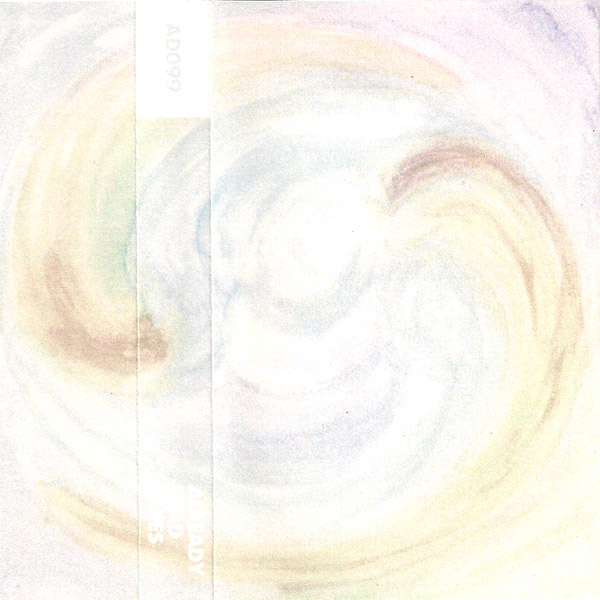 Tired Wires
Hark
Toronto, ON
From the heart murmurs of Jesse Locke:
The shivering ambience of Tired Wires' Hark illuminates a portal into a pastel cave where sonic stalactites sparkle like chandeliers. Tranquilized tone floats guide the ear into ever-deeper corridors, as whispers and hums hover in the gem-light with a glacial pace approaching -200 KBD. One soft-footed turn reveals a haunted piano with no hands at its keys, twinkling along to a tune older than time itself.
Du souffle au coeur de Jesse Locke:
(Traduit par Jacinthe Laplante)
L'atmosphère frissonnante de Hark de Tired Wires illumine une porte vers une grotte couleur pastel où des stalactites soniques brillent comme des chandeliers. Des flots de sonorité apaisés guident l'oreille vers des corridors toujours plus profonds, pendant que des chuchotements et des bourdonnements flottent dans la lumière brillante à une vitesse glaciale approchant les -200 KBD. En se tournant tranquillement, on voit un piano hanté – il n'y a aucun doigt sur le clavier – jouant un air plus vieux que le temps.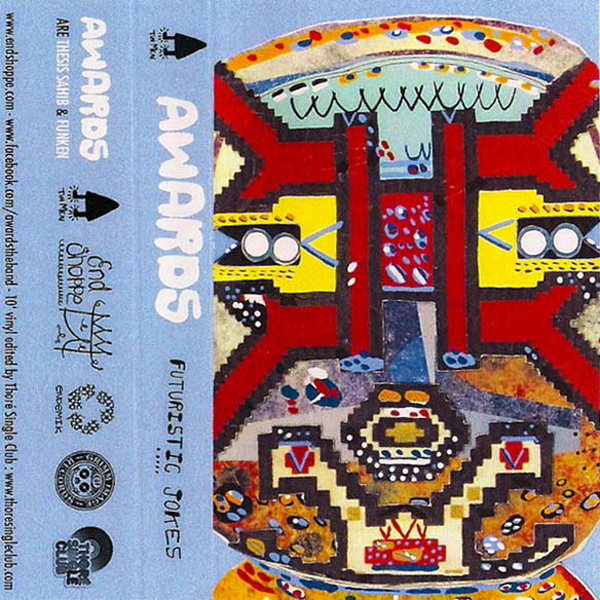 Awards
Futuristic Jokes
London, ON
From the tin can telephone of Jesse Locke:
Robo-rapper / globe-trotting artist Thesis Sahib bobs and weaves through lyrical tongue twisters on this collaboration with France's Funken. Playful beats and sumptuous samples are the backdrop for a lilting blizzard of non-sequiturs, blending surreality with the primordial spasms from which he was borne.
Du téléphone en boîtes de conserve de Jesse Locke:
(Traduit par Jessica Grenier)
Sur cette collaboration avec le Français Funken, le rappeur-robot/artiste globe-trotteur Thesis Sahib oscille au gré de virelangues lyriques. Rythmes enjoués et extraits somptueux forment le paysage d'un blizzard chantant de non sequitur, mélangeant l'irréalité au spasme originel qui l'a porté.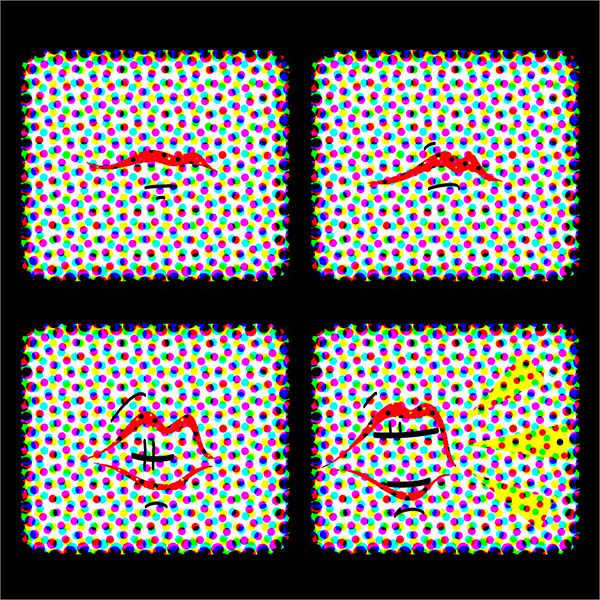 I Don't Know What to Do With My Doubt and I Don't Know Who it Benefits
Meghan Sangster
Toronto, ON
Abstract:
Re: I Want to Give You the Benefit of the Doubt
Event: The Beverleys EP and Video Release at the White House Studios in Kensington, November 29th 2013

This piece is written in response to I Want to Give You the Benefit of the Doubt, by Marie LeBlanc Flanagan. It engages with my own experiences of doubt in relation to gender based violence.
From the picked scabs of Meghan Sangster:
For the most part I go to events alone. When I moved to Toronto my Mum bought me a whistle for my keychain. My housemate and I joke about what pocket size defense tools we can order for cheap off eBay. Many people have told me I should be careful about where I go alone, especially at night, thinking that if I change my behaviors in the correct ways I will avoid experiencing sexual assault or rape. These warnings often preface my nights out in Toronto's music scene.
At this particular show the Beverleys played the third set. I was feeling drained that night and didn't muster the energy to really dance for Wants or Sam Coffey and the Iron Lungs. I love to dance simply because rhythmic movement provides a physical release that allows me to feel grounded in my body, I get out of my head and stop thinking about the significance of the song "Lose that Bitch" being performed by a group of men. Last time I had the word bitch directed towards me was roughly two years ago when my abuser sent me an e-mail trying to explain how stupid I was for leaving him. Bitch was probably the kindest word in the message.
About halfway through the Beverleys' set a guy from the crowd got very close to one of the guitarists. Venues get crowded, pushes and crowd movement shift where people can stand, and I know that sometimes things get tight and all space becomes shared. There was a very comfortable amount of space between this guitarist and the crowd, but, the guy thought it was necessary to get as close as he physically could to this performer. He stood staring and cupping a hand to his ear while leaning closer towards the mike and the guitarist's mouth as though he couldn't hear her singing.
I don't know if this made her uncomfortable but I can say that I have seen that closed body posture before. It's the hunched shoulders, turned away eyes, anywhere-else-but-here look that my friends have when they are uncomfortable around someone. It was the look my friend gave her abuser when he was violating the restraining order and trying to get past myself and another female bodied friend to "talk" to the woman he spent years beating. It's a look I learned to read when I was very young and one that has smothered my own body a number of times.
The lead singer from Wants was the first person to do something. She approached the guy and started talking to him. I couldn't hear what she said but she quickly disappeared into the crowd, looking for someone or something after the guy wouldn't budge. I stood for a few moments watching him get closer and realized that I felt like dancing. For clarification, when I say "dancing" I am referring to a loose limb flailing skank movement that pulls looks of concern and shared enthusiasm in equal measure. I moved my body between him and the mic. I am a physically small person, and danced my body into his forcing him to move backwards. Two other people stepped forward and also put their bodies between this man and the guitarist. The singer from Wants joined us soon afterwards, all while the performance continued uninterrupted. I later learned her intervention and the support of other people from White House got him kicked out of the event.
Many concerned individuals have said I need to take greater caution when I confront men because my refusal to accept harassment in any form is an action that risks being assaulted or raped. I know other female-bodied people who have received the same cautions. This caution is often driven by a fear that the attacker is always a (male) stranger and intervention is best left to male-bodied people. Depending on what I am wearing or how I am moving these cautions can also include slut shaming and victim blaming, in addition to the assumption that my femininity is a signifier of weakness. I know four men and fifteen women who have been raped, and each of them knew their respective attacker(s) as a friend(s), a boyfriend or husband, or a family member. The potential violence I am cautioned against became meaningless when I began listening to the bodies and minds that experience this gender based violence. The cautions are based around myths at best and rape culture at worst; they are not helpful on the walk home and in many respects these cautions support the violence they attempt to prevent.
Words have immense power. Shared conversation is one of the most vital tools in anti-oppression work, but the body cannot be forgotten. A community can understand their privileges and respective oppressions while remaining passive when confronted with an action of oppression. It is encouraging to know people will step forward when acts of misogyny occur, and it is encouraging to know critical conversations around oppressions are affecting the Weird Canada Arts community. Conversation is not an end, it is an important beginning that opens possibilities for continued anti-oppression work beyond the internal self within direct public interventions. These public interventions are vital if private conversations are to have impact beyond individual art practices to instead affect broader structures of oppression that manifest as micro-aggressions or violence in arts communities.
It is not up to those who are marginalized in/by arts communities to come forward and generate change. Individuals and communities who experience oppression have no obligations to patiently sit and teach people 101 sessions on cultural appropriations or systemic violence. For those who have the energy and resources, coming forward with experiences of oppression can generate moments of conversation that are vital to ensuring continued community anti-oppression work. Every community needs these conversations, what is encouraging about Weird Canada is that many people within this community are responsive and willing to listen when these conversations occur.
To Jen from Wants, thank you for your fierce and immediate willingness to do something. To the people who put their bodies beside mine, thank you for dancing with me.
Résumé :
Re : Je veux te donner le bénéfice du doute
Événement : Sortie d'un EP et d'une vidéo des Beverleys au White House Studios à Kensington, le 29 novembre 2013

Cet article est rédigé en réponse à Je veux te donner le bénéfice du doute de Marie LeBlanc Flanagan. Il s'engage avec mes expériences de doute par rapport à la violence fondée sur le genre.
Des plaies grattées de Meghan Sangster:
(Traduit par Wanying Zhang)
La plupart du temps, je vais aux évènements toute seule. Quand j'ai déménagé à Toronto, Maman m'a acheté un sifflet pour mon porte-clés. À la blague, mon coloc et moi, nous nous demandons quels outils d'autodéfense en format poche nous pouvons acheter pas trop cher sur eBay. De nombreuses personnes me disent que je devrais être prudente quand je sors seule, surtout la nuit, en croyant que si j'adopte de bons comportements, j'éviterai l'agression sexuelle ou le viol. On me sert souvent ces avertissements les soirs où je sors fréquenter la scène musicale de Toronto.
Au spectacle en question, The Beverleys étaient les troisième à jouer. J'étais épuisée ce soir-là et je ne trouvais pas l'énergie pour danser avec *Wants* ou *Sam Coffey and the Iron Lungs*. J'aime danser simplement parce que les mouvements rythmiques me donnent une liberté physique qui me permet de me sentir en symbiose avec mon corps. J'ai fait le vide dans ma tête, et j'ai cessé de penser au sens de la chanson « Lose that Bitch » jouée par un groupe d'hommes. La dernière fois qu'on m'a traitée de « bitch », c'était il y a environ deux ans et demi quand mon agresseur m'a envoyé un courriel pour m'expliquer à quel point j'étais stupide de l'avoir quitté.
Vers le milieu de la prestation des Beverleys, un gars de la foule s'est approché très près de l'une des guitaristes. Les salles sont bondées de monde, la foule pousse et les endroits où les gens peuvent se tenir debout changent au gré de ses mouvements. Je sais que parfois l'espace est restreint et qu'il devient un lieu commun. Il y avait un espace *très* confortable entre cette guitariste et la foule, mais le gars trouvait nécessaire de s'approcher aussi près que possible de la musicienne. Il restait là, la fixant, la main à l'oreille tout en se penchant plus près du micro et de la bouche de la guitariste comme s'il ne pouvait pas entendre la chanson.
Je ne sais pas si ce comportement l'a dérangée, mais je sais que j'ai déjà vu cette posture. Celle des épaules courbées, des yeux détournés, le regard qui dit « n'importe où sauf ici » que mes amies lancent quand elles ne se sentent pas à l'aise avec quelqu'un. C'était le même regard lancé par mon amie qui voyait son agresseur violer l'ordonnance restrictive, en me contournant moi et un autre corps féminin afin de « parler » à la femme qu'il frappait depuis des années. C'est un regard que j'ai appris à reconnaître très jeune, le même qui a couvert mon corps à quelques reprises.
La chanteuse principale de Wants a été la première à réagir. Elle s'est approchée du gars et s'est mise à lui parler. Je n'entendais pas ce qu'elle disait, mais elle a rapidement disparu dans la foule, en cherchant quelqu'un ou quelque chose puisque le gars ne bougeait pas. Je suis restée immobile quelques instants, en le regardant se rapprocher, et j'ai réalisé que j'avais envie de danser. Une précision, quand je dis « danser », ça ressemble plus au mouvement sale d'un membre mal fixé qui s'agite et qui attire des regards à la fois inquiets et enthousiastes. Je me suis placée entre lui et le micro. Physiquement, je suis petite, et je dansais de façon à me projeter contre lui, le forçant à reculer. Deux autres personnes se sont avancées et se sont placées entre cet homme et la guitariste. La chanteuse de Wants nous a rejoints peu de temps après, sans que le concert soit interrompu. J'ai appris plus tard que grâce à son intervention et à l'aide d'autres personnes du White House, l'homme a été expulsé de l'événement.
De nombreuses personnes inquiètes m'ont dit que je devrais faire plus attention lorsque je confronte les hommes, car mon refus d'accepter toute forme de harcèlement est une action qui pourrait mener à l'agression ou au viol. Je connais d'autres gens nés avec un corps féminin qui ont reçu les mêmes avertissements. Cet appel à la prudence est souvent motivé par la peur que l'agresseur soit toujours un (homme) inconnu, et qu'il soit préférable de laisser les gens nés avec un corps masculin intervenir. Selon le genre de vêtements que je porte ou la manière dont je me comporte, on me met aussi en garde contre les insultes (« slut shaming ») et la stigmatisation des victimes, en plus de supposer que ma féminité est un signe de faiblesse. Je connais quatre hommes et quinze femmes qui se sont fait violer, et chacun connaissait son ou ses agresseurs respectifs comme ami(e-s), petit ami ou mari ou membre de la famille. La violence potentielle contre laquelle on me mettait en garde perdait tout son sens quand j'ai commencé à écouter les corps et les esprits qui ont subi cette violence fondée sur le genre. Ces avertissements découlent, au mieux, de mythes et, au pire, de la culture du viol. Ils ne sont d'aucune aide quand je retourne chez moi à pied, et, à de nombreux égards, ils soutiennent la violence qu'ils essaient d'éviter.
Les mots possèdent un pouvoir immense. Le partage et la conversation font partie des outils les plus importants du travail contre l'oppression, mais il ne faut pas oublier le corps. Une communauté peut comprendre ses privilèges et ses malaises respectifs tout en restant passive au moment d'être confrontée à un geste d'oppression. Il est encourageant de savoir que certains prendront position lorsque confrontés à des gestes misogynes, et il est encourageant de savoir que les conversations cruciales concernant l'oppression touchent la communauté de Weird Canada Arts. La conversation n'est pas une finalité, c'est un début important qui ouvre la porte au travail continuel contre l'oppression au-delà de notre être intérieur au moyen d'interventions publiques directes. Ces interventions publiques sont essentielles afin de permettre aux conversations privées d'avoir une incidence au-delà des expressions artistiques individuelles, et de viser les structures plus larges de l'oppression qui se manifestent comme des microagressions ou de la violence dans les communautés artistiques.
Il n'appartient pas aux gens marginalisés dans et par les communautés artistiques de prendre position et de provoquer le changement. Les gens et les communautés qui subissent l'oppression n'ont aucunement l'obligation de s'asseoir patiemment et d'enseigner les rudiments de l'appropriation culturelle ou de la violence systématique. Ceux qui ont subi l'oppression, et qui ont l'énergie et les moyens, peuvent inciter des moments de discussion qui sont essentiels afin d'assurer la pérennité du travail de la communauté contre l'oppression. Toute communauté doit avoir ses conversations. Il est encourageant de voir beaucoup de membres de la communauté de Weird Canada être réceptifs et disposés à écouter ces conversations.
À Jen, de Wants, merci pour ta réaction impitoyable et immédiate. À ceux qui ont placé leurs corps à côté du mien, merci d'avoir dansé avec moi.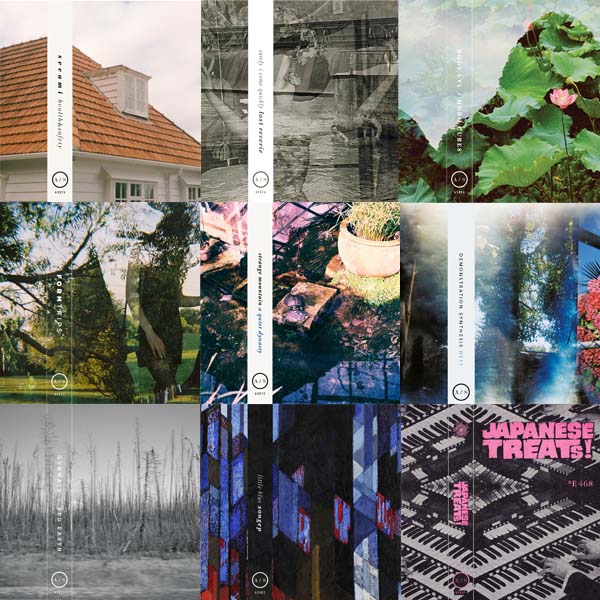 Adhesive Sounds
Edmonton, AB // Toronto, ON
From the pleasant valley of Jesse Locke:
Adhesive Sounds pulled up to the cassette club in style this spring with an ambitious 10-release batch hitting the decks. A/S architect Kelly Chia is an Albertan expat splitting his time between Edmonton and Toronto, with diverse releases from artists spanning the distance in between. He likens the label's offerings to "tuning into radio waves from an alternative world", gluing together Form's mutant techno, Hobo Cubes' eerie electroacoustics, the swooning samples of Surely I Come Quickly and so much more. We dropped Kelly a quick set of questions to get the scoop on his prolific activities and plans for the future.

Surely I Come Quickly – Angkor

Hobo Cubes – Semblance, Is Ripe With Blooming Gestures
Jesse Locke: Adhesive Sounds seemed like it emerged out of nowhere in April with a fully realized sonic and visual aesthetic. How long had you been scheming before launching the label, and what inspired you to take the plunge?
Kelly Chia: Time was definitely on my side, as I was affected with a disorder of the immune system keeping me housebound for a large period of this past year. Having to drop school and unable to leave the indoors, I was forced to find some kind of outlet, project, activity.
I started listening to more ambient, experimental, and soundscape music during this time. I was getting big into stuff by John Carpenter and Alan Howarth, John Cage, Erik Satie… a lot of film scores and works by modern composers.
Design and music to me have always had a special relationship. Particularly when you think of some of the seminal record labels. To me, the look is just as important and inspiring as the sound. The imagery provides an atmosphere and suggests an overall mood. It creates a distinct style or aesthetic. A good record cover should reflect the music.
I'm a big fan of Vaughan Oliver's 4AD sleeve designs – abstract, dreamlike, elegant – his work defines 4AD as much as the music. Peter Saville, who created the art for Factory Records, is another favourite of mine.
Music has always been a huge part of my life and starting a label has always been on the top of my "to do" list. Cassettes tapes are more affordable to produce than vinyl and have a warmth that is missing from digital and CDs. So when it came to put a label together it was just following my intuition and placing the right pieces in order.
Two of the releases from your first batch, Wasted Cathedral's Pleasant Valley and Japanese Treats' *E 468, feature solo side-projects from better known bands/artists (Shooting Guns and Ben Disaster, respectively). Do you put any stock into releasing music from projects that people may not be familiar with?
Growing up in the age of cassette tapes and compiling mix tapes, it was always exciting to discover and share up and coming acts or obscure tracks with others.
Side projects are interesting because you're giving an opportunity for listeners to hear another side of an otherwise familiar artist's work. It's almost like tuning into radio waves from an alternative world.
You've also had a strong slate of releases from prairie-based artists including the two previously mentioned, plus Evan A. James from Edmonton and two different guises of Saskatoon's Will Kaufhold (Body Lvl and Form). Coming from Edmonton yourself, do you feel it's important to represent regions that may be overlooked in other parts of the country?
I think it's important to provide a platform for people to check out work by artists in regions that are typically overlooked. I owe a lot of gratitude to the independent shops that introduced me to some of my favourite bands.
I certainly think one's surroundings have a profound influence on their outlook, interests and any creative work they produce. Maybe to a lesser degree now than the time before the internet, instant news and social media, but even TV and radio were massive then. Still, where you live – its structures, people, and particular places – are going to have a huge influence on artists and the work they produce.
You've recently made the move to Toronto, although I understand you're back out west at the moment. What sorts of differences have you noticed in the local scenes on both sides of the country?
Although geographically isolated, Edmonton should be recognized for its all-ages shows and tight-knit music scene. Everyone is usually well acquainted with each other and bands mix socially and creatively. The scene in Toronto seems to be more divided. You don't see too many shows with a wide range of musical acts. Noise bands tend to play with other noise bands, for example. You see that with the audiences, too.
You've also done tapes for some Montreal heavy-hitters: Demonstration Synthesis and the almighty Hobo Cubes. How did you hook up with them?
Shortly after his second release on Rotifer, Danny (Demonstration Synthesis) was looking to unleash a series of recordings for a fairly new project he's been working on at the time. Adhesive Sounds was just starting out and happened to be one of the labels he approached. We have since released three tapes (DS3 + DS8 + DS11) by Demonstration Synthesis. DS11 was released in late September.
During talks of finalizing plans on a new tape release by Form, Will had also been looking for a physical release for his work with Body Lvl, which he collaborates with his pal Metha Youngs. Citing the almighty Hobo Cubes as a heavy influence, we decided it would be a perfect opportunity to approach Frank for a track to compliment theirs on the b-side.
Your latest tape from the California-based artist Memory Leaks Onto The Rug also bucked the Canadian-only trend. I appreciate the personalized aspect of his 'recycled' releases in super limited editions, and saw the album you put out was originally a CDr edition of 1. Is this ephemeral nature coupled with the mysterious source material of his music part of the appeal for you too?
It is but it isn't. The record sleeve was a very democratic way of inspiring listeners through art and design. Music packaging has become very specialized. Even though I do appreciate limited edition and special releases, I much prefer the idea that it used to be available to everyone.
For me there has always been an appeal for discovering a title at a local record shop or the excitement of mail ordering and anticipating the arrival of a package. Although digital music files are much more convenient and take up less space, records and their packaging are important because the designs and images created provide a certain mystique offering a more memorable product.
The all-over prints of your j-cards are especially handsome. Do you handle the visual aspect of the label as well?
Visually I was striving for consistency in approach with care and quality. Attention to detail with the layout and typography. I tend to gravitate towards photo-based images with the current releases. Quite a few of them feature awesome photography by Will Kaufhold (Form, Body Lvl).
You've been cranking out releases at a pretty furious pace. Do you plan to maintain that?
With a new school year on the horizon, I'll have a little less time to focus on the label but I definitely plan to remain active with releases. It has been a busy time for A/S with releases by Gunwale, Strange Mountain, Wether, Demonstration Synthesis, Seeami and Surely I Come Quickly coming out on Cassette Store Day. Also, releases by James Benjamin, Mark Aubert and Dj Dj Tanner are due out later this year.
I had a chance to collaborate on a project titled Today with Ian Martin in Edmonton this summer at his amazing Twilight Living Room studio. Hoping to have that released later this year / early 2015.
What does the future hold for A/S?
Sometime in the new year, A/S would also like get into producing printed matter, possibly a magazine. Also maybe introducing the lathe-cut record format for certain releases in the distant future.
---
Adhesive Sounds discography (to date)
AS001 – Japanese Treats – *E 468
AS002 – Little Blue – Songep
AS003 – Wasted Cathedral – Pleasant Valley
AS004 – Demonstration Synthesis – DS3
AS005 – Evan A. James – s/t
AS006 – Body Lvl / Hobo Cubes – Split
AS007 – Form – Trips
AS008 – Karl Fousek – Codicil
AS009 – Memory Leaks Onto The Rug – OOOOOOOOO
AS010 – Demonstration Synthesis – DS3
AS011 – Gunwale – Red Earth
AS012 – Strange Mountain – A Quiet Dynasty
AS013 – Wether – Alien Lizard
AS014 – Demonstration Synthesis – DS11
AS015 – Seeami – Health & Safety
AS016 – Surely I Come Quickly – Lost Reverie
De la vallée plaisante de Jesse Locke:
(Traduit par Jacinthe Laplante)
Le printemps dernier, Adhesive Sounds a fait une entrée remarquée dans le clan des cassettes en mettant sur les tablettes une ambitieuse série de 10 enregistrements. L'architecte d'A/S, Kelly Chia, est un ex-Albertain qui partage son temps entre Edmonton et Toronto, des morceaux de divers artistes chevauchant la distance entre les deux. Il met en parallèle les offres du label et le fait de « se brancher aux ondes radiophoniques d'un monde alternatif », en mettant ensemble la techno mutante de Form et l'étrange électroacoustique de Hobo Cubes, les échantillons qui font tomber en pâmoison de Surely I Come Quickly et tant d'autres. Nous avons posé quelques questions à Kelly pour en apprendre davantage sur ses activités prolifiques et ses plans pour l'avenir.

Surely I Come Quickly – Angkor

Hobo Cubes – Semblance, Is Ripe With Blooming Gestures
Jesse Locke : On dirait qu'Adhesive Sounds est sorti de nulle part en avril avec une esthétique visuelle et acoustique pleinement accomplie. Combien de temps avez-vous mis à organiser le label avant de le lancer? Qu'est-ce qui vous a convaincu de faire le saut?
Kelly Chia : Le temps a joué en ma faveur. L'année dernière, j'ai souffert d'une affectation du système immunitaire qui m'a obligé à rester à la maison pendant de longues périodes. J'ai dû abandonner l'école, et je ne pouvais pas sortir à l'extérieur. Je devais donc trouver un exutoire, un projet, une activité.
Je me suis alors mis à écouter plus de musique d'ambiance, expérimentale et de paysage sonore. Je me suis surtout intéressé à John Carpenter, à Alan Howarth, à John Cage, à Erik Satie… aux trames sonores et à des œuvres de compositeurs modernes.
Pour moi, le design et la musique ont toujours eu une relation particulière. Surtout si on pense à certains des labels précurseurs. Je crois que l'aspect visuel est tout aussi important et inspirant que l'acoustique. L'imagerie offre une atmosphère et suggère une ambiance générale. Elle crée un style ou une esthétique uniques. Une bonne pochette de disque devrait être le reflet de la musique.
J'admire beaucoup le design des pochettes 4AD de Vaughan Oliver (abstrait, onirique, élégant) – son travail définit 4AD autant que la musique. Un autre de mes favoris est Peter Saville qui a créé des illustrations pour Factory Records.
La musique a toujours fait partie de ma vie, et lancer un label a toujours été une priorité pour moi. Les cassettes coûtent moins cher à produire que les vinyles. Elles dégagent aussi une chaleur qui fait défaut au format numérique et aux CD. Quand le moment est venu de mettre sur pied un label, je n'avais qu'à suivre mon instinct et à mettre les bons morceaux aux bons endroits.
Deux cassettes de votre première série, Pleasant Valley de Wasted Cathedral et *E 468 de Japanese Treats, présentent des projets solos d'artistes de groupes plus connus (Shooting Guns et Ben Disaster, respectivement). Misez-vous sur la musique associée à des projets qui feront sortir les gens de leur zone de confort?
Comme j'ai grandi avec les cassettes, à faire des compilations, c'était toujours électrisant de découvrir de nouveaux artistes émergents et des morceaux indéfinissables, de les échanger avec d'autres. Les projets parallèles sont intéressants pour donner la chance à ceux qui écoutent d'entendre un côté insoupçonné du travail d'un artiste. C'est presque comme se brancher aux ondes radiophoniques d'un univers alternatif.
Vous avez aussi une liste solide de pièces d'artistes originaires des Prairies, dont les deux mentionnés plus haut, et Evan A. James d'Edmonton, et deux volets différents du Saskatoonais Will Kaufhold (Body Lvl et Form). Étant vous-même originaire d'Edmonton, croyez-vous qu'il soit important de représenter des régions qui sont ignorées ailleurs au pays?
Je crois qu'il est important d'offrir une plateforme où les gens peuvent trouver des artistes de régions qui sont normalement ignorées. Je suis très reconnaissant aux magasins de musique indépendants qui m'ont fait connaître certains de mes groupes favoris.
Je crois sincèrement que notre environnement influence profondément notre perspective, nos intérêts et tout ce que nous créons. Peut-être moins aujourd'hui qu'à l'époque avant Internet, l'actualité instantanée et les médias sociaux, quoique même la télé et la radio étaient importantes à l'époque. Malgré tout ça, votre milieu, sa structure, ses gens et ses lieux particuliers influenceront grandement les artistes et leurs créations.
Vous êtes récemment déménagé à Toronto, mais je comprends que vous êtes en ce moment dans l'Ouest. En quoi les scènes locales des deux côtés du pays sont-elles différentes?
Même si Edmonton est isolée géographiquement, elle devrait être reconnue pour ses spectacles pour tous les âges et sa scène musicale « tissée serrée ». En général, tout le monde se connaît bien et les groupes se fréquentent socialement et collaborent créativement. La scène de Toronto semble plus divisée. Il y a peu de spectacles offrant un large éventail de formations musicales. Les groupes noise ont tendance à jouer avec d'autres groupes noise, par exemple. C'est la même chose avec le public.
Vous avez aussi produit des cassettes pour des poids lourds de Montréal : Demonstration Synthesis et les tout-puissants Hobo Cubes. Comment les avez-vous rencontrés?
Peu après son deuxième album sur Rotifer, Danny (Demonstration Synthesis) voulait sortir une série d'enregistrements associés à un projet assez nouveau sur lequel il travaillait à l'époque. Adhesive Sounds en était à ses débuts et nous sommes un des labels qu'il a approché. Depuis, nous avons produit deux cassettes (DS3 et DS8) de Demonstration Synthesis, et une autre est en route. DS11 est sortie à la fin septembre.
Pendant des discussions à propos de l'achèvement d'une nouvelle cassette par Form, Will cherchait aussi à sortir, dans un format physique, ses enregistrements avec Body Lvl, sur lesquels il collabore avec son ami Metha Youngs. En faisant référence aux tout-puissants Hobo Cubes, nous avons décidé que c'était l'occasion parfaite pour approcher Frank et lui offrir une chanson pour agrémenter leur face B.
Votre dernière cassette du groupe californien Memory Leaks Onto The Rug va à l'encontre de la tendance uniquement canadienne. J'apprécie l'aspect personnalisé de ces sorties « recyclées » en éditions super limitées, et j'ai vu que l'album que vous avez produit était originalement une édition sous forme de CD-R unique. Est-ce que la nature éphémère associée au matériel source mystérieux de sa musique fait partie de ce qui vous attire aussi?
Oui et non. La pochette de l'album était une façon très démocratique d'inspirer les auditeurs au moyen de l'art et du design. L'emballage de la musique est devenu une spécialisation. Même si j'aime les éditions limitées et les sorties spéciales, j'aime encore plus l'idée que tout le monde y avait un jour accès.
J'ai toujours trouvé qu'il était attrayant de découvrir un album dans un magasin de musique local, ou enthousiasmant de commander par la poste et d'anticiper l'arrivée du colis. Même si la musique numérique est bien plus pratique et qu'elle prend moins de place, les disques et leur emballage sont importants parce que les designs et les images créés fournissent une certaine mystique offrant un produit plus marquant.
Les imprimés all-over des cartons des cassettes sont particulièrement beaux. Êtes-vous aussi responsable de l'aspect visuel du label?
Visuellement, je m'efforçais d'avoir une approche cohérente avec soin et qualité, un souci pour les détails en ce qui concerne la mise en page et la typographie. Pour les dernières sorties, j'ai tendance à être attiré par les images inspirées de photos. Un bon nombre d'entre elles mettent en vedette des photos géniales de Will Kaufhold (Form, Body Lvl).
Vous sortez des albums à un rythme d'enfer. Croyez-vous pouvoir continuer au même rythme?
La reprise des classes approche, j'aurai donc un peu moins de temps à consacrer au label, mais j'ai l'intention de rester actif. Les prochaines sorties de Gunwale, Strange Mountain, Wether, Demonstration Synthesis, Seeami et Surely I Come Quickly, dont l'album est sorti lors de la Journée de la cassette (Cassette Store Day), garderont A/S occupé au cours des prochains mois. On prévoit aussi sortir des albums de James Benjamin, Mark Aubert et Dj Dj Tanner plus tard cette année.
Cet été, à Edmonton, j'ai eu la chance de collaborer sur un projet intitulé « Today with Ian Martin » à son studio Twilight Living Room. On espère sortir ça plus tard cette année ou au début de 2015.
Quelles sont les perspectives d'avenir d'A/S?
Au cours de la nouvelle année, A/S aimerait commencer à produire des œuvres imprimées, peut-être un magazine. Peut-être offrir certains enregistrements en format vinyle dans un avenir rapproché.
---
Discographie d'Adhesive Sounds (à ce jour)
AS001 – Japanese Treats – *E 468
AS002 – Little Blue – Songep
AS003 – Wasted Cathedral – Pleasant Valley
AS004 – Demonstration Synthesis – DS3
AS005 – Evan A. James – s/t
AS006 – Body Lvl / Hobo Cubes – Split
AS007 – Form – Trips
AS008 – Karl Fousek – Codicil
AS009 – Memory Leaks Onto The Rug – OOOOOOOOO
AS010 – Demonstration Synthesis – DS3
AS011 – Gunwale – Red Earth
AS012 – Strange Mountain – A Quiet Dynasty
AS013 – Wether – Alien Lizard
AS014 – Demonstration Synthesis – DS11
AS015 – Seeami – Health & Safety
AS016 – Surely I Come Quickly – Lost Reverie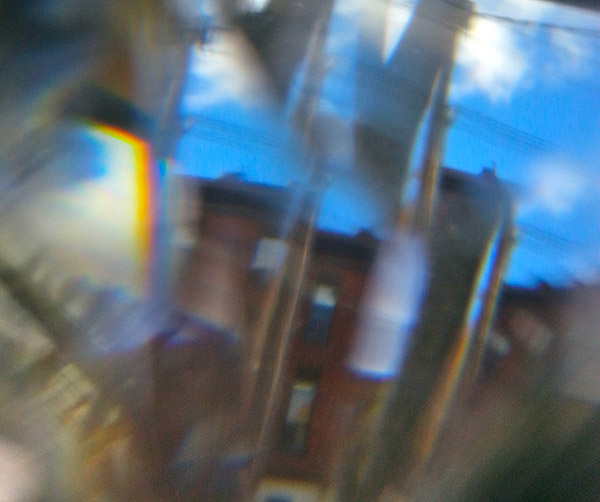 Gentle hands cup the effusive ambience that falls from the slowly expanding sidereal quilt above. Our ears and eyes stay glued to that brilliant singularity from which all reserve, calm, and resonance bursts, overpowering the disempowered remembrancers. At the sound of memory, we dance like children around pyres of fireflies and fireworks, our gleeful exclamations subsumed by the ever-widening skies that, as the children themselves do, grow in situ: aging as we do; while we do; as we do. These songs unfold like sweeping sonic narratives, denouements within reach, but eternally elusive.
Running Point
For Guitar and Amplifier
Toronto, ON
From the ambient pyres of Joshua Robinson:
Gentle hands cup the effusive ambience that falls from the slowly expanding sidereal quilt above. Our ears and eyes stay glued to that brilliant singularity from which all reserve, calm, and resonance bursts, overpowering the disempowered remembrancers. At the sound of memory, we dance like children around pyres of fireflies and fireworks, our gleeful exclamations subsumed by the ever-widening skies that, as the children themselves do, grow in situ: aging as we do; while we do; as we do. These songs unfold like sweeping sonic narratives, denouements within reach, but eternally elusive.
Des bûchers ambiants de Joshua Robinson:
(Traduit par Jessica Grenier)
Des mains recueillent doucement l'ambiance expansive qui tombe lentement de la couette astrale suspendue. Nos yeux et nos oreilles sont mirés à cette singularité brillante qui nous maintient calmes et réservés dans notre ressouvenance, impuissants devant la force de sa résonnance éclatante. Nous dansons au son du souvenir comme des enfants autour d'un bûcher de lucioles et de feux d'artifice, nos exclamations joviales absorbées par le ciel infini qui, à l'image des enfants, grandit in situ : comme nous vieillissant, au même rythme, de la même manière. Ces chansons se développent comme des narrations accoustiques, le dénouement au bout des doigts, toujours élusif.

Running Point – So Many Wrong Done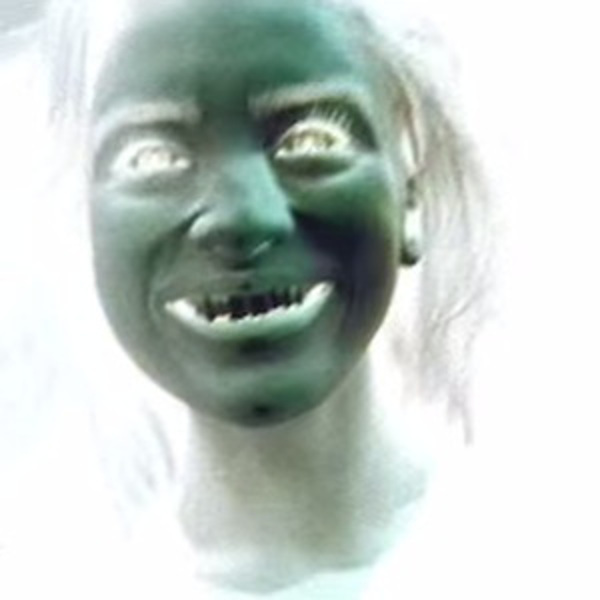 What happened to us then? Had we died? Three wide-eyed women led us through the land of the dead, one of them howling. There were three men there and I think they'd gone mad. Everything was television static, we were hungry and nothing made sense.
Dirty Figs
Osiris
(Directed by Laura Lynn Petrick, Jenny Warne and Bri Salmena)
Toronto, ON
From the food fight diaries of Brad Casey:
What happened to us then? Had we died? Three wide-eyed women led us through the land of the dead, one of them howling. There were three men there and I think they'd gone mad. Everything was television static, we were hungry and nothing made sense.
Des souvenirs de batailles de bouffe de Brad Casey:
(Traduit par Jessica Grenier)
Qu'est-ce qui nous est arrivé? Étions-nous morts? Trois femmes, les yeux grands ouverts, nous ont conduits à travers la terre des morts – l'une d'entre elles hurlait. Sur place, il y avait trois hommes – je pense qu'ils étaient devenus fous. Tout n'était que statique de télévision, nous avions faim, et rien n'avait de sens.
---