Category: ontario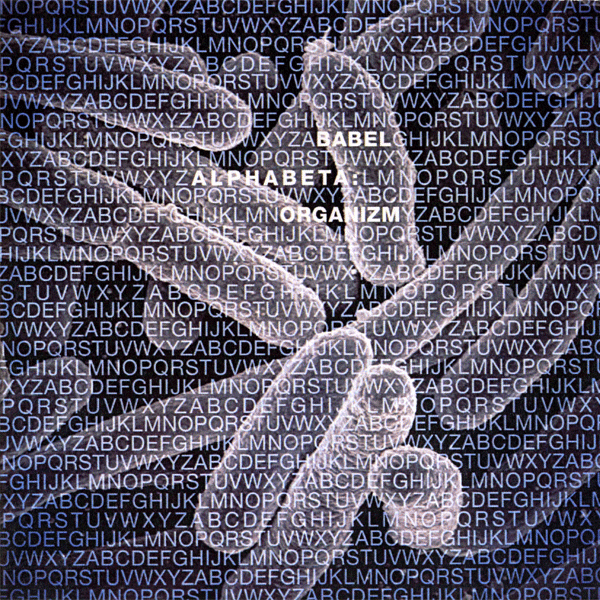 BABEL
Alphabeta 2: Outskirts / Alphabeta 3: Organizm
Toronto, ON
From the ABC-123 of Johnnie Regalado:
So many great poets exercise in form; the subtle limitations account for limitless variations on a theme. Toronto's BABEL apply similar sensibilities to experimental ambiences and continues a prolific legacy. These two discs complete an Alphabeta trilogy where form meets concept and words become instrumental music. Outskirts, a collection of original demos and sketches, is an honest look at an artist itching an idea to blissful satisfaction. On Organizm, BABEL has embraced the inevitable drone of this mad experiment and allowed a brilliant idea to take control of the creation. This series of recordings is pure synthetic authenticity.
De l'ABC-123 de Johnnie Regalado:
(Traduit par la comptine tournant dans la tête de Jessica Grenier)
Beaucoup d'excellents poètes travaillent sur la forme; et ses contraintes subtiles expliquent les variations infinies sur le thème. BABEL, de Toronto, s'intéresse aux ambiances expérimentales avec une sensibilité similaire, augmentant un héritage déjà considérable. Ces deux disques complètent la trilogie d'Alphabeta, où forme, concept et mots deviennent un même instrument de musique. Outskirts, une collection de démos et de croquis originaux, offre un regard honnête sur l'idée qui démange un artiste; le soulagement n'arrivant qu'avec son accomplissement. Sur Organizm, BABEL s'est abandonné au drone inévitable de cette folle expérimentation en laissant une idée brillante diriger la création. Une série d'enregistrements faite d'authenticité synthétique pure.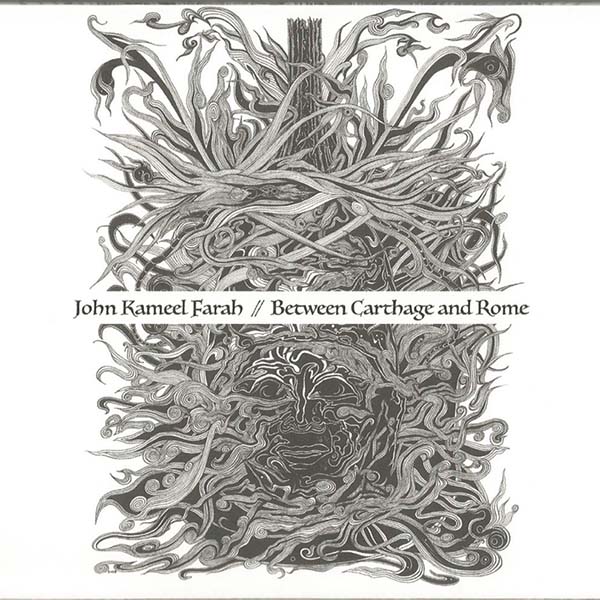 John Kameel Farah
Between Carthage and Rome
(Self Released)
Toronto, ON
From the purloined prognostications of Mark Anthony Brennan:
Zephyr is the name. Its breath gently blows through Constantinople on its way to the Eastern lands. From its dusty beginnings in the desert the sirocco slowly builds up its rage, sweeping up Hannibal in its surge, before finally touching down with the force of a hurricane. For the wind that lashes out in destruction on its way westward there is no name, for it is a lie. It is zephyr in disguise. It will return.
Des prédictions dérobées de Mark Anthony Brennan:
(Traduit par Jessica Grenier)
Zéphyr est son nom, et son souffle dirigé vers les terres orientales traverse doucement Constantinople. Depuis le désert poussiéreux où il est né, le sirocco attise lentement sa rage, jusqu'à pouvoir renverser Hannibal d'une seule poussée, pâle avant-goût de la puissance tumultueuse qu'il atteindra bientôt. Il n'y a pas de nom pour le vent destructeur qui chemine vers l'Ouest parce que c'est un mirage. C'est le zéphyr déguisé : un jour, il reviendra.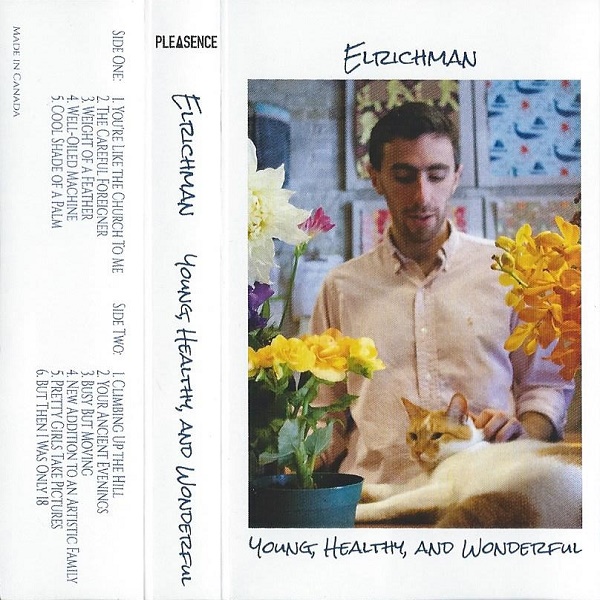 Elrichman
Young, Healthy, and Wonderful
Toronto, ON
From the dirty shades of Shawna Naklicki:
Known for his part in fearless fun-havers Gay, Paul Erlichman shifts to his inner crooner, beach bum and romantic with this side project. While maintaining his signature guitar twang, he switches group vocals for a spotlight on one, driving drums for simple strings. That's not to say he's taking life too seriously. It just means he'll be spending lots of time in the cool shade of a palm singing psychedelic love songs.
Des lunettes de soleil sales de Shawna Naklicki:
(Traduit par Jessica Grenier)
Connu en tant que membre du groupe d'audacieux joyeux lurons Gay, Paul Erlichman profite de ce projet solo pour laisser sortir son crooner intérieur; un beach bum romantique. Il conserve sa façon très personnelle de jouer de la guitare, mais remplace les ensembles vocaux par une seule voix et les puissantes percussions par de simples cordes. Mais il ne prend pas la vie trop au sérieux pour autant : il va simplement passer beaucoup de temps à l'ombre fraîche d'un palmier, en fredonnant des chansons d'amour psychédéliques.
Elrichman – Cool Shade of a Palm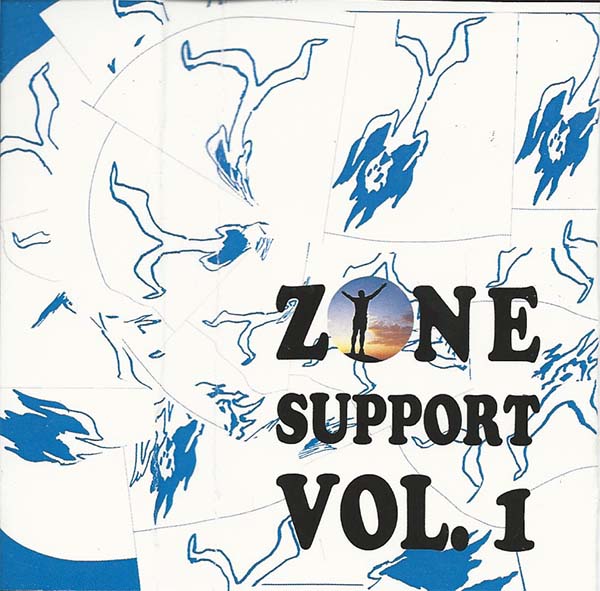 Zone Support
Vol. 1
Toronto, ON
From the truuuuuue feeeelings of Adam Bradley:
Trail close behind your gurus, Kevin Hainey and Randy Gagne as they hover, eyes closed, toward the pale green light of deepest inner repose. Touch with awe the sheer crystalline facets of your true being. Lie placid in a pool of ASMR dyed New Age self-hypnosis, diamonds trickling slowly all around. At the heart of this recording, you are told that you do not neeeed sandwiches, but if you are hungry you should make a light sandwich. To meditate on an empty stomach is not good for your chakras. Heed these wise words and come to know the core of your truuuuue feeeeelings.
Des sandwichs au chakra d'Adam Bradley:
(Traduit par Jessica Grenie)
Suis de près les gourous Kevin Hainey et Randy Gagne alors qu'ils lévitent les yeux fermés vers la pâle lumière verdâtre du repos intérieur profond. Effleure avec émerveillement les facettes cristallines pures de ton moi authentique. Étends-toi dans une mare d'ASMR aux couleurs d'autohypnose New Age pendant que des diamants tombent lentement tout autour de toi. Au cœur de cet enregistrement, on te dit que tu n'as pas vraiiiiment besoin d'un sandwich, mais que si tu as faim, tu pourrais t'en faire un petit. Méditer l'estomac vide n'est pas bon pour les chakras. Écoute ces judicieux conseils pour en venir à connaitre tes véritables sentiments.
Zone Support Vol. 1 – Side 1 (excerpt)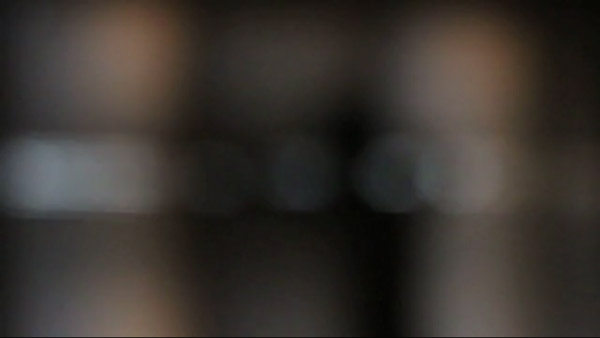 From the qualitative everflowing continuum of Matthew Swann:
Like some 1910's Bergsonian meditation on experiential time, Nicholas Brotman's "Snow Suuun," breaks down befuddled, intellectual abstraction into stunning, aesthetic immediacy. Hypnotic minimalist rhythms, ground, a textured, melodic wash. Light moves. Shadows move. Even the great grey negotiator between the two, moves. Sound and vision come together, and fall apart. Dazzling views, self ordered from chaos. "Snow Suuun" is a qualitative spectacle. One assembled from warped elegance, alluring ornamentation, and spontaneous beauty.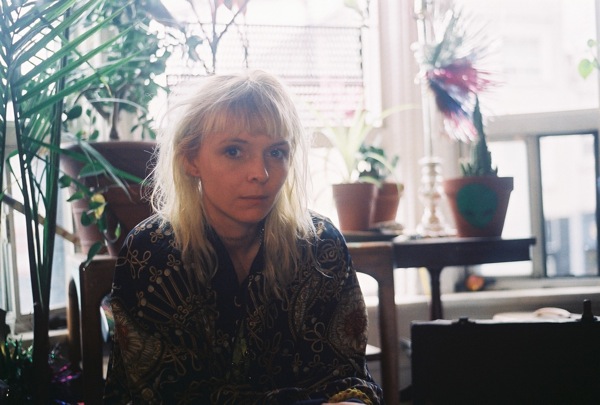 Ephemera of: Alexandra Mackenzie
Existing the recording of: Petra Glynt
Toronto, ON
Photos by: Brad Casey
From the yoyo hand of Brad Casey:
"Is this ephemera?" Alex Mackenzie, who is Petra Glynt, keeps asking me. Alex has a nervous energy that comes across charming, she fiddles with her fingernails and looks into the middle distance, away from you, when she speaks. When she does make eye contact she opens her eyes wide, her eyes constantly asking, "Right? You know what I mean?" with a demure, reserved sort of affection. She giggles a lot. She gets you on her wavelength this way. I reassure her constantly that whatever she wants to show me can be ephemera, as long as it's important to her. Everything seems important to her. She covers every object she owns with her personality. She chooses her few words in quick bursts. She expresses herself most strongly in her visual art and her music. And her music is expressive. Sharp, multi-layered, foreboding, warm, with a darkness that doesn't overpower her very bright light.
Petra Glynt released her lush 5-song EP Of This Land in 2013. Currently she is recording a full length which she aims to release late 2015. The photos contained herein were taken both at her Toronto apartment on Bloor St and at her partner Brian's apartment in Parkdale.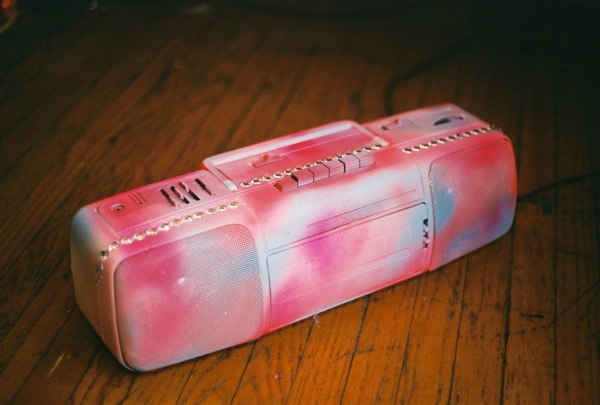 I got this to listen to the radio. I listen to Coast to Coast a lot. It's a conspiracy radio show. Sometimes it's good, sometimes it's super out there. It's really entertaining.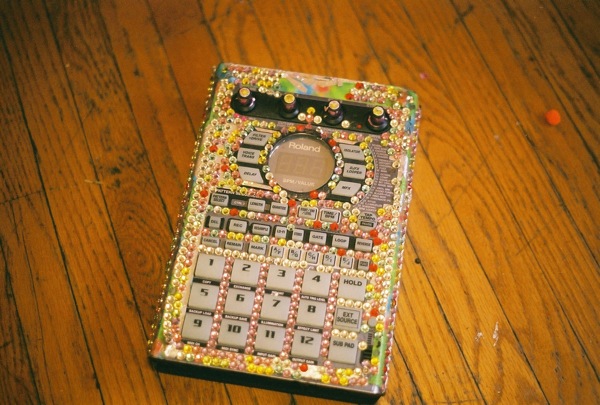 I cover a lot of things in rhinestones. Mostly I don't like to look at the brands. I use this sampler for live shows a lot.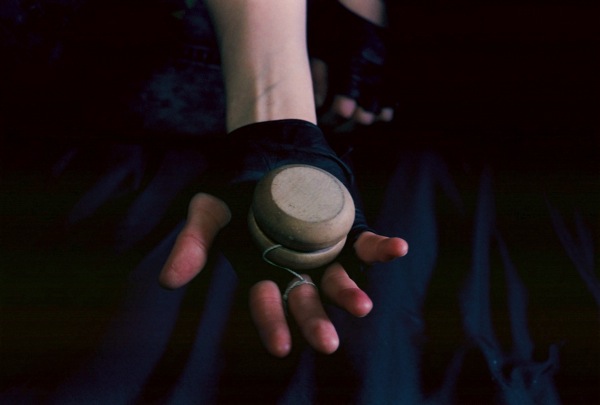 One day I decided I really wanted a yo-yo. My friend, she's a bike courier, she was delivering stuff and she went out of her way and delivered this to me. I can't do any tricks on it, it's the kind you just use. I want to get one of those fancy weighted ones.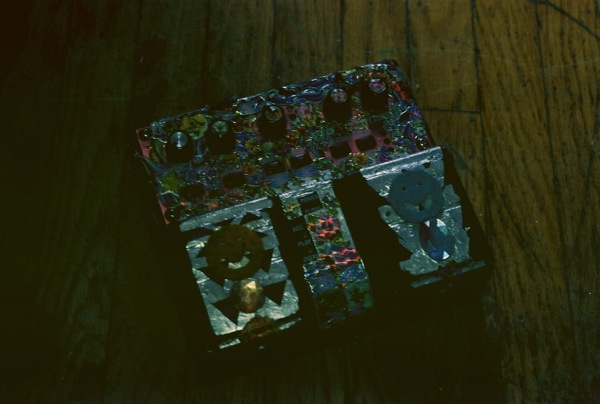 This one has lots of stories. It was one of my first pedals I ever got and it opened up my whole world. I was like shit, I can jam with myself. So I started doing that a lot, it's a lot of fun.
I used these patterns for an event at the Gladstone recently. I was DJing reggae songs in this huge tent and this pattern was surrounding it. I used three screens to make this print, which I've used a couple times now.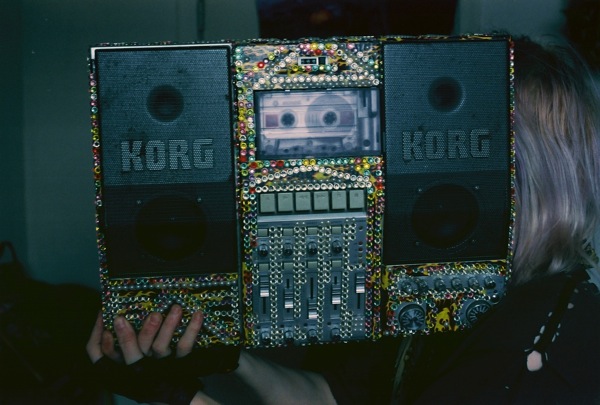 I bought this off eBay. It's really funny, it has speakers and effects. It has a doom metal setting! It's very tacky, like serious kitch. I used to record to it all the time. Not as much anymore though.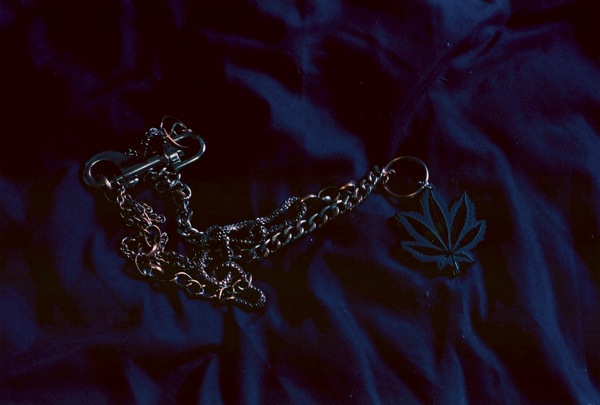 I wear this a lot. My friend made it. He works at Toronto Laser Services and he made it at work with lasers. I attached it to a bunch of metal chains.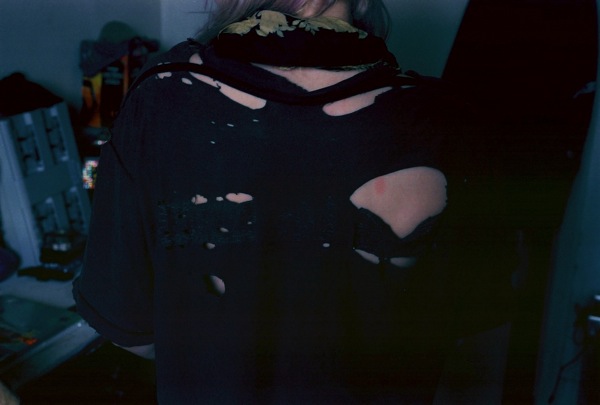 It's not nice but it's my friend Blake's Dad's shirt so it's important. Blake is my buddy. We lived together, he made the video for "Sour Paradise". I don't see him much now. I miss him.
This is a journal. I write dreams and songs in it. I have a bunch of these. I like them because they are short and small so I can fill them quick and move on to the next one. I like to start a new book, it's exciting that way.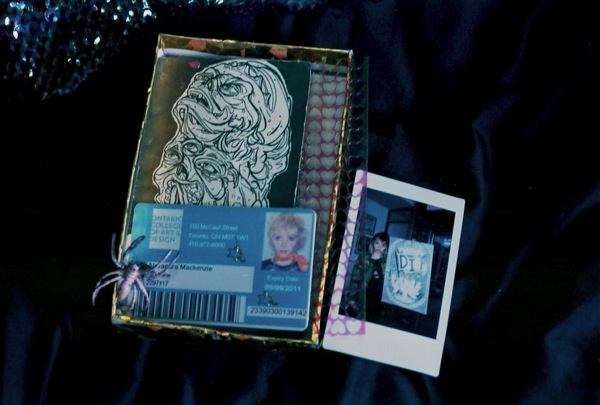 This is a box I gave to Brian. There's a spider ring, my old student ID, an old business card and a picture of me. That's ephemera, right?
De la main au yo-yo de Brad Casey:
(Traduit par Jessica Grenier)
« Est-ce que c'est éphémère? » C'est ce qu'Alex Mackenzie, alias Petra Glynt, n'arrête pas de me demander. Son énergie nerveuse la rend charmante : elle joue après ses ongles et quand elle parle, elle regarde dans le vide, à mi-chemin entre elle et moi. Quand elle établit le contact visuel, elle écarquille les yeux, comme s'ils demandaient, à chaque instant, « Tu vois ce que je veux dire? », avec une cordialité timide, pudique. Elle ricane souvent, et c'est de cette façon qu'elle t'amène sur sa longueur d'onde. Je la rassure sans cesse en lui disant que tout ce qu'elle veut bien me montrer peut être dans Ephemera, tant que c'est quelque chose d'important pour elle. Et tout semble important pour elle. Elle étale sa personnalité sur tous les objets qu'elle possède. Elle choisit ses quelques mots par élans impulsifs. Elle s'exprime plus fortement en art visuel et en musique – et sa musique est expressive : incisive, multidimensionnelle, précurseure, chaleureuse, avec une obscurité qui ne parvient pas à éclipser son éclat brillant. C'est en 2013 qu'est sorti Of This Land, son premier EP de cinq chansons luxuriantes. Elle enregistre présentement un album complet, qui devrait être terminé vers la fin de 2015. Les photos figurant ici ont été prises dans son appartement sur la rue Bloor, à Toronto, et dans celui de son copain, Brian, à Parkdale.
Chanson : (Of This Land) Chanson : (Sour Paradise)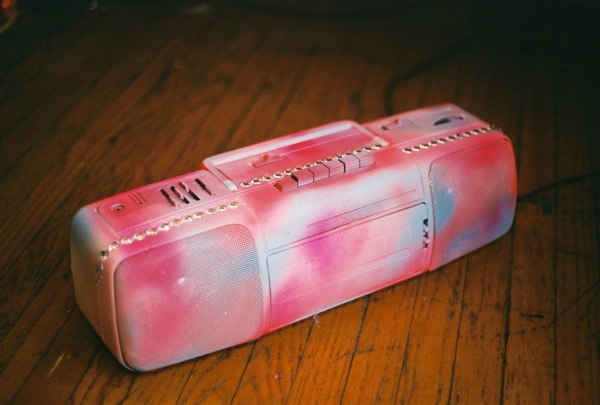 Je l'ai achetée pour écouter la radio. J'écoute souvent l'émission conspirationniste Coast to Coast. Des fois c'est bon, des fois c'est vraiment n'importe quoi, mais c'est toujours divertissant.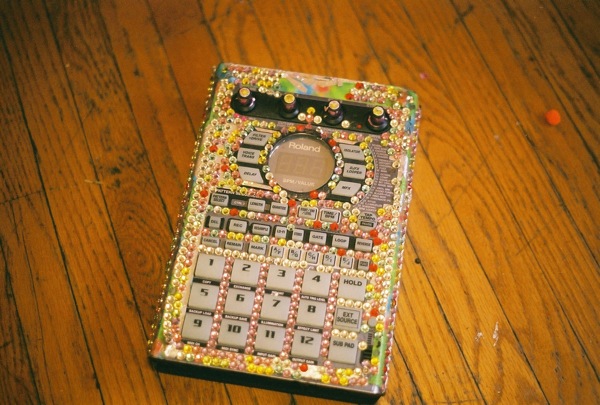 Je recouvre plein de trucs de faux brillant, principalement parce que je n'aime pas voir les noms de marque. J'utilise souvent cet échantillonneur pour mes spectacles en direct.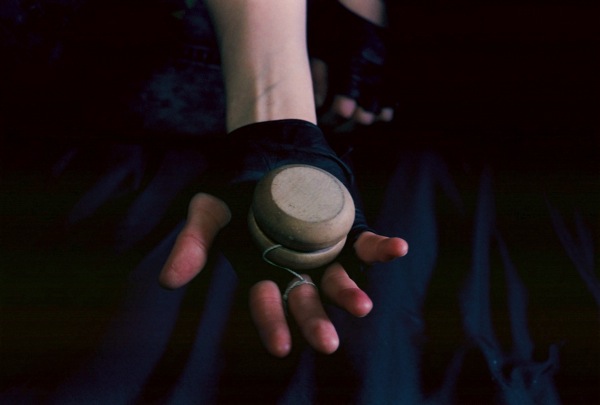 Un jour, j'ai décidé que je voulais vraiment avoir un yo-yo. Une amie, qui est messagère à vélo, était en pleine livraison, mais elle a fait un détour pour venir m'en porter un. Je ne sais pas faire de figures, c'est plus le genre avec lequel tu ne fais que jouer. J'en veux un lesté, de luxe.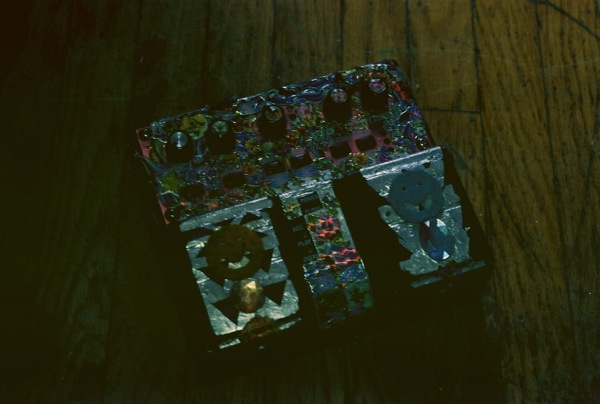 Il y a beaucoup d'anecdotes sur celle-là : c'est une de mes premières pédales, elle a ouvert mon univers. J'étais comme : shit, je peux jammer toute seule. Alors, j'ai commencé à le faire souvent, c'est vraiment l'fun.
J'ai utilisé ces motifs récemment, pour un événement au Gladstone. Je faisais jouer des chansons reggae sous un chapiteau qui avait ce motif tout autour. Ça fait quelques fois que je l'utilise, il a fallu trois pochoirs pour le faire. (4-Track)
Je l'ai acheté sur eBay. C'est vraiment drôle parce qu'il a des haut-parleurs et des effets. Il y a même un réglage doom metal! C'est vraiment quétaine, genre kitch assumé. Avant, j'enregistrais plein de trucs dessus, mais c'est plus vraiment le cas aujourd'hui. (Chaîne avec feuille de pot)
Je la porte souvent. C'est un ami qui l'a faite où il travaille, avec des lasers (il travaille chez Toronto Laser Services). Je l'ai attachée à des chaînes en métal. (Chandail déchiré)
Il n'est pas beau, mais c'est le chandail du père de mon ami Blake, alors il est important pour moi. Blake, c'est un copain, on a déjà habité ensemble. Il a fait le vidéo pour « Sour Paradise ». Aujourd'hui, je le vois moins souvent. Je m'ennuie de lui.
C'est un journal où j'écris des rêves et des chansons. J'en ai plein comme ça. J'aime ces cahiers parce qu'ils sont petits et minces, alors on peut les remplir rapidement et en commencer un autre. J'adore commencer de nouveaux carnets, c'est stimulant.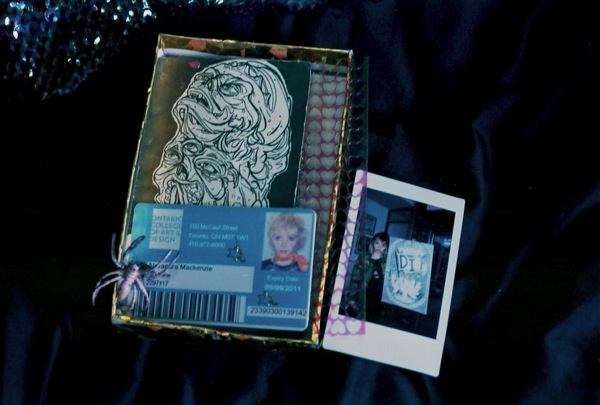 J'ai donné cette boîte à Brian. Dedans, il y a une bague en araignée, mon ancienne carte étudiante, une vieille carte d'affaires et une photo de moi. C'est éphémère, tu crois?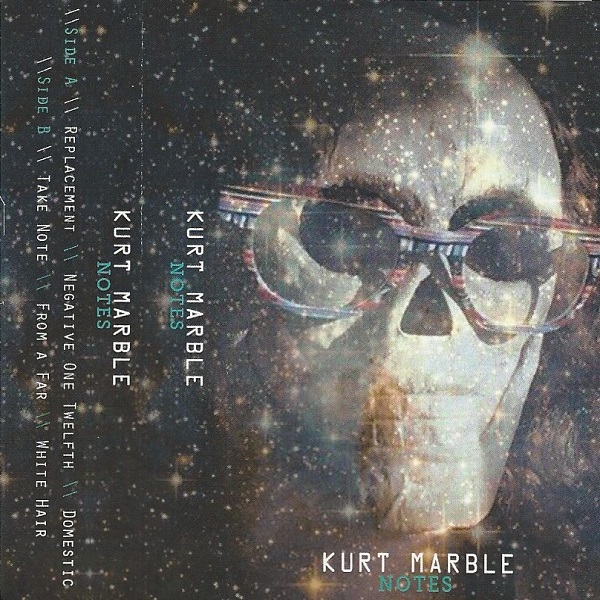 Kurt Marble
Notes
(Self Released)
Toronto, ON
From the impeccable hyperbole Adam Bradley:
Huck the holy hatchet slow-mo into the event horizon. Cement fisted, muscles taut, teeth cracking. A flash of lightning light and a tremendous boom. Kurt Marble emerges from the seething black sphere, all beings of hot, golden energy. Six songs of adamantine garage rock godliness lie herein, slashing on harsh curvature, pummeling like ancient anger. Giant riffs quake, an Olympian voice belts in echo, pensive moments seep through the cracks. The golem comes, prepare thy ears.
De l'hyperbole impeccable d' Adam Bradley:
(Traduit par Jessica Grenier)
La hachette sacrée est lancée, au ralenti, dans l'horizon des événements. Poings de ciment, muscles prêts, dents fendillées : Kurt Marble émerge de la sphère noire nébuleuse en une créature d'énergie rouge et or. Voici six chansons consacrées au rock de garage adamantin, tronçonnant les courbures brutes et martelant telle une rage ancienne. Un tremblement de riffs titanesques fait écho à une voix olympienne; des instants pensifs s'infiltrent par les crevasses. Le golem arrive, soyez avertis.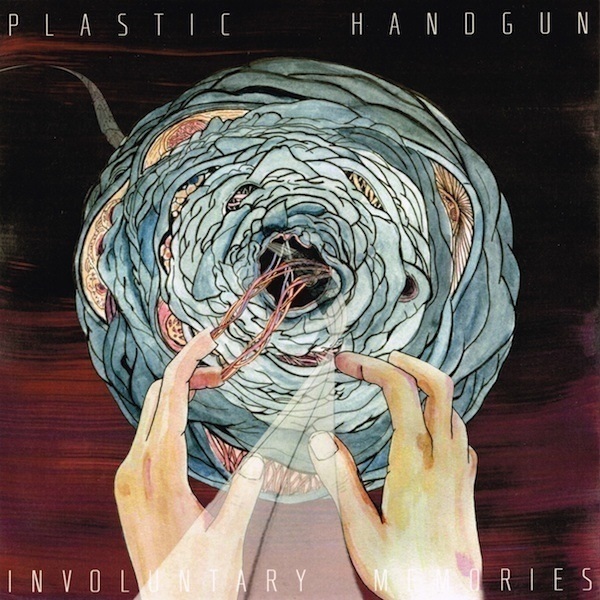 Plastic Handgun
Involuntary Memories
(Self-Released)
Toronto, ON
From the REM sleep of Sara Bortolon-Vettor:
Dreams collide with reality in united pleasure as momentous occasions of the past tickle present thought. Paths cross and fresh roads are carved. Curious minds crave discovery of the unknown! But is this real? Recollections transform into experimental orchestrations of electronic-surreality. Recorded and produced by Mark Di Giovanni over a four-month period, Involuntary Memories is the first release from Toronto's experimental, dreamy post-rock project, Plastic Handgun.
Du sommeil paradoxal de Sara Bortolon-Vettor:
(Traduit par les paupières lourdes de Jessica Grenier)
Le rêve rencontre la réalité dans un élan de plaisir réciproque occasionné par l'union de pensées actuelles et d'occasions mémorables passées. Des chemins se croisent; de nouvelles routes se creusent : mais est-ce bien réel? Des souvenirs deviennent une orchestration expérimentale électronique irréelle. Involuntary Memories, le premier album de Plastic Handgun, ce projet de rêverie expérimentale post-rock de Toronto, a été enregistré et produit par Mark Di Giovanni sur une période de quatre mois.
Nick Storring
Gardens
Toronto , ON
From the aberrant psychology of Jake Bornheimer:
Gardens is a matrix of acoustic sound, constantly fluxing and slowly transmuting to alternate forms. Cacophony to symphony. There's an incredible sense of flow here, some sections surge forward, others float blissfully on. Storring employs dissonance expertly throughout the pieces. Elements of the music come from all over the place: post-rock melodic structure, classical influences, gamelan, drone, what sounds like tibetan singing bowls, and a host of instruments spanning India, Thailand, China, Indonesia, Turkey, Africa, and more. As one listens they find themselves sinking backwards into a trance. The experience is dark, enchanting, repellent, and resplendent.
Gracieuseté de la psychologie aberrante de Jake Bornheimer:
(En direct de l'hémisphère gauche de Diane Beaupré)
Gardens est une matrice de sons acoustiques, toujours en mouvement, mutant lentement en formes alternatives. De la cacophonie à la symphonie. Il se dégage une sensation de flux surprenante. Certaines portions déferlent comme une vague, d'autres nous donnent envie de s'y abandonner. Dans tous les morceaux, Storring utilise la dissonance de façon experte. Des éléments musicaux jaillissent de toute part : structure mélodique post-rock, influences classiques, gamelan, drone, un son qui ressemble à celui des bols chantants tibétains et une panoplie d'instruments provenant de Thaïlande, Chine, Indonésie, Turquie, Afrique et d'ailleurs. Pendant l'écoute, on entre en transe. L'expérience est sombre, enchantée, repoussante et resplendissante.
Nick Storring – Nothing Seems to Rhyme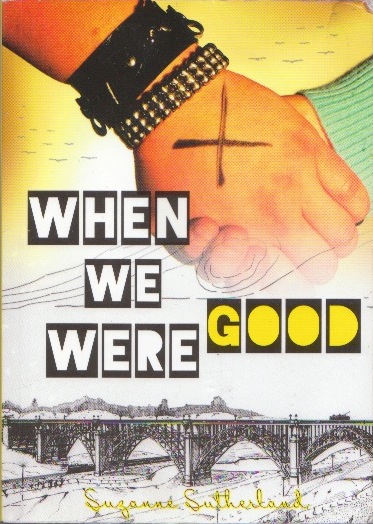 When We Were Good
Suzanne Sutherland
Toronto, ON
227 pp., perfect bound
From the out of step heart and head of Annelise Dowd:
Stand in any busy hallway, whether it's comprised of doctors or students or the recently bereaved, and you're guaranteed to hear a word so many times its one syllable no longer makes sense. A word so overused and meaningless that it feels gaseous and light between your teeth because it constantly occupies space there. This word is "good." But what truly entails being "good"? The clean and hollow euphoria of puritanical ethics? Or simply, to feel "good" within oneself? During teenage-hood, as the main character of Suzanne Sutherland's excellent When We Were Good attests, it's difficult to feel anything but "lying-in-my-room-alone-with-a-CD-on-good."
Sutherland's decidedly queer/feminist YA novel follows Katherine Boatman, a sixteen-year-old Torontonian grappling with depression in the wake of familial loss. A disillusioned Katherine parts through grief's thick fog to find a mysterious straight edge punk named Marie and a place where lyrics are poetry, X's on hands are religious iconography, and punk shows can shake one's innermost being with spiritual fervor. The strictly punk soundtrack (think Jawbreaker, Sonic Youth, and Minor Threat references) Marie introduces is raw and visceral, mirroring the electricity of teenagehood's first touches, heartbreaks, and unbridled rage.
When We Were Good doesn't eschew teenage romance and bildungsroman narratives, but instead employs them through the lens of queerness and mental health, transforming them into something new and gleaming and important. With every mixtape exchanged Katherine's relationship with Marie moves through mild fascination, to steadfast friendship, to love. Katherine finds that if to be "good" is to be at home, then home is not found between the words of any straight edge rulebook, but instead lies within the recesses of the identity she accepts herself. And it is here where Sutherland transfigures the classic Salinger "Who am I?" for a more timely and significant sentiment: "How can I figure out who I am and be okay if everyone is calling me a slut and a dyke?"
Du coeur et de la tête déconnectés de Annelise Dowd:
(Des pensées quasi-francophones de Kevin Godbout)
Tenez-vous au milieu d'un couloir occupé, que vous y voyiez des docteurs ou des étudiants ou des récemment endeuillés, vous êtes garanti d'entendre un mot tellement souvent que sa seule syllabe perd tout son sens. Un mot tellement surutilisé et dépourvu de sens qu'il ressemble à une forme gazeuse et légère entre vos dents, car il occupe toujours un espace dans votre bouche. Ce mot est ­«bon» (good). Mais qu'entend-on par être «bon»? L'euphorie nette et vide d'une éthique puritaine? Ou tout simplement, de se sentir «bon» soi-même? Durant les tristes moments de l'adolescence, comme le dit le personnage principal de l'excellent roman When We Were Good de Suzanne Sutherland, il est difficile de se sentir autre que «à-terre-dans-ma-chambre-seul-avec-un-CD-bon» (lying-in-my-room-alone-with-a-CD-on-good).
Ce roman pour jeunes adultes, aux tons décidément féministes/queer de Sutherland, suit Katherine Boatman, une adolescente de seize ans de Toronto aux prises avec une dépression à la suite d'un deuil familial. Désillusionée, elle diffuse l'épais brouillard de sa tristesse pour trouver une punk mystérieuse nommée Marie, et un endroit où les paroles de chansons sont des poèmes, des ­«X» sur les mains sont des icônes religieux, et des concerts punk peuvent secouer l'être intérieur de tous avec une ferveur spirituelle. La bande sonore strictement punk (il faut penser aux groupes Jawbreaker, Sonic Youth, and Minor Threat) introduite par Marie est brute et viscérale, en plus de refléter les premiers contacts électriques de l'adolescence, les coeurs brisés et la rage pure.
When We Were Good ne rejète pas l'amour entre des ados, ni la narrative d'un bildungsroman, mais utilise ces éléments perçus à travers la lentille d'une réalité queer et de problèmes de santé mentale. Cet état les transforme en quelque chose de nouveau, étincelant et important. Avec chaque mixtape qu'ils s'échangent, la relation de Katherine envers Marie évolue de la fascination, vers une grande amitié, et même jusqu'à l'amour. Katherine réalise que si pour être ­«bon» il faut être chez soi, alors ce chez-soi ne se trouve pas dans un livre de règles, mais existe plutôt à l'intérieur des cavités de l'identité qu'elle accepte elle-même. Et c'est ici que Sutherland transfigure le ­«qui suis-je» (Who am I) de Salinger pour un sentiment plus contemporain et significatif: «Comment vais-je découvrir qui je suis et l'accepter si tout le monde m'appelle une pute et une gouine?»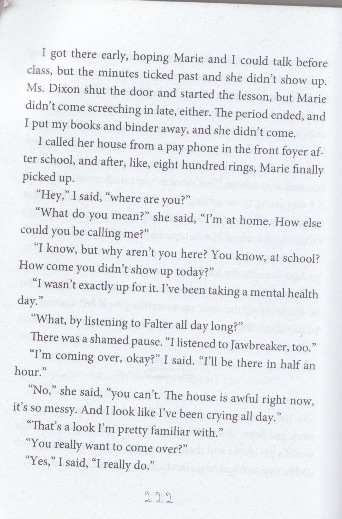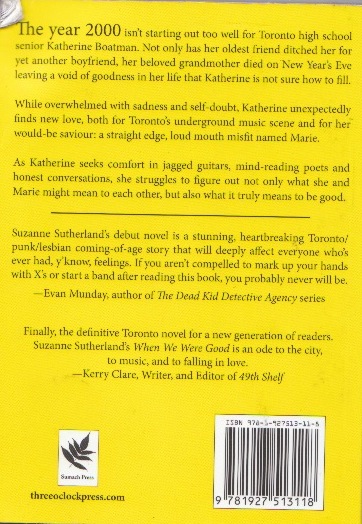 ---