Category: ontario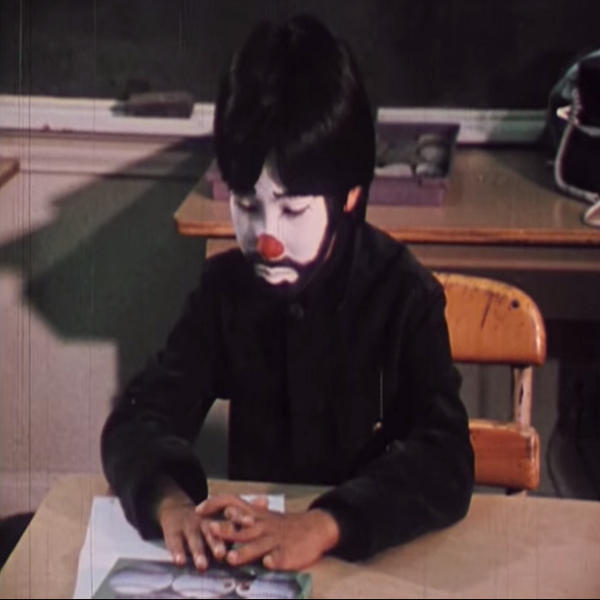 Scattered Clouds
Enchantresse
Ottawa, ON
[Directed by: Mike Dubue]
From the stolen pheromones of Rolf Klausener:
Somewhere between a Lynchian dream sequence, and your own grade school nightmares, you'll find "Enchantresse," the latest video for post-rock squires, Scattered Clouds (Hull, Quebec). Displaying a preternatural sense for timing and juxtaposition, newcomer video editor Mike Dubue (of Ottawa's HILOTRONS) guides you through a terrifying vision of shame and playground dystopia. As the song screeches between gut-punch bass stabs, and mind-searing harmonics, a seemingly innocent clown-faced child confronts the scrutiny and bullying of rival clown-mates. Visions of a demon spider-monkey beckon the child to let go of reality and succumb to his own self-loathing. Have a good look at yourself today.
Des phéromones dérobés de Rolf Klausener:
(De la Strada maléfique de Benoit Arcand)
Enchanteresse, dernier vidéo des chantres du post-rock Scattered Clouds (Hull, PQ), se situe quelque part entre la séquence onirique lynchéenne et le cauchemar d'école primaire. Mike Dubue (des Ottaviens HILOTRONS) déploie un sens inouï du synchronisme et de la juxtaposition et vous mène dans les rets de la honte et de la dystopie de terrain de jeu. La chanson crisse entre des basses qui vous triturent les tripes et des harmonies qui vous brûlent l'âme, vous présente un enfant grimé en clown, d'apparence innocente, confronté aux regards tranchants et aux railleries des autres clowns-enfants. L'apparition sporadique d'un démon-araignée invite l'enfant à abandonner la réalité et à succomber à son dégoût. Regardez-vous bien aujourd'hui.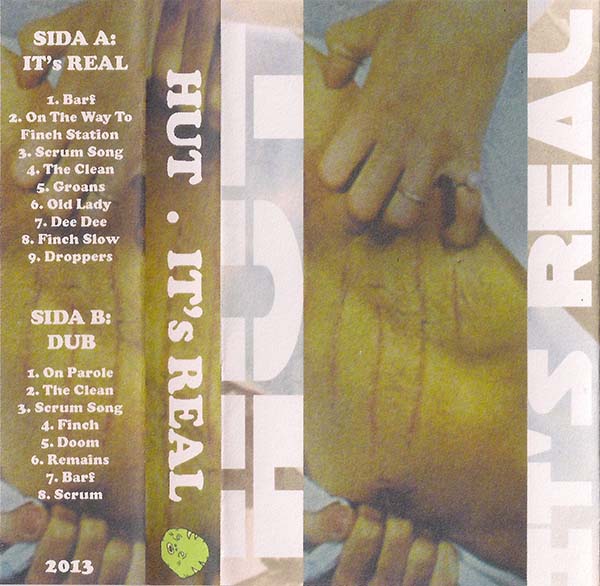 HUT
It's Real
(Daps)
Toronto, ON
From the crater cone of Katie Jensen:
This is what happens when bleach eats its way into a surfer's brain.
Amorphous bimbos sprinkle the dunes like fleshy beach fenceposts. No one is watching the skywriter spell out dirty words in a puff of warm pastel fudge.
A young man is stumbling towards you with a picnic basket filled with translucent water guns sloshing with saliva. He gestures for you to help him, but watch out. He'll pick your pockets and fill them with garbage from behind the washroom.
You have permission to fold yourself in half, to untwist your bowels, to smack your pink, shining gums against anything that moves. Everyone is waiting for you to show them how it's done.
Du cratère béant de Katie Jensen:
(Traduit par Jessica Grenier)
C'est ce qui arrive quand le décolorant réussit à gruger son chemin jusqu'au cerveau d'un surfeur.
Des potiches amorphes qui parsèment une plage comme les piquets de chair d'une clôture. Personne ne porte attention au pilote qui écrit des gros mots en nuages aux couleurs de chocolat chaud.
Un jeune homme avance vers toi en trainant difficilement un panier de pique-niques rempli de fusils à eaux débordants de salive. Il te fait signe de l'aider, mais fais attention. Il va te faire les poches, puis les remplir de cochonneries qu'il a trouvées derrière les toilettes.
Tu as le droit de te plier en deux, de défaire le nœud dans ton ventre, d'écraser tes gencives roses et brillantes sur tout ce qui bouge. Les gens attendent : montre-leur comment ça se fait.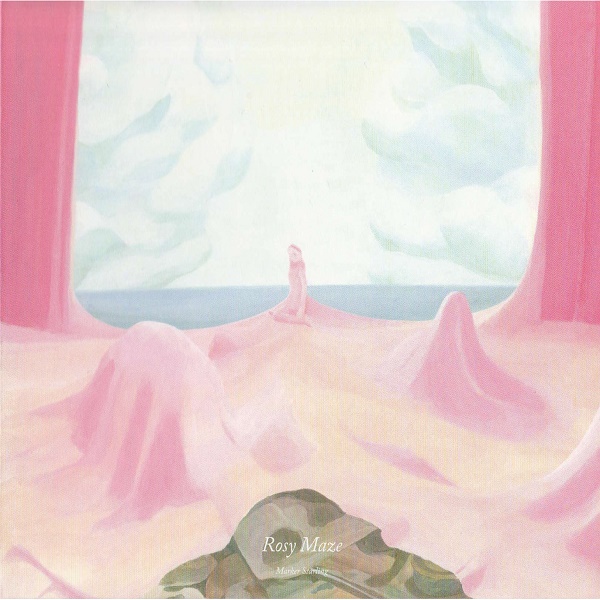 Marker Starling
Rosy Maze
Toronto, ON
From the Bodacious Bod of Bobby Andrews:
"Rosy Maze" is a soft fusion of noise brought together by a voice that evokes a plethora of emotional response. Toronto's Marker Starling gently shakes the morning with the incredibly diverse soundscapes found within this album. A provocative collection of free-flowing songs effectively create an atmospheric realm that challenges the limits of lounge music. Incorporating tremendously reflective lyrical composition sung out with timeless melodies creating a terminally-chill album perfect for relaxation, meditation and reflection.
Du corps fabuleux de Bobby Andrews:
(Traduit par la fusion en douceur de Virginie Langlois)
« Rosy Maze » est une fusion en douceur de musique bruitiste portée par une voix évoquant une pléthore de réponses émotionnelles. Marker Starling, de Toronto , secoue gentiment le matin avec des sonorités incroyablement diverses. Ce recueil provocateur de chansons libres arrive à créer un espace atmosphérique qui repousse les limites de la musique lounge. En combinant compositions lyriques extrêmement réfléchies et mélodies intemporelles, Starline a construit un album ultimement zen idéal pour la relaxation, la méditation et la réflexion.
Marker Starling – Flower of Laughter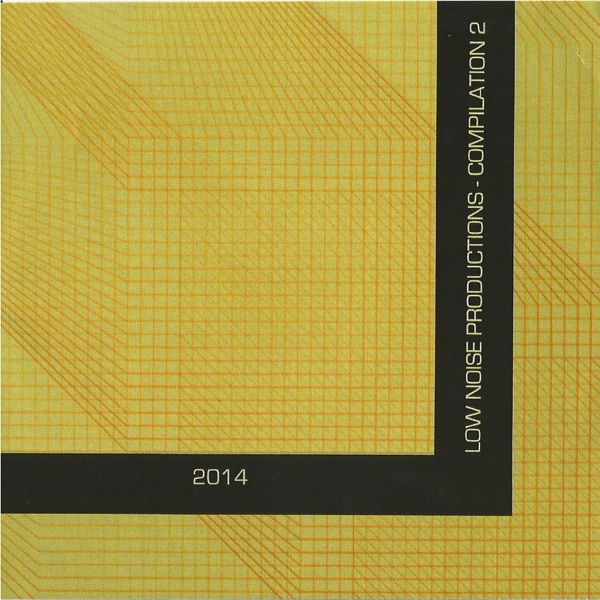 Various
LNP – Compilation 2
Ottawa , ON
From the motorik metabolism of Mark Anthony Brennan:
White. A cavernous room bathed in light. When you make your selection a drawer suddenly juts out from the infinite whiteness. Some selections gleam, like a brand-new super-efficient Porsche. Others are more clunky, but intriguing in their analogue peculiarity. Some remind you of sweaty nights on the techno dance-floors of Chicago. Then there's the one that brings back memories of the time in Berlin.
So many synths, so many styles. Finally, you decide. Yes, that one is perfect for your Terminator vs. Bladerunner flick.
Du métabolisme motorik de Mark Anthony Brennan:
(Traduit depuis la rutilante dystopie de Nicolas Coutlée)
Blanc. Une salle caverneuse baignée de lumière. Au moment de faire votre choix, un tiroir jaillit de la blancheur infinie. Certaines sélections brillent, comme une Porsche neuve et incroyablement performante. D'autres, moins rutilantes, vous intriguent par leur bizarrerie analogue. Quelques-unes vous rappellent ces nuits humides sur les pistes de danse techno de Chicago. Sans oublier cette dernière au contact de laquelle refont surface vos souvenirs du temps à Berlin.
Tant de synthés, tant de styles. Finalement , vous vous décidez. Oui, celle-ci sera parfaite pour votre prochain film, Terminator vs. Bladerunner.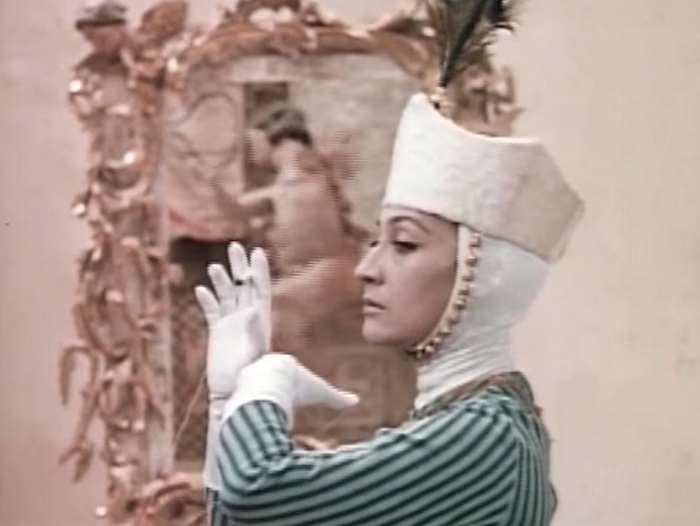 Valery Gore
Knife Dream (Devon Henderson Remix)
(Directed by: Valery Gore)
Toronto, ON
From the perturbed postulations of Mark Anthony Brennan:
"Knife Dream" has been reworked. The jazz foundation is gone and replaced with a minimalist bass/synth/drum sound. The familiar warmth and quavering vulnerability in Gore's voice are now absent. It's a distillation. The song is stripped down, revealing a strange resonance at its core. To match this distillation, the video presents us with a world that has no connection to ours. This is no discernable place, culture or time. It is neither Eastern nor Western, but then again it is both. The familiar is removed, leaving the viewer with nothing to relate to but the very strangeness of the visions.
Des postulats perturbés de Mark Anthony Brennan:
(Démystifié par Nicolas Coutlée)
« Knife Dream » a été retravaillée. Les fondations jazz ont disparu et laissent place à une trame minimaliste composée de basse, de synthé et de batterie. La chaleur familière et la vacillante vulnérabilité de la voix de Gore se sont évaporées. On a affaire à une distillation. Dépouillée, la chanson révèle l'étrange attrait en son cœur. Pour illustrer cette distillation, la vidéo nous présente un monde sans lien aucun avec le nôtre. On ne reconnaît ni lieu, ni culture, ni époque. Pas plus oriental qu'occidental, mais les deux à la fois. Le familier effacé, le spectateur se retrouve sans repère, confronté à l'étrangeté même de ces visions.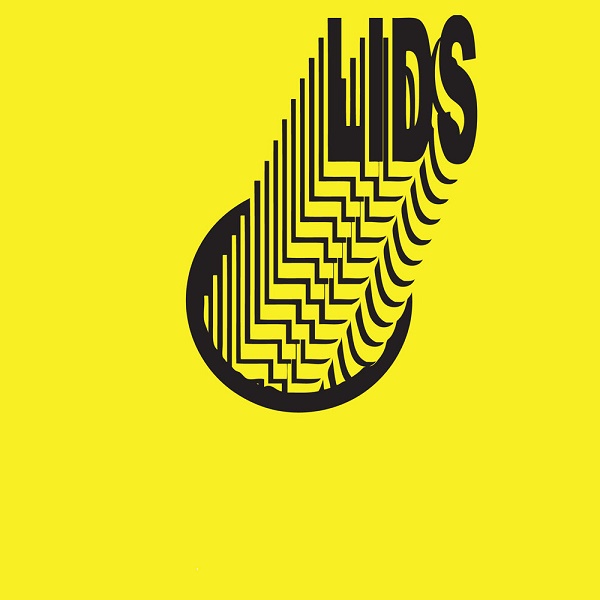 LIDS
SARSFEST B/W BLANK FLAG
Toronto, ON
From the hellish belles of Kevin Hainey:
Lids are rolling thunder, pouring rain. Lids are coming on like a hurricane. Lids' lightning's flashing across the sky. Lids are only young but they're gonna die. Lids won't take no prisoners, won't spare no lives. Lids are putting up a fight. Lids gotta kill, they're gonna take you to hell. Lids gonna get ya, these sides will get ya. Lids kills!
Lids gives ya three sensations from up and down the scene. If you're into METZ then you're a friend of thee. See a fine guy from Constantines who hits notes right. Holy Fuck's Brian Borcherdt's picking it out right. Lids won't take no prisoners, won't spare no lives. Lids are putting up a fight. Lids gotta kill, they're gonna take you to hell. Lids gonna get ya, these sides will get ya. Lids kills!
Des cloches infernales de Kevin Hainey:
(Traduit par le poète mort de Nicolas Coutlée)
Lids est tonnerre et pluie battante. Lids s'amène dans la tourmente. Lids strie le ciel de ses éclairs. Lids est jeune, mais finira sous terre. Lids ne fait pas de prisonnier, personne ne sera épargné. Lids est prêt pour la bataille. Lids, c'est la mort, prépare-toi pour le croque-mort. Lids aura ta peau, ces chansons auront ta peau. Lids, c'est la mort!
Lids te donne trois sensations de haut en bas de la scène musicale. Si tu aimes METZ, prépare-toi à un régal. Un chic type qui joue dans les temps. Brian Borcherdt de Holy Fuck a tout un talent. Lids ne fait pas de prisonnier, personne ne sera épargné. Lids est prêt pour la bataille. Lids, c'est la mort, prépare-toi pour le croque-mort. Lids aura ta peau, ces chansons auront ta peau. Lids, c'est la mort!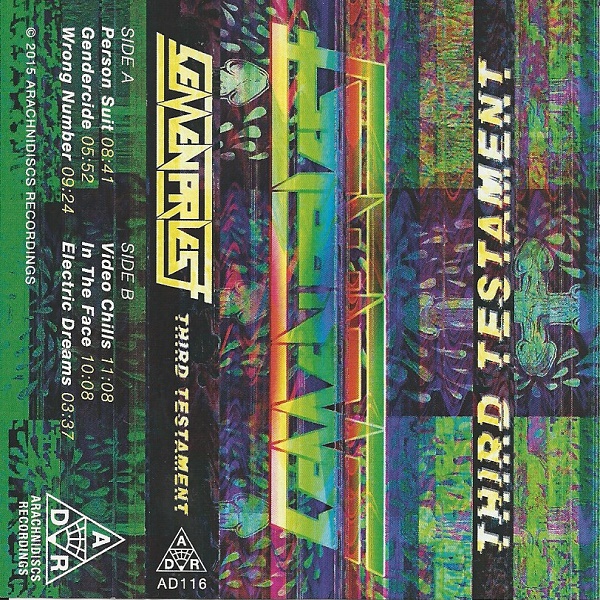 Semen Priest
Third Testament
Toronto, ON
From the masterful sleaze of Adam Bradley:
A grinning, skeletonized and sunglass-eyed Right Said Fred strutting through strobe lit hell-waste, lava sloshing to the groovy thrust. Rowland S. Howard rolled up in a rug made of disco ball shards, thwacked with sticks by little gremlin versions of A Certain Ratio. Masterful sleaze drips viscous. Fat cherry lips pout in the darkness and lick salaciously. Clammy palms rub together. Teeth gnash anticipation. The air is sulphur and cigarette.
De la savante débauche d' Adam Bradley:
(Traduit à grosses gouttes par Nicolas Coutlée)
Lunettes fumées et sourire aux lèvres, les squelettes des membres de Right Said Fred défilent dans une décharge infernale illuminée au stroboscope tandis que clapote la lave au rythme du groove. Rowland S. Howard enroulé dans un tapis de tessons de boule disco, fracassée à coups de bâton par les musiciens de A Certain Ratio version Gremlin. Savante débauche qui tombe en gouttes visqueuses. De pulpeuses lèvres rouge font la moue dans le noir et se pourlèchent d'un air salace. Des mains moites se frottent l'une contre l'autre. Des dents qui grincent d'anticipation. L'air n'est que souffre et cigarette.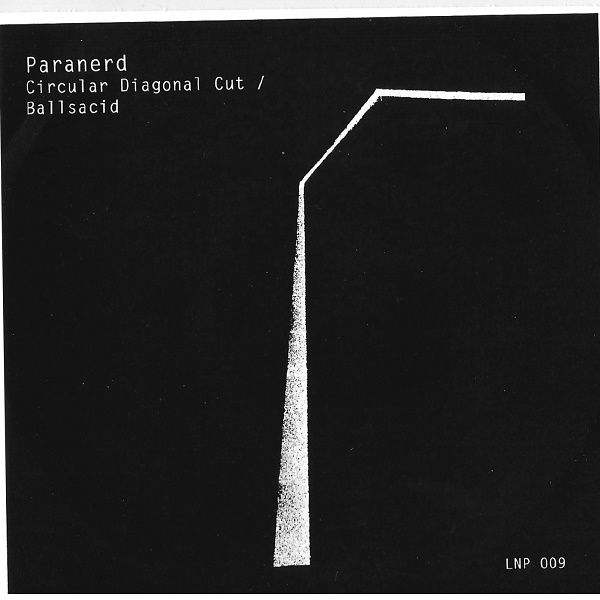 Paranerd
Circular Diagonal Cut
Ottawa, ON
From the terminal timeline of Mark Anthony Brennan:
Run. Run through the warehouse. Dark as the furthest corner of the bedroom closet. Mechanical sounds all around. Never sure which one is him.
I know this scene – we're in a club. But that's not shitty '80s dance, it's dark techno. People are dancing in slo-mo. So strange, so distant. That's him! He's following me in the crowd.
Back outside. Keep running. Things grab at me from all sides. Unseen, unfelt, but they are there. He's still there. Forever chasing. No one will ever call "cut", will they? This scene will last forever. And he will never stop.
De la ligne du temps terminale de Mark Anthony Brennan:
(Traduit au noir par Nicolas Coutlée)
Cours. Cours à travers l'entrepôt. Sombre comme le coin le plus reculé du placard de la chambre. Des sons mécaniques tout autour. Lequel d'entre eux est-ce?
Je connais cette scène – nous sommes dans un club. Mais le dance de merde est remplacé par du techno sombre. Les gens dansent au ralenti. Si étrange, si distant. C'est lui! Il me suit dans la foule.
De retour dehors. Cours encore. Des choses s'agrippent à moi de tous côtés. Invisibles, inaperçues, mais elles sont là. Lui aussi. Perpétuellement à mes trousses. Jamais personne ne s'écrira « Coupez! », pas vrai? Cette scène se poursuivra toujours. Et lui ne cessera jamais.
Paranerd – Circular Diagonal Cut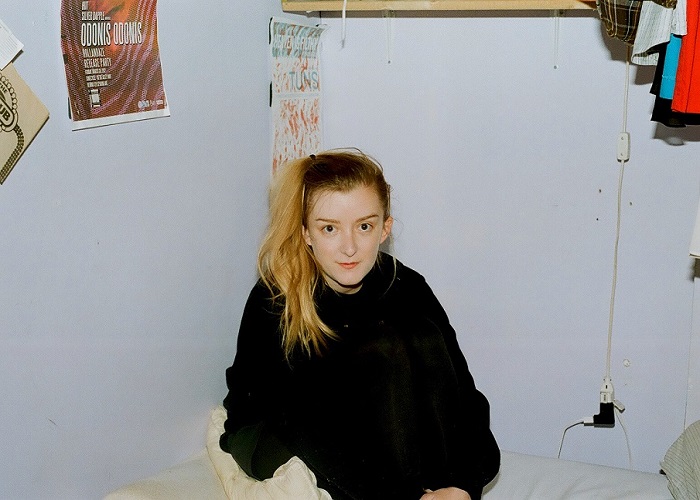 Ephemera of: Anamai
Existing during the recording of: Sallows
Toronto, ON
Photos by: Brad Casey
From the small objects of Brad Casey:
"As a kid I was always into small things. I think all the things I think are special are really small objects." Anna Mayberry is leading me through her small apartment that she shares with her partner and HSY bandmate Jude in Toronto's Chinatown. It's a white, one room dwelling, almost barren but for scattered books and show posters, basic necessities that make a home like pots and pans, a mattress on the floor. The kitchen doubles as a living room, the bedroom is low-ceilinged below a storage space and there is barely any natural light. She explains to me that this is meant to be a temporary housing solution as HSY rests between tours and any left over money goes into projects like the ethereal, beautiful, dark ANAMAI.
ANAMAI is comprised of Anna Mayberry and Dave Psutka, with Allie Blumas helping with live support when not wrapped in duties with her band DOOMSQUAD. After releasing a lo-fi, self-titled EP in late 2013 with Buzz Records, ANAMAI went into Halocline Trance studios in Toronto to record their first full length, Sallows. It's just under an hour of songs that push and pull between formal songwriting and formless structure, often with a drone in the background keeping the listener grounded to Anna's strong, small voice.
Anna tells me, before I begin photographing, "I feel like I've gotten rid of so many things and tried to detach from things. So choosing the most special things? I've been trying hard not to do that!" But a detachment, a poverty of things, doesn't mean she's lacking in special objects. Anna proudly displays to me the things she hasn't yet detached from, each with a story that pulls her back, sometimes hundreds of years, into family, love and the magic with which most special objects are imbued.
Barbie the Bike: It used to be pink and purple and I named it Barbie. I had it for a few years and now it's just a reminder that you have to take care of your bike. I named it Barbie because it was really girly but it was awesome, like a tough road bike. Until I have a new bike I'll keep Barbie under my table.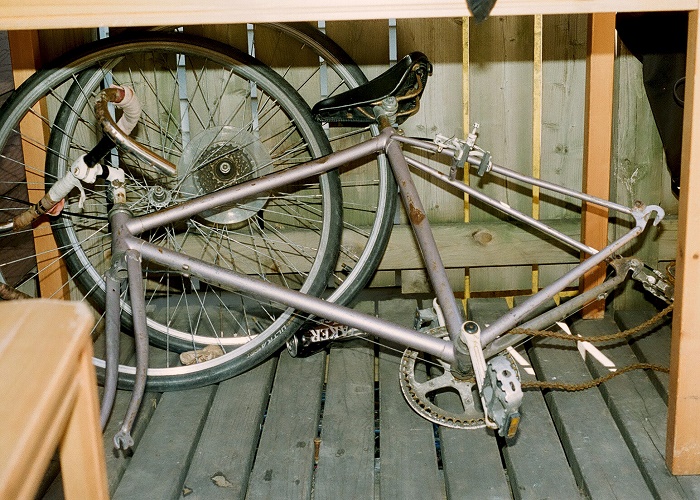 Winter Coat: This coat reminds me of the Lion King. It always makes me feel like a more awesome, animal version of myself. I got it at this store in Montreal, I went in five times to look at it and it was always still there. Every time I went in and talked to the guy who ran the store he'd tell me things about myself while I wore it. Like, "Oh, it goes with your eyes. You want people to look at you." And I'd be like, "Noooo!" (laughs).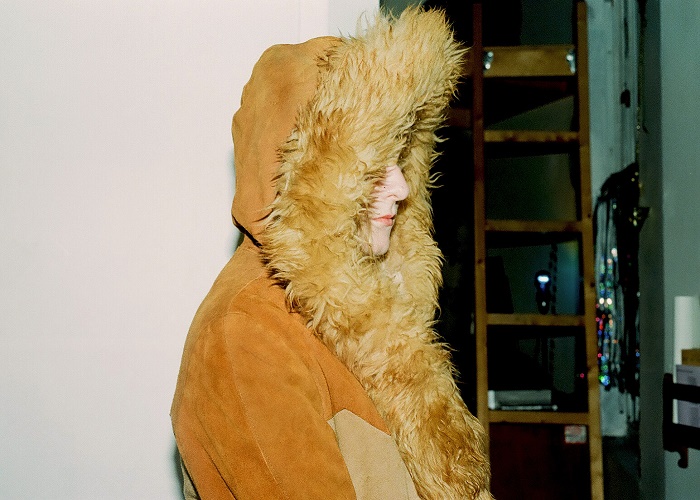 Swedish Book of Psalms: My Swedish grandmother gave this to me. I think it was my great-great grandmother's. I can't read Swedish. This is really old, there's a date in here…1825. It's all hand stitched together. I posted a picture of it to a blog from Sweden and someone said it was the most unreal, illegible Swedish they'd ever read. I think it's a bunch of psalms but there's funny little notes in it and this two of spades for some reason, which is a pretty auspicious thing for a person who's very Christian to keep in this book.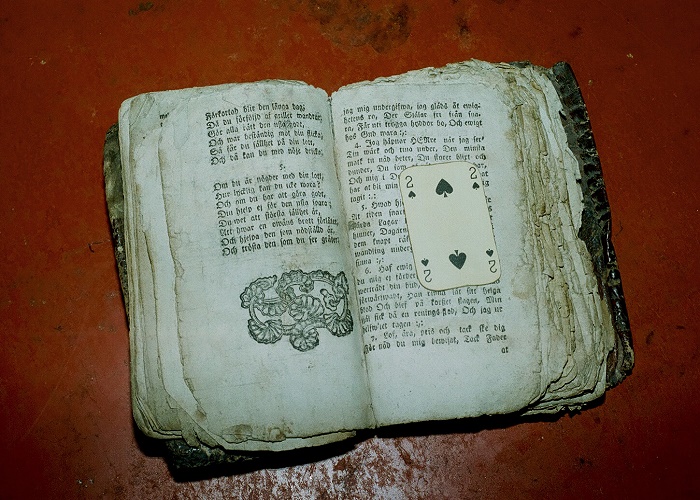 Secret Tin: I've had this for a long time. It was my secret tin when I was younger. When I was a kid I also went through all the provinces on road trips so it's like a token of my childhood. I don't think I've seen all those flowers though.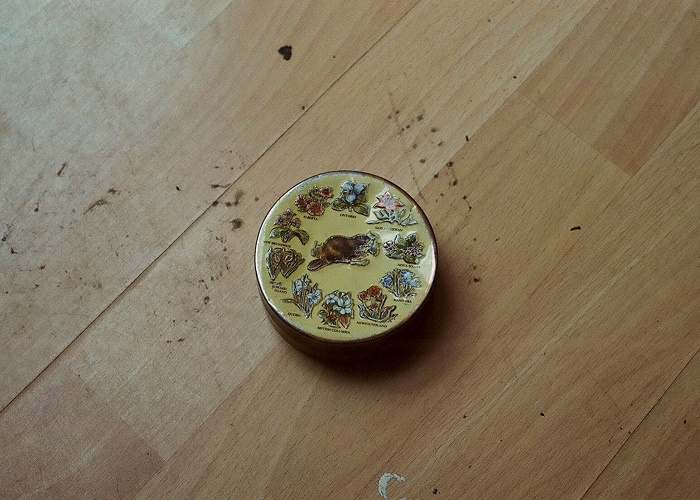 Dead Air Plant: I got an air plant and it died because I didn't water it. So I put this guy in the water. I think this is like how I feel. I'm not good at taking care of plants but I think I'm getting better.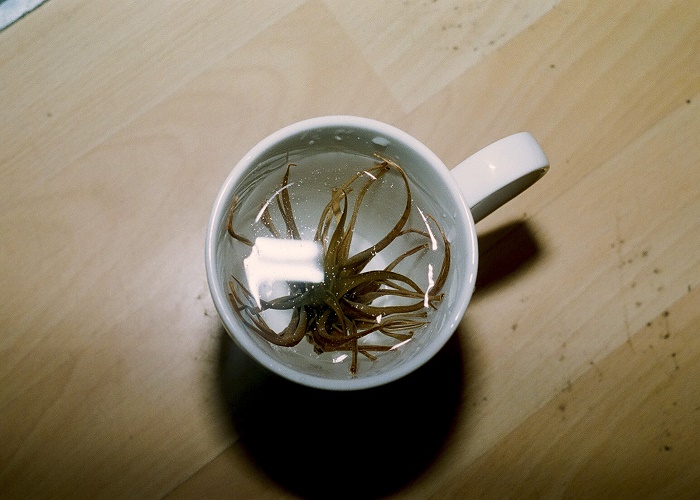 Problem Book: This I found in a second hand store. It's called "Drum and Candle: First Hand Experiences and Accounts of Brazilian Voodoo and Spiritism." There's a lot of interesting problems with this. It's all about witchcraft but it's from this very colonial perspective. It's by this white guy who investigated witchcraft, but there's some great graphics in it. I've always wanted to use them for something. I like the clinical, sort of colonial way all these crazy, awesome spiritual events are written about. Like, why are these characters in suits? I don't think this is how it happened at all.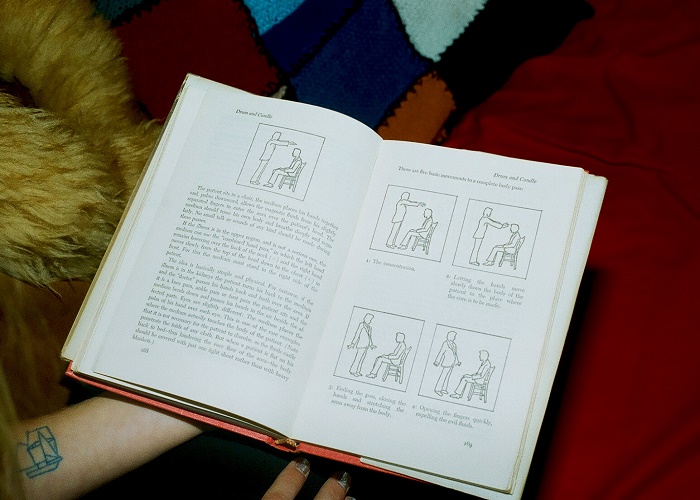 Strange Elvis: This was a gift. I don't know anything about it. I mean, it's Elvis but I don't know what these symbols mean. It's just funny to me. I like how someone went to all the trouble to make this and varnish it. Maybe it was someone's school project? I hope those symbols say, "Elvis," or, "The King."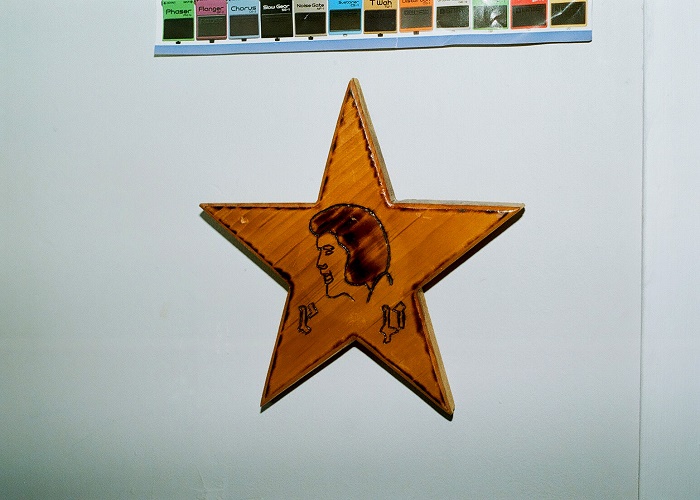 Light Refracting Glass: These are made to refract light. This brown one is kind of sad because we don't get light in this window, plus there are these bars, so it's kind of depressing. But I like the blue and clear ones.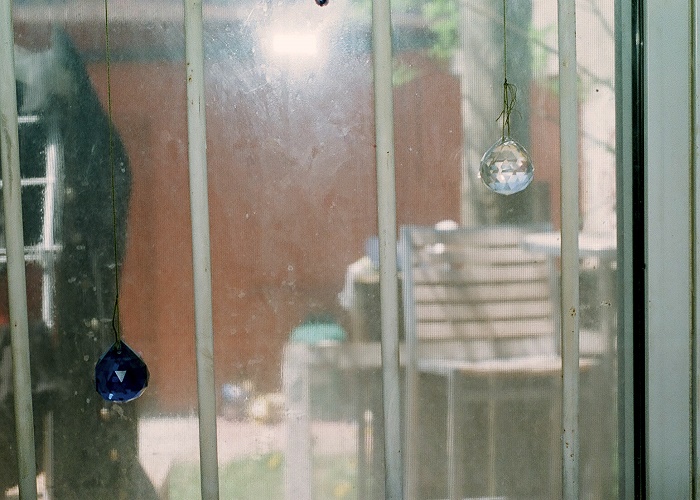 Tiny Elephants: My Dad used to have a couple little carved elephants. At some point I decided that elephants were "his thing" so I always used to find little elephants and give them to my Dad. Even though he only had two, it's like I made him start collecting elephants. So this is for him.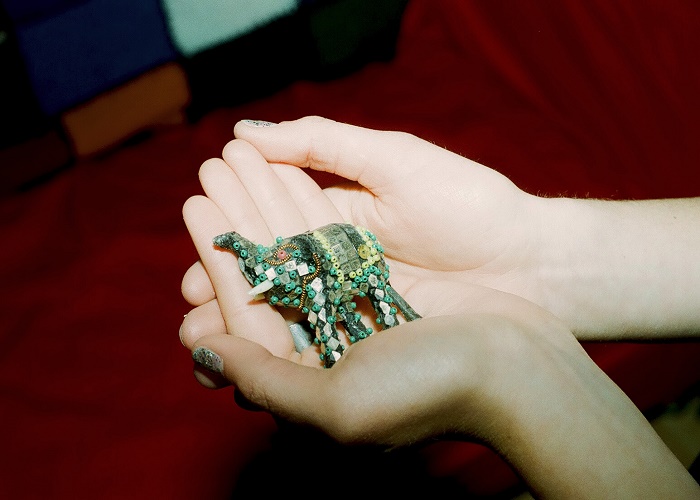 Des petits objets de Brad Casey:
(Traduit par le capharnaüm de petits objets d' Aliké Harel)
« Petite, j'aimais toujours les petites choses. Je crois que toutes les choses que j'aime sont de petits objets. » Dans le quartier chinois de Toronto, Anna Mayberry me guide dans son petit appartement qu'elle partage avec Jude, conjoint et co-membre de HSY. L'habitation se résume à une pièce aux murs blancs, presque dénudée, hormis çà et là quelques livres et affiches de spectacle, les essentiels d'une maison, ustensiles, chaudrons et un matelas au sol. La cuisine fait également office de salon, sous un espace de rangement se trouve la chambre à coucher au plafond bas, et la lumière du jour y est rarissime. Elle m'explique qu'il s'agit d'un logement temporaire pour poser pied à terre entre les tournées de HSY et pour que tout surplus d'argent retourne dans les projets comme le beau, sombre et éthéré ANAMAI. ANAMAI comprend Anna Mayberry et Dave Psutka, Allie Blumas au soutien technique pendant les concerts… lorsque le devoir ne l'appelle pas pour son propre groupe DOOMSQUAD. Après le lancement d'un album EP lo-fi à la fin de 2013 pour Buzz Records, ANAMAI s'est rendue chez Halocline Trance studios à Toronto pour l'enregistrement d'un album LP, Sallows. Un peu moins d'une heure de chansons qui oscillent entre la composition en règle et la structure sans règles, un drone en trame de fonds accompagne souvent la petite et forte voix d'Anna et garde le mélomane sur la terre ferme. Avant que je commence à prendre les photos, Anna me dit : « J'ai l'impression que je me suis débarrassée de tant de choses pour essayer de me détacher. Choisir les choses les plus spéciales… je me suis vraiment efforcée de le faire! » Un détachement, une pauvreté de biens ne signifie en rien qu'elle manque d'objets spéciaux. Anna me montre fièrement les choses desquelles elle ne s'est pas départie, chacune a une histoire qui la ramène, parfois des centaines d'années en arrière, à la famille, à l'amour et à la magie qui se sont imprégnés dans chaque objet.
Le vélo Barbie: Il était rose et mauve avant, je l'ai donc appelé Barbie. Je l'ai utilisé quelques années et maintenant il me rappelle simplement qu'il faut prendre soin de son vélo. Je lui ai donné le nom de Barbie parce qu'il fait vraiment petite fille, mais il est génial, un vélo de ville solide. Jusqu'à ce que j'aie un nouveau vélo, je vais garder Barbie sous la table.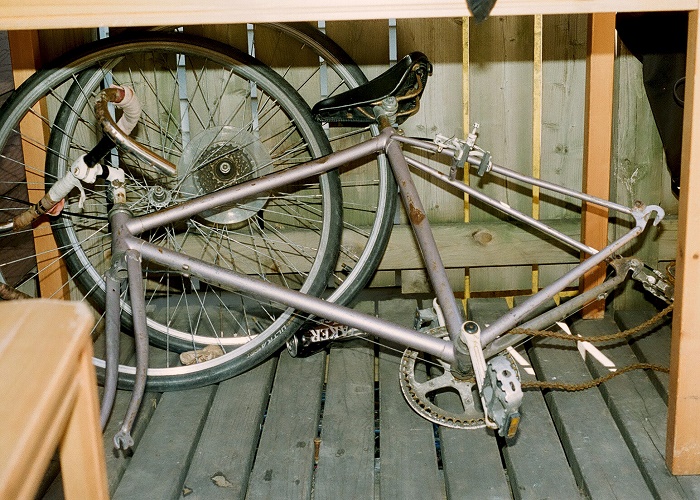 Manteau d'hiver: Ce manteau me fait penser au Roi Lion. Il me donne l'impression d'être une autre moi, une version augmentée et bestiale de moi-même. Je l'ai déniché dans une boutique de Montréal, j'y suis entré cinq fois pour le regarder et il y était toujours. À chaque fois que j'entrais et parlais avec le gars propriétaire de la boutique, il faisait des commentaires à mon sujet pendant que je portais le manteau. Du genre « Oh, ça match avec tes yeux. Tu veux attirer le regard. » Ce à quoi j'ai répondu, « Nooon! » (rires).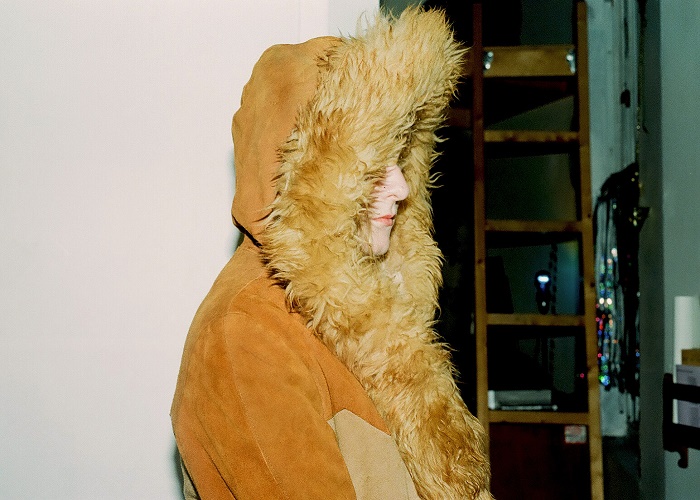 Les Psaumes en suédois: Ma grand-mère suédoise m'a donné ce livre. Je crois qu'il appartenait à mon arrière-arrière-grand-mère. Je ne sais pas lire le suédois. C'est vraiment un vieux bouquin, il y a une date à l'intérieur…1825. Il a été assemblé à l'aiguille. J'en ai envoyé une photo à un blogue suédois et quelqu'un a dit que c'était le suédois le plus irréel et indéchiffrable jamais lu. À mes yeux, ce ne sont rien que des psaumes, mais il y a de drôles de notes d'écrites et ce deux de pique, pour je ne sais quelle raison… un peu louche qu'une personne très croyante l'ait gardé dans un livre biblique.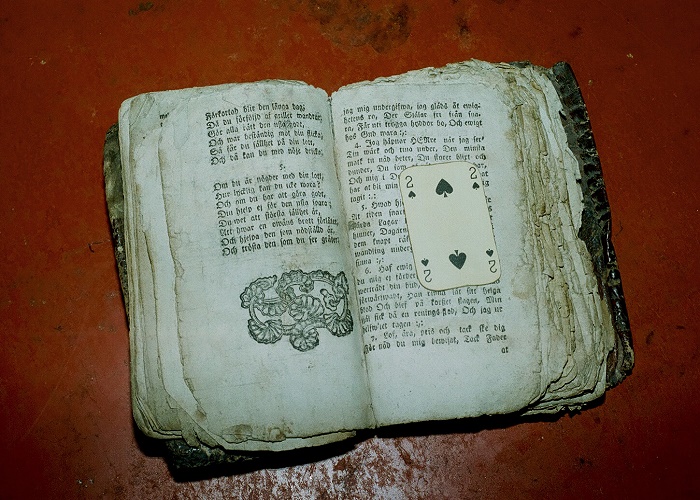 Coffret secret: J'ai ce coffret depuis longtemps. C'était mon coffre secret étant petite. Quand j'étais plus jeune, j'ai aussi voyagé dans toutes les provinces, donc ce coffre représente mon en enfance. Je ne crois pas avoir vu toutes ces fleurs par contre.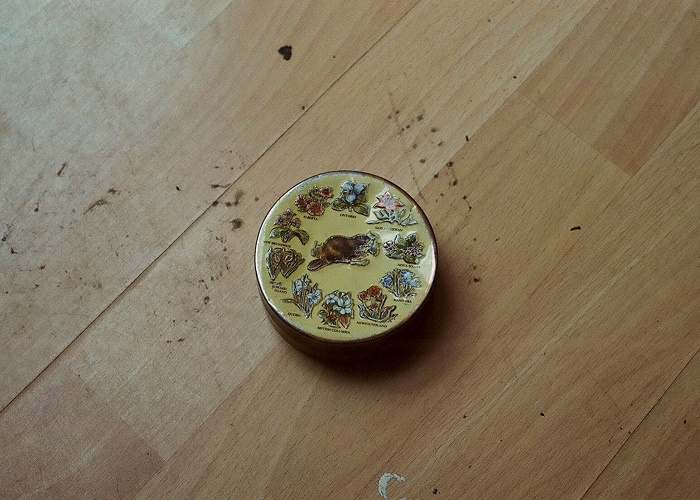 Fille de l'air morte: J'avais cette plante, une fille de l'air, et elle est morte parce que je ne l'arrosais pas. Alors, je l'ai mise dans l'eau. Je crois que c'est comme ça que je me sens aussi. Je n'ai pas le tour pour m'occuper des plantes, mais je crois que je m'améliore.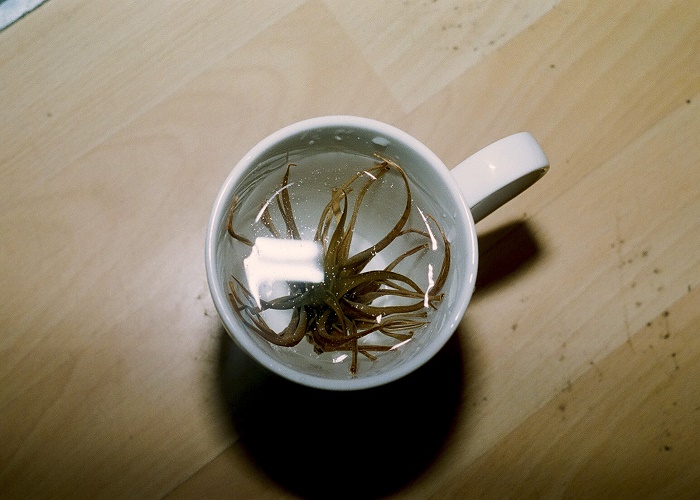 Livre à problèmes: J'ai trouvé ce livre dans une boutique d'occasion. Il s'intitule « Tambour et chandelle : Expériences et témoignages de vaudouisme et de spiritisme brésiliens ».* Ce livre pose une foule de problèmes. Il parle de sorcellerie, mais d'un point de vue totalement colonialiste. L'auteur est un Blanc qui a étudié la sorcellerie, les images restent intéressantes. J'ai toujours voulu les utiliser pour un projet. J'aime l'approche clinique, un peu coloniale utilisée pour raconter des expériences spirituelles déroutantes et fantastiques. Par exemple, pourquoi tous les personnages sont en habit-cravate? Je suis certaine que ça ne s'est pas du tout passé comme ça.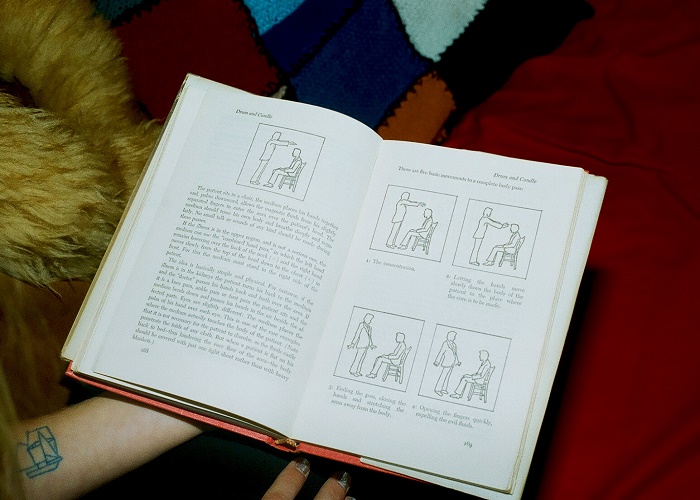 Étrange Elvis: Je l'ai eu en cadeau. Je ne sais rien de son histoire. Oui, c'est Elvis, mais je ne connais pas la signification des symboles. C'est un objet étrange. J'aime savoir que quelqu'un s'est démené pour le fabriquer et le vernir. Un projet scolaire, peut-être? J'espère que ces symboles veulent dire « Elvis » ou « The King ».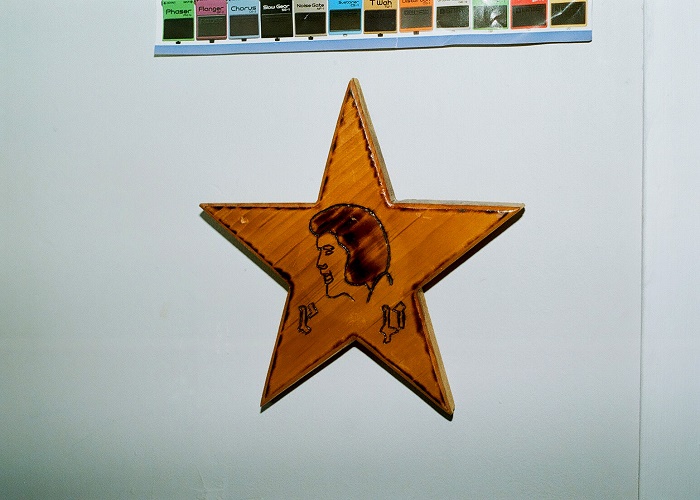 Pierre qui réfracte la lumière: Ces pierres servent à réfracter la lumière. La brune est un peu triste parce la lumière ne traverse pas cette fenêtre. En plus, il y a ces barreaux, c'est plutôt déprimant. Par contre, j'aime la bleue et la transparente.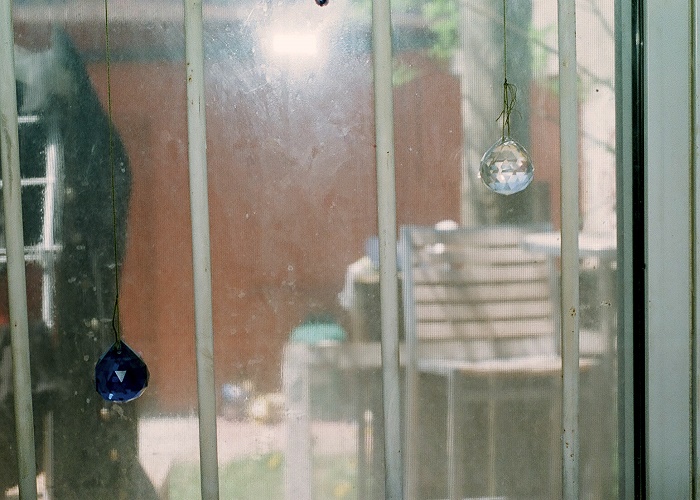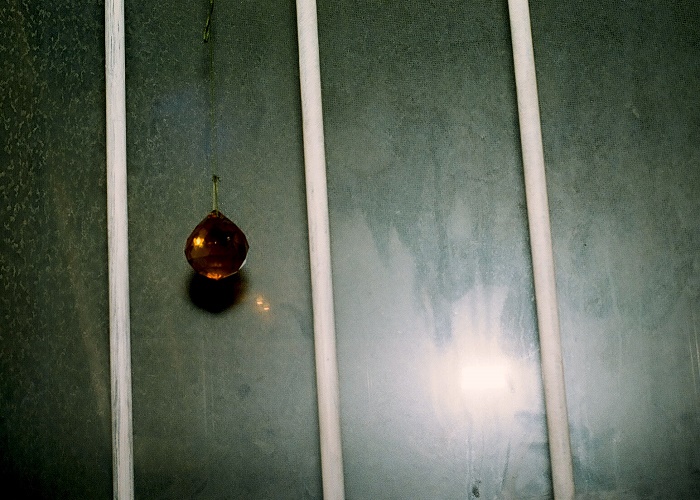 Éléphants miniatures: Mon père avait quelques petites sculptures d'éléphants. À un moment donné, j'ai décidé que, les éléphants, c'était « son truc » et je trouvais tout le temps de petits éléphants à lui donner. Il en avait pourtant seulement deux. C'est comme si je l'avais poussé à collectionner les éléphants. Celui-ci, c'est pour lui.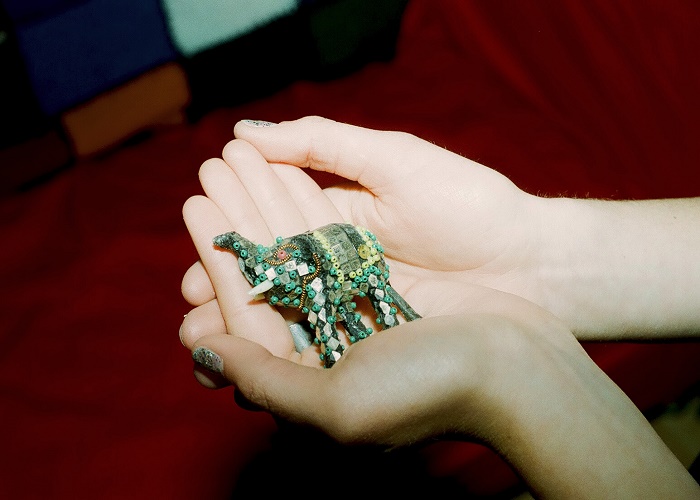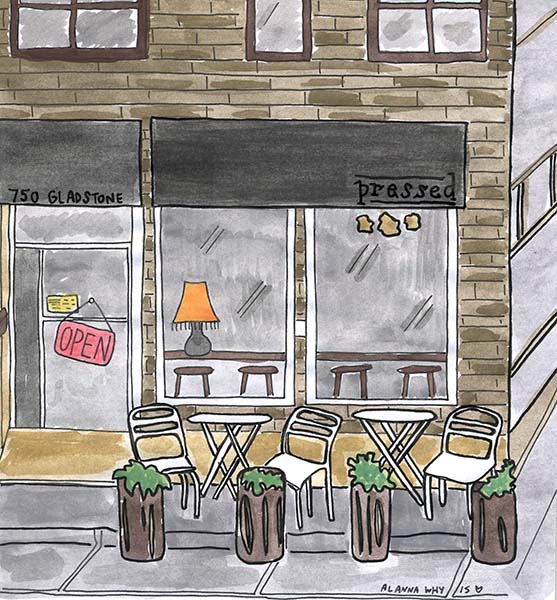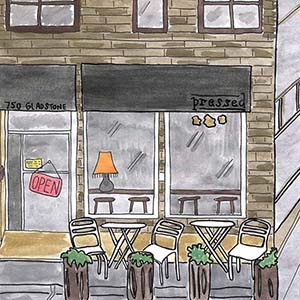 Pressed
Restaurant, Café
Capacity: 65
All ages, LGBTQ-friendly (washrooms divided by self-identified gender), accessible (portable ramps for entrance, bathroom)
(Illustration by: Alanna Yaraskavitch)
(Photos by: Matthew Blenkarn/Yuko Inoue)
750 Gladstone Ave.
Ottawa, ON
From the chicken scents of Matthew Blenkarn:
Originally conceived as a "hole-in-the-wall sandwich shop," Pressed quickly evolved into a hub for the Ottawa's diverse arts community since opening in Nov. 2011. On any given night, you can expect to hear pummeling noise, tuneful folk and jazz and gleefully weird punk, psychedelia and more wafting from its windows at 750 Gladstone Ave. But you can't just focus on music to get the breadth of Pressed. The restaurant hosts regular [poetry performances], and you're just as likely to see a local literary event, zine party or craft fair as you are to see a band nestled in its organic wooden interior. We spoke to Pressed owner Jeff Stewart, as well as Lidija Rozitis, the venue's booking manager (and a vocalist and guitarist in local bands Roberta Bondar and Blue Angel), to get a better understanding of this eclectic environment.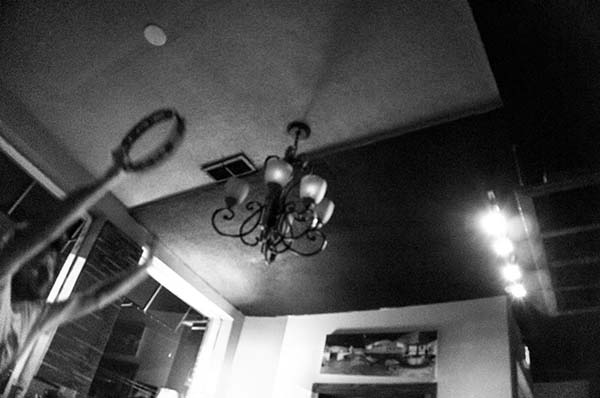 Pressed's stage (photo by Yuko Inoue)
What do you feel Pressed's appeal is? What makes it unique, and how do your acts contribute to that distinctiveness?
Lidija Rozitis: From a musical standpoint, I felt like there weren't too many venues in Ottawa a few years ago. A lot of the shows I went to were at houses. In the last little while, however, I have seen a decline in house shows and more venues becoming established around the city (Gabba Hey, House of Targ, Mugshots, Cafe Alt). House shows are really nice though, and I think Pressed (sort of) imitates the cozy, intimate vibe of a house show … Bands are allowed to move furniture around to suit their musical set up, and there are couches and church pews to sit on. And the place smells like your grandma is making delicious smoked chicken! It's small, and it's cozy. It's not a nightclub or fancy bar, but that's what makes Pressed unique.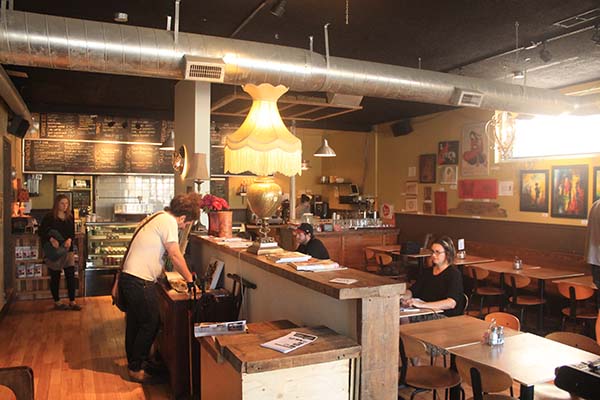 The restaurant during business hours (photo by Matthew Blenkarn)
What does Pressed offer the spoken word community? How do you help give them a space?
Jeff Stewart: I think in a number of ways. First of all, we have standing events here that are spoken word and poetry related. We have artistic showcases hosted by (Ottawa poet) Brandon Wint. We have a Words to Live By series and then a Railroad Poetry series. Those three events appeal to different types of audiences, so I think just having standing events like that creates an association between the place and spoken word. I think the layout of the place and having the right sound, light and size for those types of events just creates an inviting nest for people to come and have their events.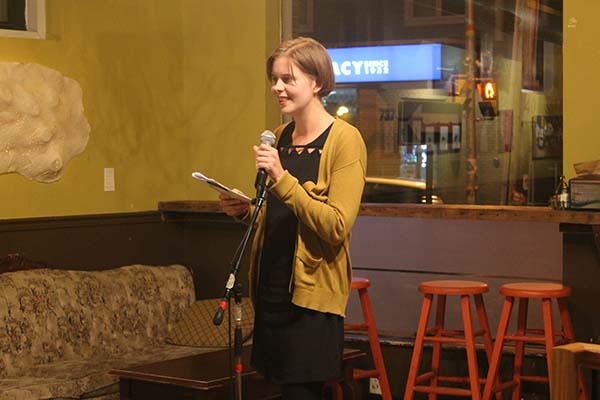 Zine editor and writer Lily Pepper at the launch party for the YOW zine (photo by Matthew Blenkarn)
You've also hosted a few Ottawa Zine-Offs and you have a zine rack. What about zine culture?
JS: I was open to the idea when (zine editor and writer Lily Pepper) approached me to have a zine rack here, and then I think, based on that, it became a bit of an anchor for zine culture. There were some people who wanted to have events here where they were creating zines and talking about zines and it seemed like a logical extension of that. I think that is something that has built a sort of community feeling. It's sort of a grassroots feeling where you don't always have a form of entertainment foisted on people as a developed, finished art form. It's more people coming together and creating in a space in a more spontaneous, democratic kind of way.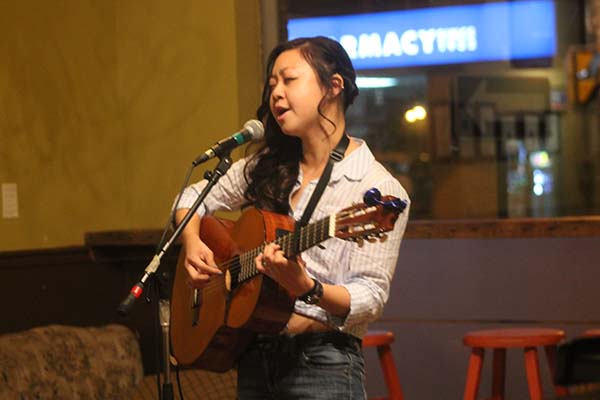 Gloria Guns of Scary Bear Soundtrack performs at the YOW zine launch party (photo by Matthew Blenkarn)
Why have such an eclectic line-up?
LR: There are a lot of amazing music venues that have opened up in Ottawa recently, so it's somewhat limiting to book four piece rock bands for an entire month. We do have many bands playing at Pressed, but with that said, I also have been trying to book more and more diverse musical acts every month. Pat Moore hosts a weekly Bluegrass night, Tariq Anwar hosts a monthly Open Mic night, Brandon Wint puts on a great monthly spoken word and musical showcase, and there are many jazz, classical, and experimental musicians performing at the space. Even then, music isn't the only art form requiring performance space. Because of the portability of tables and furniture at Pressed, the space can serve as both a sit down or standing venue. I think this versatility appeals to all types of artists, because the space serves whatever need you want it to. I try to book as many diverse types of events so that the space doesn't become pigeon-holed as the venue to do one certain type of artistic thing, but rather continually seen as a space to do whatever you want.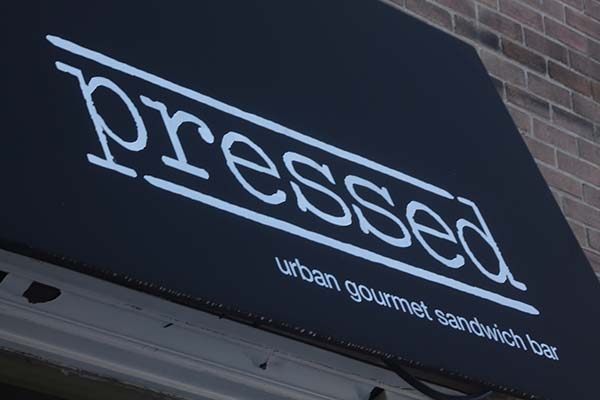 The awning that shades Pressed's small outdoor seating area (photo by Matthew Blenkarn)
How would you like to see Pressed grow in the future?
JS: I think I'd just like to see us continue along the lines that we're going along right now. I don't want us to get too big or large-band oriented, because I like the community aspect of the things we do. I think we have a really nice balance right now of bands coming in from out of town, from promoters and local bands and acts, local spoken word and then grassroots types of events as well. I think I'd just like to continue to become more and more integrated with the community and be seen more and more as a community living room and play space, I think.
Des odeurs de poulet de Matthew Blenkarn: (Traduit par l'eau à la bouche de Jessica Grenier) Ouvert en novembre 2011 en tant que « comptoir à sandwich sans prétention », Pressed est rapidement devenu un lieu de rencontre pour les différentes communautés artistiques d'Ottawa. Chaque soir, on peut s'attendre à ce que les fenêtres du 750 Gladstone Ave vibrent au rythme d'un noise acharné, de folk ou de jazz mélodieux, de punk joyeusement étrange ou encore de quelque chose de plus psychédélique. Mais Pressed, c'est beaucoup plus que de la musique. Le restaurant accueille régulièrement des performances poétiques, et, en venant se nicher dans son intérieur en bois naturel, on peut tout aussi facilement tomber sur un événement littéraire local, un party de zines ou un marché d'artisanat que sur un groupe de musique. Pour mieux comprendre cet environnement éclectique, nous avons discuté avec le propriétaire de Pressed, Jeff Stewart, ainsi qu'avec la responsable des réservations, Lidija Rozitis (qui est aussi chanteuse et guitariste dans des groupes locaux Roberta Bondar et Blue Angel).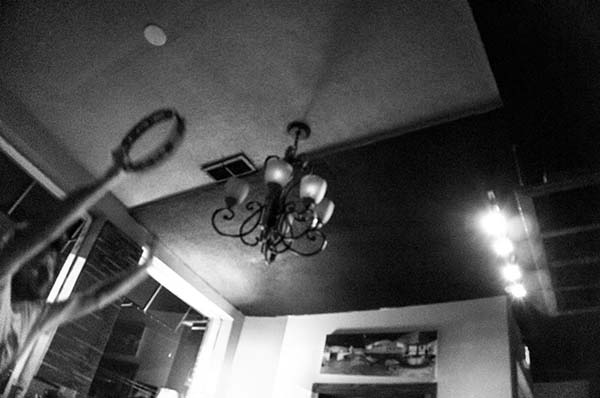 Selon vous, qu'est-ce qui fait le charme de Pressed? Qu'est-ce qui le rend unique et comment contribuez-vous à le garder ainsi?
Lidija Rozitis: Du point de vue musical, j'ai eu l'impression, il y a quelques années, qu'il n'y avait pas beaucoup de salles à Ottawa. Beaucoup de spectacles auxquels j'assistais avaient lieu dans des maisons. Dernièrement, j'ai remarqué un déclin de ce côté, et une augmentation des nouvelles salles de spectacles qui s'installent en ville (Gabba Hey, House of Targ, Mugshots, Cafe Alt). J'aime quand même beaucoup les spectacles ayant lieu dans des maisons, et je pense que Pressed imite (un peu) leur atmosphère intime et confortable… Les groupes peuvent bouger les meubles selon leurs besoins pendant qu'ils préparent leurs trucs, et il y a des divans et des bancs d'église pour s'asseoir. En plus, l'endroit sent comme si votre grand-mère était en train de faire du délicieux poulet fumé! C'est petit, c'est douillet. Ce n'est pas une discothèque ou un bar chic, mais c'est ce qui rend Pressed unique.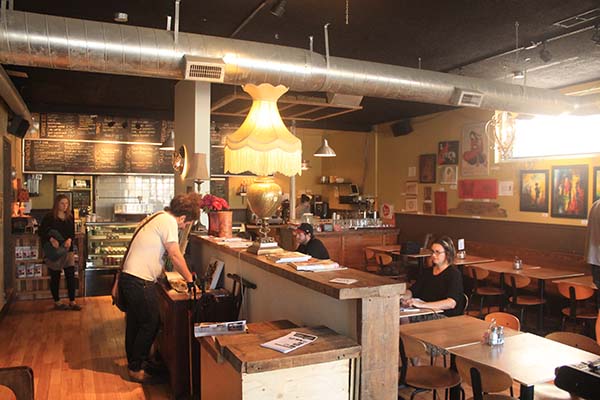 Le restaurant (pendant les heures d'ouverture) (photo de Matthew Blenkarn)
Que fait Pressed pour soutenir la communauté de la création orale?
Jeff Stewart: Je pense que nous aidons à plusieurs niveaux. Premièrement, il y a des événements permanents liés à la poésie et aux créations orales. Il y a des performances artistiques animées par (le poète d'Ottawa) Brandon Wint. Nous avons aussi les séries Words to Live By et Railroad Poetry. Ces événements attirent des publics différents, alors je pense que le fait qu'ils soient permanents crée un lien entre l'endroit et la création orale. Je trouve que le son, la lumière, l'agencement et les dimensions de l'endroit sont parfaits pour ce genre de soirées, ça en fait un petit nid parfait où organiser des événements.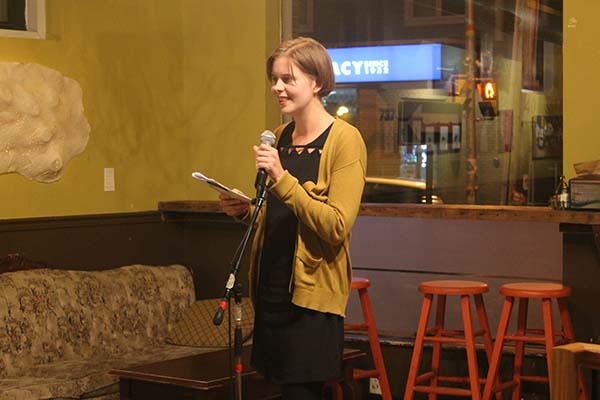 L'auteure Lily Pepper durant le lancement du zine YOW (photo de Matthew Blenkarn)
Vous avez accueilli quelques fois le festival Ottawa Zine-Offs et vous avez un présentoir de magazines. Qu'en est-il de cette culture?
JS: J'aimais l'idée d'avoir un présentoir de zines quand l'auteur et rédactrice en chef Lily Pepper est venue discuter de cette possibilité, et à partir de là, ça a en quelque sorte fourni un point d'ancrage à la culture zine. Des gens ont voulu organiser ici des événements de création et de discussions, et c'était comme une suite logique. Je pense que c'est une des choses qui ont aidé à construire un esprit de communauté. C'est un genre de sentiment populaire où on n'a pas toujours un événement artistique complet et défini qui est imposé aux gens : c'est plutôt des personnes se rassemblant quelque part pour créer quelque chose de façon spontanée et démocratique.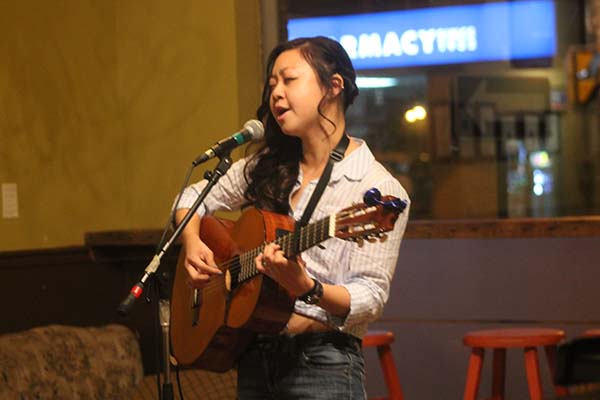 Prestation de Gloria Guns de Scary Bear Soundtrack à l'occasion du lancement de YOW (photo de Matthew Blenkarn)
Pourquoi avoir une programmation aussi éclectique?
LR: Il y a beaucoup de salles de spectacle géniales qui ont été ouvertes récemment à Ottawa, alors ça devient un peu contraignant de réserver un groupe rock pour tout un mois. C'est vrai qu'il y a beaucoup de groupes qui jouent ici, mais ceci étant dit, j'essaye d'avoir de plus en plus de performances musicales variées chaque mois. Pat Moore anime une soirée Bluegrass hebdomadaire, Tariq Anwar, une soirée mensuelle ouverte aux amateurs, et Brandon Wint présente aussi chaque mois une soirée créations orales et poésie, en plus des nombreux musiciens jazz, classiques et expérimentaux qui font des spectacles ici. Aussi, la musique n'est pas la seule forme artistique ayant besoin d'un espace. Puisque les tables et les meubles peuvent être déplacés, Pressed peut accueillir autant des spectacles pour un public assis que debout. Je pense que cette polyvalence intéresse différents types d'artistes, puisque l'endroit peut s'adapter à tous les besoins. J'essaye de réserver des événements de style le plus différent possible pour qu'on ne devienne pas étiqueté comme faisant toujours un seul genre de spectacle, pour que Pressed continue d'être perçu comme un lieu ouvert à tout.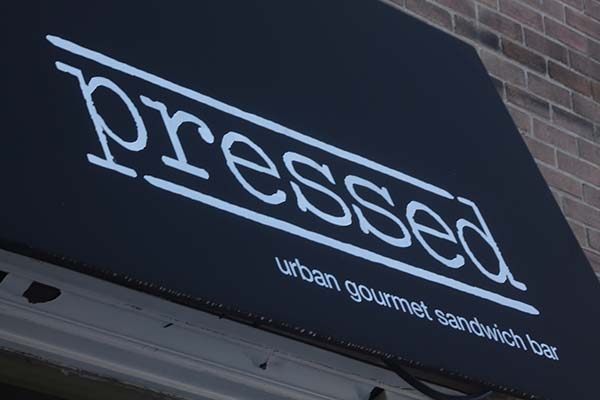 L'auvent qui protège la petite terrasse de Pressed (photo de Matthew Blenkarn)
Dans le futur, comment voudriez-vous voir grandir Pressed?
JS: Je pense que j'aimerais juste que l'endroit continue sur la même lancée qu'il a actuellement. Je ne veux pas qu'on devienne trop gros ou axé juste sur les gros groupes, parce que j'aime l'aspect communautaire que nous avons maintenant. Je trouve que nous avons un bel équilibre entre les promoteurs, les spectacles, les groupes d'ici et d'ailleurs en plus des créations orales locales et des événements plus populaires. Je pense que j'aimerais juste voir l'endroit s'ancrer davantage dans la communauté, et qu'il soit vu de plus en plus comme un terrain de jeu ou un salon communautaire.
---