Category: ontario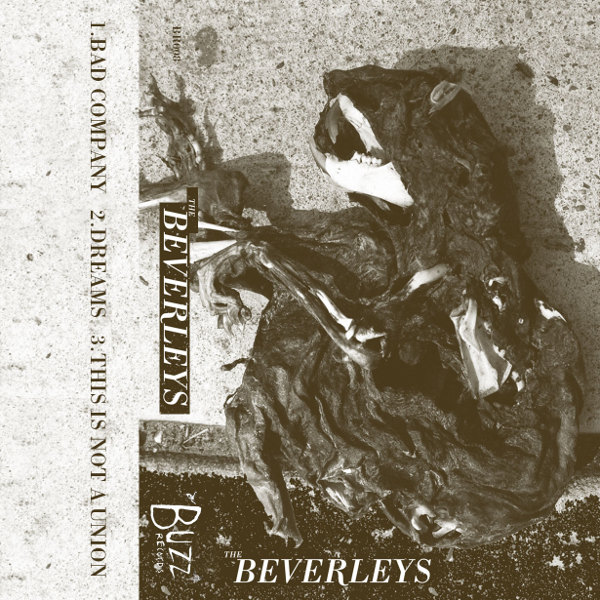 Buzz Records' winning streak continues with this crucial three-song EP from The Beverleys! The Henry's Dress-style blown-out mucky low-end is kinda miraculous given that the trio doesn't even feature bass (not even one!). Gush to your inner Warped Tour teen about the return of the much-missed boozy Brody Dalle snarl on "Bad Company", and rejoice that "Dream" reclaims the epic mode of punk songcraft from the legions of post-Tim bozo phonies.
The Beverleys
The Beverleys EP
Toronto, ON
From the primordial muck of Eamonn Quinn:
Buzz Records' winning streak continues with this crucial three-song EP. The Henry's Dress-style blown-out mucky low-end is kinda miraculous given that the trio doesn't even feature bass (not even one!). Gush to your inner Warped Tour teen about the return of the much-missed boozy Brody Dalle snarl on "Bad Company", and rejoice that "Dream" reclaims the epic mode of punk songcraft from the legions of post-Tim bozo phonies. Driven by that hardcore sprint, the pit-ready "This Is Not A Union" is an alternative history of grunge in which the ones who like to sing along and like to shoot their guns didn't win out. If you haven't had enough, don't miss their cover of a TO classic.
De la crasse primordiale d' Eamonn Quinn:
(Traduit par Andreanne Dion)
La série de succès de Buzz Records continue avec cet essentiel EP de trois chansons. L'explosion crasseuse bas de gamme dans le style de Henry's Dress est plutôt miraculeuse puisque le trio n'utilise pas de basse (même pas une seule!). Extasiez-vous sur le retour du grognement bien arrosé à la Brody Dalle qui vous a tant manqué avec votre adolescent intérieur pendant « Bad Company », et réjouissez-vous que « Dream » récupère l'art épique de la chanson punk auprès des légions d'imposteurs post-Tim. Poussée par ce sprint hardcore et prête pour la fosse, la chanson « This Is Not A Union » est l'histoire alternative du grunge, dans laquelle ceux qui aiment chanter en choeur et ceux qui aiment tirer leurs fusils ne triomphent pas. Si ce n'est pas assez pour vous, ne manquez pas leur cover d'un classique de Toronto.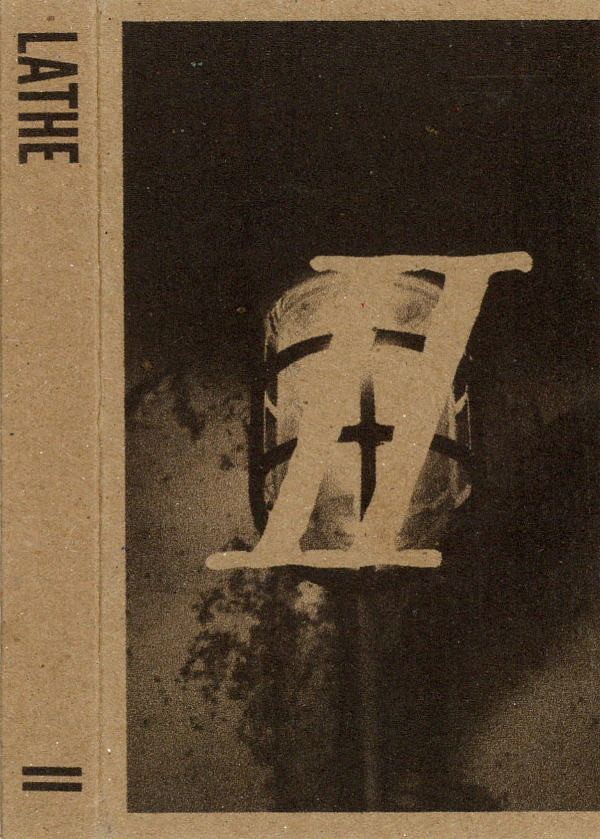 LATHE's two-song cassette takes its time warming up to you, never trying to overwhelm with its sparse, string-bending riffs and subdued drums, hazily evocative of latter-day Earth
LATHE
II
(Self Released)
Kingston, ON
From the power tower of Doreen Girard:
This live, two-song cassette takes its time warming up to you, never trying to overwhelm with sparse, string-bending riffs and subdued drums, hazily evocative of latter-day Earth. That's not to say it hangs back in the shadows, too timid to communicate with strangers. It listens patiently, is comfortable with silences, chooses its words thoughtfully. And anyway, once the ice is broken, it's clear that Lucas Huang (guitar/voice) and Liam Cole (drums) are deep in fervent conversation, and would rather not be disturbed.
De la tour électrique de Doreen Girard:
(Traduit par Andréanne Dion)
Cette cassette de deux chansons enregistrées live vous réchauffe lentement, sans jamais essayer de vous submerger avec ses riffs épars qui tordent les cordes et sa batterie feutrée, qui évoquent vaguement les derniers jours de Earth. Cela ne veut pas dire qu'elle se tient dans l'ombre, trop gênée pour approcher les étrangers. À l'aise dans le silence, elle écoute patiemment et choisit ses mots avec soin. Et de toute façon, une fois la glace brisée, il devient clair que Lucas Huang (guitare/chant) et Liam Cole (batterie) sont absorbés par une conversation passionnante et qu'ils préféreraient ne pas être dérangés.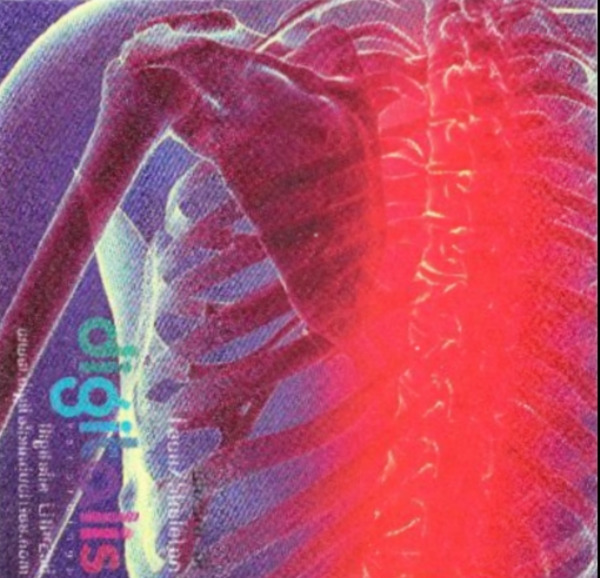 Wizard Of
Face/Skeleton
Toronto, ON
From the psychic tendrils of Joe Modzelewski:
Human and machine are inseparable. Neon-soaked concrete has enveloped the planet's surface. A view from space leaves Earth with a sickly greyed hue that hints at a pale coloured undertone. Doomsayers revel in humanity's fate. An industrial society has left the landscape charred and dotted with synthetic sanctuary. The population has scarred its very genetic makeup with the hallowed promises of technology. As the world burns, and the damned beg and pray, some reflect on where it went wrong; all you do is dance.
Des vrilles psychiques de Joe Modzelewski:
(Traduit par Andréanne Dion)
L'homme et la machine sont inséparables. Du béton trempé au néon a envelopé la surface de la planète. Vue de l'espace, la Terre prend une teinte grise maladive qui laisse entrevoir une nuance pâle. Les pessimistes se réjouissent du destin de l'humanité. Une société industrielle a laissé le paysage calciné et parsemé de refuges synthétiques. Notre composition génétique même a été marquée par les promesses vides de la technologie. Pendant que le monde brûle et que les damnés supplient et prient, alors que d'autres se demandent où les choses se sont gâtées, vous ne faites que danser.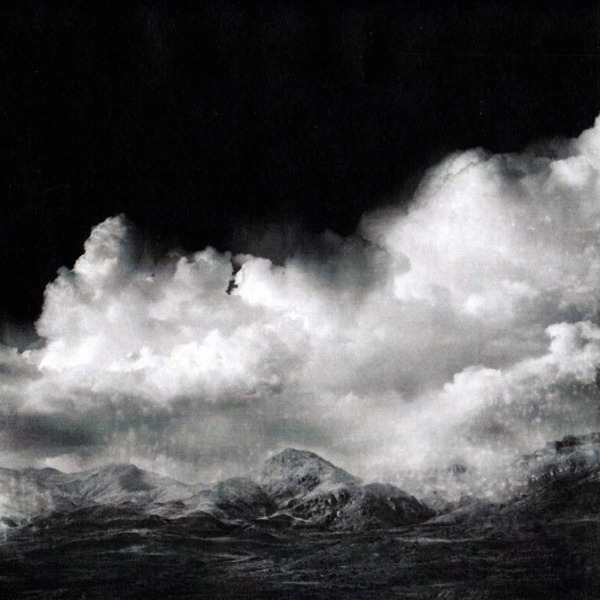 Chorus – Black Paradise (Self Released) :: Chorus members Don Kennedy and Andrew Roy return as drone kings ruling over a Black Paradise. Their domain, one steeped in the thick and heavy ambience of the sepulchral night, is one of regeneration; cyclical spans of beginnings and ends collapsing in on themselves, birthing narratives that are repetitions of form, but sung in a new tongue.
Chorus
Black Paradise
(Self Released)
Toronto, ON
From the contorted urbanisms of Joshua Robinson:
Chorus members Don Kennedy and Andrew Roy, formerly of Toronto's Off the International Radar, return as drone kings ruling over a Black Paradise. Their domain, one steeped in the thick and heavy ambience of the sepulchral night, is one of regeneration; cyclical spans of beginnings and ends collapsing in on themselves, birthing narratives that are repetitions of form, but sung in a new tongue. Where Off the International Radar possessed an innate lightness of being, Chorus exists as the tonal alter-ego of its brighter post-rock forbearer. Their music is born of the endless evening; of that precarious precipice demarcating the end of the beginning and the beginning of the end. Massivity as ambience, and the caged growl of a city contorted to show its upside-downs and inside-outs, Chorus dismantle the stasis of drone and turn it on itself to invigorate the quiet pulse of our softer moods.
Des urbanismes contorsionnés de Joshua Robinson:
(Traduit par Andréanne Dion)
Don Kennedy et Andrew Roy, les membres de Chorus, anciennement du groupe Torontois Off the International Radar, reviennent en tant que rois du bourdonnement, régnant sur un Black Paradise. Leur domaine, imprégné de l'ambiance épaisse et lourde d'une nuit caverneuse, en est un de régénération : des débuts et de fins qui s'écroulent sur eux-mêmes de façon cyclique, donnant naissance à des récits qui se renouvellent, mais qui sont chantés dans une nouvelle langue. Alors que Off the International Radar possédait une légèreté d'être naturelle, Chorus est l'alter-ego tonal de son plus léger prédécesseur. Leur musique est née d'une soirée sans fin, de ce précipice précaire qui marque la fin du début et le début de la fin. Une ambiance énorme et le grognement captif d'une ville contorsionnée pour montrer ses envers, Chorus démantèle l'inertie du bourdonnement et retourne le genre sur lui-même pour revigorer le pouls silencieux de nos humeurs les plus douces.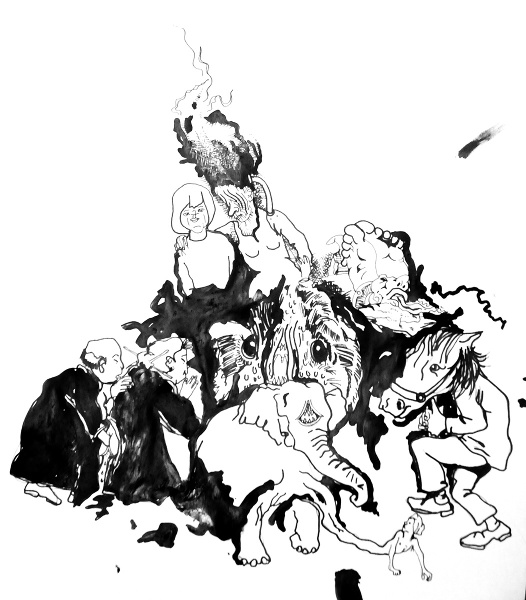 From the gloomy cave of James Lindsay:
The long awaited, highly anticipated long player from Hamilton's champions, WTCHS, feels like their patient maturation has finally paid off. After a string of well curated split cassettes, 7"s and a lathe, It's Not a Cross, It's a Curse! finally delivers lengthier, meatier recordings that can hold a candle to the intensity of their pummeling live shows. What once was gloomy cave-pop has been blown-up into cavernous death-rock that hits as hard as METZ's noise-grunge, while still carrying a similar musicianship and melodic charm in the spirit of the Dischord post-hardcore ilk. Hear and see them now before the rest of the world takes them away.
De la caverne glauque de James Lindsay James Lindsay:
(Traduit en direct du sous-sol lugubre de Louis-Félix Pellerin)
Le LP tant attendu des champions de Hamilton, WTCHS, donne l'impression que leur sereine maturation a fini par porter ses fruits. Après une série de cassettes split et de vinyles bien organisés ainsi qu'un tour, It's Not a Cross, It's a Curse! sort enfin des enregistrements plus longs et plus substantiels dont l'intensité est comparable à leurs représentations live. Ce qui était auparavant du pop de sous-sol morne s'est transformé en death rock caverneux aussi frappant que le noise-grunge de METZ, tout en conservant le charme mélodique dans l'esprit du posthardcore de Dischord, ainsi qu'une qualité musicale similaire. Écoutez-les, regardez-les avant que le reste du monde ne les emporte.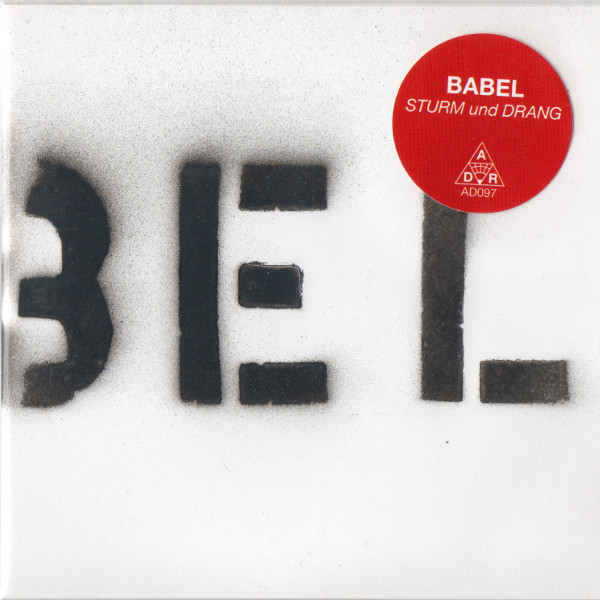 Babel
Sturm und Drang
Toronto, ON
From the krautrocking hips of Kevin Hainey:
Babel has been pouring out a huge number of recordings for a good many years now. This album stands as the second in a trilogy of percussively minded releases focusing on prepared guitars and bass guitars. Sturm und Drang gets its three thematic counterparts going on a psychedelically stomping bare foot, where the emphasis is certainly on the minimalism and rhythm rhythm rhythm associated with the classic krautrock sound ("Sturm.01-03"), before going shot-for-shot into more serene dreams and foreign landscapes intent on flowing out into the ambient ("Drang.01-03").
Whereas previous Babel releases (and there are very many, mostly released on CD-R) explored notions of post-rock and doom-metal inspired textures, the "Drang" pieces pursue a purer ambience, a oneness with the void perhaps. And then there are the "Black Lodge" and "White Pine" tracks, dipping into Angelo Badalamenti and Twin Peaks waters with inspiration and restraint. A project in metamorphosis, guided by Arachnidiscs head honcho Jakob Rehlinger and recorded in brilliant crystalline hi-fi, Sturm und Drang shows that Babel is towering with talent.
Des hanches se déhanchant sur le krautrock de Kevin Hainey:
(Traduit par les tressautements de Louis-Félix Pellerin)
Babel sort un grand nombre d'enregistrements depuis bien des années maintenant. Cet album-ci est la seconde partie d'une trilogie de compositions axées sur les percussions qui se concentrent sur la guitare préparée et la basse. Les trois équivalents thématiques de Sturm und Drang s'en vont pieds nus sur une débandade psychédélique où l'accent est certainement porté sur le minimalisme et le rhythme rhythme rhythme associé à la sonorité krautrock classique (« Sturm.01-03 »), avant d'aller plan pour plan vers des rêves plus sereins et des paysages étrangers avec l'intention de se laisser porter vers le genre « ambient » (« Drang.01-03 »).
Alors que les enregistrements précédents de Babel (et il y en a toute une quantité, surtout sur CD-R) exploraient des notions de post-rock et des textures inspirées du doom metal, les morceaux de « Drang » recherchent une ambiance plus pure, une unité avec le néant, peut-être. Puis, avec les morceaux « Black Lodge » et « White Pine », on s'aventure dans les eaux d'Angelo Badalamenti et Twin Peaks avec inspiration et retenue. Enregistré en hi-fi cristallin resplendissant, ce projet en pleine métamorphose dirigé par Jakob Rehlinger, le grand manitou d'Arachnidiscs, nous montre que lorsqu'on parle de l'immense talent de Babel, sky is the limit!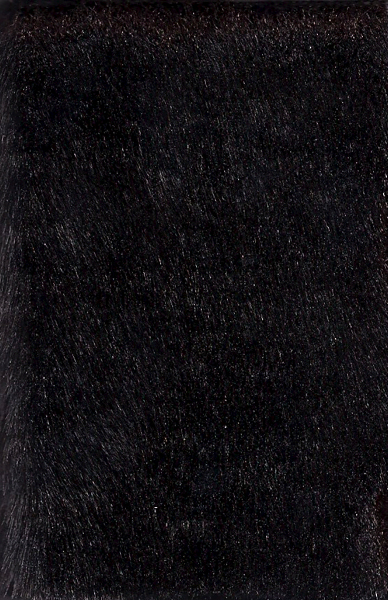 Beard Closet // Primate Pyramid
Split Cassette
Toronto, ON
From the monkey's paw of Jesse Locke:
The ninth volume in Arachnidiscs' split series pairs two Toronto free-guitar travelers in canny packaging fit for the grip of the hairiest palms. Beard Closet's contribution is the sidelong blast-off "The Erosion of Empathy," awakening from a day of radiance before the rotten sun beats down. On the backside, Primate Pyramid delivers two shorter pieces with the contemplative swirls of "Arc With No Story" and ghostly shapes emerging from the black sea of "Health Collapse." Shining, gleaming, streaming, flaxen, waxen…
De la patte de singe de Jesse Locke:
(Traduit par Andréanne Dion)
Le neuvième volume de la série d'albums splits d'Arachnidiscs rassemble deux groupes de voyageurs free-guitars de Toronto dans un emballage astucieux digne de la prise des paumes les plus poilues. La contribution de Beard Closet est l'explosion latérale « The Erosion of Empathy » qui se réveille d'une journée rayonnante avant que le soleil pourri ne brûle. Au verso, Primate Pyramid nous livre deux chansons plus courtes avec les tourbillons pensifs de « Arc With No Story » et les formes fantomatiques qui émergent de la mer noire de « Health Collapse ». Brillant, étincelant, ruisselant, blond, cireux…

Beard Closet – The Erosion of Empathy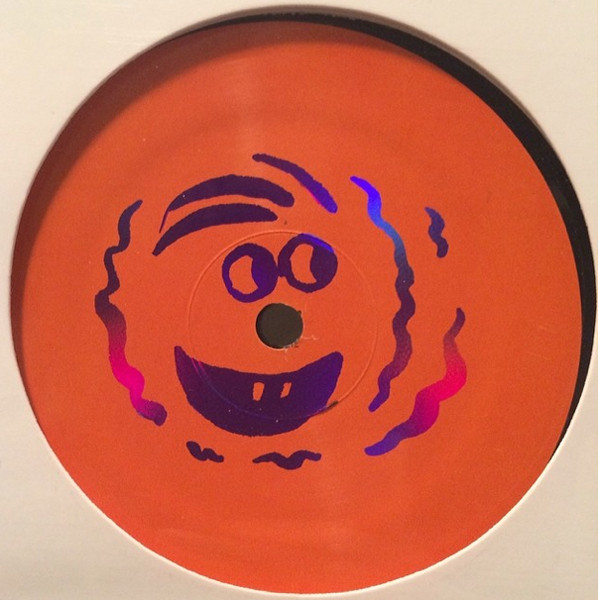 Eucalyptus
Fascination in Sound
Toronto, ON
From the smoky speakeasies of James Lindsay:
On his most recent blow job, sax man Brodie West takes his easygoing solarium-jazz ensemble, Eucalyptus, away from the tropical lounges they previously haunted to smokier speakeasies. Here, the septet gives the arrangements more freedom to nod and sway away under the dim lights of table candles. This whirl-around feels slightly sad, as if the night is almost over and the music knows it. It reluctantly unwinds itself while it's still dark, before the sun comes up and the basement-bar's patrons have to face the day.
Des bars clandestins enfumés de James Lindsay:
(Traduit par les journées ensoleillées de Julie Forget)
Sur sa plus récente petite gâterie, le saxophoniste Brodie West déplace son orchestre de jazz solarium Eucalyptus loin des bars tropicaux qu'ils ont hantés dans le passé, et se rend dans des bars clandestins plus enfumés. Ici, le septuor laisse les arrangements plus libres de se balancer et de tituber sous la lumière faible des chandelles sur les tables. Ce tourbillon semble plutôt triste, comme si la nuit était presque terminée et que la musique le savait. Il se déroule avec réticence pendant qu'il fait encore noir, avant que le soleil se lève et que les clients du bar souterrain doivent affronter le jour.

Eucalyptus – Fascination in Sound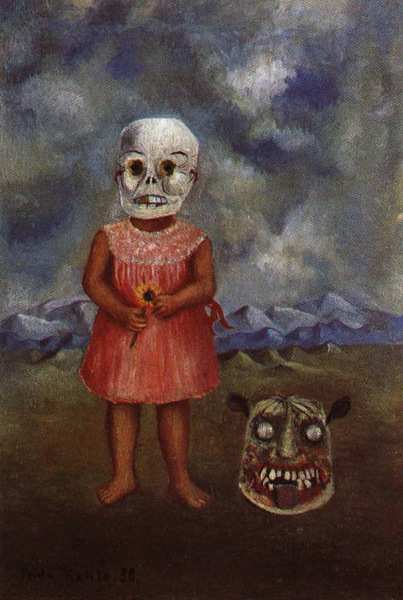 The Unquiet Grave
Whispers In The Wind
(Self Released)
Peterborough, ON
From the of drone-buzz inferno of Joshua Robinson:
Wraithlike and enveloped in the dusk-dance solemnities of macabrely attuned spirit-surges, Whispers In The Wind is the last breath of manna before a trans-dimensional freefall through the nine circles of drone-buzz psychedelia. These epitaphs of contralto contortion slowly linger along the fine divide between '80s gothcore and the post-neurosis of aphotic avant-garde ambience, suturing the two realms to the ashen trance of an extrasensory cannonade.
De l'enfer bourdonnant de Joshua Robinson:
(Traduit par Jacinthe Laplante)
Semblable à une apparition et enveloppée dans les solennités de la danse nocturne de surtensions spectrales macabrement en harmonie, Whispers In The Wind est la dernière bouffée de manne avant une chute libre transdimensionnelle à travers les neuf cercles du psychédélisme bourdonnant. Ces épitaphes de contorsion contralto s'attardent tranquillement le long de la mince séparation entre le goth core des années 1980 et la post-névrose de l'ambiance avant-gardiste de l'obscurité, unissant les deux royaumes en une transe grisâtre de canonnade extrasensorielle.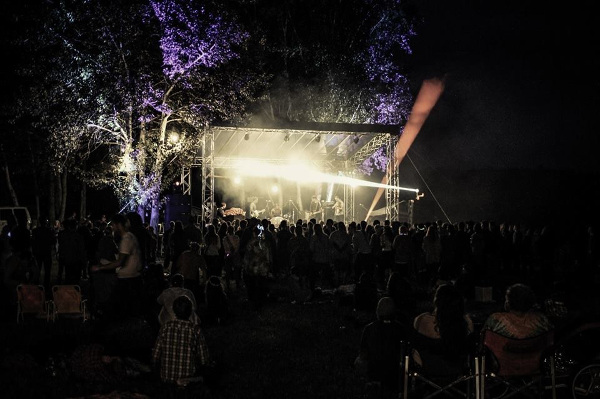 River & Sky
July 18-20, 2014
Field, ON
From the wild blue yonder of Preacher Katie:
"Thou shalt not do" was never whispered amongst the gathering of animals, children, artists, vendors and audience members in the forest of Field, Ontario at the River & Sky Festival. The freedom of expression and civil disobedience was an undercurrent that lingered through the small community atmosphere; this free rein resulted in a mannerly Temporary Autonomous Zone that stonewalled typical structures of control at festivals. No one was harmed, no one was a weirdo, no one OD'd, and an aggressive security guard waving his finger at you had nothing to do with this.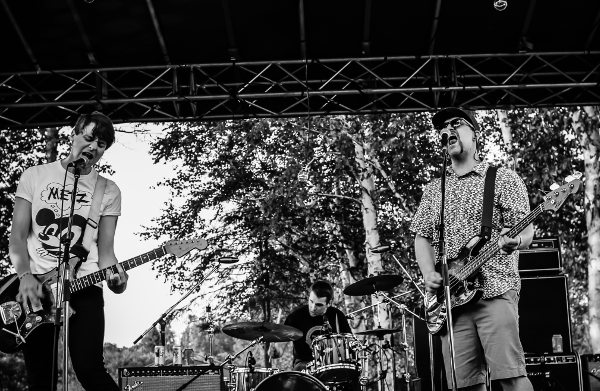 "I've never poured so much beer on my head as I did at this festival. I also discovered I can fit a 12-pack of beer in my jean jacket." – Neil Bednis (Geyser)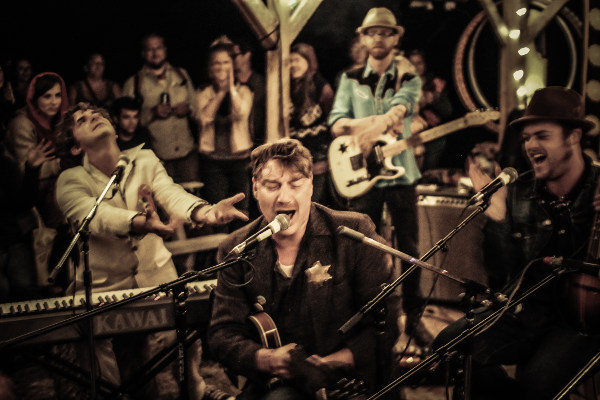 "I loved playing on a beach with the sand under my feet. I liked the idea of a 360 degree stage." – Charlie Glasspool (The Silver Hearts)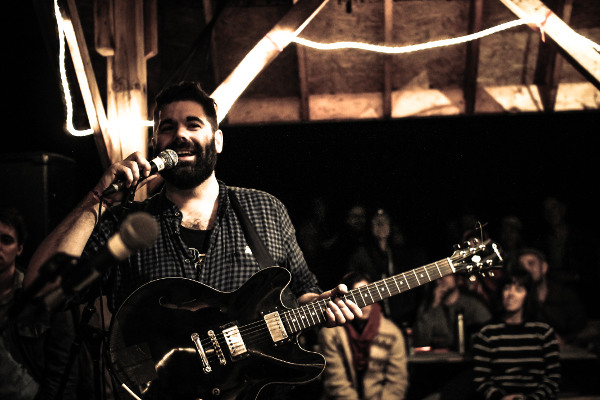 "The Ketamines had an amazing time playing on the beach all night long. We still have sand in our gear, which is a nice reminder that not every show is terrible." – Paul Lawton (The Ketamines)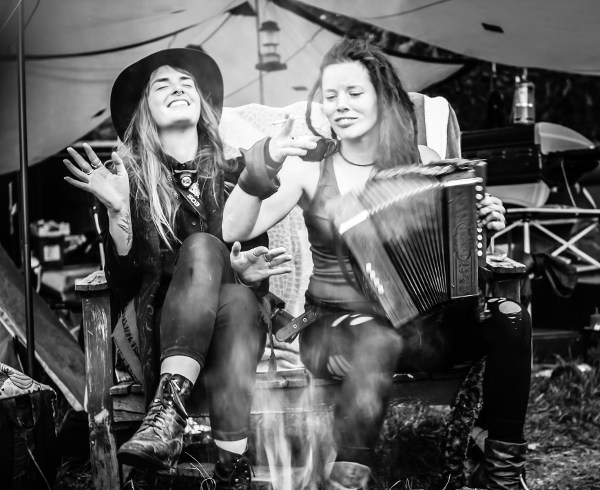 "Any festival where paddle boats are free, dogs are lingering everywhere, and I feel like I am in my own backyard is OK in my Jack Daniels drink." – Jalene Plamondon (Volunteer)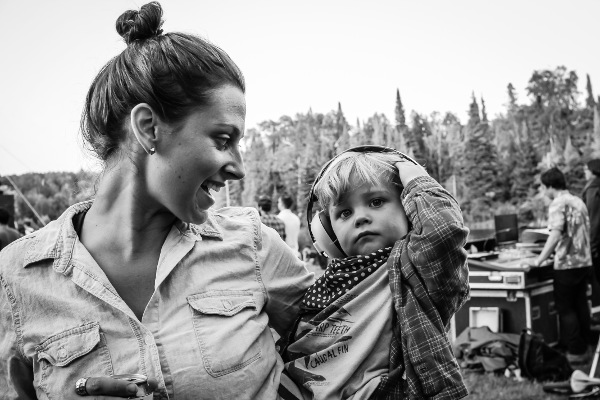 "I love the community feel of the festival, and how family-friendly it is. It is amazing now to see my little one becoming part of that community too." – Jessica Nadel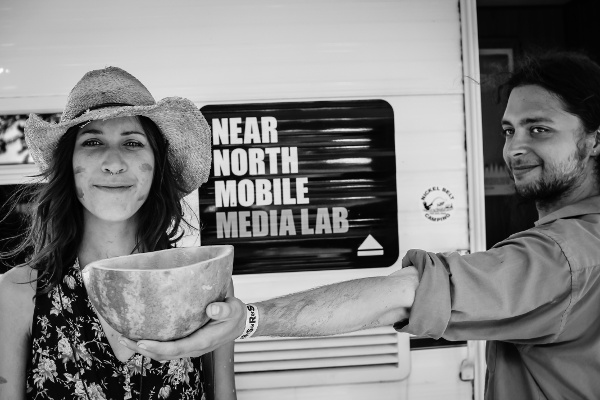 "The Mobile Media Lab embodies everything that River & Sky does – freedom, openness, and capturing natural experiences. That's what it's all about, right? Giving people a chance to get themselves out there and explore." – Brendan Lehman
Par les grands espaces célestes de Preacher Katie:
(Traduit par Nadine Tkatchevskaia)
« Tu ne feras point » n'a jamais été murmuré parmi le rassemblement d'animaux, d'enfants, d'artistes, de vendeurs et de membres du public dans la forêt de Field, Ontario au Festival River & Sky. La liberté d'expression et la désobéissance civile étaient des thèmes communs qui sont restés dans l'ambiance de petite communauté. Ce climat s'est réalisé dans la création d'une zone autonome temporaire qui a déchiré, dans le style des émeutes de Stonewall les structures de contrôle typiques des festivals. Personne n'a été blessé, personne n'était bizarre, personne n'a fait une overdose, et le gardien de sécurité qui pointait les gens du doigt n'y a été pour rien.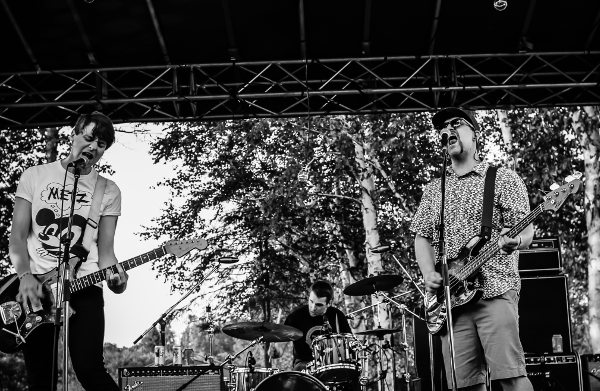 « Je n'ai jamais versé autant de bière sur ma tête qu'à ce festival. J'ai aussi découvert que je peux mettre douze bières dans ma veste en jean. » – Neil Bednis (Geyser)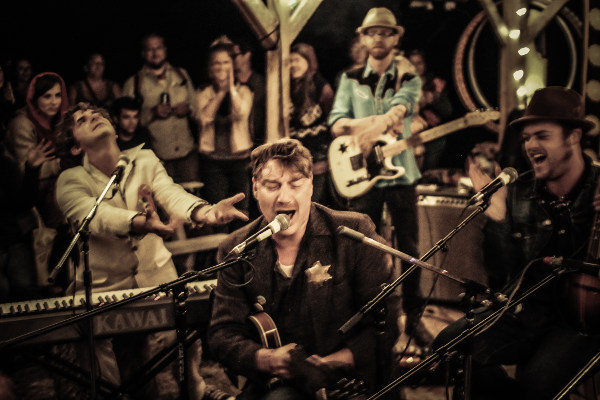 « J'ai adoré jouer sur la plage avec le sable sous mes pieds. J'ai aimé l'idée d'une scène à 360 degrés. » – Charlie Glasspool (The Silver Hearts)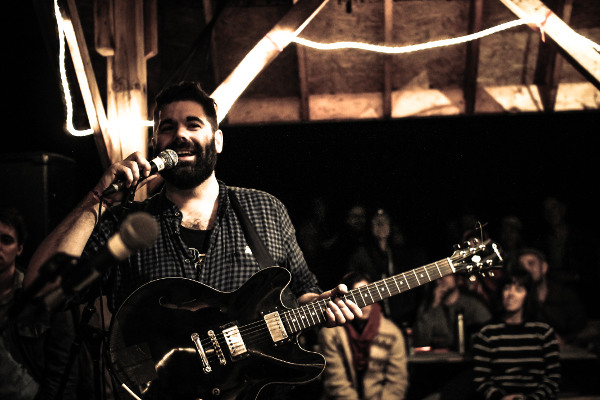 « The Ketamines se sont bien amusés à jouer sur la plage toute la nuit. Nous avons encore du sable dans nos instruments – un bon rappel que tous les shows ne sont pas aussi terribles. » – Paul Lawton (The Ketamines)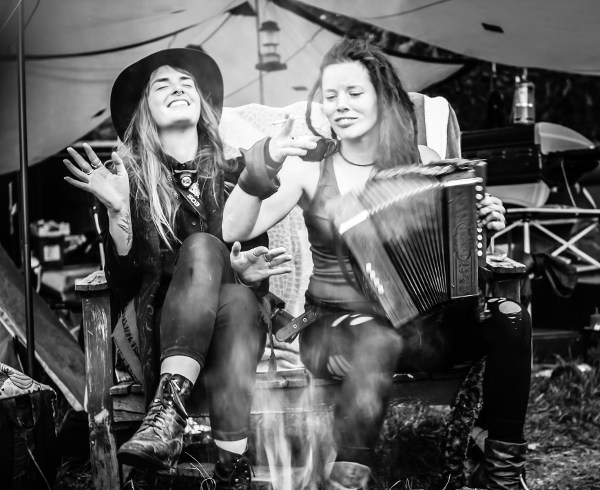 « Lorsqu'à un festival, il y a des pédalos gratuits, des chiens partout et que je me sens comme dans ma cour arrière, c'est bien dans ma boisson Jack Daniels. » – Jalene Plamondon (Bénévole)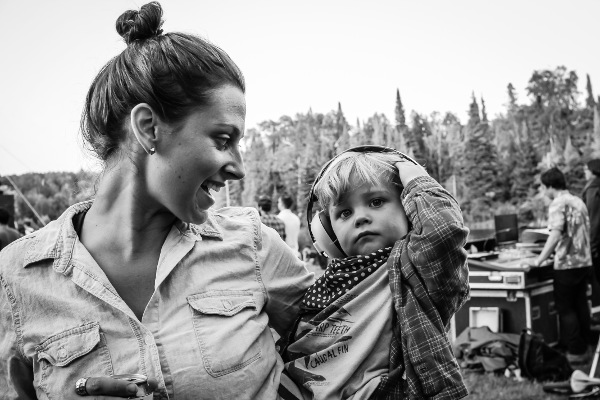 « J'aime le fait que le festival est comme une communauté et qu'il est accessible aux familles. Il est extraordinaire de voir que mon enfant fait désormais partie de cette communauté aussi. » – Jessica Nadel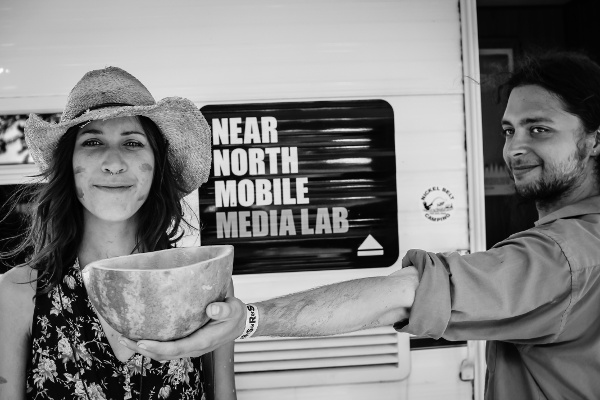 « The Mobile Media Lab illustre tout ce qui fait River & Sky : la liberté, l'ouverture, les expériences naturelles. C'est de ça dont il s'agit, non? Donner aux gens la chance de s'y retrouver et d'explorer. » – Brendan Lehman
---