Category: ontario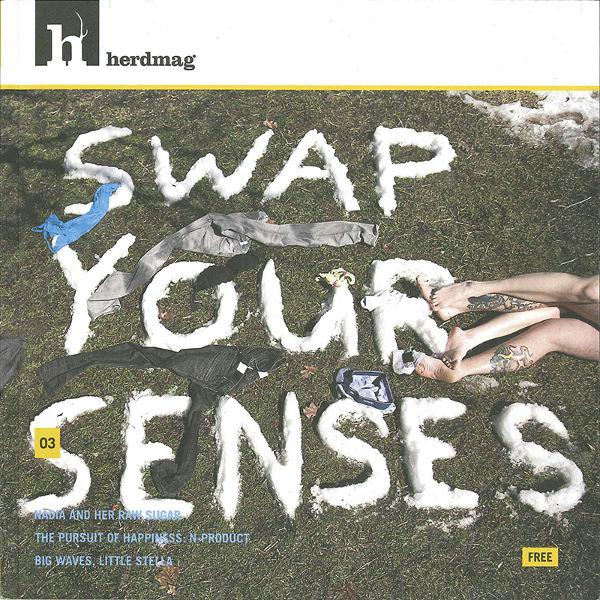 Herd Magazine
Issues 01-03
01: pp. 74 // 02: pp. 82 // 03: pp. 78
glue/adhesive bound
Ottawa, ON
Editor: Stephanie Vicente
From the grassroots of Brian Fauteux:
Communities are built and sustained through documentation, collaboration, participation.
Herdmag, free and published independently on a quarterly basis, begins its inaugural issue with a personal letter that offers itself to the city of Ottawa, its home. Herd is a platform for local cultural institutions, musicians, artists, chefs, and writers to make their presence known. With the turn of each page, the idea that one's creative trajectory must include moving to a larger metropolis (nearby Montreal or Toronto, for instance) is challenged.
"You're not looking hard enough." Here is a vibrant roster of groups and individuals who are making things happen. Locally.
In a gripping story about the closure of a historic downtown nightclub, an onlooker imagines what a typical night during the club's heyday might have been like. Ghosts and figments of the past are recalled alongside the old, discarded carpet that once caught the broken glass of flashbulbs. Herdmag is a collection of these glass shards. Only it is alive and active right now, reflecting, sharing, and documenting cultural activity so that one will never have to wonder about how the city might have looked, sounded, and moved.
Du mouvement Grassroots de Brian Fauteux:
(Traduit par la soif du passé de Louis-Félix Pellerin)
Pour faire rouler une communauté, il faut combiner ces trois choses : documentation, collaboration et participation. Herdmag, un trimestriel indépendant gratuit, ouvre son premier numéro avec une lettre personnelle adressée à sa ville d'origine, Ottawa. Herd est une plateforme sur laquelle des musiciens, des artistes, des chefs cuisiniers, des écrivains et des organismes culturels peuvent se faire connaître. La notion que tout cheminement créatif doit passer par les plus grandes agglomérations (comme Montréal ou Toronto, par exemple) est remise en question à chaque page.
« Tu ne cherches pas assez loin. » Voici un vibrant catalogue d'artistes et de groupes qui font brasser la scène locale. Dans une histoire poignante à propos de la fermeture d'un club du centre-ville, un observateur imagine ce qui devait être une soirée typique lorsque l'établissement était à son apogée. Spectres et bribes du passé sont retrouvés aux côtés du vieux tapis qui a naguère attrapé les fragments d'ampoules cassées. Herdmag est une collection de ces mêmes morceaux de vitre. Contrairement à la vieille bâtisse, le magazine est toujours actif en ce moment, remémorant, partageant et documentant l'activité culturelle pour que personne n'ait plus jamais à se demander de quoi la ville avait l'air dans le temps.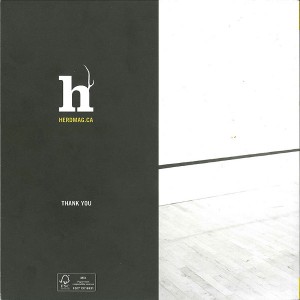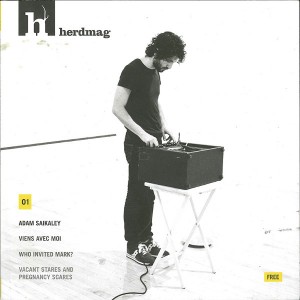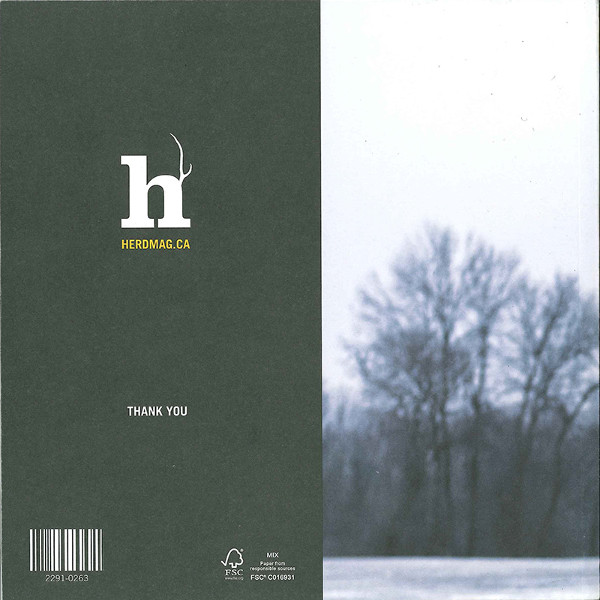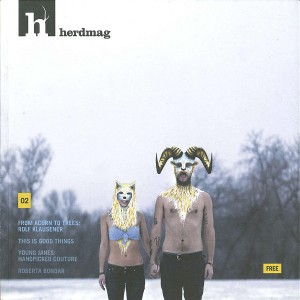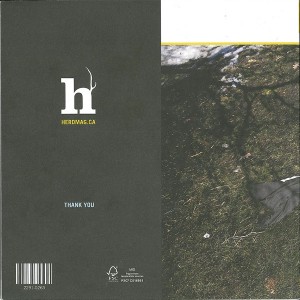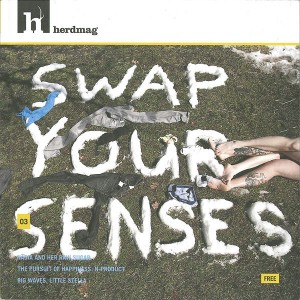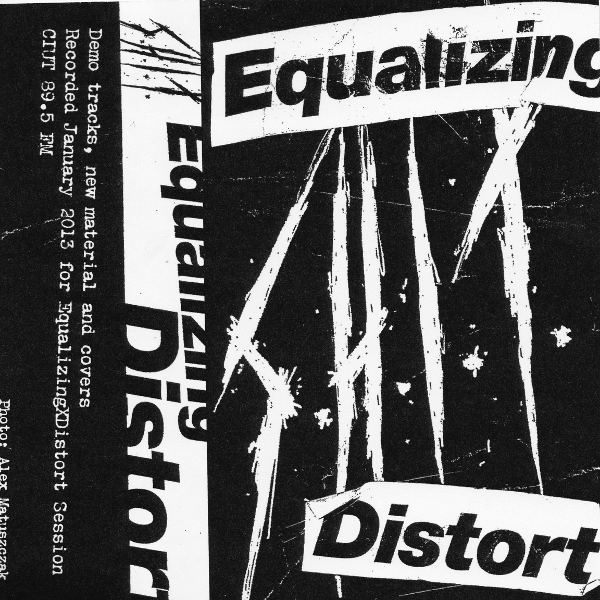 S.H.I.T.
Equalizing Distort Radio Session
(Self Released)
Toronto, ON
From the human kindness of Josh Silver:
In a trance, mechanically moving against other bodies, sweat and blood mixed with intense explosions of energy: the natural habitat of S.H.I.T. These Toronto hardcore punks inject their music with grittiness in a violent explosion of guttural screams and tube-blowing guitars against the backdrop of skin-busting drums and bone-vibrating bass. The songs gain life, with an imitation of the crowd shoving and punching in the sonic mosh pit. S.H.I.T. destroys their own genre and rebuilds it from the bottom up: harder, better, faster, gnarlier.
De la gentillesse humaine de Josh Silver:
(Traduit par la tonalité colorée de Julie Forget)
En transe, bougeant de façon mécanique contre d'autres corps, de la sueur et du sang mélangés à d'intenses explosions d'énergie : tel est l'habitat naturel de S.H.I.T.. Ces punks hardcore de Toronto injectent leur musique de solide détermination dans une explosion violente de cris gutturaux et de guitares soufflant les tubes dans un décor de batterie qui abîme la peau et de basse qui fait vibrer les os. Les chansons prennent vie avec une imitation de la foule qui pousse et qui cogne dans le mosh pit acoustique. S.H.I.T. détruit son propre genre et le reconstruit de fond en comble : plus dur, meilleur, plus rapide, plus exceptionnel.
Marriage
Sun Start / Waterboard
(Self Released)
Toronto, ON
From the basement tape deck of Brennan McCracken:
These beaming transmissions – the first from Toronto's Marriage – show a band fluent in many melodious languages. "Sun Start" and "Waterboard" interlock like aria and recitative or water and ice; two sides of the same kaleidoscopic, oxidized coin. A foggy prelude and an underwater dirge, a double shot of tin can transcendence from the belly of the beast. Dig (in).
Du magnétophone de sous-sol de Brennan McCracken:
(Traduit par le temps de Julie Forget)
Ces transmissions rayonnantes ­– les premières de Marriage (Toronto) – dévoilent un groupe qui parle couramment de nombreuses langues mélodiques. « Sun Start » et « Waterboard » s'imbriquent comme une aria et un récitatif ou comme l'eau et la glace; deux côtés de la même pièce de monnaie kaléidoscopique et oxydée. Un prélude brumeux et un chant funèbre subaquatique, un doublé de transcendance en conserve directement du ventre de la bête. Plongez(-y).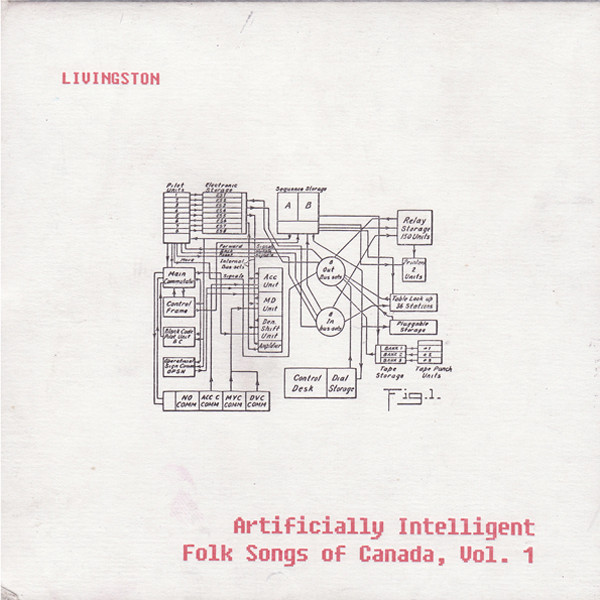 Livingston
Artificially Intelligent Folk Songs of Canada, Vol. 1
London, ON
From the unnerved automatism of Eileen Wennekers:
Livingston, the metadata analysis program that composed these songs, brings to our attention the statistical overrepresentation of weary melancholy in Canadian folk. Each classic form is algorithmically reconfigured – the lonesome ballad, the kiss-off, the tavern drinking song, the road anthem*, the love confessional – but an entirely human-seeming blues tints the songwater.
The surface, uncanny authenticity, is disturbed at rhythmic intervals by the sound of its cracking logic. Repetitions appear instead of rhymes. Arrangements seem somehow not quite right. In the place of the crowd, or Stompin' Tom, a machine stamps through the sing-along of "I Am a Weary Immaterial Labourer in a Post-Industrial Wasteland". Dr. Henry Svec's faithful renderings of Livingston's compositions throw a wrench into the folk scene, delivering both a punch and a puncture. What we imagine to be singular and personal is projected onto a perfectly reflective screen bounded by forces that far exceed us: "Somebody with the great lovemaking manual/Knows what I'm going to do/Knows it and has seen it in pictures/My route to you."
*To our amusement, Livingston has performed a deliciously Borgesian function: Generating by purely mathematical functions an exact copy of the Eagles' "Take it Easy" – although the title it generated is slightly different.
De l'automatisme perturbé d'Eileen Wennekers:
(Traduit par l'esprit machinal de Louis-Félix Pellerin)
Livingston, le programme d'analyses de métadonnées qui a composé ces chansons, porte notre attention sur la surreprésentation statistique de la mélancolie lasse du folk canadien. Chaque archétype classique est reconfiguré algorithmiquement; la balade solitaire, l'adieu d'un amoureux, la toune de taverne, l'hymne de la route*, la confession d'amour… Mais un blues d'entière apparence humaine les habite. À première vue, l'étrange authenticité de la machine est troublée par le son de sa logique craquelée à intervalles rythmés. Au lieu de rimes, ce sont des répétitions qui apparaissent. En plus, il semble manquer un je-ne-sais-quoi aux arrangements. Au lieu de la foule, ou de Stompin' Tom, une machine s'active au rythme de « I Am a Weary Immaterial Labourer in a Post-Industrial Wasteland ». L'adaptation fidèle des compositions de Livingston par Dr Henry Svec met des bâtons dans les roues de la scène folk, l'ébranlant et la perforant un brin. Ce qu'on imagine être singulier et personnel se retrouve projeté sur un écran maintenu en place par des forces qui nous échappent : « Somebody with the great lovemaking manual/Knows what I'm going to do/Knows it and has seen it in pictures/My route to you. »
*À notre grand amusement, Livingston a accompli quelque chose de merveilleusement borgésien : en utilisant des fonctions purement mathématiques, il a pu générer une copie exacte de la chanson « Take it Easy » par The Eagles, quoique le titre créé soit légèrement différent.

Livingston – Instructions to Your Integrated Circuits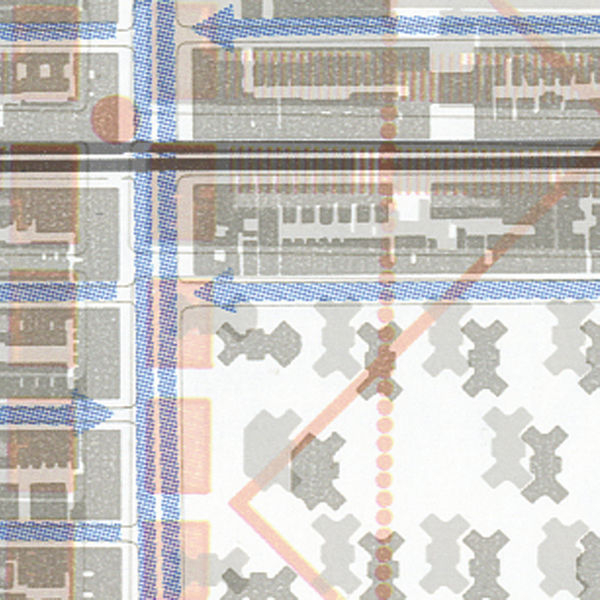 Try Harder
Try Harder
(Self Released)
Kingston, ON
From the '90s vox of Javier Fuentes:
A set of fuzz-filled gems escape their garage confines in search of new ears to ring. Surging past like volts on an overpowered grid, these songs launch a second wave of slanted riffs. Rumbling basslines send their transmissions from one side of town to another, infiltrating the daily hums of those caught en route. Orchestrated by a stellar group featuring members of PS I Love You, Old Haunt, Hand, and False Face, these pop electricians have rewired the sonic currents. It's up to us to flick the switch and enjoy.
De la voix des années 90 de Javier Fuentes:
(Traduit par Andreanne Dion)
Des bijoux pleins de fuzz s'échappent des confins de leur garage à la recherche de nouvelles oreilles à faire bourdonner. Déferlant comme de l'électricité dans une grille survoltée, ces chansons lancent une deuxième vague de riffs obliques. Les grondements de la basse envoient leurs émissions d'un côté à l'autre de la ville, s'infiltrant dans les fredonnements quotidiens de ceux qui se font attraper en chemin. Formé de membres de PS I Love You, Old Haunt, Hand, et False Face, cet extraordinaire groupe d'électriciens du pop a recâblé les courants soniques. À nous d'appuyer sur l'interrupteur et d'apprécier.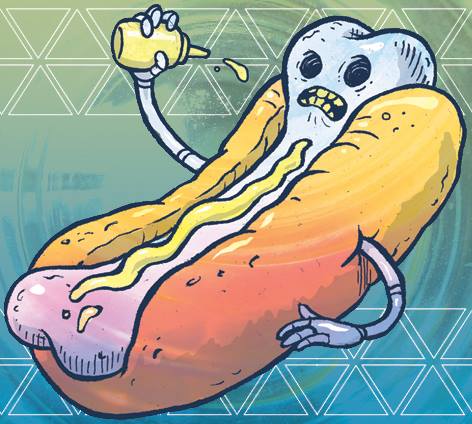 Various Artists
INCLINEΔDECLINE
(July 24-27, 2014)
Guelph, ON
From the Guelph life of Kevin Brasier:
INCLINEΔDECLINE is a DIY music festival taking place in Guelph, Ontario, curated by Brian Schirk and John Pritchard. This mix features music (including some new and unreleased material!) from almost every artist playing the fest. More information can be found here.
De la vie de Guelph de Kevin Brasier:
(Traduit par Catherine Debard)
INCLINEΔDECLINE est un festival de musique DIY basé à Guelph, Ontario, organisé par Brian Schirk et John Pritchard. Cette compilation inclus des chansons (parfois nouvelles et inédites) par presque tous les artistes qui y joueront. Plus d'information sont disponibles ici.
SIDE A
00:00 :: The Ketamines – Sasquatch!
02:37 :: HSY – Milk Chug
05:06 :: WOLFCOW – Abandoned Brains take 2
07:03 :: Bile Sister – Casio SLAM's Metal Church
09:10 :: Black Baron – The Cold Flourescent Light Of Blinding Shame
12:25 :: Jay Arner – T.S.A.T.S
15:00 :: Foam – Brand New
16:39 :: Pool Boy – Donut Boy
18:24 :: DOOMSQUAD – Waka Binaural
22:29 :: Soupcans – D.O.B.
24:03 :: VCR – One Trick Dog
25:20 :: TV Freaks – Easy Target
25:59 :: New Zebra Kid – Romantic Illusions
29:09 :: The Beverleys – Dreams
31:47 :: Teen Tits Wild Wives – B Wing
34:39 :: Badminton Racquet – High Wives
37:01 :: ZONES – Two Cans
45:16 :: Mass Horns – Devil Cry On Me
Side B
48:16 :: Baby Labour – Stay Drunk (Drunk Mix)
51:50 :: Eschaton – Went to sleep for nine days
54:44 :: I Smell Blood – Weird Canada
56:44 :: Noah23 Feat. Lil Shark – Tsunami
59:48 :: ANAMAI – Altar Coals
1:03:11 :: Gasoline Gathers Hands, Gathers Friends – Port of What Comes
1:06:29 :: Dilly Dally – Alexander
1:10:57 :: STÜKA – ENDEARMENT
1:15:08 :: Boar – Elder
1:21:01 :: Not the Wind Not the Flag – Reveal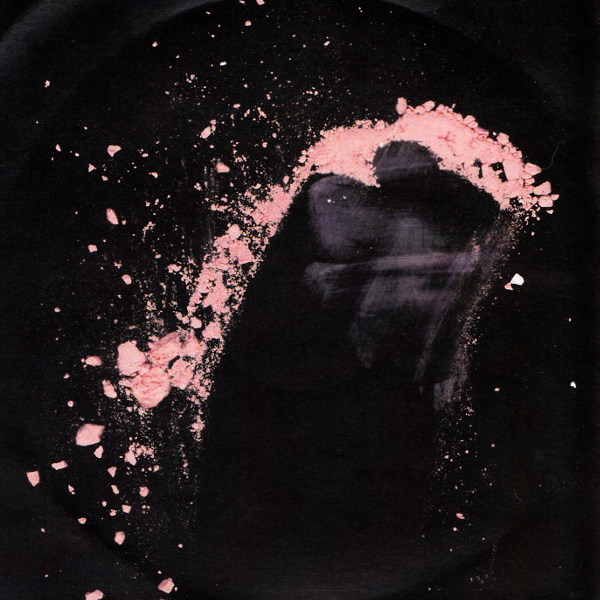 Colin Fisher
Original Face
Toronto, ON
From the threadbare undergarments of Joshua Robinson:
Tempered and seasonally diminutive like the fissures in our skin and the bags under our eyes, Toronto's Colin Fisher orchestrates miasmatic aggregates into olfactory innuendo, hinting at a deep reach into the bowels of genre fusion to withdrawal an aesthetic that is equal parts free-form performance and orchestrated aural pragmatism. There is a subtle ineffability about Original Face, as if Fisher is indeed walking the precipitous narrow between performative poetics and inferred intention; a musicality that is heard, felt, and seen all within the same breath.
Hinting at the genres and creativities embodied by the likes of Colin Stetson and Brodie West to the calamitous post-rockery of a jazz-infused Godspeed You! Black Emperor and the (somewhat) acoustic quietudes of label-mate Doc Dun, Colin Fisher has figuratively sewn himself into the neo-classical post-rock undergarments of our northernly attire and is perfectly at home in our collective vestiary.
Des sous-vêtements râpés de Joshua Robinson:
(Traduit en solidarité par Nadine Tkatchevskaia)
Tempéré et diminutif de façon saisonnière comme les fissures dans notre peau et les poches sous nos yeux Colin Fisher de Toronto orchestre des sommes miasmatiques dans un sous-entendu olfactif, en laissant entendre une atteinte profonde aux entrailles de la fusion des genres et un retrait vers l'esthétique partagée équitablement entre la performance improvisée et le pragmatisme auditif orchestré. Il y a une ineffabilité subtile à propos de Original Face, comme si Fisher traçait l'escarpement étroit entre la poétique performative et l'intention inférée; une musicalité qui est entendue, sentie et vue à l'intérieur d'un même souffle.
En faisant un clin d'oeil aux genres et aux créativités incarnés par Colin Stetson et Brodie West jusqu'au post-rock calamiteux de Godspeed You! Black Emperor rempli de jazz et aux quiétudes (presque) acoustiques de son partenaire de label Doc Dun, Colin Fisher s'est cousu, au sens figuré, dans les sous-vêtements néo-classiques du post-rock de notre tenue Nordique et se sent bien à l'aise dans notre vestiaire collectif.
loi do
loi do
(Self Released)
Toronto, ON
From the close stage congregations of Joshua Robinson:
Loud and buzz-rocking to the nth degree, loi do's self-titled debut is all garage mayhem, roiling in vivacious self-exertion. Comprised of Different Skeletons' Daniel Houghton and Daniel Jardine, this guitar/drums duo rains down a fury of distorted bombast, rattling diaphragms and windowpanes alike. Stirring and monstrous, loi do speak to the undeniable strength and resilience of the anti-calm noisemakers of earlier 2000s fame, reigniting the sweat-doomed, frenetic frenzy of close stage congregations. With a love for buzz and buzzing hard, loi do meet SLC in the swampy subterranean pores of Canada's hairy garage-rock basement, proof positive that the cracked and splintered floor underfoot is just as strong as it ever was.
Des rassemblements intimes de Joshua Robinson:
( Andreanne Dion)
Bruyant et bourdonnant de rock au énième degré, le premier album éponyme de loi do donne dans la pagaille garage, remuant dans un effort de soi exubérant. Formé de Daniel Houghton et Daniel Jardine de Different Skeletons, ce duo guitare/batterie nous offre un déluge de musique grandiloquente déformée, qui secoue les diaphragmes autant que les fenêtres. Émouvant et monstrueux, loi do témoigne de la force indéniable et la détermination des musiciens anti-calme célèbres au début des années 2000, et relance les rassemblements intimes imbibés de sueur et d'une énergie frénétique. Avec un amour pour le buzz et pour une musique survoltée, loi do rencontre SLC dans les pores souterrains marécageux du sous-sol canadien de rock garage velu, preuve absolue que le plancher fendu et éclaté sous nos pieds est plus solide que jamais.

loi do – Old Fashioned Feeling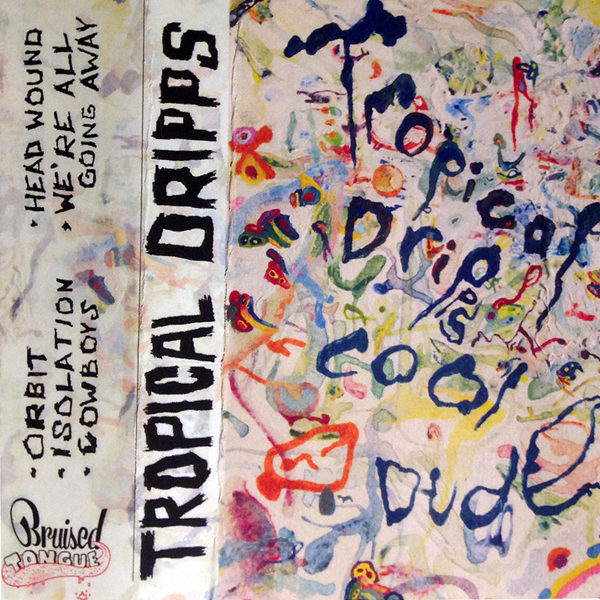 Tropical Dripps
Is Cool Dude
Ottawa, ON
From the existential mind-melt of Ryan Warner:
Bred in the basement. Reared on crazy. Tropical Dripps come on like snot-nosed gunslingers barreling straight into the abyss. The malformed music of Is Cool Dude is low on fidelity but high on everything else. Opener "Orbit" blasts the tape wide open with stabs of squealing guitars and an oppressive dual vocal attack. "Isolation" rides a twisted tropicalia riff before galloping across high lonesome verses and ring-modulated surf solos. The tape's third song "Cowboys" extends the swirling mix of surf, punk and western sounds as well as bolstering lyrical themes found throughout the album:
I met a cowboy / he had no words

He gave me the best advice / I ever heard
Lyrically, Is Cool Dude presents a type of exuberant existentialism; One that posits that the seeking of any real meaning, or, ahem, "truth" in this world is a pursuit of vanity. Rather than wallowing in meaninglessness, the Tropical Dripps rejoice. Closer "We Are All Going Away" pulses exuberantly, repeating the song's title until what is first perceived as an uncomfortable truth mutates into a comforting mantra-like slogan: "Don't worry… is cool dude."
De la déchéance mentale existentielle de Ryan Warner:
(Traduit par l'esprit en crise de Louis-Félix Pellerin)
Conçu au sous-sol. Entretenu dans la folie. Les Tropical Dripps font leur entrée avec l'intensité d'une bande de caïds mal-léchés fonçant à toute vitesse vers l'abysse. La musique malformée de Is Cool Dude contient peu de fidélité, mais déborde de tout le reste. Le morceau d'entrée « Orbit » explose avec des braillements de guitare ainsi qu'une attaque à double voix des plus agressantes. « Isolation » chevauche un riff tropicálien tordu avant de galoper à travers des vers solitaires et des solos de surf modulés en anneau. « Cowboys », la troisième chanson, continue dans la même graine de musique surf, punk et western et contient un bel exemple du genre de paroles encourageantes qu'on retrouve dans le reste de l'album :
I met a cowboy / he had no words

He gave me the best advice / I ever heard
Lyriquement parlant, Is Cool Dude présente un type d'existentialisme exubérant qui suggère que la recherche de tout sens ou, hum, « vérité » en ce bas monde est un acte motivé par la vanité. Au lieu de se morfondre dans l'insignifiance, les Tropical Dripps s'y exultent. Avec chaque répétition de ce passage résonnant avec exubérance, « We Are All Going Away », ce qui est d'abord perçu comme une vérité troublante se transforme en un slogan mantraesque réconfortant : « Don't worry… is cool dude » (T'inquiètes pas man… tout baigne).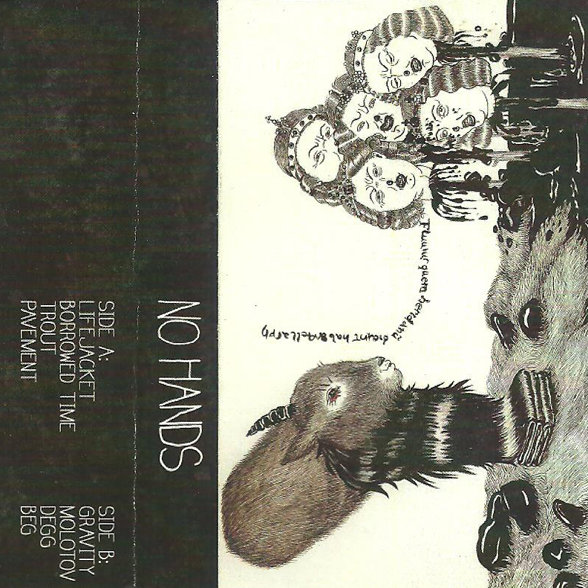 No Hands
No Hands
(Self Released)
Toronto, ON
From the maniac throat of Kevin Stebner:
Not to be confused with the unfairly-forgotten but incredible Edmonton band of the same moniker, Toronto's No Hands deliver a cassette of tough ragers; a united front of the wuss-free. Opener "Lifejacket" is the perfect harbinger for the proceeding shred-fest: ignorant bass into Jehu-like riff, maniac thoat caterwaul and charging drums. Rinse and repeat. None of that middle ground junk, either be hella soft or hella hard. In a world of candy-ass "punk" bands, it's great to see No Hands dish out some assured, pissed jammers to flail away the nights. Yes please, hit me with that burly Traynor sound.
De la gorge folle de Kevin Stebner:
(Traduit par Andreanne Dion)
À ne pas confondre avec l'injustement oublié mais incroyable groupe d'Edmonton du même nom, les Torontois No Hands nous livrent une cassette de morceaux solides, un front uni sans chansons molles. « Lifejacket », le premier morceau, annonce le festival shred qui suit : des riffs de basse à la Jehu, des miaulements de gorge fous et une batterie qui défonce. Rincez et répétez. Pas de compromis; soit vous êtes carrément doux, soit vous êtes carrément heavy. Dans un monde de groupes « punk » bonbons, ça fait plaisir de voir No Hands servir des chansons pleines d'aplomb et de furie pour nous faire danser toute la nuit. Oui, s'il vous plaît, balancez-moi le son solide de Traynor.
---