Category: ontario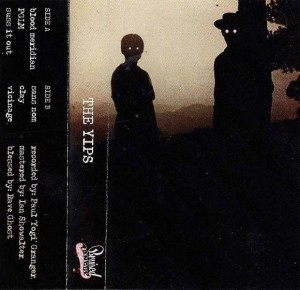 The Yips
The Yips EP
Ottawa, ON
From the nighttime dangers of Jenya Doudareva:
The Yips are howling like a pack of wolves, piercing the cold night air. It's nighttime in a remote village surrounded by dense dark woods, the kind of night when you can't shoo the menace away. This six-song EP is what makes the hair on the back of the villagers' necks stand. The older folk might even be telling their younglings that the Yips hide under their beds at night, ready to pounce if they misbehave.
Opener "Blood Meridian" starts with spine-chilling riffs and grows into something fiery and vibrant. "Clay", "PGLM", and "Sans Nom" bring forth rhythm and noise as menacing and fascinating as nature itself. "Suss it Out" reminds us that spending one's life fearful of the outside world is a dull affair, and perhaps embracing the nighttime dangers is worth it. Finally, "Vicinage", a soulful and eerie tale of loneliness and heartbreak, contrasts the EP's initial ghostliness with touching humanity.
Les cauchemars diurnes de Jenya Doudareva:
(Traduit par les cauchemars diurnes de Catherine Gaucher)
The Yips hurlent comme une meute de loups, perçant l'air froid de la nuit. C'est la nuit dans un village isolé, entouré d'une épaisse forêt, le genre de nuit durant laquelle il est impossible de chasser la menace au loin. Si les villageois ont les cheveux dressés sur la tête, ce EP de six titres en est la cause. Les aînés pourraient même faire croire aux jeunes enfants qu'une fois la nuit venue, les Yips se cachent sous leur lit, prêts à bondir s'ils se méconduisent.
En ouverture, "Blood Meridian" débute avec des accords vous glaçant l'échine et progresse avec fougue et dynamisme. "Clay", "PGLM" et "Sans Nom" mettent de l'avant des rythmes et des bruits aussi menaçants et fascinants que la nature elle-même. "Suss it Out" nous rappelle que passer son existence à craindre le monde extérieur est une terne affaire et peut-être qu'embrasser les dangers nocturnes en vaut la peine. Finalement, "Vicinage" , un mélancolique et étrange conte dépeignant solitude et chagrin, contraste avec l'initial aspect spectral de ce EP par une touche d'humanité.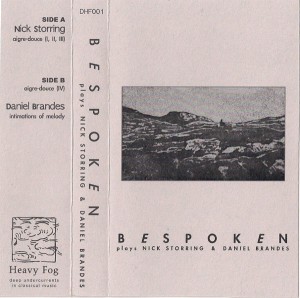 Bespoken
Plays Nick Storring & Daniel Brandes
Toronto, ON
From the necessary notes of James Lindsay:
Divorce Records' first offering from its classical cassette imprint, Heavy Fog, is a study in the massive emotional impact that can be made with utmost minimalism. Cello, piano, autoharp, kalimba, melodica, pitch pipe, and bird call all make up the sophisticated junkyard orchestra. These tiptoe around Nick Storring's Aigre-Douce movements like a wandering, sleeping sickness, inducing only the most essential sounds before putting them to rest and moving on. The second half of the program, Daniel Brandes' Intimations of Melody, sheds away even more superfluous resonance, leaving only the most necessary notes to construct a delicately humming, devotional giant. The overall feel is akin to hearing a newly constructed instrument being played for the first time. Imagine it as very large, made out of petrified wood and with many steel stings to be bowed and plucked. Now imagine that instrument being played by careful hands on a winter beach, and you start to get an idea of this beautiful bleakness.
Des notes nécessaires de James Lindsay:
(Traduit par les neurones en délire de Julie Forget)
Heavy Fog, la première offre de Divorce Records provenant de leur empreinte cassette classique, est une réflexion dans l'énorme choc émotionnel qui peut être fait avec le plus grand minimalisme. Le violoncelle, le piano, l'autoharpe, la kalimba, le mélodica, le diapason et l'imitation du cri des oiseaux composent cet orchestre-entrepôt de ferraille sophistiqué. Tous se déplacent sur la pointe des pieds autour des mouvements d'Aigre-Douce de Nick Storring comme une maladie vagabonde et endormie, déclenchant les sons les plus essentiels avant de les faire taire et de passer à autre chose. La deuxième partie du programme, Intimations of Melody de Daniel Brandes, répand des résonances encore plus superflues, laissant seulement les notes nécessaires pour construire un colosse pieux fredonnant délicatement. Le sentiment d'ensemble est semblable à l'écoute d'un instrument nouvellement construit et joué pour la première fois. Imaginez-le très grand, fait de bois pétrifié et comportant de nombreuses aiguilles d'acier se faisant courber et pincer. Imaginez maintenant cet instrument joué par des mains attentionnées sur une plage d'hiver et vous commencez à comprendre l'idée de ce beau caractère sombre.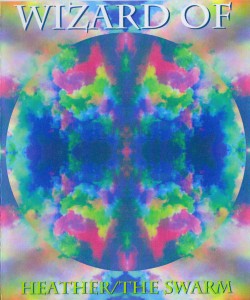 Wizard Of
Heather / The Swarm
(Inyrdisk)
Toronto, ON
From the caffeine rush of Catherine Debard:
(Translated by Catherine Debard)
Ravers from a new era unite and bounce to Wizard Of's multicoloured spells. Loud hip-hop flavored basslines are syncopated at the speed of sound. His music fits perfectly in today's revival (or let's say re-work) of the almost forgotten (and truly exciting) world of IDM. Breakbeat, broken beat, acid dreams, running fast (runlolarun), breathless videogame heartbeats, psychedelic handbang, hardcore electronica, braindance revolution. The dark experimental side of dance music is mesmerizing, dangerously catchy, and meaty like a rare steak. Wizard Of expends the "techno" frontiers into the realms of $wag beats, deep samplin' and never lets you take a break. Gotta fight like high-speed positive warriors, dance like there's no future, create magic.
Du tremblement cafféiné de Catherine Debard:
Ravers d'une ère nouvelle, unissez-vous et déchaînez-vous sur les incantations multicolores de Wizard Of. De lourdes lignes de basse saveur hip hop sont syncopées à la vitesse du son. Sa musique s'inscrit assurément dans le regain actuel (ou plutôt la réappropriation) du monde presque oublié (et extrêmement excitant) de l'IDM. Breakbeat, rythme brisé, rêves acides, courir en malade (courslolacours), à bout de souffle, rythme cardiaque jeux vidéos, psychédélique headbang, hardcore électronica, braindance révolution. Le côté obscur expérimental du mouvement dance est dangereusement aguichant, consistant comme un bon steak bleu. Wizard Of repousse les frontières de la musique techno dans le royaume du $wag Beats et du sampling profond et vous garde captifs, en sueurs, tout le long de cet album. Il faut se battre en guerriers positifs, danser sans lendemain et créer la magie.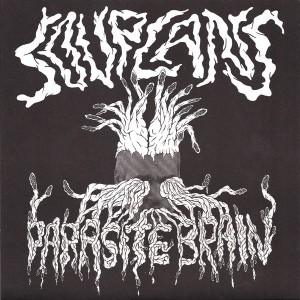 The Soupcans
Parasite Brain EP
Toronto, ON
From the substantia nigra of Brendan Lehman:
Enter the Soupcans. Enter the Soupcans into a world of dystopian chaos, one of grinding distortions and impenetrable walls of sound. Manic screams guide you through dim-lit alleyways vaguely remembered. Living here, it sometimes calms down into a groove, but more days than not it's the unceasing noise of your state oppressor, eating away at your once-sane consciousness. It's hard to tell if it's the cocktail your guy down the street cooked up for you or if that's just the way it has become. Thoughts are fleeting, and you begin to wonder if anyone could ever help. Until you re-emerge, standing in the crowd of your local punk bar, listening to the Soupcans blow your mind. Thankfully it's not the brain-oozing hell you thought it would be, just really good punk.
De la substantia nigra de Brendan Lehman:
(Traduit de la contre-utopie effrayante de Catherine Debard)
Entrez dans Soupcans. Entrez dans Soupcans, dans un monde dystopique, un cauchemar chaotique de distortion écrasante et de murs du son impénétrables. Des cris déments vous guident le long de sombres ruelles vaguement familières. Ici, parfois, ça se calme dans une sorte de groove, mais la majorité du temps, les journées sont imprégnées du bruit incessant de votre oppresseur, qui bouffe tranquillement votre conscience jadis intacte. C'est assez nébuleux, à savoir si c'est le cocktail que ce type en bas de la rue a cuisiné pour vous ou si c'est juste ce que les choses sont devenues maintenant. Les pensées s'enfuient et vous vous demandez si quelqu'un pourra un jour vous aider. Jusqu'à ce que vous émergiez debout dans une foule, dans votre bar punk local, en écoutant Soupcans et en hallucinant carrément. Heureusement, ce n'est pas l'enfer cérébral suintant que vous imaginiez, c'est juste du punk vraiment bon.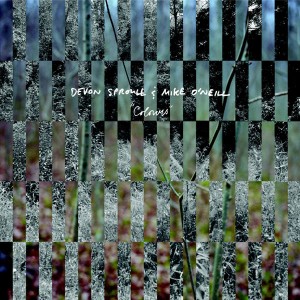 Devon Sproule and Mike O'Neill
Colours
Toronto, ON
From the cottage fireplace of Gabe Girard:
Devon Sproule has one of those genuine voices that sounds like talking and singing at the same time. Colours finds Sproule joined by Mike O'Neill of The Inbreds, who provides tasteful guitar accompaniment to the well travelled singer/songwriter, plus ringers Thom Gill, Ryan Driver and the rhythm section from Bernice. The record goes through a wide variety of moods and feels, but always comes back to the soft, warm, folky sound Sproule is known for. Like sitting by a cottage fireplace with your slippers on. Opener "You Can Come Home" really draws you in with sly hooks and a beautiful chorus. The vocals and harmonies on "Walking In The Folly" are especially noteworthy, even reminiscent of Emmylou Harris. Exuding warmth and innocence, the artists' thoughtful chord choices, sincere lyrics and lighthearted approach coalesce, creating a pleasurable and calming album. Best served with a cold winter evening and a cup of tea.
Du foyer de maison de campagne de Gabe Girard:
(Traduit par les pantoufles de Julie Forget)
Devon Sproule possède une de ces voix authentiques qui sonne comme du parlé et du chant en même temps. Colours voit Sproule rejoint par Mike O'Neill de The Inbreds, ce dernier apportant un accompagnement de guitare de bon goût à l'auteur-compositeur ayant beaucoup voyagé, par Thom Gill, Ryan Driver et par la section rythmique de Bernice. L'album passe par une grande variété d'émotions et de sensations, mais revient toujours au son doux, chaleureux et folky qui fait la marque de Sproule. C'est comme être devant un foyer, dans une maison de campagne, en pantoufles. Le premier morceau, « You Can Come Home », vous attire à l'aide de hooks malins et d'un superbe refrain. Les voix et les harmonies de « Walking In The Folly » sont particulièrement remarquables et évoquent même Emmylou Harris. La chaleur et l'innocence des artistes ainsi que les choix d'accords réfléchis, les paroles sincères et l'approche lègère s'unissent pour former un album plaisant et calmant. Il est mieux servi lors d'une froide soirée d'hiver avec une tasse de thé.
Devon Sproule and Mike O'Neill – You Can Come Home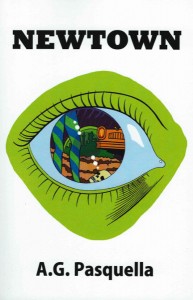 Newtown
A.G. Pasquella
Toronto, ON
From the astral planes of Alexandra Jaworiwsky:
A fascist, incompetent leader. His barely-loyal crew. A girl and her gang of do-gooder misfits. A.G. Pasquella's Newtown is the love child of human history and a fast-paced, late night cartoon sitcom. The characters are in a race against their own human condition: some trying to put a stop to humanity, some trying to save it. It is not a standard reflection of the typical good vs. evil binary, but an exploration of the gray matter that drifts through space and through our very lives. Newtown is a spaceship, filled with sentient, capable machines and is itself a thinking entity. With it, Pasquella exposes the downside to technological determinism and the dangerous belief in a "pure" race of creatures. He strips away the layers of what makes us human, and keeps the serious nature of the message light with witty, telling humour and extravagant characters.
Des plans astraux d' Alexandra Jaworiwsky:
(Traduit par Natalie Binda)
Un chef fasciste et incompétent. Son équipage peu loyal. Une fille et sa bande d'âmes charitables marginaux. Newtown, par A.G. Pasquella, est l'enfant illégitime de l'histoire de l'humanité et un sitcom de dessin animé de fin de soirée au rythme soutenu. Les personnages font partie d'une course contre leur propre condition humaine: quelques-uns tentent de freiner l'humanité, d'autres tentent de la sauver. Ce n'est pas la réverbération habituelle opposant typiquement le bon et le mauvais binaire, mais l'exploration d'une matière grise dérivant dans l'espace et dans nos vies mêmes. Newtown est un vaisseau spatial rempli de machines conscientes et compétentes et constitue une entité pensante en soi. Par l'entremise de ce vaisseau, Pasquella expose l'inconvénient du déterminisme technologique et la croyance dangereuse en une race « pure » de créatures. Il enlève les couches de ce qui nous rend humains et maintient avec légèreté la nature sérieuse du message en utilisant un humour révélateur et plein d'esprit ainsi que des personnages extravagants.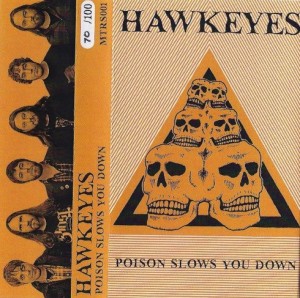 Hawkeyes
Poison Slows You Down
(Self Released)
Waterloo, ON
From the elephant march of Javier Fuentes:
No amount of sunbathing or vitamin supplements can prepare the body for the gut-shifting force contained within Hawkeyes' black hole riffs. Running the earth's energy fields through a chain of fuzz pedals and phasers, notes swirl violently in a spectacle that recalls memories of a recent tornado. The lurching advances of screaming frequencies march down decimated paths to the beat of thundering rhythms that hit the ground like flashes of dry lightning. Obsidian squalls enter the sightlines in the form of a distant mirage. The illusion creeps closer and closer, yet the real image barely takes a step forward. Quit looking ahead, you've already sunk to the earth's core.
De la marche éléphantesque de Javier Fuentes:
(Traduit des ondes électromagnétiques de Catherine Gaucher)
Aucune quantité de rayons solaires ou de suppléments vitaminiques ne peut préparer votre corps à la force aspirante contenue dans les accords dignes d'un trou noir d'Hawkeyes. Transformant les champs de l'énergie terrestre à l'aide d'une chaîne de pédales fuzz et de modulateurs de phase, les notes s'agitent violemment dans un spectacle qui rappelle le souvenir d'une récente tornade. De chancelantes progressions de fréquences perçantes empruntent une route décimée et la cadence de leurs rythmes tonitruants frappent le sol tels des éclairs. Des rafales d'obsidiennes traversent notre champ de vision sous la forme d'un lointain mirage. L'illusion se rapproche de plus en plus près, mais l'image réelle avance à peine. Cessez de regarder au loin, vous vous êtes déjà enfoncés dans le noyau de la Terre.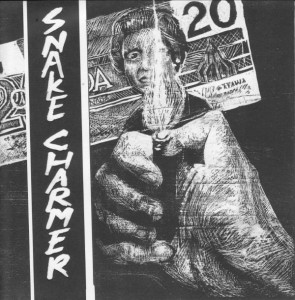 Snake Charmer
7"
(Self Released)
Hamilton, ON
From the heralded cacophony of Liam Kennedy:
Dateline: Hardcore Hamilton. What's audible is a powerful energy release manifesting in squealing feedback and blast beats. What's apparent from the cover art and lyrics is an anger with Canada's militarism contrasted with an internationally promoted peacemaker image. This cacophony may herald the welcome return of political hardcore. The relative lack of political music in general leaves the impression of generational apathy towards how much and how quickly our country has changed. When the sky bled and nature screamed for Edvard Munch he knew the world was alive. At the very least, this strident frustration feels like it cares. Consider both sides of Snake Charmer's 7" a rival national anthem.
De la proclamation cacophonique de Liam Kennedy:
(Traduit des signes avant-coureurs de Catherine Gaucher)
Lieu de rédaction : Hardcore Hamilton. Ce qui est audible, c'est une puissante libération d'énergie se manifestant par de grinçantes réverbérations et des rythmes explosifs. Ce qui ressort de l'imagerie de la pochette et des paroles des chansons est une colère contre le militarisme du Canada contrastant avec la prédication de son image pacificatrice mondialement. Cette cacophonie peut annoncer le retour bienvenu d'un hardcore conscient politiquement. L'absence globale de musique à contenu politique laisse une impression d'apathie générationnelle par rapport à combien notre pays a changé et à quel point il l'a fait rapidement. Quand le ciel saigna et quand la nature cria pour Edvard Munch, il eut conscience que le monde était vivant. À tout le moins, cette stridente sensation de frustration lui donne le sentiment que l'univers est attentif. Considérez chaque côté du 7 pouces de Snake Charmer comme le rival d'un hymne national.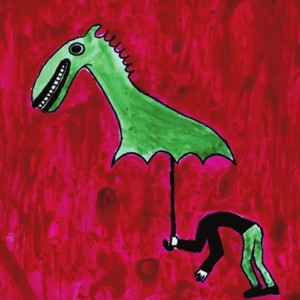 From the dusty specs of Gabe Girard:
Ryan Driver's maverick status in the Toronto avant-garde jazz scene is firmly cemented (The Reveries, The Guayaveras, Deep Dark United, St. Dirt Elementary School, to name a few of his past or present projects). Give a carpenter a ruler, and he'll make measurements. A ruler in the hands of Driver gets slapped on a table and contact-mic'd, then functions as a bass with the low frequencies amplified. Experimental, yes, though he's no stranger to country-simple folk. Driver's softer, tender side is on display on Feeler of Pure Joy — pitch-perfect falsettos abound. Melancholy permutations of the folk song form bring one through kaleidoscopic images of longing, misfortune and wonder. Never doing it by the book, he'll bring you folk from a truly unique perspective. China cymbal swells, hazy free-form passages, and chord progressions from beyond come and go. Without ever losing touch of the album's folk/country aesthetic — seen through a dusty pair of specs — Driver shares with you what he can't possibly contain.
À travers les verres poussièreux de Gabe Girard:
(Traduit à travers la lorgnette magnifiante de Catherine Gaucher)
Dans la scène de l'avant-garde jazz de Toronto, le statut d'anticonformisme de Ryan Driver est solidement établi (The Reveries, The Guayaveras, Deep Dark United, St. Dirt Elementary School, pour ne nommer que quelques-uns de ses projets passés et actuels). Remettez une règle entre les doigts d'un charpentier et il prendra des mesures. Entre les mains de Driver, elle est frappée sur une table, ses battements captés par un microphone de contact, puis elle fonctionne telle une basse, ses basses fréquences amplifiées. Expérimental, en effet, mais il n'en reste pas moins près d'un country-folk. Le côté plus doux, plus tendre de Driver se dévoile sur « Feeler of Pure Joy » — sur lequel abondent des falsettos justes. Les permutations mélancoliques de la structure de la chanson folk nous transportent dans un kaléidoscope d'images évoquant la nostalgie, la malchance et le songe. Jamais exécuté dans une totale conformité aux règles, le folk est offert d'un point de vue réellement singulier. Des houles de cymbale china, des passages brumeux en forme libre et des progressions d'accords qui vont au-delà viennent et repartent. Sans jamais perdre contact avec l'esthétique folk/country propre à l'album — vu à travers des verres poussièreux de lunettes — Driver partage avec nous ce qu'il ne peut retenir.
Ryan Driver – When You Were In Mexico?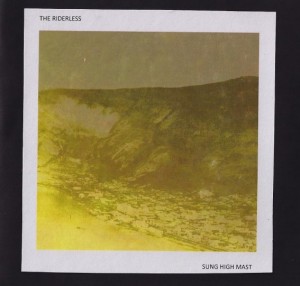 The Riderless
Sung High Mast
(Self Released)
London, ON
From the eavesdropping fauna of Javier Fuentes:
An autumn sunset peers in through the windows and onto the stable of instruments set out by the fire. Forest hymns cut through the rustling hush of the mountains as the repeating patterns entrance the eavesdropping fauna. The skin of each drum trembles as the wind outside picks ups strength, carrying nature's debris to resting places amongst shards of glass and discarded cans. Conversing notes stay deep in their discussion as they weave together an acoustic drone with patience and virtuosity. Seasons elapse into the subconscious without notice. No need to look outside, the cycle will run its course.
De la faune discrète de Javier Fuentes:
(Traduit par le spleen saisonnier de Virginie Langlois)
Le soleil couchant d'automne perce à travers les carreaux et se reflète sur les instruments disposés près du feu. Les hymnes de la forêt transpercent le murmure silencieux des montagnes alors que les motifs récurrents ravissent la faune venue écouter discrètement. La peau de chaque tambour tremble à mesure que dehors le vent se renforce, transportant les débris de la nature vers des aires de repos au beau milieu des tessons de verre et des vieilles boîtes de conserve. Le dialogue des notes se poursuit et, avec patience et virtuosité, celles-ci se mettent à tisser un drone acoustique. Sans prévenir, les saisons s'écoulent dans le subconscient. Inutile de regarder à l'extérieur, le cycle suivra son cours.
The Riderless – A Prized Gather
---