Category: ontario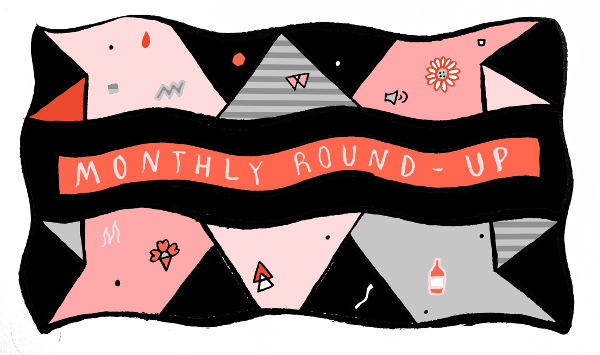 From the Lizard Cove :
In our ongoing pursuit to encourage, document, and connect creative expression across Canada, we cut through waves upon waves of ethereal sounds, wyld shreddery, and brooding drones. It is magnificent. Some of the best grips escape our grasping fists. We list them here:
Colin Fisher & Mike Gennaro – Sine Qua Non (Etobicoke, ON)
Forever Dazed – Midnight Moon Beams EP (Lakefield, ON)
Hybrid Frequency – Broken Circle (Toronto, ON)
Various / Mechanical Forest Sound – Selections, Vol. 1 (Toronto, ON)
Jamie Drake – Nigh (Toronto, ON)
Skull Bong – Burnt Endz (Toronto, ON)
FAVX – DESERT (Toronto, ON)
Mylar – Demos (Toronto, ON)
Lydia Ainsworth – Right From Real Pt. I (Toronto, ON)
Nite Comfort – Compilation Vol. 1: 2013-2014 (Toronto, ON)
Glass Random – In Some Night (Winnipeg, MB)
VIDEO: Bad River – Plasticine (Toronto, ON)
Christopher Bissonnette – Essays In Idleness (Windsor, ON)
Human Music – How's it Goin? (Winnipeg, MB)
The Party Dress – You're Dead 7″ (Winnipeg, MB)
telozkope – Frozen Prism (Winnipeg, MB)
Street Meat – Yellow Magic School Bus (Ottawa, ON)
New Wings – Ice Age, Golden Age (Kitchener, ON)
VIDEO: Beliefs – Tidal Wave (Toronto, ON)
Notre quête constante visant à encourager, à mettre en contact et à décrire les pratiques d'expression créatrice au Canada nous fait traverser vague après vague de sons éthérés, de shreds déchaînés et de sinistres bourdonnements; et c'est magnifique. De véritables joyaux échappent parfois à nos mains avides. Ils sont énumérés ici :
Colin Fisher & Mike Gennaro – Sine Qua Non (Etobicoke, ON)
Forever Dazed – Midnight Moon Beams EP (Lakefield, ON)
Hybrid Frequency – Broken Circle (Toronto, ON)
Various / Mechanical Forest Sound – Selections, Vol. 1 (Toronto, ON)
Jamie Drake – Nigh (Toronto, ON)
Skull Bong – Burnt Endz (Toronto, ON)
FAVX – DESERT (Toronto, ON)
Mylar – Demos (Toronto, ON)
Lydia Ainsworth – Right From Real Pt. I (Toronto, ON)
Nite Comfort – Compilation Vol. 1: 2013-2014 (Toronto, ON)
Glass Random – In Some Night (Winnipeg, MB)
VIDEO: Bad River – Plasticine (Toronto, ON)
Christopher Bissonnette – Essays In Idleness (Windsor, ON)
Human Music – How's it Goin? (Winnipeg, MB)
The Party Dress – You're Dead 7″ (Winnipeg, MB)
telozkope – Frozen Prism (Winnipeg, MB)
Street Meat – Yellow Magic School Bus (Ottawa, ON)
New Wings – Ice Age, Golden Age (Kitchener, ON)
VIDEO: Beliefs – Tidal Wave (Toronto, ON)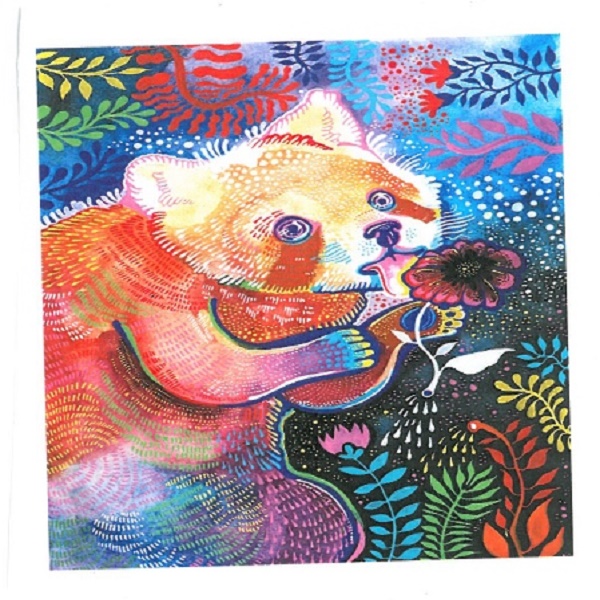 Red Panda
Exploding Rainbows
(Self-Released)
Ottawa, ON
From the psi-fi delusions of Mark Anthony Brennan:
Enter living room. Snap fingers – wall screen comes to life. Newscaster nattering on about terrorists using advanced atmospheric weapons. Who needs this? Switch to reality show about certified accountant wars. Yawn. Check emotion levels on wall switch. Euphoria, OK, but dial up peevishness to give the morning an edge. Need coffee. Annoying letters now scrolling across bottom of TV show. Something about poisoned air over the city. Fuck it. Open blinds. Man, traffic seems chaotic this morning. Head to kitchen – need coffee. Mental note to call video technician – colour of sky seems off.
Des délires psycho-fictifs de Mark Anthony Brennan:
(Traduit par les lucarnes soupirantes de Marie-Pier Chevrier)
Passer au salon. Claquer des doigts; l'écran mural prend vie. Un présentateur de nouvelles qui monologue sur les terroristes utilisant des armes atmosphériques de pointe. À quoi bon? Zapper vers une téléréalité où s'affrontent des comptables agréés. Bâiller. Vérifier l'interrupteur mural des niveaux d'émotions. L'euphorie, ça va, mais augmenter l'irritabilité pour électriser un peu la matinée. Besoin de café. Des lettres dérangeantes défilent maintenant au bas de la série télé. Quelque chose par rapport à l'air irrespirable au-dessus de la ville. Fuck it. Ouvrir les rideaux. Ostie que le trafic à l'air chaotique à matin. Direction la cuisine; besoin de café. Note mentale d'appeler le technicien vidéo; la couleur du ciel semble déséquilibrée.
Red Panda – Everybody Wants A Piece Of Heaven (Living In a High Definition Hell)
From the Sisyphian enthusiasm of Eileen Wennekers:
Introduction
Writing is really hard. Everyone writes differently. Everyone needs different atmospheric conditions present to make this profoundly weird activity possible. Figuring out what those are and making them a part of your day is as much a part of being a writer as actually writing is. Once you know what your space requires, guard this jealously. Tell your loved ones why you have to do the things you do. And then do them, unrepentantly. Don't let Writing become an ominous thunderhead lurking on the horizon of your brain-screen. If you do, it will never rain and you will walk around with a continual, tremendous barometric-pressure headache.
The page staring at you is terrifying because it is where you are going to put what you think so it has to be perfect, right? It's like going on a first date every time. You want to be exquisitely prepared, elegant, charming, loquacious but not insufferable, captivating but approachable, both a hunter and desirable, diamond-perfect but gloriously human.
Oh, fuck it. I'm going to go make a sandwich.
Really, being a writer is about inhabiting all of your anxiety and somehow shaping this into a house that other people would want to have a sit in. This aspiration is never totally attained. So, instead, you have to chip away at that lump in your throat to make passage for what feels, at first, like pitiable little cloudy squeaks. These little squeaks, accumulated, are like lumber. You can move them around and place them in consonances with one another until a structure emerges. Then you will have a writing-fort that you have made and that you can invite people over to.
Fort building requires advance planning. Here are some things I can tell you to help you:
1. Writing is weird because you actually generate your own raw material and then give that form
There is a nature documentary about caves narrated by David Attenborough, who describes a glow worm that is pretty much made out of mucous that also makes itself a hammock out of mucous to live in out if its own mucous. This is analogous to a first draft. You are making something out of yourself, into the external world, to give you a place where you can suspend something of yourself. This is important to remember because then you will know that when you are starting this beautiful, disgusting process, that while it possesses a certain peculiar temporal sprawl, it is not in the slightest a matter of "spontaneous emotion recollected in tranquility" or any other such bullshit.
2. Writing is work
Here is what one of the best writers, ever, Edgar Allan Poe, wrote when describing how he wrote "The Raven":
"It is my design to render it manifest that no one point in its composition is referable either to accident or intuition – that the work proceeded, step by step, to its completion with the precision and rigid consequence of a mathematical problem."
In other words, writing does not come from somewhere else. When you are writing you are not a radio. You are doing work, in the deepest dialectical sense: You are engaging with your material in a way that imprints it with a subjective mark, changing it, and in doing so, creating a manifestation in the objective world of what is inside you. You are working out a particular problem that only you could set yourself.
What this means is that if you have an idea about writing something, you are already inspired. You do not have to wait for inspiration to realize your idea. It is merely a matter of choosing to either relieve yourself or get off the can.
3. Writing is method
This is not just as regards your process, which is a matter as arcane and personally singular as what for each of us constitutes "the morning."
Writing is a whole way of being towards the world. It is generous. It is characterized by the economy of the gift. It is not purely altruistic, but it is not capitalist either. For this reason writing is antithetical to the drive to translate all forms of social interaction into surplus value which has become the dominant activity in our world.
In pragmatic terms, this means that unless you are of independent means, a large part of your process will consist of figuring out ways to have that once-in-a-while day when your overdue bills are settled, and when you are not too busy commodifying your own time through the sale of your alienated labour, to compose yourself into the form of a text.
It's important to state this explicitly so that you remember to never give up on being a writer. If you are writing, you are a writer. It does not matter if you pay your rent bartending or digging ditches or working the swing-shift as a diagnostic imaging technician. Finding the means to sustain yourself is part of the method of writing. Once you've reconciled yourself to this and given up worrying about how you will play all of your hard work into a renumerative career as a writer, you will write what you want to. You will write yourself into the world, and no one can take this from you, and it is how you will do writing as it must be done.
4. You always write to someone
There is always an Other on the other side of the text you are writing who is staring into you with their spooky non-corporeal eyes while you implore, "What do you want from me?!?" This correlates to the burdening, inexplicable desire that disrupts any certainty of yourself while you are writing except the knowledge that the Other is waiting for you.
This makes the whole thing a bit odd, and means that your draft may require a second opinion. Reading it out loud to yourself is good. Letting a trusted friend read and edit it while you sit calmly and do not attempt to debate their proposed alterations in the moment is even better.
5. Perfection is death
If you ever perfectly articulated everything exactly as you wished, a drain-hole would open up in the interstices between the world of signification and that world it refers to, and all that is would implode into this drain-hole in an impeccable inversion of the Big Bang. Thankfully, this has not yet happened.
This means that your piece is done not when it is perfect, but when it is done. Does it make sense? Does it say something? Are you deeply sick of the sight of it? Done. Everyone regards that which she excretes with an undeniable interest, but if you're trying to shove it back into yourself in the hope of a more transcendent outcome, it's just going to end up a mess. Just. Let. go.
6. Bring it home
Writing the conclusion is like the last stretch of a long-distance run. You've already made your point, the action has already occurred. Why write more? Probably because this is a chance to knit together all of the things that your process has brought to you, and by proxy, to that Other you're writing to. Along these lines, I can write the following:
You can be a writer by being a writer, by tigerishly demanding the space to write, by honouring that space by filling it up with writing, and by remembering that there are also readers, whose primary luxury is the beauty of words, who know full well that this luxury is one whose bounds are endless, and who may be writing for you right now. This is very good, because the plenitude of forts that words can build will always, no matter where we are, give us somewhere to go.
De l'enthousiasme sisyphien d'Eileen Wennekers:
(Traduit par Jessica Grenier)
Introduction
Écrire est quelque chose de très difficile. Chacun le fait différemment; et les conditions environnantes nécessaires pour rendre possible cette activité profondément étrange sont aussi différentes selon chacun. Déterminer ce qu'elles sont et s'assurer de les intégrer à son quotidien fait autant partie du travail d'écrivain que le fait d'être assis à écrire. Une fois que tu sais ce dont tu as besoin dans ton environnement, garde-le jalousement. Explique à tes proches pourquoi il faut que tu fasses ce que tu fais, puis fais-le, sans aucun remords. Ne laisse pas l'écriture devenir un nuage noir se profilant à l'horizon de ton radar cérébral. Sinon, la pluie ne tombera jamais, et tu te promèneras avec un mal de crâne continuel causé par la pression atmosphérique phénoménale.
La page qui te rend ton regard est terrifiante parce que tu y consigneras tes pensées, alors tout doit être parfait, pas vrai? C'est comme un premier rendez-vous, à chaque fois. Tu veux te présenter sous un jour élégant, charmant; loquace sans être insupportable, charismatique tout en étant facile d'approche; un chasseur désirable avec la perfection d'un diamant, mais glorieusement humain.
Ah, fuck it. Je vais me faire un sandwich…
Plus sérieusement, être un écrivain, c'est connaitre ses anxiétés et réussir à les modeler en une maison dans laquelle d'autres personnes pourraient vouloir venir s'asseoir. Cette aspiration n'est jamais réellement atteinte. À la place, il faut essayer de défaire le nœud dans ta gorge pour faire un passage à ce qui, au tout début, peut sembler n'être que de petits cris pitoyables et vagues. Une fois accumulés, ces couinements sont comme des poutres de bois : tu peux les déplacer, les faire résonner les uns avec les autres, jusqu'à ce qu'une charpente en émerge. Et là, tu auras érigé un fort d'écriture où tu pourras inviter des gens.
La construction d'un fort nécessite de la planification. Voici quelques trucs que je peux donner pour t'aider :
1. Écrire, c'est bizarre parce que ça implique de créer d'abord une matière brute pour ensuite lui donner une forme.
Dans un documentaire sur les grottes narré par David Attenborough, on décrit un type de ver luisant presque entièrement composé de mucus qui utilise son propre mucus pour se faire un hamac dans lequel vivre. C'est comparable à un premier jet. Tu crées quelque chose à partir de toi-même, mais dans le monde extérieur, dans le but de te donner un espace où suspendre une partie de toi. Il est important de se le rappeler quand tu vas entamer ce processus dégoûtant/sublime, parce que même s'il possède un certain étalement temporel qui lui est propre, ce n'est absolument pas une question «d'émotion remémorée dans la quiétude » ou d'une autre connerie du genre.
2. Écrire, c'est du travail.
En décrivant son processus d'écriture pour Le corbeau, Edgar Allan Poe, un des meilleurs écrivains au monde, a dit qu'il avait voulu rendre manifeste qu'aucun détail de la composition de son œuvre n'était le résultat d'un accident ou d'une intuition, mais plutôt celui d'un travail d'élaboration progressive aussi précis et rigide que la résolution d'un problème mathématique. Autrement dit, écrire ne vient pas d'ailleurs. Quand on écrit, on n'est pas une radio. On fait du travail, dans le sens le plus dialectique du terme : tu abordes ton matériel d'une façon qui laisse une empreinte, une marque subjective qui le change et, ce faisant, qui crée une manifestation visible, dans le monde objectif, de ce qui est en toi. Tu cherches à résoudre un problème qui ne pouvait t'être posé que par toi-même. Ce que ça veut dire, c'est que dès que tu as une petite idée sur laquelle écrire, tu es déjà dans l'inspiration. Tu n'as pas à attendre que l'inspiration te vienne pour mettre en oeuvre ton idée. C'est simplement une question de choisir, de faire ce qu'il y a à faire ou non.
3. Écrire, c'est une méthode.
Et je ne parle pas simplement du processus, qui est aussi obscur et propre à chacun que ce que nous appelons « le matin », chacun pour soi.
Écrire, c'est une façon d'être, de se positionner face au monde. C'est généreux. C'est caractérisé par l'économie du don. Ce n'est pas totalement altruiste, mais ce n'est pas capitaliste non plus. Pour cette raison, l'écriture est l'antithèse de l'impulsion devenue l'activité dominante dans notre monde, soit celle de transposer toutes les formes d'interaction sociales en plus-value.
En termes pragmatiques, ça veut dire qu'à moins d'être indépendant de fortune, une grande partie de ton processus va se résumer à trouver des façons d'avoir une journée de temps en temps où toutes les factures sont réglées et où ton temps n'est pas trop occupé à être marchandisé par la vente d'un travail aliéné pour te composer sous la forme d'un texte.
C'est important de le spécifier pour se souvenir de ne jamais renoncer à être écrivain. Si tu écris, tu es un écrivain. Ça n'a pas d'importance si tu payes ton loyer en creusant des fossés ou en travaillant de soir dans un bar ou comme technologue en radiodiagnostic. Trouver les moyens de subvenir à ses besoins fait partie de la méthode d'écriture. Une fois qu'on a accepté cette idée et qu'on arrête de s'en faire avec la façon d'articuler tout ce dur labeur en une carrière d'écrivain rémunéré, on peut écrire ce qu'on veut. Tu vas t'écrire une place dans le monde, et personne ne peut t'en empêcher; c'est comme ça qu'on écrit comme il se doit.
4. On écrit toujours pour quelqu'un.
Il y a toujours quelqu'un de l'autre côté du texte qu'on est en train d'écrire; quelqu'un qui te fixe avec des yeux éthérés alors que tu supplies : « Qu'est-ce que tu attends de moi?!? ». C'est lié au désir pesant et inexplicable qui t'empêche d'avoir une quelconque certitude envers toi-même lorsque tu écris, sauf celle que cet Autre t'attend. Cette certitude rend l'ensemble un tantinet étrange, et veut dire que ton premier jet peut avoir besoin d'un deuxième avis. Se le lire à haute voix est une option. Laisser un ami en qui on a confiance le lire et le commenter pendant qu'on reste assis calmement en n'essayant pas d'argumenter toutes les modifications qu'il propose, c'est encore mieux.
5. La perfection, c'est la mort.
S'il arrivait qu'un jour tu parviennes à articuler exactement tout ce que tu voulais dire, un gouffre s'ouvrirait dans les interstices entre le monde de la signification et celui auquel elle se réfère, et tout ce qui existe imploserait en une inversion parfaite du Big Bang. Heureusement, ce n'est encore jamais arrivé.
Ce qui veut dire que ton texte est terminé quand il est terminé, non pas quand il est parfait. Est-ce que ça a du sens? Est-ce que ça dit l'essentiel? Est-ce que simplement poser les yeux dessus te rend malade? Oui? Il est terminé. Chacun regarde ce qui sort de son propre corps avec un intérêt indéniable, mais si tu essayes de le renvoyer d'où il provient en espérant un résultat plus transcendant, ça va juste tout gâcher. Il faut lâcher prise.
6. L'importance d'une conclusion.
Écrire une conclusion, c'est comme les derniers mètres d'un marathon. Le message est passé, l'action s'est produite; pourquoi continuer à écrire? Probablement parce que c'est l'occasion de rassembler toutes les choses qui ont été amenées par le processus, pour toi et (par procuration) pour cet Autre à qui tu t'adresses. Suivant cette idée, je peux affirmer que :
Tu peux devenir un écrivain en étant un écrivain, en exigeant férocement un espace où écrire, en honorant cet espace en le remplissant d'écrits, et en te rappelant qu'il existe aussi des lecteurs dont la plus grande luxure est la beauté des mots, et qu'ils savent pertinemment que cette opulence est sans limites, et qu'ils peuvent même être en train d'écrire pour toi, en ce moment même. Tout ça est excellent, parce que l'ensemble des forts érigés par les mots nous offrira toujours quelque part où aller, peu importe où nous sommes.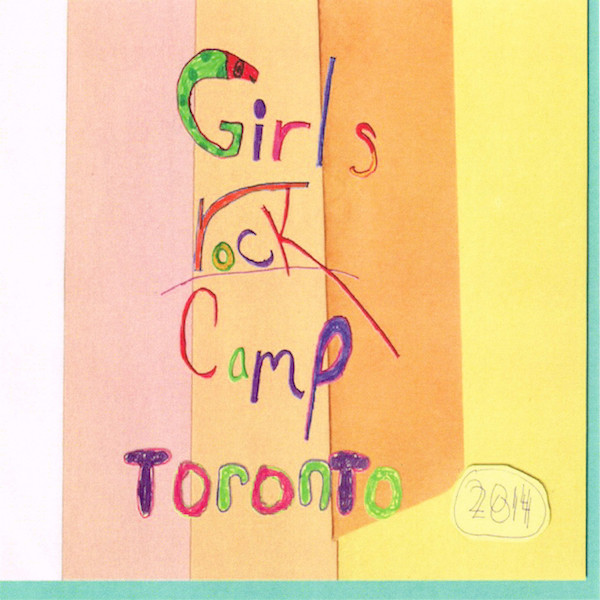 Various Artists
Girls Rock Camp Toronto – 2014
Toronto, ON
From the gushing dopamine levels of Sara Bortolon-Vettor:
Girls Rock Camp Toronto is a non-profit community organization empowering young women to play rock music. Their 2014 Compilation CD features a new kind of pop music: a fresh perspective from the voices of girls. It is genuine, fun, honest and quirky – there's nothing jaded about it. A spectacle of talents, diverse genres and instrumentations with all songs written and performed entirely by girls. The compilation includes 11 tracks highlighting the broad scope of songwriting and playing from Meteor Season's rock-pop gem, "Coming Your Way" to #pandabandits' punk-rocker, "The Great Release." To hear how this new pop will grow is worth the anticipation.
Des niveaux de dopamine débordants de Sara Bortolon-Vettor:
(Traduit par les terrasses caféïnées de Marie-Pier Chevrier)
Girls Rock Camp Toronto est un organisme communautaire à but non lucratif qui encourage les jeunes femmes à jouer de la musique rock. Leur CD Compilation 2014 met en valeur un nouveau style de musique pop de la perspective rafraîchissante des voix des filles. Authentique, ludique et farfelu, on n'y trouve absolument rien de réchauffé. Le tout, entièrement écrit et interprété par des filles, explore différents genres et instrumentations. L'album comprend 11 pistes qui dévoilent une vaste étendue d'écriture et d'interprétation, du bijou pop-rock « Coming Your Way » de Meteor Season au punk-rock « The Great Release » des #pandabandits. L'écoute patiente de l'évolution de cette nouvelle pop en vaudra certainement l'attente.
MOON HAG
Demon
(Self-Released)
Toronto, ON
From the dizzy poison of Steven Reed:
You are dizzy from poisons, blasting a scrappy tape of raw jams you found in the weeds behind school. It was underneath burnt plastic owls and braids in lumps of wax. A circle of doll stuffing and Garbage Pail Kids wrappers. The tape was wrapped in an angry note on looseleaf, stuffed into a cigarette box: "don't fret, dim beast, your sleep paralysis is just lungs crushed and punctured by the talons of the crone perched on your ribs." Something about that primaeval tape compels you to listen closer for traces of passage rites and hexes. What do you do?
Du poison capiteux de Steven Reed:
(Traduit par Jessica Grenier)
Tu es étourdi par le poison, ta cage thoracique vibrant aux jams bruts de la cassette décousue trouvée dans les buissons derrière l'école. Elle était cachée par les tas de cire faits de cordes et de hiboux en plastique fondus, dans un cercle de rembourrage de poupée et d'emballages Les Crados. La cassette, emballée dans un message griffonné sur une feuille mobile, était dans un paquet de cigarettes : « N'aies pas peur pour ta paralysie du sommeil, faible bête, ce ne sont que tes poumons écrasés qui ont été percés par les talons de la sorcière perchée sur tes côtes. » Quelque chose dans cette cassette primitive te force à tendre l'oreille, à chercher des indices de rites de passage et de malédictions. Qu'est-ce que tu fais?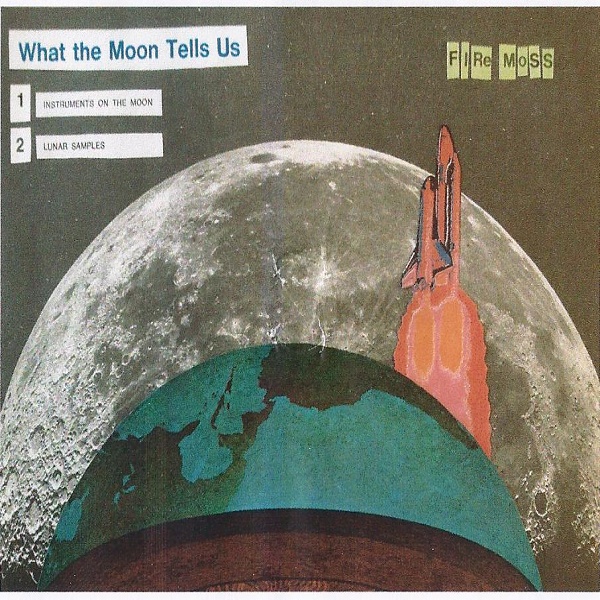 Fire Moss
What the moon tell us
(Self-Released)
Kingston, ON
From the NASA conspiracy theory of Javier Fuentes:
Not every space launch has the same measure of success. Sometimes there are rogue travellers whose expertise is in navigating the wreckage. Sometimes these travellers launch from behind a stack of amplifiers rather than a crowded control room (though crowds are known to assemble anyway). Sometimes there are midnight countdowns orchestrated in communal silence, waiting in patience for the distant signals to begin ricocheting back from space. These travellers only send back the choice cuts from their lunar voyages, fossilized samples being their most coveted material. Some republican official is first in line to greet them back, but don't let that scare you off, this is exactly what we paid for.
D'après les théories de conspiration de la NASA de Javier Fuentes:
(Traduit par le printemps d'origami de Marie-Pier Chevrier)
Le succès d'un lancement spatial ne se mesure pas toujours de la même manière. Parfois, on y trouve des voyageurs clandestins dont l'expertise est d'en naviguer l'épave. Parfois, ces voyageurs effectuent le lancement depuis un amas d'amplificateurs plutôt que depuis une salle de contrôle bondée (bien que les foules finissent toujours par se rassembler). Parfois, des comptes à rebours nocturnes s'orchestrent en silence collectif, dans l'attente patiente du ricochet de distants signaux dans l'espace. Ces voyageurs ne renvoient de leurs voyages lunaires que des pièces de choix, ces extraits fossilisés de matière tant convoitée. Un certain représentant républicain sera le premier à les accueillir à leur retour, mais ne vous en inquiétez pas, c'est exactement ce pourquoi on a payé.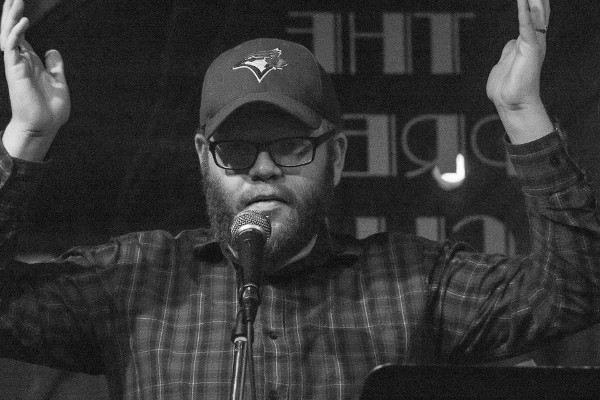 Pivot Poetry Readings
Jacob McArthur Mooney
Toronto, ON
From the repetitive smashing of Jenya Doudareva:
Jacob McArthur Mooney is a poet, blogger, literary critic, and host of Toronto's excellent series of poetry readings, Pivot.
How did Pivot start?
Pivot was started six years ago by the poets Carey Toane and Angela Hibbs, and before ending up in my lap was passed through Elisabeth de Mariaffi and Sachiko Murakami. Before that, even, it was known as the I.V. Lounge Reading Series and hosted at the I.V. Lounge by first Paul Vermeersch and later Alex Boyd.
I had been asked to take over a few times during those previous handoffs but wasn't feeling up for it for various reasons around lifestyle and bad decision making. I took it over in 2012 and have been running the show with my wife, novelist Alexis von Konigslow, ever since.
What makes your poetry series different from other existing ones in Toronto?
A lot of those series don't include windows and we have a rather large window.
Beyond the window, I would say Pivot is a rather blissfully unadorned series. Pivot contains no hyphens. It doesn't do any reach out beyond the world of poetry and fiction and the occasional non-fict. It doesn't try to be anything more than what it is. This is a big fucking city, you know? There is something out there for you no matter how weird and eccentric your tastes are, and so Pivot is there for that group of people: statistically insignificant until stretched across the landscape of a metropolis, who like to drink beer and be read to in the dark. So I would say that Pivot is very proudly niche in a way that might be unique, and that's the only way I could ever have it. Some nights it's just me, my hangdog Andy Kaufmann schtick, and the only room full of people in this whole city I can stand. It's a small target and we want to nail it.
Do you use different approach when you work with emerging artists vs established ones?
There are no such things as "established artists" in poetry. The only two kind of poets are emerging and deceased.
But if you're talking about age or publication record, then no. The new poets are generally better readers than the older poets, is all I can think of.
Is working with emerging poets more challenging than working with established ones? Could you elaborate on what makes working with emerging poets unique?
Okay, so let's throw out my quick "No" above, and assume meaning for the term "emerging poets," and that it means, roughly: young poets who haven't published books. I will say that they should know that they are the best moment Canadian poetry has ever had. The generation of poets born, I'll say, between 1984 and 1993 (let us be shits and call them "The Mulroney Poets") are the most consistently interesting and deepest and most outrageously ambitious group we've ever seen. I've tried to articulate why this may be and have at best, two theories.
One, they have the opportunity, if they wish to take it, to be completely over the idea of "Canada." We spent a long time in the literary culture of this country trying to figure out how to be simultaneously liberal and nationalist, and it didn't work out because that's an inherently bullshit position. The first big generation of Canadian writers, the boomers and their slightly older siblings, fought on and on about that. Dennis Lee is a hero of mine and a good friend but the battle he supposed in geopolitical terms in, say, Civil Elegies, or the one rendered in ecological terms by Farley Mowat, those have all been lost. These Mulroney kids are coming into adulthood at a time where the moral and environmental apocalypse being furthered by Canada is greater than the one being furthered by every other Western country. They are coming up in the only period in any living person's memory where the Canadian Prime Minister sits to the right of the American President, and so much of that disco nationalism stuff demanded a Good Canada/Bad America dialectic. Which is no way to build a national culture, as it depends on the cultures of other nations to exist. So I would say that, though they are inexorably fucked in all the meaningful economic and moral ways, the end of a cultural Canada does them a lot of good as poets. There's a bigger world out there.
And secondly, there's a bigger world out there. I think that this group is so used to the repetitive smashing together of cultural products: near and far, high and low, old and new, that the reach of their metaphors can be so much more ambitious and natural than for poets born even a few years earlier. A lot of this is the internet but it's also the Internet of Thoughts, you know. It's how those technological gadgets reconfigure the brain if you're young enough to be born into them. Juxtaposition is finished, I think, it doesn't exist anymore. So you get crazy shit happening out there with people like Kayla Czaga and Michael Prior and Vincent Colistro (or Jessica Bebenek or Liz Howard or all those people in Vancouver) where an amount of figurative reach that might seem showy or performative for even our more culturally-literate older poets (McGimpsey, Rogers, Babstock) just flow off the tongue and there's no ta-dah attached, it's just culture speaking.
Your website mentions that you receive no funding other than PWYC – how do you make that work and how can others who might be interested in starting out in that environment manage that?
I pass a bucket at the break and people are encouraged to put money in the bucket. At the end of the break I take the money out of the bucket and divide it equally between all the readers. Simple. Anyone can do it. But we're entertaining the idea of going out for public funding, in the interest of paying those readers more money.
In your opinion, what are the gaps/opportunities in Toronto's poetry scene? What kind of work doesn't get as much celebration as it should?
We are very lucky in Toronto. It's a good scene and a generally welcoming world. If you were so inclined, you could go out and see something decent every night of the week. I would say that we lack people willing to do the less-glamourous work of scene buttressing, but that's not unique to the city or to poetry. Nobody likes to fill out forms or cold-call venues or comparison shop for paper.
My big worry is probably, with the growth of unfunded internships and the like, is that much of that work becomes the speciality of rich people's kids and grandkids. And we already have such a demographic problem in poetry (I'll let spoken word off the hook on this generalization), it's so Caucasian and upper-middle class and socioeconomically riskless already that I'm concerned that another thirty years of filtering out Grown Up White Trash like myself will render it static.
What are Pivot's plans in the near future as a poetry series, e.g. whether or not you are envisioning any changes to Pivot's scope or focus?
More younger poets this year. Also, I think we'll bring in fewer readers with brand-new books. I'd like to have people do Pivot like 6 months after their book is out, otherwise it just gets lost in the rush of readings and releases and you end up with, like, four opportunities to go hear a given poet read in a week. We're going to drift out of that game.
Des agglomérations répétitives de Jenya Doudareva:
(Traduit par la déchirure fédéro-nationaliste de Jessica Grenier)
Jacob McArthur Mooney, le poète, blogueur et critique littéraire, est également animateur de Pivot, une excellente série de soirées dédiées à la lecture de poésie à Toronto.
Comment a commencé Pivot?
La série a commencé il y a six ans, avec les poètes Carey Toane et Angela Hibbs, puis elle est passée par les mains d'Elisabeth de Mariaffi et de Sachiko Murakami avant de tomber dans les miennes. En fait même avant ça, c'était la I.V. Lounge Serie, elle avait lieu au I.V. Lounge et elle a été animée par Paul Vermeersch d'abord et par Alex Boyd ensuite.
Quand il y a eu ces changements, on m'a demandé de m'en charger à quelques reprises, mais je ne me sentais pas prêt à m'en occuper pour diverses raisons (relatives à mon style de vie et à de mauvaises décisions que j'ai prises). En 2012 j'ai pris la série en main, et je m'en occupe depuis avec ma femme, la romancière Alexis von Konigslow.
Qu'est-ce qui différencie Pivot des autres soirées de poésie à Toronto?
La plupart d'entre elles n'offrent pas de vitrine : nous, nous en offrons une bonne.
Au-delà de ça, je dirais que Pivot est merveilleusement sans prétention. La série ne contient aucun trait d'union, elle ne cherche pas à sortir du domaine de la poésie, de la fiction et (occasionnellement) de la non-fiction. Elle n'essaie pas d'être plus que ce qu'elle est. Toronto, c'est une maudite grosse ville : c'est sûr qu'il va y avoir quelque chose pour t'intéresser, même si tes goûts sont vraiment bizarres et excentriques. Et Pivot est là pour ce groupe de gens – statistiquement insignifiant jusqu'à ce qu'on l'étende sur tout le territoire d'une métropole – qui aime boire de la bière et assister à une lecture dans le noir. Alors, je dirais que Pivot se positionne dans un créneau d'une façon plutôt unique, et je ne voudrais pas que ce soit autrement. Il y a des soirs où il n'y a que moi, mon chien de poche Andy Kaufmann qui fait ses trucs, et cette salle remplie de gens – la seule que j'arrive à supporter dans toute la ville. C'est un objectif très précis et on veut l'atteindre.
Est-ce que ton approche de travail est différente avec les artistes émergents et ceux établis?
En poésie, les « artistes établis », ça n'existe pas. Il n'y a que deux types de poètes : les émergents et les morts.
Mais si tu fais référence à l'âge ou à la publication, alors non. La seule chose qui me vient en tête est que les jeunes poètes sont généralement de meilleurs orateurs que les plus vieux.
Est-ce qu'il est plus difficile de travailler avec des poètes émergents qu'avec ceux établis? Pourrais-tu décrire ce qui rend cette expérience unique de travail?
OK, oublions mon « Non » rapide de tout à l'heure et disons que « poètes émergents » veut dire grosso modo : jeunes poètes qui n'a pas encore publié un livre. Je dirais qu'ils devraient savoir qu'ils sont dans le meilleur moment de l'Histoire de la poésie canadienne. Les poètes nés, disons, entre 1984 et 1993 (on va être chien et les appeler les « poètes Mulroney ») sont ceux dont la création est la plus globalement intéressante et profonde : ils sont les plus scandaleusement ambitieux qu'on n'a jamais vus. J'ai essayé de déterminer pourquoi et, au mieux, j'ai deux théories.
La première : ils ont la chance, s'ils veulent la saisir, de complètement dépasser l'idée du « Canada ». Dans la culture littéraire canadienne, nous avons passé beaucoup de temps à essayer de comprendre comment être à la fois libéral et nationaliste, et ça n'a pas fonctionné parce que c'est carrément n'importe quoi comme position. La première grande génération d'écrivains canadiens (les baby-boomers et leurs frères et sœur aînés) n'arrêtait pas de débattre sur le sujet. Que ce soit le combat proposé par Dennis Lee – un de mes héros et un bon ami – en termes géopolitiques dans Civil Elegies ou encore celui décrit en termes écologiques par Farley Mowat, ils ont tous été perdus. Ces enfants de Mulroney arrivent à l'âge adulte à un moment où le cataclysme moral et environnemental aggravé par le Canada est encore pire que celuiprovoqué par les autres pays occidentaux. Ils arrivent durant la seule période de mémoire d'homme où le premier ministre canadien siège à la droite du président américain, et une partie importante de tout ce discours nationaliste reposait sur une dialectique gentil Canada/méchants États-Unis; ce qui n'est pas une façon de construire une culture nationale puisque son existence est dépendante de celle des autres pays. Alors, je dirais que même s'ils sont inexorablement foutus de toutes les façons économiques et morales possibles, la fin d'un Canada culturel les aide beaucoup en tant que poètes. Il y a tout un monde à découvrir.
La deuxième : il y a tout un monde à découvrir. Je pense que ce groupe est tellement habitué à ce que les produits culturels soient agglomérés ensemble qu'ils soient d'ici ou d'ailleurs, bons ou mauvais, nouveaux ou vieux, que leurs métaphores peuvent avoir une portée beaucoup plus naturellement ambitieuse par rapport à des poètes nés quelques années avant eux. C'est sûr que c'est principalement causé par l'Internet, mais l'Internet est aussi un réseau de pensées. C'est la façon dont ces gadgets technologiques reconfigurent le cerveau quand on est assez jeune pour avoir baigné dedans dès la naissance. Il n'y a plus de juxtaposition, je pense que c'est mort. Alors, il y a des gens qui font plein de trucs fous un peu partout, comme Kayla Czaga, Michael Prior et Vincent Colistro (ou encore Jessica Bebenek, Liz Howard ou tous ces personnes de Vancouver), avec un rayonnement figuratif impressionnant qui pourrait sembler tape-à-l'œil ou performatif par rapport aux valeurs culturelles de nos vieux poètes (McGimpsey, Rogers, Babstock); et ça glisse sur la langue et il n'y a pas de ta-dah, c'est juste la culture qui parle.
Le site internet mentionne que Pivot se finance uniquement par le principe « payez ce que vous voulez ». Comment est-ce que ça fonctionne? Quels trucs donnerais-tu à des gens intéressés par ce mode de financement?
Durant la pause, je me promène avec un seau en encourageant les gens à y mettre de l'argent; et après, je sors ce qui a été ramassé et je le divise également entre les lecteurs. C'est simple, n'importe qui peut le faire. Mais nous pensons commencer à chercher du financement public dans l'objectif de donner plus à nos lecteurs.
Selon toi, quelles sont les lacunes et les possibilités de la scène poétique de Toronto? Quel genre d'œuvre ne reçoit pas toute l'attention qu'il mérite?
À Toronto, nous sommes très chanceux. La scène est bonne, généralement accueillante. Si telle était ton envie, tu pourrais sortir et aller voir quelque chose de décent tous les soirs de la semaine. Je dirais que ce qu'il manque, c'est des gens voulant faire le travail moins prestigieux de soutien scénique, mais ce n'est pas propre à la ville ni à la poésie. Personne n'aime remplir des formulaires, faire des appels à froid pour trouver des lieux d'événements ou pour comparer les prix pour acheter du papier.
Ce qui m'inquiète le plus c'est que, avec l'augmentation du nombre de stages non rémunérés et de postes du genre, ça finisse par devenir la spécialité des enfants et petits-enfants de riches. On a déjà un gros problème démographique en poésie (mais je n'inclue pas les créations orales dans cette généralisation) : c'est déjà tellement blanc, classe moyenne supérieure et sans risques socioéconomiques… j'ai peur qu'une autre trentaine d'années à éliminer les vieux white trash comme moi finisse par rendre le domaine statique.
Dans un avenir rapproché, quel est le plan pour Pivot, par exemple en termes de séries poétiques, pensez-vous faire des changements?
Cette année : augmenter le nombre de poètes plus jeunes. Aussi, je pense qu'on va inviter moins de lecteurs qui viennent juste de publier un livre. J'aimerais que les gens viennent à peu près 6 mois après avoir sorti leur livre, sinon ça se perd parmitoutes les autres lectures du lancement, et tu te ramasses avec quelque chose comme quatre occasions d'aller entendre tel poète dans une même semaine. On veut s'éloigner de cette dynamique.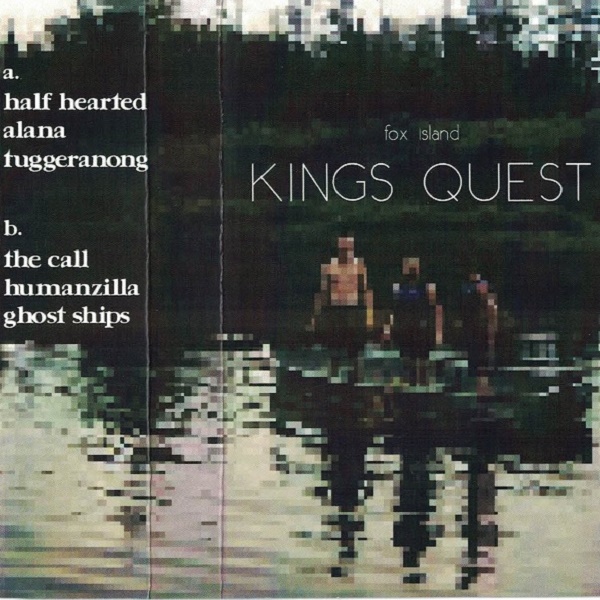 Kings Quest
Fox Island
(Self-Released)
Ottawa, ON
From the reverberated thoughts of Alec Lovely:
A date with friends turns into alone time on a heavy, grey afternoon. Wet concrete, streaky windows, hustle and bustle, flashing lights. No need or want to be with anyone on a day like this – just the right sounds to take you back to yesteryear, sharpened by a lo-fi nostalgia. Wondering how long the people around you will be there, the dream of youth feels like something finite. Spurred by the sounds that feel new and familiar, you wonder when the band in your headphones will be in your city, right in front of you.
De l'écho des pensées d' Alec Lovely:
(Traduit par Jessica Grenier)
Un après-midi lourd et gris. Un rendez-vous avec des amis qui devient un moment de solitude. Le béton mouillé, les vitres zébrées de pluie et de lumière, l'agitation des passants. Une journée où on n'a ni le besoin ni l'envie de côtoyer des gens – il faut juste le bon son pour un retour en arrière, accentué par un lo-fi nostalgique. Les rêves de jeunesse semblent restreints quand on se demande combien de temps les gens vont rester dans notre entourage. Les sons nouveaux mais familiers dans tes écouteurs te font t'interroger sur le moment où le groupe sera devant toi, dans ta ville.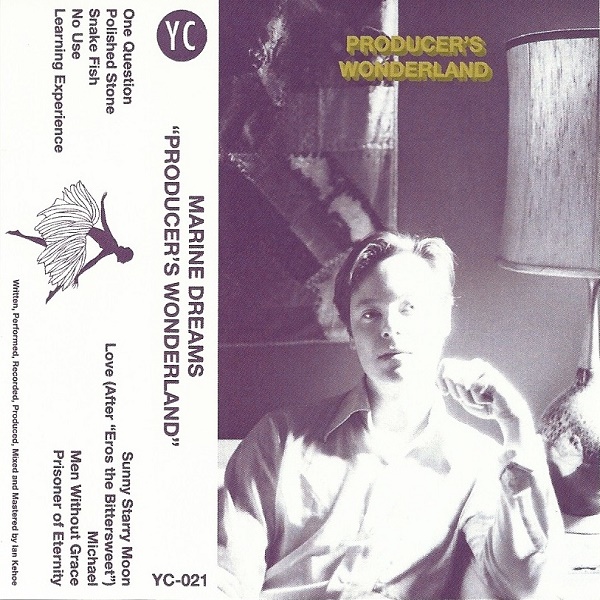 Marine Dreams
Producer's Wonderland
Toronto, ON
From the Producer's Wonderland of Scott Brown:
Setting can be as inspirational as feeling or experience. The work space, that destination of focus and solitude is invaluable: Be it studio, salon, atelier, or producer's wonderland. Marine Dreams has become a project isolated in production and creation, but illuminated by outward vision. Soft strummed songs of love and life earnestly delivered by a basement crooner. Ian Kehoe lays his heart of gold bare on a thrift store sleeve.
En direct du Producer's Wonderland de Scott Brown:
(Traduit par la plume de Valérie Goulet Talbot)
L'environnement peut être aussi inspirant qu'une émotion ou une expérience. L'espace de travail; cette destination où la concentration et la solitude sont si précieuses, que ce soit au studio, au salon, à l'atelier ou au Producer's Wonderland. Marine Dreams est devenu un projet isolé dans sa production et sa création, mais illuminé par une vision extérieure. Un doux grattement mélodique sur l'amour et la vie livré dans la sincérité par un crooner de sous-sol, Ian Kehoe met son coeur d'or à nu sur sa manche d'occasion.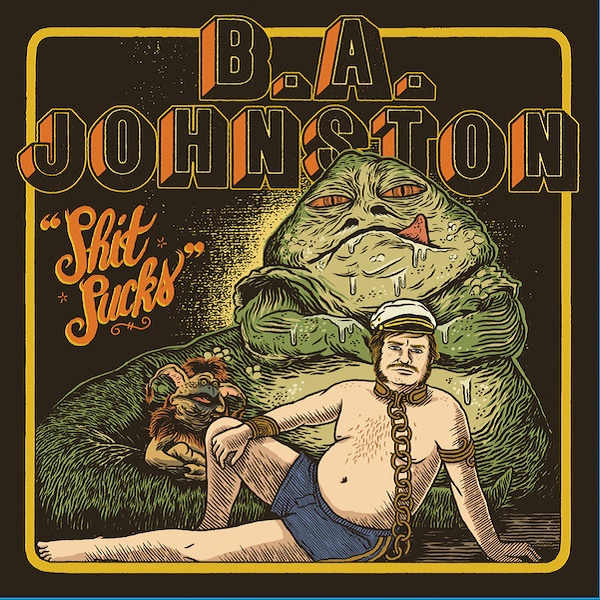 B.A. Johnston
Shit Sucks
Barrie, ON
From the very, very broke Mike Roy:
If you're familiar with the gospel according to B.A., then you already know what's in store for Shit Sucks. His tenth record utilizes simple acoustics and 8-bit blips circa 1982 to help you realize there's nothing wrong with buying the no-name brand of chips. The universals about shitty cats, skinny jeans, Fort Mac and drinking on your parents' dime are all too real, and not just because I had my mom wire me $20 last week so I could go to the bar. Long live King B.A. as he adds another jewel into his BK Crown.
Du très, très paumé Mike Roy:
(Traduit par Jessica Grenier)
Si tu connais déjà l'évangile selon B.A., tu sais ce que Shit Sucks te réserve. Son dixième enregistrement utilise une acoustique simple et des sons 8 bits sortis directement de 1982 pour te montrer qu'au fond, c'est correct d'acheter des chips No Name. L'universalité des chats merdiques, du Fort Mac, des skinny jeans et des bières achetées sur le bras des parents n'est que trop réelle – et je ne dis pas ça parce que j'ai demandé à ma mère de me virer 20 $ la semaine passée pour pouvoir aller au bar. Longue vie à B.A., le roi qui ajoute ici un autre joyau à sa couronne.
---