Category: ontario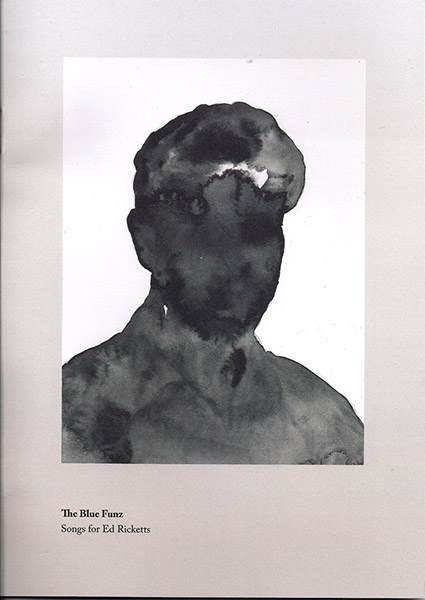 The Blue Funz
Songs for Ed Ricketts
Kitchener, ON
From the spore trails of Jesse Locke:
The Funz' sea-blue period finds them ambling through shivering, shimmering shanties. These rimes of the ancient marine biologist bob in and out of whisper-soft washes like the earliest offerings of Akron/Family. Irish-Canadian arthouse imprint Wist Rec. sticks to its vision of bookshelf curios with the songs tucked inside a typically winsome watercolour zine.
Des sentiers de spores de Jesse Locke:
(Traduit par les jours en berne de Marie-Pier Chevrier)
La période bleue-mer de The Funz' les voit déambuler dans des chantiers chatoyants, frissonnants. Les reflets givrés d'une ancienne biologie marine vont et viennent à chaque ressac chuchotant, tels les toutes premières offrandes d'Akron/Family. Les parutions canado-irlandaises Wist Rec. continuent d'exciter le regard en habillant ces chansons d'un zine caractéristique à l'aquarelle vaporeuse.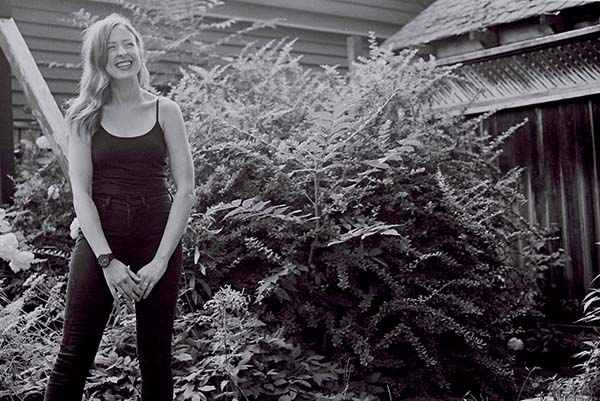 Ephemera of: Brooke Manning
Existing during the recording of: LOOM's Epyllion
Toronto, ON
Photos by: Brad Casey
From Brad Casey:
There is something incredibly delicate at the core of the music made by LOOM, like the ache that follows falling in love or the floating feeling of falling out of it. Brooke Manning, who is the main songwriter and driving force of LOOM, released a quiet, swirling EP in 2009. It was recorded in her living room with Thom Gill as well as Dan and Matt Pencer who improvised behind the songs on subtle, sweet keyboards and horns. A meditative collection with a strong focus on songwriting, it laid the foundation for what would become her full length, Epyllion, recorded on Toronto Islands. Made up of new songs and reworked songs from her EP, Epyllion featured a heavier, darker side of LOOM brought out with tunnel-reverb harps, frightening, distortion soaked synths and, at times, war-like percussion. Since Epyllion's release LOOM has expanded into a backing band with members of Silver Pools and Gates to work on a follow up. LOOM's words, her slow ease into a vibe, create a settling. Sit and breathe.
Weird Canada asked Brooke to show us objects that she holds sacred. She allowed us into her Toronto home and showed us things nostalgic, painful and held dear, all of which contribute to the words and music made by her slow and gentle hand.
Feel free to listen to these two songs from Epyllion as you view these photos. All words were dictated by Brooke, recorded and transcribed by Brad Casey.
Loom – There is Blood in My Body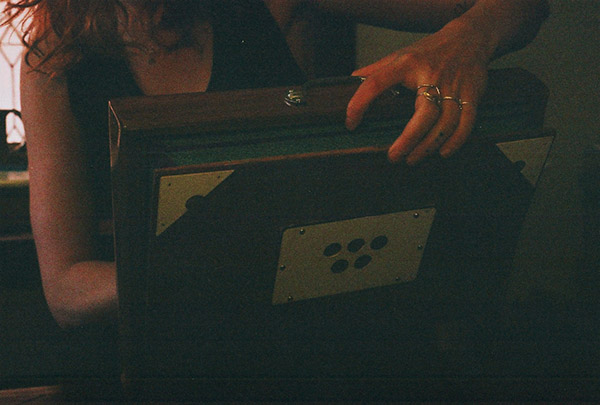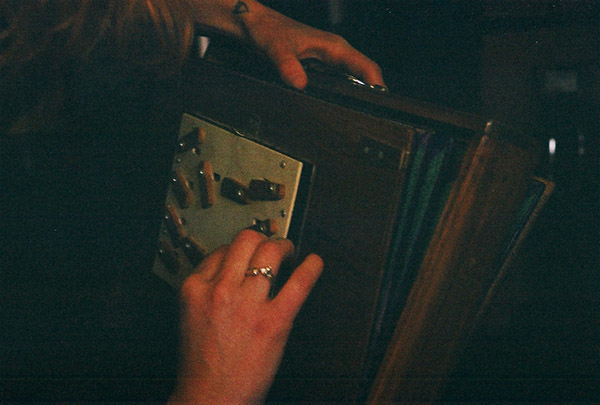 Shruti box
Sometimes if I'm feeling a block I sit with this for a while. It's like a drone machine. I bought it at the Musideum in the Richmond building back in 2008. A friend also gave me another one in different key 5 months ago. I find them really nice to sing to.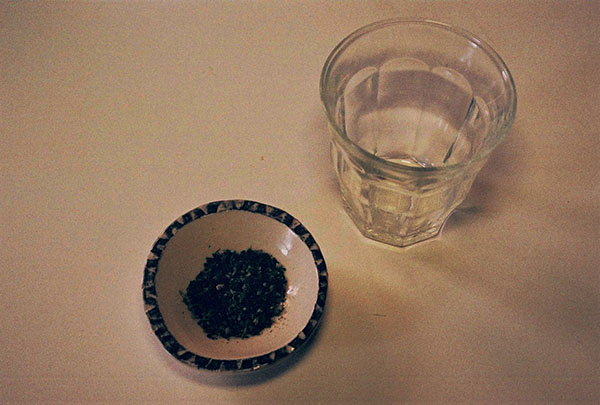 Uninhibitors
When I'm writing, if I feel nervous, I have some smokables and some wine. I don't have any wine right now but I drink it out of this cup.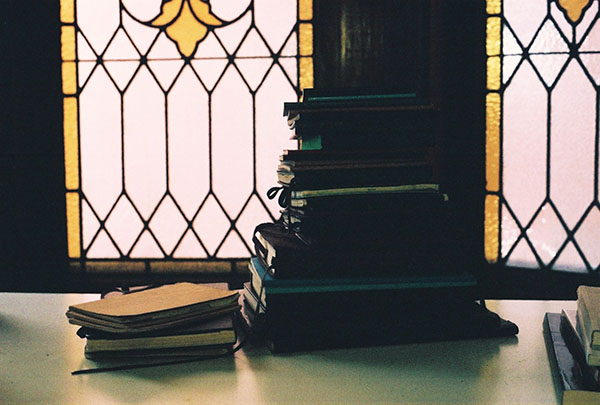 Journals
If I'm having problems lyrically, which rarely happens, I flip through old journals and old books of poetry that I wrote. I try to channel what's happening in that moment but sometimes if I'm wishing to speak about a certain moment or thing or cause or idea and I can't get there I'll go to my books.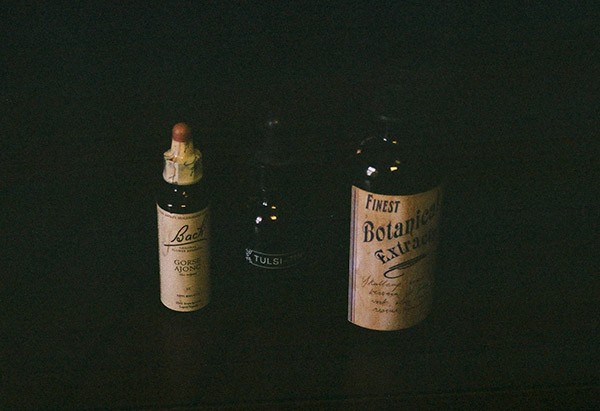 Tinctures
Sometimes my anxiety gets in the way. It used to more when I was younger. I had a hard time performing knowing that someone was in my house, like my Mom or roommates, so I'd cloister myself in small spaces. Now things are better but when my anxiety comes back I take these tinctures and I swear they work. I know this older woman, she's this amazing mystic, she makes this tulsi tincture for women.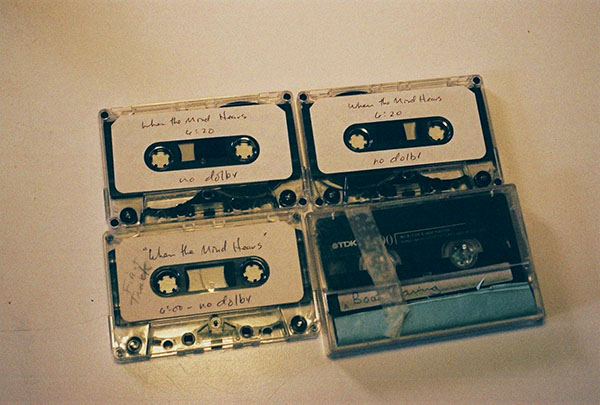 Deaf Recordings
A teacher of mine gave me these tapes. They're recordings of her daughter, who is deaf, just being around the house playing. They were part of a project she did and she thought I could use these. I grew up around a lot of deaf people because my parents worked at a school for the deaf. I went to kindergarten with a lot of deaf kids. I feel like there's a different, more mindful way of listening to them. I use these tapes for inspiration. It's good to hear that sense of silence when you're trying to create something with sound.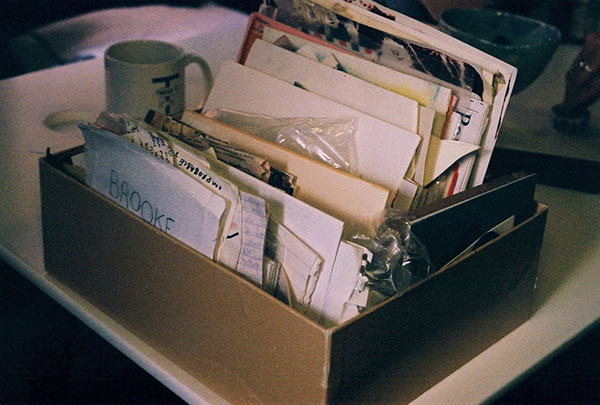 Love Letters
This is a box of notes from friends, family, lovers and people who have deeply influenced me. Sometimes I look through it but very rarely.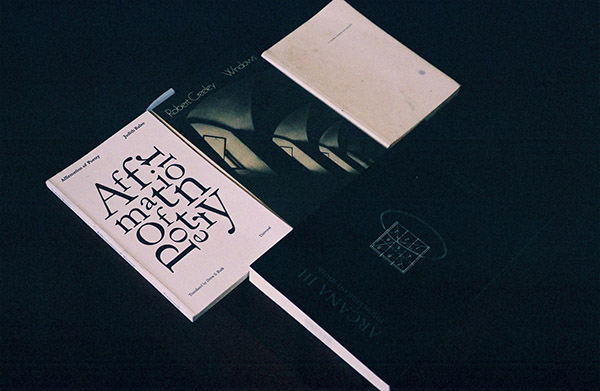 Books
These are my favourite books. Sometimes I open it up and read a page and try to place myself on that page, with the idea. I try to envision what's written about and it sets the tone for awareness in my body. It's a great thing for visualizing.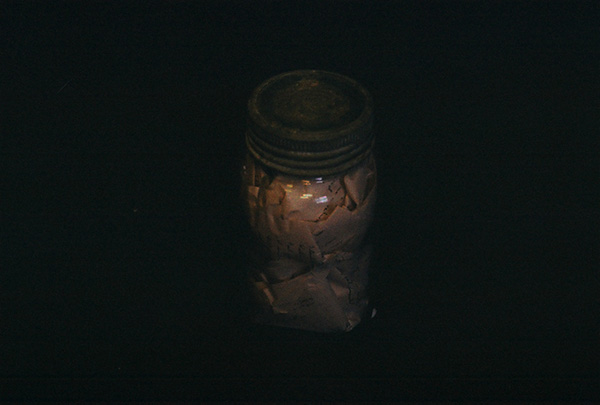 Jar of Souls
This is something I've had since I started playing and I'd bring it to shows. I did this funny project where I'd ask people if they could imagine their soul as something in a vessel, what would it be? I put an ad on craigslist and I got people to send them to me, these pieces of paper, and held them for a year and cared for them. I was never allowed to open the vessels because the vessels would release the soul. I've never opened it.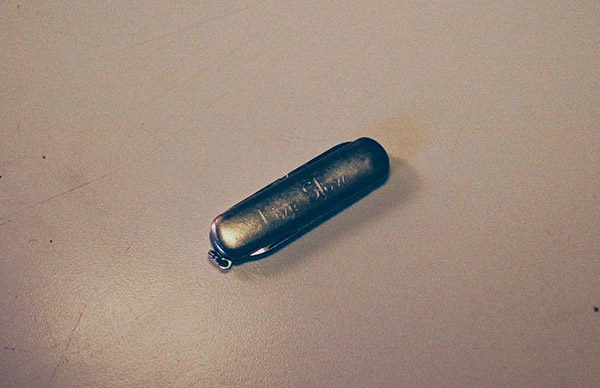 Live Slow Knife
This was my Grandpa's. Right before he died he was watching boats and I think he knew he was going to pass away. There a boat that kept travelling back and forth past the harbour and he would call me whenever he saw it and on the back it said 'Live Slow.' We had a lot of conversations then about what it meant to live slow and how he wished he had lived slower. Sometimes I lose it but it always gets sent back to me.
De Brad Casey:
(Traduit par Chantale Renée)
Il y a quelque chose d'incroyablement délicat au cœur de la musique de LOOM, comme la douleur qui suit le sentiment de tomber en amour ou la sensation de flottement lorsqu'on ne l'est plus. Brooke Manning, compositrice et force motrice de LOOM, a publié un EP calme et tourbillonnant en 2009. Il a été enregistré dans son salon avec Thom Gill ainsi que Dan et Matt Pencer, qui ont improvisé derrière les chansons avec des claviers subtiles et de douces cornes. Une collection méditative avec un fort accent mis sur ​​l'écriture, il a jeté les bases de ce qui allait devenir son album, Epyllion, enregistré sur les îles de Toronto. En constituant de nouvelles chansons et des chansons retravaillées de son EP, Epyllion présente un côté plus lourd et sombre que LOOM, avec des réverbérations de harpes, des synthés imbibés de distorsion, et, parfois, des percussions aussi effrayantes que la guerre. Depuis la sortie d'Epyllion, LOOM est devenu un back up band avec des membres de Silver Pools et Gates pour travailler sur un autre album. Les mots de LOOM, ainsi que sa facilité à créer une atmosphère, vous convient de vous Asseoir et de Respirer.
Weird Canada a demandé à Brooke de nous montrer des objets qui lui sont sacrés. Elle nous a permis de la rencontrer dans sa maison de Toronto et nous a presenté des choses qui pour elle sont nostalgiques et douloureuses, des objets qui lui tiennent à cœur et qui contribuent aux paroles et à la musique établi par sa tendresse.
N'hésitez pas à écouter les deux chansons de Epyllion pendant que vous regardez ces photos. Ce texte a été dicté par Brooke, et enregistré et transcrit par Brad Casey.
Boite Shruti
Parfois, si je me sens comme un bloc, je m'assois avec ça pour un moment . C'est comme une machine de drone. Je l'ai acheté au Musideum dans le bâtiment Richmond en 2008. Un ami m'en a aussi donné un autre, il y a cinq mois. Ils sont vraiment agréables à utiliser en chantant.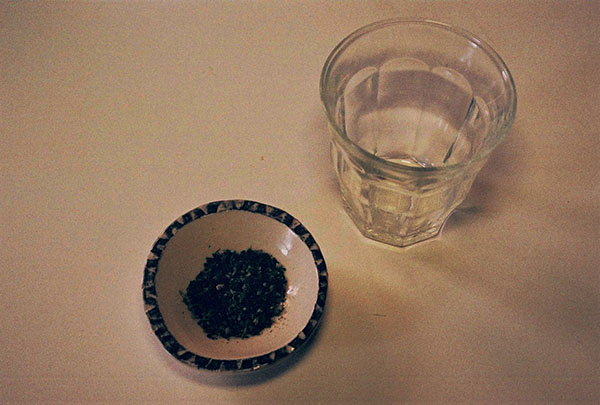 Uninhibitors
Quand j'écris, si je me sens nerveuse, je fume quelques cigarettes et bois du vin. Je n'ai pas de vin en ce moment, mais je le bois de cette tasse.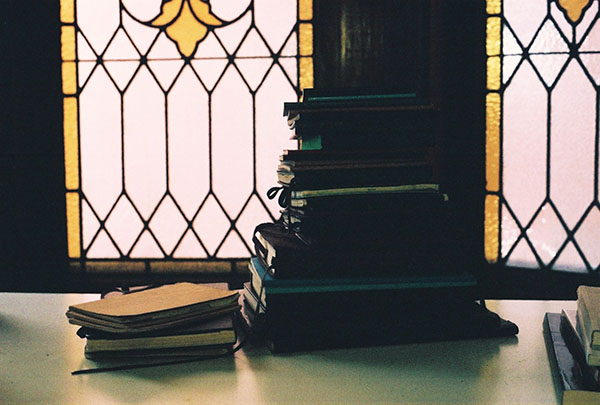 Journals
Si j'ai des problèmes à trouver des paroles, ce qui arrive rarement, je feuillette mes anciens journaux et vieux livres de poésie. J'essaie de canaliser ce qui se passe dans ce moment précis, mais parfois si je désire parler d'un certain moment, d'un objet, d'une cause ou d'une idée et que je ne peux pas y arriver, je retourne à mes livres.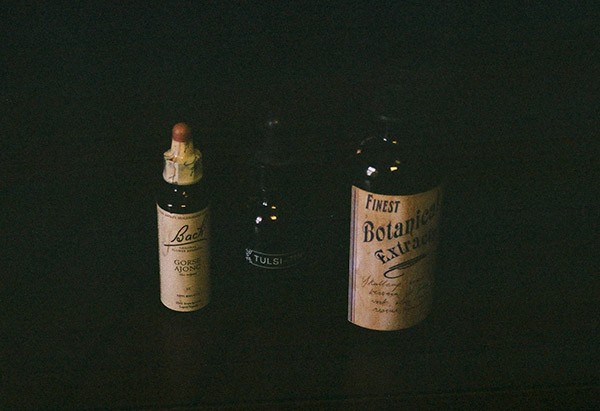 Tinctures
Parfois, mon anxiété prend trop de place. Elle était souvent présente quand j'étais plus jeune. C'était difficile de pratiquer sachant que quelqu'un était dans la maison, soit ma mère ou mes colocataires, donc je me cloitrais dans des petites espaces. Maintenant, les choses vont mieux, mais quand mon anxiété fait surface, je prends ces teintures et je jure qu'elles fonctionnent. Je connais une femme plus âgée, elle est incroyable et mystique, elle fabrique cette teinture Tulsi pour les femmes.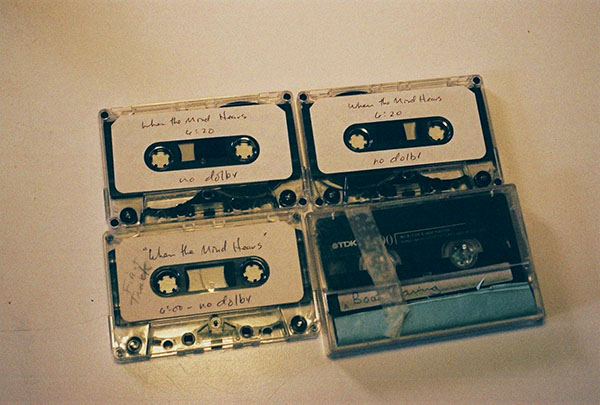 Deaf Recordings
Ceci appartenait à mon grand-père. Juste avant sa mort, il regardait attentivement des bateaux et j'imagine qu'il se doutait que sa vie s'achevait. Il y avait un bateau en particulier qui passait souvent dans le port. À l'arrière du bateau, on pouvait lire les mots "Vivez Lentement". Nous avons eu beaucoup de discussions à ce sujet, car mon grand-père souhaitait avoir pris plus son temps pour vivre. Parfois, je perds cet objet, mais il me revient toujours de nouveau.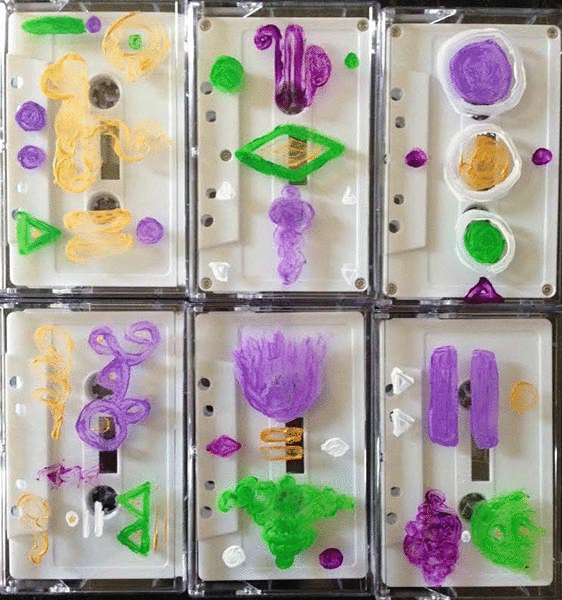 Matthew 'Doc' Dunn
Dance Me to the Light // Inner World Blues // The Floating Realm
(Cosmic Range // Medusa Editions)
Toronto, ON
From the expanding head of Kevin Hainey:
A trilogy of new tapes from the ever-present psychedelic fingers of Matthew "Doc" Dunn comes on strong in follow-up to the All Is LP. Released by the kind courtesy of his own Cosmic Range and soul brother #1 Ayal Senior's Medusa Editions, these six suite-like sides flow through the expanding channels of Dunn's endless rivers of psychedelic altruism, freaked out electronic primitivism, soulful lonesome folk, and spirit jazz grooving. A multi-instrumentalist at the top of his game, this trilogy expands on the promise his All Is and Tecumseh LPs demonstrated, and presents an elaborate auditory glimpse into the mindful capabilities of this alarmingly talented and worthy sonic journeyman. May these tapes fuel Dunn's growing legend as a radical at the forefront of Canada's underground like a gallon of gasoline on a campfire.
De la tête en expansion de Kevin Hainey:
(Traduit par Jessica Grenier)
Les doigts psychédéliques de l'éternel Matthew « Doc » Dunn reviennent en force avec une trilogie de cassettes faisant suite à All Is LP. Ces six côté continus, une gracieuseté de Cosmic Range et de son âme frère #1, Medusa Editions de Ayal Senior, suivent les canaux grandissant des rivières infinies de Dunn, passant par un altruisme psychédélique, un primitivisme électronique complètement fou, un folk aérien solitaire et des rythmes spirituels de jazz. Venant d'un multi-instrumentaliste qui n'a plus rien à apprendre, cette trilogie élargit la promesse manifestée dans ses All Is et Tecumseh et laisse apercevoir une parcelle détaillée des capacités conscientes de ce compagnon acoustique dangereusement talentueux. Que ces cassettes alimentent la légende grandissante de Dunn en tant qu'avant-gardiste radical de l'underground canadien, tels des galons de gaz dans un feu de camp.
Matthew 'Doc' Dunn – Dance Me To The Light [side 1]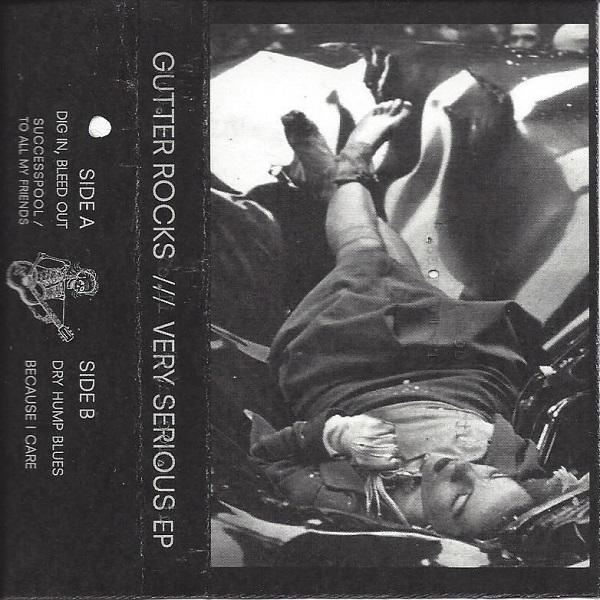 The Gutter Rocks
Very Serious
(Self Released)
Ottawa, ON
The Gutter Rocks – Dig In Bleed Out
The Gutter Rocks – Successpool
Successpool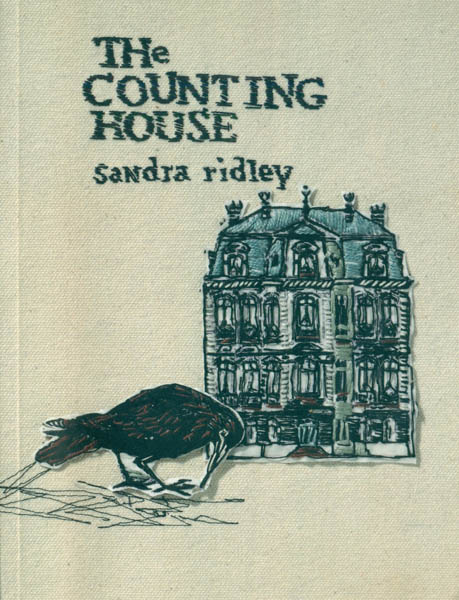 Sandra Riley
The Counting House
(BookThug)
Toronto, ON
96 pages, perfect bound
From … Dianne Lalonde:
Room to breathe in Sandra Riley's writing – slack action – a courtesy not often afforded. Not being one of two witnesses in love and domination, we are offered glimpses into elements of the unconscious all too familiar. Projection, rejection.
Questions regarding the productive nature of violence/docility. Who I am after you? Eventually only ghosted – thoughts, a voice, a presence long after.
"I deny I fell – I curtsied."
De … Dianne Lalonde:
(Traduit par Jessica Grenier)
Les écrits de Sandra Riley laissent un peu de place pour respirer, un luxe que l'on se permet rarement – de l'action épisodique. N'étant pas l'un des deux témoins de l'amour ou de la domination, on peut apercevoir des éléments d'un inconscient déjà trop familier. Projets, rejets…
Un questionnement sur la nature productive de la docilité/violence. Qui suis-je après toi? Et puis, un jour, seulement le fantôme d'une idée, d'une voix, d'une présence qui nous manque.
« Je n'ai pas chuté – j'ai tiré ma révérence. »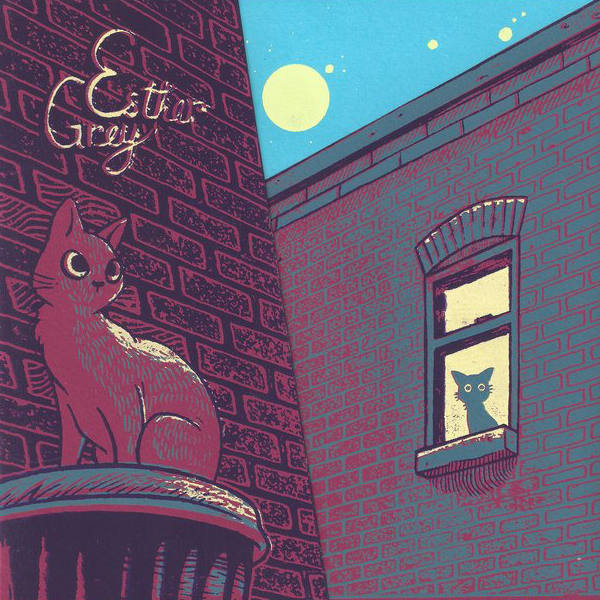 Esther Grey
Buttermilk 7"
Guelph, ON
From the Haunting Cave Stomp of Mike Deane:
Esther Grey could play the soundtrack to a medieval séance in a Bavarian forest. Haunting cave stomp drums and minor guitar stabs begin the ritual, as Steph Yates' ethereal, eerie, effortless vocals create something otherworldly and infectious. Surf and rockabilly elements are incorporated throughout the first two tracks, but "Night Calls" cements Esther Grey's sound as more baroque and carnivalesque than rock 'n roll. A true original, with songs sounding as old as the hills while still containing elements of some of their more daring contemporaries.
Des pas lourds dans une grotte hantée de Mike Deane:
(Traduit par Jessica Grenier)
Esther Grey pourrait faire la trame sonore d'une séance médiévale dans une forêt bavaroise. Les pas lourds d'une batterie dans une grotte hantée et les petits coups de guitare commencent le rituel; la voix simple, éthérée et féérique de Steph Yates créant une chose surnaturelle contagieuse. Des éléments surf et rockabilly parsèment les deux premières pistes, mais « Night Calls » cimente le son d'Esther Grey dans un genre plus baroque et carnavalesque que rock 'n roll. C'est un album réellement original, avec des chansons au son vieux comme le monde, mais contenant des éléments dignes de leurs contemporaines les plus audacieuses.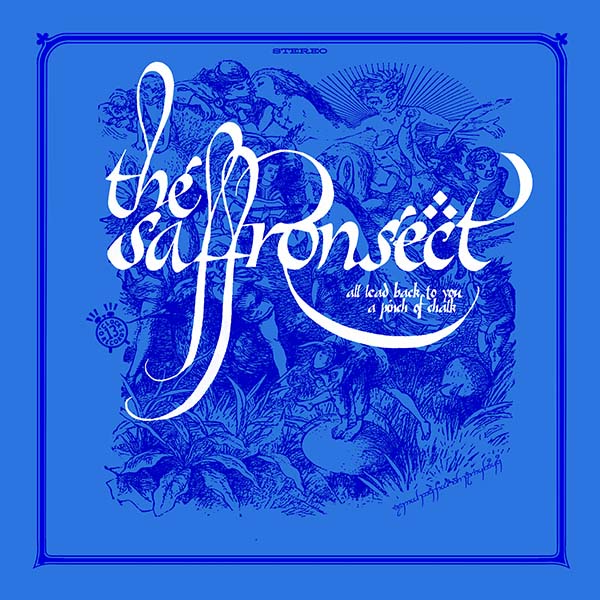 The Saffron Sect
All Lead Back To You b/w A Pinch of Chalk
Toronto, ON
From the one nights stands of Gabe Girard:
13 O'Clock Records, Austin's psych-pop repository extraordinaire indulges us with something more than a one night stand. The Saffron Sect alternate between sultry open-ended jams and glittering hooks loaded with bait attractive enough to catch fish for days. Not just faithful rehashes of 50s, golden era pop/rock psychedelia, this 7" inch carves out its own trajectory. Fishing for a good time starts with throwing in your line.
En direct des histoires d'un soir de Gabe Girard:
(Traduit par Diane Beaupré)
13 O'Clock Records, extraordinaire vitrine de la musique pop psyché d'Austin nous offre bien plus qu'une aventure d'un soir. Saffron Sect passe des improvisations endiablées aux mélodies accrocheuses qui nous hantent pendant des jours. Ce vinyle ne présente pas de reprises remâchées des succès de l'âge d'or du rock pop psychédélique, il trace son propre chemin. Il faut sortir des sentiers battus pour découvrir des trésors.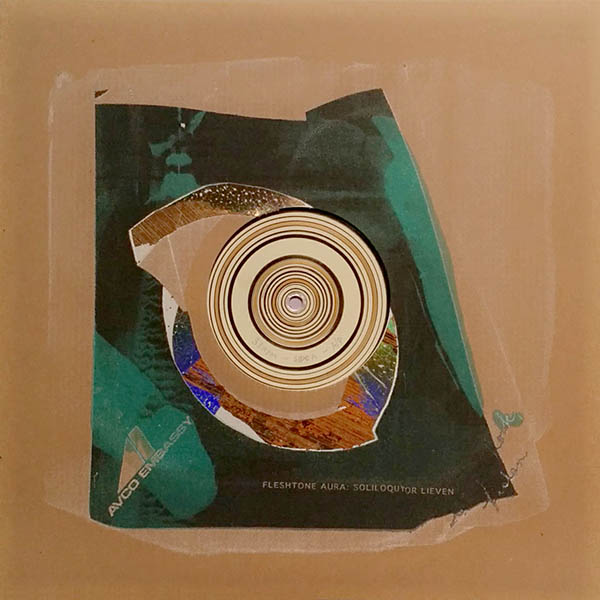 Fleshtone Aura
Soliloquy for Lieven
Toronto, ON
From the vitriolic taste of Kevin Hainey:
Andrew Zukerman is a consistently strong individual force and significant presence among Toronto's underground and experimental music communities. Whether it's been with his many solo projects, or as part of the long-running cut-up sound-wrestling noise team Gastric Female Reflex, Zukerman has constantly developed his own definable style of compositional electronic music for over a decade now. Fleshtone Aura is Andrew's most serious and vinyl heavy solo project to date, and this third record is not what anyone would have expected. Opposed to maximizing his hyperactive use of editing to micromanage recorded time and cram the listening experience with as many ideas, sounds and jarring effects as possible over a short period, this latest record is more about an absence of… well, nearly everything. Without quite fitting into the eternally yawning genre, Zukerman has made his equivalent of an ambient record, so far in that a nod to a modern master of the international chill-out scene Lieven Martens (aka Dolphins Into the Future) could not be avoided. This time around, it's not so much about sound as the absence of sound. Zukerman has polarized his talent with this record, and set an extreme sound-barrier for himself far in the opposite direction he's used to pushing himself in. For my minimalist leaning tastes, this is the best Fleshtone Aura record so far. Where he's prone to packing out the playing field and keeping the action wild, this time around he's cleared it of athletes, and punctured the ball.
Du goût acerbe de Kevin Hainey:
(Traduit par Jessica Grenier)
Andew Zukerman est une force individuelle constante et une présence importante dans l'underground et les communautés de musique expérimentale de Toronto. Que ce soit par le biais de ses nombreux projets solos ou par celui de l'équipe éternelle de destructeurs/lutteurs de bruit Gastric Female Reflex, Zukerman a toujours suivi son propre style dans la composition de musique électronique – soit depuis plus d'une décennie. Fleshtone Aura est son projet solo le plus sérieux et le vinyle le plus lourd jusqu'à présent, et ce troisième enregistrement n'est pas ce à quoi on aurait pu s'attendre. Plutôt que de maximiser son utilisation hyperactive de l'édition pour utiliser chaque seconde enregistrée en bourrant l'expérience auditive d'autant d'idées, son dernier album mise plutôt sur l'absence de… presque tout, en fait. Sans nécessairement tomber dans le genre à faire bâiller, Zukerman a produit l'équivalent d'un album d'ambiance, à tel point qu'un clin d'œil au maître moderne du chill-out sur la scène internationale, Lieven Martens (aka Dolphins Into the Future), n'a pu être évité. Cette fois-ci, ce n'est pas le son qui compte, mais son absence : Zukerman a polarisé son talent avec cet album, érigeant lui-même une barrière de son à l'extrémité opposée de la direction vers laquelle il allait jusque-là. Selon mes goûts penchant vers le minimalisme, c'est le meilleur album de Fleshtone Aura jusqu'à présent. Là où il remplirait normalement le terrain avec une action folle, il a plutôt retiré les athlètes et fait des trous dans les ballons.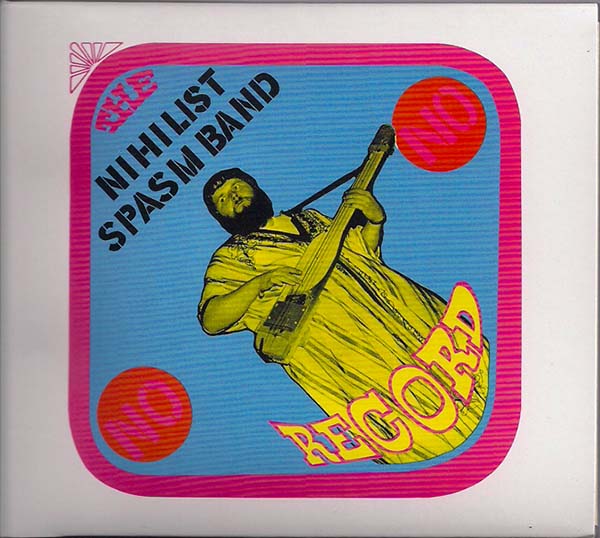 Nihilist Spasm Band
No Record
London, ON
originally released: 1968
From the dog face of James Lindsay:
More mindfucking than Captain Beefheart at his weirdest; noisier than the most ferocious No Wave; angrier than The Fugs confronting Nixon ("Destroy America! … Shit on Canada! … Boil Defanbaker!" screams Bill Exley on "Destroy the Nations"). No Record captures all the unspoken chaos of the '60s and imposes itself on the listener so forcefully it leaves a permanent impression that falls short of the concept of taste. Terms like "good" and "bad" become useless as the Nihilist Spasm Band doesn't give a damn if the audience is entertained or not. Be sure to check out the excellent liner notes by Weird Canada's own Jesse Locke with contributions from Darcy Spidle (Divorce Records/Obey Convention), Sydney Koke (Shearing Pinx/The Courtneys), Man Made Hill, and more.
De la face de chien de James Lindsay:
(Traduit par Jessica Grenier)
Plus fourrant que Captain Beefheart à son plus bizarre; plus bruyant que le plus féroce de No Wave; plus frustré que The Fugs affrontant Nixon (Destroy America! … Shit on Canada! … Boil Defanbaker!, crie Bill Exley sur « Destroy the Nations »). No Record cristallise tout le chaos inexprimé des années 60 et s'impose à l'auditeur si violemment qu'il laisse une impression permanente s'arrêtant juste avant le commencement du concept de bon goût. Des termes comme bon ou mauvais deviennent inutiles avec Nihilist Spasm Band qui se fout totalement de savoir si le public est diverti ou non. Jetez un œil sur les excellentes notes d'accompagnement de notre cher Jesse Locke de Weird Canada, avec les contributions notamment de Darcy Spidle (Divorce Records/Obey Convention), de Sydney Koke (Shearing Pinx/The Courtneys) et de Man Made Hill.
Nihilist Spasm Band – Destroy the Nations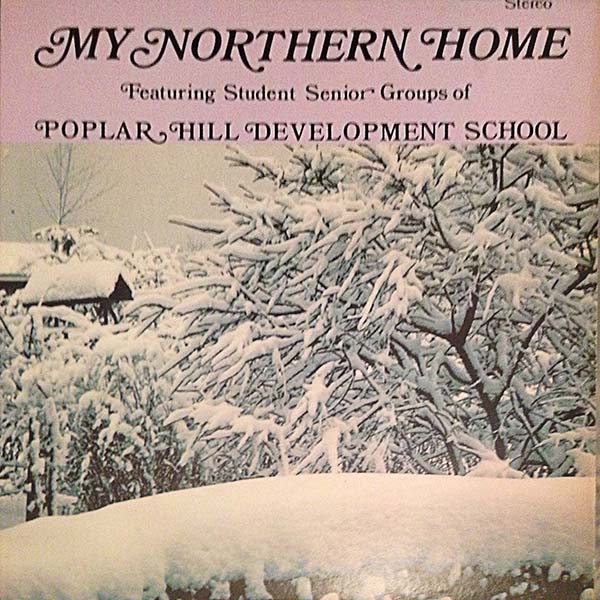 Poplar Hill Development School
My Northern Home
(Self Released)
Poplar Hill, ON
originally released: 1972
From the feverish mind of Charlotte:
Located near the Manitoba-Ontario border is Poplar Hill, home to the Anishnaabe (Ojibway) Poplar Hill First Nation. Many of the children there attended the Poplar Hill Development School, an Indian Residential school that operated between 1962 and 1989. A quick Google search shows that many survivors have spoken openly about their experience, the good and the bad, but no one mentions the audio record of the experienced pain. To mark its tenth anniversary, the school released a 12-inch vinyl record called My Northern Home, which features fifteen recorded songs that had been sung by the children of Poplar Hill Development School between 1969 and 1972. Yet, as I scavenged for even a hint of information about its recordings or release, its existence seemed doubtful except for the fact that I had held the vinyl in my own two hands and heard it playback through my speakers as the needle took a plastic ride through history.
Of the fifteen songs, two were sung in Cree, a surprising feature considering the total suppression of Indigenous languages in residential schools, but even the Cree song "Down At The Cross" suggests a Western religious theme. If not exploring Christian teachings of Jesus Christ, the songs mentioned the land, the seasons or school life. As much as My Northern Home may feel like salt poured into open wounds, the powerful sound of these voices is an important learning experience to share. These songs eerily capture an oppressive past so distant, yet so near; they are acapella time capsules that run through the veins of Indigenous cultures and the current issues that echo so loudly.
De l'esprit fiévreux de Charlotte:
(Traduit par Jessica Grenier)
Poplar Hill est située près de la frontière entre l'Ontario et le Manitoba. La Première Nation Anishnaabe (Ojibway) de Poplar Hill y habite. Là-bas, de nombreux enfants ont étudié à la Poplar Hill Development School, un pensionnat indien qui a été en activité entre 1962 et 1989. Une rapide recherche sur Google montre que plusieurs survivants ont parlé ouvertement de leur expérience, tant du bon que du mauvais, mais personne ne mentionne l'enregistrement audio de la douleur vécue. Pour souligner son dixième anniversaire, l'école avait lancé un vinyle 12'' intitulé My Northern Home, qui comprenait quinze pistes chantées par les enfants de l'école entre 1969 et 1972. Mais, alors que je recherche toujours activement des informations sur cet enregistrement, son existence même semble incertaine, si ce n'est que j'ai tenu le vinyle dans mes propres mains et que j'ai entendu le son sortir de mes haut-parleurs au rythme de l'aiguille en plastique remontant le cours de l'histoire.
Deux des quinze chansons étaient chantées en Cri, ce qui est étonnant si l'on considère l'interdiction totale des langues indigènes dans les pensionnats, mais même la chanson en cri « Down At The Cross » suggère un thème religieux de l'Ouest. Quand elles ne traitaient pas des enseignements chrétiens de Jésus Christ, les chansons mentionnaient la terre, les saisons et la vie à l'école. Bien que My Northern Home puisse être vu comme du sel versé sur des plaies ouvertes, une leçon importante peut être tirée de ces voix au son puissant. Ces chansons sont la sinistre capture d'un passé oppressant éloigné, mais proche à la fois; elles sont des capsules temporelles a capella qui coulent tant dans les veines des cultures autochtones que dans les problématiques qui se font entendre actuellement.
Poplar Hill Development School – Down At The Cross (Cree)
---