Category: ontario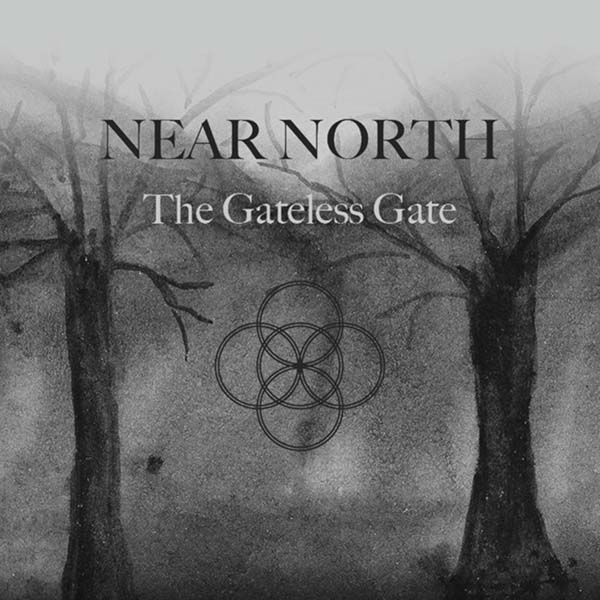 The Gateless Gate
Near North
(Self Released)
North Bay, ON
From the evidenced sounds of Joshua Robinson:
"Quiet". Woolgathering as soft steps struggle to stomach the circuitous decay underfoot. A quiet that doubles as both hum and rattle; tectonic yet remote. Reticence that builds upon itself as so many hours upon the day. This is time lapse caught in situ; the stillness has found mood-form in the vibrance of a tamed chaos. Where the halcyon subsides, we are trapped at the point of denoument and the twirling precipice of soundless collapse. In these faults we find effulgent absence; in absentia we find pieces abridged.
Des sons justifiés de Joshua Robinson:
(Traduit par Jessica Grenier)
« Silence ». Rêvasser en marchant doucement, chaque pas s'efforçant d'assimiler le déclin tortueux du sol. Un silence qui est tant cliquetis que fredonnement, tectonique mais éloigné. Une réticence qui se construit sur elle-même, comme les heures sur le jour. C'est un laps de temps figé in situ, la fixité ayant trouvé sa forme-émotion dans la vibrance d'un chaos dompté. Là où le beau se retire, nous sommes prisonniers du point de dénouement, du précipice tourbillonnant d'un effondrement silencieux. Dans ces erreurs nous trouvons une absence éclatante; in absentia, des pièces abrégées.

The Gateless Gate – Our Forest Walk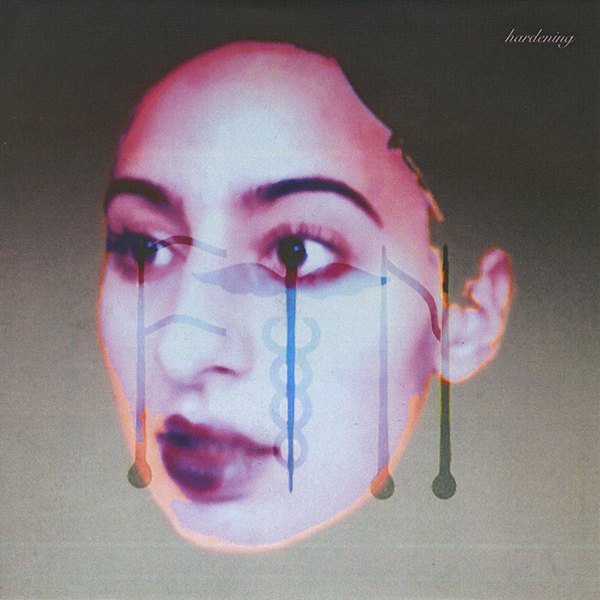 F I N
Hardening
Toronto, ON
From the earnest mumbles of Rachel Bellone:
Spiraling in from right to left, F I N's Hardening uses melody like a swinging pocket watch. Submerging you into this grime-y synth daydream where you can breathe under water. In preparation for a full-length release, we are teased by these sweetly decorated tracks. In Silver's vocal percussion pulls you up for a breath of fresh air. Moving between the spectrum of dissonance in harmonies back to the singularity of the solo wispy and affective voice.
Du bafouillage sérieux de Rachel Bellone:
(Traduit par Jessica Grenier)
En vrilles antihoraires, Hardening de F I N fait osciller la mélodie comme une montre à gousset, nous immergeant dans une rêverie crasse synthétisée où on peut respirer sous l'eau. Les percussions vocales de « In Silver » nous laissent remonter pour un peu d'air frais en traversant le spectre des dissonances harmoniques, pour revenir vers la délicatesse affective de cette voix unique. Ces pistes joliment décorées nous sont offertes en avant-goût, dans l'attente de l'album complet.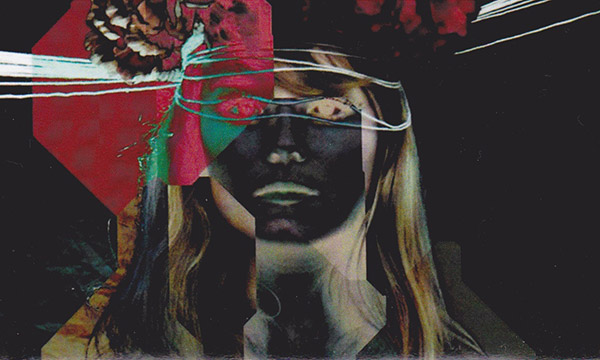 The Yips
Air Loom
Ottawa, ON
From the distorted parapets of Joshua Robinson:
Ouija words spill across distorted distances. Sound waves imbued with garage spirits that once stood so still now force their way through the parapets that keep their potential energy at bay. Air Loom is a staggering edifice of sound; a source of the waves that emanates from the eye of the storm , intorting its breath to the point of becoming the heavy dissonance that turns calm to clamour; 'yeah yeah yeahs' that reverberate across the northernly compass.
Des garde-fous tordus de Joshua Robinson:
(Traduit par Jessica Grenier)
Des mots de Ouija s'étendent sur un horizon déformé. Des vagues de son imprégnées d'esprits de garage, qui jadis restaient si immobiles, essayent de défoncer les garde-fous tenant à distance leur énergie potentielle. Air Loom est un édifice de son vertigineux; c'est la source de ces vagues qui émanent de l'œil de la tempête en tordant sa respiration intérieure, au point de devenir une lourde dissonance changeant le calme en cacophonie. Les « yeah yeah yeah » se répercutent à travers l'étendue nordique.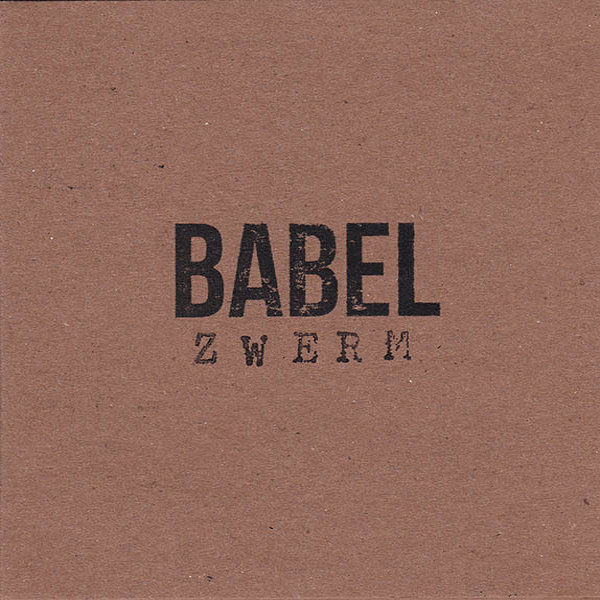 From the improvised plan of Josh Silver:
There are no straight edges on Jupiter. Rhythm is broken into curving arabesques, resonating concentric circles into the cosmic void. Singular sounds interact over fluid ostinatoes – receding into background radiation in a prepared experiment. The instrument is bent into the music, layered and moulded through physical and ethereal alteration. The listener ascends into a frenzy of interplanetary messages emanating from a distance.
Du plan improvisé de Josh Silver:
(Traduit par Jessica Grenier)
Il n'y a aucune ligne droite sur Jupiter. Le rythme se brise en arabesques, résonnant en cercles concentriques vers le vide cosmique. Les sons isolés interagissent sur de fluides ostinatos, l'expérience préméditée les réduisant à des radiations d'arrière-plan. L'instrument est courbé vers la musique; étagé puis moulé par des transformations physiques et éthérées. L'auditeur s'élève vers une frénésie de messages interplanétaires émanant du lointain.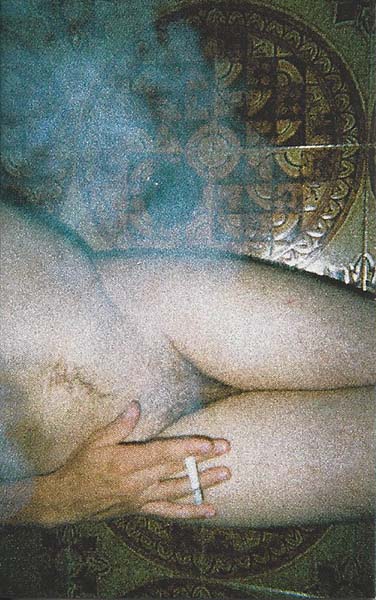 Dirty Frigs
Dirty Frigs
(Self Released)
Toronto, ON
From the pallid reflection of Adam Bradley:
Quartz golem wielding a crystal chandelier, baring down on the imp of banality. A sonic mountain growing geometrically forever, piercing the atmosphere and penetrating the tapestry of space-time. Frequencies shuddering and bass creating earthquakes indiscriminately. The cavernous voice of a trapped beast of the deep. Dust-bowl breath, searing eyes, gnashing jaws. Circles of salt, sage burnt in corners, a pallid, sick reflection of a thing that lived before. The walls twist and rend, nerves crackle under skin.
Du reflet blafard d' Adam Bradley:
(Traduit par Jessica Grenier)
Un golem de quartz brandit un chandelier en cristal, dévoilant le diablotin de la banalité. Une montagne sonore géométrique grandit à l'infini, perçant l'atmosphère pour pénétrer la toile spatio-temporelle. Les fréquences frissonnent : une basse crée aveuglément des tremblements de terre. La voix caverneuse d'une bête abyssale emprisonnée : souffle sablonneux, yeux ardents, dents exhibées. Des cercles de sel, de la sauge brûlant dans les coins, le reflet maladif d'une chose ayant déjà vécu. Les murs se tordent puis fendent, les nerfs crépitent sous la peau.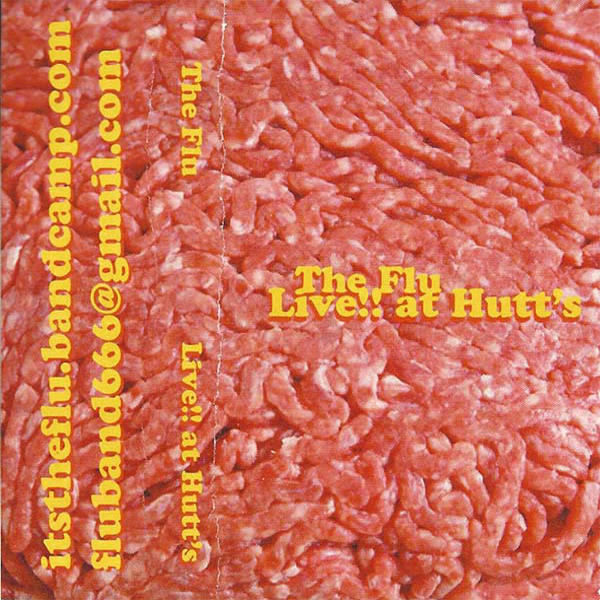 The Flu
Live!! At Hutt's
(Self Released)
Toronto, ON
From the balloon animal veins of Adam Bradley:
Ultra skuzz-buzz brain blasting snaggle-tooth punk slop. Four hundred mph, eyelids like parachutes, tongue flappin' like a thirsty dawg. Tall glass o' toxic slime with black tapioca balls, hands down the beef grinder, makin' a little dinner. Armadillos roll down into hell's mouth, highfive all the buds. Hurl a busted amp off a skyscraper, veins inflated like balloon animals, eyeballs googling 'round all bingo ball. Grin like a doofus, spontaneously combust, pile of ash crawling towards the bar.
Des veines gonflées comme des ballounes en forme d'animaux d'Adam Bradley:
(Traduit par le corps tombant plus vite que le cri de Jessica Grenier)
C'est une bouette punk sur un buzz de skuzz à s'en péter la tête. Quatre cent mille à l'heure, les paupières étirées en parachutes, la langue battant au vent comme chien. Un grand verre de glue toxique avec de boules de tapioca noir, les bras jusqu'au coude dans le hachoir : on se fait un petit souper. Armadillo se jetant dans la bouche de l'Enfer pour donner des highfive à ses chums. Lancer un ampli sauté du haut d'un gratte-ciel, les veines gonflées comme des ballounes en forme d'animaux, les yeux googlant comme des balles de bingo. Sourire comme un crétin, spontanément prendre en feu : un tas de cendre rampant vers le bar.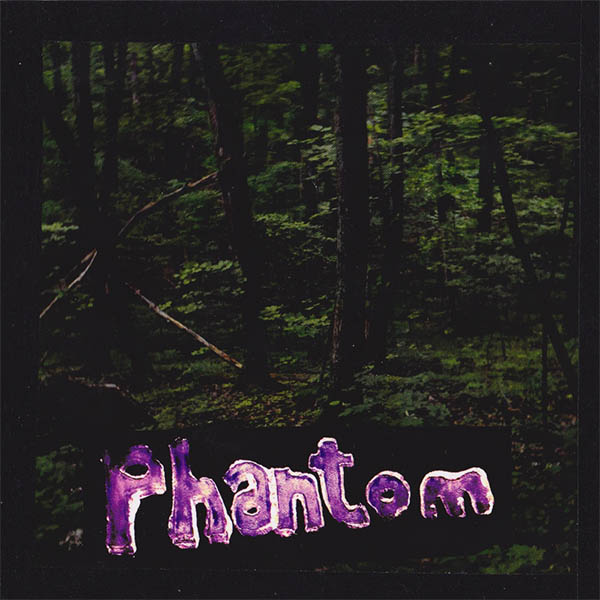 Herons Wake
Phantom
(Self Released)
Ottawa, ON
From the naturally magnetic mind of Matthew Blenkarn:
From the naturally magnetic mind of Matthew Blenkarn: Strap a magnet to a man and see what he draws in. Will his currents strike the earth's natural fields, ringing out like a climactic shot from a Spaghetti western? Or will the attraction be more subtle and fleeting, like wafting mist over a lake? If he interacts with electromagnets, will the alternating currents shimmer like a mirage? What's certain is that the sound will pull you through landscapes and waterways, seeking out its source.
De l'esprit naturellement magnétique de Matthew Blenkarn:
(Traduit par Jessica Grenier)
Attache un aimant après un homme pour voir ce qu'il va rapporter. Est-ce que son courant va heurter les champs naturels de la Terre, résonnant comme le moment culminant d'un western spaghetti? Ou l'attraction sera-t-elle plus subtile et fugace, comme la brume flottant sur un lac? S'il entre en contact avec des électroaimants, est-ce que les courants alternatifs vont chatoyer comme un mirage? Ce qui est sûr, c'est que le son va te guider, à travers paysages et cours d'eau, en quête de sa source.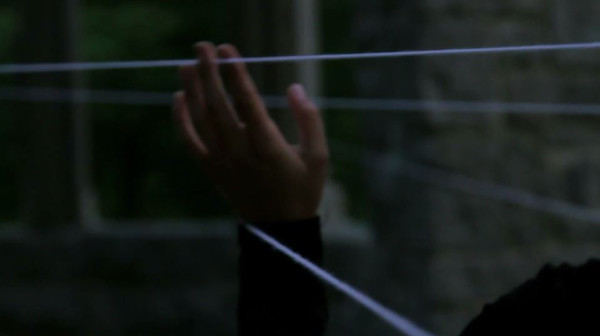 From the long quiet walk of Matthew Blenkarn:
Slow, long shots of a protagonist marching, waiting, and grasping are interrupted by rapid, stuttery cuts to primal images. Fire, spiders, smoke and more highlight the dynamic and energetic music behind them. A forest can be a quiet contemplative space, but in this video that's not so.
De la longue marche tranquille de Matthew Blenkarn:
(Traduit par le poisson babel de Joel Mak)
Des plans longs et lents d'un protagoniste qui marche, qui attend et qui saisit sont interrompus par des coupures stroboscopiques et rapides pour aller à des images primordiales. Du feu, des araignées, de la fumée et autres choses, mettent l'accent sur la musique dynamique et énergique qui joue en fond. Une forêt peut être un moine calme, mais dans ce clip, ce n'est pas le cas.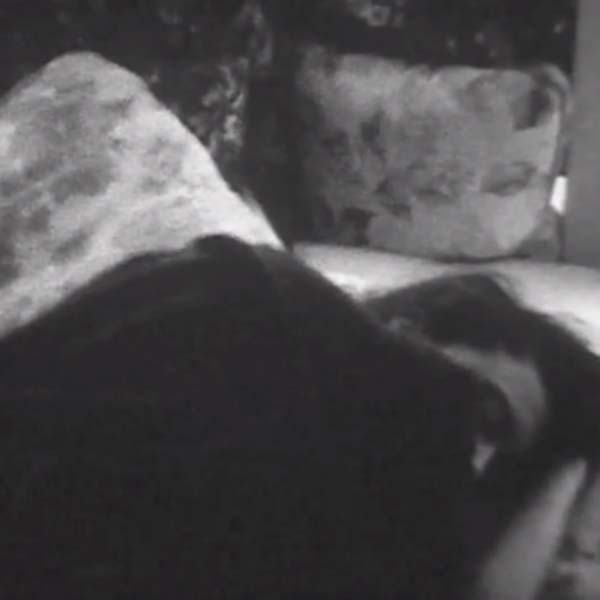 From the mellowed rhythm of Marie Leblanc Flanagan and Aaron Levin:
Been holding us underwater, ears full and throbbing. Through the concrete water beads, faded on horizons grey. Gravid vox taming drum machines unquantized. We submit.
Des rythmes moelleux de Marie Leblanc Flanagan et Aaron Levin:
(Traduit indolemment par Jessica Grenier)
Nous sommes maintenus sous l'eau, les oreilles pleines, lancinantes. Un pâle horizon gris, perçu à travers des billes d'eau bétonnée. Une voix pleine apprivoisant une boîte à rythmes inquantifiée. Nous sommes vaincus.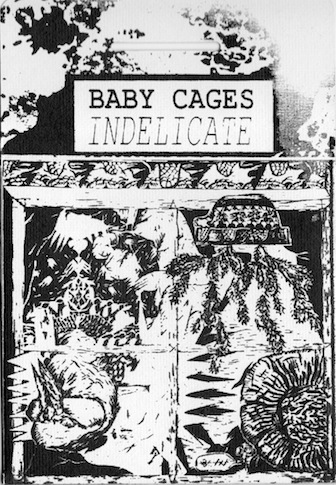 BABY CAGES
INDELICATE
(HJ Tapes)
Halifax, NS // Toronto, ON,
From the macabre slow dances of Mike Roy:
Life is displayed under a monochromatic lens. Everything is glazed under a hue of black and white on INDELICATE, where BABY CAGES explore the gothic dichotomy of colour and contrast under a smoky veil. The gloom is not limiting, but instead pierces the shell of the corporeal with sublime lo-fi vocals and lyricism. The melodies are restrained at a distance, yet feel deeply intimate and emotional. By its conclusion, the greys bleed together and you are fully absorbed into the hypnotic sonic being.
Des lentes danses macabres de Mike Roy:
(Traduit par les villes éclaboussées de bleu de Marie-Pier Chevrier)
La vie s'étend sous une lentille monochrome. Tout est givré d'une teinte de noir et blanc sur INDELICATE, où BABY CAGES explore la dichotomie gothique des couleurs et des contrastes sous un voile de fumée. Les ténèbres ne posent aucune limite, mais percent plutôt la coquille du corporel de voix lo-fi et d'un lyrisme sublime. Les mélodies, gardant leurs distances, nous touchent néanmoins de manière profondément intime et émotionnelle. En épilogue, les gris saignent les uns dans les autres et vous vous retrouvez imbibé d'une entité sonore hypnotique.
---