Category: compact disc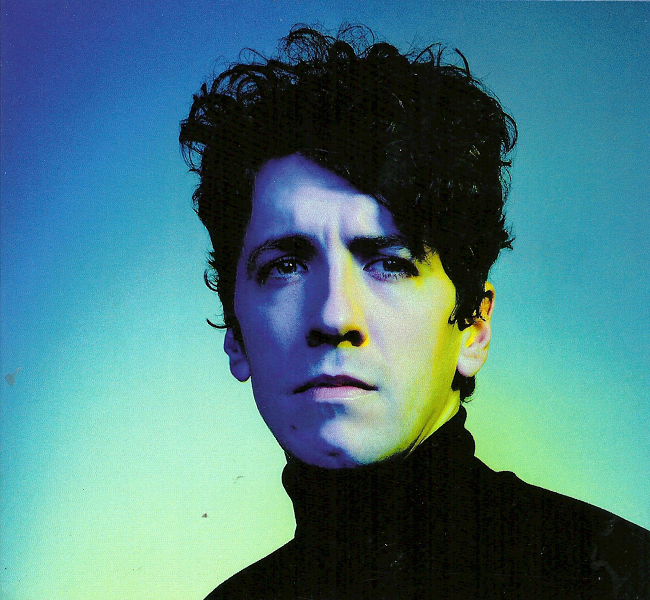 Blonde Elvis
On Vanity
Toronto, ON
From the ruby slipper of Katie Jensen:
A somber gigue leads a funeral procession through a damp cavern. Sconces of flickering candlelight bounce off slick, cratered rock. Venerable Britpop relics give a knowing wink from their influential promontories.
The procession nudges aside a heavy velvet curtain to reveal a psychedelic dance cave resplendent with glittering heavenly bodies. A troupe of well-dressed cavernicoles devour each other hungrily, wiping their mouths on shredded pop anthems.
A flautist gleefully unfurls a playful tattoo as a harpsichord circles the room giving vigorous handshakes. Crushing drumbeats anchor frayed synth vibratos and unholy harmonies. The wet air hums with hedonistic friction, ready to collapse and expand all at once.
De la pantoufle rubis de Katie Jensen:
(Traduit par les diamants sur canapé de Julie Mayer)
Une gigue sombre guide une procession funèbre à travers une grotte humide. Des candélabres aux chandelles vacillantes rebondissent sur de la roche glissante et couverte de cratères. De vénérables reliques de la britpop font un clin d'œil complice du haut de leurs promontoires influents.
La procession écarte un lourd rideau de velours pour révéler une caverne de danse psychédélique resplendissante de corps célestes scintillants. Une troupe de cavernicoles bien vêtus se dévorent les uns les autres avec avidité, s'essuyant la bouche sur des hymnes pop en lambeaux.
Une flûtiste déroule avec allégresse un tattoo enjoué tandis qu'un clavecin décrit des cercles dans la pièce et donne des poignées de main vigoureuses. De terribles battements de tambour ancrent des vibratos démêlés faits au synthé et des harmonies impies. L'air humide bourdonne d'une friction hédoniste, prêt à se contracter et à se dilater en même temps.
Blonde Elvis – Slow Fall On Egypt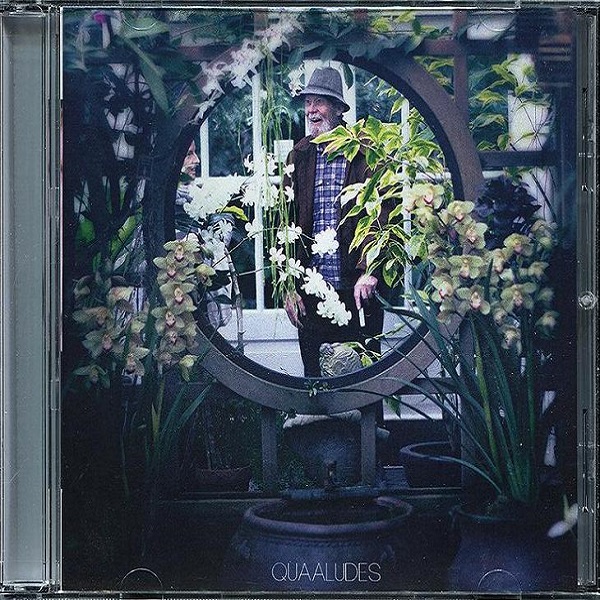 Quaaludes
This Is Your Future We're Talking About
Montreal, QC
From the teenage feelings of Trevor Angst:
Let Quaaludes be your entry portal into a nascent seam of emotive punk. Hailing from Montreal, Quaaludes tips their hat to the clean, trebly noodles of the American Midwest. Antigua twinkles like a Kinsella-scordatura sequel. The brass yearns softly while hoarse throated, coveted monologues are spilt with buff emotion over beefy jagged rhythms. Sporadic, jerking rim shots with mind manipulating tempo changes add underlying complexity to the spindling dragon dance of bright and pretty dual instrumentation of slides and harmonic bends.
Des sentiments adolescents de Trevor Angst:
(Traduit par la croisée des chemins de Julie Mayer)
Que Quaaludes soit votre portail d'entrée vers une couture naissante de punk émotif. Originaire de Montréal, Quaaludes lève son chapeau aux improvisations informelles, aiguës et claires du Midwest américain. Antigua brille telle la suite d'une scordatura à la Kinsella. La trompette soupire doucement pendant que des monologues à la gorge enrouée se déversent avec une émotion musclée sur des rythmes costauds en dents de scie. De sporadiques rimshots accompagnés de changements de tempo qui manipulent l'esprit ajoutent une complexité sous-jacente à la tournoyante danse du dragon qu'est la brillante et jolie instrumentation double composée de glissements et virages harmoniques.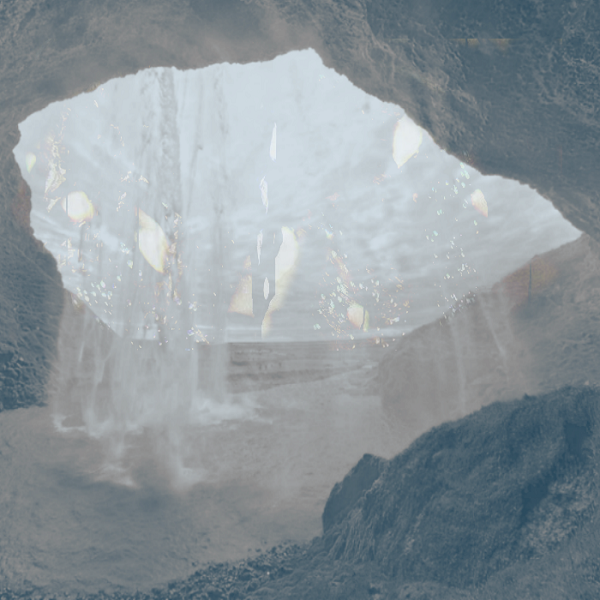 Supercooling
Wild Blue Yonder
Montreal, QC
From the night shift mind of Stefan Christoff:
Supercooling is a perfect nighttime listen, a radiant drone project between Catherine Debard and Matt May. Their layered soundscapes are ethereal while also suggestive of radio waves. The interplay between the artists is dynamic and beautifully entwined. As Matt's layered guitar creates landscapes, Catherine's electronics oscillate between, often acting as a voice. Sounds on this album really do evoke a voyage in the clouds, but beyond airplanes, the tracks are otherworldly. Wild Blue Yonder is a soundtrack for difficult to describe dreams: those crazy ones when you're flying above the earth, when all we are told is impossible is suddenly real.
De l'esprit nocturne de Stefan Christoff:
(Traduit par l'hémisphère de Diane Beaupré)
Supercooling est la musique parfaite pour une écoute nocturne, un éclatant drone bourdonnant entre Catherine Debard et Matt May. Les sons superposés évoquent à la fois une ambiance éthérée et des ondes radio. L'interaction entre les musiciens est dynamique et démontre une belle connivence. Souvent, telle une voix qui porte, le son électro de Catherine se faufile entre la guitare de Matt qui crée les paysages. Comme s'ils étaient d'un autre monde, les sons de cet album évoquent un voyage dans les nuages, bien au-dessus des avions. Wild Blue Yonder est la bande sonore de ces rêves difficiles à décrire, ces rêves fous où vous flottez au-dessus de la terre, où tout ce que vous croyiez impossible est tout à coup réel.
Supercooling – Our Shadows Are Made of Mist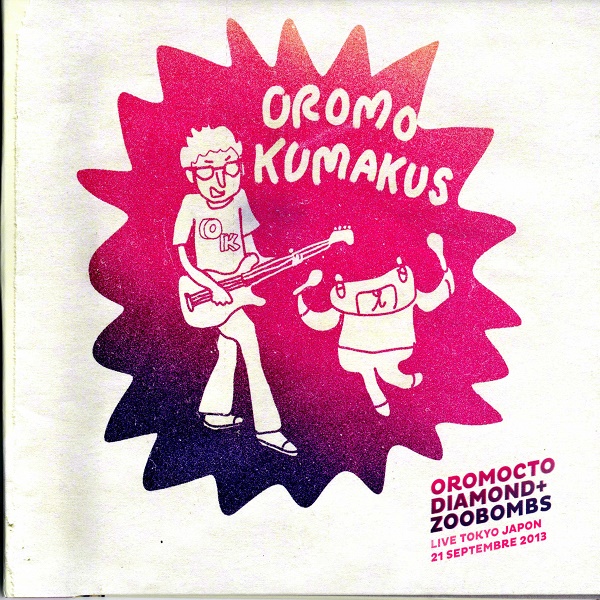 Oromocto Diamond / Zoobombs
Oromo Kumakus
(P572)
Quebec, QC
From the degenerate monstrosity of Benoit Arcand:
The brute energy of Oromo Kumakus gushes from everywhere and intrudes on your favourite paradoxes: time and space. Zenon is shooting herself in the foot while Oromocto Diamonds fly to Tokyo for a one-night collaboration – a 22 hour flight for 22 minutes of music – with the brute but docile force of Zoobombs.
Everything dilates, everything implodes. The music, fueled by the promise of the last night, dilapidates its energy into the spirit of being snapped up by eternity. The old wounds of Zenon crackle in the roll of rock past and future. The fire is saved.
De la monstruosité dégénérée de Benoit Arcand:
(From the Bescherelle of Zoë Christmas)
L'énergie brute d'Oromo Kumakus fuse de partout et piétine les plates-bandes de vos paradoxe préférés; le temps, l'espace : Zénon se tire dans le pied pendant qu'Oromocto Diamonds s'envole vers Tokyo pour une collaboration d'un soir –un vol de 22 heures pour 22 minutes de musique– avec la force brute ductile de Zoobombs.
Tout se dilate, tout implose. La musique, attisée par la promesse de la dernière nuit, dilapide son énergie dans l'espoir d'être happée par l'éternité. Les vieilles blessure de Zénon grésillent dans le roulis du rock passé et à venir. Le feu est sauf.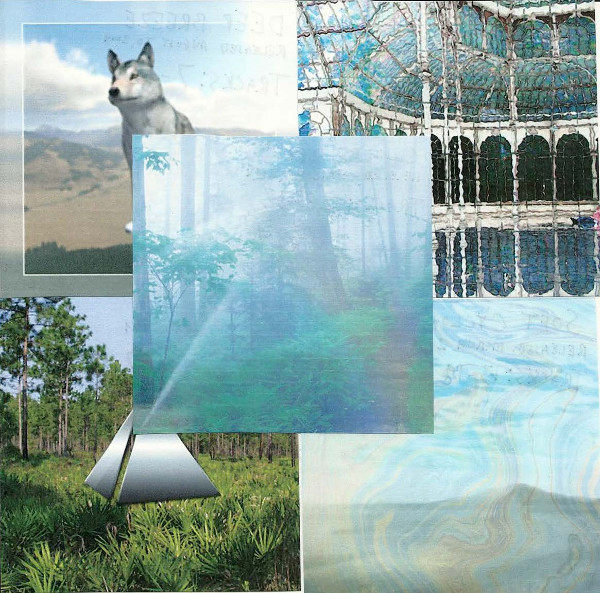 TELOZKOPE
Soft Cyclone
Winnipeg, MB
From the ghost level of Katie Jensen:
Supercharged rainbows push forward without knowing the outcome. A long, familiar road stretches into a glitching sunset, breaking apart with each shimmering, equal chord.
A tape rewinds to reveal the mundanity of your afternoon. Hesitantly at first, but then with more confidence, a zither takes up a slow dance with a harp, preoccupied with its own rhythms. The harp's lazy ramble finishes with a knowing wink, its smooth arm brushed by the side scrolling of toppling gold coins.
De l'étage fantôme de Katie Jensen:
(Traduit par les baies de genèvrier de Marie-Pier Chevrier)
Des arcs-en-ciel surchargés courent droit devant sans connaissance des conséquences. Une route longue et familière se perd dans un coucher de soleil clignotant, tombant en morceaux à chaque accord juste et chatoyant.
La cassette rembobine, révélant la banalité de votre après-midi. Hésitante d'abord, puis plus confiante, une cithare entame une danse lascive avec une harpe, suivant son propre rythme. Le discours divaguant et paresseux de la harpe se termine d'un clin d'oeil complice, son doux bras caressé par les pièces d'or y roulant.
From the discreet music of Jesse Locke:
The pained strains of violin, viola and cello open this collection of compositions from Mark Ellestad — father of Kris and Kiesza. "No Moon No Flowers," the 32-minute centerpiece for woodwind quintet, jabs at the empty space with sooty fingers like a clarion call to remember your past. "Discreet Angel," 16 minutes of solo guitar from Annette Chretién, is a lingering gaze outside a grey window. "Sigrid," the curtain call, finds Ellestad's own hands on hardanger fiddles and pump organs, fading into the myst of desolation sound.
De la musique discrète de Jesse Locke:
(Traduit par Allison McReynolds)
Les accords peinés de violon, alto et violoncelle ouvrent cette collection de compositions de Mark Ellestad – père de Kris et Kiesza. "No Moon No Flowers," la pièce maîtresse pour quintette à vent (qui dure 32 minutes), frappe dans le vide avec des doigts noir de suie, comme l'appel d'un clairon pour vous souvenir de votre passé. "Discreet Angel," un solo de guitare de 16 minutes de Annette Chretién, est un regard s'attardant à travers une fenêtre grise. "Sigrid," le rappel, trouve les mains de Ellestad sur des violons Hardanger et des harmoniums, se fondant dans un [brouillard] ((http://weirdcanada.com/2009/12/review-aidan-baker-noveller-colorful-disturbances/) de désolation sonore.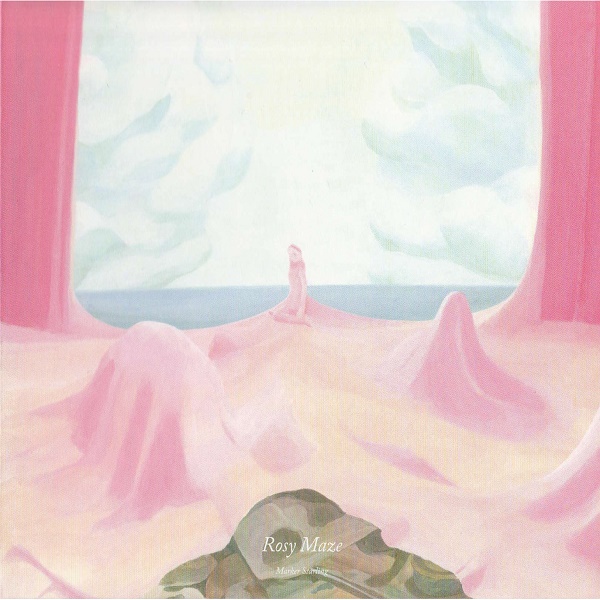 Marker Starling
Rosy Maze
Toronto, ON
From the Bodacious Bod of Bobby Andrews:
"Rosy Maze" is a soft fusion of noise brought together by a voice that evokes a plethora of emotional response. Toronto's Marker Starling gently shakes the morning with the incredibly diverse soundscapes found within this album. A provocative collection of free-flowing songs effectively create an atmospheric realm that challenges the limits of lounge music. Incorporating tremendously reflective lyrical composition sung out with timeless melodies creating a terminally-chill album perfect for relaxation, meditation and reflection.
Du corps fabuleux de Bobby Andrews:
(Traduit par la fusion en douceur de Virginie Langlois)
« Rosy Maze » est une fusion en douceur de musique bruitiste portée par une voix évoquant une pléthore de réponses émotionnelles. Marker Starling, de Toronto , secoue gentiment le matin avec des sonorités incroyablement diverses. Ce recueil provocateur de chansons libres arrive à créer un espace atmosphérique qui repousse les limites de la musique lounge. En combinant compositions lyriques extrêmement réfléchies et mélodies intemporelles, Starline a construit un album ultimement zen idéal pour la relaxation, la méditation et la réflexion.
Marker Starling – Flower of Laughter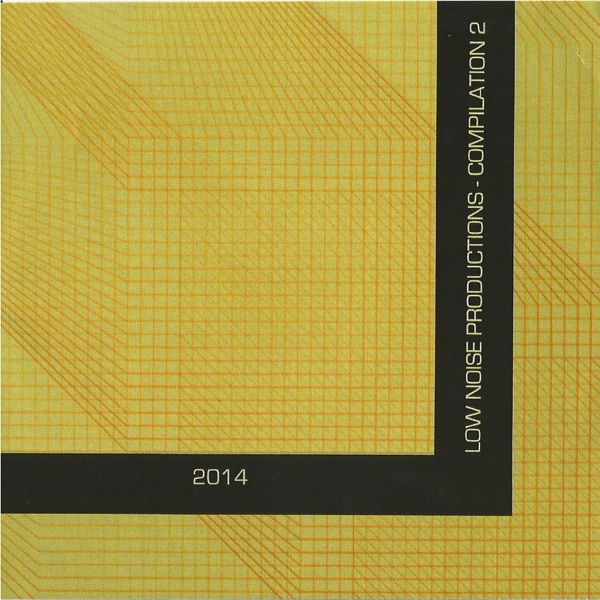 Various
LNP – Compilation 2
Ottawa , ON
From the motorik metabolism of Mark Anthony Brennan:
White. A cavernous room bathed in light. When you make your selection a drawer suddenly juts out from the infinite whiteness. Some selections gleam, like a brand-new super-efficient Porsche. Others are more clunky, but intriguing in their analogue peculiarity. Some remind you of sweaty nights on the techno dance-floors of Chicago. Then there's the one that brings back memories of the time in Berlin.
So many synths, so many styles. Finally, you decide. Yes, that one is perfect for your Terminator vs. Bladerunner flick.
Du métabolisme motorik de Mark Anthony Brennan:
(Traduit depuis la rutilante dystopie de Nicolas Coutlée)
Blanc. Une salle caverneuse baignée de lumière. Au moment de faire votre choix, un tiroir jaillit de la blancheur infinie. Certaines sélections brillent, comme une Porsche neuve et incroyablement performante. D'autres, moins rutilantes, vous intriguent par leur bizarrerie analogue. Quelques-unes vous rappellent ces nuits humides sur les pistes de danse techno de Chicago. Sans oublier cette dernière au contact de laquelle refont surface vos souvenirs du temps à Berlin.
Tant de synthés, tant de styles. Finalement , vous vous décidez. Oui, celle-ci sera parfaite pour votre prochain film, Terminator vs. Bladerunner.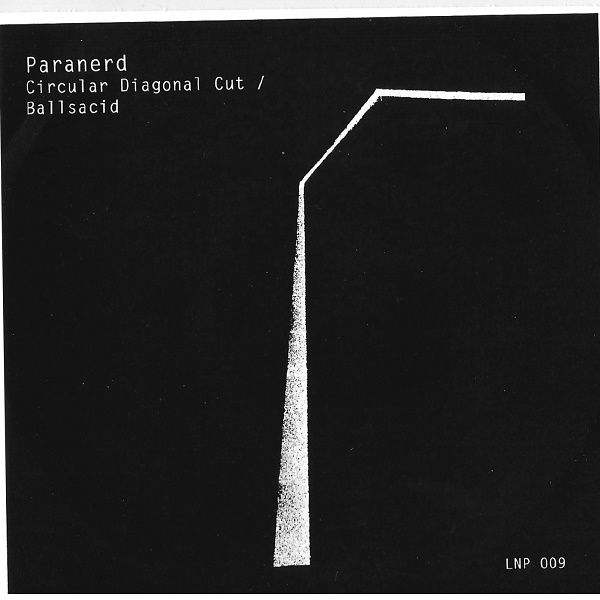 Paranerd
Circular Diagonal Cut
Ottawa, ON
From the terminal timeline of Mark Anthony Brennan:
Run. Run through the warehouse. Dark as the furthest corner of the bedroom closet. Mechanical sounds all around. Never sure which one is him.
I know this scene – we're in a club. But that's not shitty '80s dance, it's dark techno. People are dancing in slo-mo. So strange, so distant. That's him! He's following me in the crowd.
Back outside. Keep running. Things grab at me from all sides. Unseen, unfelt, but they are there. He's still there. Forever chasing. No one will ever call "cut", will they? This scene will last forever. And he will never stop.
De la ligne du temps terminale de Mark Anthony Brennan:
(Traduit au noir par Nicolas Coutlée)
Cours. Cours à travers l'entrepôt. Sombre comme le coin le plus reculé du placard de la chambre. Des sons mécaniques tout autour. Lequel d'entre eux est-ce?
Je connais cette scène – nous sommes dans un club. Mais le dance de merde est remplacé par du techno sombre. Les gens dansent au ralenti. Si étrange, si distant. C'est lui! Il me suit dans la foule.
De retour dehors. Cours encore. Des choses s'agrippent à moi de tous côtés. Invisibles, inaperçues, mais elles sont là. Lui aussi. Perpétuellement à mes trousses. Jamais personne ne s'écrira « Coupez! », pas vrai? Cette scène se poursuivra toujours. Et lui ne cessera jamais.
Paranerd – Circular Diagonal Cut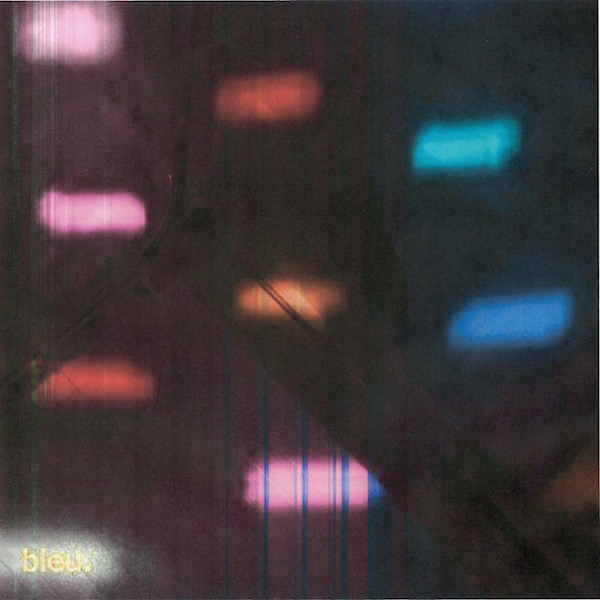 Bleu
Colours II
(Self-Released)
St. John's, NFLD
From the sand between the toes of Mike Roy:
Bleu's Colours II operates like a childhood memory of the beach – sitting in the hot and sticky leather seats of your parents' stationwagon as your father turns on the radio dial. A familiar soundtrack greets your ears as the bubblegum ice cream drips from your cone and gently stains your shirt. Suddenly, a melody washes over you. It's a sonic maelstrom of dreamy, new wave rock that submerges you soothingly. The moment exists peripherally as another drip from cone slowly falls to your skin, but the smile that lingers becomes timeless.
Du sable entre les orteils de Mike Roy:
(Traduit à grands coups de massue solaire par Julie Mayer)
Colours II de Bleu agit comme un souvenir d'enfance à la plage. Pendant que tu es assis sur les sièges de cuir chaud et collant de la familiale de tes parents, ton père allume le poste de radio. Une chanson familière se présente à tes oreilles alors que la crème glacée à la gomme balloune dégouline de ton cornet et tache légèrement ton chandail. Tout à coup, une mélodie t'inonde. C'est un maelström acoustique de rock new wave onirique qui te submerge d'une manière apaisante. L'instant existe en périphérie tandis qu'une autre goutte se détache du cornet pour tomber lentement sur ta peau, mais le sourire persistant devientintemporel.
---