Category: compact disc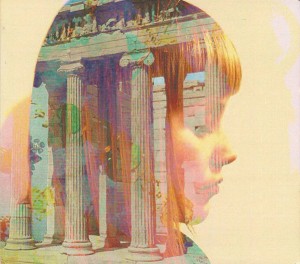 White Poppy
White Poppy
Vancouver, BC
From the post-existential reverie of Adam Bradley:
For White Poppy's eponymous Not Not Fun LP, Crystal Dorval transmutes the soft, grey clay of her shimmering ambience into sparkling, etch-textured gold. A splendorous idol aloft an ionic column, she looms down and imparts the power to dance upon its worshipers through the fog of a post-existential reverie. An impermanent rave in purgatory. The air becomes honey, sparks crackle from footfalls and the stirring clouds whorl with a pastel palette. Here, there is a distant joy and an eternal promise of beautiful things.
De la rêverie post-existentielle d' Adam Bradley:
(Traduit par l'instruction éphébique de Nicolas Coutlée)
Sur l'album homonyme de White Poppy paru chez Not Not Fun, Crystal Dorval transmue l'argile grise et friable de ses ambiances chatoyantes en lingots d'or ciselés et étincelants. Telle une idole sublime perchée sur une colonne ionique, elle pose son regard sur ses adorateurs et leur accorde le pouvoir de danser à travers le brouillard de cette rêverie post-existentielle. Un rave éphémère au purgatoire. L'air devient miel, des étincelles jaillissent de sous les pieds nus et des nuages s'élèvent en tourbillons pastels. Ici, le bonheur n'est jamais loin et promet à jamais la beauté infinie.
White Poppy – Darkness Turns To Light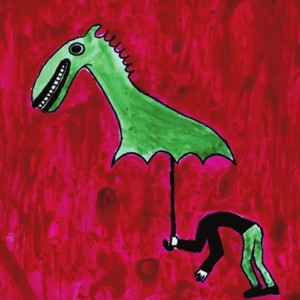 From the dusty specs of Gabe Girard:
Ryan Driver's maverick status in the Toronto avant-garde jazz scene is firmly cemented (The Reveries, The Guayaveras, Deep Dark United, St. Dirt Elementary School, to name a few of his past or present projects). Give a carpenter a ruler, and he'll make measurements. A ruler in the hands of Driver gets slapped on a table and contact-mic'd, then functions as a bass with the low frequencies amplified. Experimental, yes, though he's no stranger to country-simple folk. Driver's softer, tender side is on display on Feeler of Pure Joy — pitch-perfect falsettos abound. Melancholy permutations of the folk song form bring one through kaleidoscopic images of longing, misfortune and wonder. Never doing it by the book, he'll bring you folk from a truly unique perspective. China cymbal swells, hazy free-form passages, and chord progressions from beyond come and go. Without ever losing touch of the album's folk/country aesthetic — seen through a dusty pair of specs — Driver shares with you what he can't possibly contain.
À travers les verres poussièreux de Gabe Girard:
(Traduit à travers la lorgnette magnifiante de Catherine Gaucher)
Dans la scène de l'avant-garde jazz de Toronto, le statut d'anticonformisme de Ryan Driver est solidement établi (The Reveries, The Guayaveras, Deep Dark United, St. Dirt Elementary School, pour ne nommer que quelques-uns de ses projets passés et actuels). Remettez une règle entre les doigts d'un charpentier et il prendra des mesures. Entre les mains de Driver, elle est frappée sur une table, ses battements captés par un microphone de contact, puis elle fonctionne telle une basse, ses basses fréquences amplifiées. Expérimental, en effet, mais il n'en reste pas moins près d'un country-folk. Le côté plus doux, plus tendre de Driver se dévoile sur « Feeler of Pure Joy » — sur lequel abondent des falsettos justes. Les permutations mélancoliques de la structure de la chanson folk nous transportent dans un kaléidoscope d'images évoquant la nostalgie, la malchance et le songe. Jamais exécuté dans une totale conformité aux règles, le folk est offert d'un point de vue réellement singulier. Des houles de cymbale china, des passages brumeux en forme libre et des progressions d'accords qui vont au-delà viennent et repartent. Sans jamais perdre contact avec l'esthétique folk/country propre à l'album — vu à travers des verres poussièreux de lunettes — Driver partage avec nous ce qu'il ne peut retenir.
Ryan Driver – When You Were In Mexico?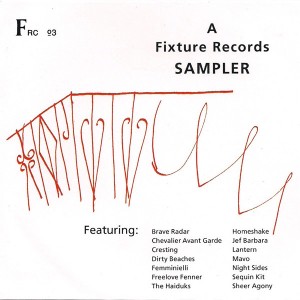 Various Artists
A Fixture Records Sampler
Asterisk, Canada
From the bewildered benevolence of Joseph Stephenson Taylor and Jesse Locke:
Gliding above, below and beside in a stream of benevolent jams, this is the accompaniment for the walking person, the sitting person, the busy and the bored. The Fixture Records "sampler", as they have so humbly put it, is home to 22 magnificently diversified tunes. It boasts a roster of names great and great, some bewilderingly great. Elder statespeople like Brave Radar, Mavo and Freelove Fenner — whose see-sawing Siouxsie-style riffage of "Sheperdess" is a standout here and on their latest LP — shuffle next to relative newcomers like the Haiduks, Night Sides and Homeshake — whose slinky seduction could melt any mixtape. Femminielli, Chevalier Avant Garde and Jef Barbara bring a dash of dangerous glamour, while Dirty Beaches hearkens back to his hazy days of yore. The jangular jawns of Sheer Agony close out this set with fizzical fitness, yet the show can't be stolen when it's stacked front to back.
De la bienveillance étrange de Joseph Stephenson Taylor and Jesse Locke:
(Traduit des jours d'antan de Stéphanie Trottier)
Défilant par-dessus, par-dessous et tout près d'un courant de jams bienveillants, voici l'accompagnement de celui qui marche, de celui qui est assis, de celui qui s'affaire et de celui qui s'ennuie. Le « sampler » de Fixture Records, comme il a été si humblement désigné, nous offre 22 morceaux magnifiquement diversifiés. Il se vante d'un répertoire de grands noms, grands et d'un grand déconcertant. Des démagogues anciens tels que Brave Radar, Mavo et Freelove Fenner – dont le riff de « Sheperdess » de style Siouxsie oscillant est mis de l'avant sur leur dernier LP – se mêlent aux nouveaux venus comme les Haiduks, Night Sides et Homeshake – dont la séduction sinueuse ferait fondre tout mixtape. Femminielli, Chevalier Avant Garde et Jef Barbara apportent une touche dangereuse de glam, alors que Dirty Beaches remonte à ses jours brumeux d'antan. Le tintement anguleux de Sheer Agony clôture l'album avec un entraînement fizzical. La vedette ne peut toutefois pas être volée lorsqu'elle joue du début à la fin.
Homeshake – She Can't Leave Me Here Alone Tonight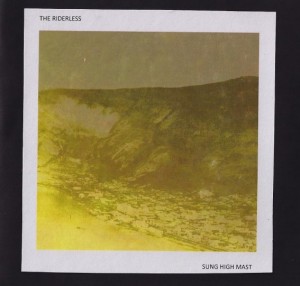 The Riderless
Sung High Mast
(Self Released)
London, ON
From the eavesdropping fauna of Javier Fuentes:
An autumn sunset peers in through the windows and onto the stable of instruments set out by the fire. Forest hymns cut through the rustling hush of the mountains as the repeating patterns entrance the eavesdropping fauna. The skin of each drum trembles as the wind outside picks ups strength, carrying nature's debris to resting places amongst shards of glass and discarded cans. Conversing notes stay deep in their discussion as they weave together an acoustic drone with patience and virtuosity. Seasons elapse into the subconscious without notice. No need to look outside, the cycle will run its course.
De la faune discrète de Javier Fuentes:
(Traduit par le spleen saisonnier de Virginie Langlois)
Le soleil couchant d'automne perce à travers les carreaux et se reflète sur les instruments disposés près du feu. Les hymnes de la forêt transpercent le murmure silencieux des montagnes alors que les motifs récurrents ravissent la faune venue écouter discrètement. La peau de chaque tambour tremble à mesure que dehors le vent se renforce, transportant les débris de la nature vers des aires de repos au beau milieu des tessons de verre et des vieilles boîtes de conserve. Le dialogue des notes se poursuit et, avec patience et virtuosité, celles-ci se mettent à tisser un drone acoustique. Sans prévenir, les saisons s'écoulent dans le subconscient. Inutile de regarder à l'extérieur, le cycle suivra son cours.
The Riderless – A Prized Gather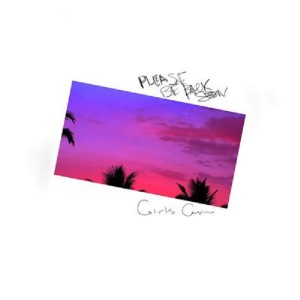 Girls Casino
Leave It To Them
(Self Released)
Calgary, AB
From the teenage dreams of Mann Durian:
In every adult there are feelings of fleeting adolescence that never quite fully diminish. These are visual feelings in nature; communal in their universality, emotional and intensely focused on the sensorium of the individual. Girls Casino is the sonic embodiment of these feelings. Under a lush mist of shimmering synths and Balearic beats, an androgynous voice chants mantras like pink Sunny-D. These songs live in a world where every friendly hello, brush of the skin or passing glance in the hallway means so much more. Where every house party or starlit Friday night presents another endless pool of possibilities to truly soak in the foolish freedom of being young.
Des rêves d'adolescent de Mann Durian:
(Traduit par l'hypnogramme de Catherine Gaucher)
Au tréfonds de chaque adulte, les sentiments fugaces de l'adolescence ne disparaissent jamais totalement. Ce sont des émotions de nature imagée : collectives de par leur universalité, émotionnelles et intensément focalisées sur le sensorium individuel. Girl Casino est l'incarnation sonique de ces sentiments. Sous une bruine luxuriante de synthés chatoyants et de Balearic house coule une voix androgyne chantant des mantras rose Sunny-D. Ces chansons vivent dans un monde où chaque salutation amicale, chaque effleurement de la peau ou chaque bref passage dans un couloir ont une plus grande symbolique encore. Où chaque fête à la maison ou chaque vendredi soir étoilé présente une mer infinie de possibilités dans laquelle nage une liberté insensée d'être jeune.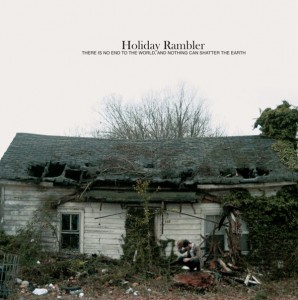 Holiday Rambler
There is No End to the World, and Nothing Can Shatter the Earth
Toronto, ON
From the midnight ramble of Javier Fuentes:
The first few notes scratch out from the guitar of D. Alex Meeks. Bittersweet melodies follow the scent of pine and coal that fills the air. Under the falling shadow of a jagged mountain, the Holiday Rambler shifts his gaze to an empty spot, a clearing of the mind. The words begin to fall out under the confidence of a white oak. Fingerpicked arrangements turn like the wheels of a steam engine train, carrying the listener through the recollections of a travelling narrator. Searching for lost wisdom to soothe our lingering uncertainties, the voices weigh on the strings as they pull in different directions. Each strum scrapes at the burdens we carry, riding the rails until the view looks unfamiliar again. Make sure your turntable can handle heavy records.
De la randonnée nocturne de Javier Fuentes:
(Traduit par le calme retrouvé de Nicolas Coutlée)
Les premières notes s'égrènent de la guitare de D. Alex Meeks. Les mélodies douces-amères se mélangent au parfum de pin et de charbon qui emplit l'air. À l'ombre des pics crépusculaires, le regard du promeneur est attiré par le vide, une éclaircie de l'esprit. Les mots se détachent et tombent à l'abri sous un chêne blanc. Les arrangements de cordes pincées tournent comme les roues d'une locomotive à vapeur, transportent l'auditeur au coeur des souvenirs d'un narrateur errant. À la recherche d'une sagesse perdue capable d'apaiser nos doutes persistants, les voix s'appuient sur les cordes tandis que ces dernières résonnent dans toutes les directions.Chaque grattement érode notre fardeau, nous mène plus loin sur les rails, là où le paysage redevient inconnu. Assurez-vous que votre table-tournante supporte les disques d'une certaine lourdeur.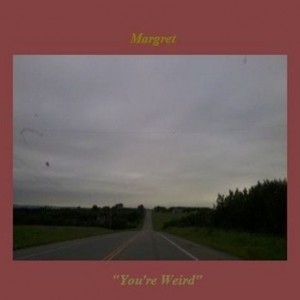 Margret
You're Weird
(Self Released)
Calgary, AB
From the Nowhere of Joseph Stephenson Taylor:
Perhaps it was you, the invisible finger hooked in our belt loop, suspending us for no more than a blink at our downswing on the swing set. Or were you the antique bellows working hard to knit together sparks that would yield for us, a fire to share? Could it be that you are the impossible plume of smoke that hangs in the cold night air as we toke under none light but the moon and stars? We could identify you as the leisured amble to Nowhere, while at the same time it is painfully clear that you are the Nowhere. You're odd; lost in the light. You're strange; unmissable in the foggy dark. You've made us comfortable with not knowing, but also set us at ease with our new favourite feeling: Anticipation. You used to be darker, then you got lighter, then you got dark again. You're weird, Margret, and we love you.
Du nulle part de Joseph Stephenson Taylor:
(Traduit par les doigts aimantés de Julie Forget)
C'était peut-être toi, le doigt invisible accroché à notre boucle de ceinture, nous suspendant le temps d'un clignement des yeux à notre descente sur la balançoire. Ou bien étais-tu le soufflet antique travaillant fort pour unir des étincelles qui cèderaient la place à un feu à partager ? Serais-tu la colonne de fumée impossible qui flotte dans l'air froid nocturne alors que nous prenons une bouffée à la seule lumière de la lune et des étoiles ? Nous pourrions t'identifier comme étant la promenade vers Nulle part, bien qu'il soit en même temps douloureusement clair que tu es ce Nulle part. Tu es bizarre; perdue dans la lumière. Tu es étrange; inratable dans la noirceur brumeuse. Tu nous as mis à l'aise avec le fait de ne pas savoir, mais tu nous as aussi mis à l'aise avec notre nouveau sentiment favori : l'Anticipation. Tu étais plus sombre, tu es devenue plus clair et tu es devenue sombre à nouveau. Tu es étrange Margret, et nous t'aimons.
Les Revenants
Bêtes lumineuses
(C4)
Montréal, QC
From the truckstop of broken hearts of Benoit Arcand:
(Translated by the samureye of Ben Hedley)
A brown creature emerges from the ditch, barely glimpsed, nearly squashed, already far in the rear-view mirror. Les Revenants could scarcely be more than a cloud of inpenetrable dust in the afternoon sun. These Bêtes lumineuses live on the back-country gravel paths that the scintillating songs dare not take, and blaze into the elemental crucible of rock between the legend of John Henry's hammer by Johnny Cash and the lost highway of Hank the first, which, more often than not, leads to the 61. They slam down on their guitars with the power of digging a mine to extract crazy nuggets of gold, measured on saloon counters or in corsets. At that price you'll never come out more ruffled by the ride, scratched by the branches, or with lungs full of the white dust that arouses mythical trips.
Du truckstop des cœurs brisés de Benoit Arcand:
Créature brune émergeant du fossé, à peine entrevue, presque écrasée, déjà loin dans le rétroviseur, les Revenants pourraient n'être qu'un nuage de poussière opaque mélangé au soleil d'après-midi. Ces Bêtes lumineuses habitent les chemins graveleux d'arrière-pays que la chanson rutilante n'ose pas emprunter, et frayent dans le creuset élémental du rock, entre la track de chemin de fer de John Henry et l'autoroute où s'est perdu Hank premier, qui débouchent plus souvent qu'autrement sur la 61. On y bêche les guitares comme on creuse la mine, pour épépiter son or fou à mesure sur les comptoirs de saloon ou dans les corsages. À ce prix, on ne s'en tire jamais mieux qu'ébouriffé par la virée, égratigné par le branchage, les poumons pleins de cette poussière blanche que soulèvent les chevauchées mythiques.
Les Revenants – L'Auto-stoppeuse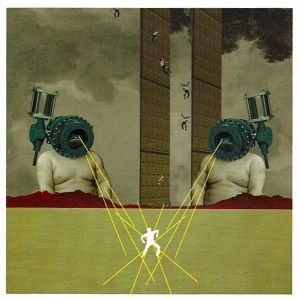 Zebra Pulse
Heh, Vay Bae-Bays
Edmonton, AB
From the bald ego of Jared Majeski:
Now comfortably ensconced in four-piecedom, Peace Country picaros Zebra Pulse have a new full length of electronic boundary-making: phonetic digital trills, cracked vinyl fuzz and percussive gangles steering the ship (close) to oblivion. Possibly less harsh but more layered and clear, Heh, Vay Bae-Bays is somewhat surprisingly their first studio recording, and if the song titles are any indication, proves to be a weird, funny and uncomfortably profound experience. This latest noise confessional was released to the world the only way possible: enlisting a droid-inspired street artist and hiding said droids along with cassettes of b-side studio recordings around the city for people to find.
Have you ever taken a trip and not known at all where you were heading? That's the kind of steeze oozing from the Zebra Pulse gaskets. Just another day in The City of Champs.
De l'ego flagrant de Jared Majeski:
(Traduit par Natalie Binda)
Maintenant confortablement constitué en quatuor, Zebra Pulse, les picaros de la Rivière de la Paix, repousse les frontières de l'électronique avec leur nouvel album : trilles vocales numériques, crépitements de vinyle fuzzé et rythmes dégingandés guidant le navire jusqu'à l'oubli (ou tout près). Sans doute moins cru mais plus limpide et texturé, Heh, Vay Bae-Bays, étonnamment leur premier enregistrement studio, se révèle, si on se fie aux titres de chansons, une expérience bizarre, drôle et inconfortablement profonde. Ce plus récent cri du coeur noise a été livré au monde de la seule façon possible : avec l'aide d'un artiste de rue passionné de droïdes, des cassettes de b-sides accompagnées des dits droïdes ont été dissimulées en ville afin d'être retrouvées. Avez-vous déjà fait un voyage en ignorant votre destination? Voilà exactement le genre d'attitude pénarde qui émane de la mécanique de Zebra Pulse. Un autre jour dans la Ville des Champions.
Zebra Pulse – The Rusted Bones of Home
Couples
In The Grass
(Self Released)
Montréal, QC
From the beastly incantations of Joshua Robinson:
Montréal's Couples cut a vicious rug, and In The Grass is the beastly incantations of the 8-track tape machine that sired it. All raw, no illusion: "I'm sick of this life night after night/Can't you see I'm on the outside?" Find the most perfect and symmetrical wall, and decorate it with a hole authored by your foot. Be angry because you can be. Find that farcical bit of yourself and expose it for all of its inherent baseness. Dark begets dark, with Couples applauding your near collapse, time and again.
Des incantations bestiales de Joshua Robinson:
(Traduit par la maison joviale de Julie Forget)
Le groupe montréalais Couples danse à en arracher les fleurs du tapis et les incantations bestiales de In The Grass, capturées sur magnétophone huit pistes, en sont la cause. Que du brut, pas d'illusion : « Nuit après nuit je ne veux plus de cette vie/Ne vois-tu pas que je ne cadre pas? » Trouvez le mur le plus parfait et symétrique et décorez-le d'un trou gracieuseté de votre pied. Soyez fâché simplement parce que vous le pouvez. Trouvez cette part d'absurdité inhérente en vous et affichez-la au grand jour. La noirceur engendre la noirceur, et Couples applaudit tandis que vous frôlez l'effondrement, encore et encore.
---