Category: compact disc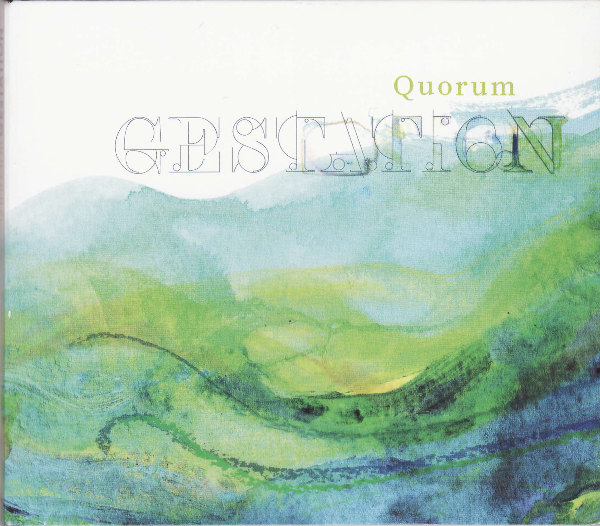 Ronda Rindone
Gestation
(Self Released)
Toronto, ON
From the marital issues of Gabe Girard:
Enter a husband and wife in the middle of a deep discussion, marital issues spilling over into the debate. Instead of communicating with words, however, these lovers work it out with a bass clarinet, drum kit and a trombone. This image, supplemented with artistry and fearless improv, encapsulates the duo passages that begin Ronda Rindone's Gestation. They really do sound like genuine conversation, which of course is one of the goals of playing "new music" or "free jazz". A la Eric Dolphy, Rindone explores the entire tonal pallet of her horn, making the cumbersome bass clarinet sound as easy to play as a recorder. Joined by two cellos, two bass players and two drummers; this experimental, bass heavy ensemble creates complex, other-worldly textures with ease.
Des problèmes conjugaux de Gabe Girard:
(Traduit par Jessica Grenier)
Un couple marié en pleine conversation sérieuse, où se bouillonnent des problèmes conjugaux : plutôt que de communiquer avec des mots, ces amoureux s'expriment avec une clarinette basse, une batterie et un trombone. Cette image, à laquelle s'ajoutent talent artistique et improvisation audacieuse, encapsule la double voie inaugurant Gestation de Ronda Rindone. On croirait vraiment entendre une conversation – ce qui est bien sûr l'un des objectifs quand on joue du « new music » ou du « free jazz ». Rappelant Eric Dolphy, Rindone explore l'éventail de possibilités sonores de son cuivre, donnant l'impression qu'on peut jouer d'une encombrante clarinette basse aussi facilement que d'un magnétophone. Cet ensemble expérimental constitué majoritairement de basses – s'y joignent deux violoncelles, deux contrebasses et deux batteries – sait créer aisément des textures complexes et irréelles.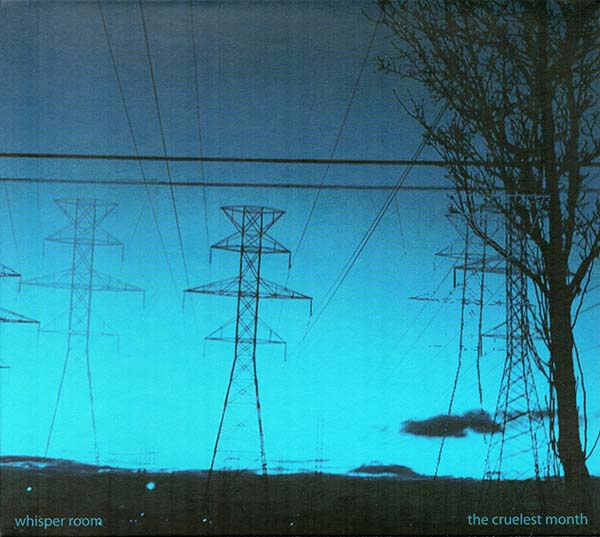 The Cruelest Month
Whisper Room
Toronto, ON
From the angelic hum of Mark Gillis:
As the morning sun calmly climbs, the dew on the grass serenely fades into nothing. The day begins with an angelic hum, allowing you to truly take in the beauty around. As the day goes on, an abundance of sounds and textures invade your mind as you become locked into the meditative monotony day to day existence. You can choose to fall into the monotony by letting it pass through your brain, or you can actively take hold of it and make it something special. On The Cruelest Month, Whisper Room make the drone of daily being an exalting experience.
Du bourdonnement angélique de Mark Gillis:
(Traduit par le regard apaisé de Jessica Grenier)
Le soleil matinal se lève lentement, renvoyant sereinement la rosée vers le néant. Le jour commence en un bourdonnement angélique, ce qui te permet de profiter longuement de la beauté tout autour. Avec les heures qui avancent, une abondance de sons et de textures envahissent ton esprit, t'emprisonnant dans la monotonie méditative du quotidien. Tu peux choisir de t'en imprégner en laissant ton cerveau l'accueillir, ou tu peux t'en emparer volontairement pour en faire quelque chose de spécial. The Cruelest Month de Whisper Room fait du drone de l'existence quotidienne une expérience exaltante.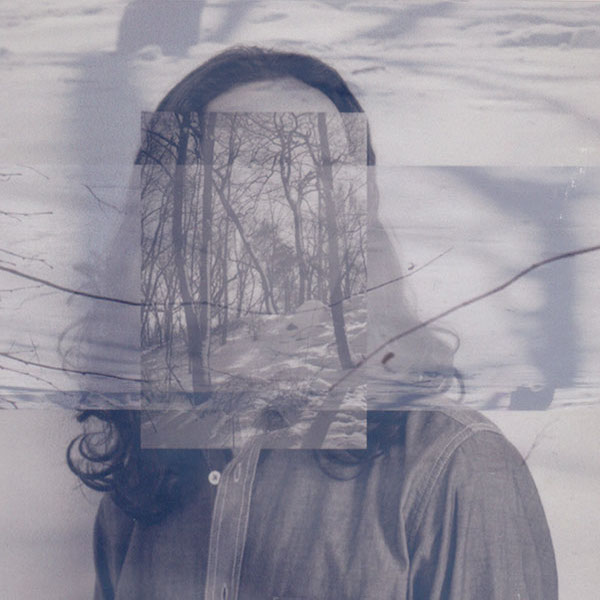 Mosaias
Mosaias
(Self Released)
Saskatoon, SK
From the infinite squall of Joshua Robinson:
With an ear for the sound of nuanced infinity, Saskatoon's Stephen Cooley imbues these songs with the vitality of the endlessly temperate dusk. Wind against face. Face against firmament; the deep, dark sky of our mirrored looking-glass self. There is a stirring at the point where electrostatic impulse causes fibers to weave together; that point of calm before the storm when stillness is animated and motion becomes static. Herein lies the potential energy of the prairie squall: a slumbering giant.
De la bourrasque perpétuelle de Joshua Robinson:
(Traduit par le regard impressionné de Jessica Grenier)
L'oreille sensible à la sonorité nuancée de l'infini de Stephen Cooley – de Saskatoon – a insufflé dans ces chansons la vitalité de la pénombre perpétuellement tempérée. Le vent sur le visage, le visage vers le firmament; la sombre immensité du ciel, notre reflet fixant le miroir. Il y a une vibration à l'endroit où les filaments, sous une impulsion électrostatique, s'entremêlent : le calme avant la tempête, le moment où l'immobilité s'anime et où le mouvement se fige. De là vient toute l'énergie potentielle des bourrasques des Prairies : un géant endormi.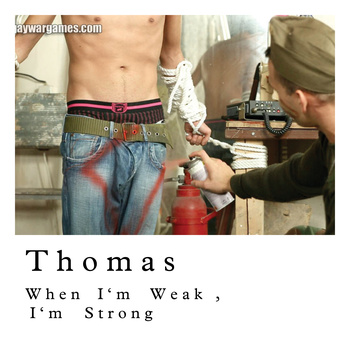 THOMAS
When I'm Weak, I'm Strong
(Love Nation)
Toronto, ON
From the lifted mellow of Aaron Levin:
Moved through space by permutations of silence and groove, THOMAS' first utterance in prime years resounds within receptors serotonin. Disrupting the brooding continuum of minor-key reverence, When I'm Weak, I'm Strong soars through lifted new-jack euphoria into the commanding heights of nirvanic dance. An offering worthy of clurb deities and future Desposyni. Grip.
De la détente transcendante d'Aaron Levin:
(Traduit par l'exaltation rationnelle de Jessica Grenier)
La première exclamation de THOMAS – en années tripartites – résonne dans la sérotonine des récepteurs en cheminant à travers l'espace par permutation de silence et de rythme. Troublant le sombre continuum de la vénération du ton mineur, When I'm Weak, I'm Strong monte en flèche depuis l'euphorie du new-jack transcendant jusqu'aux hauteurs du dance nirvanique. Une offrande digne des divinités de clurbs ou de descendance davidique. Agrippez-vous.

THOMAS – So Many Dreams About You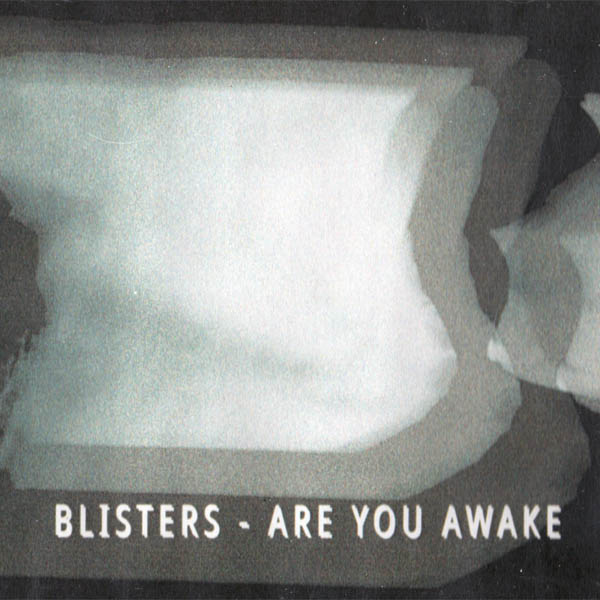 Blisters
Are You Awake
(Self Released)
Winnipeg, MB
From the indefinite nostalgia of Taylor Benjamin Burgess:
Welcome to a place where everything collapses once it enters the realm. We can watch, and we do so passively, as memories begin to slip beyond our fingers before they've begun to form. This single object took years in the making — and yet — is it the real one? Do we grip, or do we let the chrysalis go on untouched until we smell that nostalgia we presupposed indefinite? We can formulate our own creation myths to speculate how it began and how it is finally here to be held, but Blisters as we might have known them have already evolved and flown away.
De la nostalgie indéfinie de Taylor Benjamin Burgess:
(Traduit du domaine lointain d'AnneMarie Papillon)
Bienvenue dans un endroit où tout s'effrondre une fois dans le domaine. Nous pouvons regarder, et nous le faisons passivement, tandis que nos souvenirs glissent entre nos doigts avant même d'avoir commencé à se former. À lui seul, cet objet a demandé des années à être fabriqué — et encore — est-ce le vrai? Devrions-nous y toucher ou devrions-nous laisser la chrysalide intacte jusqu'au moment où nous sentirons cette nostalgie, celle que nous avions présumée indéfinie? Nous pouvons formuler nos propres mythes de création afin de spéculer comment cela a commencé et de quelle manière cela est enfin ici, à portée de main, mais les Blisters comme nous pensions les connaître ont déjà évolué et se sont envolés.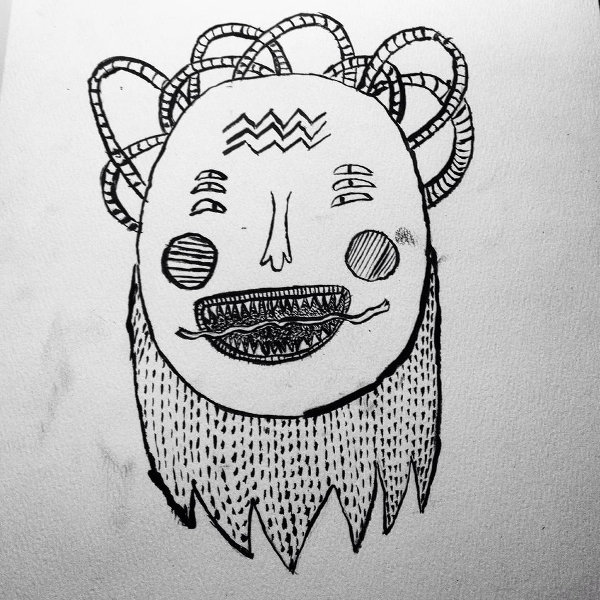 From the low tide of Brian Fauteux:
NVN's EP is more evidence that Saint John, New Brunswick is ripe with affective and atmospheric rock. The purveyor of EP, Sharktooth Records, is an active node at the centre of this sound. These four songs offer a momentary glimpse into an inviting soundscape shaped by bays and shores. Layered beneath wooly rhythms are inviting melodies that ignite feelings of warmth – impervious to the frigid fog banks of the salty Eastern Sea.
De la marée basse de Brian Fauteux:
(Traduit par Jessica Grenier)
Le EP de NVN est une nouvelle preuve que Saint John au Nouveau-Brunswick est rempli de rock affectif et atmosphérique. Le pourvoyeur de EP, Sharktooth Records est le centre névralgique de ce son. Ces quatre chansons permettent d'entrevoir un paysage invitant fait de baies et de rivages. Sous une couche de rythmes enveloppants se trouvent des mélodies qui irradient une sensation de chaleur – imperméables aux bancs de brouillard frigorifique de la mer orientale saline.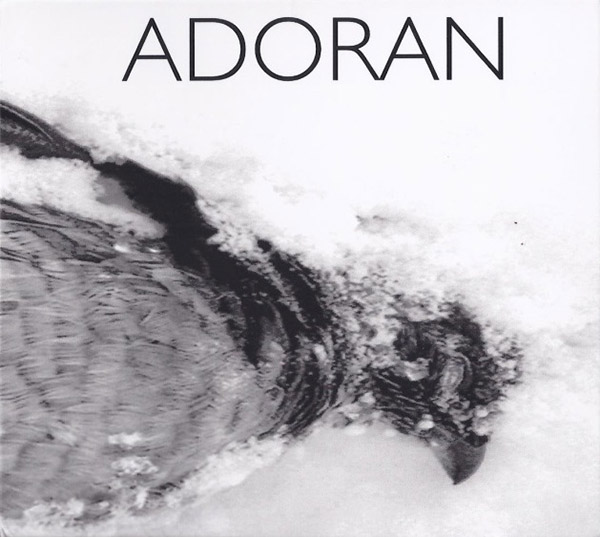 Adoran
Adoran
Toronto, ON
From the drone day of Javier Fuentes:
Stillness masks our innermost movements. Vacating thoughts bury themselves deep amongst a path of reverberating walls. The outside world crashes down in the face of an unstoppable force. Our paralysis places us under a quicksand grip, as the encroaching sludge progressively narrows the options of escape. Amidst stretching fibres and rattling bones, the choice is one of being and becoming. Neither to sink or swim, instead to embody the immovable object. Processes of decay have never been more invigorating.
Du jour bourdonnant de Javier Fuentes:
(Traduit par Andréanne Dion)
La tranquillité masque nos mouvements les plus intimes. Nos pensées libérées s'ensevelissent profondément dans des allées de murs résonnants. Le monde extérieur s'écrase sous le poids d'une force qu'on ne peut arrêter. Notre paralysie nous tient dans une étreinte de sables mouvants, alors que la boue envahissante limite progressivement les possibilités de fuite. Au milieu des fibres étirées et du cliquetis des os, le choix est entre être et devenir. Non pas couler ou nager, mais incarner plutôt l'objet immuable. Le processus de décomposition n'a jamais été aussi revigorant.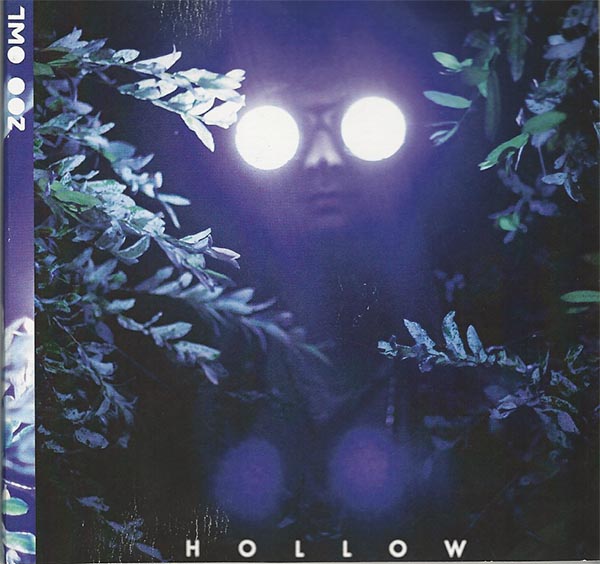 Zoo Owl
Hollow
(Self Released)
Toronto, ON
From the melted metamorphosis of Adam Bradley:
Twin orbs of blue-white flash to life in the murky marshland pitch. With jerky movements slowly approaching, radiating horror-truth with its eyes. Born of iridescent crystals. Vessel of animal music. Buzzing synthesis, tumbling rhythm, cavern echoes, jungle sweat, desert delirium. To stand atop the mesa and melt into metamorphosis, drenched in spiritual sun. Spirit is quenched, body is renewed, cast in living obsidian.
De la fonte métamorphique d' Adam Bradley:
(Traduit par le Ça dégoulinant de Jessica Grenier)
Deux orbes de lumière bleutée s'allument dans l'obscurité glauque d'un marécage. Vaisseau de la musique animale né de cristaux iridescents, la chose avance par lents mouvements saccadés, ses yeux répandant d'horribles vérités. Bourdonnements synthétiques, rythme acrobatique, écho caverneux. Sueur amazonienne et délire désertique. Se tenir debout au sommet de la mesa, trempé par le soleil spirituel; se liquéfier en un amas métamorphique. L'esprit est submergé, le corps renouvelé, fondu en de l'obsidienne vivante.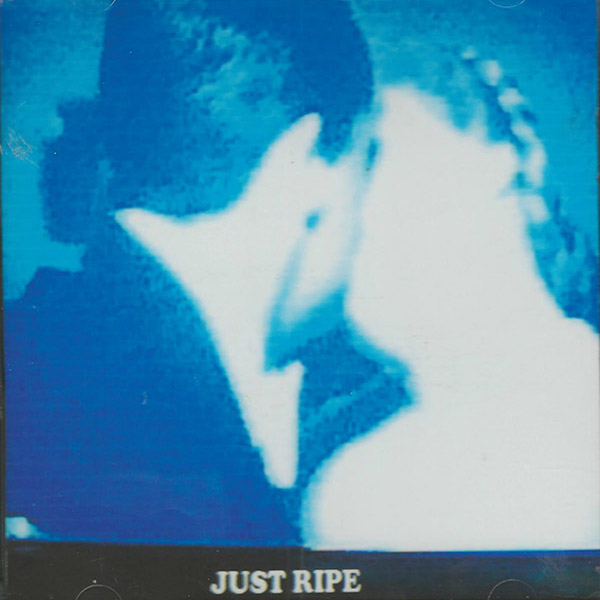 The Bats Pajamas
Just Ripe EP
(Self Released)
Toronto, ON
From the Bataillean nightmares of Trevor Blumas:
This album plays out like a Charles Burns illustration of the putrid beast of idyllic suburbia. Like a carnivorous, all consuming demon, hungry with the potent fires of post-modernity, the Bats Pajamas devour the spirit of classic rock and defecate it like something from a Bataillean nightmare. All the Hiroshima shadows of the bop generation are summoned up for a grand hurrah. Skuzzy, dissonant guitar chords rattle up the bones of dead rock stars inviting them all to a haunted BBQ just off Route 66.
Des cauchemars à la George Bataille de Trevor Blumas:
(Traduit par la puissante ardeur de Joannie Pharand)
Cet album se joue comme une [illustration de Charles Burns (http://lounge.obviousmag.org/sem_receita/2012/08/19/tumblr_m30qooC90O1r7xatro1_1280.jpg) de la bête pourrissante d'une banlieue parfaite. Tel un démon carnivore omniprésent, affamé par la puissante ardeur de la postmodernité, le groupe Bats Pajamas engloutit l'essence du rock classique, et le défèque comme quelque chose sortant tout droit d'un cauchemar à la George Bataille. Toutes les ombres d'Hiroshima de la génération bop sont convoquées pour un Hourra grandiose. Les cordes de la guitare, à la fois dissonantes et crasseuses secouent les vedettes de rock mortes jusqu'à l'os, les invitant toutes à un barbecue hanté sur le bord de la Route 66.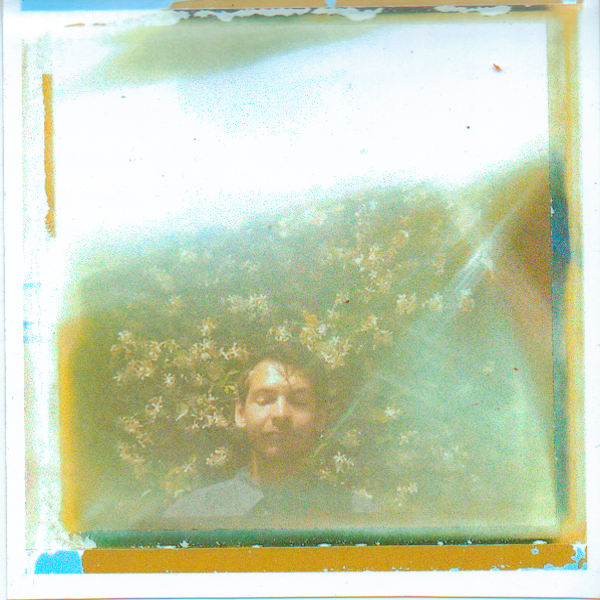 Summer Weaponry
Summer Weaponry
(Self Released)
Quebec City, QC
From the befreckled grin of Hailey Celesse McCarthy:
Experience a consciously cinematic moment. A climb into these plucked patterns, bending strings and swaths of tonal textures would do humans good. As a romantic chimera, this album is a daydream in the middle of a lecture on Yeats' submission to the sublime landscape (nature, ay-yo!). An incredibly coherent dream-sequence, Summer Weaponry invites its listeners to enjoy a romance otherwise unbeknownst to common miscreants. Abandon complication and suspend yourself in simplicity with this, an album for the reluctantly faint of heart overlooking Tintern Abbey.
Des taches de rousseur survolant le sourire malicieux d'Hailey Celesse McCarthy:
(Traduit par Jessica Grenier)
Faites l'expérience d'un moment volontairement cinématographique. Escalader ces décors déracinés, ces cordes courbées et ces sentiers de textures tonales serait bon pour les humains. Telle une chimère romantique, cet album est un rêve éveillé en plein milieu d'un cours sur Yeats et sa soumission aux paysages sublimes (nature, « ay-yo! »). En une séquence de rêves incroyablement cohérente, Summer Weaponry invite ses auditeurs à savourer une romance qui n'aurait normalement jamais été connue du simple mécréant. Abandonnez les complications, suspendez-vous à la simplicité de cet album fait pour les personnes sensibles – bien malgré elles – qui n'ont pas connu Tintern Abbey.

Summer Weaponry – Hill Above Wilds
---