Category: compact disc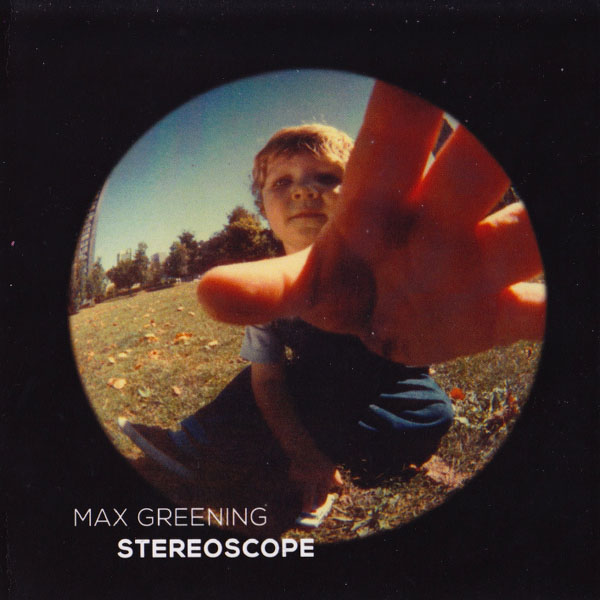 Max Greening
Stereoscope
Vancouver, BC
From the reverberating metallurgy of Jake Bornheimer:
A stone submarine sinking to the depths of the ocean. A pitch black dome with all the sky's constellations laid out upon it. A still pool of water with a single shining coin at the centre. At times it seems like Stereoscope is a film in auditory form. It's a collection of moments, captured in thick rippling sound. Speaking voices arise from the surface of the music, wreathed in crackles and pops. It is at once richly organic & precisely synthetic, with Heckish clouds of static noise revolving stereoscopically around the observer.
Des réverbérations métallurgiques de Jake Bornheimer:
(Traduit par l'insularité frileuse de Marie-Pier Chevrier)
Un paquebot de pierre coulant vers les profondeurs de l'océan. Un dôme noir de jais où s'étend chaque constellation. Une pièce d'or scintillante au coeur d'une flaque d'eau immobile. Stereoscope a des allures de film se prenant pour une chanson. Comme une collection de moments encastrés dans un son épais et houleux. Des dialogues en émergent, couronnés de crépitements et cliquetis. Le tout est à la fois d'un vivant palpable et d'une précision mécanique, avec des nuages de bruit statique à la Hecker en révolution stéréoscopique autour de l'observateur.
Max Greening – Introduction Sun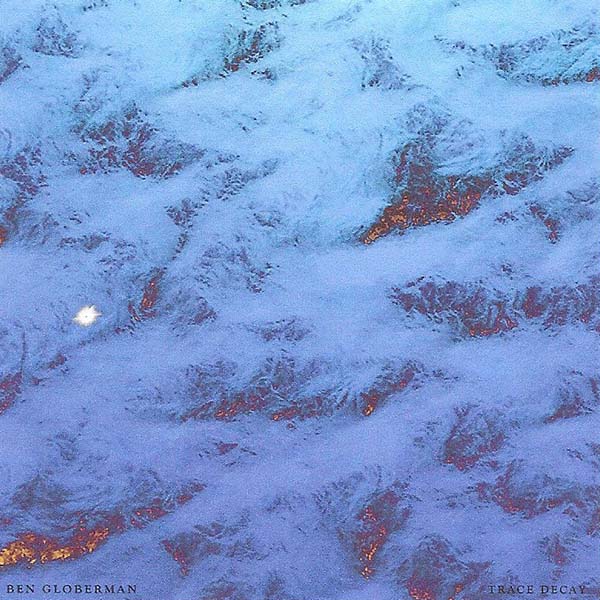 Ben Globerman
Trace Decay
(Self-released)
Montreal , QC
From the nomadic dwelling of Mailis Rodrigues :
To dwell somewhere assumes that one creates a certain level of intimacy. Intimacy that grows within the place, the places that one relates to and discovers. Ben Globerman dwells in a factory where he collects whispering sounds that he superimposes, layer after layer, as if an assemblage of objets trouvés. And somehow we are involved in this weird lullaby, that nestles us into a sound blanket. Trace Decay resembles a Gregorian chant from a post-industrial era, reminding us at every chord that place is more than a container, it's a living body that breathes through sound.
En direct de l'habitat nomade de Mailis Rodrigues :
(Traduit par Diane Beaupré )
Habiter quelque part suppose que l'on crée un certain degré d'intimité. Une intimité qui se développe à l'intérieur, dans les endroits que l'on découvre et qui nous touchent. Ben Globerman habite dans une usine où il collectionne les murmures ambiants qu'il superpose, couche après couche, tel un assemblage d'objets trouvés. Sans que l'on sache pourquoi, on se laisse emporter par cette berceuse, qui nous enveloppe dans une couverture sonore. Trace Decay ressemble à un chant grégorien de l'époque post-industrielle, qui nous rappelle à chaque accord qu'un endroit est plus qu'un habitat, c'est un corps vivant qui respire par le son.
Ben Globerman – Obsidian (Husk)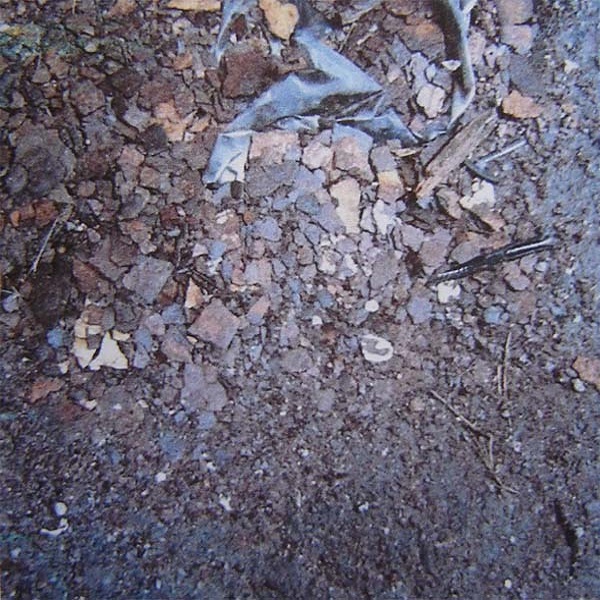 Émilie Payeur
Table des matières
Montréal, QC
From the seismic telegraph of Mathieu Bédard:
Sound is a visual element. To hear something is to see it in the mind's eye. Table des matières plays like the soundtrack for an abstract film creating the images it's accompanying. Divided between the raw nature of the sounds and their disembodied resonance, it is altered and amplified in the course of their wavelength. The music is a reciprocal action between the source and the trace of the objects heard, between a dot and a line: cosmos is morse code. The wires of the receiver are crossed, and the listening devices vibrate. From the melody of singing birds to the razorblades of peaking feedback, there is a natural transition. This is the music made by a tree falling in the forest without a witness.
Du télégraphe sismique de Mathieu Bédard:
(Mathieu Bédard)
Le son est un élément visuel. Entendre quelque chose, c'est le voir dans son esprit. Table des matières s'écoute comme la trame sonore d'un film abstrait qui crée elle-même les images qu'elle accompagne, partagée entre la pure réalité des sons et leur résonance désincarnée, altérée et amplifiée durant le cours de leur trajet. La musique est une action réciproque entre la source et la trace des objets entendus, entre un point et une ligne : le cosmos est un code morse. Et les fils du récepteur s'entremêlent, les appareils qui écoutent vibrent aussi. De la mélodie des oiseaux aux pics tranchants du retour de son, la transition est naturelle. Un arbre qui tombe dans la forêt sans témoin produit cette musique.
Émilie Payeur – Points et lignes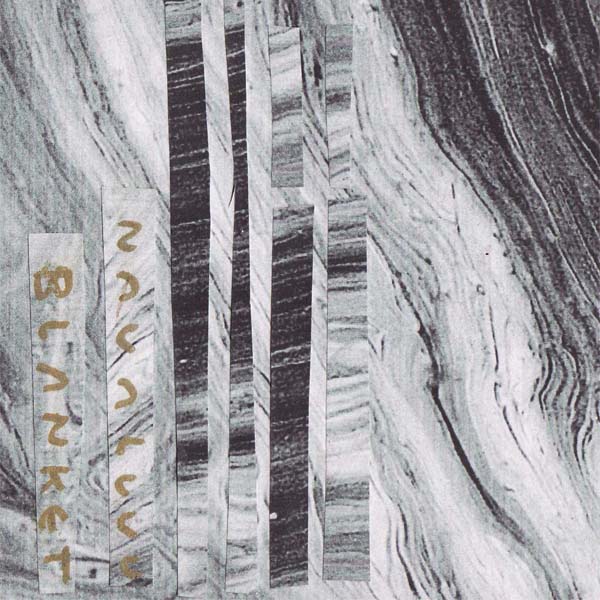 Nava Luvu
Blanket
(Self-Released)
Yellowknife, NWT
From the semi-conscious state of Gabe Girard:
A prolonged meditation on a droning, pulsing theme as inexorable as the frigid climate from which it hails, Nava Luvu offer Blanket – a cure for the common cold, among other ailments. They blur the line between tracks, opting for a record that could start and end anywhere you please. Allow yourself to be lulled into a pleasant, semi-conscious state, free from the burden of urban sprawl and inner city haste.
De l'état semi-conscient de Gabe Girard:
(Traduit par les yeux clos de Jessica Grenier)
Une méditation prolongée sur fond de pulsation bourdonnante aussi inexorable que le climat aride duquel il provient, Nava Luvu nous offrent Blanket, un remède pour soulager les rhumes, entre autres maladies. Ils ont brouillé la limite entre les pistes, optant pour un album qui pourrait commencer et finir où vous le souhaitez. Laissez-vous bercer jusqu'à un agréable état semi-conscient, libéré de la précipitation des grandes villes et du poids de l'étalement urbain.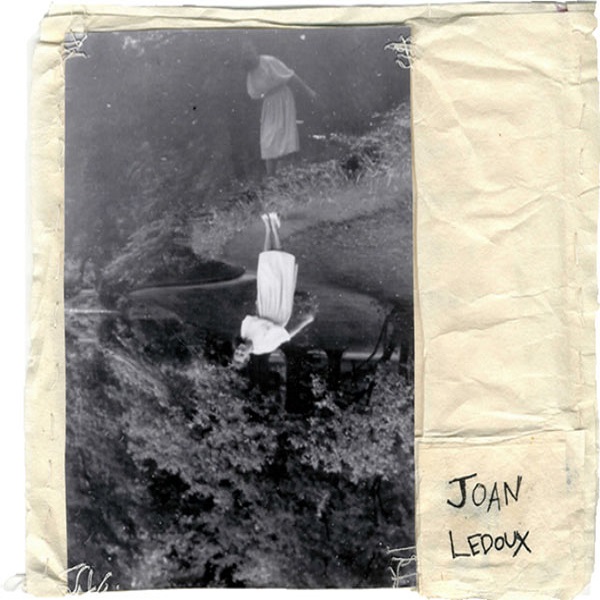 Joan Ledoux
EP
(Self Released)
Gatineau, QC
From the dainty digits of Noah Sherman:
This debut ranges from calming to irritating to somber to simply unnerving – then the next track starts. The focal point in the EP comes on the ultimate track in which noise music interrupts the beautifully delicate soundscape, before fading back to obscurity and allowing the soft tones to take over once more. It's a perfect contrast that epitomizes the audio adventure.
Des doigts délicats de Noah Sherman:
(Traduit par Jessica Grenier)
Ce premier album passe de relaxant à irritant, à sombre, à carrément perturbant – puis la deuxième piste commence. Le point fort arrive à la dernière piste, où du noise vient interrompre la beauté délicate d'un paysage sonore avant de retourner dans le néant, laissant les douces tonalités reprendre le dessus. Cet excellent contraste illustre à la perfection l'aventure audio.

Joan Ledoux – Prom Dress/Burial Ground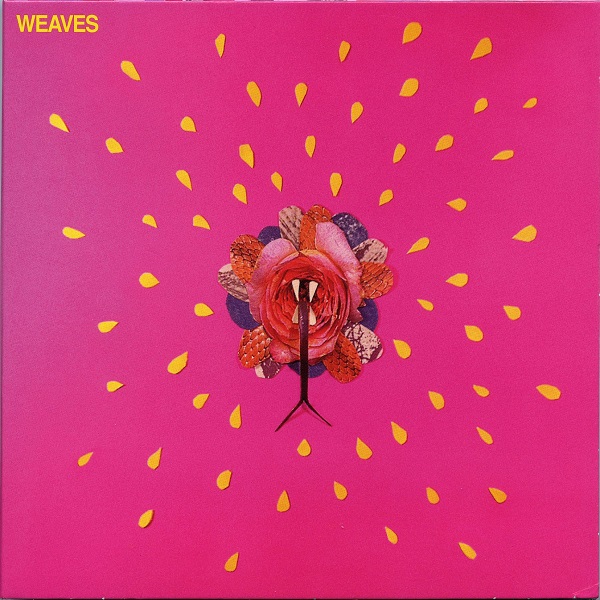 Weaves
Weaves
Toronto , ON
From the convection compartment of Brandon Gray:
Weaves melt buttery, effortless melodies atop the crunch and crumble of a freshly baked, fully loaded grunge funk potato. On "Motorcycle" the quartet turn bristling cock rock on its head as singer Jasmyn Burke's groovy ode to a badboy cutie wrestles with a muscular rhythm section, wooly guitars and pitch-perfect Hammond organ riffs. Meanwhile, "Hulahoop" teeters forward at a comfy pace, leaving room for the sultry elasticity in Burke's voice to morph and fizz alongside guitarist Morgan Waters' understated fuzz fussing. Sour cream anyone?
Du four à convection de Brandon Gray:
(Traduit par Jessica Grenier)
Weaves fond comme du beurre, des mélodies faciles sur une belle grosse patate funk-grunge fondante et croquante. Le quatuor vire le cock rock énergique à l'envers sur « Motorcycle », alors que l'ode chantée par Jasmyn Burke pour un badboy à croquer se bat avec une section rythmique musclée, des guitares confuses et des riffs parfaits d'orgue Hammond. Pendant ce temps, « Hulahoop » vacille vers un endroit confortable, laissant de la place pour que la voix élastique et sensuelle de Burke puisse changer, moussant au rythme du fuzz discret du guitariste Morgan Water. Quelqu'un veut de la crème sure?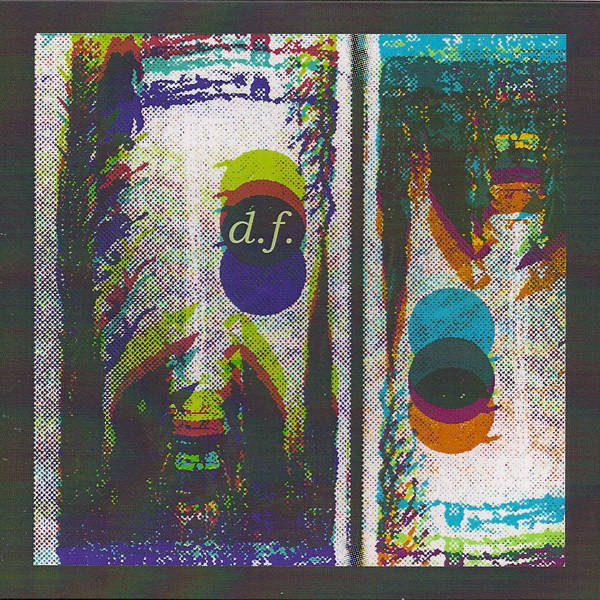 D.F.
Snowshell + Tape Decay Works
Calgary, AB
From the snow's hell of Jesse Locke:
Devin Friesen breaks out his frozen gtr for another trudge through analog atrophy and shuddering drum machine dread. This CD edition collects the original grip-or-it's-gone Snowshell lathe with six additional blasts of dome-clearing desolation, bottoming out with the 15-minute "Return of the Raiders." Stay frosty…
De l'enfer de neige de Jesse Locke:
(Traduit par les bas de laine troués de Jessica Grenier)
Devin Friesen est sorti de sa GTR glacée pour une autre marche pénible à travers l'atrophie analogique et le frisson d'une boîte à rythme terrifiante. Cette édition en CD rassemble Snowshell (l'original, dépêchez-vous avant qu'il n'y en ait plus!) et six autres explosions dévastatrices à faire sauter le plafond, et se conclu avec les 15 minutes de « Return of the Raiders ». Alors, faites attention…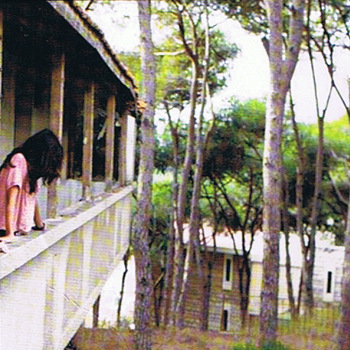 Ostrea Lake
Dear Outside The Woods EP
(Self Released)
Halifax, NS
From the wordless feet-stamping of Benjamin Anderson:
Frontman Elias Abi Daoud affectionately uncurls fingers of smoke into the inky night, drifting off into dreams of bonfires and walking mandolins. Partly recorded in Agricola Street's illustrious Open Mic House, partly recorded deep in the woods, Ostrea Lake's second EP is a despondent labourer, wordlessly stamping its feet in the thin mist of dawn on the Halifax Harbour. With a new EP due out in the spring on All We've Got Records, this is a group to keep a heavy-lidded eye on.
Des Foulées Sans Mots de Benjamin Anderson:
(Des plumes imperméables de Flora Hammond)
Le chanteur Elias Abi Daoud délie délicatement des doigts de fumée dans la nuit noir encre et s'égare au milieu de rêveries de feux de joie et mandolines. Enregistré dans la rue Agricola à l'illustre Open Mic House, mais aussi aux confins d'une sombre forêt, le second EP d'Ostrea Lake est un ouvrier abattu qui, à l'aube, sans mot dire, appose l'empreinte de sa démarche lourde au creux de la brume du port d'Halifax. Un nouvel EP est attendu au printemps chez All We've Got Records: gardez vos yeux entr'ouverts sur la trajectoire de ce groupe.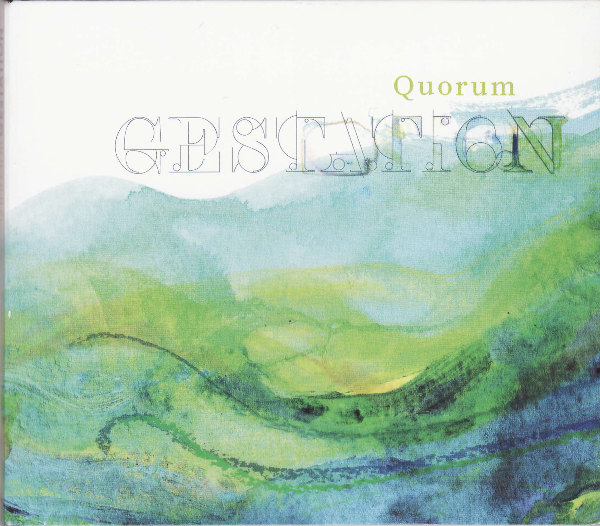 Ronda Rindone
Gestation
(Self Released)
Toronto, ON
From the marital issues of Gabe Girard:
Enter a husband and wife in the middle of a deep discussion, marital issues spilling over into the debate. Instead of communicating with words, however, these lovers work it out with a bass clarinet, drum kit and a trombone. This image, supplemented with artistry and fearless improv, encapsulates the duo passages that begin Ronda Rindone's Gestation. They really do sound like genuine conversation, which of course is one of the goals of playing "new music" or "free jazz". A la Eric Dolphy, Rindone explores the entire tonal pallet of her horn, making the cumbersome bass clarinet sound as easy to play as a recorder. Joined by two cellos, two bass players and two drummers; this experimental, bass heavy ensemble creates complex, other-worldly textures with ease.
Des problèmes conjugaux de Gabe Girard:
(Traduit par Jessica Grenier)
Un couple marié en pleine conversation sérieuse, où se bouillonnent des problèmes conjugaux : plutôt que de communiquer avec des mots, ces amoureux s'expriment avec une clarinette basse, une batterie et un trombone. Cette image, à laquelle s'ajoutent talent artistique et improvisation audacieuse, encapsule la double voie inaugurant Gestation de Ronda Rindone. On croirait vraiment entendre une conversation – ce qui est bien sûr l'un des objectifs quand on joue du « new music » ou du « free jazz ». Rappelant Eric Dolphy, Rindone explore l'éventail de possibilités sonores de son cuivre, donnant l'impression qu'on peut jouer d'une encombrante clarinette basse aussi facilement que d'un magnétophone. Cet ensemble expérimental constitué majoritairement de basses – s'y joignent deux violoncelles, deux contrebasses et deux batteries – sait créer aisément des textures complexes et irréelles.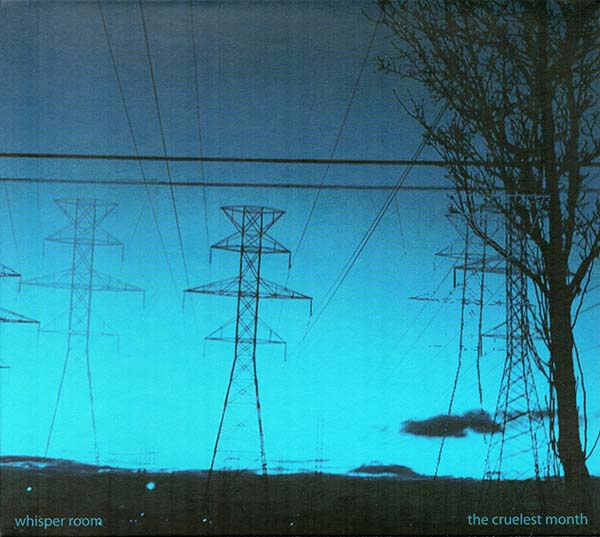 The Cruelest Month
Whisper Room
Toronto, ON
From the angelic hum of Mark Gillis:
As the morning sun calmly climbs, the dew on the grass serenely fades into nothing. The day begins with an angelic hum, allowing you to truly take in the beauty around. As the day goes on, an abundance of sounds and textures invade your mind as you become locked into the meditative monotony day to day existence. You can choose to fall into the monotony by letting it pass through your brain, or you can actively take hold of it and make it something special. On The Cruelest Month, Whisper Room make the drone of daily being an exalting experience.
Du bourdonnement angélique de Mark Gillis:
(Traduit par le regard apaisé de Jessica Grenier)
Le soleil matinal se lève lentement, renvoyant sereinement la rosée vers le néant. Le jour commence en un bourdonnement angélique, ce qui te permet de profiter longuement de la beauté tout autour. Avec les heures qui avancent, une abondance de sons et de textures envahissent ton esprit, t'emprisonnant dans la monotonie méditative du quotidien. Tu peux choisir de t'en imprégner en laissant ton cerveau l'accueillir, ou tu peux t'en emparer volontairement pour en faire quelque chose de spécial. The Cruelest Month de Whisper Room fait du drone de l'existence quotidienne une expérience exaltante.
---