Category: compact disc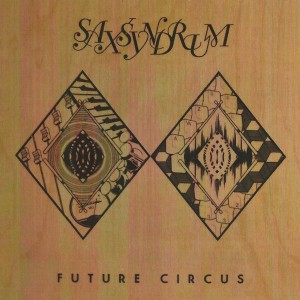 Saxsyndrum
Future Circus
(Self Released)
Montréal, QC
From the all night discotheque of Matt Lazenby:
Saxsyndrum have created a collection of electro-jazz bangers that would be equally at home on a packed dance floor as they would providing the soundtrack to your journey home in the wee hours. For this album, Nick Schofield (drums and synth) and David Switchenko (tenor sax) have enlisted a wealth of Montreal stalwarts such as Sea Oleena, Holobody and Akua Carson to provide lush vocal textures over their signature onslaught. But what makes Future Circus jump isn't just the duo's drive, it's the melodic intricacies mixed so seamlessly within the grooves. This is ever-present in tracks such as "Heartstrings" and "Yoyo Wah", walking the tightrope between full-on dance music and dreamy atmospherics.
De la traversée nocturne à la discothèque de Matt Lazenby:
(Traduit par la course diurne d'Aliké Harel)
Saxsyndrum a créé un album d'électro-jazz rythmé qui convient autant à une piste de danse pleine à craquer à la maison que dans la voiture sur la route du retour aux petites heures du matin. Pour cet album, Nick Schofield (batterie et synthé) et David Switchenko (saxophone ténor) se sont entourés d'inconditionnels de la scène montréalaise, tels que Sea Oleena, Holobody et Akua Carson pour donner une texture vocale riche à leur déchaînement consacré. Le duo ne se démarque pas seulement par l'énergie insufflée à Future Circus; en plus, le détail des mélodies s'harmonise sans heurts au groove. Délice des plus palpables sur les pistes comme « Heartstrings » et « Yoyo Wah », où les artistes jouent aux funambules entre la musique dance à fond la caisse et l'ambiance onirique.

Saxsyndrum – Heartstrings (feat. Holobody)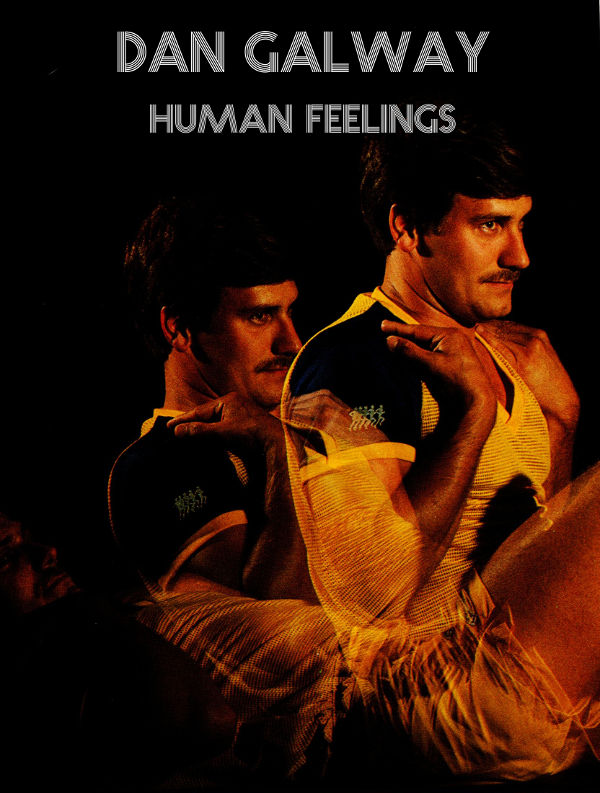 Dan Galway
Human Feelings
(Self Released)
Iqaluit, NU
From the stunned phasers of Eric Rumble:
Submerged. A yawp from the deep, bubbling up to tundra. Time-lapse low tones and light tracers that liquefy the day under cover of night. A droning from the planet's tipping point, coloured by the murky daydream of some suburban gymnasium slow dance.
Dan Galway unpacks the space between anxiety and intent – the tricky idea that "being human is difficult because we have to feel" – with the riddled atmospherics of his remote outpost: a single bulb in an uncluttered room; his stored motorbike's dormant heat; sled dogs howling at the abyss of snow and sky outside; trans-zen-dental single notes and strong cadences decoded through a pair of headphones; his family sleeping down the hall. Galway says his four-month-old likes watching the computer screen but is startled by loud noises, "so he is a harsh critic."
The Iqaluit-based artist gives the scoop on his song titles and what they grapple with.
This song is one of Galway's favourites and the CD-R's title track because it speaks to the prevailing theme of his music: the complexity of emotions. "Human interaction is difficult. We are unable to express ourselves save for a setting in which that is implied. This is resolved by being honest to ourselves and others."
Galway: "This track speaks to the inherent tension within true happiness. The dissonant low tones sound both in opposition to and in harmony with each other. Feeling truly happy is a miracle, but it is not free from self doubt and anxiety."
"Music is a natural process for me – I generally build on an idea I have in my head for how I want a track to flow. This track, like a lot of my music, is based on the layering and manipulation of repetitive rhythms and melodies. At what point does this no longer challenge the listener? Is that the purpose of this music? If it isn't, then what is? This must be something all creative types feel – the nagging idea that what you produce is not special, merely mediocre."
The "slow, lumbering and uncomfortable" jam set against a 7/8 beat that repped Nunavut on the Wyrd Distro coast-to-coast-to-coast launch comp cassette. Galway calls it an experiment with "the juxtaposition of what we say versus how we really feel. Behind the facade we are people who may never truly know each other. The reason this is so troubling is because we need to exist outside of ourselves. But how well can we really know anyone?"
Des lasers stupéfiés d'Eric Rumble:
(Traduit par l'incapacité de Vincent Rondeau à traduire des jeux de mots)
Submersion. Un gémissement venu des profondeurs bouillonne dans la toundra. Des basses en accéléré, des traînées de lumière qui liquéfient le jour à la faveur de l'obscurité. Un ronflement issu du pivot de la planète, coloré par la fantaisie glauque d'un slow de gymnase en banlieue.
Dan Galway déploie l'espace entre l'angoisse et l'intention, l'idée retorse selon laquelle « être humain, c'est difficile parce qu'il faut tout ressentir », à l'aide des atmosphères déchirées de son emplacement reculé : une ampoule seule dans une pièce épurée, la tiédeur latente de sa moto rangée, le jappement des chiens de traîneau dans l'abîme de neige et de ciel, des cadences fortes et des notes solitaires transcendantales décodées par une paire d'écouteurs, sa famille endormie au bout du couloir. Galway mentionne que son fils de quatre mois aime regarder l'écran de l'ordinateur mais que les bruits forts l'effraient : « c'est un critique impitoyable ».
L'artiste et résident d'Iqaluit nous explique les titres de ses chansons et leur signification.

"Human Feelings" (« Sentiments humains »)
C'est une des chansons favorites de Galway et la chanson-titre du CD-R parce qu'elle traite du thème principal de sa musique : la complexité des émotions. « L'interaction entre êtres humains est difficile. On est incapable de s'exprimer en dehors de certains contextes où cette difficulté est sous-entendue. La solution, c'est d'être honnête avec nous-mêmes et avec les autres ».

"Latest Triumphs" (« Triomphes récents »)
Galway : « Cette pièce parle de la tension inhérente au vrai bonheur. Les basses dissonantes sonnent à la fois en opposition et en harmonie entre elles. Le sentiment du bonheur réel est un miracle, mais il ne nous libère ni du doute que l'on ressent à propos de soi ni de l'angoisse ».
« Pour moi, la musique est un processus naturel. D'habitude, je commence à partir d'une idée générale du mouvement de la pièce. Celle-ci, comme plusieurs de mes autres pièces, manipule des mélodies et des rythmes répétitifs et les dispose en couches. Mais jusqu'à quel point est-ce stimulant pour l'auditeur? Est-ce le but de cette musique? Sinon, quel est-il? J'imagine que tous les créateurs ont le même sentiment, la même idée tenace que ce que l'on produit n'est pas spécial, mais médiocre ».

"Real Talk" (« Paroles vraies »)
Ce morceau « lent, lourd et inconfortable » sur un rythme en 7/8 a représenté le Nunavut sur la cassette compilation du lancement de la Wyrd Distro aux quatre coins du pays. Pour Galway, c'est une expérience qui joue avec « la juxtaposition de ce que l'on dit et de ce que l'on ressent vraiment. Derrière la façade, nous ne nous connaîtrons peut-être jamais réellement. C'est troublant parce qu'on ressent le besoin d'exister hors de nous-mêmes, mais à quel point peut-on vraiment connaître qui que ce soit? ».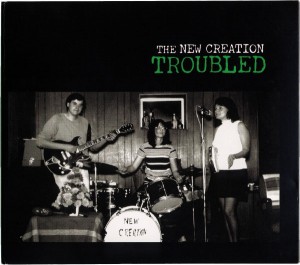 The New Creation
Troubled
(Alphaomega Records // Companion Records)
Vancouver, BC
Originally Released: 1970
From the countdown to revolution of Matthew Swann:
If you ask the average layperson, "Hey! You! What's the best album by a Canadian band in the last half of the 20th century?" Obviously, they're gonna say "Love Tara, by Eric's Trip." Duh, every time. However, ask Jesus the same question, and you're gonna get a different answer; one spoken resolutely in Aramaic, and shouted through an echoplex. Jesus is gonna say… "Troubled, by the New Creation (((((((((((((( !!!!!!!!!!"
And here's why! Originally released in 1970 on Vancouver's Alphomega Records, and finally re-issued on California's Companion Records, Troubled is sloppy, trippy, apocalyptic garage-psych. Imagine the Velvet Underground, Skip Spence, and the Shaggs holed up in a bomb shelter with the Partridge Family, while some loving Quakers homeschool them in Essene eschatology! Now imagine all that in 12 hot tracks. I'm not talking your parent's apocalyptic, Jesus Freak scene (oh wait — it's from the '70's, maybe it is). Anyway, pick this gem up, turn the other cheek (toward the speaker), and get down (((((((((((((( !!!!!!!!!!
Matthew Swann is the mastermind behind Astral Swans and previously haunted ears as Extra Happy Ghost!!!.
Du compte à rebours vers la révolution de Matthew Swann:
(Traduit par le saint-suaire tye dye de Justine Gabias)
Si vous demandez au profane ordinaire, « Hé! Toi! Quel est le meilleur album d'un groupe canadien de la deuxième moitié du XXe siècle? » Immanquablement, il va répliquer: « Love Tara, d'Eric's Trip. » Ça va de soi. Par contre, demande la meme question à Jésus, et tu auras une réponse différente, en araméen bien sûr, et gueulée à travers un Echoplex. Jésus répondra… « Troubled par the New Creation (((((((((((((( !!!!!!!!!! »
Et voici pourquoi! Lancé en 1970 par le label Alphomega Records de Vancouver, et maintenant enfin re-distribué par California's Companion Records, Troubled est du garage-psych bâclé, trippant et apocalyptique. Imagine le Velvet Underground, Skip Spence et les Shaggs terrés dans un abri nucléaire avec la Partridge Family, se faisant enseigner l'eschatologie des Esséniens par de charmants Quakers! Maintenant, imagine tout ça dans 12 chansons du tonnerre. Je ne parle pas des trucs apocalyptiques Jesus freak de tes parents (oh, mais attends… ça date des années '70, alors oui, peut-être.) Qu'importe, empare-toi de cette perle, tends l'autre joue (vers tes haut-parleurs), et laisse-toi aller! (((((((((((((( !!!!!!!!!!
Matthew Swann est le cerveau derrière Astral Swans et a hanté les oreilles dans le passé en tant qu'Extra Happy Ghost!!!.

The New Creation – Countdown To Revolution !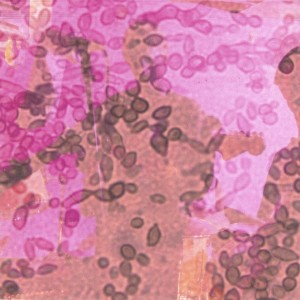 Mold Boy
Lost My Day
(Self Released)
Montréal, QC
From the ying yang of Javier Fuentes:
Upon first discovering Mold Boy, this secretive persona left many a WC writer scratching their heads as they tried to verify the identity of the project's creative mastermind. Clues went everywhere as bandcamp tags were analyzed and anagrams investigated. Turns out we didn't have to look farther than our own pages to find the six-string orchestrator. Alex Calder's effortless pop chops rewind our minds back to the last carefree moment found in the memory log. We walk around paused in this state, slowly creeping towards hazy VHS images that carousel around us. The desire to break through this mirage weakens with each note.
Du yin et du yang de Javier Fuentes:
(Traduit par la douceur mécanique de David Kohler)
Lors de la découverte de Mold Boy, ce persona cachottier laissa plus d'un membre de WC à se gratter la tête en tentant de vérifier l'identité du cerveau créatif derrière ce projet. Les indices fusaient de partout alors que les tags sur bandcamp étaient analysés et divers anagrammes étudiés. Il se trouve que nous n'avions pas à chercher plus loin que nos propres pages pour trouver cet orchestrateur à six cordes. Avec une technique pop nonchalante, Alex Calder renvoie notre esprit aux derniers moments d'abandon trouvés dans l'historique de notre mémoire. On déambule, suspendu dans cet état, en glissant doucement vers un carousel d'images voilées de VHS tournant autour de nous. Le désir de percer au travers de ce mirage s'atténue avec chaque note.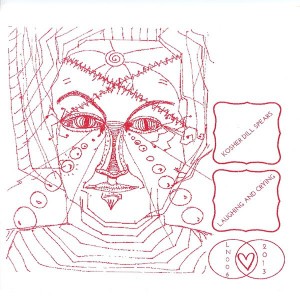 Kosher Dill Spears
Laughing and Crying
(Love Nation)
Toronto, ON
From the party platter of Chris Sayer:
Toronto's Kosher Dill Spears (a.k.a. Jesse Levine) has created a monster of an album with the pairing of percussive samples, organs and synth. His work as Victor Frankenstein builds from the body parts of musical genres, stitching soul ("What You Do to Me" ft. Maylee Todd) to psychedelic rock ("Rocorgan") to hip-hop ("Brinin'" ft. Peet Moss). The sounds combine like a prometheus posse conversing in their own tongues.
Des plateaux de fêtes de Chris Sayer:
(Traduit par les ballons roses de Joannie Pharand)
Le Torontois Kosher Dill Spears (c'est-à-dire Jesse Levine) a créé un album monstre en jumelant des échantillons de percussions, d'orgues et d'un synthétiseur. Son oeuvre à la Victor Frankenstein se construit à partir de pièces détachées de différents genres de musique, en assemblant du soul (« What You Do to Me » avec Maylee Todd), du rock psychédélique (« Rocorgan ») et du hip-hop (« Brinin » avec Peet Moss). Ces sons se mélangent comme une petite troupe de prométhéens qui se parlent dans leur propre langue.

Kosher Dill Spears – Couch Mode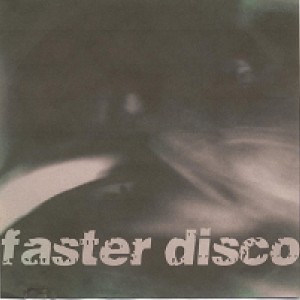 Faster Disco
Faster Disco
(Self Released)
Calgary, AB
From the funhouse mirror of Cassilou Landra:
Welcome to the world of Mark Fleischhaker. Existing somewhere between Yamatsuka Eye's work with John Zorn's Naked City, Mike Patton's freak-out scat, and the surrealist comedy skits of Sun City Girls, the spazz-beat of this duo with drummer Joe Serdarevic is just one of the weapons in the man's arsenal. A fixture in Regina and Calgary's music scenes for nearly a quarter century, Mark and his compatriots deliver abrasive catharsis and primal pleasure like acid rain during an equinox. His YouTube channel is a library, archiving every studio creation, live recording, and personal influence that has manifested in experiments and collaborations. These include solo collage noise, Residents-esque readings of beloved children's books, fiery experimental rock with Calgary lynchpins Chris Dadge (Lab Coast, Bug Incision) and Scott Munro (Viet Cong), twisted ambient soundscapes that recall the KLF at their most chill, and '90s alternative rock that, oddly enough, was featured twice in a 1997 ABC TV movie. Enter the funhouse.
De par le miroir du palais du rire de Cassilou Landra:
(Traduit de l'autre côté du miroir par Catherine Gaucher)
Bienvenue dans l'univers de Mark Fleischhaker. Existant quelque part entre le travail de Yamatsuka Eye pour le groupe Naked City de John Zorn, le déboussolant scat de Mike Patton et les sketches comiques surréalistes de Sun City Girls, la cadence spasmodique composée en duo avec le batteur Joe Serdarevic n'est qu'une des multiples armes de l'arsenal de cet homme. Un incontournable des scènes musicales de Regina et de Calgary depuis près d'un quart de siècle, Mark et ses compatriotes produisent ensemble une catharsis abrasive et un plaisir primaire, telle une pluie acide tombant durant un équinoxe. Sa page YouTube est une bibliothèque archivant chaque création en studio, chaque enregistrement en direct ainsi que ses influences personnelles se manifestant dans ses explorations et collaborations. Ceux-ci incluent de bruyants collages en solo, des lectures Residents-esques de livres pour enfants, du rock expérimental fougueux avec les piliers musicaux calgariens Chris Dadge (Lab Coast, Bug Incision) et Scott Munro (Viet Cong), de paysages sonores ambiants tordus qui rappellent KLF à leur heure plus posée et du rock alternatif des années 90 qui, curieusement, a figuré deux fois dans un film d'ABC TV de 1997. Veuillez entrer dans le palais du rire.

Faster Disco – 56 Songs in in 17 Minutes (Excerpt 1)
Adrian Verdejo
Modern Hearts: New Music For Electric Guitar
Vancouver, BC
From the black domino of Lael Johnston:
Tell me about the third. Tell me about the sixth. Dad failed me. Don't be defeated by laundry. Travel forwards, travel sideways, alone or with a friend. Canadian "Rye" Cooder. Apparently Greg Godovitz threw the original score of Tubular Bells in a fire. Mike singed his fingers pulling it out.
Lael Johnston is the Music Director at Chestermere High School Calgary.
Du domino noir de Lael Johnston:
(Traduit par l'As de trèfle de Joannie Pharand)
Parle-moi du troisième. Parle-moi du sixième. Mon père m'a laissé tomber. Ne vous laissez pas abattre par le lavage. Allez de l'avant, allez sur les marges, seul ou avec un ami. Le « Rye » Cooder canadien. Il semble que Greg Godovitz ait jeté la bande originale de « Tubular Bells » au feu. Mike s'est légèrement brûlé les doigts en le retirant.
Lael Johnston est le directeur musical de l'école secondaire Chestemere, Calgary.

Adrian Verdejo – The Black Domino (Rodney Sharman, 1988)
Adrian Verdejo – Septet For Six Electric Guitars and Bass (James Tenney, 1981)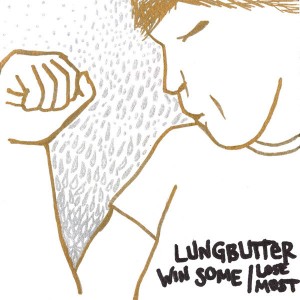 Lungbutter
Win Some / Lose Most
(Self Released)
Montréal, QC
From the back of the throat of Johnnie Regalado:
Two Femmaggots and the gatekeeper of CKUT's music library offer up a collection of tunes that you can try to swallow, but will inevitably get stuck in the back of your throat. These tracks effectively smash small talk into punk rock: grandma's health, a good friend's career path, the shitty winter. Lungbutter's twee-metal strikes with the ruthless precision of whacking bugs with rolled up newspaper.
Du fond de la gorge de Johnnie Regalado:
(Traduit de la cage thoracique de Catherine Gaucher)
Deux des Femmaggots et le gardien de la bibliothèque musicale de CKUT nous livrent une collection de chansons, lesquelles vous pourrez tenter d'avaler, mais qui se coinceront inévitablement au fond de votre gorge. Ces chansons brisent efficacement le banal, le transformant en punk rock : la santé de grand-maman, la carrière d'un bon ami, l'hiver de merde. Le métal twee de Lungbutter frappe avec la précision impitoyable d'un journal enroulé servant de tapette à mouche.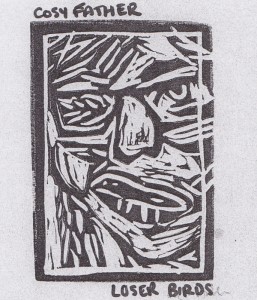 Cosy Father
Loser Birds
Victoria, BC
From the frayed fibers of Joshua Robinson:
The debut release on Victoria's Hot Hand Cold Hand label is the warm morning migrating through night-washed hallways. Draped in soft timbres and the gentle whisper of time speaking with itself, Cosy Father pulls gently at the frayed fibers of wool blankets knitted by aged and calloused hands. Its dusty affectations slip through the cracks between attic floorboards, salting the cyclic impressions of footprints embedded in the freckled ground below. These are minimalist lamentations for the close-cornered conversations between past personages astrally projected into syntax. The verses rain down from the cumulous wordcloud of Elizabeth McArthur, as she delivers parables of that which goes on and on. And it is here, at this delicate juncture of pastism dredged from the depths of poignant recollection, that Loser Birds exists as a remedy for sorrowful remembrances and sleepless nights of the phantom phrasings, fleeting footsteps on solemn shores.
Des fibres effilochées de Joshua Robinson:
(Traduit par le délicat chuchotement de Virginie Langlois)
Le premier disque sorti sur le label Hot Hand Cold Hand de Victoria est le matin chaud qui emprunte les corridors lavés par la nuit. Drapé de timbres doux, le délicat chuchotement du temps se parlant à lui-même, Cosy Father tire doucement sur les fibres effilochées de couvertures de laine tricotées par des mains vieilles et calleuses. Ses affectations poussiéreuses se faufilent à travers les lames du plancher du grenier, saupoudrant les impressions cycliques des traces de pas incrustées dans le sol en dessous. Ce sont des lamentations minimalistes pour les conversations à huis clos entre d'anciens personnages qui auraient été projetés astralement dans la syntaxe. Les couplets se déversent du cumulus de mots d'Elizabeth McArthur, alors qu'inlassablement, elle nous livre ses paraboles. Et c'est là, à ce point de jonction délicat du passéisme déterré des profondeurs d'un souvenir poignant, que Loser Birds surgit tel un remède aux commémorations tristes et aux nuits d'insomnie des formulations fantômes, traces de pas furtives sur des rivages solennels.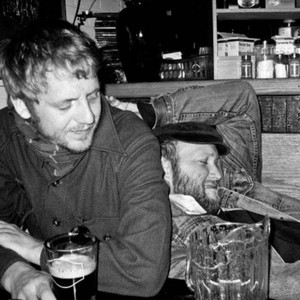 Hurricane & Able
The Last Temptation (Of H&A)
(Self Released)
Toronto, ON
From the wallflower wonderings of Chizz Mbamalu:
With every lyric and guitar riff of The Last Temptation the heart caves, causing the slight feeling of beautiful sadism. Each track of the album echoes relatable feelings of love and friendship, but also, of being lonely and being alone; two very cold topics that are brought to warmth by the passion and strength of Barry and Shawn's musicianship. The record is described as "little snippets here and there of ideas on (Barry's) computer and then turned into something just before heading to London."
However, this album isn't just a slapdash job thrown together at the last minute. It was first recorded in February 2012 and then released July 2013. A lot of vigour and spirit went into this album and it's apparent. There are some really special things this record does to cozily wrap you up into it. The surf-rock sound of "Little Girl" sends you back in time to being a young wallflower at a school dance and the anxiousness over whether you should ask your crush to dance. The additional vocals on "The Glory of Love" add a drunken, loving sense of community to give us the extra courage we might need to talk to the one we long for. This album goes well with a broken heart, a day off, your comfy bed and a pack of cigarettes.
Des introspections bucoliques de Chizz Mbamalu:
(Traduit par le semoir à mots d'Aliké Harel)
Chaque parole et chaque riff de guitare dans The Last Temptation taillade le cœur, ce qui éveille un soupçon de charme sadique. Toutes les pistes de l'album évoquent des émotions connues d'amour et d'amitié, mais aussi d'isolement et de solitude, deux sujets de glace que Barry et Shawn animent du feu de leur passion musicale. L'album est décrit comme « de petites bribes, ici et là, des idées compilées à l'ordinateur (celui de Barry) et ensuite mises en forme juste avant le départ pour Londres ».
Cependant, il ne s'agit pas d'un travail bâclé improvisé à la dernière minute. Le premier enregistrement a été fait en février 2012 et lancé en juillet 2013. L'album a été conçu avec beaucoup de vivacité et d'esprit, on le sent. Plusieurs aspects singuliers à The Last Temptation enveloppent tendrement l'auditeur. La touche de rock surf dans « Little Girl's » vous ramène à l'époque où vous étiez une fleur timide au bal de l'école et vous remémore les sueurs froides causées par l'idée d'inviter votre flamme à danser… ou pas. Les voix supplémentaires dans « The Glory of Love » ajoutent un sentiment d'appartenance teinté d'amour et d'ivresse, de quoi donner la force de parler à celui ou celle pour qui on se languit. Cet album accompagne bien les cœurs brisés, pendant un jour de congé, dans un lit douillet et muni d'un paquet de cigarettes.
Hurricane & Able – Little Girl
---