Category: compact disc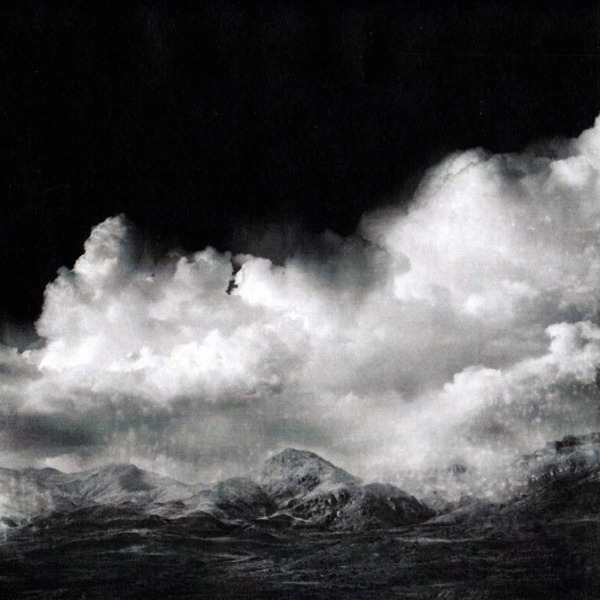 Chorus – Black Paradise (Self Released) :: Chorus members Don Kennedy and Andrew Roy return as drone kings ruling over a Black Paradise. Their domain, one steeped in the thick and heavy ambience of the sepulchral night, is one of regeneration; cyclical spans of beginnings and ends collapsing in on themselves, birthing narratives that are repetitions of form, but sung in a new tongue.
Chorus
Black Paradise
(Self Released)
Toronto, ON
From the contorted urbanisms of Joshua Robinson:
Chorus members Don Kennedy and Andrew Roy, formerly of Toronto's Off the International Radar, return as drone kings ruling over a Black Paradise. Their domain, one steeped in the thick and heavy ambience of the sepulchral night, is one of regeneration; cyclical spans of beginnings and ends collapsing in on themselves, birthing narratives that are repetitions of form, but sung in a new tongue. Where Off the International Radar possessed an innate lightness of being, Chorus exists as the tonal alter-ego of its brighter post-rock forbearer. Their music is born of the endless evening; of that precarious precipice demarcating the end of the beginning and the beginning of the end. Massivity as ambience, and the caged growl of a city contorted to show its upside-downs and inside-outs, Chorus dismantle the stasis of drone and turn it on itself to invigorate the quiet pulse of our softer moods.
Des urbanismes contorsionnés de Joshua Robinson:
(Traduit par Andréanne Dion)
Don Kennedy et Andrew Roy, les membres de Chorus, anciennement du groupe Torontois Off the International Radar, reviennent en tant que rois du bourdonnement, régnant sur un Black Paradise. Leur domaine, imprégné de l'ambiance épaisse et lourde d'une nuit caverneuse, en est un de régénération : des débuts et de fins qui s'écroulent sur eux-mêmes de façon cyclique, donnant naissance à des récits qui se renouvellent, mais qui sont chantés dans une nouvelle langue. Alors que Off the International Radar possédait une légèreté d'être naturelle, Chorus est l'alter-ego tonal de son plus léger prédécesseur. Leur musique est née d'une soirée sans fin, de ce précipice précaire qui marque la fin du début et le début de la fin. Une ambiance énorme et le grognement captif d'une ville contorsionnée pour montrer ses envers, Chorus démantèle l'inertie du bourdonnement et retourne le genre sur lui-même pour revigorer le pouls silencieux de nos humeurs les plus douces.
.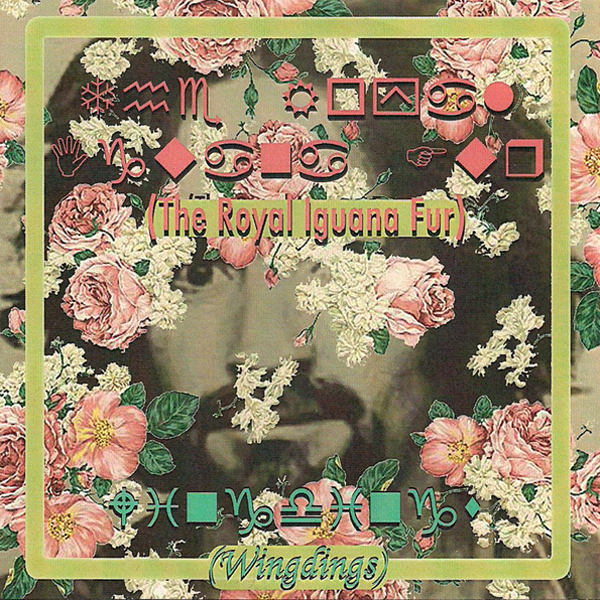 The Royal Iguana Fur
Wingdings
Edmonton, AB
From the Heinz creek of Jesse Locke:
These bed-headed blasts from the Royal Iguana Fur carry on the hazy humour and culture jam damage of R. Stevie Moore, Ariel Pink or Greydyn H. Wolfcow. Opening your album with a riff on The Mickey Mouse Club is every bit as cracked as covering the theme from Andy Griffith, and Wingdings continues its wriggle through decades of pop culture detritus. From Ouija boards to Easy Bake ovens, Devo to Pinterest, a soda shop tribute to Satan to the creeper on the cover, no schlock is left unturned.
Du ruisseau Heinz de Jesse Locke:
(Traduit par Andreanne Dion)
Ces explosions aux cheveux ébouriffés de Royal Iguana Fur poursuivent l'humour flou et les détournements culturels de R. Stevie Moore, Ariel Pink ou Greydyn H. Wolfcow. Commencer un album en improvisant sur The Mickey Mouse Club est tout aussi dingue que de faire un cover de la chanson thème d'Andy Griffith, et l'album Wingdings continue à se tordre à travers des décennies de détritus tirés de la culture populaire. Du Ouija aux fours Easy-Bake, de Devo à Pinterest, de l'hommage bonbon à Satan à l'homme louche sur la couverture, tout y est.
The Royal Iguana Fur – Synth Summer Fun (Play With Guns)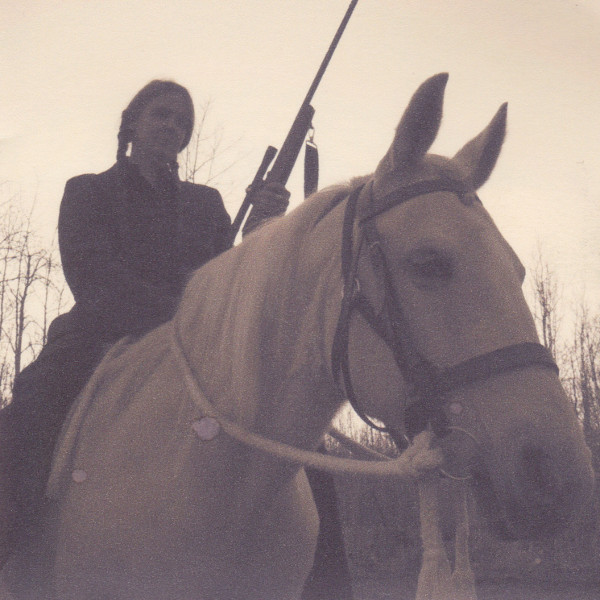 Kathleen Yearwood
Hunt the Circle
Experimental folk that dances with the sublime… Yearwood is both songstress and magician, casting spells as wide as the dark and dividing night, and as poignant as the first breath of life.
(Voice of the Turtle)
Vilna, AB
From the porcelanic terrestrialism of Joshua Robinson:
Experimental folk that dances with the sublime, Kathleen Yearwood's Hunt The Circle inflects the seasoned soul of our northernly banshee as whisked winds and puddle streams pour from the mouth that swallows the blemishes of our earthenware speculums. Yearwood is both songstress and magician, casting spells as wide as the dark and dividing night, and as poignant as the first breath of life. This release is purely telluric, reminding us of our connection to the great void that we call home and the even greater expanse of our humanity, begging for our recognition of what being human encompasses.
De la porcelaine terrestre de Joshua Robinson:
(Traduit part Andréanne Dion)
Du folk expérimental qui danse avec le sublime, Hunt The Circle de Kathleen Yearwood afflige l'âme expérimentée de notre banshee septentrionale, alors que des vents fouettés et des flots de flaques se déversent de la bouche qui avale les imperfections de nos speculums de faïence. Yearwood est à la fois chanteuse et magicienne, jettant des sorts aussi loin qu'aux frontières de la nuit noire et aussi poignants qu'un premier souffle. Cet album est purement tellurique, nous rapellant notre connection à l'immense vide que l'on apelle notre maison et à l'étendue encore plus grande de notre humanité, demandant que l'on reconnaisse ce qu'être un être humain veut dire.

Kathleen Yearwood – Hypothermia
The Foggy Notions
Sussed
Warm is the fuzzpop that drapes dirigible heartstrings in sheaths of atmospheric ambience, cantillating the ethereal imaginativity of '80s dreamweavers and stargazers alike.
(Velocet Records)
Saskatoon, SK
From the fuzzpop comity of Joshua Robinson:
Warm is the fuzzpop that drapes dirigible heartstrings in sheaths of atmospheric ambience, cantillating the ethereal imaginativity of '80s dreamweavers and stargazers alike. These chorales are imbued with an ionospheric barometry that turns windchill into the golden particulates of the sussed whispers of prairie fame. This comity overpowers the querulous seasonality that keeps us bedridden for want of quilt and tea made from the canorous kinetics of a musicality that easily doubles as the first breath of Spring's impressment.
De la courtoisie genre fuzzpop de Joshua Robinson:
(Traduit en solidarité par Nadine Tkatchevskaia)
Chaud est le fuzzpop qui drape les cordes sensibles qu'on peut diriger dans des fourreaux d'ambiance atmosphérique, en chantant l'imagination céleste des rêveurs et des utopistes des années 80. Ces chorales sont imprégnées d'une barométrie ionosphérique qui transforme le refroidissement en particules d'or des murmures branchés de la gloire des prairies. Cette courtoisie vainc la saisonnalité grincheuse qui nous garde au lit en voulant une couette et un thé fait de cinétique mélodique d'une musicalité qui est aussi le premier souffle du printemps.

The Foggy Notions – No One Comes Out Alive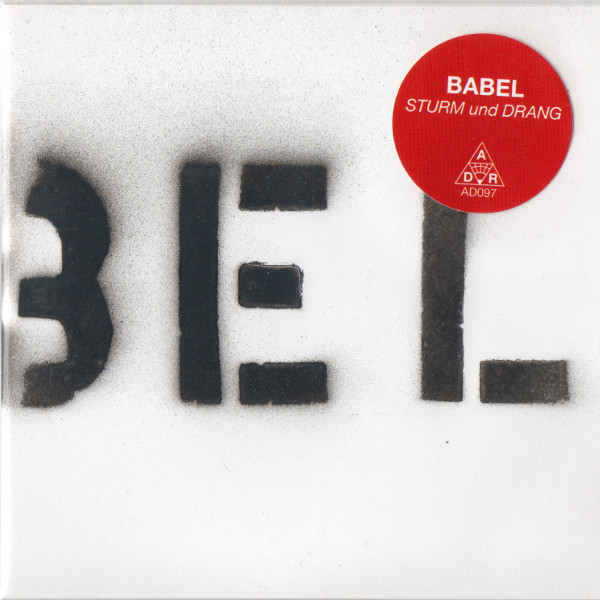 Babel
Sturm und Drang
Toronto, ON
From the krautrocking hips of Kevin Hainey:
Babel has been pouring out a huge number of recordings for a good many years now. This album stands as the second in a trilogy of percussively minded releases focusing on prepared guitars and bass guitars. Sturm und Drang gets its three thematic counterparts going on a psychedelically stomping bare foot, where the emphasis is certainly on the minimalism and rhythm rhythm rhythm associated with the classic krautrock sound ("Sturm.01-03"), before going shot-for-shot into more serene dreams and foreign landscapes intent on flowing out into the ambient ("Drang.01-03").
Whereas previous Babel releases (and there are very many, mostly released on CD-R) explored notions of post-rock and doom-metal inspired textures, the "Drang" pieces pursue a purer ambience, a oneness with the void perhaps. And then there are the "Black Lodge" and "White Pine" tracks, dipping into Angelo Badalamenti and Twin Peaks waters with inspiration and restraint. A project in metamorphosis, guided by Arachnidiscs head honcho Jakob Rehlinger and recorded in brilliant crystalline hi-fi, Sturm und Drang shows that Babel is towering with talent.
Des hanches se déhanchant sur le krautrock de Kevin Hainey:
(Traduit par les tressautements de Louis-Félix Pellerin)
Babel sort un grand nombre d'enregistrements depuis bien des années maintenant. Cet album-ci est la seconde partie d'une trilogie de compositions axées sur les percussions qui se concentrent sur la guitare préparée et la basse. Les trois équivalents thématiques de Sturm und Drang s'en vont pieds nus sur une débandade psychédélique où l'accent est certainement porté sur le minimalisme et le rhythme rhythme rhythme associé à la sonorité krautrock classique (« Sturm.01-03 »), avant d'aller plan pour plan vers des rêves plus sereins et des paysages étrangers avec l'intention de se laisser porter vers le genre « ambient » (« Drang.01-03 »).
Alors que les enregistrements précédents de Babel (et il y en a toute une quantité, surtout sur CD-R) exploraient des notions de post-rock et des textures inspirées du doom metal, les morceaux de « Drang » recherchent une ambiance plus pure, une unité avec le néant, peut-être. Puis, avec les morceaux « Black Lodge » et « White Pine », on s'aventure dans les eaux d'Angelo Badalamenti et Twin Peaks avec inspiration et retenue. Enregistré en hi-fi cristallin resplendissant, ce projet en pleine métamorphose dirigé par Jakob Rehlinger, le grand manitou d'Arachnidiscs, nous montre que lorsqu'on parle de l'immense talent de Babel, sky is the limit!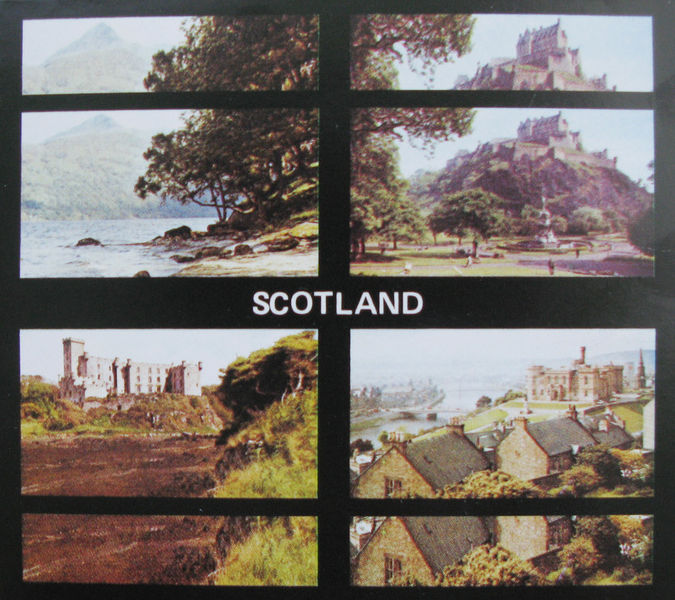 Ghost Cousin
Scotland
(Old Ugly)
Edmonton, AB
From the soft magistrate of Aaron Levin:
Restraint and reservation yield nary feast nor fury. For within the cold heart of planning resides a tempered subtlety lost upon ears distracted. Wavering sinusoids recursing over enameled timbres, tethered harmonies, and beleaguered fragility; nuances opiate and sincerity methadone. Lul'd into straynge addiction by waves from softer horizons.
Du doux magistrat d'Aaron Levin:
(Traduit en solidarité par Nadine Tkatchevskaia)
La retenue et la réserve ne produisent ni festin ni fureur, puisque dans le coeur froid de la planification se trouve une subtilité mesurée perdue aux oreilles distraites. Des ondes sinusoïdales se répétant sur des timbres émaillés, des harmonies tenues en laisse et une fragilité assiégée; nuances opiacées et sincérité méthadonique. Dépendance étrange que nous procurent par vagues des horizons plus doux.

Ghost Cousin – Breakfast and Tea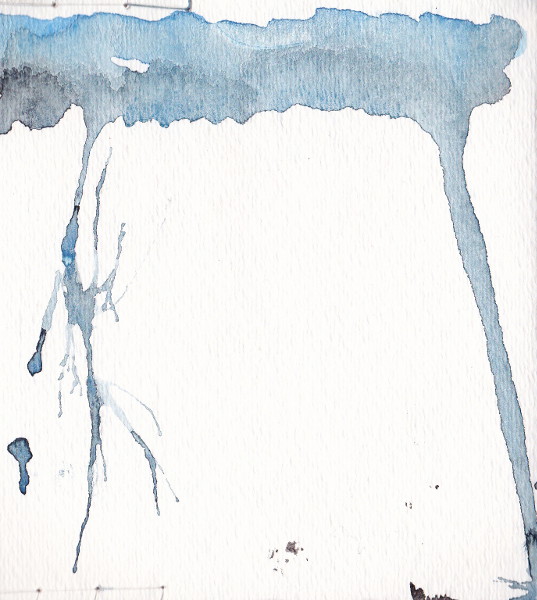 Poler Bear
The Winter At Your Ears
(Self Released)
Saskatoon, SK
From the crystalline nights of Tyler Butler:
Stare out the warm window: the roads are plowed to the pavement and the streetlights shimmer orange across piled up snow. The darting tale of a snowshoe hare is told in bounding tracks across the lawn. The wind howls. The house elicits a terrible shiver; the long-suffering groan of Atlas shaking the shelter's wooden bones. Once, there were no houses here. What a terrible sight this must have been, this wind-burned prairie. Poler Bear – Saskatoon's Josh Robinson – sings to the stillness of the winter night, the diamonds studded in a hard crust of snow, the thin pane of insulated glass.
Des nuits cristallines de Tyler Butler:
(Traduit par les sentiers perdus de Julie Forget)
Regardez par la chaleureuse fenêtre : les routes sont marquées dans la chaussée et les lumières orange des lampadaires scintillent sur les bancs de neige. Le récit précipité d'un lièvre d'Amérique est raconté dans des traces de sauts dans la pelouse. Le vent hurle. La maison provoque un terrible frisson; le gémissement durement éprouvé d'Atlas secouant les os de bois du refuge. Jadis, il n'y avait pas de maisons ici. Quelle terrible vue cela devait être, cette prairie brûlée par le vent. Poler Bear – Josh Robinson, de Saskatoon – chante la tranquillité de la nuit hivernale, les diamants qui parsèment l'épaisse neige, la mince vitre de verre isolant.
Marriage
Sun Start / Waterboard
(Self Released)
Toronto, ON
From the basement tape deck of Brennan McCracken:
These beaming transmissions – the first from Toronto's Marriage – show a band fluent in many melodious languages. "Sun Start" and "Waterboard" interlock like aria and recitative or water and ice; two sides of the same kaleidoscopic, oxidized coin. A foggy prelude and an underwater dirge, a double shot of tin can transcendence from the belly of the beast. Dig (in).
Du magnétophone de sous-sol de Brennan McCracken:
(Traduit par le temps de Julie Forget)
Ces transmissions rayonnantes ­– les premières de Marriage (Toronto) – dévoilent un groupe qui parle couramment de nombreuses langues mélodiques. « Sun Start » et « Waterboard » s'imbriquent comme une aria et un récitatif ou comme l'eau et la glace; deux côtés de la même pièce de monnaie kaléidoscopique et oxydée. Un prélude brumeux et un chant funèbre subaquatique, un doublé de transcendance en conserve directement du ventre de la bête. Plongez(-y).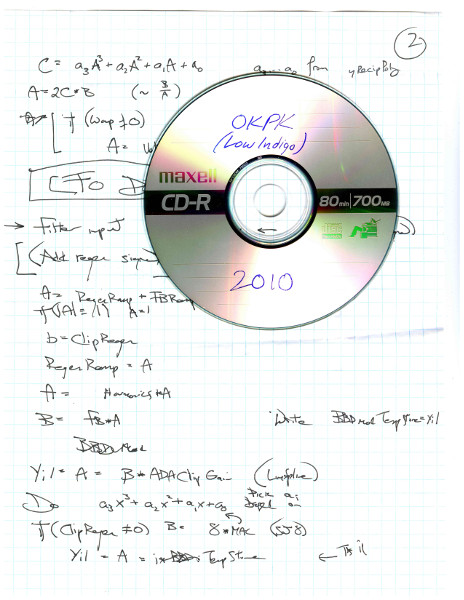 From the four season rotation of Johnnie Regalado:
A years always seem to start off at its darkest. Life mostly lived under blacklight. White winter fallacy and an overdose of halogen. Arms outstretched to stumble until you're once again voyaging down that unseen pathway. A spring that propels you out of the stream and into a pursuit of light. Where things can be different. Where things can be alright. Squint in your pursuit of spectral seasons past. The search for the perfect summer. When was the last time weather lived up to your bone memory? We can keep doing laps of the sun until we get things right. Luckily life's spirals are just another kind of loop on which you can build beats.
Des quatre saisons de Johnnie Regalado:
(Traduit par Virginie Langlois)
On dirait qu'une année commence toujours à son niveau le plus sombre. Que l'on a passé la majeure partie de son temps sous la lumière noire. Hiver blanc fallacieux et overdose d'halogène. Les bras tendus pour avancer de façon hésitante jusqu'à emprunter de nouveau ce sentier dissimulé. Un ressort qui nous propulse hors du courant et nous lance à la poursuite de la lumière. Là où les choses peuvent se passer différemment. Où elles sont à leur place. Réfléchissez un peu à votre expérience des saisons spectrales. La quête de l'été parfait. La dernière fois que le temps vous a marqué dans la chair, c'était quand? On peut toujours attendre les prochaines rotations autour du soleil jusqu'à ce que les choses aillent mieux. Heureusement les spirales de la vie sont elles aussi des sortes de boucles qui nous permettent de bâtir des rythmes.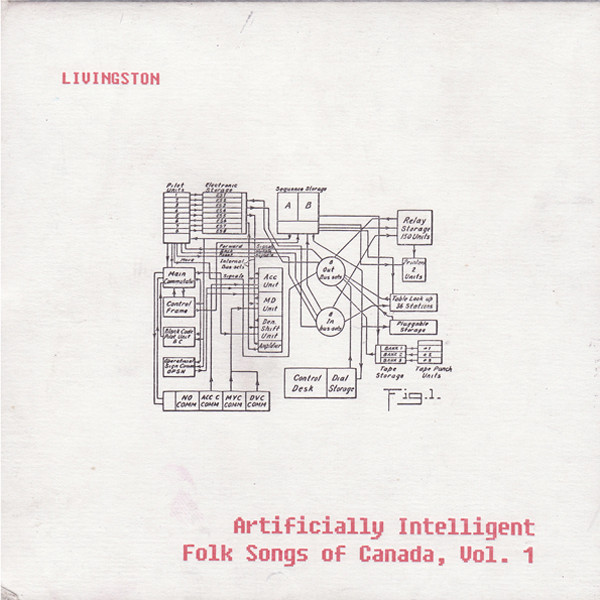 Livingston
Artificially Intelligent Folk Songs of Canada, Vol. 1
London, ON
From the unnerved automatism of Eileen Wennekers:
Livingston, the metadata analysis program that composed these songs, brings to our attention the statistical overrepresentation of weary melancholy in Canadian folk. Each classic form is algorithmically reconfigured – the lonesome ballad, the kiss-off, the tavern drinking song, the road anthem*, the love confessional – but an entirely human-seeming blues tints the songwater.
The surface, uncanny authenticity, is disturbed at rhythmic intervals by the sound of its cracking logic. Repetitions appear instead of rhymes. Arrangements seem somehow not quite right. In the place of the crowd, or Stompin' Tom, a machine stamps through the sing-along of "I Am a Weary Immaterial Labourer in a Post-Industrial Wasteland". Dr. Henry Svec's faithful renderings of Livingston's compositions throw a wrench into the folk scene, delivering both a punch and a puncture. What we imagine to be singular and personal is projected onto a perfectly reflective screen bounded by forces that far exceed us: "Somebody with the great lovemaking manual/Knows what I'm going to do/Knows it and has seen it in pictures/My route to you."
*To our amusement, Livingston has performed a deliciously Borgesian function: Generating by purely mathematical functions an exact copy of the Eagles' "Take it Easy" – although the title it generated is slightly different.
De l'automatisme perturbé d'Eileen Wennekers:
(Traduit par l'esprit machinal de Louis-Félix Pellerin)
Livingston, le programme d'analyses de métadonnées qui a composé ces chansons, porte notre attention sur la surreprésentation statistique de la mélancolie lasse du folk canadien. Chaque archétype classique est reconfiguré algorithmiquement; la balade solitaire, l'adieu d'un amoureux, la toune de taverne, l'hymne de la route*, la confession d'amour… Mais un blues d'entière apparence humaine les habite. À première vue, l'étrange authenticité de la machine est troublée par le son de sa logique craquelée à intervalles rythmés. Au lieu de rimes, ce sont des répétitions qui apparaissent. En plus, il semble manquer un je-ne-sais-quoi aux arrangements. Au lieu de la foule, ou de Stompin' Tom, une machine s'active au rythme de « I Am a Weary Immaterial Labourer in a Post-Industrial Wasteland ». L'adaptation fidèle des compositions de Livingston par Dr Henry Svec met des bâtons dans les roues de la scène folk, l'ébranlant et la perforant un brin. Ce qu'on imagine être singulier et personnel se retrouve projeté sur un écran maintenu en place par des forces qui nous échappent : « Somebody with the great lovemaking manual/Knows what I'm going to do/Knows it and has seen it in pictures/My route to you. »
*À notre grand amusement, Livingston a accompli quelque chose de merveilleusement borgésien : en utilisant des fonctions purement mathématiques, il a pu générer une copie exacte de la chanson « Take it Easy » par The Eagles, quoique le titre créé soit légèrement différent.

Livingston – Instructions to Your Integrated Circuits
---