Category: compact disc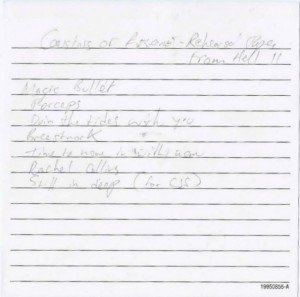 Cousins of Reggae
Rehearsal Tapes From Hell II
(Self Released)
Ottawa, ON
From the summa slamma of Javier Fuentes:
Blake Hargreaves has been a key conspirator in several mind-warping outfits, with an output that extends across all formats. One of his longest running projects is the fuzz-fried collaboration with Liam Thurston as Cousins of Reggae. The latest document to leak out from the duo's cavernous jam space lets us in on an inspired session of wasteland ballads and damaged zones. Stripping away pieces of the exterior chaos to entangle themselves further inside our cerebral vacuum, the disjointed melodies spin into glorious burnout. It sounds like the theme music for an old western taking place in a post-nuclear desert. On those vaporized plains, the only voice you can hear is the phantom sun. A proposition to enter the coolness of a shadowy ledge is rebuffed in favour of a walk back into the heat. Another masterful negotiation of abrasion and abandonment, and a crucial addition to the Cousins' canon.
Cousins of Reggae – Still In Deep (for CJS)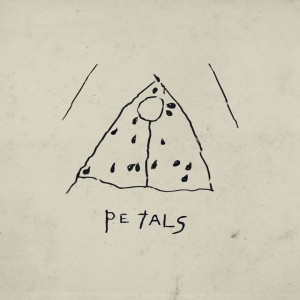 Josh Furey
Petals
Calgary, AB
From the ceramic outpouring of Joshua Robinson:
Found somewhere in that lurid boundary beyond the commonplace, Nocturne Records founder Josh Furey exists as an angelic force. His hip-hop-influenced samples and electronic dirges coalesce to smother one in the rich overtones of a hushed and quilted enculturation. Petals, the follow-up to 2008's successful Archaeology, bears the same sort of imminently professed profundity, a ceramic outpouring of creation. This music is molded and fire-hardened from the clays of the underground, shaped to resemble the vestiges of blues and jazz-inspired infusions of early '90s fame. Furey's collaboration with Khalik Allah is evidence of his kinetic momentum. There is motion herein, deliberate yet subdued; intentional yet understated. The nonverbal refrain, inferred rather than implied, is one of a slow calm ruling the day. A pulsing, surging, enlivened crawl to the apex of these artefactual firmaments housing slow-motion scrawls written on asphalt in terracotta cursive.
Du déversement en céramique de Joshua Robinson:
(Traduit par les couleurs fraîches de Julie Forget)
Se trouvant quelque part dans cette limite macabre au-delà de l'ordinaire, Josh Furey, fondateur de Nocturne Records existe en tant que force angélique. Ses samples influencés par le hip-hop et ses chants funèbres électroniques s'unissent pour nous faire suffoquer dans les connotations riches d'une enculturation étouffée et capitonnée. Petals, qui suit l'excellent album Archaeology (2008), comporte le même genre de profondeur déclarée de façon imminente, un déversement de création en céramique. Cette musique est modelée et durcie à partir d'argile souterraine, façonnée afin de ressembler aux vestiges des infusions inspirées du blues et du jazz de la gloire du début des années 90. La collaboration de Furey et de Khalik Allah prouve l'élan cinétique du producteur. Nous y trouvons un mouvement délibéré mais silencieux ; intentionnel mais discret. Le refrain non-verbal, déduit plutôt qu'insinué, se voit être un calme lent régnant sur le jour. Un lent pas animé battant et déferlant vers le sommet de ces firmaments d'artéfacts logeant des gribouillages au ralenti écrits sur l'asphalte en cursive couleur ocre brun.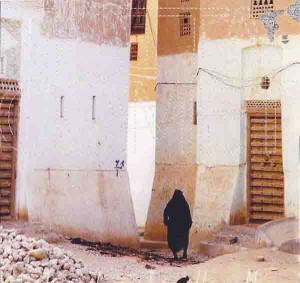 Notta Comet
Alliums
(Self Released)
Montréal, QC
From the gas cans of V. Rachel Weldon:
Imagine E-street's skronking saxman as the Pied Piper of the post rock-apocalypse. Math and poetry duke it out violently on Alliums in a show of precise, chaotic and cacophonous execution. Spoken word artist Alex Williams nails all the meaningless little rituals to the wall of a tenement Montréal kitchen that is all to familiar with containing passive explosive domestic fits. Hard to believe it's not a comet.
Des bidons d'essence de V. Rachel Weldon:
(Traduit par les petits rituels absurdes de Vincent Rondeau)
Imaginez le saxophoniste grinçant du E Street Band en joueur de pipeau de Hamelin de l'apocalypse post-rock. Les mathématiques et la poésie se livrent à un combat de géants sur Alliums dans un tourbillon de performances précises, chaotiques et cacophoniques. Alex Williams déclame ses textes en clouant tous les petits rituels absurdes de la vie quotidienne au mur de la cuisine d'un appartement montréalais qui connaît trop bien les disputes domestiques explosives. On croirait voir passer une comète.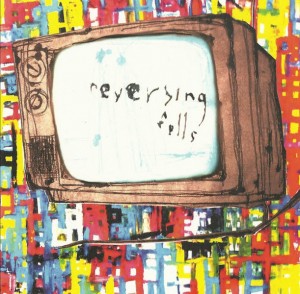 Reversing Falls
Reversing Falls
(Self Released)
Montréal, QC
From the distorted speakers of Matt Lazenby:
The self-titled release from Montreal's Reversing Falls is like the soundtrack to the best house party you've never been to. The album adds up to just under 30 minutes of immediate rock 'n' roll: hooks, anthemic choruses, and wry odes to teen angst ("Pyramid Scheme": "You've got a teenage heart, I can hear it in the hallway / It runs at 90 beats per minute"). Although released a while back, it's still helping the band gain plaudits across the country, and it's not hard to see why. Frontman Tyler Crawford refers to their sound as "riff wave", which makes sense listening to the wall-to-wall power chords and distortion that texture songs such as "Is This Thing On?", "Shitty Birthday", and "Curse This Place". Add some powerhouse percussion (courtesy of Unicorns/Islands' Jamie Thompson, plus a good old fashioned drum machine), and the production of Mark Lawson (Colin Stetson, The Luyas, et al), and it's clear Reversing Falls have something special going on here.
De la distorsion des haut-parleurs de Matt Lazenby:
(Traduit du coeur d'adolescente de Catherine Gaucher)
Cet album éponyme du groupe montréalais Reversing Falls sonne comme la bande sonore du meilleur party de votre vie, avec un peu moins de 30 minutes de rock 'n' roll sans détours : hooks, refrains hymniques et odes désabusées aux angoisses adolescentes (« Pyramid Scheme » : « Tu as un coeur d'adolescent, je l'entends dans le couloir / Il bat à 90 battements par minute »). Bien que la parution de cet album remonte à un moment déjà, il permet encore au groupe de recueillir des éloges partout au pays et il n'est pas difficile de comprendre pourquoi. À la tête du groupe, Tyler Crawford définit leur son comme étant du « wave riff », ce qui a du sens à l'écoute des murs de power chords et de distorsions qui texturent les chansons comme « Is This Thing On? », « Shitty Birthday » et « Curse This Place ». Ajoutez-y quelques percussions (offertes par Jamie Thompson des Unicorns/Islands et une bonne vieille boîte à rythmes) et la production de Mark Lawson (Colin Stetson, The Luyas, et autres.) et voilà qu'il est clair que Reversing Falls nous présente ici quelque chose de spécial.
Reversing Falls – Is This Thing On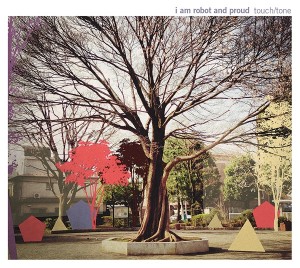 I Am Robot and Proud
Touch/Tone
Toronto, ON
From the curious daydream of Josefa Cameron:
Electronic artist and video game designer Shawn-Han Liem a.k.a. I Am Robot And Proud has released his latest album. Opener "Kresna" is drenched with cheerful robot bubbles and drubbing drums, while "Circles" blends a brimming resonance of electro house, trap-influenced beats and classical transience. If you can imagine a more tropical Boha, less moody Kontravoid or trendier Balmorhea, you can envision the direction Leim's creation veers. Touch/Tone comes across as a mad composer directing an orchestra of robots on synths, drum machines and mixers. A tasteful blend of classy piano harmonies and chirpy computerized sounds swirl to a danceable beat. "Summer Colour" plays in mystical humility with dreamy waves of flute, harp, and piano. The album ends with "Slow Reaction", a four-minute tune of generous melodies layered on the next, almost like a Ratatat sans guitars or a less stoned Shlohmo.
Traduit du somnambulisme de Josefa Cameron:
(Du curieux songe diurne de Catherine Gaucher)
L'artiste électronique et concepteur de jeux vidéo Shawn-Han Liem, alias I Am Robot And Proud, a fait paraître son plus récent album. En ouverture, "Kresna" baigne dans des bulles robotiques de bonne humeur et des drums percutants. De son côté, "Circles" allie une résonance débordante d'électro-house à des influences trap et à un classicisme éphémère. Imaginez un Boha plus tropical, un Kontravoid moins maussade ou un Balmorhea plus au goût du jour, vous pourrez alors avoir une idée de la direction de la création de Liem. Touch/Tone fait apparaître un compositeur fou dirigeant un orchestre de robots affairés sur des synthés, des boîtes à rythmes et des mélangeurs. Avec bon goût, un mélange d'harmonies de piano chics et de sons informatisés entrainants tourbillonnent sur un rythme dansant. "Summer Colour" transpose une humilité mystique avec ses vagues rêveuses de flûte, d'harpe et de piano. L'album se termine avec "Slow Reaction", une pièce de quatre minutes composée d'une superposition de couches généreuses de mélodies, ressemblant à Ratatat sans guitares ou bien Shlohmo sans l'influence d'hallucinogènes.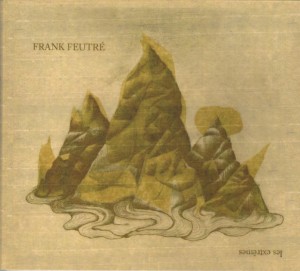 Frank Feutré
Les Extrèmes
(Self Released)
Montréal, QC
From the juvenile whims of AnneMarie Papillon:
(Translated by AnneMarie Papillon)
The numerous corners of Montreal's ever flourishing scene seem to bear slight or intense influences from electronic dream chambers. However, Benjamin Bleuez (a.k.a. Frank Feutré) expresses his tenderness and creativity through an imaginative world abounding with complex and classic instrumentation, wise guitars and nomad tambourines. In this injection of French culture, he seems to be inspired by both French beach songs and briskly cold Québécois winters. Home is far behind but he has no regrets; the adventures ahead are fascinating.
Les Extrèmes paints an innocent and quite childlike naivety, like the buds waiting silently for spring, with the patient strength contemplating a frozen season that seems eternal. Or like the schoolyard games that we dearly loved, the ones that used to give a purpose to our existence. The album is an intricate ebb of memories and fiction, like a biography swaying between comfortable and unknown territories.
Des lubies enfantines d'AnneMarie Papillon:
Alors que chaque petit recoin musical habilement prolifique de Montréalsemble porter doucement ou intensément la teinte de l'électronique rêveur, Benjamin Bleuez décide d'exprimer son talent et sa tendresse à travers un monde imaginaire débordant d'instrumentations complexes et classiques, de guitares sagement grattées et de tambourins nomades. Il trame entre la chanson française ensoleillée et le quasi-abyme de l'hiver québécois. La maison est loin derrière : aucun remord, les aventures sont fascinantes.
Les Extrèmes dépeint une naïveté quasi enfantine, innocente. Celle des bourgeons qui attendent le retour du printemps, la forte patiente qui comble un hiver semblant éternel. Celle d'un jeu de marelle, celui qui semblait donner un sens à nos journées. C'est un flux sibyllin de souvenirs et de fiction, comme une tirade oscillant entre le confort et l'étranger. Si l'effort reste singulier par sa pureté, la complétude y est placée, en filigrane.
WHOOP-Szo
Qallunaat / Odemin
Guelph, ON
From the Qallunology of Benoit Poirier:
(Translated by Benoit Poirier)
A binomial of pancanadian ubiquity framed on the Guelph-Salluit polar vector, Qallunaat/Odemin feels the scope of passing time and attests of the humility of the voyageur/guest. An incremental project (its third part is already in the works) in which intimate fires are woven of quiet plains and mountains, of troubled waters and storms, warm like a midnight sun: hope is gray like that, tacking between arable rock and carved folk with a propensity for the tragic. Kudos to the Out Of Sound Rezonance Program, an initiative from the OoS label which allows young Inuits to take part in different steps of the DIY gestalt of an album (here, the silk-screening of the cover art, and some backing vocals). Of quiet plains and mountains, of troubled waters and storms, Qallunaat/Odemin is an abundant oxymoron as vast as the Canadian Shield.
De la Qallunology de Benoit Poirier:
Binôme d'ubiquité pancanadienne tramé dans le vecteur polaire Guelph-Salluit, Qallunaat/Odemin décèle l'espace du temps qui passe ailleurs et témoigne de l'humilité du visiteur. Un projet incrémentiel (le volet tierce est déjà en chantier) dans lequel sont campés des feux intimes, voilés, ourdis ensemble de calme plaine en rocaille, d'eau trouble à tempête, chauds comme un soleil de minuit : de l'espoir gris comme ça, louvoyé entre rock arable et folk sculpté aux épisodes grecs. Des pouces en l'air au Out Of Sound Rezonance Program, une initiative du label Out Of Sound qui permet à de jeunes Inuits de Salluit de prendre part à différentes étapes du gestalt DIY d'un album (ici, la sérigraphie de la pochette, des chœurs). De calme plaine en rocaille, d'eau trouble à tempête, Qallunaat/Odemin est un abondant oxymoron vaste comme le bouclier canadien.
By Benoit Poirier:
(Translated by Monty McGahey II)
Mii go iw ngamawin Guelph, ge Salluit bi-zhaamigak, Qallunaat/Odemin zhinkaade. Qallunaat/Odemin bzindang, mii gaa-zhiwebak daa-nendang. Gewii gonaa dibendang e-mdwewechiged waabmaa. Mindaadendaanaa Out of Sound Rezonance Program. Mii gwa iw gii-zhitoon Oos label wii-bgidnaawaad Inuit shkiniigijig wii-naadmaagewaad nooj gegoo DIY album'ing (Silk-screenwitoong ntam-maziniganing miinwaa shkweyaang ngamad). Gechwaa gonaa mshkode ge aazhiw, gzhiijwang ge niiskaadak, Qallunaat/Odemin aagnwetaadzad naasaab gwa zhinaagozid Canadian Shield.
By Benoit Poirier:
(Translated by Ryan Oliver)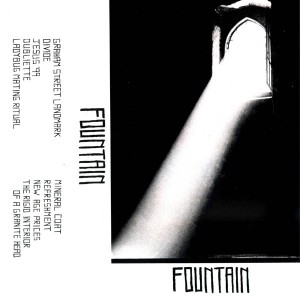 Fountain
Fountain
(Self Released)
Victoria, BC
From the long dormant landline of Johnnie Regalado:
There's no shortage of influences when you first crack open the music of Fountain. That isn't surprising given that half the band members were raised by the kind of dude that had the guts to recently open a record shop in Kelowna, BC. The spiking duo of guitar lines recall Calgary legends Women. The low-toned vocal wash was clearly picked up from a summer of deafening exposure to Copenhagen's finest noise-punks Iceage. But there's also an island-life-inspired lightness that separates this band's twisted tunes.
Assembled as Fountain, they've been tight and raucous since their amps first warmed up. This quartet who are usually all smiles and wylin' out have some loud and lengthy lineage in Victoria. Their debut release demonstrates how a perfectionist approach can really float the tone above its own noise. The dual guitars howl like wild hounds left out in the backyard. The vocals have that same dragging and raspy drawl as a rough morning's first dialogue. The bass and drum lines are the sleek sweeps that usher the frenetic thrash forward. This 20-minute collection of jams feels responsible for maintaining the momentum of the earth's constant rotation.
Du numéro de téléphone inactif de Johnnie Regalado:
(Traduit par le jappement à la lune de Vincent Rondeau)
Les influences de Fountain sont faciles à reconnaître dès la première écoute, ce qui n'est pas si surprenant quand on sait que la moitié du groupe a été élevée par le genre de gars qui a récemment eu le courage d'ouvrir une boutique de disques à Kelowna, BC. Les guitares angulaires en duo rappellent les légendaires Women de Calgary et les rafales de voix basse laissent supposer un été assourdissant passé à écouter les meilleurs noise-punks de Copenhague, Iceage. Les chansons tordues du groupe se démarquent cependant par une légèreté inspirée par la vie insulaire.
Fountain font du tapage avec précision depuis leur premier souffle, mais le quatuor, charmeur et souriant, est issu d'une lignée longue et bruyante. L'approche perfectionniste du groupe porte fruit sur cette première galette où les mélodies se distinguent sans effort du bruit qui les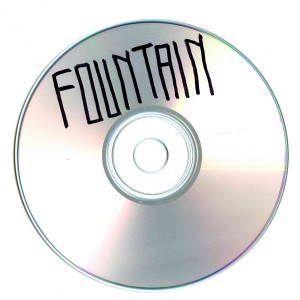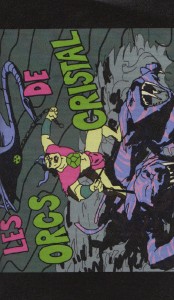 Les Orcs de Cristal
L'Élu des 7 Clans
Montréal, QC
From the final battle of Hugo Hyart:
(Translated by Hugo Hyart)
Mhawhawhawhawhaw! Like a space-opera going through your brain. Like the legendary axe of love dissolving into eternity for an epic odyssey. Whether you're a celestial dark elf wandering mage, a dwarf warrior tamer of electric dragon blades or a pyrobarbarian halfling of the snowy tropical mountains, you weren't prepared for this encounter with les Orcs de Cristal.
A sole hit from them causes you +345 brutal chill damage. In two turns you will likely be hallucinating, floating in orbit around coloured nebulae, relaxed and gliding nicely into a state in which you feel better and better. What do you choose?
a) Continue the fight with meditation
b) Put on your acid-esque light elf helmet of power
c) Use the conjuration orb of neurofunk
Whatever your choice is, you can't pass the test. Grogmar the Wanderer, Gnarg the Illusionist and their fellow companions are too high in level. All you can do is enter the groove and let the waves of spatial assault submerge and carry you. When you awake, you're left wondering what part of the galaxy you've ended up in. Meanwhile, the conquest goes on.
Du futur combat final de Hugo Hyart:
Mhahahahaha ! Comme un opéra spatial qui traverse le cerveau. Comme la légendaire hache d'amour se dissolvant dans l'éternité pour un moment d'odyssée épique. Que vous soyez un mage céleste elfe noir vagabond, une guerrière naine dompteuse de lames dragons électriques ou un halfelin pyrobarbare des montagnes tropicales enneigées, vous n'étiez pas préparé à cette rencontre avec les Orcs de Cristal.
Un seul de leur coup vous inflige brutalement + 345 en chill. Dans deux tours vous serez probablement halluciné, en orbite autour de nébuleuses colorées, détendu, glissant tranquillement vers un état où vous vous sentez de plus en plus bien. Que décidez-vous ?
a) Continuez le combat par la méditation
b) Vous vêtir de votre casque acidesque de puissance elfe de lumière
c) Utiliser l'orbe de conjuration de neurofunk
Quel que soit votre choix, tu ne peux pas test, Grogmar l'Errant, Gnarg l'Illusioniste et leurs compagnons sont d'un niveau trop élevé. Vous ne pouvez plus qu'entrer dans le groove et vous laissez submerger et porter par ces vagues d'assauts spatiaux. À votre réveil, il ne vous reste plus qu'à essayer de comprendre dans quel coin de la galaxie vous avez atterri. Pendant ce temps-là, la conquête continue.
Les Orcs de Cristal – L'Épice de Bäs' Zruck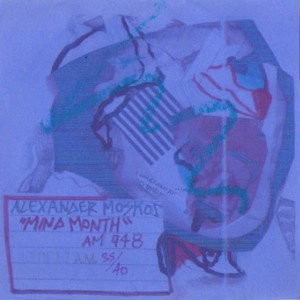 Alexander Moskos
A Month In The Mind Of Moskos
Montréal, QC
From the ghetto format of Kevin Hainey:
The man who would be Moskos continues to baffle and thrill his followers with this alarming quadruple CDr collection. Scarcely limited to 60 handmade copies lovingly assembled by his fellow cunning linguist and Wolf Eyes fist of fury John Olson, this set features four installments from outer time, each on their own frightfully brief disc, upon which we are engaged with four very different sides of Moskos' endlessly dimensional coin.
First up is a field recording which gives way to some righteous and de-fraged free jazz chamber duetting between a lonesome sax and search party drums that's credited to Moskos' main gig, Drainolith. Disc two features the Drainolith sound his fans know and love — thudding, stuttering electronic claps and foot stomps set behind muddy Mississippi blues guitar echoes and buried, lovelorn or scathing vocal murmurs and twists of tongue. On this set Moskos is joined by the gone but not forgotten powerhouse Drainolith line-up of Tara Desmond on drums and Chelsea Delle Palm with bass! Sounds like it was perhaps a tour rehearsal, but its recording is tight and swings its might.
Events take a characteristically unpredictable u-turn with disc three, which strays headlong into Inane Fever territory in the form of some sickly and slickly recorded multi-track groove sharks that could chomp among the best of Royal Trux's glitter gutter breakdowns or Thurston Moore's solo schools for the cool. Turns out Sir Moskos is not alone here at all, but kicking it out with the no bullshit frontline of Alexandre St-Onge, Dominiq Alexander and Joel Taylor. Disc four rounds out this massive yet brilliantly understated set with some chamber jazz piano pillages by Moskos + Sage. The silence left at the end only makes you curious what other nuggets lie unpolished in the Moskos treasure chest… One can only dream, and get this collection before its criminally tiny run is cherished by as many collectors as it can reach.
Du format ghetto de Kevin Hainey:
(Traduit par Jacinthe Laplante)
L'homme qu'est Moskos continue de dérouter et d'électriser ses admirateurs avec cette inquiétante collection de quatre CD-Rs. Limitée à tout juste 60 copies faites à la main et assemblées avec amour par John Olson, linguiste futé et poing furieux de Wolf Eyes, cette collection comprend quatre épisodes hors du temps, chacun sur un disque terriblement court, lesquels nous confrontent à quatre côtés très différents de la médaille aux innombrables faces de Moskos.
Tout commence avec un enregistrement sur scène d'un vertueux duo de free jazz fragmenté composé d'un saxophone solitaire et d'un tambour d'équipe de secours dont le crédit revient à Drainolith, le groupe principal de Moskos. Le deuxième disque met en vedette le son connu et apprécié des fans de Drainolith : claquements électroniques sourds et hésitants, piétinement du sol mis en scène derrière les échos d'une guitare blues du Mississippi vaseux, murmures et coups de langue amoureux ou cinglants enterrés. Pour cette partie, Moskos s'associe aux anciens mais non oubliés dynamiques membres de Drainolith : Tara Desmond à la batterie et Chelsea Delle Palm à la basse! Cela pourrait être une répétition pour une tournée, mais l'enregistrement est serré et projette sa puissance.
Fidèles aux habitudes, les évènements font volte-face et prennent une tournure complètement imprévisible sur le troisième disque qui s'aventure tête première sur le territoire d'Inane Fever sous la forme de multi-pistes drôlement bien enregistrées, requins du rythme qui pourraient dévorer parmi les meilleures ruptures de caniveaux scintillants de Royal Trux ou les écoles de solo de Thurston Moore pour le cool. Il se trouve que monsieur Moskos ne joue pas seul du tout : il s'agite avec une ligne de front talentueuse formée d'Alexandre St-Onge, de Dominiq Alexander et de Joel Taylor. Le quatrième disque termine cette imposante mais brillamment minimaliste prestation avec un saccage de piano façon jazz de chambre interprété par Moskos + Sage. Le silence de la fin pique la curiosité et on se demande si d'autres diamants brut pourraient se trouver dans le coffre aux trésors de Moskos… On ne peut toujours que rêver et se procurer la collection avant que cette performance criminellement sortie en petite quantité ne soit convoitée par tous les collectionneurs à sa portée.
Inane Fever – Hate the Blues / Cross The Tracks
---