Category: compact disc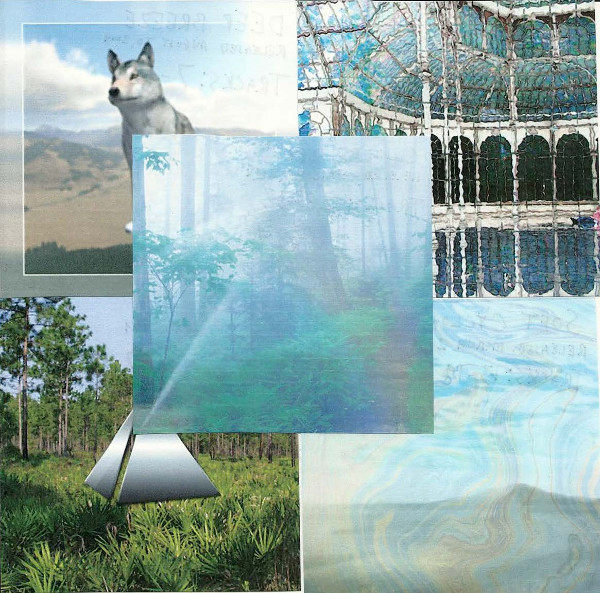 TELOZKOPE
Soft Cyclone
Winnipeg, MB
From the ghost level of Katie Jensen:
Supercharged rainbows push forward without knowing the outcome. A long, familiar road stretches into a glitching sunset, breaking apart with each shimmering, equal chord.
A tape rewinds to reveal the mundanity of your afternoon. Hesitantly at first, but then with more confidence, a zither takes up a slow dance with a harp, preoccupied with its own rhythms. The harp's lazy ramble finishes with a knowing wink, its smooth arm brushed by the side scrolling of toppling gold coins.
De l'étage fantôme de Katie Jensen:
(Traduit par les baies de genèvrier de Marie-Pier Chevrier)
Des arcs-en-ciel surchargés courent droit devant sans connaissance des conséquences. Une route longue et familière se perd dans un coucher de soleil clignotant, tombant en morceaux à chaque accord juste et chatoyant.
La cassette rembobine, révélant la banalité de votre après-midi. Hésitante d'abord, puis plus confiante, une cithare entame une danse lascive avec une harpe, suivant son propre rythme. Le discours divaguant et paresseux de la harpe se termine d'un clin d'oeil complice, son doux bras caressé par les pièces d'or y roulant.
From the discreet music of Jesse Locke:
The pained strains of violin, viola and cello open this collection of compositions from Mark Ellestad — father of Kris and Kiesza. "No Moon No Flowers," the 32-minute centerpiece for woodwind quintet, jabs at the empty space with sooty fingers like a clarion call to remember your past. "Discreet Angel," 16 minutes of solo guitar from Annette Chretién, is a lingering gaze outside a grey window. "Sigrid," the curtain call, finds Ellestad's own hands on hardanger fiddles and pump organs, fading into the myst of desolation sound.
De la musique discrète de Jesse Locke:
(Traduit par Allison McReynolds)
Les accords peinés de violon, alto et violoncelle ouvrent cette collection de compositions de Mark Ellestad – père de Kris et Kiesza. "No Moon No Flowers," la pièce maîtresse pour quintette à vent (qui dure 32 minutes), frappe dans le vide avec des doigts noir de suie, comme l'appel d'un clairon pour vous souvenir de votre passé. "Discreet Angel," un solo de guitare de 16 minutes de Annette Chretién, est un regard s'attardant à travers une fenêtre grise. "Sigrid," le rappel, trouve les mains de Ellestad sur des violons Hardanger et des harmoniums, se fondant dans un [brouillard] ((http://weirdcanada.com/2009/12/review-aidan-baker-noveller-colorful-disturbances/) de désolation sonore.
Mark Ellestad – String Trio (Movement 3)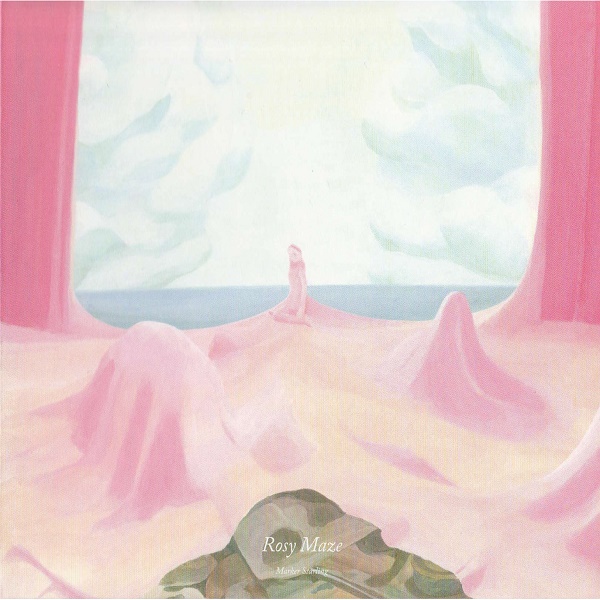 Marker Starling
Rosy Maze
Toronto, ON
From the Bodacious Bod of Bobby Andrews:
"Rosy Maze" is a soft fusion of noise brought together by a voice that evokes a plethora of emotional response. Toronto's Marker Starling gently shakes the morning with the incredibly diverse soundscapes found within this album. A provocative collection of free-flowing songs effectively create an atmospheric realm that challenges the limits of lounge music. Incorporating tremendously reflective lyrical composition sung out with timeless melodies creating a terminally-chill album perfect for relaxation, meditation and reflection.
Du corps fabuleux de Bobby Andrews:
(Traduit par la fusion en douceur de Virginie Langlois)
« Rosy Maze » est une fusion en douceur de musique bruitiste portée par une voix évoquant une pléthore de réponses émotionnelles. Marker Starling, de Toronto , secoue gentiment le matin avec des sonorités incroyablement diverses. Ce recueil provocateur de chansons libres arrive à créer un espace atmosphérique qui repousse les limites de la musique lounge. En combinant compositions lyriques extrêmement réfléchies et mélodies intemporelles, Starline a construit un album ultimement zen idéal pour la relaxation, la méditation et la réflexion.
Marker Starling – Flower of Laughter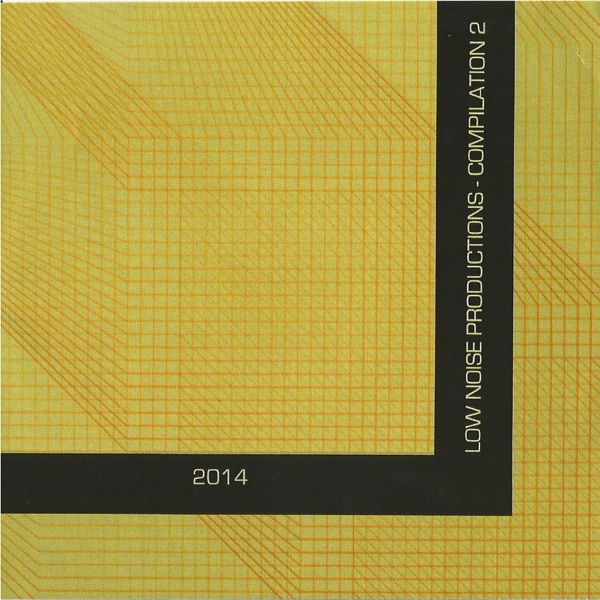 Various
LNP – Compilation 2
Ottawa , ON
From the motorik metabolism of Mark Anthony Brennan:
White. A cavernous room bathed in light. When you make your selection a drawer suddenly juts out from the infinite whiteness. Some selections gleam, like a brand-new super-efficient Porsche. Others are more clunky, but intriguing in their analogue peculiarity. Some remind you of sweaty nights on the techno dance-floors of Chicago. Then there's the one that brings back memories of the time in Berlin.
So many synths, so many styles. Finally, you decide. Yes, that one is perfect for your Terminator vs. Bladerunner flick.
Du métabolisme motorik de Mark Anthony Brennan:
(Traduit depuis la rutilante dystopie de Nicolas Coutlée)
Blanc. Une salle caverneuse baignée de lumière. Au moment de faire votre choix, un tiroir jaillit de la blancheur infinie. Certaines sélections brillent, comme une Porsche neuve et incroyablement performante. D'autres, moins rutilantes, vous intriguent par leur bizarrerie analogue. Quelques-unes vous rappellent ces nuits humides sur les pistes de danse techno de Chicago. Sans oublier cette dernière au contact de laquelle refont surface vos souvenirs du temps à Berlin.
Tant de synthés, tant de styles. Finalement , vous vous décidez. Oui, celle-ci sera parfaite pour votre prochain film, Terminator vs. Bladerunner.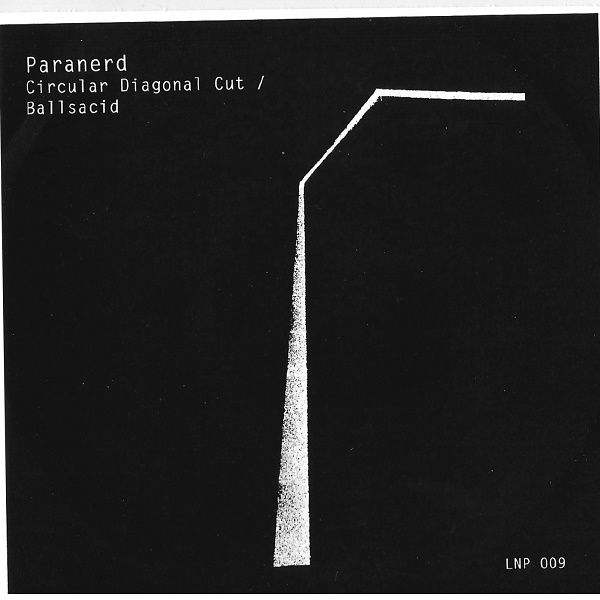 Paranerd
Circular Diagonal Cut
Ottawa, ON
From the terminal timeline of Mark Anthony Brennan:
Run. Run through the warehouse. Dark as the furthest corner of the bedroom closet. Mechanical sounds all around. Never sure which one is him.
I know this scene – we're in a club. But that's not shitty '80s dance, it's dark techno. People are dancing in slo-mo. So strange, so distant. That's him! He's following me in the crowd.
Back outside. Keep running. Things grab at me from all sides. Unseen, unfelt, but they are there. He's still there. Forever chasing. No one will ever call "cut", will they? This scene will last forever. And he will never stop.
De la ligne du temps terminale de Mark Anthony Brennan:
(Traduit au noir par Nicolas Coutlée)
Cours. Cours à travers l'entrepôt. Sombre comme le coin le plus reculé du placard de la chambre. Des sons mécaniques tout autour. Lequel d'entre eux est-ce?
Je connais cette scène – nous sommes dans un club. Mais le dance de merde est remplacé par du techno sombre. Les gens dansent au ralenti. Si étrange, si distant. C'est lui! Il me suit dans la foule.
De retour dehors. Cours encore. Des choses s'agrippent à moi de tous côtés. Invisibles, inaperçues, mais elles sont là. Lui aussi. Perpétuellement à mes trousses. Jamais personne ne s'écrira « Coupez! », pas vrai? Cette scène se poursuivra toujours. Et lui ne cessera jamais.
Paranerd – Circular Diagonal Cut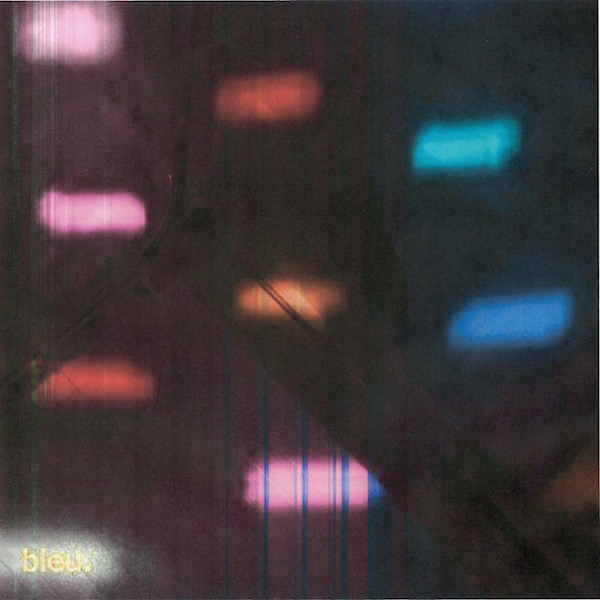 Bleu
Colours II
(Self-Released)
St. John's, NFLD
From the sand between the toes of Mike Roy:
Bleu's Colours II operates like a childhood memory of the beach – sitting in the hot and sticky leather seats of your parents' stationwagon as your father turns on the radio dial. A familiar soundtrack greets your ears as the bubblegum ice cream drips from your cone and gently stains your shirt. Suddenly, a melody washes over you. It's a sonic maelstrom of dreamy, new wave rock that submerges you soothingly. The moment exists peripherally as another drip from cone slowly falls to your skin, but the smile that lingers becomes timeless.
Du sable entre les orteils de Mike Roy:
(Traduit à grands coups de massue solaire par Julie Mayer)
Colours II de Bleu agit comme un souvenir d'enfance à la plage. Pendant que tu es assis sur les sièges de cuir chaud et collant de la familiale de tes parents, ton père allume le poste de radio. Une chanson familière se présente à tes oreilles alors que la crème glacée à la gomme balloune dégouline de ton cornet et tache légèrement ton chandail. Tout à coup, une mélodie t'inonde. C'est un maelström acoustique de rock new wave onirique qui te submerge d'une manière apaisante. L'instant existe en périphérie tandis qu'une autre goutte se détache du cornet pour tomber lentement sur ta peau, mais le sourire persistant devientintemporel.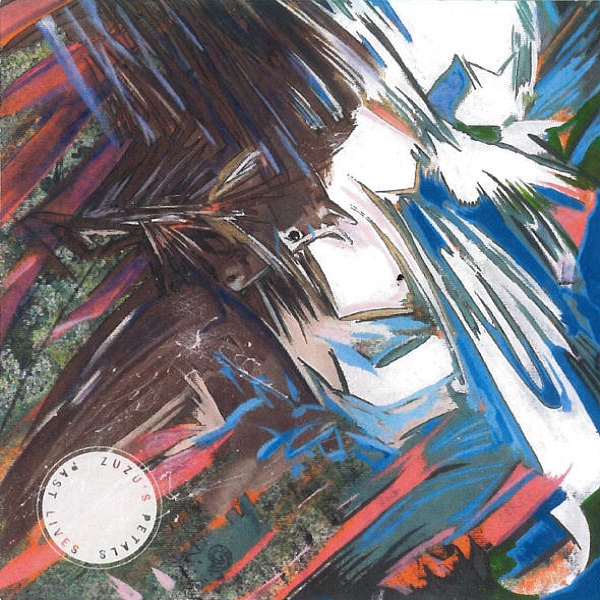 Zuzu's Petals
Past Lives
(Self-Released)
Duncan, BC
From the fey magic of Claire Marie Guimond:
A fast stream runs through two forest stands. This shore is all yellows and greens and tumbling helicopter seeds. The other side, white birch. My older sister told me streams can mark borders between our world and another. I didn't want anyone to follow me when I crossed, so I'd been waiting for the right afternoon to go see the fairies. Here, at last, I lie down on the moss bed. I give in to the daydreams. I wake up to a different light and the rushing sound of footsteps… Everything is real, for a moment.
De la magie féérique de Claire Marie Guimond:
(Traduit par l'hémisphère gauche de Diane Beaupré)
Un ruisseau coule rapidement à travers deux peuplements forestiers. D'un côté, diverses nuances de jaunes et de verts et des hélicoptères tournoyants colorent la rive. De l'autre, du bouleau blanc. Ma grande sœur m'a dit que les ruisseaux sont parfois les frontières entre notre monde et un autre. Je ne voulais pas que quelqu'un me suive quand j'allais traverser, j'ai donc attendu le bon après-midi pour aller voir les fées. Enfin rendue, je m'allonge dans un lit de mousse. Je m'abandonne à la rêverie. À mon réveil, la lumière a changé et j'entends des pas… Tout est réel, pour un instant.
Zuzu's Petals – With The Buffalo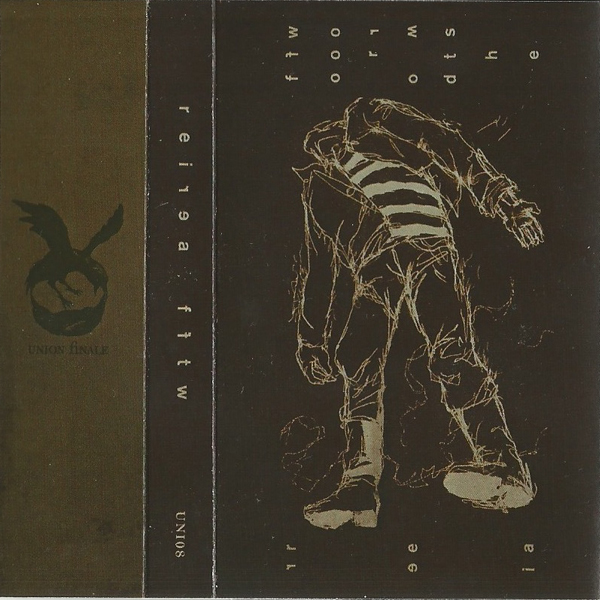 Rei Rea
Food for the Worms
Montreal, QC
From the hellbound haranguing of Mark Anthony Brennan:
It's cold. A massive weight crushes your chest. Hellish creatures scramble, scrape through the earth to reach you. You cannot move. Closing in, their muttering grows louder. You open your mouth to scream, but it's filled with worms.
A nightmare. That's all. You're on a train, hurtling through a murky landscape of unfamiliar shapes. The train enters a tunnel. In the darkness fleeting images rush by. Unpleasant half-memories. This isn't a tunnel. The train is racing through your mind.
Wait, there is no train. Is this a nightmare again? Or is this the awful truth? Does it matter?
Des harangues damnées de Mark Anthony Brennan:
(Traduit par le regard fixe de Jessica Grenier)
Il fait froid. Quelque chose de lourd écrase ton thorax. Des créatures infernales raclent la terre : elles essayent de t'atteindre. Tu n'arrive pas à bouger. Leurs grommellements deviennent de plus en plus forts. Tu ouvres ta bouche pour crier, mais n'en sortent que des verres.
Un cauchemar. C'était juste un cauchemar. Tu es à bord d'un train qui traverse à toute allure un paysage obscur et étrange. La locomotive s'engouffre dans un tunnel. Dans l'obscurité, des images fugaces apparaissent devant tes yeux, des demi-souvenirs désagréables. Ce n'est pas vraiment un tunnel : c'est ton esprit que le train dévale.
Attends. Il n'y a même pas de train. Est-ce un autre cauchemar… ou l'horrible vérité? Est-ce que ça importe vraiment?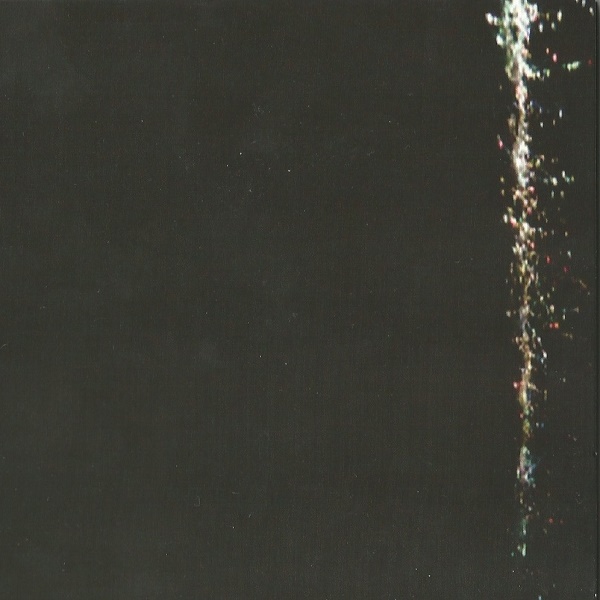 Mid Pines
Year of the Horse
(Self-Released)
Richmond Hill, ON
From the head and heart of Mark Anthony Brennan:
It's audaciousness, no less. Like playing a synthesizer in a cathedral or a harpsichord at a death metal concert. Mid Pines, you are insistent, although not pushy. Yes, we get it. Thanks. Floating on gently undulating waves of synth, idly dreaming, while a breeze of rhythm steadily pushes you to the shores of logic. Here, the intellectual and the emotional are autonomous but not entirely independent of one another. They don't necessarily pull in opposite directions.
De la tête et du cœur d' Mark Anthony Brennan:
(Traduit par l'intellectuel et l'émotionnel de Virginie Langlois)
C'est de l'audace, rien de moins. Comme jouer du synthétiseur dans une cathédrale ou du clavecin à un concert de death metal. Mid Pines, vous êtes insistants, sans pour autant être bourrins. Oui, on a compris. Merci. Flottant sur des vagues de synthé ondulant délicatement, se contentant de rêver, alors qu'une brise de rythme vous pousse progressivement vers les rives de la logique. Ici, l'intellectuel et l'émotionnel sont autonomes mais pas totalement indépendants l'un de l'autre. Ils ne tirent pas nécessairement dans des directions opposées.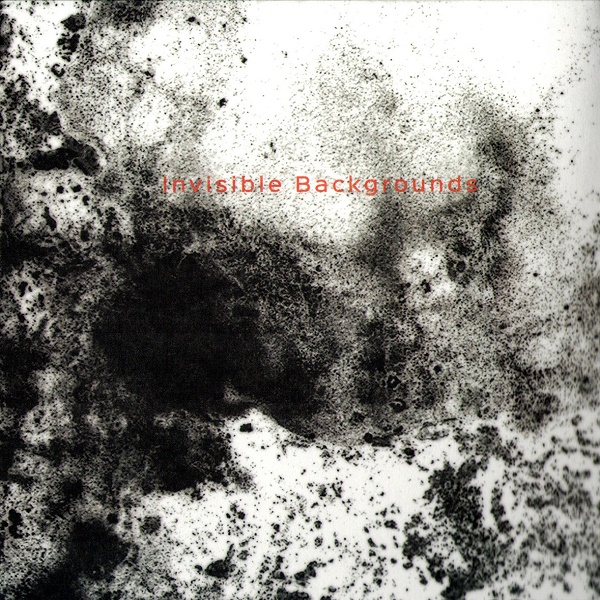 Philippe Battikha
Invisible Backgrounds
Montreal, QC
From the ruined pasture of Jesse Locke:
Philippe Battikha of CORSE and La Part Maudite steps out for an avant-serenade on this mournful solo offering. The granular tones and careening curlicues of his trumpet drift in slow-mo flow through soundscapes of bustling street corners, Super 8 camera whirr, and less recognizable squishes. Double bass saws through "Beyond You" while "Time For New Hands" casts a pall over haunted pianos, righteous vocals samples, and the soothing ASMR of rain on a windowsill.
Des pâturages en jachère de Jesse Locke:
(Traduit par l'hémisphère gauche de Diane Beaupré)
Philippe Battikha, membre des groupes CORSE et La Part Maudite prend une pause pour nous offrir une sérénade avant-gardiste sur cet album solo mélancolique. Les enjolivures de sa trompette s'égrènent en formant des spirales qui ralentissent à travers les bruits des coins de rue animés, le vrombissement de la caméra super 8, et autres sons non identifiés. La contrebasse évoque l'égoïne tout au long de « Beyond You » alors que « Time for New Hands » enveloppe de brouillard des pianos hantés, des bribes de voix moralisatrice et de réconfortants ASMR qui rappellent la pluie sur la fenêtre.
Philippe Battikha – Time For New Hands
Philippe Battikha – Beyond You
---