Category: cassette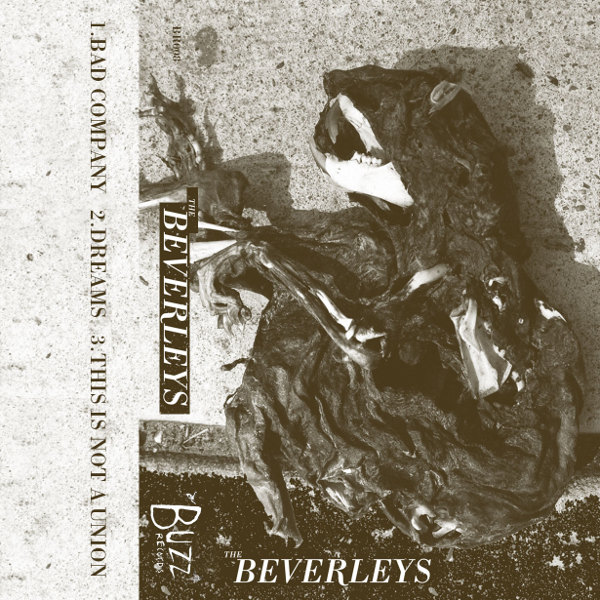 Buzz Records' winning streak continues with this crucial three-song EP from The Beverleys! The Henry's Dress-style blown-out mucky low-end is kinda miraculous given that the trio doesn't even feature bass (not even one!). Gush to your inner Warped Tour teen about the return of the much-missed boozy Brody Dalle snarl on "Bad Company", and rejoice that "Dream" reclaims the epic mode of punk songcraft from the legions of post-Tim bozo phonies.
The Beverleys
The Beverleys EP
Toronto, ON
From the primordial muck of Eamonn Quinn:
Buzz Records' winning streak continues with this crucial three-song EP. The Henry's Dress-style blown-out mucky low-end is kinda miraculous given that the trio doesn't even feature bass (not even one!). Gush to your inner Warped Tour teen about the return of the much-missed boozy Brody Dalle snarl on "Bad Company", and rejoice that "Dream" reclaims the epic mode of punk songcraft from the legions of post-Tim bozo phonies. Driven by that hardcore sprint, the pit-ready "This Is Not A Union" is an alternative history of grunge in which the ones who like to sing along and like to shoot their guns didn't win out. If you haven't had enough, don't miss their cover of a TO classic.
De la crasse primordiale d' Eamonn Quinn:
(Traduit par Andreanne Dion)
La série de succès de Buzz Records continue avec cet essentiel EP de trois chansons. L'explosion crasseuse bas de gamme dans le style de Henry's Dress est plutôt miraculeuse puisque le trio n'utilise pas de basse (même pas une seule!). Extasiez-vous sur le retour du grognement bien arrosé à la Brody Dalle qui vous a tant manqué avec votre adolescent intérieur pendant « Bad Company », et réjouissez-vous que « Dream » récupère l'art épique de la chanson punk auprès des légions d'imposteurs post-Tim. Poussée par ce sprint hardcore et prête pour la fosse, la chanson « This Is Not A Union » est l'histoire alternative du grunge, dans laquelle ceux qui aiment chanter en choeur et ceux qui aiment tirer leurs fusils ne triomphent pas. Si ce n'est pas assez pour vous, ne manquez pas leur cover d'un classique de Toronto.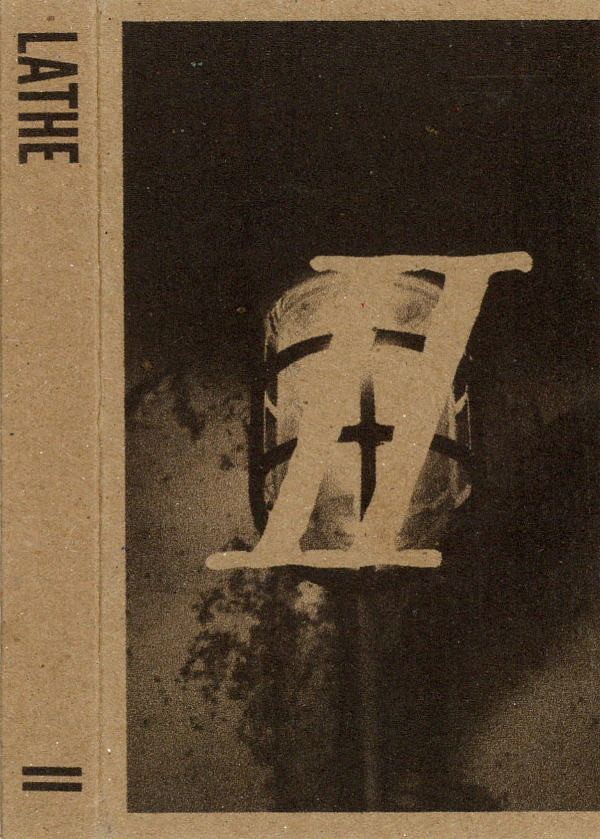 LATHE's two-song cassette takes its time warming up to you, never trying to overwhelm with its sparse, string-bending riffs and subdued drums, hazily evocative of latter-day Earth
LATHE
II
(Self Released)
Kingston, ON
From the power tower of Doreen Girard:
This live, two-song cassette takes its time warming up to you, never trying to overwhelm with sparse, string-bending riffs and subdued drums, hazily evocative of latter-day Earth. That's not to say it hangs back in the shadows, too timid to communicate with strangers. It listens patiently, is comfortable with silences, chooses its words thoughtfully. And anyway, once the ice is broken, it's clear that Lucas Huang (guitar/voice) and Liam Cole (drums) are deep in fervent conversation, and would rather not be disturbed.
De la tour électrique de Doreen Girard:
(Traduit par Andréanne Dion)
Cette cassette de deux chansons enregistrées live vous réchauffe lentement, sans jamais essayer de vous submerger avec ses riffs épars qui tordent les cordes et sa batterie feutrée, qui évoquent vaguement les derniers jours de Earth. Cela ne veut pas dire qu'elle se tient dans l'ombre, trop gênée pour approcher les étrangers. À l'aise dans le silence, elle écoute patiemment et choisit ses mots avec soin. Et de toute façon, une fois la glace brisée, il devient clair que Lucas Huang (guitare/chant) et Liam Cole (batterie) sont absorbés par une conversation passionnante et qu'ils préféreraient ne pas être dérangés.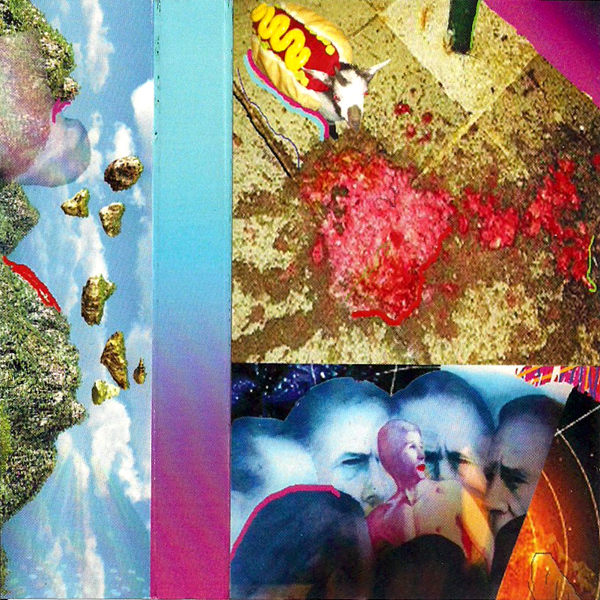 New Cameo from the amazing BILE SISTER! Nick Persons expresses the tweaked result of a '90s hip-hop music consumer baby within a warped '70's disco/soul template to create an innovative style of lo-fi experimental rap.
Nick Persons
Agony Ecstasy
(Self Released)
Montréal, QC
From the dream scheme of Bile Sister:
Radio-wave signals are temperamental when driving between Toronto and Montreal. In classic road trip fashion, your tape deck is broken but at least you got the radio. The search button is permanently pressed, so channels laced with static frantically switch. Normally this drags, but luckily you realize a demented genius has taken over the dials to save your trip vibes. You dig his mind-blowing style and hand the power over to your new DJ, Nick Persons. The destination is known but the journey is full of surprises.
Agony Ecstasy is an abrasive yet chilled out exploitation of recognizable hits juxtaposed with obscure tunes. Nick Persons expresses the tweaked result of a '90s hip-hop music consumer baby within a warped '70's disco/soul template to create an innovative style of lo-fi experimental rap. His pitch-shifted vocals are slyly seductive, while paying tribute to the art of sampling. Mangled, interwoven sounds are chopped at random to pave a bizarro, disjointed beat. While totally authentic, some moments are vaguely familiar, others intentionally recognizable. I vibe this sonic adventure, it takes me places. Agony Ecstasy is an all-night channel-surf party on a helium-rap, noise-sparkled casino cruise.
Feel the sexual groove, the abrasive touch. A DJ mentality combined with an impulsive tick. Nick Persons is a statement, a persona, and a concept embodied. Keep an open mind. Jackson Darby and his drummer/keyboardist sidekick 'Rawky' Rosenberg have tapped into a new genre. Give in and take a dip.
Bile Sister is the weird pop music project of Julie Cylia Reich, who performs live with a full band. Julie also goes by the pseudonym DJ Garbage Body as a promoter, blogger, writer, amateur journalist and 'performance' DJ. Ding!
Du complot rêvé de Bile Sister:
(Traduit d'un nuage de vapeur par Catherine Debard)
Les ondes radios sont capricieuses lorsqu'on roule entre Montréal et Toronto. Un classique du voyage en voiture: le lecteur-cassette est brisé mais au moins, il y a la radio. Le bouton de recherche constamment appuyé, les postes se mélangent frénétiquement avec la statique. C'est généralement assez pénible, mais, imaginez qu'un génie dément prenne possession des ondes pour regénérer l'ambiance du voyage. Vous aimez son style hallicinogène et remettez les pouvoirs à votre nouveau DJ, Nick Persons. La destination est connue mais le chemin, rempli de surprises.
Agony Ecstasy est un agencement abrasif mais chill de tubes reconnaissables juxtaposés à d'obscures perles pop. Nick Persons exprime le résultat tordu d'un hip hop des années 90s grand public intégré dans un modèle déformé de disco/soul des années 70s, pour créer un style innovateur de rap lo-fi expérimental. Ses voix pitch-shiftées prennent des airs de séduction rusée, tout en rendant hommage à l'art du sampling. Des sons méconnaissables entrelacés semblent coupés aléatoirement afin de paver un beat bizarro décousu. Quelques moments sont vaguement familiers, d'autres intentionnellement reconnaissables, mais l'ensemble est totalement authentique. Je sens bien l'aventure sonique, ça me fait voyager. Agony Ecstasy c'est un party où l'on surf dans les postes de télé toute la nuit sur un rap d'hélium, une croisière-casino étincellante de noise.
Sentez le groove sexuel, le toucher abrasif. Une mentalité de DJ avec une coche impulsive. Nick Persons, c'est une affirmation, un personnage, l' l'incarnation d'un concept. Gardez l'esprit ouvert. Jackson Darby et son allié drummer/claviériste 'Rawky' Rosenberg ont tapé dans un nouveau style. Succombez et mouillez-vous un peu.
Bile Sister est le projet weird pop de Julie Cylia Reich, qui se produit sur scène avec un band complet. Julie agit également sous le pseudonyme DJ Garbage Body en tant que promotrice, blogueuse, auteure, journaliste amateure et D.J. "perfomeuse". Ding!
Nick Persons – Eventually Crash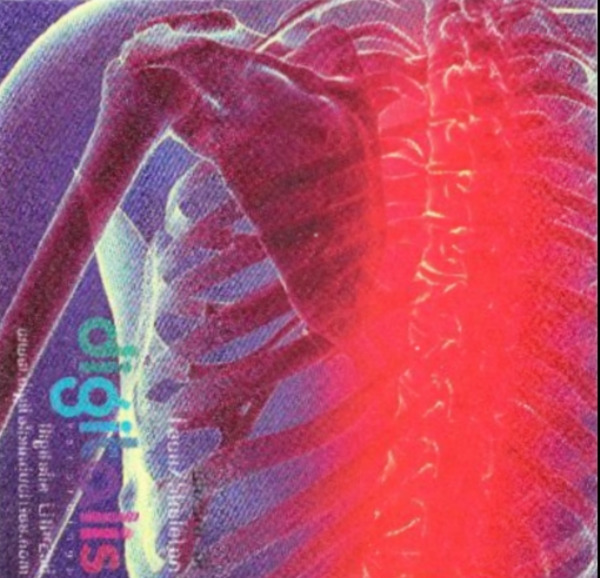 Wizard Of
Face/Skeleton
Toronto, ON
From the psychic tendrils of Joe Modzelewski:
Human and machine are inseparable. Neon-soaked concrete has enveloped the planet's surface. A view from space leaves Earth with a sickly greyed hue that hints at a pale coloured undertone. Doomsayers revel in humanity's fate. An industrial society has left the landscape charred and dotted with synthetic sanctuary. The population has scarred its very genetic makeup with the hallowed promises of technology. As the world burns, and the damned beg and pray, some reflect on where it went wrong; all you do is dance.
Des vrilles psychiques de Joe Modzelewski:
(Traduit par Andréanne Dion)
L'homme et la machine sont inséparables. Du béton trempé au néon a envelopé la surface de la planète. Vue de l'espace, la Terre prend une teinte grise maladive qui laisse entrevoir une nuance pâle. Les pessimistes se réjouissent du destin de l'humanité. Une société industrielle a laissé le paysage calciné et parsemé de refuges synthétiques. Notre composition génétique même a été marquée par les promesses vides de la technologie. Pendant que le monde brûle et que les damnés supplient et prient, alors que d'autres se demandent où les choses se sont gâtées, vous ne faites que danser.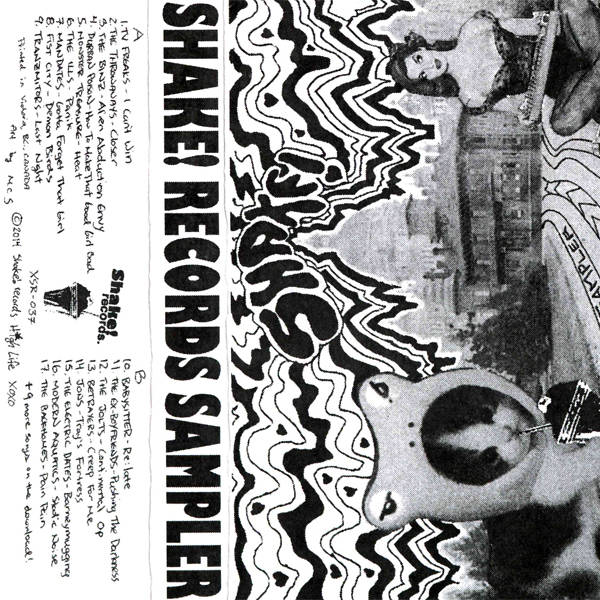 Various Artists – Shake! Records Sampler :: The staggeringly heavy shred of 26 of the west coast's finest is shifting the tectonics. Another punk rock compendium from which you could get lost in study.
Various Artists
Shake! Records Sampler
Victoria, BC
From the fault lines of Johnnie Regalado:
Here the potential of the mighty Shake! is on full display. The staggeringly heavy shred of 26 of the west coast's finest is shifting the tectonics. Another punk rock compendium from which you could get lost in study. So many damn finely crafted tapes.
Des failles de Johnnie Regalado:
(Traduit par les vibrations tectoniques de Louis-Félix Pellerin)
Le potentiel du formidable Shake! est mis en évidence ici. Le shred extraordinairement abondant des 26 meilleurs musiciens de la côte ouest fait bouger les plaques tectoniques. Voici une autre collection punk rock dans laquelle vous pouvez vous perdre à l'écoute tellement elle regorge de cassettes foutrement bien arrangées.

The Ex-Boyfriends – Pushing the Darkness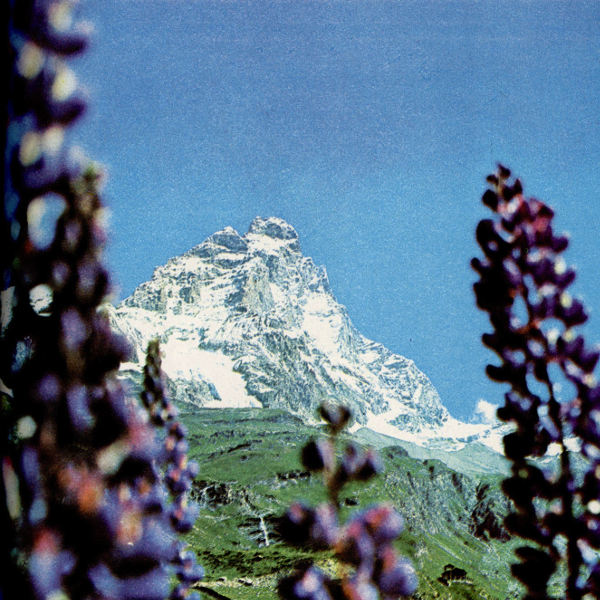 Strange Fires
Strange Fires
(Self Released)
Morinville, AB
From the summer haze of Davita Guslits:
If the album art from Strange Fires' self-titled EP was a still from a film, you wouldn't be surprised to press play and hear the billowing notes waft lazily towards you. They would lull you into a hazy memory of a teenage summer fling, or a vacation in the city spent grasping for—and almost reaching—the meaning of happiness. But with the closing lyrics of the EP, you come back down to Earth. Here, you realize that your fling wasn't all wine and roses, and that your vacation gave way too soon to the usual routine, because "nothing really lasts".
De la brume d'été de Davita Guslits:
(Traduit par elfranc)
Si le visuel de l'album éponyme de Strange Fires était un cliché tiré d'une scène de film, on ne serait pas étonnés d'entendre les notes tourbillonner et flotter avec paresse dans notre direction. Elles nous transporteraient dans une mémoire floue d'un amour d'été d'adolescence ou dans des vacances en ville où nous avons essayé d'atteindre (et avons presque réussi) un vrai moment de bonheur. Mais les dernières paroles du EP nous ramènent sur terre. Ici, on réalise que notre amourette n'était pas toute de vin et de roses et que nos vacances ont laissé place trop tôt à la routine quotidienne, car « rien n'est éternel ».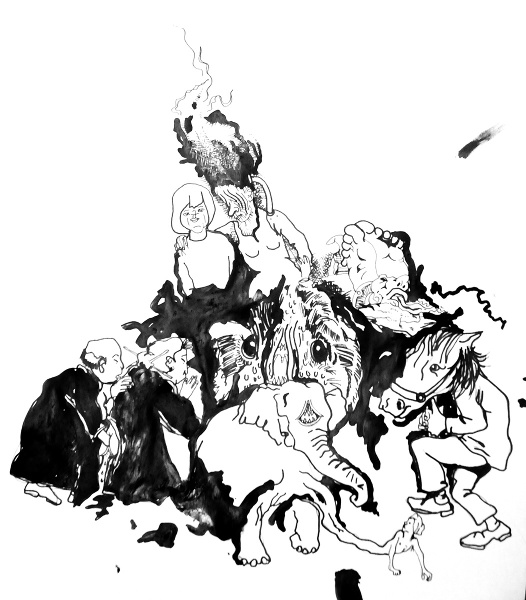 From the gloomy cave of James Lindsay:
The long awaited, highly anticipated long player from Hamilton's champions, WTCHS, feels like their patient maturation has finally paid off. After a string of well curated split cassettes, 7"s and a lathe, It's Not a Cross, It's a Curse! finally delivers lengthier, meatier recordings that can hold a candle to the intensity of their pummeling live shows. What once was gloomy cave-pop has been blown-up into cavernous death-rock that hits as hard as METZ's noise-grunge, while still carrying a similar musicianship and melodic charm in the spirit of the Dischord post-hardcore ilk. Hear and see them now before the rest of the world takes them away.
De la caverne glauque de James Lindsay James Lindsay:
(Traduit en direct du sous-sol lugubre de Louis-Félix Pellerin)
Le LP tant attendu des champions de Hamilton, WTCHS, donne l'impression que leur sereine maturation a fini par porter ses fruits. Après une série de cassettes split et de vinyles bien organisés ainsi qu'un tour, It's Not a Cross, It's a Curse! sort enfin des enregistrements plus longs et plus substantiels dont l'intensité est comparable à leurs représentations live. Ce qui était auparavant du pop de sous-sol morne s'est transformé en death rock caverneux aussi frappant que le noise-grunge de METZ, tout en conservant le charme mélodique dans l'esprit du posthardcore de Dischord, ainsi qu'une qualité musicale similaire. Écoutez-les, regardez-les avant que le reste du monde ne les emporte.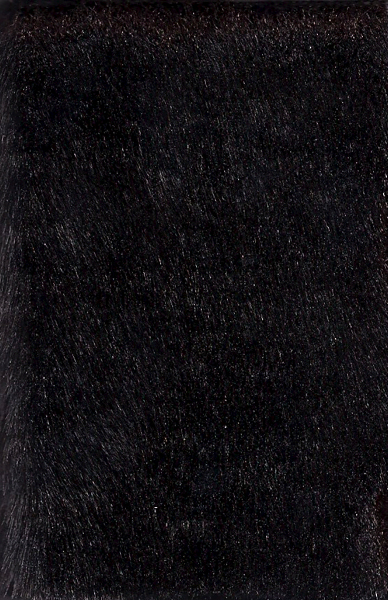 Beard Closet // Primate Pyramid
Split Cassette
Toronto, ON
From the monkey's paw of Jesse Locke:
The ninth volume in Arachnidiscs' split series pairs two Toronto free-guitar travelers in canny packaging fit for the grip of the hairiest palms. Beard Closet's contribution is the sidelong blast-off "The Erosion of Empathy," awakening from a day of radiance before the rotten sun beats down. On the backside, Primate Pyramid delivers two shorter pieces with the contemplative swirls of "Arc With No Story" and ghostly shapes emerging from the black sea of "Health Collapse." Shining, gleaming, streaming, flaxen, waxen…
De la patte de singe de Jesse Locke:
(Traduit par Andréanne Dion)
Le neuvième volume de la série d'albums splits d'Arachnidiscs rassemble deux groupes de voyageurs free-guitars de Toronto dans un emballage astucieux digne de la prise des paumes les plus poilues. La contribution de Beard Closet est l'explosion latérale « The Erosion of Empathy » qui se réveille d'une journée rayonnante avant que le soleil pourri ne brûle. Au verso, Primate Pyramid nous livre deux chansons plus courtes avec les tourbillons pensifs de « Arc With No Story » et les formes fantomatiques qui émergent de la mer noire de « Health Collapse ». Brillant, étincelant, ruisselant, blond, cireux…

Beard Closet – The Erosion of Empathy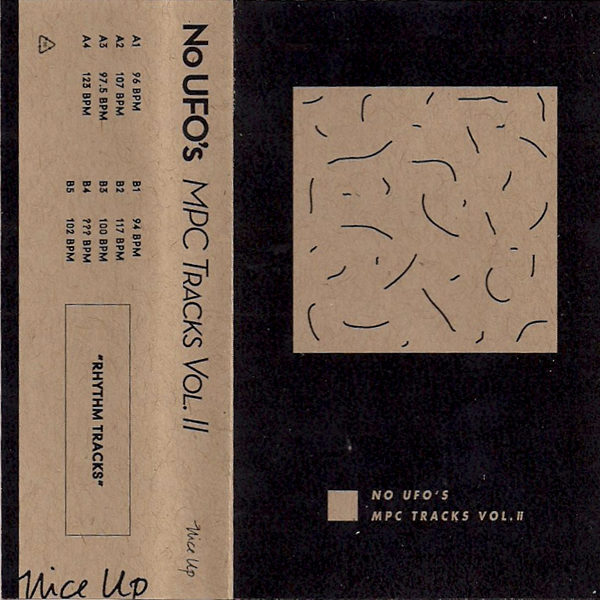 No UFO's
MPC Tracks Vol. II
Vancouver, BC
From the wave files of Jesse Locke:
The second edition of No UFO's subaquatic beat tape series travels 20,000 leagues below the Drexciyan depths. In the cavernous ambience of this hiss abyss, MPC samples morph into misted abstractions of sonar bleep pulses and shiver-wave static, lingering with the presence of the leviathan. A digital escape pod bubbles back up to the club with remixed assistance from AnD, Best Available Technology, and fellow Vancouverite Flørist.
Des dossiers sous-marins de Jesse Locke:
(Traduit par Andréanne Dion)
La deuxième édition de la série de rythmes subaquatiques de No UFO voyage vingt mille lieues sous les mers Drexciennes. Dans l'ambiance caverneuse de cet abîme bourdonnant, les échantillonnages de MPC se transforment en abstractions, embuées par les pulsations des sonars et par les vagues frissonnantes de parasites où la présence du colosse persiste. Une capsule de sauvetage numérique refait surface dans un club, remixée avec l'aide d'AnD, Best Available Technology, et de Flørist, un compatriote de Vancouver.

No UFO's – Midas On The Flat Screen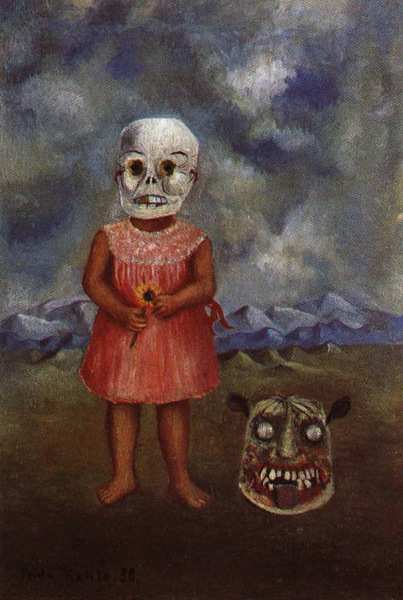 The Unquiet Grave
Whispers In The Wind
(Self Released)
Peterborough, ON
From the of drone-buzz inferno of Joshua Robinson:
Wraithlike and enveloped in the dusk-dance solemnities of macabrely attuned spirit-surges, Whispers In The Wind is the last breath of manna before a trans-dimensional freefall through the nine circles of drone-buzz psychedelia. These epitaphs of contralto contortion slowly linger along the fine divide between '80s gothcore and the post-neurosis of aphotic avant-garde ambience, suturing the two realms to the ashen trance of an extrasensory cannonade.
De l'enfer bourdonnant de Joshua Robinson:
(Traduit par Jacinthe Laplante)
Semblable à une apparition et enveloppée dans les solennités de la danse nocturne de surtensions spectrales macabrement en harmonie, Whispers In The Wind est la dernière bouffée de manne avant une chute libre transdimensionnelle à travers les neuf cercles du psychédélisme bourdonnant. Ces épitaphes de contorsion contralto s'attardent tranquillement le long de la mince séparation entre le goth core des années 1980 et la post-névrose de l'ambiance avant-gardiste de l'obscurité, unissant les deux royaumes en une transe grisâtre de canonnade extrasensorielle.
---