Category: cassette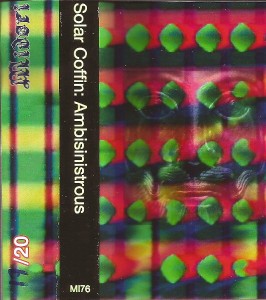 Solar Coffin
Ambisinistrous
Winnipeg, MB
From the time-lapse cocoon of Taylor Burgess:
Clicking in this cassette will be your final nail. It shall shunt you off into deep, lifeless space. No prospect of a return trip. And as you drift further, so does Ambisinistrous; it's a time-lapse cocoon, building the oscillating void around and within you. The duo makes use of all oscillations, creating rapt crowds in their great audiovisual din. It should be no surprise that Fletcher Pratt is half of the droning bliss behind this small-run cassette, with Erik Larsen taking the rest of the knob-twisting to the stars.
Du moment de cocon de Taylor Burgess:
(Traduit par Jacinthe Laplante)
Cliquer sur cette cassette sera votre coup de grâce. Elle vous mènera aux confins d'un espace sans vie. Sans possibilité de retour. Comme vous, Ambisinistrous dérive plus loin, un moment dans un cocon, créant un vide vibrant autour et à l'intérieur de vous. Ce duo utilise toutes les oscillations, captivant les foules avec leur grand boucan audiovisuel. Il n'est pas surprenant que Fletcher Pratt soit derrière le bonheur bourdonnant de cette courte cassette avec Erik Larsen qui nous porte jusqu'aux étoiles en jouant avec les boutons de réglage.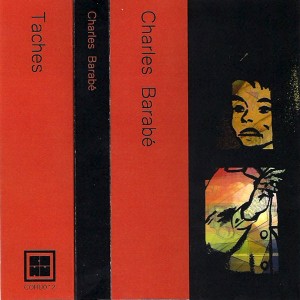 Charles Barabé
Taches
(La Cohu)
Victoriaville, QC
From the digressions and paintbrushes of Hugo Hyart:
(Translated by Hugo Hyart)
Charles Barabé filled 2013 with relentless discoveries and mind trips through his La Cohu imprint, including this standout solo release. High frequencies conjure an endless fall that makes you think you're moving forward, as deserted souls of all shapes welcome you to an Elysian field, going round this multi-coloured star at the speed of a tranquil rollercoaster wagon. Sometimes you meet hikers rambling on mountains with no top or base. On the eardrum canvas, the "taches" made by his aural paintbrushes shape a flow to help you find meaning or just contemplate in ataraxia. Much like everything in existence, huh? But beware, for the traps of generalization are numerous. Your mind is in space, yet your ears still hear bits from where you're sitting. Faraway places in our cranial box are right here. Look! This tape is yet another pair of glasses, showing us once again how the experimental music that seems to resonate so much in Quebec can be bewitchingly evocative. This one is sadly sold out, but we should be hearing more from Barabé in 2014. Dope!
Des digressions et pinceaux de Hugo Hyart:
Charles Barabé ne s'est pas épargné pour truffer 2013 de découvertes et de voyages de l'esprit à travers sa marque La Cohu, dont cette remarquable sortie solo. De hautes fréquences te portent dans une chute sans fin qui te fait penser que tu vas en avançant, tandis que des âmes désertées de toutes formes t'accueillent dans un Champ Elyséen faisant le tour de cette étoile multicolore à la vitesse d'un wagon de montagnes russes calme. Parfois tu rencontres des randonneurs se promenant sur des montagnes sans sommet ni base. Sur le canevas du tympan, les « tâches » laissées par des pinceaux auriculaires forment un courant qui t'aide à trouver un sens ou que tu peux contempler en ataraxie. Un peu comme tout dans l'existence, non? Mais prends garde, car les pièges de la généralisation sont nombreux. Ta tête est dans l'espace, mais tes oreilles entendent encore des bribes de là où tu es assis. Les endroits reculés dans notre boîte crânienne sont juste là. Regarde! Ce tape est encore une autre paire de lunettes, nous montrant une fois de plus comment la musique expérimentale qui semble tant résonner au Québec peut être aussi évocatrice et ensorcelante. Celui-là est malheureusement épuisé, mais on devrait entendre à nouveau parler de Barabé en 2014. Cool !
Charles Barabé – Taches A (extrait)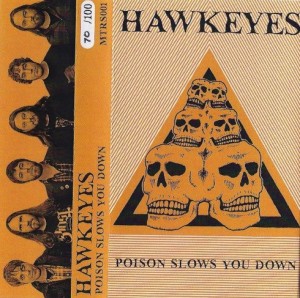 Hawkeyes
Poison Slows You Down
(Self Released)
Waterloo, ON
From the elephant march of Javier Fuentes:
No amount of sunbathing or vitamin supplements can prepare the body for the gut-shifting force contained within Hawkeyes' black hole riffs. Running the earth's energy fields through a chain of fuzz pedals and phasers, notes swirl violently in a spectacle that recalls memories of a recent tornado. The lurching advances of screaming frequencies march down decimated paths to the beat of thundering rhythms that hit the ground like flashes of dry lightning. Obsidian squalls enter the sightlines in the form of a distant mirage. The illusion creeps closer and closer, yet the real image barely takes a step forward. Quit looking ahead, you've already sunk to the earth's core.
De la marche éléphantesque de Javier Fuentes:
(Traduit des ondes électromagnétiques de Catherine Gaucher)
Aucune quantité de rayons solaires ou de suppléments vitaminiques ne peut préparer votre corps à la force aspirante contenue dans les accords dignes d'un trou noir d'Hawkeyes. Transformant les champs de l'énergie terrestre à l'aide d'une chaîne de pédales fuzz et de modulateurs de phase, les notes s'agitent violemment dans un spectacle qui rappelle le souvenir d'une récente tornade. De chancelantes progressions de fréquences perçantes empruntent une route décimée et la cadence de leurs rythmes tonitruants frappent le sol tels des éclairs. Des rafales d'obsidiennes traversent notre champ de vision sous la forme d'un lointain mirage. L'illusion se rapproche de plus en plus près, mais l'image réelle avance à peine. Cessez de regarder au loin, vous vous êtes déjà enfoncés dans le noyau de la Terre.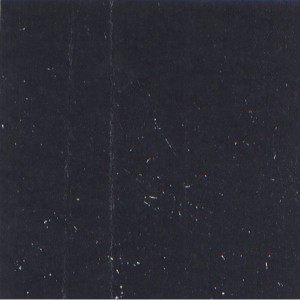 Femminielli Noir
L'Éveil
Montréal, QC
From the modest gabber of Jesse Locke:
The cavernous blackness of this cassette sleeve is the gateway to a yawning abyss. Bad boys of the Montreal subterrain Bernardino Femminielli and Jesse Osborne-Lanthier welcome us into their sonic sepulcher to reveal themselves as altered beasts. Here, the sensual whispers and spectral Italo disco of Femminielli's past masterworks are dispersed across an expressionistic soundscape of desolate ambience, garbled electronics and punishing four-on-the-floor. Only on side b's "Semence En Moi, Le Danger" do we see a glint of light through the darkness, as a haunted music box melody twirls away in an empty room.
Du papotage modeste de Jesse Locke:
(Traduit par le côté italo-spectral de Mathieu Bédard)
La noirceur caverneuse de la jaquette de cette cassette est une passerelle menant à un abysse béant. Les mauvais garçons du Montréal souterrain, Bernardino Femminielli et Jesse Osborne-Lanthier, nous invitent dans leur sépulture sonique où ils se révèlent à nous en tant que bêtes altérées. Ici, les chuchotements sensuels et l'italo disco spectral des dernières oeuvres de Femminielli se dispersent à travers un paysage sonore expressionniste à l'ambiance désolée, aux textures électroniques embrouillées et à la rythmique punitive. Seulement sur « Semence En Moi, Le Danger », sur le côté B, apercevons-nous une faible lueur à travers l'obscurité, tandis qu'une mélodie de boîte à musique tournoie au loin dans une pièce vide.
Femminielli Noir – Semence En Moi, Le Danger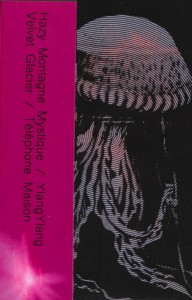 Various Artists
Perdu dans l'abysse
(La Cohu)
Montréal, QC
From the liquid mind of Hugo Hyart:
(Translated by the dip of Hugo Hyart)
What happens when two of the most productive entities in Canada team up? They go down to the abyss on the edge of the known world. Taking cues from the James Cameron film with aliens coming from beneath for a change, they make a detour from their trail of galactical altitude. The companions of Jeunesse Cosmique stop by La Cohu for a submarine ramble, trading their spacesuits for scubas. Past a certain depth, beyond conventional human conceptions and away from any stellar ray, this is a space odyssey the other way round into Neptune. Resting in deep ambience, altered heaviness, forgotten gravities. Hazy Montagne Mystique dip our stars' dust in the water to depths where the sun can't reach. YlangYlang makes us dance in analgesy until there's no up or down anymore. Velvet Glacier distort us our minds with enunciations and killer vibes. Téléphone Maison touches the bottom to take its pulse, as we briefly see what it is to be the other. Makes me want to see the movie.
De l'esprit liquide de Hugo Hyart:
Que se passe-t-il quand deux des entités les plus productives du Canada font équipe ? Ils descendent dans l'abysse aux frontières du monde connu. Prenant son inspiration du film de James Cameron avec les aliens venant des profondeurs pour changer, ils font un détour de leur chemin d'altitude galactique. Les compères de Jeunesse Cosmique passent chez La Cohu pour un petit tour en sous-marin et troquent leurs combinaisons spatiales pour des scaphandres. Passé une certaine profondeur, au-delà des conceptions humaines convenues , loin de tout rayon stellaire, une odyssée de l'espace dans l'autre sens direction Neptune. Ambiances reposantes et profondes, pesanteur altérée, gravité oubliée. Hazy Montagne Mystique propage notre poussière d'étoiles sous l'eau jusqu'aux profondeurs où le soleil n'éclaire plus. YlangYlang nous fait valser en analgésie et nous fais oublier haut et bas. Velvet Glacier va ensuite distordre nos esprits en énonciations et en vibrations qui tuent. Téléphone Maison touche le plancher abyssal pour prendre son pouls, tandis qu'on entrevoie le fait de devenir l'autre. Ça donne envie de voir le film.
Velvet Glacier – L'unique (Remix pour Marie Davidson)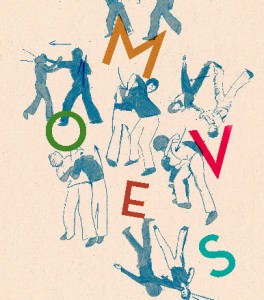 Moves
Tape
(Self Released)
Toronto, ON
From the tug-of-war of Joel French:
From B-52s-ish weirdo pop ("Let's Go", "Take Me") to Paul Simon-esque acoustic numbers ("A Little Longer", "Senseless", "Call Each Other Love") with a short garage-rock banger in the middle ("Do You Know What It Is I Want"), Toronto's Joseph Organ isn't scared to wear his heart, or influences, on his sleeve. This type of obvious contrast in song writing and delivery might not work on an LP, but on this six-song cassette it's refreshing and leaves me excited to see which direction will win the tug-of-war for the next Moves release.
Du tir à la corde de Joel French:
(Traduit par le dernier après-midi estival d'Andréanne Dion)
Depuis la pop étrange qui rappelle B-52s (« Let's Go », « Take Me » ), jusqu'aux morceaux acoustiques à la Paul Simon (« A Little Longer », « Senseless », « Call Each Other Love »), avec un pétard garage-rock au milieu (« Do You Know What It Is I Want »), Joseph Organ de Toronto n'a pas peur de se montrer vulnérable et de nous montrer ses influences. Ce genre de contraste flagrant entre la composition des chansons et le débit ne marcherait peut-être pas sur un album complet, mais sur cette cassette de six chansons, c'est rafraîchissant et ça me rend impatient de voir quelle direction gagnera le tir à la corde pour la prochaine parution de Moves.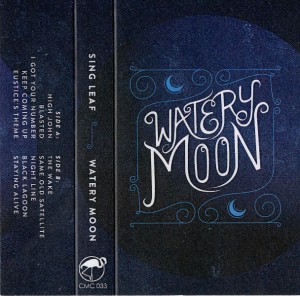 Sing Leaf
Watery Moon
Toronto, ON
From the bursting clouds of Shawna Naklicki:
Submerged in a wave pool of sound, Sing Leaf shines through with a multitude of colours. Throughout the ten songs of his latest release, Watery Moon, Dave Como lets melancholia and longing percolate through both sound and lyrics in a landscape that includes expertly woven synth textures, ethereal echoing choir vocals and Paul Simon-esque influences. Sing Leaf can be a man and his guitar as in "Staying Alive", while in "I've Got your Number" the cryptic sounds invoke imagery of a late night stalking and the struggle between hunter and prey. Whether singing about High John the Conqueror or relating to a grounded bird, Como does it with a sincerity that's both uplifting and haunting.
Des nuages prêts à rompre de Shawna Naklicki:
(Traduit par la pluie cervicale d' Aliké Harel)
Submergé dans une piscine à vagues de son, Sing Leaf nous éblouit de mille couleurs. Dans les dix chansons de son dernier album Watery Moon, Dave Como laisse mélancolie et langueur percoler dans la musique et les paroles d'un décor où siéent des textures de synthé fignolées à point, un chœur de voix éthérées et l'influence d'un Paul Simon. Sing Leaf peut être un homme et sa guitare comme dans « Staying Alive », alors que dans « I've Got your Number » les sons énigmatiques évoquent une traque nocturne, la lutte entre le chasseur et sa proie. Qu'il chante sur High John ou se représente comme un oiseau pris au sol, Como le fait en toute sincérité, ce qui est à la fois édifiant et troublant.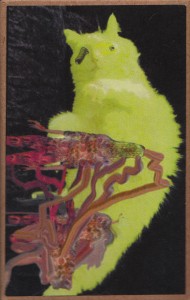 Bile Sister // Wolfcow
Split Tape
Toronto, ON // Toronto, ON
From the wild oscillation of Catherine Debard:
(Cosmic translations by Catherine Debard)
This luxurious 90-minute split is a trip through catchy nihilist (punk) power-pop, flippant DIY expression, two awesome senses of humour and a synth/pedal effects sci-fi party. Up first, Bile Sister's side jams juicy bouncing beats against a robotic hi-NRG voice, eerie I-don't-care-about-the-world synths and constant but subtle distortion to create a sugar-rush addiction; the body is moving strangely, the brain is filled with fizz candies. Listening to short, smashed up earworms like "Mock Sin" and long, trippy synth jams like "Sustained Preventative Medicinal Penetration (Long Version)" feels like chilling in her living room while she's experiencing a crazy inspiration wave. Meanwhile, the gang of teenage street kids in the first TMNT movie would love Wolfcow's side. It's rebellious, lo-fi, inventive, fast-paced and wild, oscilliating between harsh punk-pop, experimental electroclash sequences and strangely smooth synth-layered moments. The voices are buried in effects, while the whole is wrapped in crunchy saturated sound. These guys seem to channel a raw and unpredictable Residents vibe, or Caroliner with a touch of Les Georges Leningrad. All in all, this split activates the production of endorphins, like running a marathon or spending four hours in a Lazer Quest.
Écrit et traduit de l'oscillation démente de Catherine Debard:
Ce luxuriant split de 90 minutes est un voyage powerpop(punk) nihiliste (mais) entrainant, un party sci-fi de synthés et de pédales à effets roulés dans la désinvolture DIY et l'humour désopilant. Tout d'abord, Bile Sister jamme sur de bons gros rythmes gras surplombés par la voix énergique d'une déesse robotique, de sinistres synthés je-me-fous-du-monde-entier et une subtile mais omniprésente distorsion à vous rendre accroc. Le cerveau rempli de bonbons Fizz, le corps danse en se tortillant nonchalamment. En écoutant ces courts hits fracassés (« Mock Sin ») et ces longs périples de synthés hypnotiques (« Sustained Preventative Medicinal Penetration (Long Version) »), on se croirait évachés dans le salon de l'artiste alors que déferle sur elle une vague d'inspiration déjantée. Pendant ce temps, les enfants de la rue du premier film des Tortues Ninjas écouteraient sûrement dans leur baladeur le côté de Wolfcow. Rebelle, lo-fi, inventif, rapide et sauvage, le tout oscille entre un punk-pop corrosif, des moments d'expérimentation électroclash et d'étranges séquences de synthétiseurs planants. Les voix baignent dans les effets et la saturation grésillante. Ces deux-là semblent canaliser une atmosphère crue et imprévisible à la Residents, un peu de Caroliner et une touche de Georges Leningrad. En somme, ce split active la production d'endorphines, tout comme courir un marathon ou passer quatre heures dans un Lazer Quest.
Wolfcow – Whatever's Hovering Above Me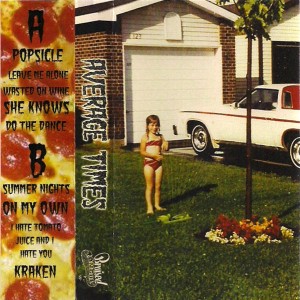 Average Times
Average Times
Ottawa, ON
From the exceedingly average Alex Hamlyn:
The first band in a while to provide the audio equivalent of a devious and mischievous 12-yr-old with a slingshot, Average Times have already set our capital's bruised tongues a wagging. Fuzz-laden guitars buzz like nectar-drunk honey bees, leading the charge with horn-like riffs until the rest of the band is ready to dogpile on you with hook after hook. If you can't be with the cool dude or dudette you like, your boss is a jerk and the pizza you ordered is late, pop this on and turn it all the way up. Day improved 100%, guaranteed — just be prepared for the sugar high you'll be feeling all week.
Du démesurément moyen Alex Hamlyn:
(Traduit par les 400 coups de Nicolas Coutlée)
Premier groupe depuis un bail à nous offrir l'équivalent audio d'un vilain garnement de douze ans armé d'une fronde, Average Times a déjà commencé à faire parler les langues meurtries de la capitale. Les guitares croulantes de fuzz bourdonnent comme des abeilles ivres de nectar et mènent la charge avec leurs riffs aux allures de cor tandis que le reste du groupe s'apprête à fondre sur vous mélodie après mélodie. Si vous ne pouvez être avec ce gars ou cette fille qui vous plait, que votre patron vous fait chier et que le livreur de pizza est en retard, faites tourner ce disque et montez le volume au max. Votre journée s'améliorera de 100%, c'est garanti — préparez-vous seulement à être sur un high de sucre toute la semaine.
the One (family)
the One (family)
Elliot Lake, ON
From the post-feeling of Joshua Robinson:
The astonishing back catalogue of Amok Recordings, reaching back to 2006, is home to much of Canada's finest experimental and ambient, noise, folk and post-rock music. From Jay Morritt to A-mo & Amplifier Machine, the creative output of the friends of Amok is nothing short of awe-inspiring, and the One (family)'s self-titled cassette is yet another offering of minimalist post-rock goodery.
Echoing the stylings of Constellation Records, the duo of Becky Dawn Burroughs and Justin Scott Gray beautifully synchronize the distinct realms of sample-driven ambience and classical instrumentation. The first side bears the distinct stylistic trademarks of post-rock: the ebb and flow of near quiet to emotional upheaval, mice to lions and then back again. The roar subsides, however, during the final minutes of "Hero". Burrough's jilted refrain over quiet keys gives off a tenable sorrow. This vocal styling continues to resonate against the backdrop of lachrymose keyboard, circuitous violin and tape hiss samples on "Rose". The cassette emanates the sense of its being only moments away from total visceral takeover, but, rather than leaving you utterly spent, it leaves you hanging on for something. The One (family) force you into that silent reverie where amorphisms tumble and spill over one another, catharsis pooling in the palm of your hands. This is post-rock for the post-feeling, music for the heaviness in all of us.
Des post-sentiments de Joshua Robinson:
(Traduit par l'amour du post-rock d' AnneMarie Papillon)
Le catalogue ahurissant d'Amok Recordings, remontant à 2006, est la maison d'une quantité importante de la meilleure musique ambiante, noise, folk et post-rock canadienne. De Jay Morritt à A-mo & Amplifier Machine, la production créatrice des amis d'Amok n'est rien de moins que grandiose, et la cassette éponyme de The One (family) est un autre cadeau bonbon de post-rock minimaliste.
Faisant échos au style de Constellation Records, le duo composé de Becky Dawn Burroughs et Justin Scott Gray synchronise magnifiquement les sphères des instrumentations ambiantes et classiques. La face A porte distinctement la marque de commerce stylisée du post-rock ; le flux et le reflux d'une agitation émotive quasi-silencieuse, des souris aux lions, encore et encore. Cependant, les rugissements se stabilisent durant les dernières minutes de « Héro ». Le refrain abandonné de Burrough, sur des notes muettes, montre une tristesse soutenue. Ce style vocal continue de résonner contre la toile de fond du clavier larmoyant, du sifflement éloigné du violon et des échantillons sur « Rose ». L'idée de n'être qu'à quelques instants de la prise de contrôle totale émane de cette cassette, mais, au lieu de vous laisser complètement dépassé, cette dernière vous laisse en attente de quelque chose. The One (family) vous force à entrer dans ce rêve silencieux où les substances amorphes basculent et se renversent les unes sur les autres, une catharsis rejointe dans la paume de votre main. C'est du post-rock pour les post-sentiments, de la musique pour cette pesanteur qu'on a tous à l'intérieur.
---