Category: cassette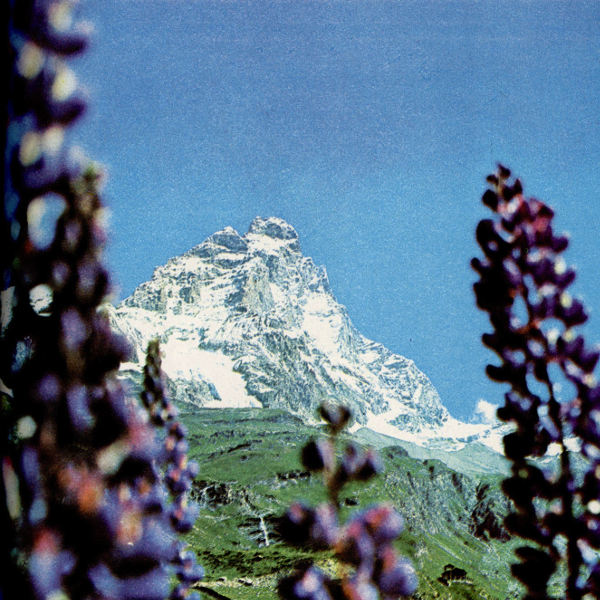 Strange Fires
Strange Fires
(Self Released)
Morinville, AB
From the summer haze of Davita Guslits:
If the album art from Strange Fires' self-titled EP was a still from a film, you wouldn't be surprised to press play and hear the billowing notes waft lazily towards you. They would lull you into a hazy memory of a teenage summer fling, or a vacation in the city spent grasping for—and almost reaching—the meaning of happiness. But with the closing lyrics of the EP, you come back down to Earth. Here, you realize that your fling wasn't all wine and roses, and that your vacation gave way too soon to the usual routine, because "nothing really lasts".
De la brume d'été de Davita Guslits:
(Traduit par elfranc)
Si le visuel de l'album éponyme de Strange Fires était un cliché tiré d'une scène de film, on ne serait pas étonnés d'entendre les notes tourbillonner et flotter avec paresse dans notre direction. Elles nous transporteraient dans une mémoire floue d'un amour d'été d'adolescence ou dans des vacances en ville où nous avons essayé d'atteindre (et avons presque réussi) un vrai moment de bonheur. Mais les dernières paroles du EP nous ramènent sur terre. Ici, on réalise que notre amourette n'était pas toute de vin et de roses et que nos vacances ont laissé place trop tôt à la routine quotidienne, car « rien n'est éternel ».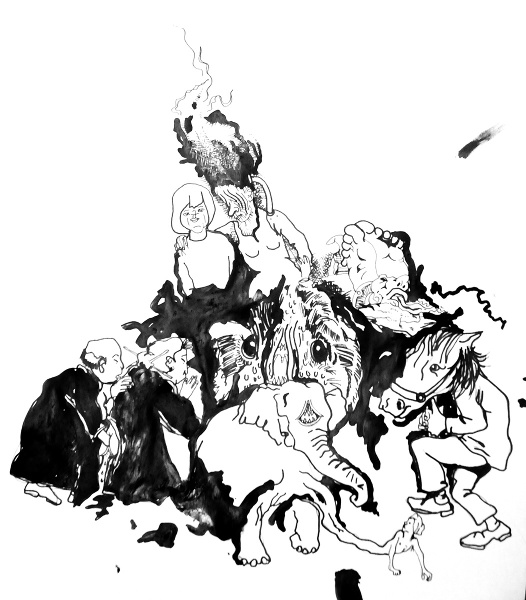 From the gloomy cave of James Lindsay:
The long awaited, highly anticipated long player from Hamilton's champions, WTCHS, feels like their patient maturation has finally paid off. After a string of well curated split cassettes, 7"s and a lathe, It's Not a Cross, It's a Curse! finally delivers lengthier, meatier recordings that can hold a candle to the intensity of their pummeling live shows. What once was gloomy cave-pop has been blown-up into cavernous death-rock that hits as hard as METZ's noise-grunge, while still carrying a similar musicianship and melodic charm in the spirit of the Dischord post-hardcore ilk. Hear and see them now before the rest of the world takes them away.
De la caverne glauque de James Lindsay James Lindsay:
(Traduit en direct du sous-sol lugubre de Louis-Félix Pellerin)
Le LP tant attendu des champions de Hamilton, WTCHS, donne l'impression que leur sereine maturation a fini par porter ses fruits. Après une série de cassettes split et de vinyles bien organisés ainsi qu'un tour, It's Not a Cross, It's a Curse! sort enfin des enregistrements plus longs et plus substantiels dont l'intensité est comparable à leurs représentations live. Ce qui était auparavant du pop de sous-sol morne s'est transformé en death rock caverneux aussi frappant que le noise-grunge de METZ, tout en conservant le charme mélodique dans l'esprit du posthardcore de Dischord, ainsi qu'une qualité musicale similaire. Écoutez-les, regardez-les avant que le reste du monde ne les emporte.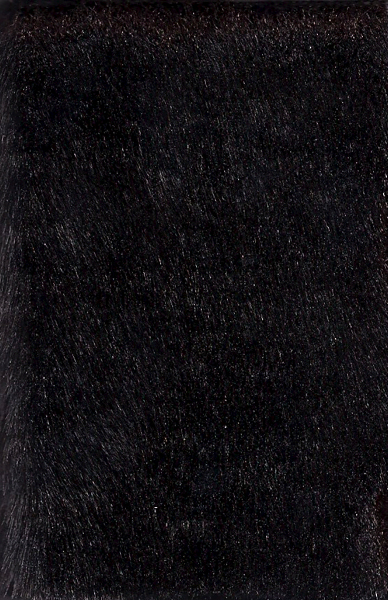 Beard Closet // Primate Pyramid
Split Cassette
Toronto, ON
From the monkey's paw of Jesse Locke:
The ninth volume in Arachnidiscs' split series pairs two Toronto free-guitar travelers in canny packaging fit for the grip of the hairiest palms. Beard Closet's contribution is the sidelong blast-off "The Erosion of Empathy," awakening from a day of radiance before the rotten sun beats down. On the backside, Primate Pyramid delivers two shorter pieces with the contemplative swirls of "Arc With No Story" and ghostly shapes emerging from the black sea of "Health Collapse." Shining, gleaming, streaming, flaxen, waxen…
De la patte de singe de Jesse Locke:
(Traduit par Andréanne Dion)
Le neuvième volume de la série d'albums splits d'Arachnidiscs rassemble deux groupes de voyageurs free-guitars de Toronto dans un emballage astucieux digne de la prise des paumes les plus poilues. La contribution de Beard Closet est l'explosion latérale « The Erosion of Empathy » qui se réveille d'une journée rayonnante avant que le soleil pourri ne brûle. Au verso, Primate Pyramid nous livre deux chansons plus courtes avec les tourbillons pensifs de « Arc With No Story » et les formes fantomatiques qui émergent de la mer noire de « Health Collapse ». Brillant, étincelant, ruisselant, blond, cireux…

Beard Closet – The Erosion of Empathy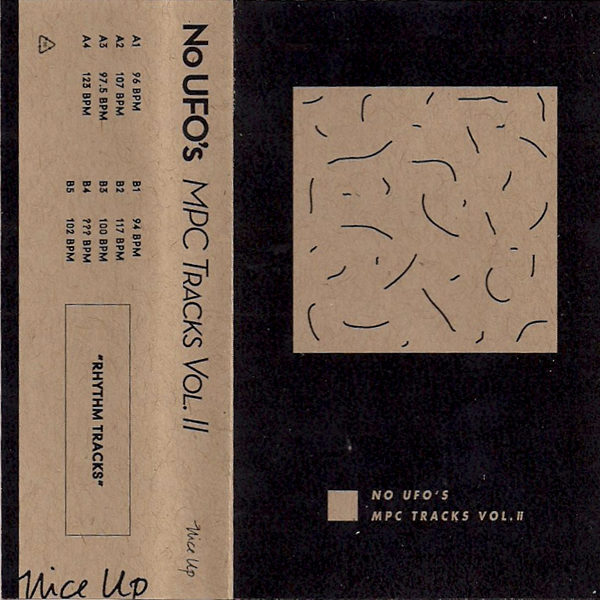 No UFO's
MPC Tracks Vol. II
Vancouver, BC
From the wave files of Jesse Locke:
The second edition of No UFO's subaquatic beat tape series travels 20,000 leagues below the Drexciyan depths. In the cavernous ambience of this hiss abyss, MPC samples morph into misted abstractions of sonar bleep pulses and shiver-wave static, lingering with the presence of the leviathan. A digital escape pod bubbles back up to the club with remixed assistance from AnD, Best Available Technology, and fellow Vancouverite Flørist.
Des dossiers sous-marins de Jesse Locke:
(Traduit par Andréanne Dion)
La deuxième édition de la série de rythmes subaquatiques de No UFO voyage vingt mille lieues sous les mers Drexciennes. Dans l'ambiance caverneuse de cet abîme bourdonnant, les échantillonnages de MPC se transforment en abstractions, embuées par les pulsations des sonars et par les vagues frissonnantes de parasites où la présence du colosse persiste. Une capsule de sauvetage numérique refait surface dans un club, remixée avec l'aide d'AnD, Best Available Technology, et de Flørist, un compatriote de Vancouver.

No UFO's – Midas On The Flat Screen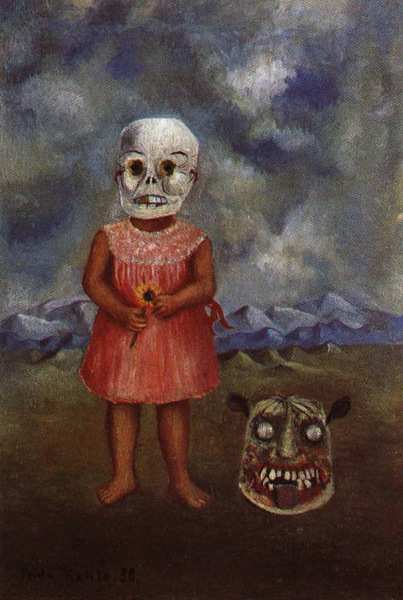 The Unquiet Grave
Whispers In The Wind
(Self Released)
Peterborough, ON
From the of drone-buzz inferno of Joshua Robinson:
Wraithlike and enveloped in the dusk-dance solemnities of macabrely attuned spirit-surges, Whispers In The Wind is the last breath of manna before a trans-dimensional freefall through the nine circles of drone-buzz psychedelia. These epitaphs of contralto contortion slowly linger along the fine divide between '80s gothcore and the post-neurosis of aphotic avant-garde ambience, suturing the two realms to the ashen trance of an extrasensory cannonade.
De l'enfer bourdonnant de Joshua Robinson:
(Traduit par Jacinthe Laplante)
Semblable à une apparition et enveloppée dans les solennités de la danse nocturne de surtensions spectrales macabrement en harmonie, Whispers In The Wind est la dernière bouffée de manne avant une chute libre transdimensionnelle à travers les neuf cercles du psychédélisme bourdonnant. Ces épitaphes de contorsion contralto s'attardent tranquillement le long de la mince séparation entre le goth core des années 1980 et la post-névrose de l'ambiance avant-gardiste de l'obscurité, unissant les deux royaumes en une transe grisâtre de canonnade extrasensorielle.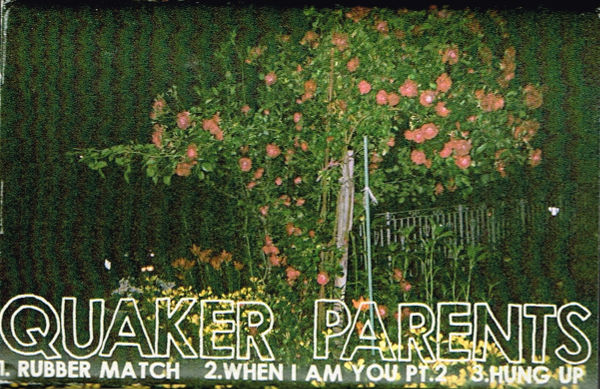 Quaker Parents
Rubber Match
Halifax, NS
From the racquetball court of Jesse Locke:
The brothers Grundy bounce back with a brimming cassingle of spidery-legged clockwork pop. Sputtering stop-start rhythms propel a parade of jitterbugged hooks set in place by the pace-setters. Hang on to these hang ups and don't miss the grip.
Du court de racquetball de Jesse Locke:
(Traduit par le revers de Louis-Félix Pellerin)
Les frères Grundy nous reviennent avec une cassingle grouillante de clockwork pop. Les rythmes stop-start propulsent une parade de crochets swingant mis en place par les pionniers du genre. Laissez ces complexes vous hanter et restez aux aguets pour une sortie éventuelle.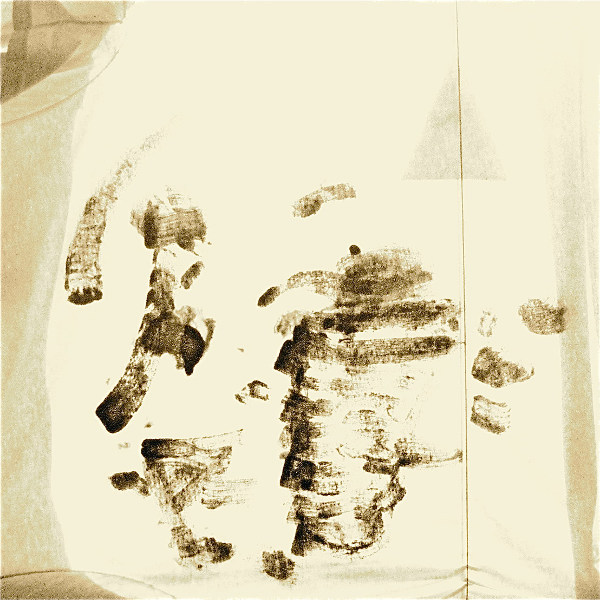 Un Blonde
Tenet
(Self Released)
Calgary, AB
From the uninterrupted view of Josh Silver:
The incantatory riffs and prayer-like vocals of Calgarian protégé Jean-Sebastien Audet are the trance-inducing culmination of his latest project, Un Blonde. Measured and raw instrumentation draws listeners into a space of the uncanny; out of the comfort zone and settled into a hypnotic groove. Capturing the ritualistic and communal qualities of live improvisation, this album is an exploration of a mysterious, undocumented space.
De la vue ininterrompue de Josh Silver:
(Traduit à un rythme hypnotique par Hugo Hyart-Dauvergne)
Les riffs incantatoires et les chants comme des prières du protégé calgarien Jean-Sebastien Audet sont les points culminants de son dernier projet inducteur de transe, Un Blonde. Une instrumentation mesurée et crue entraîne les auditeurs dans un espace étrange; hors de la zone de confort et posée dans un rythme hypnotique. Capturant les qualités ritualistes et de communion de l'improvisation en concert, cet album est une exploration d'un espace mystérieux, non documenté.

Un Blonde – Life Standing Before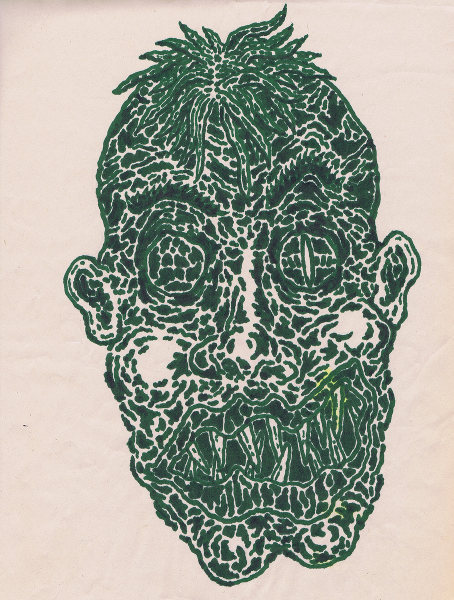 Skyn Flynt
Acoustic Demo
(Self Released)
Toronto, ON
From the brass monkey of Joel French:
Skyn Flynt is a strange and interesting band name. Skyn Flynt is a strange and interesting band. This demo showcases why in ways words never could. Recorded live off the floor in single takes, the band races through six tracks with so much raw energy, quirky creativity and spastic fun that you'll wonder where your brain went when it's over. From the false start of the charmingly dark and melodic opener "Wild Child" to the almost folk-pirate noises of "Don't Think" to the punk-as-fuck closer "Andy Roy", Skyn Flynt shows us that they're a band who will clearly do whatever the heck they want. Be sure to check them out plugged in.
Ça caille de la part de Joel French:
(Traduit en solidarité par Nadine Tkatchevskaia)
Skyn Flynt est un nom de groupe étrange et intéressant. Skyn Flynt est un groupe étrange et intéressant. Cette démo le démontre de façon que les mots ne puissent jamais le faire. Enregistré live en salle en prises uniques, le groupe parcourt six morceaux avec tellement d'énergie brute, de créativité excentrique et d'amusement convulsif que vous vous demanderez que s'est-il passé avec votre cerveau à la fin. Du faux départ du premier morceau mélodique et délicieusement sombre «Wild Child» jusqu'aux bruits presque folk-pirate de «Don't Think» et au dernier morceau punk-en-criss «Andy Roy», Skyn Flynt démontre qu'il s'agit d'un groupe qui fera manifestement ce qu'il voudra. Assurez-vous de les voir et de rester branché.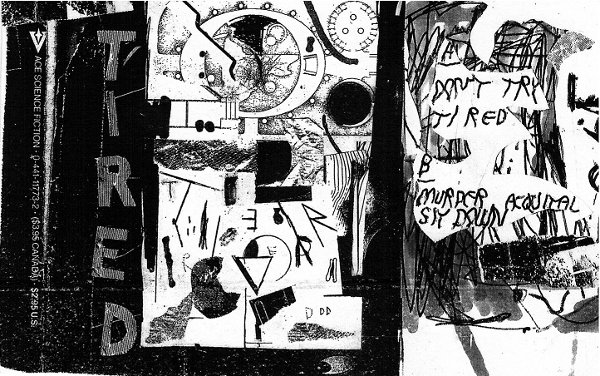 Tired
Tape II
(Self Released)
Montréal, QC
From the scattered brain of Javier Fuentes:
Just when I had stopped picking out the leftover shrapnel from Tired's initial declaration of war, a new wave arrived to fling the sludge back through my eardrums. Deirdre from Pleasence called Josh Bastien her favourite guitar player in a recent issue of Offerings and his chops are in full devastation mode here. Holes are burnt through speakers and brains haven't been this scattered since the last time you saw Drainolith. The demolition crew of Seeger and Shapiro have cleared the rubble so that Jesse can chant the team slogan to rousing applause. Burying everything in a molten field of heavy duty machinery and broken strings, this is next best thing to running through your local tar pit. Those still digging their way out from listening to too much of that THIGHS tape may have to wait a while longer. There's nowhere to go but down with these sounds.
De l'esprit dispersé de Javier Fuentes:
(Traduit par les neurones alambiqués de Jessica Grenier)
Je venais tout juste de ramasser les derniers éclats laissés par la première déclaration de guerre de Tired qu'une nouvelle vague boueuse est venue traverser mes tympans. La technique de Josh Bastien – le guitariste préféré de Deirdre de Pleasence selon un numéro récent de Offerings – est totalement dévastatrice : des trous brûlants perforent les haut-parleurs. Les cerveaux n'ont jamais été aussi dispersés depuis la dernière écoute de Drainolith. Les démolisseurs Seeger et Shapiro ont dégagé les décombres pour que Jesse puisse scander leur slogan au son d'applaudissements assourdissants, ensevelissant tout dans un fond en fusion de machineries lourdes et de cordes cassées. Après s'enfoncer dans votre fosse de bitume locale, c'est ce qu'il y a de mieux. Ceux qui cherchent toujours à remonter après avoir écouté trop de THIGHS devront attendre encore. Avec ces sons, on ne peut que descendre.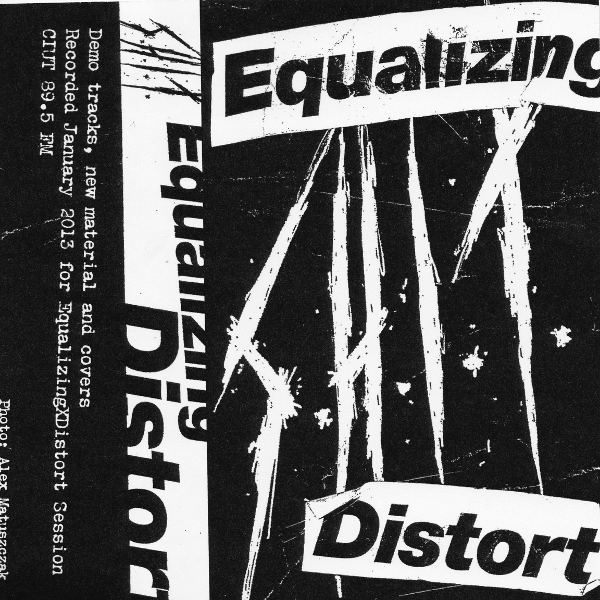 S.H.I.T.
Equalizing Distort Radio Session
(Self Released)
Toronto, ON
From the human kindness of Josh Silver:
In a trance, mechanically moving against other bodies, sweat and blood mixed with intense explosions of energy: the natural habitat of S.H.I.T. These Toronto hardcore punks inject their music with grittiness in a violent explosion of guttural screams and tube-blowing guitars against the backdrop of skin-busting drums and bone-vibrating bass. The songs gain life, with an imitation of the crowd shoving and punching in the sonic mosh pit. S.H.I.T. destroys their own genre and rebuilds it from the bottom up: harder, better, faster, gnarlier.
De la gentillesse humaine de Josh Silver:
(Traduit par la tonalité colorée de Julie Forget)
En transe, bougeant de façon mécanique contre d'autres corps, de la sueur et du sang mélangés à d'intenses explosions d'énergie : tel est l'habitat naturel de S.H.I.T.. Ces punks hardcore de Toronto injectent leur musique de solide détermination dans une explosion violente de cris gutturaux et de guitares soufflant les tubes dans un décor de batterie qui abîme la peau et de basse qui fait vibrer les os. Les chansons prennent vie avec une imitation de la foule qui pousse et qui cogne dans le mosh pit acoustique. S.H.I.T. détruit son propre genre et le reconstruit de fond en comble : plus dur, meilleur, plus rapide, plus exceptionnel.
---