Category: cassette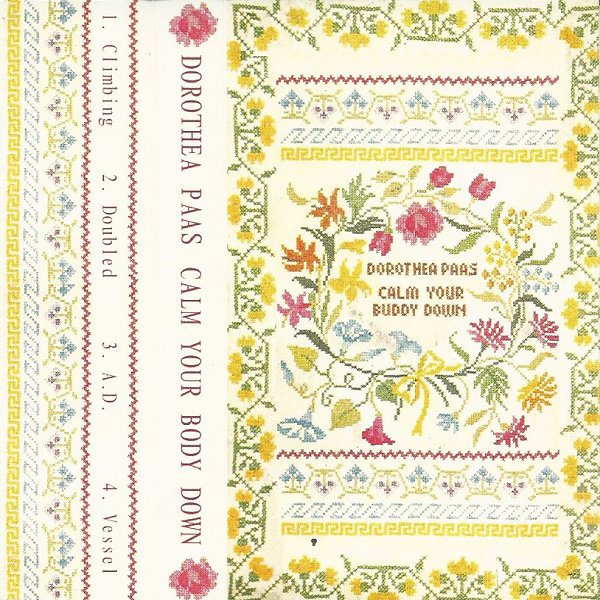 Dorothea Paas
Calm Your Buddy Down
(Self-Released)
Toronto, ON
From the pulsing skull of Adam Bradley:
Crunchy turtle Sunday mornings. Cold coffee sips and house plants swaying green in cool Spring window breeze. Swollen unsure memories pore over the night before. A small kiss, a rip in your favourite old t-shirt, accidentally smashed highball glass. Regretful rolling into wistful, the soft ache in the skull pulsing out questions. Denim and plaid clad reaper sits in a chair close by, whispering dead-leaf nostalgic elegies. Stained and heavy curtains billow while dust motes drift on yellow beams.
Sorti des pulsations du crâne d' Adam Bradley:
(De l'hémisphère gauche de Diane Beaupré)
Dimanches matins paresseux. Gorgées de café froid et plantes tirant sur le vert dans la fraîche brise printanière. Souvenirs confus de la veille. Un petit bec, un trou dans votre t-shirt préféré, un verre accidentellement cassé. Les regrets font place à la mélancolie, la douleur lancinante sous vos cheveux bat au rythme des questions. Jeans et chemise à carreaux jetés sur une chaise récitent un poème automnal. Les rideaux épais et tachés se gonflent tandis que la poussière est poussée par le vent sur les poutres jaunes.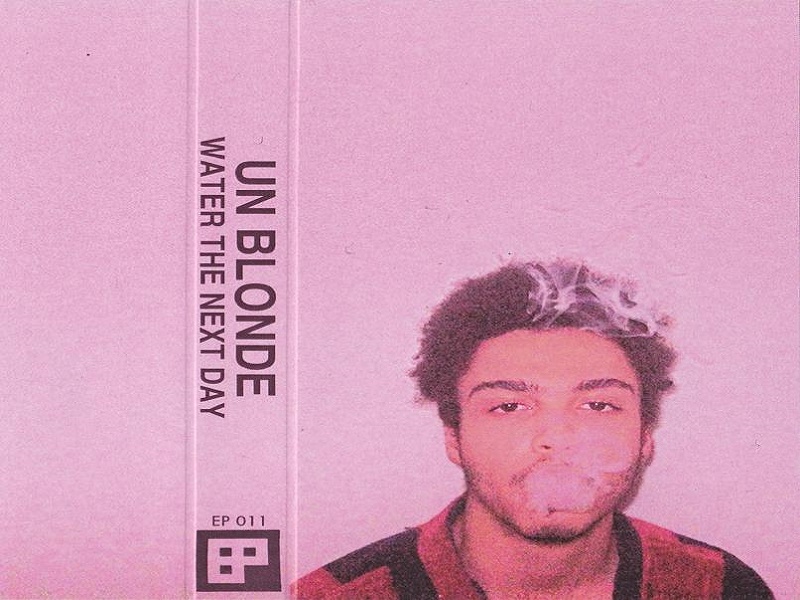 Un Blonde
Water the Next Day
Montreal, QC
From the Purple Rain of Trevor Angst:
Water the Next Day adopts the sounds of RnB-funk, neo-soul, jazz and psychedelic music to exhibit extremely encapsulating eclectic pop music. If Jean-Sebastien Audet and his work is a luscious new discovery to you, retracing the back catalog of Un Blonde might have you bewildered by the innovation. Water the Next Day sounds like Un Blonde picked up where Audet's latest Zouk Fuck left off. Where the shorter and punchy tracks entrance your evoked fields and the multitracked vocals are executed beautifully and soul-bearing. The guitar takes a back seat to make welcome to jazzy electric piano and shifting keys.
De la pluie pourpre de Trevor Angst:
(Du cumulonimbus rose de Julie Mayer)
Water the Next Day adopte les sonorités du RnB-funk, du neo-soul, du jazz et de la musique psychédélique pour exhiber une musique pop éclectique et encapsulante à l'extrême. Si Jean-Sébastien Audet et son œuvre sont pour vous une découverte inédite et attrayante, il se peut qu'en retraçant le fond de catalogue de Un Blonde, vous ayez été dérouté par son caractère innovant. Apparemment Water the Next Day de Un Blonde a repris là où le tout dernier Zouk Fuck en était resté. Les morceaux les plus courts et mordants ravissent vos potentiels évoqués et les chants enregistrés en multipiste sont joliment exécutés et transportent l'âme. La guitare s'efface pour laisser place au piano électrique jazzé et aux touches changeantes.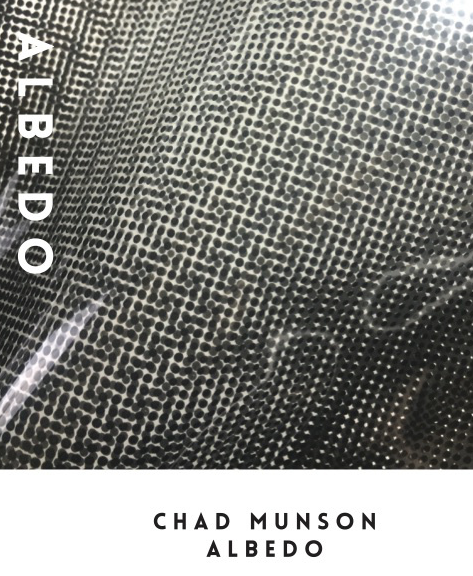 Chad Munson
Albedo
Saskatoon, SK
From the terribly homesick Joshua Robinson:
The sound of fright and might: looped calm speaking to the gleaming infinity of what draws us to the sound of our own breath against a frozen windowpane. These are the sounds of our silence creaking underfoot; servience to the seasonal might that shatters, tears, lulls, and dispels. For every atomic confluence there is an identic marriage of waveforms breathing sempiternity; subtle to-and-fros pleading unto the frozen night that there is in fact a whispered mistral as gentle as it is sprightly. Unto the wind, 'thank you'; unto the chill, 'be still'. Unto the day, both heavy and quiet, 'be as you are, forever as you can be'. Drone on.
Du terrible mal du pays Joshua Robinson:
(Traduits par les matins frissons de Marie-Pier Chevrier)
Le son de la frayeur et de la puissance : un discours calme mis en boucle sur l'infinité miroitante de ce qui nous attire dans le son de notre propre respiration contre la vitre. Ainsi résonnent les silences grinçants sous nos pieds, soumis à la puissance saisonnière qui fragmente, déchire, berce et éparpille. Chaque confluence atomique crée un identique mariage d'ondulations sempiternelles; de subtiles vas-et-viens clamant dans la nuit glacée qu'il existe un mistral, chuchoté, aussi doux que vif. Dans le vent, «merci»; sous la fraîcheur, «ne bouge plus». Avec le jour, aussi lourd que serein, «sois toi-même, aussi longtemps que tu le peux». Et bourdonne.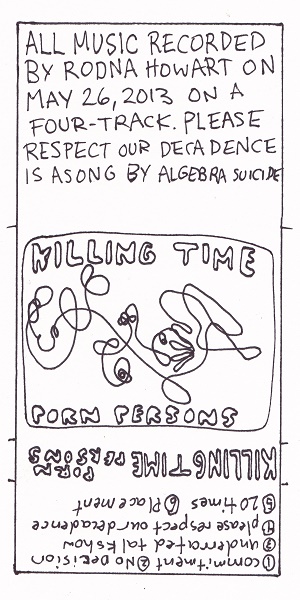 Porn Persons
Killing Time
(Self-Released)
Montreal, QC
From the shredded jeans of Katie Jensen:
Pressure builds uncomfortably behind the back of your eye. You rub the scalloped roughness of your palm against your left eyelid, but this jams the pain further into your cranial nerve. Your heart feels awfully wet.
You peel your skin back to reveal last week's grocery list. Sour milk. A scratched-up tabloid. A present for your mother. You walk to the refrigerator. There is nothing to eat except a box of baking soda. The pain in your eyes is killing you. You stick your head in the freezer and close your eyes against a bag of frozen peas.
Des jeans déchirés de Katie Jensen:
(Traduit par Jessica Grenier)
Juste derrière ton œil, une douleur inconfortable écrase ton nerf crânien. Tu frottes la rugosité écailleuse de ta paume sur ta paupière gauche, mais ça ne fait que déplacer la douleur plus loin sur le nerf. Ton cœur te semble atrocement humide.
Tu relèves la peau pour faire apparaître la liste d'épicerie de la semaine dernière, du lait suri, un journal barbouillé, un cadeau pour ta mère. Tu vas jusqu'au frigo : il n'y a rien à manger à part une boite de bicarbonate de soude. La douleur derrière tes yeux ne fait qu'empirer. Tu ouvres le congélateur puis poses tes yeux fermés sur un sac de pois congelés.
Porn Persons – Underrated Talkshow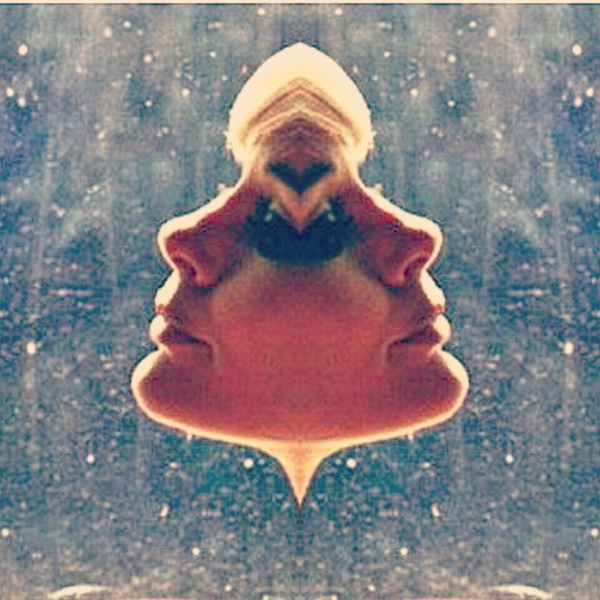 Gabriel Piller
Les Autres
St. John's, NL
From the small internal desk and chair of Stephen Guy:
There can never be enough nerve-balming drones of gentleness and light. Gabriel Piller has been churning the manual egg beater of sound into discerning ears for about a decade, but this is one of the gentlest jolts from his prolific label Knife in the Toaster—easily the longest-running and highest-quality noise factory east of the Straits (of Belle Isle). Set up a small internal desk and chair, sit down, and stare pensively out the window of your mind across the undulating vastness of these drone horizons. If you squint you can see (Weird) Canada from here.
Du petit bureau intérieur de Stephen Guy:
(De l'imprimante rebelle de Julie Mayer)
On ne peut jamais avoir assez de baume à base de drones doux et lumineux pour calmer les nerfs. À l'aide d'un batteur à œufs, Gabe Piller a baratté du son dans les oreilles perspicaces depuis près d'une décennie. Toutefois, cet album est l'un des plus doux électrochocs de son label prolifique, Knife in the Toaster, qui est de loin l'usine à sons de très haute qualité la plus persistante de l'est du détroit (de Belle Isle). Aménagez un petit bureau interne, asseyez-vous et regardez pensivement par la fenêtre de votre esprit, à travers l'immensité ondulante de ces horizons bourdonnants. Si vous plissez les yeux, vous pouvez voir (Weird) Canada d'ici.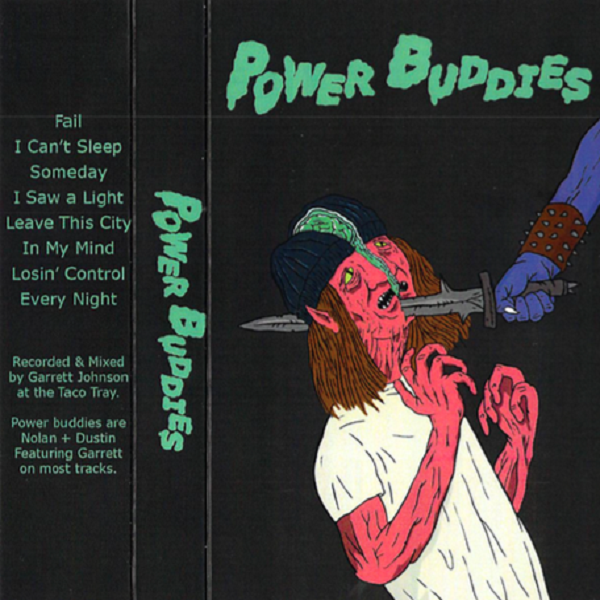 Power-Buddies
Power-Buddies
Edmonton, AB
From the refreshing jolt of Ali McReynolds:
Like pebbles between your toes, burger between teeth and peeling your legs off the sofa, Power-Buddies are a refreshing jolt in the sticky Alberta summer. The sonic clash of fuzzy guitar against an inviting rhythm will be enough motivation to get you out for river beers.
De la secousse rafraichissante d' Ali McReynolds:
Power-Buddies, c'est un peu comme avoir des cailloux entre les orteils, un burger dans la bouche ou le fait de détacher ses jambes collées sur le sofa : un choc rafraîchissant dans la moiteur de l'été albertain. Le clash sonique de la guitare fuzz associé à un rythme attrayant est une motivation suffisante pour vous faire sortir et aller boire des bières.
Power-Buddies – Leave This City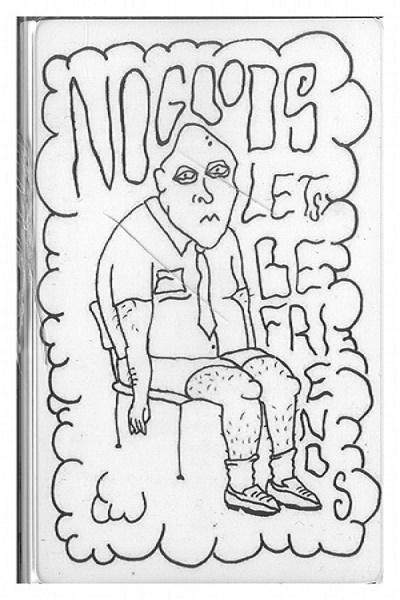 NoGoods
Let's Be Friends
Victoria, BC
From the phosphorescence of Noah Sherman:
NoGoods presents the type of psychedelic, high-intensity punk that can be enjoyed by your lonesome, or while you dance it out with dozens of tightly packed bodies in the sweaty confines of a garage somewhere – the latter being preferable. Try to not move your body when your hear the melodious, addicting guitar riffs, the pounding drums, and the familiar energy of the voice. If that sounds like a challenge, it's because it is.
De la phosphorescence de Noah Sherman:
(Traduit par le cerveau à moitié bon d' Alexis Maurice)
NoGoods présente un type de punk psychédélique à haute intensité pouvant être apprécié en solitaire, mais préférablement en dansant avec des douzaines d'autres humains coincés et suintants dans un garage quelque part. Essaie de ne pas te mettre à bouger sur ces riffs aux mélodies addictives, le tapage de la batterie et l'énergie familière du chanteur. Ça ressemble à un défi? C'en est un.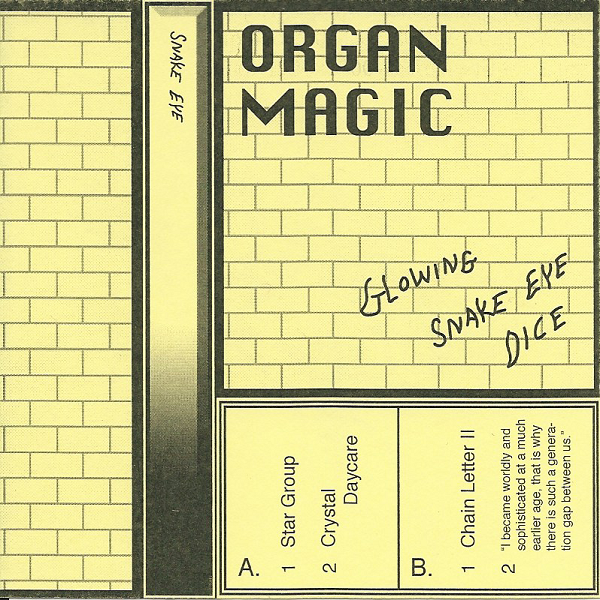 Organ Magic
Glowing Snake Eye Dice
(Self-Released)
Halifax, NS
From the solipsistic thwomping of Adam Bradley:
Stride into the house, the house built of interwoven, interlocking glowsticks, all activated and emanating a jumping energy. Fluorescence omnipresent save for the black of the hollow dancehall far ahead, flashing, heaving, thwomping. A mist of sweat travels through the maniac strobe and envelops like a druggy hug. Floor is condensation slick and rubbery like a dead balloon that's been sucked on. Ceiling is disco tiles, pulsing spastic morse. The atmosphere is dovetailed with a solipsistic confidence and the horn of plenty promises a bubbling bounty of vice.
Du *thwompage* solipsiste d' Adam Bradley:
(Traduit par l'optique épileptique de Julie Mayer)
Entrez dans la maison, la maison faite de bâtons lumineux entrelacés et interconnectés, tous activés et desquels émane une énergie bondissante. Une fluorescence omniprésente vous garde de la noirceur du dancehall creux qui clignote, se soulève et thwompe loin devant. Une brume de sueur voyage à travers la lumière stroboscopique maniaque et vous enveloppe comme un câlin de junkie. Le sol, rendu glissant par la condensation, est aussi caoutchouteux qu'un ballon dégonflé dont on a aspiré l'air. Le plafond aux allures de boule disco pulse du morse spasmodique. Une assurance solipsiste se joint à l'ambiance et la corne d'abondance promet une prime pétillante de vice.
Organ Magic – I became worldly and sophisticated at a much earlier age, that is why there is such a generation gap between us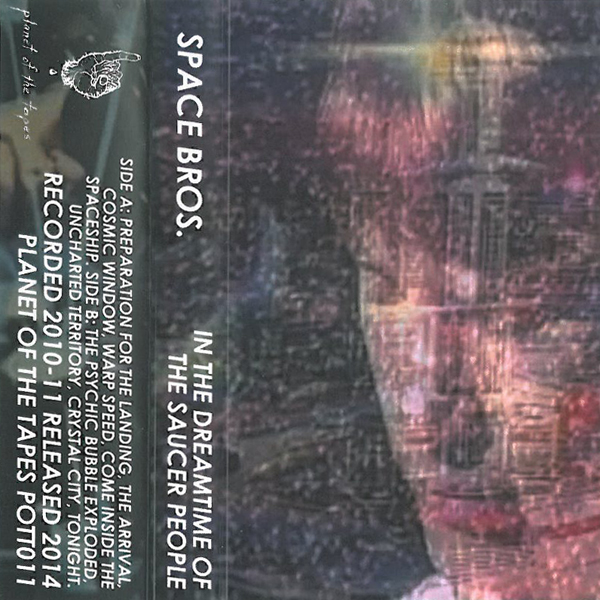 Space Bros.
In The Dreamtime Of The Saucer People
Vancouver, BC
From the Quasar of Trevor Angst:
Space Bros. made a cosmic wormhole. You're chewed up, you're spit out, you don't know where the hell it took you but it's busy with people and activity. You're entering into a new world. ''IDSP'' relays the observations of an outsider's wander through an unfamiliar city in perpetual night. Set in the not-so-distant future, the city is dynamic, it's fast paced and you are the outsider. The detuned and vibrating synthesizers make the dreary night hours of this big and futuristic city sound thriving. The afterhours are alive; you can hear the dissonant vocal samples. They sound like muffled intergalactic discotheque muzak that leaked from the venues' walls and onto the streets. Beneath you there's an underpass of swooshing polyphonic sounds of light bikes and hover crafts. The city is moving fast and drains its power crystals night and day. The result is making everything hum like an old GE refrigerator. Even the atmosphere sounds high voltage.
Du Qasar de Trevor Angst:
(Traduit dans le temps du rêve par Hugo Hyart-Dauvergne)
Space Bros. ont fait un trou de ver cosmique. Tu es mâché, tu es recraché, tu ne sais pas où diable cela t'a mené, mais ça grouille de monde et d'activités. Tu entres dans un nouveau monde. « IDSP » relaye les observations d'un être extérieur lors d'une déambulation à travers une ville pas familière au cœur d'une nuit surréelle. Se déroulant dans le futur pas si lointain, la ville est dynamique. Elle va vite et tu es l'être extérieur. Les synthétiseurs désaccordés et vibrant transforment le son des longues heures nocturnes de cette grande ville futuriste en excitantes floraisons. Les heures supplémentaires sont vivantes ; tu peux en entendre les échantillons de voix dissonantes. Elles sonnent comme une muzak de discothèque intergalactique étouffée qui aurait fuité depuis les murs des salles vers la ville. Au-dessous, il y a un passage de sons polyphoniques soufflant provenant de lumières de motos et d'aéroglisseurs. La ville bouge rapidement et aspire ses cristaux de pouvoir nuit et jour. Le résultat est que tout hum comme un vieux réfrigérateur General Electrics. Même l'atmosphère a l'air sous haut voltage à l'oreille.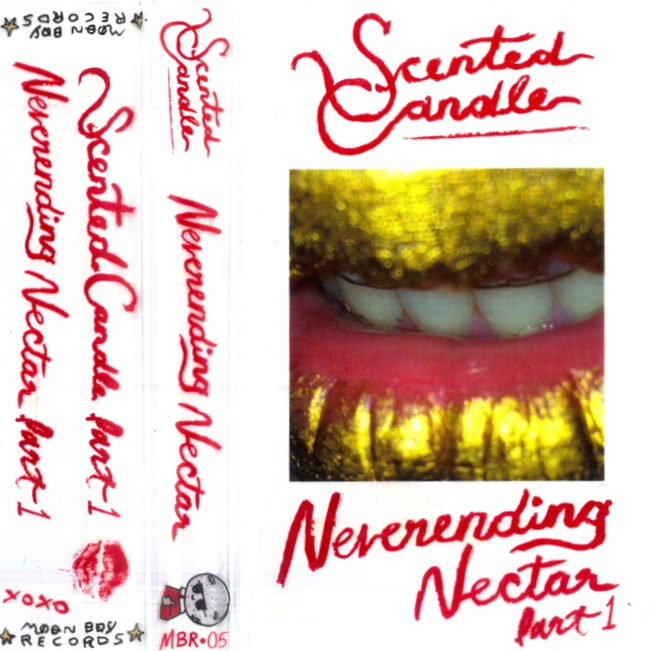 Scented Candle
Neverending Nectar // Part 1
Montreal, Québec
From the red-wine-stained lips of Talia Jacob:
Scented Candle pours out silky synth as he mutedly wails over sumptuous soul-pop pulses. On Neverending Nectar // Part 1 he draws you a warm bath of seductive cyberspace-groove and invites you to sink into soapy synth waves. These tracks smoothly melt around you, wash over you with a smattering of soft velvet smooches. As the last drops of music are sucked out of the cassette tape, you're left tingling all over
Des lèvres tachées de vin rouge de Talia Jacob:
(Traduit par les accrocs philharmoniques de Marie-Pier Chevrier)
Un synthé soyeux se déverse de Scented Candles alors qu'il hurle discrètement sur un fond de somptueuses impulsions soul-pop. Sur Neverending Nectar//Part 1, il vous fait couler un bain chaud rempli d'un groove cyberspatial envoûtant et vous invite à plonger sous les vagues savonneuses de synthé. Les pistes fondent doucement autour de vous, vous submergent sous des bribes de doux bisous de velours. Après avoir aspiré de la cassette les dernières gouttes de musique, vous ne serez que frissons.
Scented Candle – Scented Candle Pt. 1
---