Category: cassette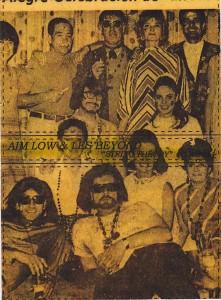 Aim Low & Les Beyond
String Theory
Montréal, QC
From the tiny, tiny particles of Johnnie Regalado:
This collaboration is an innerspace alarm clock that will wake the tiniest specks of your being. Drone-stars team up with a precision picker to create the soundtrack to an eternity in a jettisonned escape pod. These orchestral bellows will vibrate your brain, making you explicitly aware of the existence of your eardrums.
Des minuscules, infimes particules de Johnnie Regalado:
(Traduit par l'orbite de Catherine Gaucher)
Cette collaboration est telle une alarme programmée pour réveiller les particules les plus infimes de votre espace intérieur. Ces vedettes du drone font équipe avec un choix précis afin de créer la bande sonore d'une éternité passée à la dérive, dans un nacelle de sauvetage. Ces souffles orchestraux feront vibrer votre cerveau, vous mettant explicitement au courant de l'existence de vos tympans.

Aim Low & Les Beyond – String Theory (excerpt)

Aim Low & Les Beyond – Guitar Trio (Rhys Chatham cover) (excerpt)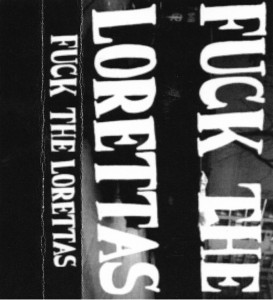 The Lorettas
Fuck The Lorettas
(Self Released)
Winnipeg, MB // Toronto, ON
From the clutch pencil of Josh Silver:
Grimy guitars drone to distorted drums while vocals squeal against overloaded mic circuits; this is unrestricted expression born in the bedroom studio of Erica Young. Her first release as the Lorettas embodies the DIY punk ethos of spontaneous creation, using only a four-track, her hands, feet, mouth and attitude. The product of this endeavour is a hard-hitting album that speaks for itself. Ready your ears, turn it up to 11, and smash the system.
Du pousse-mine de Josh Silver:
(Traduit par Jan Karza)
Des guitares sales planent au-dessus des batteries ronflées pendant que les voix crissent à travers des circuits de micros surchargés : ceci est une expression libre qui est née dans le studio d'Erica Young. Son premier disque en tant que The Lorettas évoque l'esprit DIY punk de la création spontanée, utilisant juste un enregistreur 4 pistes, ses mains, ses pieds, sa bouche et son attitude. Le produit de cet effort est un album percutant qui parle pour lui-même. Prépare tes oreilles, monte le son jusqu'à 11, et fracasse le système.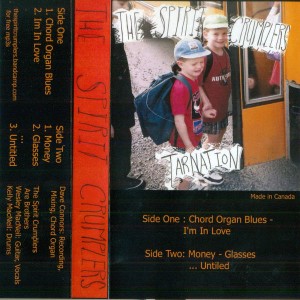 The Spirit Crumplers
Tarnation
(Self Released)
Halifax, NS
From the avenged sevenfolds of Farah Barakat:
The Spirit Crumplers define themselves as two vegan brothers playing garage-pop. And that they are, yet there's much more within their premiere release, Tarnation. There's a lot of spirit within their songs, and a strong sense that the brothers MacNeil poured their hearts and souls into this project. They even include their own zine with each cassette.
A certain sense of humbleness comes from the band's choice to open with a cover of the Daniel Johnston song ''Chord Organ Blues''. The MacNeils offer a beautiful rendition that does the original justice while simultaneously setting the tone for their own lo-fi sound. A comparison can be drawn between the higher pitched vocals of Johnston and singer-guitarist Wesley MacNeil (plus a little bit of John K. Samson of The Weakerthans). The Spirit Crumplers stick to an organic mix of guitar, drums and vocals, giving them a lot of room to toy with their sonic style. Tarnation tugs at your heartstrings, if not from the adorable lyrics, then maybe from the teeny guitar solo at the end of ''Glasses''.
De la revanche de Farah Barakat:
(Traduit par la rédemption de Catherine Gaucher)
The Spirit Crumplers se définissent comme deux frères végétaliens qui jouent du garage pop. Et ils le sont. Toutefois, il y a davantage de contenu dans Tarnation, leur première parution. Il y a beaucoup d'esprit au sein de leurs chansons et il nous reste un fort sentiment que les frères MacNeil ont versé corps et âme dans ce projet. Ils accompagnent même chaque cassette de leur propre zine.
On sent une certaine humilité dans leur choix d'une reprise de « Chord Organ Blues » de Daniel Johnston comme pièce d'ouverture. Les MacNeil offrent une interprétation magnifique qui rend justice à la version originale, tout en gardant le ton de leur son lo-fi. Une comparaison peut être faite entre le chant aigu de Johnston et celui du chanteur-guitariste Wesley MacNeil (avec aussi un peu de John K. Samson de The Weakerthans). The Spirit Crumplers construisent un mélange organique de guitare, batterie et chant, laissant beaucoup d'espace pour explorer leur style sonique. Tarnation atteindra les cordes sensibles de votre coeur. Si ce n'est pas grâce aux adorables paroles, alors peut-être que ce sera grâce au petit solo de guitare clôturant « Glasses ».

The Spirit Crumplers – Glasses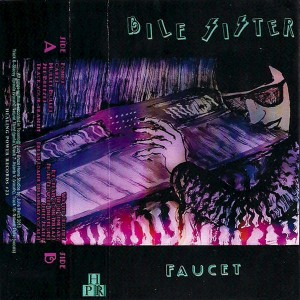 Bile Sister
Faucet
Toronto, ON
From the see breeze of Jesse Locke:
Julie Reich a.k.a. Bile Sister a.k.a. DJ Garbage Body is the shades-clad cortex of a circuit-fried storm. Jacked in to the mutated matrix of dancefloor declassification, she channels her inner Chandra with the puckered pluck of half machine lip moves. These Casiotone clone killers are now in the process of full band re-make/re-model, so keep an eye on the blockspace and seize the steeze.
De la brise de vue de Jesse Locke:
(Traduit par l'œil de la tempête de Virginie Langlois)
Julie Reich alias Bile Sister ou encore DJ Garbage Body est l'œil d'une tempête en furie qui se serait dissimulé derrière des lunettes de soleil. Connectée à la matrice mutante d'une musique dansante sans genre ni forme clairement défini, elle canalise son Chandra interne grâce à un mouvement des lèvres nerveux digne de l'album half machine lip moves. Ces adeptes du Casiotone sont passés d'un projet solo à un groupe proprement dit, alors gardez un œil sur ce qui se passe dehors et laissez-vous porter par le courant.
Veneers
Light Movement
(Self Released)
Toronto, ON
From the light motif of Javier Fuentes:
Cut from the jagged edges of the rock and now based in Toronto, Veneers travel even further west with their latest batch of songs. High wire guitars walk through darkened canyons, following each slip in the terrain and letting themselves tumble down when needed. A voice talks to the vacancy in the ravine, growling out an unrequited monologue. Sleepwalking footsteps find balance in their off-kilter cadence, booming into the distance with the softest of movements. Distant stars illuminate a knotted trail that cuts through the wilderness and out towards the light. The sudden exposure does nothing to deter the power of these jams. Don't miss this grip.
Du doux motif de Javier Fuentes:
(Traduit par les ballons roses de Joannie Pharand)
Découpé des pointes acérées du rocher et désormais basé à Toronto, le groupe Veneers se déplace encore un peu plus vers l'ouest avec ce nouveau lot de chansons. Les guitares survoltées trouvent leur chemin à travers des canyons obscurcis, en suivant chaque cavité du relief et en y trébuchant au besoin. Une voix s'adresse à cette zone dans le ravin, grognant un monologue non partagé. Les pas d'un somnambule trouvent leur équilibre dans un rythme insensé qui retentit au loin en un mouvement des plus doux. Des étoiles lointaines illuminent une piste nouée qui coupe à travers les régions sauvages pour ressortir vers la lumière. Cette soudaine révélation n'altère en rien les pouvoirs de ces jam sessions. Ne manquez pas cette prise!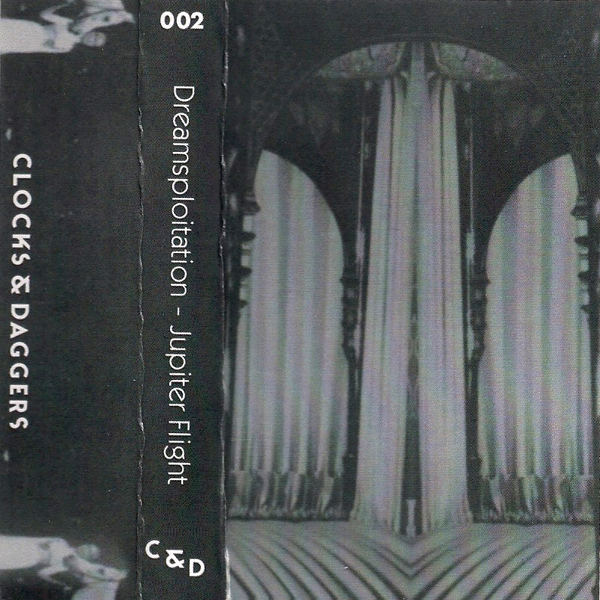 Dreamsploitation // You'll Never Get To Heaven
Jupiter Flight // Adorn
London, ON
From the red strings of Jesse Locke:
The instrumental engine of YNGTH streamed under most radars with Jupiter Flight in 2012. For those who missed this solo voyage from Chuck Blazevic, the crackled atmospherics, battering beatscapes and electronic chimes remain every bit as enveloping as his work with vocalist Alice Hansen. If stray copies still float in the void, reach out and grip.
The star-crossed pair return in spring 2014 with the launch of a label and six new songs of slow-motion breath-stop. Adorn drifts down dreamier rivers with lush, string-draped synth-pop lingering between moments of picturesque pause and Badalamenti lament. The duo adds ghostly and gorgeous ornamentation to any rooms they inhabit.
Des cordes rouges de Jesse Locke:
(Traduit dans un moment de répit par Nicolas Coutlée)
L'engin instrumental de YNGTH est passé sous la plupart des radars en 2012 avec la parution de Jupiter Flight. Pour ceux et celles qui auraient manqué le voyage solo de Chuck Blazevic, ses atmosphères qui crépitent, ses paysages de pulsations et ses carillons électroniques vous envelopperont tout autant que lorsqu'il est accompagné par la chanteuse Alice Hansen. Si quelques copies errantes flottent encore dans le vide, assurez-vous de mettre la main dessus.
Au printemps 2014, le tandem séparé par les étoiles nous revient avec le lancement d'une étiquette et de six nouvelles chansons langoureuses à couper le souffle. Luxuriante pop synthétique drapée de cordes, Adorn s'écoule le long des rivières oniriques, tanguant entre moments de répit pittoresque et lamentations à la Badalamenti. Peu importe la chambre qu'il occupe, le duo la pare de sublimes ornements spectraux.

Dreamsploitation – Jupiter Flight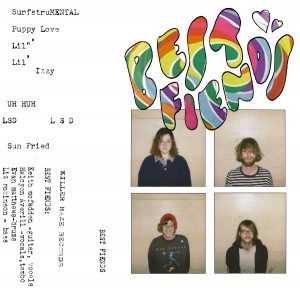 Best Fiends
Best Fiends
Halifax, NS
From the Micron 05 of Josh Silver:
Lo-fi Haligonians Best Fiends are straight from the garage, one located squarely on a beach. The masterful blending of surf riffs with rugged instrumentation creates a distinctively East Coast sound, embodying the laid back but resilient Maritime attitude. This six-song cassette carries an energy that is second to none, leaving the listener grooving in an ecstatic frenzy.
Du Micron 05 de Josh Silver:
(Traduit par la boîte de crayons feutres de Catherine Gaucher)
Les Haligoniens lo-fi Best Fiends sortent tout droit du garage, un garage situé carrément sur une plage. Le mélange magistral de riffs surf combinés à une instrumentation robuste créent un son distinctement Côte Est incarnant l'attitude relax mais résistante des Maritimes. Cette cassette de six chansons transporte une énergie surpassant tout et laissant l'auditeur plongé dans une frénésie extatique.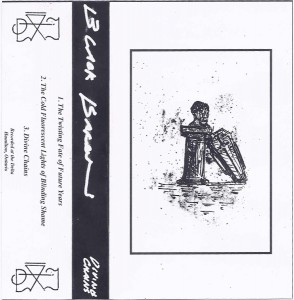 Black Baron
Divine Chains
Hamilton, ON
From the cold fluorescent light of Chizz Mbamalu:
From the second the drumsticks count the time in, you're swept into the underworld of Black Baron's Divine Chains. This tape is full of gloomy, droning vocals, atmospheric swells and thick, chunky drums that romanticize loaded subjects such as self-loathing and self-awareness. Each catchy, guitar-slathered song bleeds seamlessly into the other, as we are invited into their unspeakable journal entries. "The Cold Fluorescent Lights of Blinding Shame" combines speedy picking, barely-there bass and urgent drumming, giving a summery feel to the foreboding lyrics. The title track employs that same hornet-esque sound but slows it down, giving more priority to the dreamy guitars, passionate drumming and sombre lyrics of being trapped and trying to escape from pain.
This four-song tape ends as fast as it begins, which is incredibly necessary. Its purpose is to take you through the emotions you push deep down inside you, the ones you ignore. Black Baron reminds you that it's necessary to bring out your demons in order to understand yourself.
De la froide lumière fluo de Chizz Mbamalu:
(Traduit par Marcin Lasinski)
Dès le moment où les baguettes commencent battre la mesure, on est emporté vers le monde souterrain de Divine Chains par Black Baron. Cette cassette est pleine de chants sombres et ronronnants, de vagues d'ambiance et d'une batterie aux sonorités épaisses, idéalisant des sujets chargés comme la haine de soi et la conscience de soi. Chaque chanson entraînante est enduite de guitares qui se dissolvent les unes dans les autres pendant que nous sommes invités à consulter des extraits épouvantables de leurs journaux intimes. « The Cold Fluorescent Lights of Blinding Shame » est un mélange de picking rapide, de basse à peine audible et de batterie urgente, donnant un air estival aux paroles inquiétantes. La chanson-titre utilise le même son frelonesque mais le ralentit, donnant plus de priorité aux guitares chimériques, à la batterie passionnée et aux paroles sombres qui décrivent la sensation d'être pris au piège en tentant d'échapper à la souffrance.
Cette cassette de quatre chansons se termine aussi vite qu'elle a commencé, ce qui est absolument nécessaire. Elle a pour but de te guider à travers tes émotions refoulées, celles que tu ignores. Black Baron te rappelle que c'est nécessaire de faire ressortir tes démons afin de te connaître toi-même.

Black Baron – The Cold Fluorescent Light Of Blinding Shame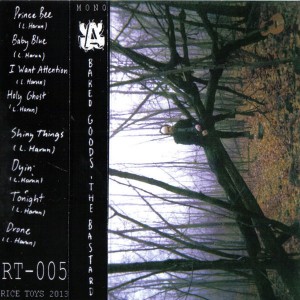 Baked Goods
The Bastard
(Rice Toys)
Montréal, QC
From the shiny things of Gabe Girard:
Getting something of substance across with limited materials seems to be a hallmark of Baked Goods. Their latest release is a stripped-down, bluesy affair with the ambience, loops and effects of previous releases taking a back seat to more structured, gritty rock and roll reverie. The Bastard tells tales of wear and tear, bringing listeners into a world where love is not what it seems. Pop sensibilities left in the street for passers-by, only to be found again — weathered but still working — are all over this tape.
Des objets brillants de Gabe Girard:
(Traduit par la mitaine perdue de Benoit Arcand)
Créer quelque chose de substantifique à partir de peu de matière semble être la marque de commerce de Baked Goods. Leur dernier album est une aventure bluesy dépouillée qui fait passer l'ambiance, les loops et autres effets conjurés sur les précédents efforts sur la banquette arrière à la faveur d'une rêverie rock n' roll rauque plus structurée. The Bastard raconte l'usure et la fatigue, invite l'auditeur dans un monde où l'amour est faux-semblant. Cette cassette est traversée d'une sensibilité pop laissée à l'abandon en pleine rue, érodée mais toujours agissante, attendant d'être retrouvée par un passant.
Beard Closet
Latin
(Self Released)
Toronto, ON
From the hypnagogic succor of Doreen Girard:
The first funereal tone of this two-song cassette by Toronto's Beard Closet implies that you are about to enter a restful space, but it's an unsettled calm. Vocal disharmony and warbling guitar drift helplessly into a chasm, nudged along by the indifferent repeating drone. There's a drowsy hesitance to the guitar arrangements, broken up by fuzzed-out passages and incidental noise, but there's succor here, too. The bells chime, softening your hypnagogic stupor. This is new age music for the eternally hopeless.
De l'aide hypnagogique de Doreen Girard:
(Traduit par la dissonance de Julie Forget)
Avec la première tonalité lugubre de cette cassette de deux chansons par le groupe torontois Beard Closet, vous vous apprêtez à entrer dans un espace paisible, mais c'est un calme perturbant. Une dissonance vocale et un chant de guitare dérivent désespérément dans un gouffre, poussés par l'indifférent bourdonnement répété. On remarque une certaine hésitation somnolente dans les arrangements de guitares, brisée par des passages brouillés et des interférences noise, mais il y a aussi quelque chose d'apaisant. Les cloches sonnent, adoucissant votre stupeur hypnagogique. De la musique nouvel âge pour les éternels désespérés.
---