Category: cassette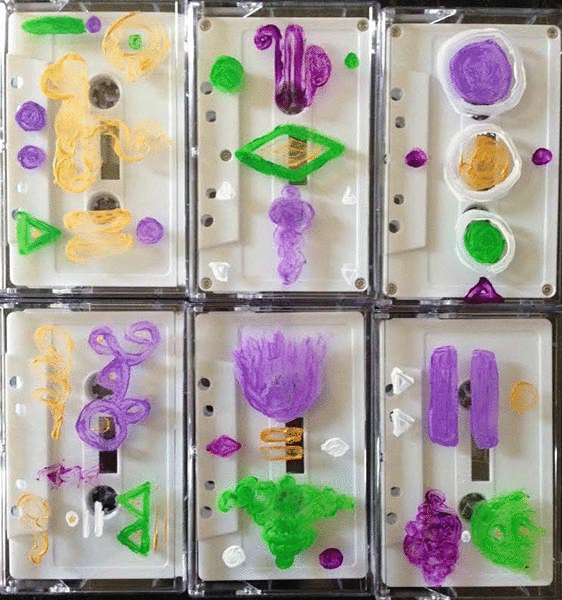 Matthew 'Doc' Dunn
Dance Me to the Light // Inner World Blues // The Floating Realm
(Cosmic Range // Medusa Editions)
Toronto, ON
From the expanding head of Kevin Hainey:
A trilogy of new tapes from the ever-present psychedelic fingers of Matthew "Doc" Dunn comes on strong in follow-up to the All Is LP. Released by the kind courtesy of his own Cosmic Range and soul brother #1 Ayal Senior's Medusa Editions, these six suite-like sides flow through the expanding channels of Dunn's endless rivers of psychedelic altruism, freaked out electronic primitivism, soulful lonesome folk, and spirit jazz grooving. A multi-instrumentalist at the top of his game, this trilogy expands on the promise his All Is and Tecumseh LPs demonstrated, and presents an elaborate auditory glimpse into the mindful capabilities of this alarmingly talented and worthy sonic journeyman. May these tapes fuel Dunn's growing legend as a radical at the forefront of Canada's underground like a gallon of gasoline on a campfire.
De la tête en expansion de Kevin Hainey:
(Traduit par Jessica Grenier)
Les doigts psychédéliques de l'éternel Matthew « Doc » Dunn reviennent en force avec une trilogie de cassettes faisant suite à All Is LP. Ces six côté continus, une gracieuseté de Cosmic Range et de son âme frère #1, Medusa Editions de Ayal Senior, suivent les canaux grandissant des rivières infinies de Dunn, passant par un altruisme psychédélique, un primitivisme électronique complètement fou, un folk aérien solitaire et des rythmes spirituels de jazz. Venant d'un multi-instrumentaliste qui n'a plus rien à apprendre, cette trilogie élargit la promesse manifestée dans ses All Is et Tecumseh et laisse apercevoir une parcelle détaillée des capacités conscientes de ce compagnon acoustique dangereusement talentueux. Que ces cassettes alimentent la légende grandissante de Dunn en tant qu'avant-gardiste radical de l'underground canadien, tels des galons de gaz dans un feu de camp.
Matthew 'Doc' Dunn – Dance Me To The Light [side 1]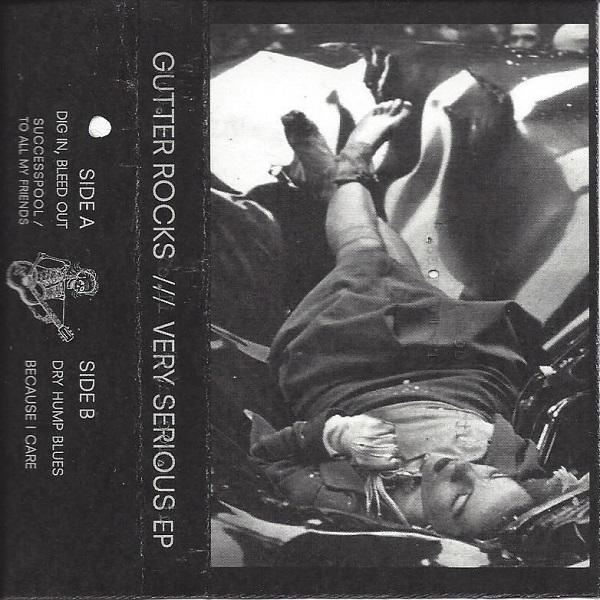 The Gutter Rocks
Very Serious
Ottawa, ON
The Gutter Rocks – Dig In Bleed Out
The Gutter Rocks – Successpool
Successpool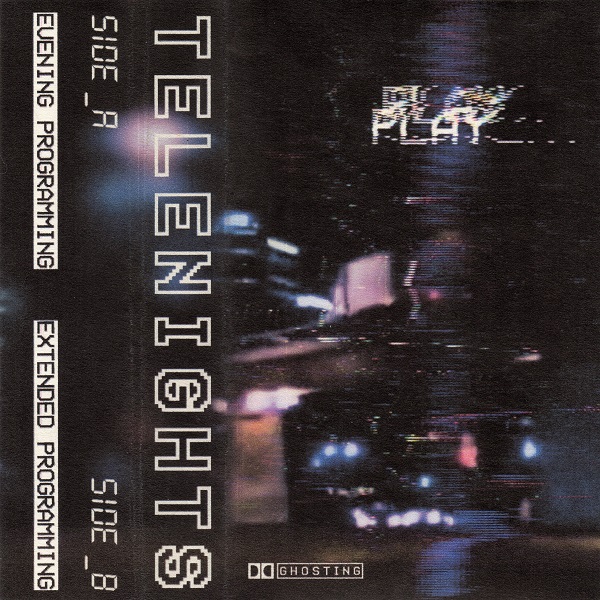 g h o s t i n g
Telenights
Vancouver, BC
From the cheap sales pitch of Mark Gillis:
Memories of late night static transmissions from the television invade your conscious. Your eyes begin to feel heavy, the invasive mantras of cheap salespeople meld with your somnolent brain as reality is engulfed by reverie. A sliver of sunlight cascades over the dim glow of warped reality as the incommodious voices and plastic melodies pry at your consciousness, digging their way to the deepest levels possible. Eventually you rouse from this hypnotic state, the voices stop, there is no static, all of your memories fade into black.
Du baratin publicitaire de Mark Gillis:
(Traduit par l'encyclopédie en 52 tomes de Jessica Grenier)
Un souvenir nocturne de statique provenant de la télévision envahie ton esprit. Tu sens tes paupières s'alourdir, les mantras invasifs de vendeurs à rabais façonnent ton cerveau somnolent alors que la rêverie engloutit la réalité. Un mince rayon de soleil se répand sur la lueur de la réalité tordue à mesure que les voix incommodantes et les mélodies artificielles s'immiscent dans ta conscience, creusant jusqu'à atteindre les niveaux les plus profonds. À un moment tu sors de cet état hypnotique : les voix cessent, il n'y plus de statique, tous tes souvenirs s'évanouissent.
g h o s t i n g – Brought To You By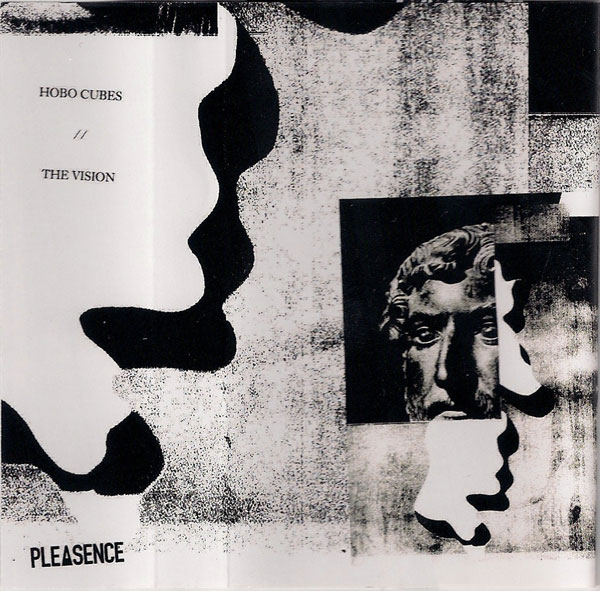 Hobo Cubes
The Vision
Montreal, QC
From the home drone of Josh Silver:
The standard puzzle is made up of a regularized series of pieces. Each piece severed from its greater system takes on a life of its own: a sail fragment becomes a patch of cloudy sky or a ship's mast is mistaken for a window frame. The undulating drones of The Vision construct an assemblage of puzzle pieces, slicing up jazz solos and excess takes to be recombined and morphed. Here a saxophone becomes a sweeping wave of sound and a drum section becomes a mountainous accent breaking through the formal drone-zone patina.
Du drone personnel de Josh Silver:
(Traduit par Jessica Grenier)
Un casse-tête se compose généralement d'une série de pièces de base. Chaque pièce séparée de l'ensemble devient une forme de vie autonome : un fragment de voile peut devenir une parcelle d'un ciel nuageux, ou le mat d'un navire être pris pour le cadre d'une fenêtre. Le drone ondulant de The Vision assemble les pièces d'un casse-tête, sectionnant des solos de jazz pour en refondre/métamorphoser les excès. Ici, un saxophone devient une vague de son déferlante, une batterie, un accent colossal défonçant la surface de la drone-zone.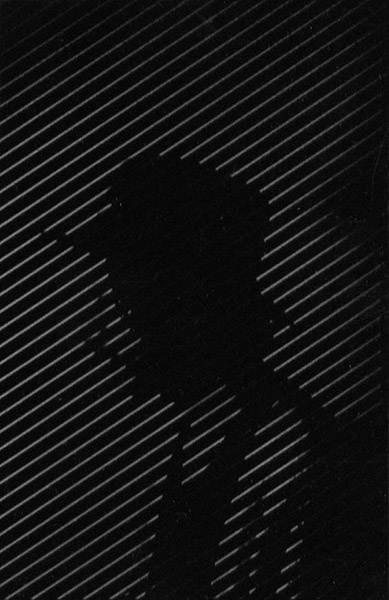 Hobo Cubes
Untitled C.90
Montréal, QC
From the formless perception of Jonathan Park:
Our headmaster dwells in a cement palace called Sewer Club. Bugs crack through our toes as we are sent to the meeting point. Dripping pipes scratch our fetish of morbidity and churn our soul. The sullen beats of our rat ancestors become more audible and weave in and out of our sensory perception. Six-foot tall cockroaches are dancing in the middle of the sewer to the bass drum's pulse. Let us be formless in this dark, scum-covered cave once the sacrifice has commenced.
De la perception informe de Jonathan Park:
(Traduit par les antennes de Jessica Grenier)
Notre chef habite un palace de ciment appelé le Sewer Club. Nos orteils écrasent des bestioles en cheminant vers le point de rencontre. Les tuyaux dégoulinants chatouillent nos fétiches morbides et barattent notre âme. Les bêtes solennelles, nos ancêtres rats, se font entendre de plus en plus, ondulant à la limite de notre perception sensorielle. Des coquerelles de six pieds dansent au milieu des égouts, suivant les pulsations de la grosse caisse. Laissons-nous devenir informes, dès que le sacrifice commence, dans cette cave crasseuse et obscure.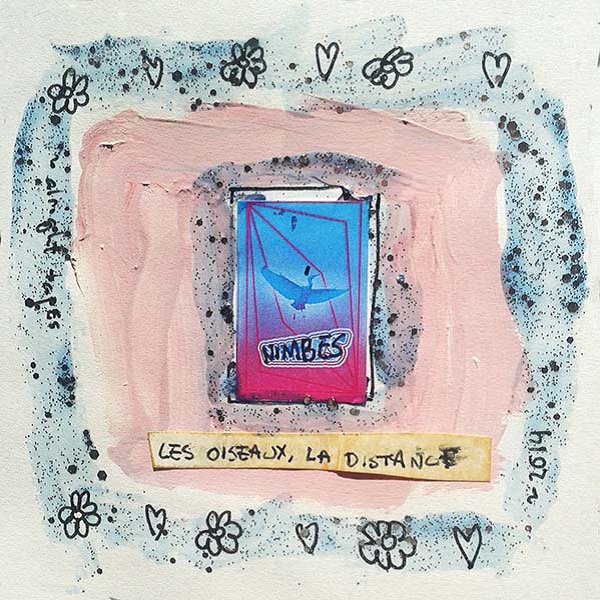 Nimbes
Les Oiseaux, La Distance
Québec, QC
From the sprawling paralysis of Aaron Levin:
Les Oiseaux, La Distance is a sprawling guitar-pop floater from the shoegaze vortex of Québec. Nimbes' reverbed-soaked bellowings emerge from the dissonant moments before choice, abandonment, and paralysis. Les Oiseaux, La Distance's magnetic tape will render all hopeless, buried below warm blankets of minor-key deliverance.
Depuis la paralysie tentaculaire d'Aaron Levin:
(Des nuages hésitants de Flora Hammond)
Les Oiseaux, La Distance est un corps flottant tentaculaire en provenance du vortex shoegaze de Québec. Les échos des mugissements humides créés par Nimbes émergent de l'instant précédant le choix, l'abandon et la paralysie. Les Oiseaux, La Distance annihilera tous vos espoirs. Votre seul désir, enfin, sera de vous enfouir sous de chaudes couvertures aux tonalités mineures de délivrance.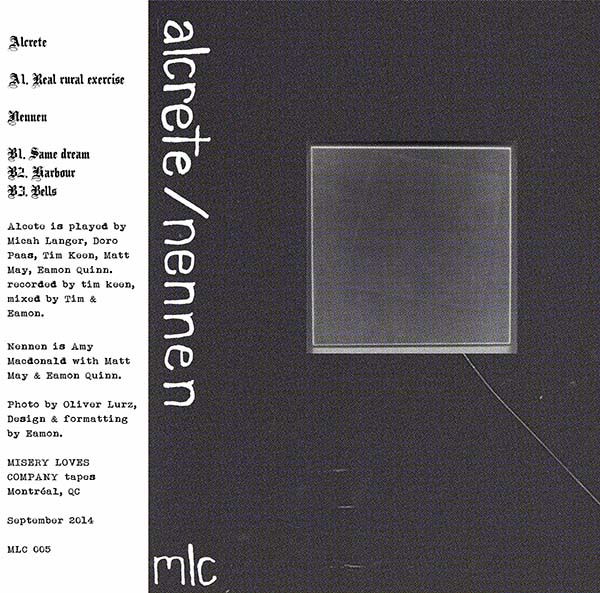 Alcrete // Nennen
Split
Montréal, QC
From the purified mind of Mailis Rodrigues:
Is something like pure noise even possible? Maybe this was the question Alcrete had on his mind when he created this quiet humming of combined electronics and excruciating vocals. An exorcism of purity where guitars slowly caress your ears and the voice, this screaming deep voice, elevates your soul. Then, when you're in pure ecstasy, Nennen pushes even further, dazzling you with their mellow, delicate voice and a crying guitar. It's like going to heaven and staying there. Music feeds the soul, noise embraces it.
De l'esprit purifié de Mailis Rodrigues:
(Traduit par Jessica Grenier)
Est-ce que le bruit pur est quelque chose qui peut exister? Peut-être est-ce là la question qui hantait l'esprit de Alcrete quand il a créé le calme bourdonnement de cette combinaison d'électronique et de voix insupportable. C'est un exorcisme de pureté où les guitares caressent lentement vos oreilles pendant que la voix, cette voix en un cri profond, élève votre âme. Puis, lorsque vous atteignez l'extase pure, Nennen pousse encore plus loin, vous éblouissant avec sa guitare criante et sa douce voix délicate. C'est comme monter au paradis et y rester : la musique nourrit l'âme, qui ne fait qu'un avec le bruit.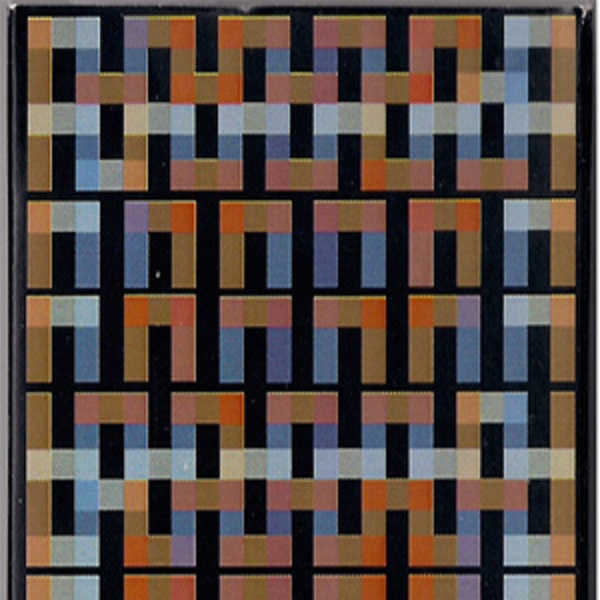 Sarah Davachi
August Harp
Vancouver, BC
From the entangled fibres of Marie LeBlanc Flanagan:
Fog ripening through fog, the sound of beginning. Passage made of living things, thickening tones pull bone slipstream. Fingerprint wave lines. You forgot the way but the muscle remembers, each forcing each to the cracks, the shifting edge, the sinking core. Outside in, keep climbing, you were always going deeper.
Des fibres emmêlées de Marie LeBlanc Flanagan:
(Traduit par Jessica Grenier)
Un brouillard qui mûrit dans un brouillard : le son du commencement. Un passage composé de choses vivantes, des sons s'épaississant en tractant le sillage des os. Des lignes ondulantes d'empreintes digitales. Tu ne connais plus le chemin, mais tes muscles se souviennent, chacun forçant l'autre jusqu'aux crevasses, aux limites mouvantes, au centre s'effondrant. De dehors vers dedans, poursuis l'ascension; tu cheminais, toujours plus profond.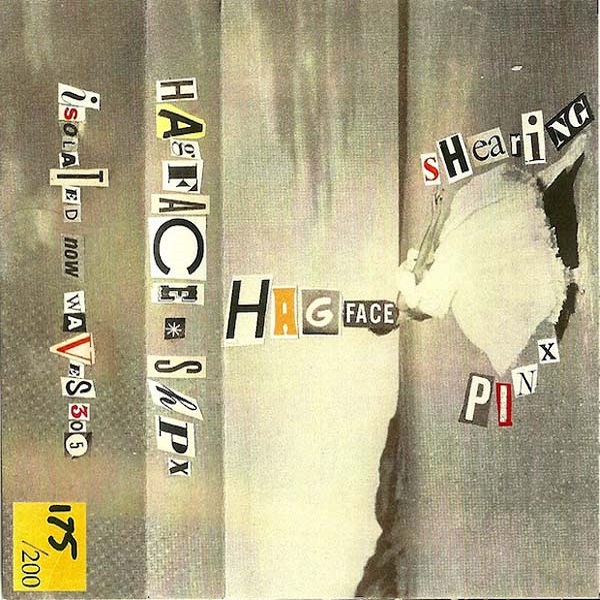 Hag Face/ Shearing Pinx
Split
Calgary, AB/Vancouver, BC
From the holy drywall of Josh Rohs:
Vancouver's sultans of cacophony meet Calgary's noise-conjuring witch punx for a feral, ferrous oxide-bound dichotomy made in house show hell. Wyrd friends, both old and new materialize at 3 a.m., plug in and melt face. You're left with nothing but a couple holes in yer drywall, a disfigured tympanic membrane, and a cognitive shift into warp drive. Grip now, and live out your remaining days in shredded bliss.
De la cloison sèche bénie de Josh Rohs:
(Traduit par Jessica Grenier)
Les sultans de la cacophonie de Vancouver se joignent aux sorcières punx de Calgary le temps d'une dichotomie sauvage gravée en oxyde de fer lors d'un spectacle maison infernal. Chers amis Wyrd, nouveaux et anciens, quand sonnent [trois heures du matin], branchez-vous puis sentez votre visage fondre. Vous en sortirez avec des trous dans la cloison sèche, une membrane tympanique mutilée et un changement cognitif à une vitesse supraluminique. Mettez la main dessus et vivez heureux à jamais, dans les liens sacrés du déchiquetage.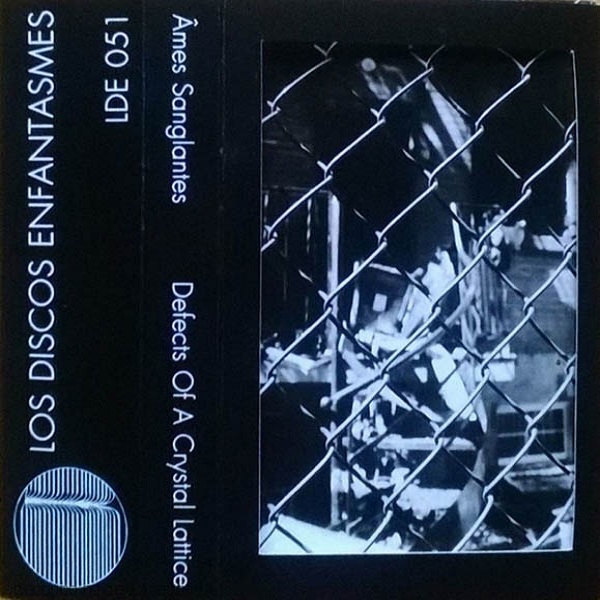 Âmes Sanglantes
Defects of a Crystal Lattice
Montreal, QC
From the metallurgical microcosm of Nick Smith:
It's a heavy slice of pitch-black material, the stuff that supports us through inter-relatedness. The mass and viscosity of which takes time to apprehend, and further study to understand it's irregularities. Defects of a Crystal Lattice tells us to look closely and then ever closer at the things things are made of. We can always separate the bottom-most layer and uncover the next underworld, bubbling and cognate.
Du microcosme métallurgique de Nick Smith:
(Traduit par Jessica Grenier)
C'est une matière lourde noire comme du goudron; un truc pour nous soutenir à travers l' interrelationnalité. Il faut du temps pour appréhender sa masse et sa viscosité, et encore bien des études pour comprendre ses irrégularités. Defects of a Crystal Lattice nous invite à regarder de près, de toujours plus près, les choses qui composent les choses. Et chaque fois, on peut séparer la dernière couche pour découvrir un nouvel enfer bouillonnant et analogue.

Âmes Sanglantes – Defects of a Crystal Lattice
---