Category: cassette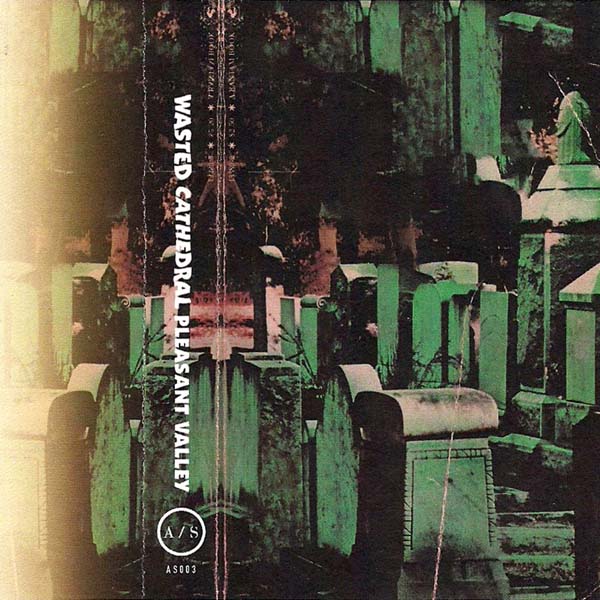 Wasted Cathedral
Pleasant Valley
Saskatoon, SK
From the plastered piety of Jesse Locke:
Toon Town toiler Chris Laramee of Shooting Guns renown wafts out another late nite smoke ring from his solo-tripper guise. Woozing organs, twinkling synths and strange strings drift under a dense fog of disintegrating drone, but the real side-steps are the blown breaks of opener "Munroe and 17th". The flip is a sidelong tone-float joined by fellow SK journeyman Chad Munson. Pleasant indeed…
De la piété emplâtrée de Jesse Locke:
(Traduit par Jessica Grenier)
Le travailleur infatigable de Shooting Guns, Chris Laramee, de Saskatoon, expulse un nouvel anneau de fumée nocturne sous le couvert de son trip solo. Instruments suintants, cordes étranges et synthétiseurs scintillants dérivent sous un épais brouillard de drone désintégré, mais les fractures éclatées de « Munroe and 17th » se démarquent particulièrement. Le revers est un long surf tonal auquel se joint un autre voyageur de Saskatoon, Chad Munson. C'est très plaisant à entendre.

Wasted Cathedral – Pleasant Valley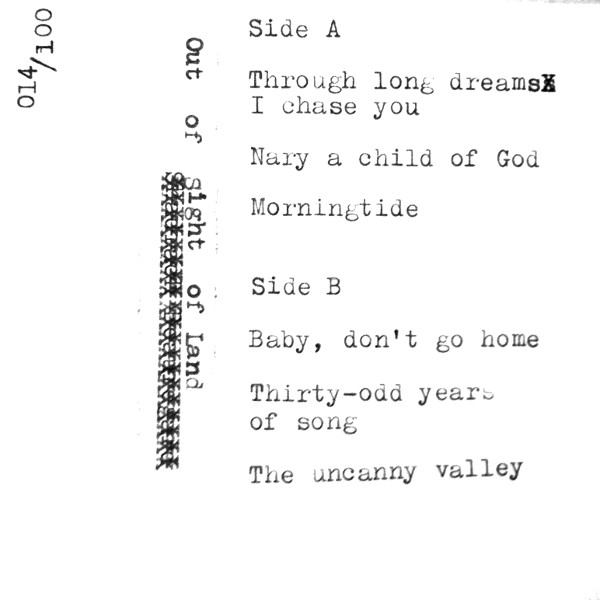 Out of Sight of Land
Out of Sight of Land
(Self Released)
Montréal, QC
From the cyclopean landform of Jake Bornheimer:
Out of Sight of Land trundles along like a weary traveler in a boreal forest. Accordion textures grind and shift against each other in slow and odd-time. Flat-sounding but very beautiful double-tracked vocals sing disjointed melodic lines and blend into the hypnotic music with ease. The lyrics slide by. On songs like "Morningtide" a sense of darkness creeps in with an interplay of dissonance, conjuring Wyrd Visions. These songs dually encapsulate great landscapes and private-evening-cups-of-tea. When an unprecedented shift or a peppering of percussion appears, it is a revelation.
Du paysage cyclopéen de Jake Bornheimer:
(Traduit par la prunelle aérienne de Jessica Grenier)
Out of Sight of Land est comme un voyageur fatigué cheminant lentement dans une forêt boréale. Les textures en accordéons bougent et se broient lentement les unes contre les autres, par à-coup. Une musique hypnotique où se fondent deux voix faussant joliment et chantant des lignes mélodiques décousues. Les paroles suivent leurs cours. Dans les chansons comme « Morningtide », une sensation envahissante d'obscurité dissonante s'installe, conjurant des Visions Étranges. Ces chansons encapsulent la dualité de gigantesques paysages et de soirées-intimes-à-boire-du-thé. Chaque changement impromptu ou percussion spontanée est une révélation.

Out of Sight of Land – Through Long Dreams I Chase You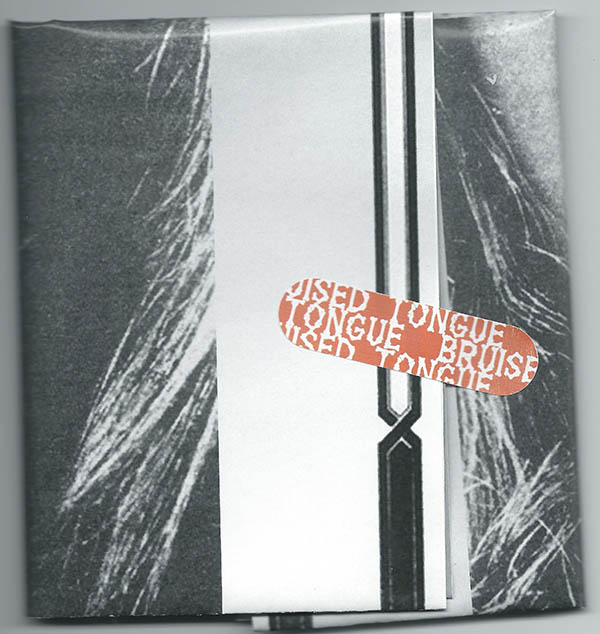 Various Artists
Afterburners Vol. 4
Ottawa, ON
From the free lunch stamp card of Alanna Yaraskavitch:
The fourth instalment of Bruised Tongue's post-Ottawa Explosion comp kicks off with a phone call from The Yips: Can you do dinner tonight at an inter-provincial, all-you-can-listen buffet of sonic delicacies? Call the sitter and clear your schedule, it's time to sip dandelion homebrew with Boyhood and sample wild game with Mark Alexander McIntyre. Look over there in the corner! Neck's eating mashed potatoes with their hands down their pants while Bonnie Doon devour $2 slices. It's time to pay, but the price is free – my compliments to the chef.
De la carte à tampon pour lunch gratuit complément d' Alanna Yaraskavitch:
(Traduit par la carte de fidélité certifiée Louis-Félix Pellerin)
Le quatrième tome de la compé post-Ottawa Explosion de Bruised Tongue commence avec un appel téléphonique de The Yips: Pouvez-vous vous occuper du souper ce soir, à un fin buffet sonique à volonté interprovincial? Appelez la gardienne et libérez-vous, c'est le temps d'aller siroter de la liqueur de pissenlit artisanale avec Boyhood et de déguster du gibier sauvage avec Mark Alexander McIntyre. Mais regardez qui est dans le coin! Neck se gavent de patates pilées les mains dans les pantalons tandis que Bonnie Doon dévorent des pointes à 2$. Il est venu le temps de payer l'addition, un gros GRATUIT est inscrit à la place du montant final; mes compliments au chef.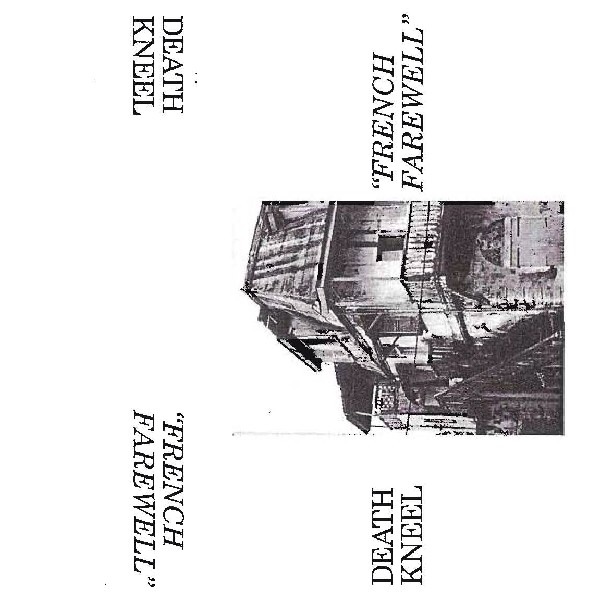 Death Kneel
French Farewell
Toronto, ON
From the cold, naked body of Griffin Martell:
There is a suffocating sense of abandon that pervades the power noise Max Klebanoff crafts as Death Kneel. 'French Farewell', the first release on Klebanoff's newly inaugurated Summer Isle label, encloses you in a chamber of predatory drones before abruptly thrusting your cold, naked body up to the panoptic surface. Not far off from the harsh industrial pummelings of early Tesco Organization releases, the A-side's throbbing low-end frequencies evoke the bracing spectacle of a precarious helicopter landing. On the B-side, Klebanoff douses the throaty vociferations he howls with New Armour in an acid wash of prickly noise. As this chaos subsides and you re-orient your senses, a somber send-off reminds you that someone's always watching.
Du corps nu et glacial de Griffin Martell:
(Traduit par le lavage de cerveau zombificateur de Louis-Félix Pellerin)
Il y a un sens de l'abandon suffocant imbibé dans le power noise que crée Max Klebanoff à travers Death Kneel. "French Farewell", la première sortie de Summer Isle, le label nouvellement-inauguré de Max Klebanoff vous enferme dans une chambre remplie de drones menaçants de avant de pousser soudainement votre corps froid et dénudé vers la surface panoptique. Non loin des martèlements industriels des premiers temps de Tesco Organization, les fréquences rythmiques bas de gamme du côté A évoquent toutes les sensations fortes qui viennent avec un atterrissage d'hélicoptère risqué. Sur le côté B, Klebanoff arrose ses vociférations rauques d'un torrent acide de bruit épineux à la New Armour. Alors que le chaos s'estompe et vous réorientez vos sens, un adieu sombre vous rappelle qu'il y a toujours quelqu'un qui vous observe.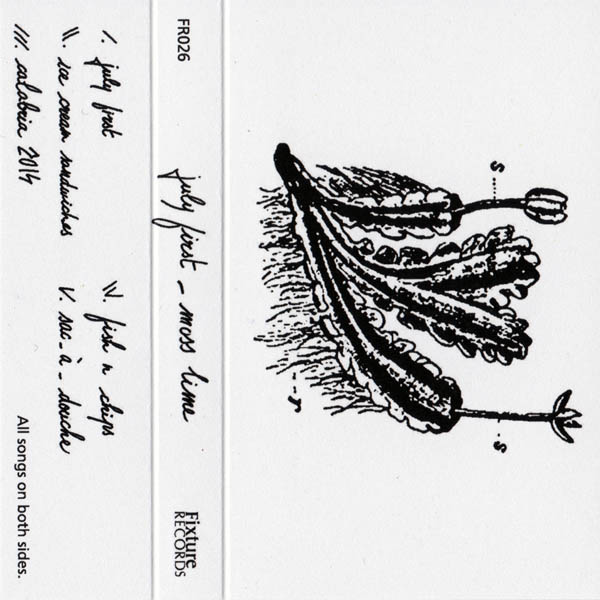 Moss Lime
July First
Montréal, QC
From the lounging sprawl of Evan Matthews:
Moss Lime are a characteristicly cosmopolitan Montreal crew, formed in spare time while hanging through the city's playground summer. Murmuring chants calling back and forth over angle-surfing guitars and an ESG-sensible rhythm section recall double dutch tall cans in a parc before a late night swim in someone else's pool. These songs have an influence-honest, naturalistic vibe. From the call & response lilt of "Ice Cream Sandwiches" to the tape-delay drone of "Fish N Chips" to the reimagining/improvement of Euro-pop song "Calabria", each one will charm you with a shared memory of wet heat, cutoffs and iced coffee.
Du divan où est avachi Evan Matthews:
(Traduit par l'orteil étiré vers la télécommande de Jessica Grenier)
Moss Lime est un groupe montréalais typiquement cosmopolite, formé lors des temps libres passés à profiter des terrains de jeu urbains durant l'été : des murmures se répondent par-dessus des guitares qui surfent en équilibre ainsi qu'une section rythmique rappelant ESG évoquent une soirée dans un parc à boire des grosses cannettes de Double Dutch avant d'aller squatter la piscine de quelqu'un d'autre. Ces chansons exhalent des ondes de naturalisme et d'honnêteté. De la cadence question-réponse de « Ice Cream Sandwiches » au drone en boucle de « Fish N Chips » en passant par la reprise/amélioration de la chanson pop européenne « Calabria », chaque pièce vous séduira en partageant un souvenir de chaleur humide, de shorts en jean et de cafés glacés.

Moss Lime – Ice Cream Sandwiches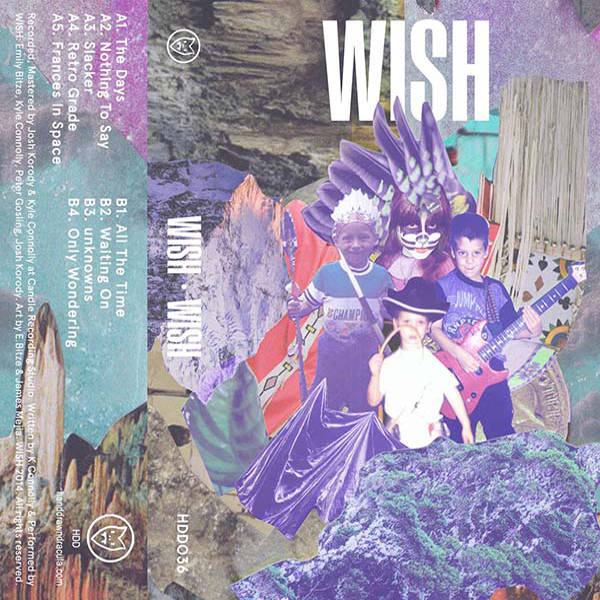 From the faded pink noodle of Trevor Blumas:
Comprising members of Beliefs, Milk Lines, and Decades, WISH shreds your youth through a cheese grater and melts it onto a scratched up CD. They cut, copy and time-stretch your first high and place it into your permanent present. Memories of those post-raided-liquor-cabinet-head-spins are turned into a ride at Disneyland. Cool off from those pre-responsibility slacker summers by skinny-dipping in WISH's noise pool. Their soft bedroom vocals, apple-bong ejaculate guitars, and joy-riding rhythms create the perfect temperature to float in with a faded pink noodle and a cherry cola laudanum cocktail.
De la nouille rose décolorée de Trevor Blumas:
(Traduit par la piscine gonflable de Jessica Grenier)
Composés de membres de Beliefs, de Milk Lines, et de Decades, WISH frottent ta jeunesse sur une râpe à fromage et la fondent en un CD grafigné. Ils copient/collent ton premier high et l'étirent jusqu'à ce qu'il devienne un présent perpétuel. Les souvenirs de vertiges « post-abus de fort » sont changés en manège de Disneyland. Repose-toi de ces préresponsabilités estivales de paresseux en sautant tout nu dans la piscine de bruit de WISH. Ces douces voix de chambre à coucher, ces éjaculats de guitares en pomme-pipe et ces rythmes de balade en voiture créent le climat parfait pour se laisser flotter sur une nouille rose décolorée avec un cocktail laudanum-coke aux cerises.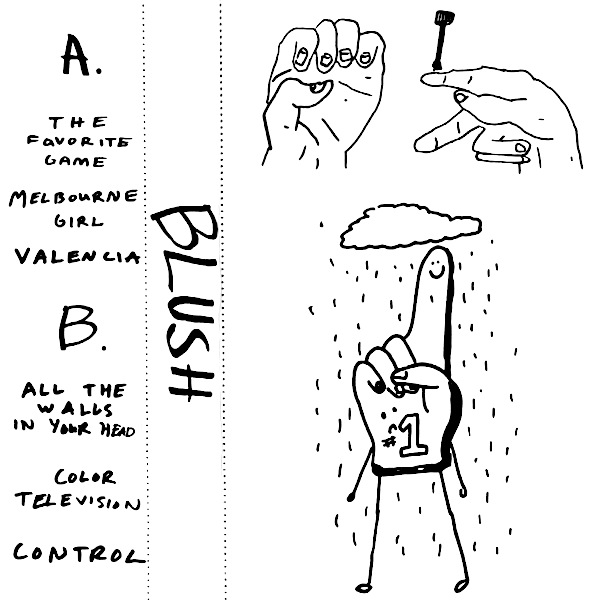 Blush
I
(Self Released)
Montréal, QC
From the endless roving of Carrie Deleskie:
Immediacy like waves. Nostalgia like waves. Songs heady with waves. Maybe you're caught in the memories of being at your parents' house – of getting drunk at the age of fourteen. Maybe your mind is on how you never bothered to ask for her name. Either way, lie down on the kitchen floor. Let it wash over you.
From the endless roving of Carrie Deleskie:
(Traduit par le mal de mer de Jessica Grenier)
Des vagues d'immédiateté, de nostalgie. Des chansons aux ondulations enivrantes. Peut-être es-tu pris dans le souvenir d'être chez tes parents – de te saouler à quatorze ans. Peut-être que ton esprit s'est figé sur le fait que tu n'as jamais pris la peine de lui demander son nom. Dans tous les cas, étends-toi sur le plancher de la cuisine; laisse les vagues déferler sur toi.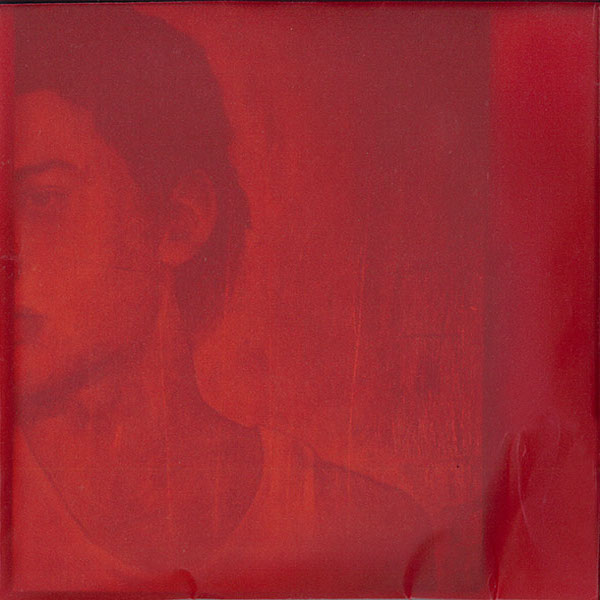 Totenbaum Träger // Projet Muet
Split
Montréal, QC
From the dangling hangnail of Farah Barakat:
Multi-instrumentalist and composer Dominic Marion exposes all sides of his creative dimensions by combining two of his latest projects into one split release. Experimental No wave comprised of jarring tones sits perpendicular to ominous bass sounds. Noir-ambient spaces and the matter that fill them create a monster; waxing and waning as if breathing. Totenbaum Träger wrestles with doom components through a combination of electric guitar noise (and riffs), feedback, and dark overtones. Projet Muet focuses on melody, narrative, and the extremities created when polarizing sounds crash together. Marion exposes every angle of his being by pairing the calm and chaotic, channelled through two separate paths of expression.
Des envies ballantes de Farah Barakat:
(Traduit par Jessica Grenier)
Compositeur et multi-instrumentaliste, Dominic Marion dévoile toutes les facettes de sa dimension créative en combinant deux de ses plus récents projets en un album split. On obtient du no wave expérimental fait de sonorités discordantes chevauchant des sons de basse menaçants; des espaces de style Noir-ambient remplis de matière qui font jaillir un monstre, croissant et décroissant comme une respiration. Totenbaum Träger ferraille avec des éléments de doom à travers un mélange de bruit (et de riffs) de guitare électrique, de feedback et d'harmoniques sombres. Projet Muet, lui, s'intéresse à la mélodie, à la narration et aux extrémités créées par la collision de deux sons polarisés. Marion met à nu chaque fibre de son être en joignant le calme et le chaos exprimés par deux chemins complètement différents.

Totenbaum Träger – Hung to Sarah Kane's Shoelace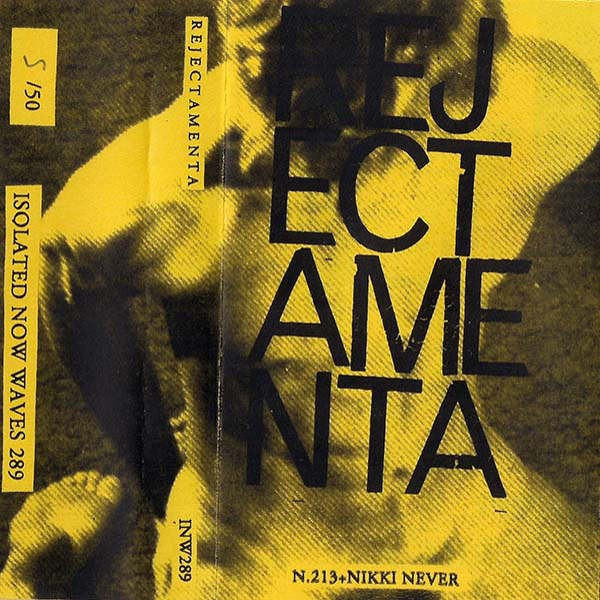 N.213 + Nikki Never
Rejectamenta
Vancouver, BC
From the bleary-eyed sub-dance of Eamon Quinn:
This edition of 50 from Nic Hughes' (of the Shearing Pinx) solo project features voice and "bonus synth" by the enigmatic Nikki Never (Terror Bird). More sprightly and pared down than last fall's Sungod Arena, Rejectamenta sets out a continuously disorienting tonal pattern over its 19 song miniatures. At base, wirey drum-machines vary between clipped, Nommos-esque time-keeping and fitful, post-industrial anti-grooves. Anxious melodic content is served by the uncanny tracing of disaffected vocals around bleary-eyed sub-dance Casio tones.
The claustrophobia of the formula enables an auto-song style that signals N.213's heritage in the Messthetics series and the whole UK DIY cassette movement more generally. That isn't to claim the tape is a retro-revivalist project. Though Hughes channels contemporary electronic music, those tones are run through the same warped Xerox-machine with which he makes all the Isolated Now Waves art. The result recreates the seductive danger of the formative, underground period of dance.
Even on the four Nikki Never-helmed tunes, the most tuneful and club-worthy, her forlorn contributions won't lift any spirits. Despite, say, the hummable melody to "Nightstalker," the lyrics recall darker themes. If anyone anywhere is cutting a rug to Rejectamenta, it'd be Sergent Galoup in that neverworld discothèque. The rhythm of the night, sure, but it's one cold, lonely night.
De la sous-danse à l'oeil hagard d' Eamon Quinn:
(Traduit dans les rubans magnétiques enchevêtrés de Benoit Arcand)
Ce lot de 50 issu du projet solitaire de Nic Hughes (autrement dans la bande de Shearing Pinx) est ponctué par la voix et le "synthé bonus" de la sibylline Nikki Never (de Terror Bird). Plus dépouillé et bondissant que l'antépénultième Sungod Arena, Rejectamenta tisse une trame tonale continument troublante autour de ses 19 miniatures musicales. À sa base, des drum-machines hirsutes oscillent entre rythmes saccadés, *Nommos*esques, et intermittents grooves post-industriels. Le propos, mélodique, anxieux, est livré par l'inquiétant spectre d'une voix maussade qui enrobe les notes d'un Casio sub-dance au regard trouble.
La claustrophobie inhérente à la formule induit une impression de chanson automatique signalant l'héritage que N.213 a reçu de la série Messthetics, et plus généralement de tout le mouvement britannique de cassette DIY. Ce qui n'est pas clamer que cette cassette-ci constitue un projet revivaliste. Bien que Hughes évoque l'esprit de la musique électronique contemporaine, ses tonalités passent par la même machine Xerox distortionnée avec laquelle il produit toute l'iconographie d'Isolated Now Waves. Le résultat suscite le séduisant danger des années liminaires, underground, du dance.
Même les quatre chansons avec une Nikki Never esseulée à la barre – les plus mélodiques et susceptibles de sortir en boîte – n'allégeront pas votre coeur. À l'encontre de, disons, la mélodie fredonnable de "Nightstalker", les paroles donnent chair à des thèmes plus sombres. De sorte que si quelqu'un esquisse un pas de danse sur Rejectamenta, ce sera le sergent Galoup dans cette discothèque de nulle part. Le rythme de la nuit, certain; mais froide, solitaire, la nuit.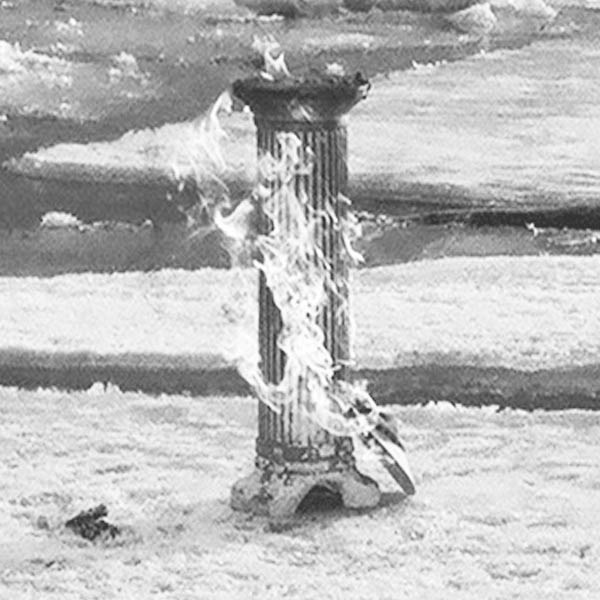 Vierance
Semblance
Toronto, ON
From the eyes like stars of Brad Casey:
Your grandmother once told you this: That someday you'd find yourself driving, and would realize that you didn't remember getting in the car, or how you got there. Then you'd stop, and what you did next was the most important. She was right, but you're outside and you're walking and it's deep night. The people in the streets are wearing white makeup, and capes hide their thin and anemic bodies. They don't notice you, or they hide in the shadows, and you can see their eyes like stars pulsing white through the alley space. You think about Garcia Lorca. You don't feel alone. You curse the dawn, and put on your headphones. This is what living must sound like from here, through the darkness.
Des yeux étoilés de Brad Casey:
(Traduit par Jessica Grenier)
Ta grand-mère l'avait prédit qu'un jour tu te retrouverais en train de conduire une voiture dans une direction inconnue sans aucun souvenir d'y avoir monté. Puis, tu arrêterais la voiture, et l'action posée ensuite serait la plus importante. Elle avait raison… mais tu es dehors, marchant dans la nuit sombre. Les gens dans la rue sont maquillés de blanc, et des capes recouvrent leurs maigres corps anémiés. Ils ne te remarquent pas, ou ils se cachent dans l'ombre – tu peux voir leurs yeux qui pulsent comme des étoiles blanches depuis l'allée. Tu penses à Garcia Lorca. Tu ne te sens en rien à part. En maudissant l'aube, tu mets tes écouteurs. Ce son doit être celui que produit la vie lorsqu'on l'entend d'ici, dans les ténèbres.
---