Category: cassette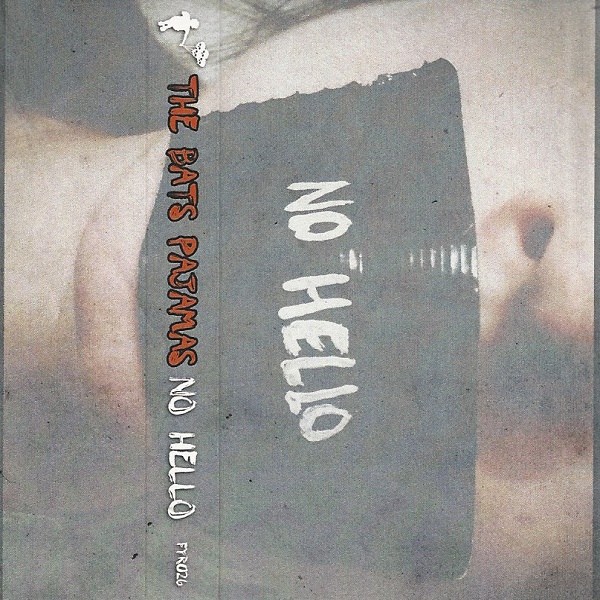 The Bats Pajamas
No Hello
Toronto, ON
From the curdled misanthropy of Adam Bradley:
A primo specimen of Toronto's malformed and curdled species of garage rock. Septic distortion and scummed up bass slop on top of misanthropic, snotty vocals. Kickin' shit over riffs. Window smashing ugliness. Skipped off again, pizza in the alleyway, beer in a bag. Slacker maniac grudge-grunge, hacking a lung, an infected mess bubbling up throbbing puce-goldenrod.
De la misanthropie caillée de Adam Bradley:
(Traduit par le yogourt glacé de Julie Mayer)
Un spécimen de première formé d'espèces torontoises difformes et caillées de garage rock. Une distorsion septique et une basse crasseuse se déversent sur des voix misanthropiques et snobs. Des riffs ravageurs. Une laideur de fenêtres fracassées. Encore à foxer l'école, à manger de la pizza dans la ruelle, une bière dans le sac. Du grunge rancunier, fainéant et maniaque qui charcute un poumon, bordel infecté d'où s'échappe une mousse de pulsations couleur puce-jaune paille.
The Bats Pajamas – Feel Like Shit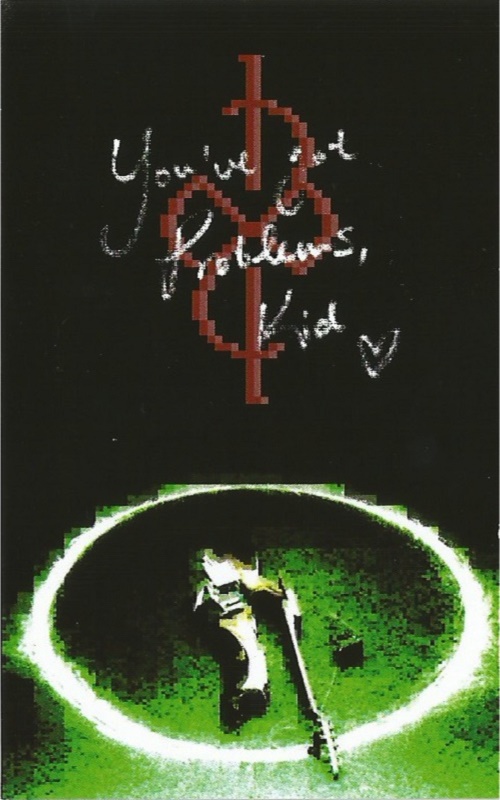 Homo Monstrous
You've Got Problems Kid
(Self-Released)
Regina, SK
From the mighty mitochondria of Mark Anthony Brennan:
It's a glorious mess. Synths shoot laser bolts left and right as the singer screeches with the dubious clarity of a glam rocker. She tries to make herself heard above the sound of power tools, which are out of tune but melodious nonetheless. A red-raw shambolic blast of sheer fucking genius.
Frankly, she sounds as if she could break your spine, but when she wails "I wish I were dead" you feel her pain. Homo Monstrous? It's us. We are the monstrous species for permitting such pain.
Yeah, you do have problems, kid. It ain't fair.
Par la toute-puissante mitochondrie de Mark Anthony Brennan:
(Traduit par la sanglante bouffée bordélique d' Émily Traichel)
C'est un glorieux désordre. Des synthétiseurs tirent au laser dans tous les sens tandis que la vocaliste hurle avec la clarté ambigue d'une glam rocker. Elle tente de se faire entendre au-dessus du boucan d'outils électriques, ceux-ci sonnant faux mais mélodieux malgré tout. Une sanglante bouffée bordélique de pur fucking génie.
Franchement, elle a l'air de pouvoir nous casser le cou, mais lorsqu'elle gémit "I wish I were dead" on ressent sa souffrance. Homo Monstrous? C'est nous. Nous sommes la monstrueuse espèce qui permet une telle souffrance.
Pour reprendre le titre de l'album, eh oui – t'as des problèmes, le jeune. C'est pas juste.
Homo Monstrous – Rat Tails//Painted Nails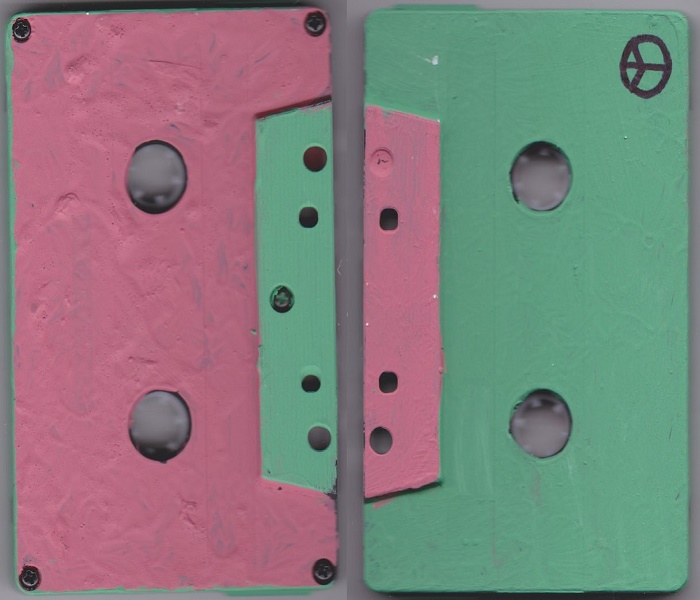 Leeky Tearducts
The Tape
(Self-Released)
Nelson, BC
From the frazzled socket of Eleanor Wearing:
The Leeky Tearducts don't really leak. Spit, churn, streak, explode? Yes. Bang, yell, thrash? Yes. Unfolding like a sudden thunderstorm, their notes strike with the power of a violent lightning bolt. Don't fear the storm. Don't run for cover. Let your body succumb to the short-circuiting sounds. Find yourself in a fast dancing frenzy. After all, sweat and rain are better than tears.
De la prise de courant sautée de Eleanor Wearing:
(Traduit par Zanoni Ngira)
Le tube « The leeky Tearducts » ne vous décevra pas. Ce morceau explosif vous fera chanter, vibrer et danser sans contrôle. Il fait du boucan et se fait entendre partout en battant des records. Comme une soudaine tempête, le morceau suit un rythme de tonnerre. N'ayez aucune crainte, laissez votre corps se faire guider aux sons court-circuit de la chanson, et vous serez pris d'assaut par une danse délirante. Après tout, la sueur et la pluie sont mieux que les larmes.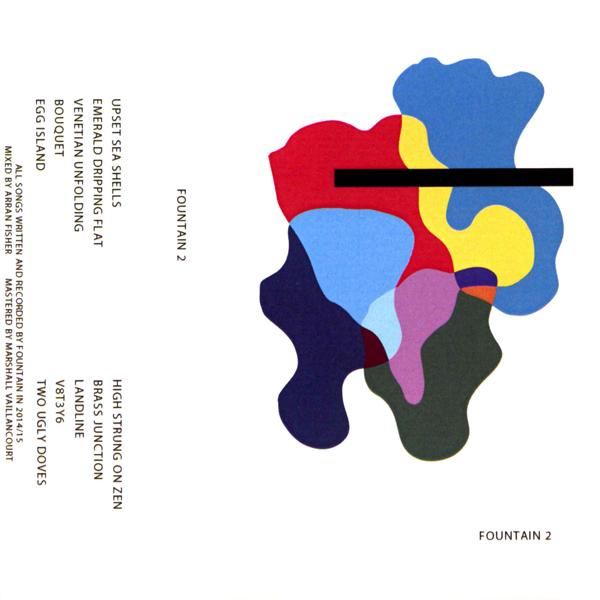 Fountain
Fountain II
(Self-Released)
Victoria, BC
From the Lucid Dreams of Laura Donohue:
More light is reflected off the water as the sun descends. Faces unmasked, Fountain's chains are wrapped around a looming glass edifice; their reflections clearer than before. The chain, made of rope, bungee, copper and twine, meets in the lengthening shadow of the tower, fastened around waists and coiled around forearms. A playful tug soon becomes frantic, leading to cataclysmic results. Dust from the implosion fills the air as debris piles on the ground, leaving bound friends to trudge home through new sand, smiling in the knowledge that tomorrow will be without shade.
Des rêves lucides de Laura Donohue:
(Traduit par le remaniement de bureau majeur de Julie Mayer)
L'eau réfléchit plus de lumière au fur et à mesure que le soleil se couche. À visages découverts, les chaînes de Fountain s'enroulent autour d'un édifice de verre menaçant; leurs reflets plus nets qu'avant. La chaîne faite de corde, de câble élastique, de cuivre et de ficelle se rejoint dans l'ombre grandissante de la tour, attachée à la taille et enroulée autour des avant-bras. Une secousse enjouée qui a tôt fait d'être frénétique mène à des résultats cataclysmiques. Alors que les débris s'amoncellent sur le sol, la poussière issue de l'implosion envahit l'air, réduisant des amis intimes à cheminer à travers du sable neuf pour rentrer chez eux; le sourire aux lèvres en sachant que le lendemain sera sans nuance.
Fountain – Emerald Dripping Flat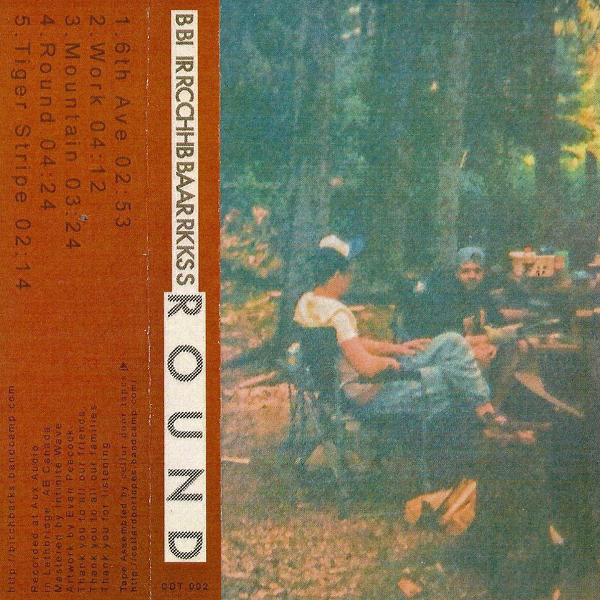 Birch Barks
Round
(Self-Released)
Lethbridge, AB
From the soft underbelly of Katie Jensen:
Two descants plead gently above a dense spring rain. Field recordings captured with reverent hooks are stirred together by wet fingers plucking resonant foundations.
A lonely, hermetic voice solicits observation. Amity is offered in the palm of a hard-edged hand.
Des tendres flancs de Katie Jensen:
(Par la bruine de mots d' Aliké Harel)
La douce complainte en déchant s'élève au-dessus d'une pluie battante printanière; l'amalgame d'enregistrements hameçonnés respectueusement puis unis par les doigts détrempés qui pincent les cordes de la fondation mélodieuse.
Une voix solitaire et hermétique invite à l'observation. L'amitié est offerte dans la paume d'une main calleuse.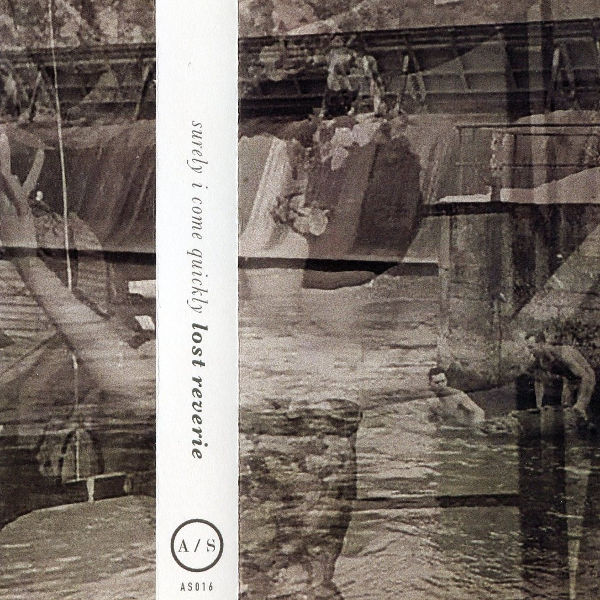 surely i come quickly
lost reverie
Saskatoon, SK
From the static skin of Joshua Robinson:
Saticism. Slow change and the gradual unveiling of drones as ambient bombs of eupnea. How we hail to the delimiting space between the sky and inverted pyramids, diaphragms in our chests; to call to and fall from the highest plains of subdued monochromia. Eidolic palimpsests, structures whose forms are omnipresent, yet with echoes all their own; to call to and emerge from the deep inhalations of the ever-deepening lull. Slowly, surely, eventually it all comes together. Static skins and our friction; forever.
De la peau statique de Joshua Robinson:
(Par l'épiderme délayé d'Aliké Harel)
Statisme. Lente progression et dévoilement graduel de drones en guise de pulvérisateurs d'ambiance en eupnée. Comme nous adressons un révérenciel salut à l'espace confiné entre le ciel et les pyramides inversées, le diaphragme sous nos côtes s'élève et retombe des plus hautes plaines d'une monochromie délayée. Palimpsestes évanescents, structures aux formes omniprésentes dont les échos respectifs sollicitent et s'éveillent des inhalations profondes du gouffre sommeillant. Lentement, sûrement, éventuellement, le tout se rejoint en un point. Statiques, peau contre peau, à jamais.
surely i come quickly – genevieve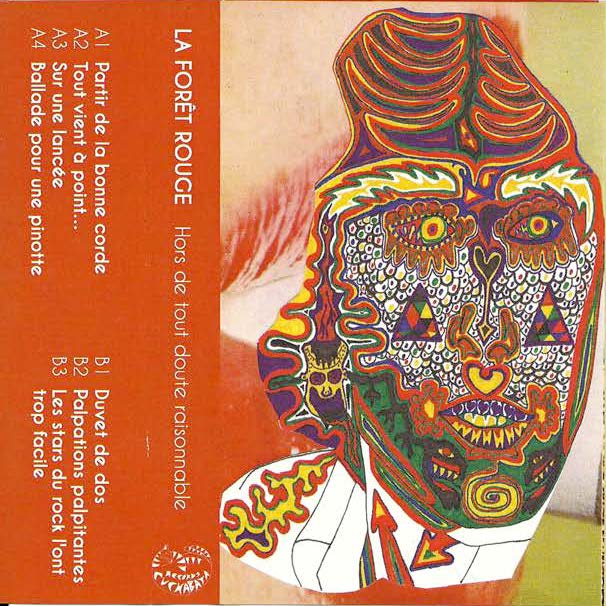 La Forêt rouge
Hors de tout doute raisonnable
Montréal, QC
From the love nest of Katie Jensen:
Percussion scatters like a stick dragged around the inside of a ridged tin can. Growling fingernails drag up coiled strings, arguing with whirring tape. Taut strings snap in a whiplash of stinging heat. The cacophony ends as quickly as it began. Clambering faces press against the glass. A twisted plastic bag crinkles slowly while a guitar stretches its legs. A low thunder of drumbeats hold council with sycophants of rewinding feedback. A howling voice grows from nothing before swallowing itself whole.
Du nid d'amour de Katie Jensen:
(Traduit par les matines résonnantes de Marie-Pier Chevrier)
Des éclats percussifs comme un bâton que l'on frotte sur l'intérieur ondulé d'une conserve. Ongles grondants, traînants des cordes qui s'enroulent, débattant avec la bande magnétique qui frémit. Cordes raides qui cèdent dans un grand fracas de chaleur saisissante. Et la cacophonie qui se termine aussi vite qu'elle a commencé.
Des visages déformés, écrasés contre la vitre. Un sac de plastique froissé se tord lentement alors qu'une guitare s'étire les jambes. Un sourd tonnerre de tambours délibère avec les adorateurs des feebacks rembobinés. Une voix grondante naît du néant et grandit jusqu'à s'avaler en entier.
La Forêt rouge – Sur une lancée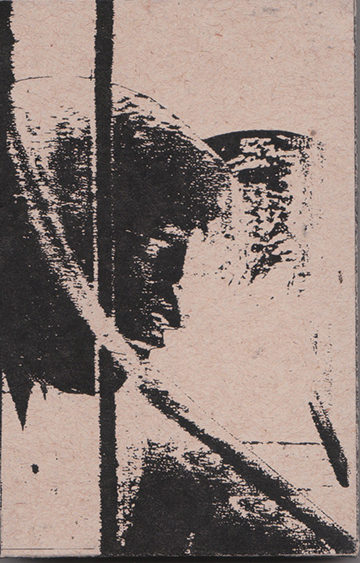 Nervous Operator
Yield to the Night
(MLX)
Vancouver, BC
From the sonic slumber of Morgan Cook:
Driving through the night, out of the city, deeper into the darkness, the wind becomes visible in the trees. At first melancholy sets in but soon you are lulled, you are hypnotized and you are contented. Personalities are obscured, there are only patterns. The journey will last as long as it takes to get there. The unknown place. The place where you are transformed. If you like we can stop at a diner along the way.
Du sommeil sonique de Morgan Cook:
(Traduit sur la route perdue de Nicolas Coutlée)
Filant dans la nuit, loin de la ville, l'auto s'enfonce dans les ténèbres, le vent dans les arbres se dévoile. D'abord vous gagne la mélancolie, mais très vite vous vous apaisez, hypnotisé, satisfait. Les personnalités s'obscurcissent, il ne reste plus que des schèmes. Le voyage durera aussi longtemps qu'il le faut pour arriver à destination. Ce lieu inconnu. L'endroit où vous vous métamorphoserez. Si vous voulez, on peut arrêter dans un diner en cours de route.
Nervous Operator – Tsunami of Discontent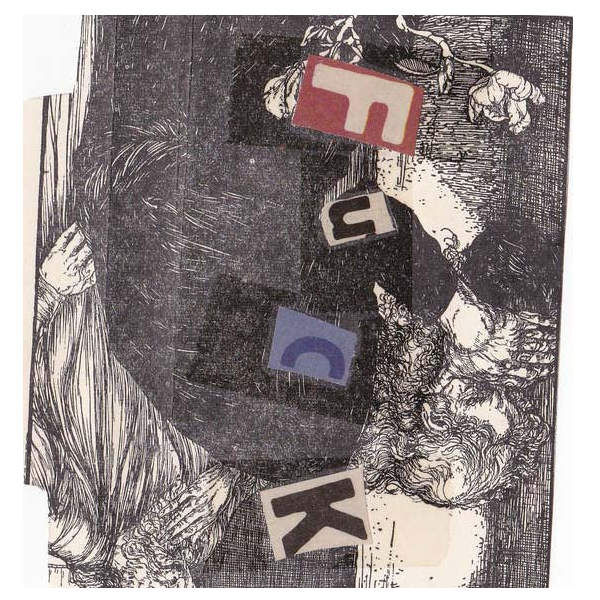 Charlotte Crow
Surrealist Bedroom
(Self Released)
Rodney, ON
From the steep incline of Marie LeBlanc Flanagan:
Soft night, sweet air, stoned harbours. There's a close aching in this small town, bite it to the quick. Warm bodies. Shimmering off strings, hips below shoulders, below eyes, below stars. Back door, fuck it, there's no one.
De la pente abrupte de Marie LeBlanc Flanagan:
(Traduit au clair de lunule par Nicolas Coutlée)
Douce nuit, air frais, port de pierres. Une douleur secrète hante ce petit village. Ongles rongés jusqu'au sang, corps tièdes. Miroitement de cordes, hanches alignées aux épaules, aux yeux, aux étoiles. Porte arrière, eh merde, il n'y a personne.
Charlotte Crow – Makeshift, Rosetint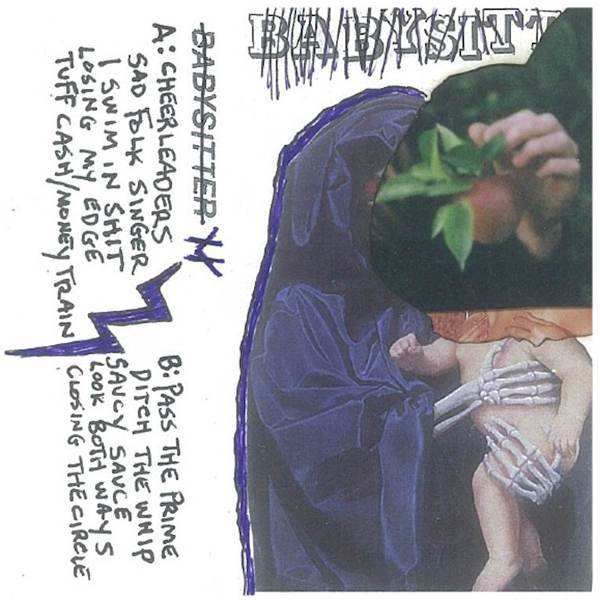 Babysitter
Tape 7
Montréal, QC
From the ditched whip of Jesse Locke:
The seventh entry in Babysitter's cassette series is a clogged knot of hair, cigarrette butts, and burnt ramble-riffs. The mouthful of gravel that we've come to know and love now sound like the inner monologue to a bleary-eyed daydream with the black mould on your roof spinning overhead. The only way to bust out of this sofa surf haze is to get back with your crew, grab a sax, and set fuzzboxes on stun.
Du fouet abandonné de Jesse Locke:
(Traduit par Jessica Grenier)
La septième entrée de la série de cassettes de Babysitter est un paquet de cheveux emmêlés, de mégots de cigarettes et de riffs brûlés. Cette bouchée de gravier qui nous est devenue si chère sonne comme le monologue intérieur accompagnant une rêverie, les yeux à moitié ouverts, sous un plafond tournoyant couvert de moisissure. Le seul moyen pour se sortir de ce surf de sofa vaporeux est d'aller retrouver tes chums, de mettre la main sur un sax et de régler les boites à fuzz sur paralyser.
---