Category: cassette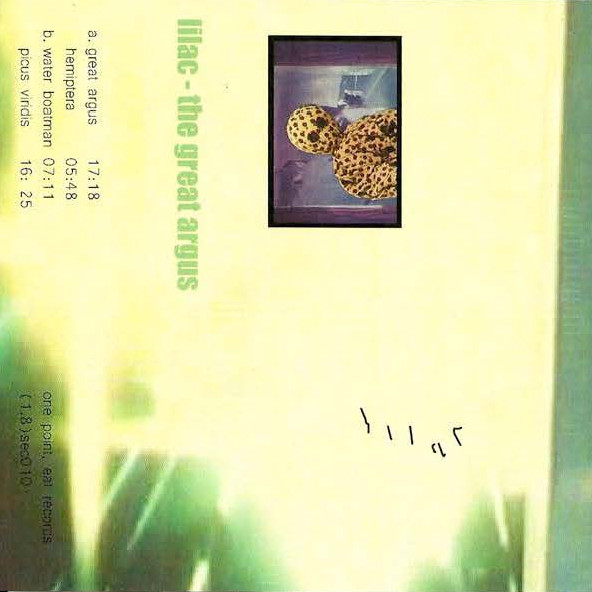 lilac
the great argus
Winnipeg, MB
From the shifted weight of Katie Jensen:
An unsettled chord heralds ominous visitors. Distant winds sweep the land into a wide circle, wrapping sinewy notes around everything they touch. An emergency siren blares with no further instructions. In the far distance marches an army, seen by the whites of their eyes.
Du fardeau soulagé de Katie Jensen:
(Traduit par les membres las de Nicolas Coutlée)
Un accord incertain annonce l'arrivée d'inquiétants visiteurs. Des vents distants soufflent en un large cercle sur la lande et enveloppent de notes puissantes tout sur leur passage. Une sirène stridente retentit de manière inexpliquée. Au loin avance une armée, les soldats visibles grâce aux blancs de leurs yeux.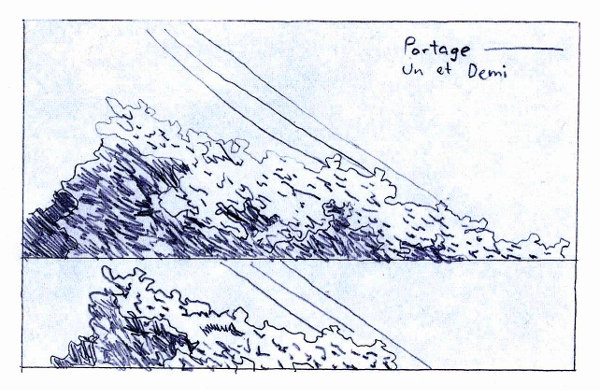 Portage
Un et Demi
Québec, QC
From the safe dream-space of Kim Edgar:
Un et Demi is the musical equivalent of driving in the summer with the windows rolled down. Later, lying in long grass watching dandelion fluffs blow by, the sunlight burns a late-afternoon mustard yellow. We are ushered into a poetic, safe dream-space. The clouds in the sky take on a cinematic significance. Friends hold hands to feel connected and fall asleep in distant fields.
Du monde de rêve rassurant de Kim Edgar:
(Traduit par l'hémisphère gauche de Diane Beaupré)
Un et Demi est l'équivalent musical de partir à l'aventure en été, en auto, les fenêtres baissées. Plus tard, vous êtes étendu dans les herbes hautes en regardant les graines de pissenlits s'envoler, et le soleil vous réchauffe avec ses rayons jaune moutarde de fin de journée. On nous amène dans un monde de rêve poétique et rassurant. Les nuages dans le ciel prennent une importance cinématique. Les amis se prennent par la main pour se rapprocher et s'endorment dans des champs lointains.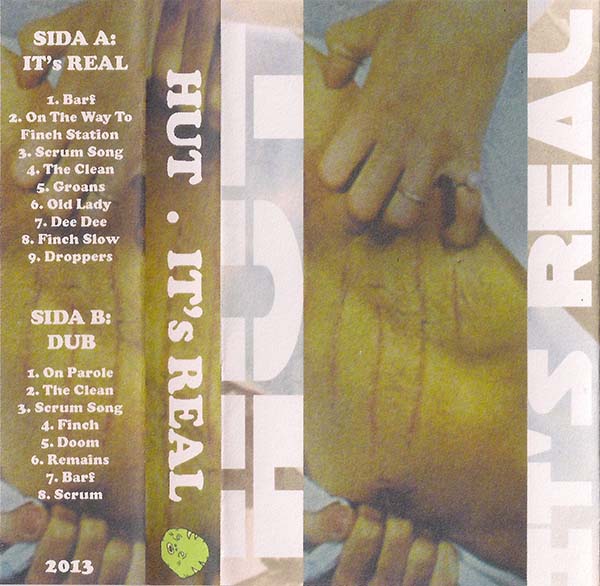 HUT
It's Real
(Daps)
Toronto, ON
From the crater cone of Katie Jensen:
This is what happens when bleach eats its way into a surfer's brain.
Amorphous bimbos sprinkle the dunes like fleshy beach fenceposts. No one is watching the skywriter spell out dirty words in a puff of warm pastel fudge.
A young man is stumbling towards you with a picnic basket filled with translucent water guns sloshing with saliva. He gestures for you to help him, but watch out. He'll pick your pockets and fill them with garbage from behind the washroom.
You have permission to fold yourself in half, to untwist your bowels, to smack your pink, shining gums against anything that moves. Everyone is waiting for you to show them how it's done.
Du cratère béant de Katie Jensen:
(Traduit par Jessica Grenier)
C'est ce qui arrive quand le décolorant réussit à gruger son chemin jusqu'au cerveau d'un surfeur.
Des potiches amorphes qui parsèment une plage comme les piquets de chair d'une clôture. Personne ne porte attention au pilote qui écrit des gros mots en nuages aux couleurs de chocolat chaud.
Un jeune homme avance vers toi en trainant difficilement un panier de pique-niques rempli de fusils à eaux débordants de salive. Il te fait signe de l'aider, mais fais attention. Il va te faire les poches, puis les remplir de cochonneries qu'il a trouvées derrière les toilettes.
Tu as le droit de te plier en deux, de défaire le nœud dans ton ventre, d'écraser tes gencives roses et brillantes sur tout ce qui bouge. Les gens attendent : montre-leur comment ça se fait.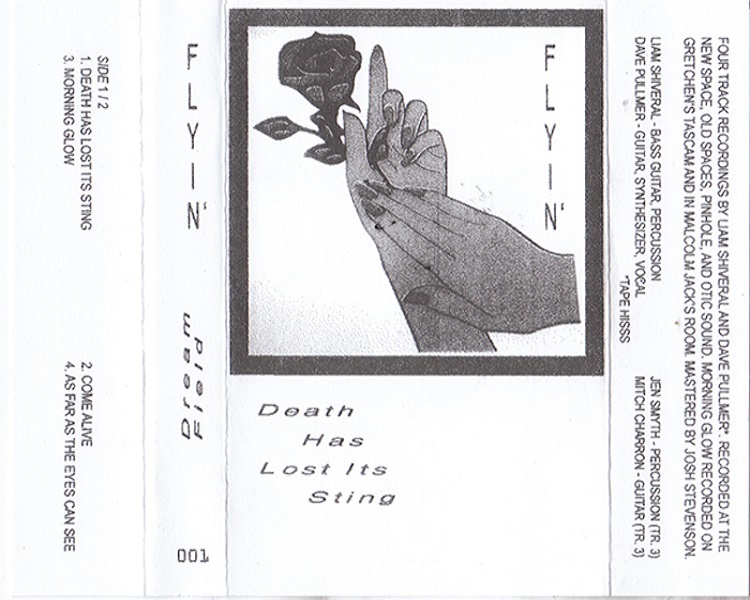 FLYIN'
Death Has Lost its Sting
(Dream Field)
Vancouver , BC
From the hand of Morgan Cook:
Soft and undulating like the light of the moon, Death has lost its sting and become a velvety space for one's sobless tears. Pitter-pats and janglies as far as the eye can see. Feedback and organ fuse and transform into the hum of heat and the cicada . Everything is fine, everything is divine.
De la main de Morgan Cook:
(Traduit du bout des doigts de Marie-Pier Chevrier)
Doux et ondulatoire comme la lumière de la lune, la Mort a perdu son dard et se fait refuge velouté pour les larmes qu'on ne pleure pas. Tapotements et tintements aussi loin que porte le regard. Feedback et orgue se fusionnent et se transforment en bourdonnement de chaleur et de cigales. Tout va bien, tout est divin.
Flyin' – Death Has Lost its Sting
Flyin' – As Far As The Eye Can See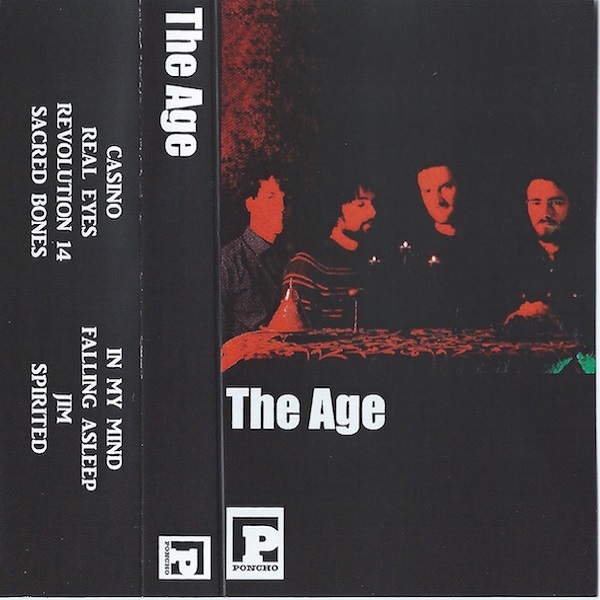 The Age
The Age
Halifax , NS
From the rock and roll disco of Mike Roy:
The vintage rock sounds of Halifax are alive and well in 2015 thanks to the sweet, sweet melodies of The Age. Like their municipal brethren of musical past, The Age don the well-worn, patched-up leather jacket of their retro influences to craft eight finely tuned rock gems that bounce and bob at all the right measures. Each half of the tape is bookended with an instrumental jam, where the group prove their charisma extends beyond catchy hooks into a melodic maelstrom of pure rock-n-roll energy.
Du disco rock'n'roll de Mike Roy:
(Traduit par le bariolé d' Aliké Harel)
En 2015, le son rock vintage vit et bat son plein à Halifax grâce aux belles et jolies mélodies de The Age. Au même titre que leurs compatriotes d'une époque musicale révolue, The Age affiche ouvertement ses influences rétro telle une veste de cuir usée et rapiécée sur ces huit pistes bien fignolées, huit joyaux de rock qui bondissent, cabriolent et battent toutes la bonne mesure. Chaque côté de la cassette se clôt par un jam instrumental, un mélodieux maelström d'énergie purement rock'n'roll prouvant que le charisme du groupe ne se limite pas à ses refrains accrocheurs.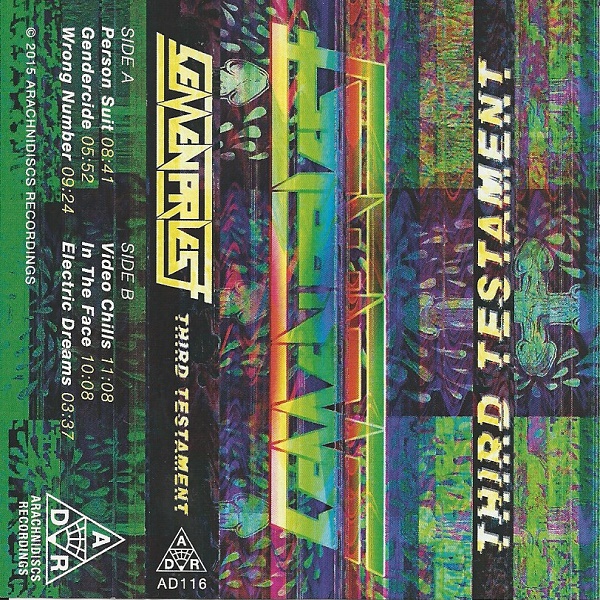 Semen Priest
Third Testament
Toronto, ON
From the masterful sleaze of Adam Bradley:
A grinning, skeletonized and sunglass-eyed Right Said Fred strutting through strobe lit hell-waste, lava sloshing to the groovy thrust. Rowland S. Howard rolled up in a rug made of disco ball shards, thwacked with sticks by little gremlin versions of A Certain Ratio. Masterful sleaze drips viscous. Fat cherry lips pout in the darkness and lick salaciously. Clammy palms rub together. Teeth gnash anticipation. The air is sulphur and cigarette.
De la savante débauche d' Adam Bradley:
(Traduit à grosses gouttes par Nicolas Coutlée)
Lunettes fumées et sourire aux lèvres, les squelettes des membres de Right Said Fred défilent dans une décharge infernale illuminée au stroboscope tandis que clapote la lave au rythme du groove. Rowland S. Howard enroulé dans un tapis de tessons de boule disco, fracassée à coups de bâton par les musiciens de A Certain Ratio version Gremlin. Savante débauche qui tombe en gouttes visqueuses. De pulpeuses lèvres rouge font la moue dans le noir et se pourlèchent d'un air salace. Des mains moites se frottent l'une contre l'autre. Des dents qui grincent d'anticipation. L'air n'est que souffre et cigarette.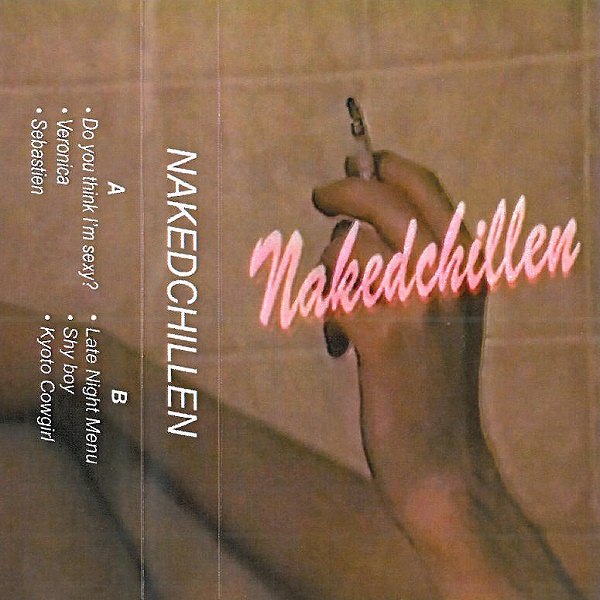 Naked Chillen
Man Dog Love
(Self-Released)
Victoria, BC
From the gilded horse's ass of Sam Joseph:
Another welcome addition to the Victoria DIY bedroom-jazz movement (See: Jons), the musings of Naked Chillen are an ode to fuzzy, booze-soaked memories forged in the sodium vapour-fueled delirium of the concrete jungle after sundown. Man Dog Love is an after-dark hop-skip-jump-and-stumble into a booth at your favourite greasy spoon after one too many libations. What item will you have off of the late-night menu?
Du cul de cheval en or de Sam Joseph:
(Traduit depuis la tête-de-cheval de Nicolas Coutlée)
Autre heureuse addition à la scène « jazz de chambre à coucher » de Victoria (voir Jons), les rêveries de Naked Chillen rendent hommage aux souvenirs flous, imbibés d'alcool, forgés à même les vapeurs de sodium illuminant la jungle de béton nocturne. Man Dog Love est un saut de nuit rapide à votre casse-croûte favori après de trop nombreuses libations. Qu'est-ce que vous prendrez sur le menu de fin de soirée?
Naked Chillen – Do You Think I'm Sexy?
Naked Chillen – Late Night Menu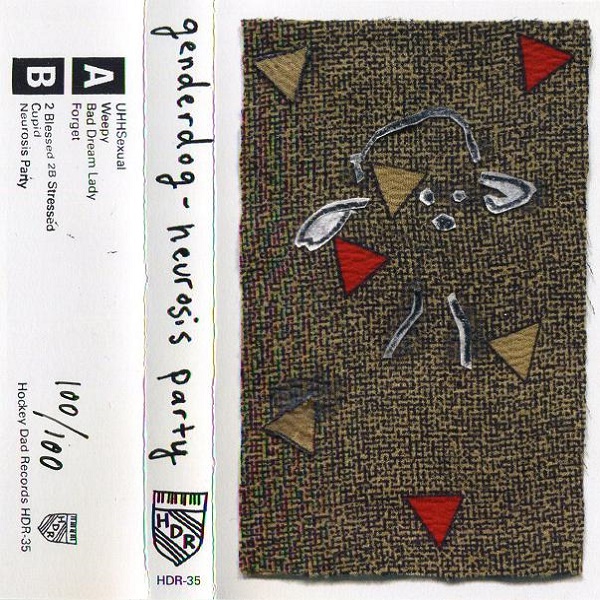 Genderdog
Neurosis Party
Vancouver, BC
From the permanent delirium of Trevor Angst:
Genderdog's waggish debut under Hockey Dad Records is an introvert's anthem for the neurotic masses. Worry-warted in nature but contemplative of self-doubt, Neurosis Party is a social train wreck's weeping cry out for help. With a mirthful insanity exacerbated by a failure to cope with life's stresses; it closes with abrupt, comical, apathetic chatter between split personalities. Transpiring into a neurosis party is beyond the breaking point. It's surpassing the despondent, unfocused gaze of the thousand yard stare; and insidiously emerges into a permanent delirium of full blown hallucination.
Du délire permanent de Trevor Angst:
(snorty rant is a bell)
Les débuts facétieux de Genderdog avec « Hockey Dad Records» sont l'hymne d'un introvertie pour les masses névrosées. De sa nature inquiète, mais contemplative dans son 'incertitude, * Neurosis Party* est le cri à l'aide désespéré d'une catastrophe sociale. Le groupe possède une folie insouciante qui est exacerbée par l'échec d'affronter les stress de la vie. La cassette se termine avec un bavardage brusque, comique et apathique entre des doubles personnalités. Se concoctant en une fête de névrosés et allant bien au-delà du point de rupture. Elle dépasse un regard flou et découragé de mille mètres et sort insidieusement dans un délire d'hallucinogène permanent.
Genderdog – 2Blessed 2B Stressed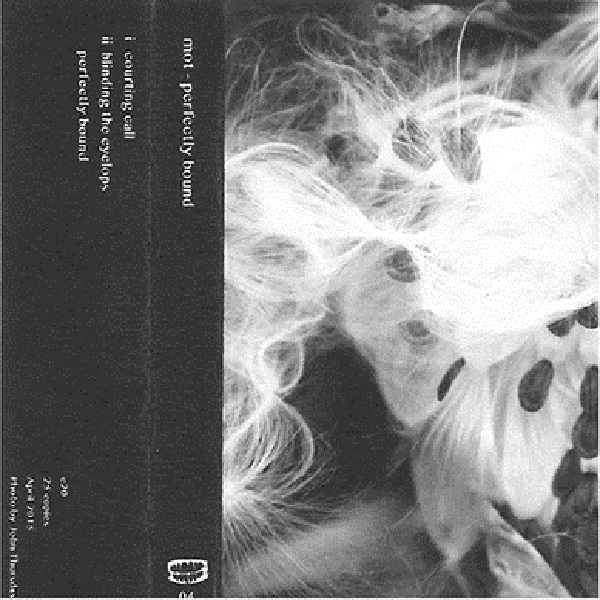 MOT
Perfectly Bound
(Ludamae)
Victoria, BC
From the perfect binding of Bryce Warnes:
Listen to MOT's previous two tapes. In "sands…," released via his Ludamae clearing-house, drones dissolve like dune-tips in the wind. His self-titled recording on Isolated Now Waves is comparatively wetter – throbbing, organic, run through with interstellar communiques, snatches of almost-song. On his latest tape, he flirts with atavistic crunch worship. With admirable self-control, "Courting Call" transitions via air loom transmissions from two-stroke brutalism to an impassable noise wall. Side two moves from an Aghartan festival to a catastrophic tunnel collapse. "Perfectly Bound" is a short ride, but worth the price of admission.
De la reliure parfaite de Bryce Warnes:
(Traduit par le bouchon de cérumen de Julie Mayer)
Écoutez les deux dernières cassettes de MOT. Dans « sands… », lancé par l'entremise de son bureau central dénommé Ludamae, les drones se dissolvent comme la crête des dunes sous le vent. Son enregistrement éponyme produit sous Isolated Now Waves est, en comparaison, plus humide : palpitant et organique, transpercé de communiqués interstellaires et de bribes de quasi-morceau. Sur sa cassette la plus récente, MOT flirte avec un culte du crépitement atavique . Doté d'une maîtrise de soi admirable et transmis au moyen d'une machine à tisser les flux aériens, « Courting Call » passe d'un brutalisme à deux temps à un mur du son infranchissable. La face B passe d'un festival aghartien à un effondrement de tunnel catastrophique. « Perfectly Bound » est une promenade de courte durée, mais qui vaut le prix d'entrée.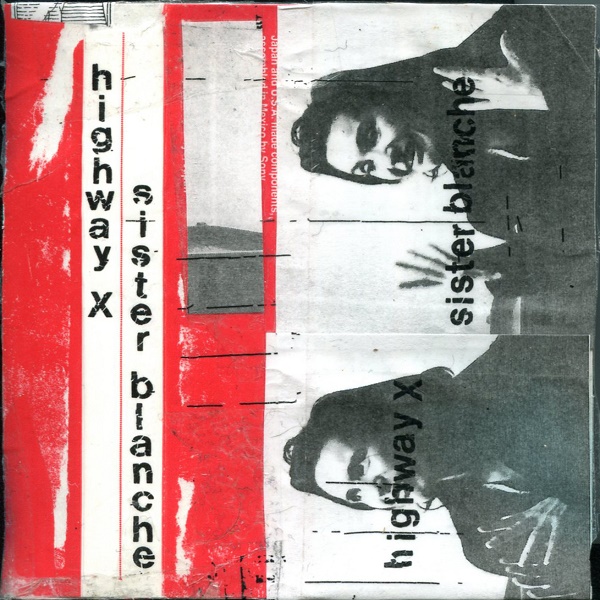 Highway X // Sister Blanche
Split
(Gary Cassettes)
Montreal, QC // Victoria, BC
From the patient suffering of Jesse Locke:
Highway X (Andy Vanier of Babysitter) and Sister Blanche (Morgan Cook of Yung Mums, Cindy Lee, and Androgynous Mind) make an apt pairing. Her mumblecore lullabies, incantations and Swope-style FX are buried under a thick fog of tape hiss like a (more) sinister Tickley Feather. Meanwhile, his guitar/sax jags, sandblasted dub, and lurching loops of mutant concrète add a melodic quality to previous offerings, yet still sound dug up from the sub-underground.
De la douleur patiente de Jesse Locke:
(Traduit par Jessica Grenier)
Highway X (Andy Vanier de Babysitter) et Sister Blanche (Morgan Cook des groupes Yung Mums, Cindy Lee et Androgynous Mind) vont bien ensemble. De son côté à elle, berceuses, incantations et effets à la Swope sont murmurés derrière un épais brouillard de sifflement, comme une Tickley Feather (en plus) sinistre. De son côté à lui, dub décapé, sax/guitare en dent de scie et boucles vacillantes de mutant concrète donnent une qualité mélodique à un ensemble clairement tiré des bas-fonds de l'underground.
---