Category: cassette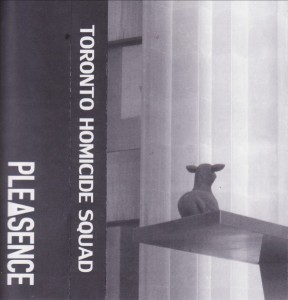 Toronto Homicide Squad
Nein Bullets
Toronto, ON
From the megacity delirium of Liam Kennedy:
This drum and bass combo brings an uneasy rhythmic counterweight to songs perfect for a dystopian French Connection in downtown Toronto, let's say, 2035. Fully setting the scene for Nein Bullets will require co-channeling William Gibson and Phillip K. Dick, an experiment they would probably both be up for.
You're a cop, and not some replicant-hunter eating soba in the rain. You're a beat cop rubbing shoulders with the day-traders turned nuke-junkies in TTC corridors. Your life is zur tshong khang (Tibetan corner store)-fueled all-night stakeouts, shaking down derelict Queen West hipsters, and losing perps in the dark alley birdsnest of MetaScarborough.
Another day bleeds into night and you're searching for him, your flagitious Moby Dick. Every step you take closer to him the further away you end up. Tonight, you're aimlessly rolling through cracked Annex side streets, Lakeshore ruins, and Toronto's leaky ventricle, the DVP – like Conrad's Congo snaking through the GTA's own fattened and sluggishly opaque myocardium. Nein Bullets is the soundtrack to the sodium-vapour tinted pallet of your megacity delirium.
Du délire de mégapole de Liam Kennedy:
(Traduit par le calot rayé en cavale de Julie Mayer)
Cette combinaison basse/batterie apporte un contrepoids rythmique inconfortable à des morceaux parfaits pour une French Connection contre-utopique au cœur d'un Toronto situé, disons, en 2035. Pour réaliser la mise en scène de Nein Bullet, il faudrait brancher William Gibson et Phillip K. Dick sur la même longueur d'onde, une expérience à laquelle tous deux auraient sans doute participé. Vous êtes flic, et non pas un chasseur de réplicants qui mange des soba sous la pluie. Vous êtes un flic de quartier qui se frotte aux spéculateurs sur séance devenus accros à la nuke dans les corridors de la TTC. Votre vie carbure au zur tshong khang (dépanneur tibétain). Vous passez vos veilles à secouer des hipsters, épaves de Queen West, et à vous faire semer par des malfrats dans le réseau de sombres allées qu'est Meta-Scarborough. Un autre crépuscule sanglant coule vers la nuit alors que vous êtes à la recherche de votre Moby Dick infâme. Chaque pas qui vous rapproche de lui vous mène de plus en plus loin. Cette nuit, vous roulez sans but à travers les petites rues fissurées de l'Annex, les ruines de Lakeshore et le ventricule suintant de la Ville Reine. Le DVP, similaire au Congo de Conrad,serpente dans le myocarde opaque, empâté et léthargique du Grand Toronto. Nein Bullets est la bande sonore originale de la palette teintée de vapeur de sodium de votre délire de mégapole.
Toronto Homicide Squad – Cold Eggs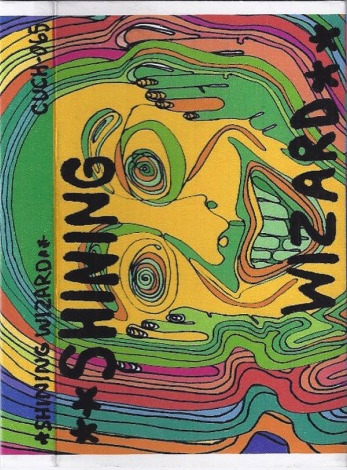 Shining Wizard
No Room For
Montréal, QC
From the barred hyphenation of Javier Fuentes:
A walk into Shining Wizard's world quickly turns into a perpetual stumble and slip. Headspinning shifts that mirror the spectrum-melting artwork courtesy of the Pink Noise's Tara Desmond. Raw tunes hit the burnt pile after filtering through the new-normal radiation levels courtesy of their fellow Montreal tenants. Rogue fuzz pedals conjure up a cloud of tumultuous dust while flangers extend their reach in every direction. A barely standing kit topples to ground level while the drummer gleefully digs into the wreckage to bury the remaining sounds. This is morning music for waking up in a bizarro world.
De la césure interdite de Javier Fuentes:
(Traduit de la tête d'arc-en-ciel de Catherine Debard)
Une promenade dans l'univers de Shining Wizard tourne rapidement en un enchaînement de pas vacillants, c'est tituber et glisser perpétuellement. Les changements de directions abruptes miroitent le visuel de Tara Desmond de the Pink Noise, un spectre de couleurs fondant étourdissant. Des chansons brutes aboutissent sur la pile de sons mutants après être filtrées dans le nouveau niveau de radiation musicale, courtoisie de leurs compères Montréalais. Des pédales de fuzz de voyous font apparaître un nuage de poussière tumultueux tandis que le flanger s'étire dans toutes les directions. Un kit de drum qui se tient à peine s'écrase sur le sol, le batteur fouille dans les décombres en jubilant. Il veut enterrer les débris de son restants. C'est une musique de matin pour se réveiller dans un monde bizarro.
Shining Wizard – Roosevelt Bars the Hyphenated
Shining Wizard – Hollywood Ponders Movie on Book About Snowden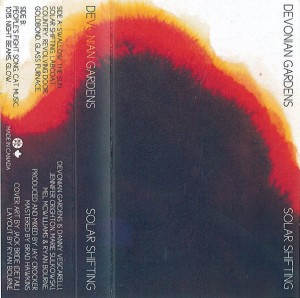 Devonian Gardens
Solar Shifting
(Self Released)
Calgary, AB
From the badland fog of Jared Majeski:
When we embrace our psychotic freedom, our world ceases to be pedestrian. Calgary's Devonian Gardens (ex-Deadhorse) are five of the sublimely experienced, and with Solar Shifting they exhibit the laid back devotion of a group that has done its own for years. The tools and accents are many, swarming the waves and sines with harp fuzz, gnarly 12-string twang, joyous reverb coil vibrations and divine five-part vocal harmonies (just to name a few). Deceivingly loose in its technicality, the pastel psychedelia preached here may very well iterate the decades of past, present and (!?) future. Devonian Gardens have found their sea legs.
Du brouillard des badlands de Jared Majeski:
(Traduit par le rythme de croisière de Virginie Langlois)
Lorsqu'on épouse notre liberté psychotique, notre monde cesse d'être prosaïque. Les cinq membres de Devonian Gardens de Calgary (ex-Deadhorse) sont sublimement expérimentés et avec Solar Shifting, ils affichent la dévotion décontractée d'un groupe qui fait cavalier seul depuis des années. Les effets y sont nombreux : l'harmonica qui envahit les ondes et les sinusoïdes, le son nasillard de la guitare à 12 cordes, les vibrations joyeuses de la reverb à ressort et les divines harmonies vocales à cinq voix (pour n'en citer que quelques-uns). Avec ses détails techniques faussement approximatifs, l'univers psychédélique aux tons pastel prôné ici pourrait fort bien être la bande son des décennies passées, du présent et du futur. Devonian Gardens a trouvé son rythme de croisière.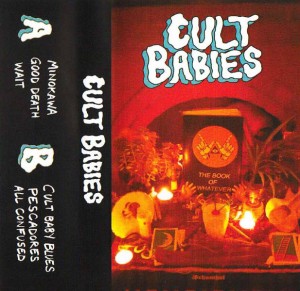 Cult Babies
Cult Babies EP
(Self Released)
Vancouver, BC
From the western gothica of Kyle Valade:
Cult Babies' self released EP threads metric tonnes of instrumentation and vocals into one magnetic strip. These sounds roll between the permutations on top of the steady and droning crashes of the drummer, whose name is strangely difficult to find. Where some bands might gladly jam into the double digits with melodies as hypnotic as these, Cult Babies keep their songs nice and concise, making for some of the most stylized restraint I've ever heard. The lush instrumentation and vaguely repetitive lyrics create an almost cinematic atmosphere where everything disappears at times into the underlying (and almost danceable) Western-Gothic dirge so that it's a shock when the album ends. Makes you wish you could just — I don't know — join a cult and never go back to the real world.
Du western gothique de Kyle Valade:
(Traduit par les oubliettes de Catherine Gaucher)
Sur une seule bande magnétique, ce EP auto-produit de Cult Babies renferme des tonnes métriques d'instrumentation et de mélodies vocales. Les sons flottent entre les permutations et au-dessus du drone constant de leur batteur, dont le nom est étrangement difficile à retracer. Là où certains groupes font volontiers durer leur jam dans les doubles chiffres grâce à des mélodies hypnotiques, Cult Babies garde ses chansons agréables et concises, usant de la contrainte avec style comme j'ai rarement entendu. L'instrumentation luxuriante et les paroles vaguement répétitives créent une atmosphère presque cinématographique où tout disparaît par moments à l'intérieur d'un latent (et quasi dansant) hymne funèbre western-gothique ; c'est donc un choc lorsque l'album se termine. Vous souhaiterez pouvoir — je ne sais trop — joindre un culte et ne jamais réintégrer le monde réel.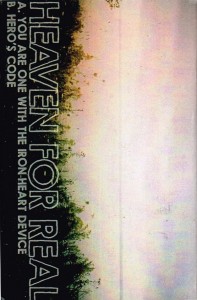 Heaven For Real
Hero's Code
Halifax, NS
From the iron heart device of Max Cotter:
Hero's Code is a mathematically calculated insurrection waged on every mediocre house show ever booked. It may be the music blowing your mind or the fact that you left your ear plugs at home. One way or another, whoever's basement this is will be going up in flames tonight while we dance to sounds as sharp as the broken glass underfoot and pop hooks as pervasive as the smell of mold and sweat. Heaven For Real's spontaneity gets straight to the point with precision and a simple message: grip this, buckle in, and groove to its meandering-yet-meticulous tidal riffs.
Du cœur d'acier de Max Cotter:
(Traduit par la pensée sinueuse mais méticuleuse de Virginie Langlois)
Hero's Code est une insurrection méthodique menée à l'assaut de toutes les soirées house pas terribles. Soit vous avez le souffle coupé par la musique, soit vous regrettez d'avoir oublié vos bouchons d'oreille à la maison. En tout cas, quel que soit le lieu choisi pour la performance, attendez-vous à ce que la salle s'embrase ce soir lorsqu'on va se mettre à danser au rythme de sonorités aussi acérées que du verre brisé sous le pied et d'accroches pop aussi puissantes que l'odeur de moisissure et de sueur. La spontanéité de Heaven For Real's va droit au but avec précision et un message simple : emparez-vous de la musique, accrochez-vous et laissez-vous porter par le raz-de-marée sinueux mais méticuleux des riffs.
Heaven For Real – You Are The One With The Iron Heart Device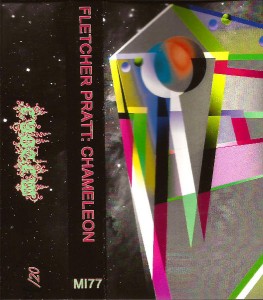 Fletcher Pratt
Chameleon
Winnipeg, MB
From the stereoscopic eyes of Taylor Benjamin Burgess:
Ever changing, Fletcher Pratt keeps swaying on, making his kaleidoscope way through the ever-spooling landscape. Departing from early tape collages, he drove rhythmic noise over the edge, steered into and out of squealing absurdity, and rolled the top down to show off his spacey reggae. Chameleon returns to the arrhythmic, sounding every bit as disorienting (yet charming) as stereoscopic eyes and chromatophores. It's like a sentient Nintendo cartridge finally took one too many blows, broke up and said, "Y'know what? Fuck it," and went far, far off the grid. Into the woods, to prance and creep around. For the glam chameleon
Des yeux stéréoscopiques de Taylor Benjamin Burgess:
(Traduit par le regard ondoyant de Joannie Pharand)
En perpétuelle évolution, Fletcher Pratt continue son déhanchement, traçant son passage de façon kaléidoscopique à travers la bobine éternelle du paysage. Commençant par des premiers collages audios, il a poussé le rhythmic noise par-dessus bord, conduit à l'intérieur et à l'extérieur d'une absurdité grinçante, pour enfin rouler les fenêtres baissées et faire rayonner son reggae planant. Le Caméléon retourne à l'arythmie, sonnant tout aussi désorienté (quoique charmant) que des yeux stéréoscopiques et des chromatophores. C'est comme une cassette de Nintendo douée de sens qui, après avoir reçu trop de coups, s'était brisée et s'exclamait finalement : « Tu sais quoi ? D'la marde, » et dégageait de la place, s'en allait bien loin. Dans les bois, pour se pavaner et rôder. Pour qu'il sonne de cette façon, ce caméléon glamour devra tout d'abord se transformer en soupe primaire.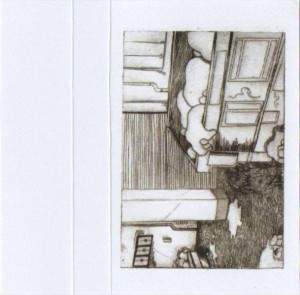 Happy Trendy
For Trial Listening
Edmonton, AB
From the analog crib of Cassilou Landra:
Most of the time life is good, but sometimes it just really, really fucking sucks. During moments like this, it helps to soothe with a little sequence and synth. Edmonton's Happy Trendy delivers on both with an added dash of musique concrète, building on the tradition of seminal works by Luc Ferrari, Pierre Schaeffer and Bernard Bonnier. These brushstrokes act as our anchor, our passenger plane through the foggy drones and comforting arpeggios of For Trial Listening's earthly atmosphere.
'Trial' is the keyword here, but not in the context of demos. If anything, this is music to massage your frustration after numerous, unsuccessful rounds of Trials; comforting and childlike. "#14" reads the alphabet like it's counting sheep, while "#07" and "#03" are twins after a visit to the dentist. "#13" and "#17" show clear roots in the visceral and vibrant analog explorations of synth pioneers such as Raymond Scott and the BBC Radiophonic Workshop, and might as well be the pillow you rest your head on at night. Sleep tight, child.
Du berceau analogue de Cassilou Landra:
(Traduit par le sommeil paradoxal de Catherine Gaucher)
La plupart du temps, la vie est belle, mais parfois elle est aussi juste assez, assez merdique. Dans de tels moments, cela aide de s'apaiser avec un peu de séquences et de synthés. Happy Trendy d'Edmonton nous offre les deux à la fois et ce, ajoutant un soupçon de musique concrète qui s'appuit sur la tradition des oeuvres de Luc Ferrari, Pierre Schaeffer et Bernard Bonnier. Ces inspirations nous servent d'ancre et d'avion nous transportant à travers le drone brumeux et les arpèges réconfortants de l'atmosphère de For Trial Listening's.
Ici, « Essai » est un mot clé, mais non pas dans le sens de démo. Il s'agit plutôt de musique pour évacuer votre frustration après de nombreux essais infructueux; réconfortant et enfantin, « #14 » fait la lecture de l'alphabet comme s'il s'agissait de compter les moutons, tandis que « 07 » et « #03 » sont tels des jumeaux après une visite chez le dentiste. Montrant clairement leurs racines provenant des explorations analogiques viscérales et vibrantes des pionniers du synthé tels que Raymond Scott et le BBC Radiophonic Workshop, « #13 » et « #17 » pourraient tout aussi bien être l'oreiller sur lequel se pose votre tête la nuit venue. Fais de beaux rêves, mon enfant.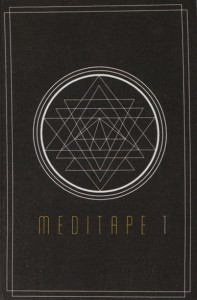 Meditapes
Meditape 1: Disconnection
Ottawa, ON
From the sleepy head of Catherine Debard:
Sometimes some of us are heads on hollow bodies. Our feelings are drained out from our bored, harakiri'd hearts. We are barely ourselves, washed out and evanescent. Floating in an in-between state, we wait for something worth returning to on this earth's strange reality.
Ottawa sound artist Tarek Al-Zand has set down an anchor for all those frail levitating bodies. Listening to the loops of home-made recording textures, tape hiss, profoundly moving guitars, and soothing ethereal voices, roots can dig out of those thick skins and find their way into a lucid meditation. At this exact moment, you think "Fuck my bed" and just lie on the wooden floor, eyes closed, and breathe. Because it is all too important. You suddenly remember how cool it is to live on a planet filled with awesome nature, organic and human mysteries, that every state is ephemera, and that you have a heart.
De la tête endormie de Catherine Debard:
(Traduit par Catherine Debard)
Parfois, certains d'entre nous sommes des têtes posées sur des corps vides. Les émotions s'écoulent de notre coeur las qui s'est fait hara kiri. Nous sommes à peine nous-mêmes, délavés et évanescents. Flottant entre deux états, nous attendons quelque chose qui mérite que nous replongions dans l'étrange réalité de la Terre.
Tarek Al-Zand, artiste sonore d'Ottawa, a jeté une ancre pour ces corps frêles en lévitation. En écoutant ces loops de textures d'enregistrement-maison, hiss de cassette, profondes guitares mouvantes et voix apaisantes éthérées, des racines peuvent transpercer ces peaux coriaces et trouver leur voie vers une méditation lucide. À ce moment précis, vous pensez "Fuck mon lit" et vous vous couchez sur le plancher de bois craquelé, les yeux fermés et vous respirez. Parce que c'est trop important. Vous vous souvenez tout à coup que c'est vraiment génial d'être en vie sur une planète remplie de natureincroyable, de mystères organiques et humains, que chaque état est éphémère et que vous avez un coeur.
Meditapes – Side One [excerpt]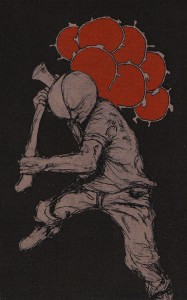 Rei Rea
Selected Works I: Still Suns
Montréal, QC
From the sad eyes of Catherine Debard:
Rei Rea alters the original shapes of sound coming from the Earth's core through a thick fog of crushed electronic distortion and lava overdrive. "Deader" is an 11-minute chaotic mindfuck anthem: The sound of an army marching and thumping the soil in a buried yet obstinate beat. It digs into the cold ground and awakens strange ancestral demons. Their voices seem to struggle into dense drone and war tones. It is heavy and opaque, yet brings a meditation state that goes deeper and deeper into the secrets of the mind and atavistic instincts. Selected Works I is a collection of pieces from this secretive visual artist and noise-maker, recorded between 2008 and 2011. You get all kinds of different moods: strangely hypnotic destroyed melodies ("Slow Ipex"), fluctuant fuzz textures that offer the feeling of being on a bullet train ("Tres Mal"), and loud industrial machines smashed by nightly wanderers during a deep Pagan ceremony ("Rain Plaine").
Des yeux tristes de Catherine Debard:
(Traduit par Catherine Debard)
Rei Rea altère le son originel provenant du centre de la Terre par un brouillard opaque et écrasant de distorsion électrique et de lave d'overdrive. « Deader » est un hymne de onze minutes pour le chaos et le dérèglement de l'esprit. Le son d'une armée qui marche et martelle le sol dans un beat enterré mais obstiné. Leurs pas créent une fissure dans la terre froide et réveillent d'étranges démons ancestraux. Leurs voix de spectres semblent se débattre dans ce drone dense, ces teintes de guerre. C'est lourd, opaque, mais en même temps, ça crée une méditation qui nous plonge de plus en plus profondément dans les secrets de l'esprit et les instincts ataviques. Selected Works I est une collection de pièces de ce noise-maker et artiste visuel mystérieux enregistrées entre 2008 et 2011. On passe par plusieurs ambiances : mélodies détruites hypnotisantes (« Slow Ipex »), textures de fuzz fluctuantes qui donnent l'impression d'être dans un train poussé à plein régime (« Tres Mal »), et une machinerie lourde industrielle démolie par des vagabonds nocturnes durant une cérémonie païenne (« Rain Plaine »).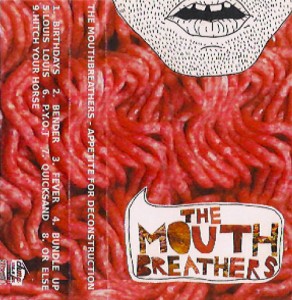 The Mouthbreathers
Appetite for Deconstruction
Sackville, NB
From the swamp magic of Alison Lang:
This time of year, as winter approaches, as the days lurch into longer, darker, heavier nights, it can be hard to keep your head up. It can be hard to care. Deep from the land of swamp magic come the Mouthbreathers, with nine joyful tunes that will worm their way into the sour core of your heart. These guys are preternaturally wise and yet sweetly raw, with a warm vitality thrumming beneath the surface. The lyrics are funny and friendly and wayyy too smart, and each song snaps like a whip, peppered with crunchy guitars and oddly heartfelt bon mots. It's true, as singer/wordsmith Lucy Niles confesses on "Bender", that some of us prefer songs about stuff, but it's the deceptively simple stuff that feels like it matters — getting a crush and being a goof, loving your small town, yet dying to get out, getting baked and talking too much about your feels. The band says all of this is fine, and you will be fine. So stay here. Sit longer. Cherish the sweet, warming glow.
Du marais magique de Alison Lang:
(Traduit par le solstice de Catherine Gaucher)
En cette période de l'année, comme l'hiver approche, les journées se transforment en nuits plus longues, plus sombres, plus lourdes et il peut être difficile de garder le moral. Il peut être difficile de se soucier de quelque chose. De la terre lointaine du marais magique nous arrive Mouthbreathers avec neuf joyeuses chansons qui se faufileront droit vers le noyau aigre de votre cœur. Ces gars sont prématurément sages, encore doucement bruts et possèdent une vibrante et chaleureuse vitalité. Leurs paroles sont drôles, amicales et beaaaaucoup trop intelligentes. Claquant comme le fouet, chacune de leurs chansons est parsemée de guitares croustillantes et de bons mots étrangement sincères. Il est vrai, comme l'avoue la chanteuse/parolière Lucy Niles sur « Bender », que certains d'entre nous préfèrent les chansons qui racontent quelque chose, mais ce sont les petites choses en apparence si simple qui finissent par nous parler le plus — tomber en amour et faire l'imbécile, aimer son patelin tout en rêvant de partir, se défoncer et parler trop de ses sentiments. Le groupe nous assure que tout cela est très bien, et que nous aussi nous irons bien. Alors restez ici. Installez-vous. Chérissez cette lueur, douce et chaleureuse.
---