Category: cassette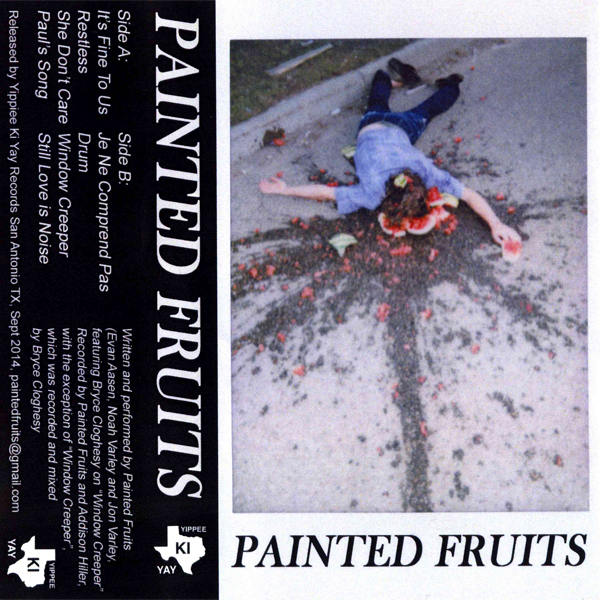 Painted Fruits
Painted Fruits
Victoria, BC
From the sincerely insincere smile of Johnnie Regalado:
If you burn it all down something else is bound to sprout from the ashes. There's an inherent lightness in the new, but time and experience always bring change. Here the stretch from lo-fi to deranged manifests in both the tone and the theme; warbled like fresh tape into pure hiss. Eager to please pop songs Jekyll-and-Hyde into the sound of lurkers outside your windows. Two-faced like their city that seeds so many great bands: supportive and fun but shadowed by that cloud-and-rain induced darkside vibe.
Du sourire sincèrement pas sincère de Johnnie Regalado:
(Traduit par Julie Forget)
Si tu brûles tout, quelque chose finira forcément par naître des cendres. Il y a une légèreté inhérente dans la nouveauté, mais le temps et l'expérience amènent toujours le changement. Ici, l'instant lo-fi à l'instant dérangé se manifeste autant dans la sonorité que dans le thème; chanté comme le pur sifflement d'une nouvelle cassette. Impatientes de plaire, des chansons pop font place à des bruits de rôdeurs tapis quelque part sous ta fenêtre, tel le Dr Jekyll qui se métamorphose en M. Hyde. Elles possèdent une double face tout comme leur ville d'où proviennent tant d'excellents groupes : solidaire et amusante, mais ombragée par cette ambiance sombre de nuages et de pluie.

Painted Fruits – It's Fine To Us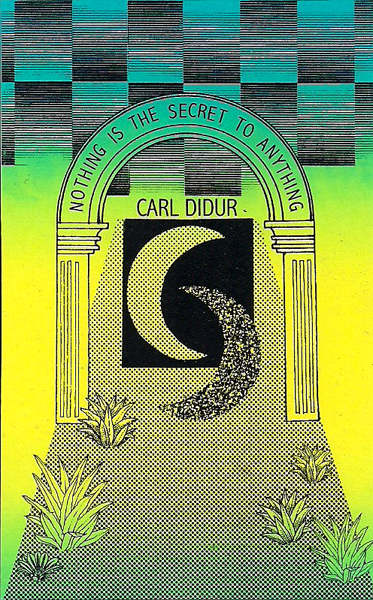 Carl Didur
Nothing Is The Secret To Anything
(Self Released)
Toronto, ON
From the space escapade of Jesse Locke:
Carl Didur, one half of zee almighty Zacht Automaat, continues his hover-cruise through fresh forms of space age pop. This outerstellar exotica lifts off from the dimly lit lounge, spilling lava lamp liquid and blowing back Les Baxter's toupee. Sway to the sound of these nimble fingers, rhythm ace propulsion, and tape loops unspoiling at the same rate as your mind. Dinner's ready…
De l'escapade spatiale de Jesse Locke:
(Traduit par Jessica Grenier)
Carl Didur, une des moitiés du zed tout puissant – Zacht Automaat – poursuit sa croisière planante par de nouvelles moutures pop de l'ère spatiale. Cet exotica d'un autre monde décolle dans la lumière tamisée du lounge en jetant par terre une lava lamp et la perruque de Les Baxter. Balancez-vous au son de ces doigts agiles, de cette propulsion rythmique d'Ace, de ces enregistrements en boucle se régénérant à la vitesse de votre esprit. « Dinner's ready »…

Carl Didur – Big Money Buys The World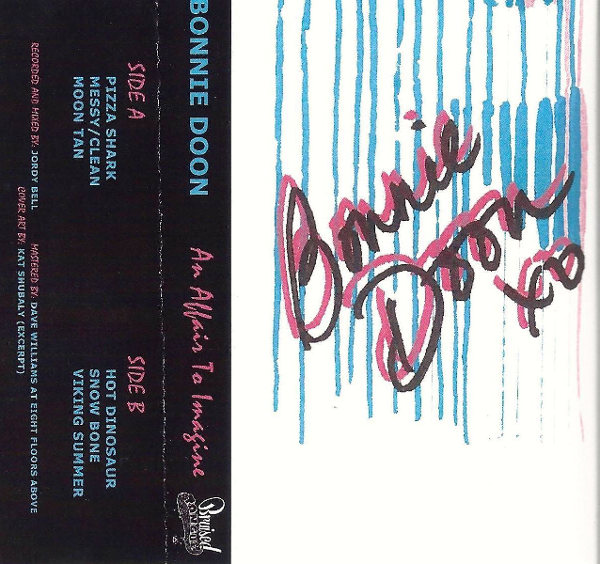 Bonnie Doon
An Affair to Imagine
Ottawa, ON
From the Frankenstein monster of Penny Clark:
Bruised Tongue slams another release out of the park with distorted, two bass glam-punk tape sounds from Bonnie Doon. The band immortalizes cheap slice Ottawa eatery Pizza Shark and the hot dinosaur who earns a living at the record store. They do this with vocals that are like some kind of insane Monster Mash/Bikini Kill Frankenstein monster. These Ottawa toughs crack wise sharper than anybody else.
Du monstre Frankenstein de Penny Clark:
(Traduit par Benoit Arcand)
C'est une autre garnotte étampée Bruised Tongue qui s'ébroue ici au-delà des palissades du champ gauche. Toutes basses glam-punk distordues brandies, Bonnie Doon rend au passage un térébrant hommage aux peu chères pointes de chez Pizza Shark et à ce dinosaur qui trime chez le disquaire, et tout ça sur des airs qui tiennent de l'hybridation démente de Monster Mash et de Bikini Kill. Ces durs à cuire ottaviens raillent plus profondément que les concurrents.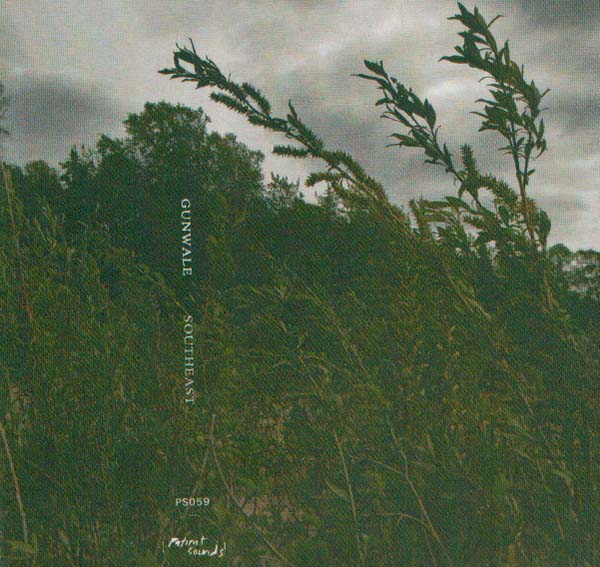 Gunwale
Southeast
Edmonton, AB
From the butterfly-filled chest of Hailey Celesse McCarthy:
If you are like any erudite human creature you probably have a tendency to cache real sounds in a secret part of the mind — relegating the din of wind-chimes, the "pit, pat" of rain on pavement, the "click, clack" of train tracks to that special forget-me-not spot — and mute them. Gunwale re-vocalizes these sounds and immerses them in a web of fine waveforms, an eerie dialogue of space — in-so-far-as a stop sign is a call for action. The tones internally oscillate, forage the fruits of experience, pluck them and plant them amongst the tendrils of the aforementioned proverbial web. Be the fly.
De l'abdomen rempli de papillons de Hailey Celesse McCarthy:
(Traduit par Jessica Grenier)
Si tu ressembles aux créatures humaines érudites, tu as probablement tendance à conserver les sons réels dans une section secrète de ton esprit – consignant dans cet endroit spécial le chahut des carillons, le « pit, pat » de la pluie sur le trottoir et le « clic, clac » du train sur ses rails – avant de les faire taire. Gunwale reformule ces sons en les immergeant dans une toile en forme d'ondes fines, un dialogue féérique sur l'espace – jusqu'au point où un signe d'arrêt invite à l'action. Les tonalités oscillent de l'intérieur, cherchant les fruits de l'expérience avant de les cueillir pour les planter parmi les vrilles de la toile proverbiale susmentionnée. Deviens la mouche.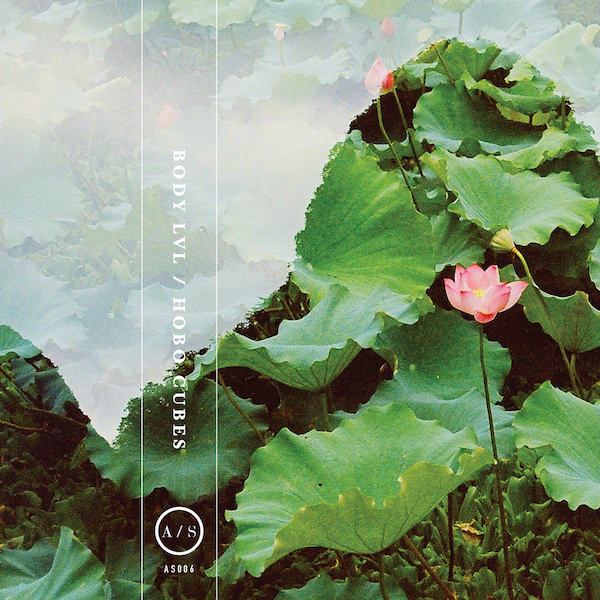 Body Lvl // Hobo Cubes
Split
Saskatoon, SK // Montréal, QC
From the astral projection of Jonathan Park:
Francesco de Gallo joins Will Kaufold and Mehta Youngs for a journey into astral projection. Body-numbing swells of synthesis propel for a mind-massage and murmuring field recordings stir the pot to create a prerequisite for the full-cleanse ritual. Reverberated bells ring over rhythmic machinery while we are met with a blooming guise. All frequencies begin to disintegrate. There is no rest for the weary as we fall deep into our trip.
De la projection astrale de Jonathan Park:
(Traduit par Jacinthe Laplante)
Francesco de Gallo s'associe à Will Kaufold et Mehta Youngs le temps d'un voyage astral. La houle engourdissante de la synthèse pousse à un massage de l'esprit et les champs murmurent des enregistrements qui brouillent les cartes pour créer les conditions nécessaires à un rituel complet de purification. Le son des cloches résonne plus fort que la machinerie rythmique pendant que nous nous retrouvons face à des formes qui s'épanouissent. Toutes les fréquences commencent à se désintégrer. Impossible de se reposer malgré la fatigue alors que nous nous enfonçons dans notre trip.

Hobo Cubes – Semblance, Is Ripe With Blooming Gestures (excerpt)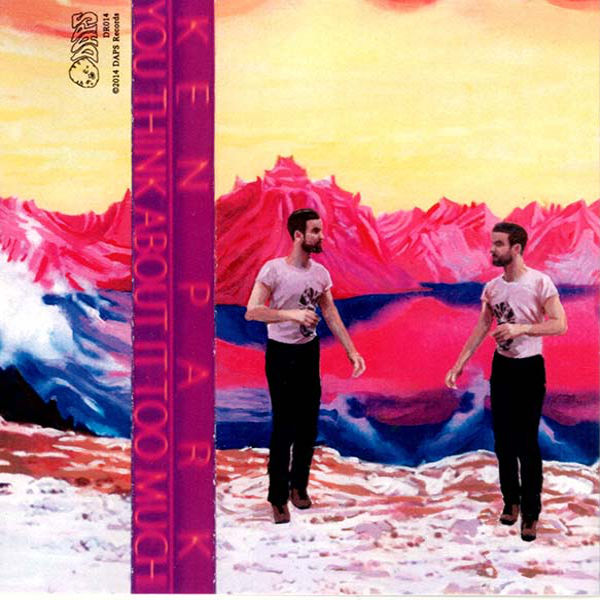 Ken Park
You Think About It Too Much
Toronto, ON
From the 2D nerve cluster of Adam Bradley:
It starts by summoning the nerve cluster of a NES last boss battle: 2D shifting skillfully along electric planes. Then cuts in the voice, sounding drawn from the moment Piano Magic's Glen Johnson realized the world ain't so perfectly grim. Crispily sizzling tumble-drums hum, hollowed out oil drum synthesizers thrum. A wide-eyed urgency exists here, vibrating with imperative grace. A joyful darkness, wrenched from a disaffected, Wintery generation.
De l'amas nerveux en 2D d' Adam Bradley:
(Traduit par l'ampoule sur le pouce de Jessica Grenier)
Ça commence en faisant appel à l'amas nerveux du combat contre le dernier boss sur NES : en manœuvrant habilement en 2D à chaque niveau électrique. Puis une voix apparait, comme tirée du moment où Glen Johnson de Piano Magic a réalisé que le monde n'était pas complètement sombre. Crissement crépitant de batterie bourdonnante, vrombissement d'anciens barils à pétrole devenus synthétiseurs. Ici, il y a une urgence, les yeux écarquillés, qui vibre d'une grâce impérative; une obscurité joviale, arrachée à une génération hivernale désabusée.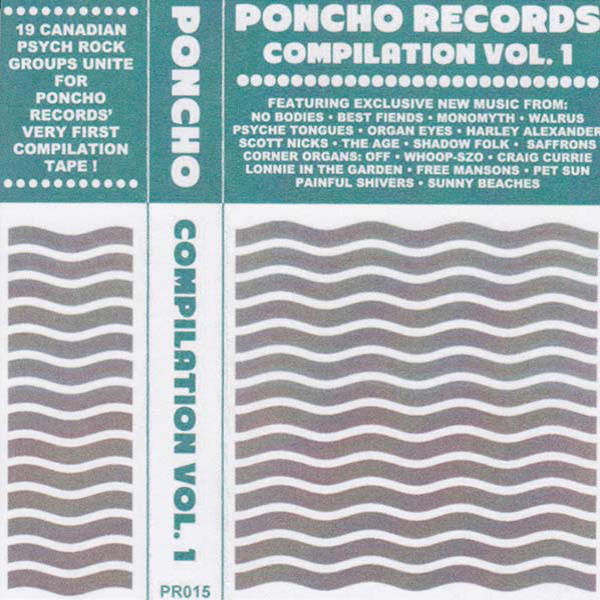 Various Artists
Poncho Records Compilation Vol. 1
Halifax, NS
From the cryptic amalgam of Joshua Robinson:
Poncho Records, Nova Scotia's crucible of fringe psych-pop-folk, serves up the lysergy in hallucinogenic quantities with this curated offering of regional glory. This amalgam of incited dream-gazery is both cryptic and prophetic; cassette-form multi-spiritism that is both past and future, dark and light, sweet and salty. Poncho is a force: a major arterial conduit coursing through our northernly underground. Grip it while the Atlantic haze is heavy, and breathe in the heavy mists of the folkloric storm.
De l'amalgame cryptique de Joshua Robinson:
(Traduit par Jessica Grenier)
Avec cet amoncellement d'offrandes de gloire régionale, Poncho Records, le creuset de psych-pop-folk marginal de Nouvelle-Écosse, nous sert du lysergide en quantités hallucinogènes. Cet amalgame de rêverie-contemplation poussée est aussi cryptique que prophétique; un multispiritisme sous forme de cassette aussi passé que futur, aussi sombre que lumineux, aussi doux que salé. Poncho est une force, un grand conduit artériel parcourant notre sous-sol nordique. Saisissez-le dans le lourd brouillard de l'Atlantique pour respirer les brumes pesantes de la tempête folklorique.

Craig Currie – Come Over Again

Psyche Tongues – Remain Unknown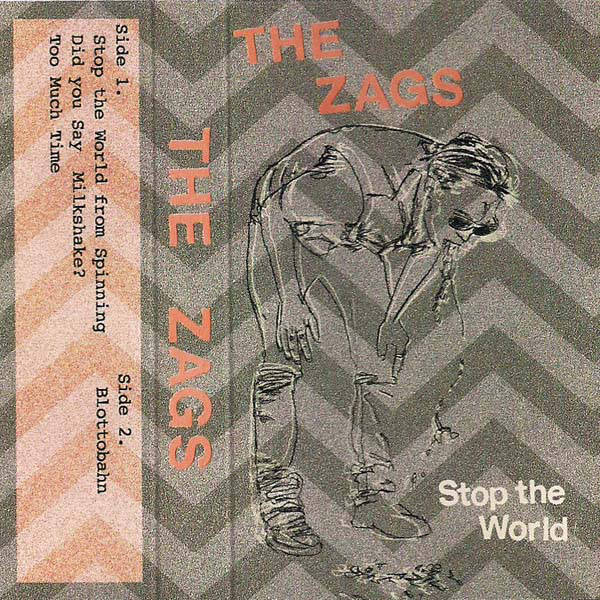 The Zags
Stop the World
(Self Released)
Winnipeg, MB
From the blottobahn of Jesse Locke:
Cold chillin' in the booth at Lou's Cafe, Winnipeg's Zags plot their next move. These prairie-punk slackers are fiending for the slurp, fueling up for their next gig at the sock hop. With a sugar-rush punch of friendly fuzz, this trio pogos in style like a landlocked Les Savy Fav.
Du blottobahn de Jesse Locke:
(Traduit par la langue bleue de Jessica Grenier)
Les Zags de Winnipeg manigancent leur prochaine action en relaxant sur une banquette du Café 80. Ces punks paresseux des Prairies amateurs de slurp font le plein avant leur prochaine gig : une soirée pour ados. À coup de fuzz en surdose de sucre, le trio danse le pogo avec style, comme un Les Savy Fav les deux pieds au sol.

The Zags – Did You Say Milkshake?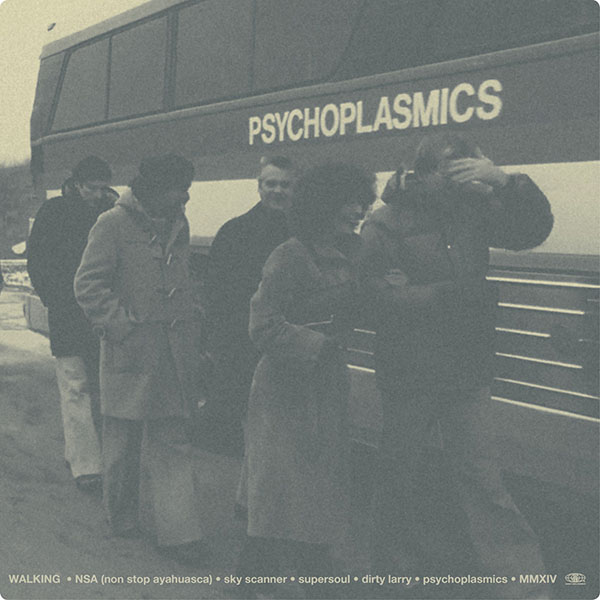 Walking
Psychoplasmics
(Self Released)
Montréal, QC
From the built up mystery of Christina Bell:
Psychoplasmics is a psychological technique wherein patients undergo treatment in the hopes that they will be freed from "troubling emotions." Obviously tuned into the deep healing power of their aural creations, Montréal duo Walking adopted the name as the title of their prolonged psyche-jam of an album. Aside from a bit of distant background chatter, the tracks are instrumental, leaving the extra smooth drum lines and guitar riffs to keep up the coolly sedated narrative of the album. Title track "Psychoplasmics" plays like it could be the soundtrack to a hazy quasi-western movie with an ultimately nonchalant feel. This album gives off the kind of kaleidoscopic positive vibes that you almost forget to notice because you're feeling so damn good.
Du mystère édifié de Christina Bell:
(Traduit par la paupière lourde de Jessica Grenier)
Psychoplasmics est le nom d'une technique utilisée lors du traitement psychologique des patients dans l'espoir de les libérer de leurs « émotions pénibles ». C'est aussi celui choisi par le duo montréalais Walking – manifestement concentré sur le pouvoir guérisseur de ses créations auditives – pour cet album de psyché-jam prolongé. Si ce n'est des murmures que l'on entend, les pistes sont instrumentales, laissant les riffs de guitare et la batterie très douce veiller à la narration sédative de l'album. La piste éponyme aurait pu être la trame sonore d'un quasi-western brumeux penchant vers la nonchalance. Cet album émet un genre d'ondes positives kaléidoscopiques qu'on ne remarque presque pas parce qu'on se sent juste trop bien.

Walking – NSA (non stop ayahuasca)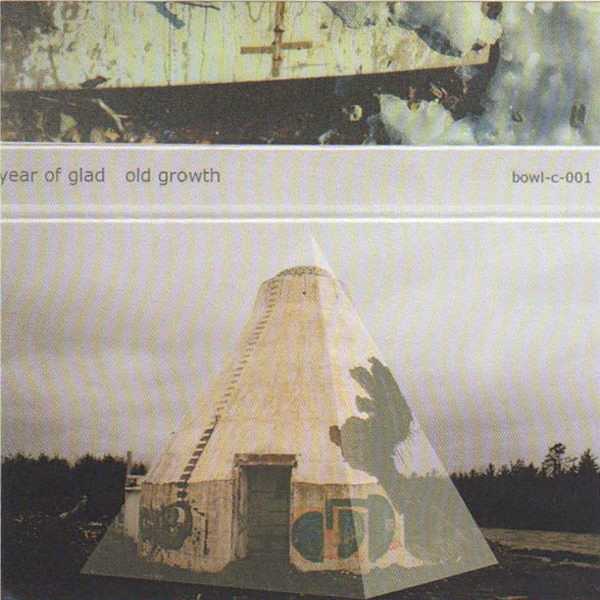 Year of Glad
Old Growth
Montréal, QC
From the self-consuming snake of Rachel Weldon:
Tones expand infinitely across an apocalyptic wasteland. Last gasps of existence smear across the temporal canvas, breathing life into a new and evolved lifeform. Euphonic in its thickness of space, Old Growth's dynamic ambience enlarges the mind. We are in here. Space slashed with subsidized time relentlessly pushes forward, growing bigger as it consumes its surroundings.
Du serpent en train de se manger lui-même de Rachel Weldon:
(Traduit par Jessica Grenier)
Les sons s'étirent à l'infini par-dessus la dévastation d'un paysage post-apocalyptique. Les derniers souffles de vie sont étalés sur le canevas temporel, donnant naissance à une nouvelle forme d'existence évoluée. Rendu euphonique par l'épaisseur de son espace, Old Growth offre des ambiances dynamiques qui élargissent l'esprit. Nous sommes ici, à l'intérieur : l'espace est lacéré par un congé payé qui cherche inlassablement à avancer, grossissant au rythme où il consume ce qui l'entoure.
---