Category: 7″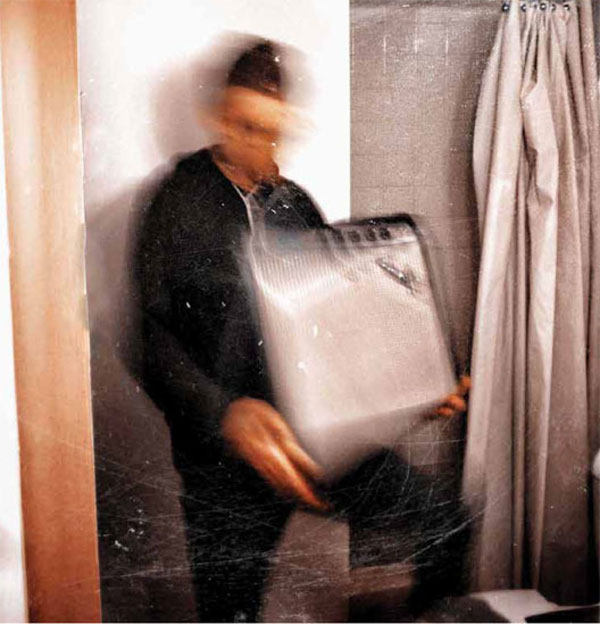 Astral Swans
You Carry A Sickness b/w Park Street
Calgary, AB
From the phantom hymns of Josh Rohs:
Super cheerful poltergeist Matt Swann returns under the guise of Astral Swans. As the first release on Dan Mangan's Madic Records, this 7" contains a pair of phantom hymns cut from the same cloth as the melancholic psychedelia Swann makes as Extra Happy Ghost!!!, albeit taking a more minimalistic approach. On "You Carry a Sickness", his unembellished vocals float atop a spectral reverie, anchored by sparse percussion and permeated by rays of '60s-organ sunshine. "Park Street" is an even starker outing, complete with a sample of the late Chris Reimer's "Truck Middle" that hums and buzzes throughout like some audible form of cosmic background radiation. Take a minute to get lost in the ether — I'll meet you on the astral plane.
Des hymnes fantomatiques de Josh Rohs:
(Traduit par Vincent Rondeau)
Le poltergeist particulièrement enjoué Matt Swann nous revient en tant qu'Astral Swans. Les deux hymnes fantomatiques de cette galette de 7", première parution de l'étiquette Madic Records de Dan Mangan, sont faits de la même étoffe mélancolique et psychédélique que l'autre projet de Swann, Extra Happy Ghost!!!, quoique son approche soit ici plus minimaliste. Sur « You Carry a Sickness », sa voix plane sans ornement au-dessus d'une rêverie spectrale ponctuée de percussions discrètes et illuminée par un orgue sixties ensoleillé, tandis que « Park Street » est encore plus dépouillée, avec un échantillon bourdonnant de « Truck Middle », de feu Chris Reimer, qui résonne à travers la pièce comme un rayonnement de fond cosmique. Prenez un instant pour vous perdre dans l'éther, on se revoit sur le plan astral.

Astral Swans – You Carry a Sickness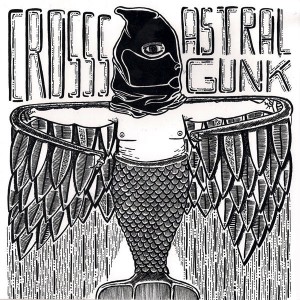 Crosss // Astral Gunk
Split 7″
Toronto, ON // Sackville, NB
From the prophetic dirge of Josh Boguski:
Darkness envelopes a barren landscape as cloaked figures surround their fallen chapter. Though trembling, we are euphoric as the beast they've summoned welcomes us into its arms. Crosss seamlessly combine doom and post-punk with the disorienting pop sensibilities that we've come to expect from Halifax. And they're destined to the throne. On the flipside, chain-gun percussion accompanies the proclamation that punk is not dead. In their own maniacal language, Sackville's Astral Gunk abandon convention and leave the capitol in search of unpredictable territory.
De l'hymne funèbre prophétique de Josh Boguski:
(Traduit par elfranc)
L'obscurité enveloppe un paysage aride alors que des personnages cagoulés entourent leur acolyte tombé. Malgré les tremblements, nous sommes euphoriques : la bête qui a été invoquée nous accueille dans ses bras. Crosss combinent sans couture le doom et le post-punk avec la sensibilité pop désorientante d'Halifax. Ils sont destinés au trône. De l'autre côté, des rythmes de mitraillette accompagnent la proclamation que le punk n'est pas mort. Dans leur propre langue maniaque, Astral Gunk, de Sackville, abandonnent les conventions et quittent le Capitole à la recherche de territoires imprévisibles.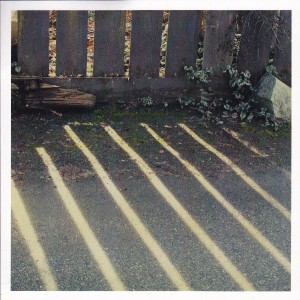 Rose Melberg
Distant Ships
Vancouver, BC
From the glittering prizes of Penny Clark:
Rose Melberg's striding drums and sunny melodies pedal her song like a bicycle through a bright green day. Recorded as part of the Kingfisher Bluez Single Sided Singles club, this 7" has the hazy, warm quality of a projection film reel. Her vivid guitar tone and calm-breeze vocals sail across the horizon, while the song disappears over the glittering waves just as abruptly as it begins. Melberg offers a brief memory of summer, the scent of the rich earth and gentle salt air.
Des récompenses étincelantes de Penny Clark:
(Traduit par la hâte du printemps de Catherine Gaucher)
Grâce à ses percussions marquantes et à ses mélodies ensoleillées, Rose Melberg pédale sur ses chansons comme sur une bicyclette défilant lors d'une radieuse journée. Enregistré pour Kingfisher Bluez et sa collection Single Sided Singles, ce 7 pouces possède une qualité diffuse, chaleureuse et comparable à celle même d'une bobine de projection de film. Ses tonalités vives de guitares et sa voix légère comme la brise voguent à l'horizon, tandis que ses chansons disparaissent tout aussi soudainement qu'elles étaient apparues, parmi les vagues scintillantes. Melberg nous livre un bref souvenir de l'été, un riche parfum de terre et d'air salin léger.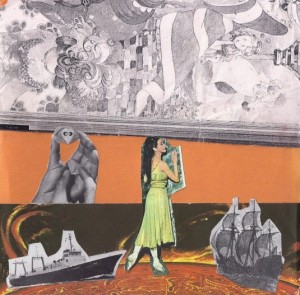 The Pink Noise // Man Made Hill
Split 7"
(Inyrdisk)
Montréal, QC // Toronto, ON
From the cryptic decisions of Jesse Locke:
This split disk surpasses expectations with a pair of institutions in peak form. The three-piece Pink Noise lurches like a post-punk Prometheus juiced on daisy-chained FX pedals as it wobbles askew and utters its first blasé words. The tightly coiled configuration that arrived on Greedy Heart has never sounded more menacing. Meanwhile, the man made mystery known as Randy Gagne shows off his vocal mutations with the burbling kiss and tell "Sweeter Than Ice" and ghoulish synth-pomp falsetto of "Cryptic Decision." Available with risograph cover art or 50 unique collages, like the fever dream scene up above.
Des décisions cryptiques de Jesse Locke:
(Traduit par les contorsions spiraloïdes de Nicolas Coutlée)
Ce split réunissant deux institutions en pleine possession de leurs moyens surpasse toutes les attentes. Le trio Pink Noise titube comme un Prométhée post-punk fou raide de pédales à effets interconnectées, alors qu'il gigote dangereusement et prononce ses premières paroles désenchantées. Les arrangements ficelés serrés de « Greedy Heart » n'auront jamais sonné aussi menaçants. Pendant ce temps, le mystère érigé de main d'homme, connu sous le nom de Randy Gagne, fait étalage de ses mutations vocales sur le secret d'alcôve guttural « Sweeter Than Ice » et de son fausset macabre aux accents de synthé cérémonieux sur « Cryptic Decision ». Offert avec une pochette imprimée sur risographe ou cinquante collages uniques, comme la scène de rêve fiévreux ci-dessus.
Man Made Hill – Cryptic Decision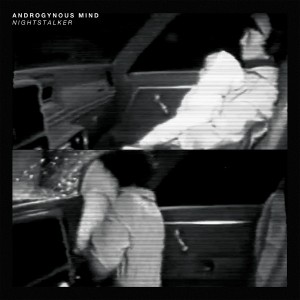 Androgynous Mind
Nightstalker
Vancouver, BC
From the molten tar of Javier Fuentes:
Patrick Flegel and Morgan Cook set their instruments to panic mode on this proto-Cindy Lee project. Every bit as moving as the songs on Tatlashea, this is a band that sounds like it's living in the present year, melting icecaps and all. Pulling no punches, the fast parts are heavy and the slow sections are crushing. Flegel shears and tears his guitar as he tries to grip the molten tar stuck by the neck, while Cook's destroyed drumset responds to these terrorizing calls with one last gasp. Mutant shrieks travel through plexiglass to reach the ears of some condo boss counting cheques by the pool. His attention is diverted by a knock on the door — someone's looking to make a deal. The jam continues on through the bitter cold of a winter's night, working through storm and stress. These transmissions travel from the west coast, so keep an eye out for distractions and make sure you don't miss them.
Du goudron en fusion de Javier Fuentes:
(Traduit par l'effet de serre de Catherine Gaucher)
Sur ce projet proto-Cindy Lee, Patrick Flegel et Morgan Cook ont mis leurs instruments en mode panique. Toujours aussi émouvant qu'avec leurs chansons de Tatlashea, ce groupe semble vivre dans l'époque actuelle, celle même de la fonte des calottes glaciaires et de tout le reste. Faites sans cachotterie, les parties rapides sont lourdes et les sections lentes sont écrasantes. La guitare de Flegel cisaille et déchire pendant que ce dernier tente de saisir du goudron en fusion et tandis que dans un dernier soupir, la batterie détruite de Cook répond à des appels terrifiants. Au-delà du plexiglas traversent des cris de mutants atteignant les oreilles d'un quelconque propriétaire de condos qui compte les chèques au bord de la piscine. Son attention est détournée par quelqu'un cognant à la porte — on cherche à conclure une entente. Affrontant tempêtes et anxiété, ce jam traverse le froid cinglant d'une nuit hivernale. Gardez l'œil ouvert et assurez-vous de ne pas rater ces transmissions qui nous viennent de la côte Ouest.
Androgynous Mind – Knock On My Door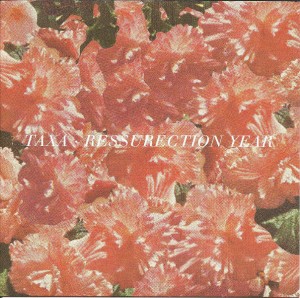 TAXA
Resurrection Year
Vancouver, BC
From the imminent explosion of Kevin Stebner:
Initially, you may think these burly rhythms come from worshippers of the old Great American Steak Religion, yet Taxa take a soul-searching journey to the Valhalla that is Chapel Hill. Imagining mechanic button-ups with embroidered names like "Dale" or "Hank", you wonder if they intend to heal the damage. Instead, you climb the mountain of history and past, feeling a scarily imminent explosion from the Pacific rim. Do you crest the peak, or fall headlong in?
De l'explosion imminente de Kevin Stebner:
(Traduit du sommet de la vague de Justine Gabias)
Au premier abord, on pourrait penser que ces rythmes costauds sont l'oeuvre de fidèles de The Great American Steak Religion, mais les membres de Taxa entreprennent plutôt un voyage spirituel jusqu'au Valhalla qu'est Chapel Hill. Les imaginant portant des chemises de mécanos avec des noms comme « Dale » ou « Hank » brodés sur la poitrine, on se demande s'ils ont l'intention de réparer les dommages. Ils nous font plutôt gravir la montagne de l'histoire et du passé avec le pressentiment d'une explosion horriblement imminente de la ceinture du Pacifique. On touche le sommet de la vague ou on y tombe la tête la première ?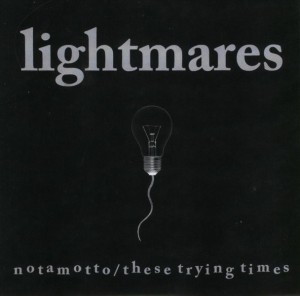 Lightmares
Notamotto b/w These Trying Times
(Self Released)
Sudbury, ON
From the trying times of Joel French:
It must have been seven or eight years now since I first saw Lightmares play a show. These three dudes weren't old enough to stay in the bar after their set, but that didn't stop them from giving out an insanely captivating and raw performance — or from handing out their demos to everyone as we went out to smoke. Since then they've tightened up their live show, songwriting and banter quite a bit, yet they seem just as hungry every time I see them play. This pair of weirdo pop-rock songs is a great representation of what these boys are capable of.
Des temps difficiles de Joel French:
(Traduit avec fébrilité par Andréanne Dion)
Ça doit maintenant faire sept ou huit ans que j'ai vu Lightmares en spectacle pour la première fois. Ces trois gars n'étaient pas assez vieux pour rester dans le bar après leur prestation, mais ça ne les avait pas empêchés de donner une performance extrêmement captivante et brut, ou de distribuer leur démo à tous ceux qui sortaient fumer. Depuis, ils ont pas mal amélioré leur spectacle, la composition de leurs chansons et leurs plaisanteries, mais ils semblent toujours aussi avides à chaque fois que je les vois jouer. Cette paire de chansons pop-rock étranges représente bien de quoi ces gars sont capables.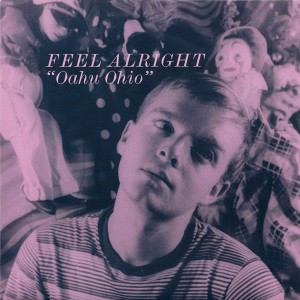 Feel Alright
Oahu Ohio
Calgary, AB
From the fevered dance of Javier Fuentes:
The thermostat may be telling you to drag out your warmest attire, but one spin of this Feel Alright 7" will start the search for your palm printed shirts and sand soaked shorts. Memories of winter goths get cast to the side under the melting vocal spells of Craig Fahner. Giddy guitars tickle you out of your static stance and into a fevered dance. Take your sled out for a spin on the snowy hill and watch as it turns into a slick surfboard. Shorter days call for an action plan to get the most of your time, so take these songs as your first step.
De la danse fiévreuse de Javier Fuentes:
(Traduit par le thermomètre de Catherine Gaucher)
Même si votre thermostat semble vous indiquer qu'il vous faut revêtir vos vêtements les plus chauds, une seule écoute de ce 7 pouces de Feel Alright déclenchera en vous la recherche pour retrouver vos chemises aux imprimés de palmiers et vos shorts couverts de sable. Sous les sorts vocaux envoûtants de Craig Fahner, les souvenirs de Winter Goths sont mis de côté. Des guitares vertigineuses vous balancent en dehors de votre statisme et vous jettent dans une danse fiévreuse. Sortez votre traîneau pour une glissade sur une colline enneigée et voilà que ce dernier se transforme soudainement en une belle planche de surf. Parce que les journées écourtées exigent un plan d'action pour tirer le meilleur parti de votre temps possible, prenez ces chansons comme une première étape.
Feel Alright – Dark Incantations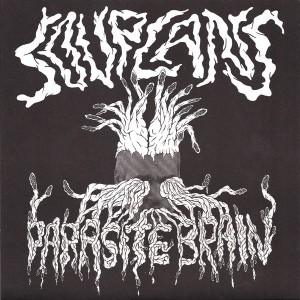 The Soupcans
Parasite Brain EP
Toronto, ON
From the substantia nigra of Brendan Lehman:
Enter the Soupcans. Enter the Soupcans into a world of dystopian chaos, one of grinding distortions and impenetrable walls of sound. Manic screams guide you through dim-lit alleyways vaguely remembered. Living here, it sometimes calms down into a groove, but more days than not it's the unceasing noise of your state oppressor, eating away at your once-sane consciousness. It's hard to tell if it's the cocktail your guy down the street cooked up for you or if that's just the way it has become. Thoughts are fleeting, and you begin to wonder if anyone could ever help. Until you re-emerge, standing in the crowd of your local punk bar, listening to the Soupcans blow your mind. Thankfully it's not the brain-oozing hell you thought it would be, just really good punk.
De la substantia nigra de Brendan Lehman:
(Traduit de la contre-utopie effrayante de Catherine Debard)
Entrez dans Soupcans. Entrez dans Soupcans, dans un monde dystopique, un cauchemar chaotique de distortion écrasante et de murs du son impénétrables. Des cris déments vous guident le long de sombres ruelles vaguement familières. Ici, parfois, ça se calme dans une sorte de groove, mais la majorité du temps, les journées sont imprégnées du bruit incessant de votre oppresseur, qui bouffe tranquillement votre conscience jadis intacte. C'est assez nébuleux, à savoir si c'est le cocktail que ce type en bas de la rue a cuisiné pour vous ou si c'est juste ce que les choses sont devenues maintenant. Les pensées s'enfuient et vous vous demandez si quelqu'un pourra un jour vous aider. Jusqu'à ce que vous émergiez debout dans une foule, dans votre bar punk local, en écoutant Soupcans et en hallucinant carrément. Heureusement, ce n'est pas l'enfer cérébral suintant que vous imaginiez, c'est juste du punk vraiment bon.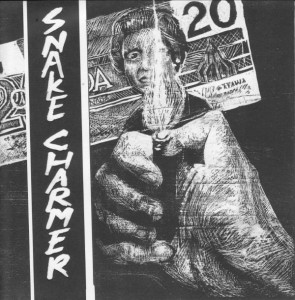 Snake Charmer
7"
(Self Released)
Hamilton, ON
From the heralded cacophony of Liam Kennedy:
Dateline: Hardcore Hamilton. What's audible is a powerful energy release manifesting in squealing feedback and blast beats. What's apparent from the cover art and lyrics is an anger with Canada's militarism contrasted with an internationally promoted peacemaker image. This cacophony may herald the welcome return of political hardcore. The relative lack of political music in general leaves the impression of generational apathy towards how much and how quickly our country has changed. When the sky bled and nature screamed for Edvard Munch he knew the world was alive. At the very least, this strident frustration feels like it cares. Consider both sides of Snake Charmer's 7" a rival national anthem.
De la proclamation cacophonique de Liam Kennedy:
(Traduit des signes avant-coureurs de Catherine Gaucher)
Lieu de rédaction : Hardcore Hamilton. Ce qui est audible, c'est une puissante libération d'énergie se manifestant par de grinçantes réverbérations et des rythmes explosifs. Ce qui ressort de l'imagerie de la pochette et des paroles des chansons est une colère contre le militarisme du Canada contrastant avec la prédication de son image pacificatrice mondialement. Cette cacophonie peut annoncer le retour bienvenu d'un hardcore conscient politiquement. L'absence globale de musique à contenu politique laisse une impression d'apathie générationnelle par rapport à combien notre pays a changé et à quel point il l'a fait rapidement. Quand le ciel saigna et quand la nature cria pour Edvard Munch, il eut conscience que le monde était vivant. À tout le moins, cette stridente sensation de frustration lui donne le sentiment que l'univers est attentif. Considérez chaque côté du 7 pouces de Snake Charmer comme le rival d'un hymne national.
---