Category: 7″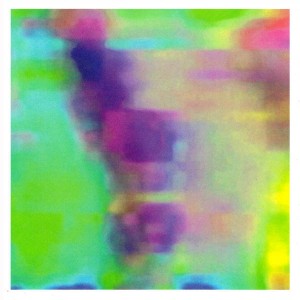 White Poppy
Mirage Man
Vancouver, BC
From the ignis fatuus of James Lindsay:
Daydream drone-pop as seen through a cotton snow squall of sleep as you lay in bed after first opening your eyes, trying to recall what just happened in your head. Don't get out of bed right away, snuggle up in this comfy quilt of sunshine fuzz and bass hooks that could be the heartbeat of the person sleeping next to you. But under all this is a note of something more sinister, something kept at bay by all this cheerfully blurry minimalism, like a pack of dogs, but darker.
De l'ignis fatuus de James Lindsay:
(Traduit en ronronnant par Catherine Debard)
Rêveries drone-pop, une vision à travers une bourrasque de sommeil ouateux comme de gros flocons confortables, le corps fondu sur un lit défait, les paupières, fissures entrouvertes pour la première fois en tentant de se souvenir de ce qui vient de se passer. Ne pas sortir du lit encore, s'emmitoufler dans cette courtepointe de fuzz solaire (qui éblouit) de lignes de basse qui pourraient être le battement de cœur de la personne allongée à côté. Mais, en dessous de tout ça, quelque chose de plus sinistre, quelque chose d'enfoui dans ce joyeux flou minimaliste, comme une meute de chiens, mais en plus sombre.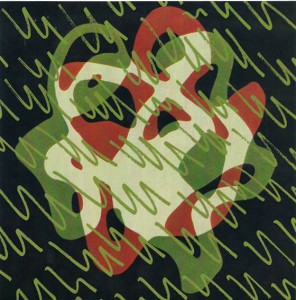 Apollo Ghosts
Night Witch
Vancouver, BC
From the fiefdom blues of Aaron Levin:
One hundred and twenty six seconds of unquantified popular glory; slipstream crossover from piercing 'verbs to jarring hooks of addictive reflection. A glorious clamour of sinusoids congruent to Vancouver's stochastic scene. Entropic forces conjuring dormant creative springs thanks to the Kingfisher Bluez Single-Sided 7″ series. Vancouver DIY. Gr1p.
Du blues fief de Aaron Levin:
(Traduit par le jaillissement créatif de Vincent Rondeau)
Cent vingt-six secondes de gloire populaire non quantifiée, un hybride pointu de réverbération perçante et de secousses mélodiques accrocheuses dont la réflexion peut causer une dépendance. Une grande clameur de sinusoïdes congruents avec la scène stochastique vancouvéroise. Des forces entropiques suscitent un jaillissement créatif latent à l'aide de la série de 7″ à face simple « Vancouver DIY » de Kingfisher Bluez. À sa1sir.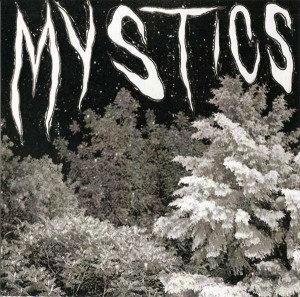 Mystics
Mystics
Hamilton, ON
From the halogen psych of Millie Roy:
Alchemy, like most sciences, requires a degree of spirituality and imagination. The self-titled seven-inch by Mystics is an exercise in extraordinary transformation. Pair noble elements of rockabilly with acid-tinged, psychedelic halogens to get "Play Your Game", a solid hunk of silver, shined to icy perfection. Mystics then switch to "Can't be Happy", a golden-hued tune with one hell of a riff. This 45 is a dream for those who like rock n' roll scientists melding minimalist punk with the jingle-jangle of pop. No question about it, something has definitely emerged from the shrouds of Steeltown.
Des psycho-halogènes de Millie Roy:
(Transformation extraordinaire de Vincent Rondeau)
Comme la plupart des sciences, l'alchimie demande un certain degré d'esprit et d'imagination. Le 7″ éponyme des Mystics est un exercice de transformation extraordinaire. Les éléments nobles du rockabilly s'amalgament avec des halogènes psychédéliques teintés d'acide dans « Play Your Game », un bloc solide d'argent luisant de perfection glaciale. De l'autre côté, on rencontre « Can't Be Happy », une chanson mordorée avec un riff d'enfer. Ce 45 tours est le rêve des acolytes de la science du rock 'n' roll, mélangeant punk minimaliste et pop tintante. Il n'y a plus de doute, quelque chose de grand a vu le jour dans les voiles mystérieux de « Steeltown ».
From the waterfall of Chris Jacques:
I'll jump into the wayback machine for this one. Welcome to 1984. I'm 13 and just heading out of my dumb headbanger phase and tumbling headlong into punk rock. I head downtown every weekend to learn about new sounds at Pyramid Records and Records of Wheels. On a whim or by chance, I come across this local 7″ by Johnny Zhivago. I remember having seen a performance a year or so before on Alternative Rockstand and maybe even a video on Video Video, both great local access shows on the much missed VPW (West of the Red).
I held the record with both interest and mild revulsion. These guys use synths! Blech. It would be another couple of years before I could fully appreciate the damage that could be wrought with a Moog / Korg / Arp, etc. Throwing caution and taste to the wind, I hand over $2 and scurry home with my funny sounding record. I played it all the time — for myself — never for others. It was my guilty pleasure — a truly guilty pleasure — as it was never displayed, often hidden. That all changed a number of years ago when I could comprehend and appreciate the great pop synth wave aktion they had happening.
I don't know anything more about these guys — if they had anything else recorded or what they're doing now. I'd be super down with doing some reissue stuff for certain.
Chris Jacques lives in Winnipeg. He runs Dub Ditch Picnic Records and is a closet New Romantic.
De la cascade de Chris Jacques:
(Traduit par l'attraction morbide de Nicolas Coutlée)
Je vais devoir sauter dans ma machine à voyager dans le temps pour celle-là. Bienvenue en 1984. J'ai 13 ans et m'apprête tout juste à sortir de ma stupide phase de headbanger pour plonger tête première dans le punk rock. Chaque fin de semaine, je me rends au centre-ville pour découvrir de nouveaux sons chez Pyramid Records et Records of Wheels. Sur un coup de tête ou par simple chance, je tombe sur un 7″ du groupe local Johnny Zhivago. Je me rappelle une prestation vue sur Alternative Rockstand il y a à peu près un an et peut-être même un vidéoclip sur Video Video, deux excellentes émissions locales diffusées sur la très regrettée chaîne de télévision publique VPW (West of the Red).
Mi-fasciné, mi-dégoûté, je tenais le disque dans mes mains. Du synthé? Ouache. Il me faudrait encore quelques années avant que je puisse apprécier pleinement les dommages que pouvaient affliger un Moog, un Korg ou autres Arp. Envoyant au diable toute forme de précaution ou de goût artistique, j'ai sorti un 2$ de mes poches et suis retourné en hâte chez moi avec mon disque aux drôles de sonorités. Je le faisais jouer constamment – pour moi-même – jamais pour qui que ce soit d'autre. C'était mon plaisir coupable, un vrai plaisir coupable; jamais je ne le montrais et même je le cachais souvent. Tout cela devait changer des années plus tard lorsque j'apprendrais à comprendre et à apprécier cette magnifique vague de pop synthétique qui avait alors cours.
Je ne sais vraiment rien de plus sur eux – s'ils ont enregistré autre chose ou ce qu'ils font à présent. Je serais toutefois tout à fait disposé à rééditer de leur matériel.
Chris Jacques habite à Winnipeg. Il est à la tête de Dub Ditch Picnic Records et est un Nouveau Romantique inavoué.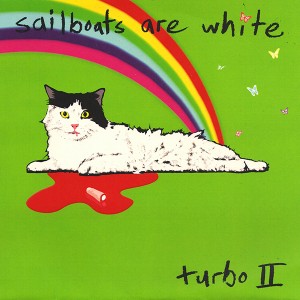 Sailboats are White
Turbo 2… The Best of
Hamilton, ON
From the hypnotic bass of Max Cotter:
A blistering and gut-churning onslaught of hypnotic bass, vociferous guitar, and perverse shrieks stagger stridently over a relentless, possessed drum machine at ungodly BPMs. Sailboats are White sear the soul with another blitz of true tinnitus toe tappers sure to split your ears. Feel the endorphins flow.
Du flétrissement de l'âme de Max Cotter:
(Traduit par les muqueuses marécageuses de Nicolas Coutlée)
Un assaut de basse hypnotique à vous en boursoufler et retourner les entrailles, une guitare vocifératrice et de stridents cris pervers oscillant au-dessus du BPM impie d'une inépuisable boîte à rythmes possédée. Sailboats Are White flétrit l'âme d'un autre vrai blitz de déchirements acouphèniques à vous faire taper du pied. Sentez les endorphines se répandre.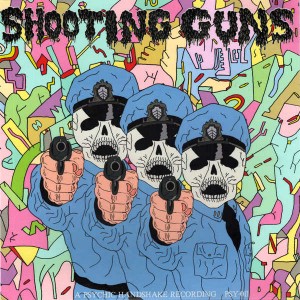 Shooting Guns // Krang
Split 7″
Edmonton, AB // Saskatoon, SK
From the mile high club of Jesse Locke:
Two of Western Canada's heaviest combos smoke out their respective sides of this 7" like the Melvan on a full tank. Yes, these prairie-dog longhairs are both of the blunted variety, but there's a slinky strain of melody wading through the haze. Par for the course, the scorched blues of Krang gets rolled up with warped electronics, buried echo-vox and drum fills spinning with nonchalant ease. Flipside, the Toon Towners take a more traditional whack at the psych/stoner-rock heritage with ominous organ vamps leading the charge. No shoes, no shirt, no mind, no problem.
Des prouesses de haute voltige de Jesse Locke:
(Traduit par les poumons calcinés de Nicolas Coutlée)
On doit à deux des plus lourds combos de l'Ouest du Canada les faces enfumées de ce 7" tout droit sorties du pot d'échappement de la Melvan. Bien sûr, ces chiens des prairies au poil long ne font pas dans la dentelle, mais une affriolante ligne mélodique perce tout de même la boucane. Comme prévu, le blues écorché de Krang est enrobé d'effets électroniques distordus, d'echovox enfouis et d'une bonne dose de percussions tournoyant avec aisance désinvolte. De l'autre côté, les natifs de Toon Town s'attaquent à l'héritage stoner/psych rock de manière plus traditionnelle à grands renforts d'improvisations à l'orgue de mauvais augures. Pas de souliers, pas de t-shirt, pas de raison, pas de problème.
Shooting Guns – Sky High and Blind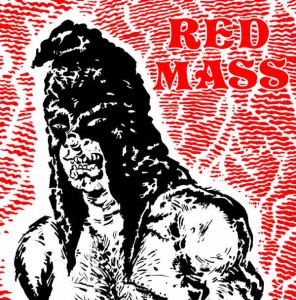 Red Mass
Television Personalities b/w Kill It From The Inside
Montreal, QC
From the shortwave vexation of David Ferris:
Red Mass's two-song single features formerly itinerant songs which have finally found a home on vinyl, thanks to the nurturing hands of Mammoth Cave. Unfortunately, even within his friendly new neighbourhood, Roy Choyce can't seem to turn over a leaf or curb his cur nature; he spends the duration of all seven inches scaring the neighbours and exploring the roles of bad cop integrator and fervent tormentor. You, dear reader, may think you're special, but make no mistake: you are all part of "the masses," and on "Television Personalities" our narrator's altered voice will crackle out of your speakers, enter your head and immediately begins to self-replicate, inducing lunatic bobbing and psychosis. B-side "Kill It From the Inside" reveals Choyce as harrier and hector, with sleazy and violent guitars wife-swapping channels while he announces his itinerary to the listener: killing, lies and lust. A must-get icy cold grip.
Du désarroi à ondes courtes de David Ferris:
Le simple de deux pièces de Red Mass regroupe des chansons orphelines qui ont finalement trouvé demeure sur vinyle grâce aux bons soins de Mammoth Cave. Malheureusement, même dans son nouveau quartier sympathique, Roy Choyce semble incapable de tourner la page ou de museler sa nature de chien enragé; il s'ingénie sur toute l'étendue de ces sept pouces à effrayer les voisins et à incarner les rôles de policier véreux et de fervent tourmenteur. Vous, chers lecteurs, peut-être vous croyez-vous spéciaux, mais n'allez pas vous tromper : vous faites tous partie « des masses », et, sur « Television Personalities », la voix altérée http://youtu.be/ypGxYM3MHqY du narrateur sortira grésillante de vos haut-parleurs, pénétrera votre tête et immédiatement commencera à se dédoubler, engendrant psychose et hochements de tête lunatiques. Sur la face B « Kill It From the Inside », Choyce se révèle tout aussi ravageur et tapageur, avec ses fréquences échangistes de guitares violentes et sordides, tandis qu'il annonce à l'auditeur son itinéraire : meurtre, mensonges et lubricité. À saisir absolument d'une poigne froide et glaciale.
Red Mass – Television Personalities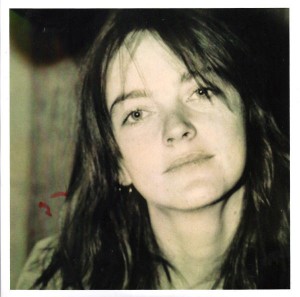 Dirty Beaches
Elizabeth's Theme
Montreal, QC
From the quiet storm of James Lindsay:
Alex Zhang Hungtai continues his lonely trek down the cinematic instrumental highway, a similar stretch of road that he drove with his synth-laden contribution to the Statement four-way split. For this one-sided 7", he makes a graceful left turn towards the quiet storm to a place few have been since the '70s, contemplative and almost completely obscured by clouds.
De la tempête tranquille de James Lindsay:
Alex Zhang Hungtai poursuit son périple solitaire le long de l'autoroute instrumentale cinématique, une portion de route similaire à celle qu'il a parcourue avec sa contribution saturée de synthés pour le split à quatre Statement. Pour ce sept pouces à face unique, il vire à gauche tout en douceur vers la tempête tranquille que peu ont daigné braver depuis les années 1970, un endroit propre à la contemplation et obscurci par les nuages dans sa quasi-totalité.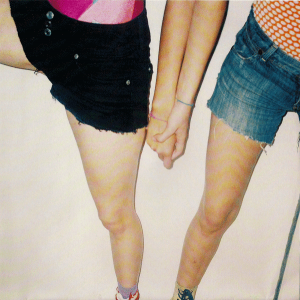 Great Marble
What You Need b/w In The Air
(Self Released)
Toronto, ON
From the faded backside of Aaron Levin:
Within the driving recesses of phased cosmique and isochronous italia resides the hypnotic gnarl of Great Marble. Isomorphic to a free group of Italo Psych-Rock, both "What You Need" and "In The Air" conjure droning free-radicals in a miasma of commanding telepathy; multivariate headscapes within the unified cosmos of fringe. Seven inches of grippable polyvinyl. Shred.
Du derrière pâle d'Aaron Levin:
L'hypnose noueuse de Great Marble fait son nid dans les recoins entraînants des phases cosmiques et de l'isochronie à l'italienne. Isomorphes d'un groupe libre d'italo-psych-rock, "What You Need" et "In the Air" font surgir des radicaux libres monocordes en un miasme de télépathie gouvernante, états d'esprit multivariés dans le cosmos unifié de la marge. Sept pouces de polyvinyle à saisir immédiatement. Shred.
Shitty Neighbours
Pogo 'Til She Texts You Back
Vancouver, BC
From the welcome wagon of James Lindsay:
The cool kids who rent the dilapidated house next door are at it again. And this time you grudgingly call the cops because they're sounding pretty good over there, like something Sam Sutherland might have written about, or the awesome 7" collection you gave away when you gave up. Was that Needles//Pins that just showed up to the party? Does Don Pyle know about this? Too many questions for a Thursday when you have to work early tomorrow. Maybe if you keep your mouth shut and bring some beer, they'll let you hang out next time.
Du panier d'accueil de James Lindsay:
Les jeunes cools qui louent la maison délabrée d'à côté en remettent à nouveau. Et cette fois, vous appelez la police à contrecœur parce que ce que vous entendez commence à sonner pas mal bien, comme quelque chose sur quoi Sam Sutherland aurait écrit, ou encore la super collection de 7" dont vous vous êtes débarrassé quand vous avez jeté l'éponge. Ça serait pas Needles//Pins qui vient juste de faire son entrée au party? Est-ce que Don Pyle est au courant de tout ça? Trop de questions pour un jeudi soir quand vous avez à travailler aussi tôt le lendemain. Peut-être que si vous la fermez et que vous amenez de la bière, vous serez invité la prochaine fois?
Shitty Neighbours – First Mistake
---