Category: 7″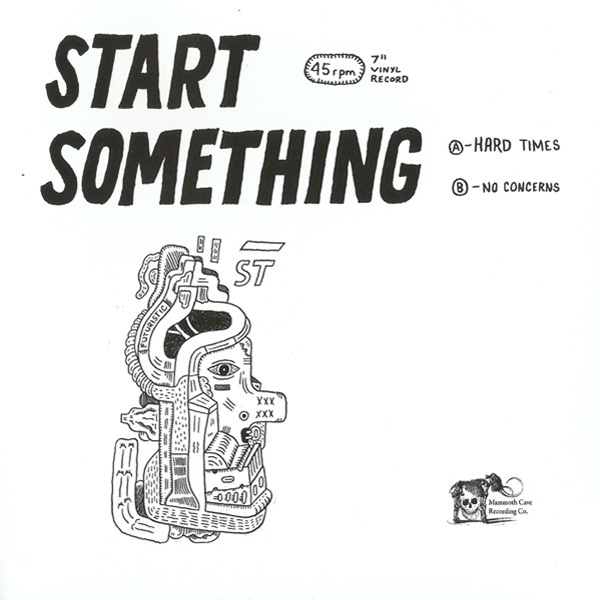 Start Something
Hard Times b/w No Concerns
Guelph, ON
From the hard rhymes of Jesse Locke:
The Hüsker Düdes in Start Something tear through their debut 7" like radical adults in search of a crowdsurf. Guelph's greatest drive time comedy duo Deaner and Dunster–plus drummer Ryan Masters–make up this econoline trio, revving up the punx with anthems of neck-vein popping intensity. Chainsaw riffs, tempo shifts, and art by Marc Bell = grip!
Des rimes brutales de Jesse Locke:
(Traduit par Jessica Grenier)
Les Hüsker Düdes de Start Something déchirent ce premier 7" comme des adultes radicaux en quête de crowdsurfing. Le drummer Ryan Masters et le meilleur duo comique – diffusé durant les heures de grande écoute – de Guelph, Deaner and Dunster forment ce trio en Econoline qui vient exalter les punx avec des hymnes à en faire exploser des jugulaires. Riffs tronçonnants, changements de tempo et illustrations de Marc Bell = fou!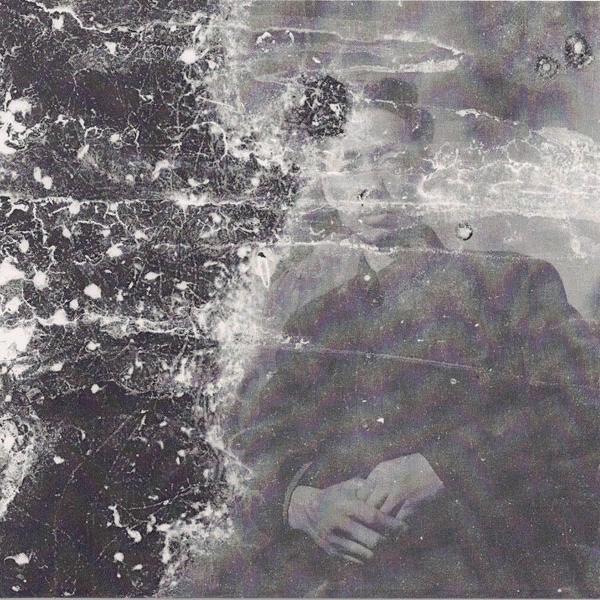 Hot & Cold // Skip Skip Ben Ben
Split
Toronto, ON // Taiwan
From the null-state of Aaron Levin:
Beneath the fragments of smoke and the incandescent newsprint of Hot & Cold's latest burnt offering lingers the deep, unfettered alienation of statism. Glamorous synthesizers coalesce around rolling bass riffage while the clamour of monotonous farewells ring within. Cough cool.
De l'état nul d' Aaron Levin:
(Traduit par Jessica Grenier)
L'aliénation de l'étatisme, lourde et sans entraves, persiste sous les volutes de fumée et le papier journal incandescent des dernières offrandes calcinées de Hot & Cold. Des synthétiseurs glamours s'unissent à une série de riffs roulants de basse pendant que résonne un tumulte d'au revoir monotones. Tousse cool .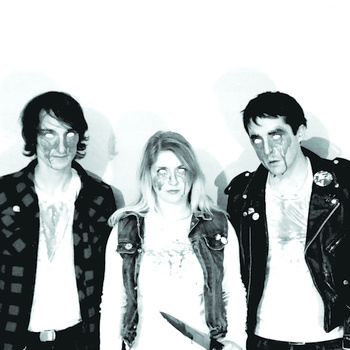 Feral Trash
Dead Eyes
Moncton, NB
From the graveyard bash of Joel French:
The perfect soundtrack to a late night graveyard stroll, Moncton's Feral Trash deliver pop-punk gems as infectious as they are moody. Too dark to dance to yet too melodic to stay still. This is what I imagine Simon and Hecubus would listen to in between filming.
Depuis la fête dans un cimetière de Joel French:
(Traduit par Jessica Grenier)
Feral Trash, de Moncton, nous offre la trame sonore parfaite pour une balade nocturne dans un cimetière, une gemme pop-punk aussi contagieuse que leur humeur changeante : trop sombre pour être dansée, mais trop mélodique pour être écoutée sans bouger. C'est ce genre de truc que j'imagine Simon et Hecubus écouter pendant les pauses de tournage.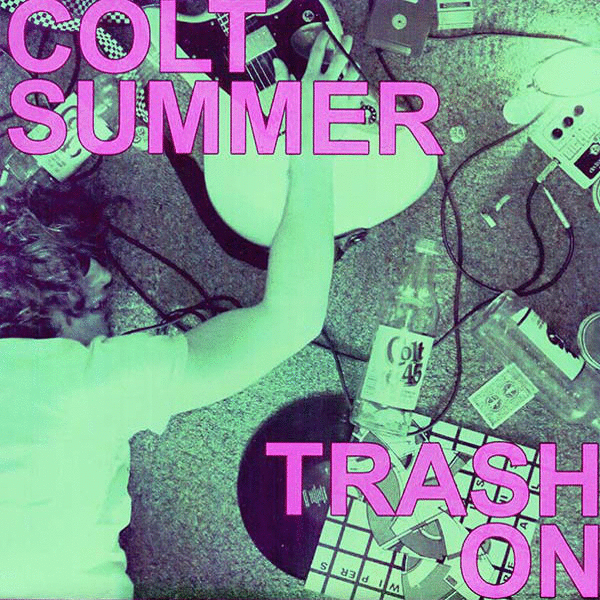 OUTTACONTROLLER // Pink Wine
Colt Summer // OUTTAWINE
(P. Trash) // Self Released
Halifax, NS // Toronto, ON,
From the drunk punk of Mark Gillis:
Halifax hosers OUTTACONTROLLER rip out a couple of sloshy slummer jams on their Colt Summer 7", an ode to the drunk punk days of adolescence. They're then joined by Toronto greasers Pink Wine for the cross-pollinating, cover-ama split release, OUTTAWINE. It's full of power-pop psalms about poor sleeping habits that'll make you pogo 'til you puke, and laments about how your once favourite band) has long since broken your heart, which is something that neither of these bands will ever do for as long as they're around.
Du punk en boisson de Mark Gillis:
(Traduit par le pogo sombre d'AnneMarie Papillon)
Les mauvais garçons d'Halifax OUTTACONTROLLER servent deux chansons style slush d'été bien tassée sur leur dernier 7 pouces, Colt Summer, une ode à ces journées d'adolescence un peu arrosée. Ils sont ensuite rejoints par les Torontois graisseux Pink Wine pour la sortie de OUTTAWINE, un split contre-pollinisé. C'est rempli de psaumes power pop à propos de mauvaises habitudes de sommeil qui te feront faire le pogo jusqu'à gerber et te lamenter que ton ancien groupe préféré t'as brisé le coeur, quelque chose qu'aucun de ses deux groupes là ne fera, de toute leur existence.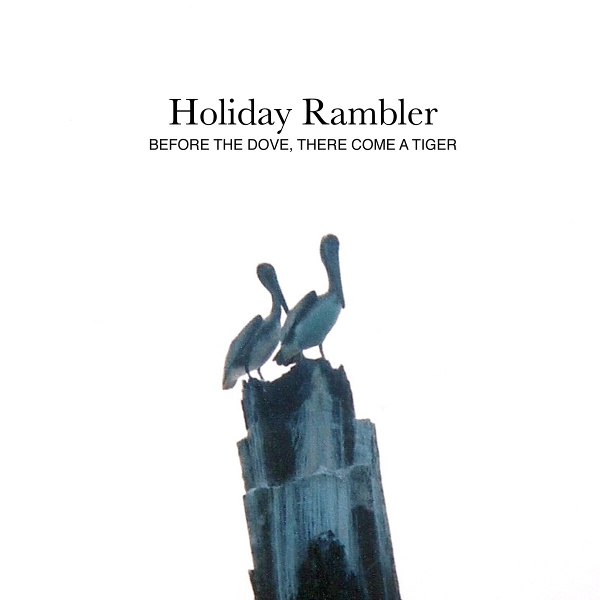 Holiday Rambler
Before the Dove, There Comes a Tiger
Toronto, ON
From the rusted shut chest of Adam Bradley:
From a humid country fog the Holiday Rambler comes. Will-o'-the-wisps gather and trail behind a missioning man of firm countenance and calculated composure, suitcase in hand, hat brim low. The songs of relic found here are of a dark alchemy. Each tune was sung and archived to tape in the belly of a great farm silo. Gems this way crystallized. The brightest of which is "Florida", a hallowed cover of the late and missed Vic Chesnutt. Before the Dove… is a rusted shut chest of ashen memory.
Du coffre scellé par la rouille d'Adam Bradley:
(Traduit par le familier festif de Jessica Grenier)
Holiday Rambler sort d'un humide brouillard de campagne. Les feux follets se sont regroupés à la suite de l'homme en mission, mallette à la main et chapeau enfoncé sur la tête, exhalant un calme composé et une contenance résolue. Les reliques se trouvant ici produisent le son d'une sombre alchimie. Chaque mélodie a été chantée et gravée sur une pellicule dans le ventre d'un gigantesque silo à grain – des gemmes cristallisées dont la plus scintillante est « Florida »; une reprise bénie du regretté Vic Chesnutt. Before the Dove… est un coffre scellé par la rouille qui renferme des souvenirs cendreux.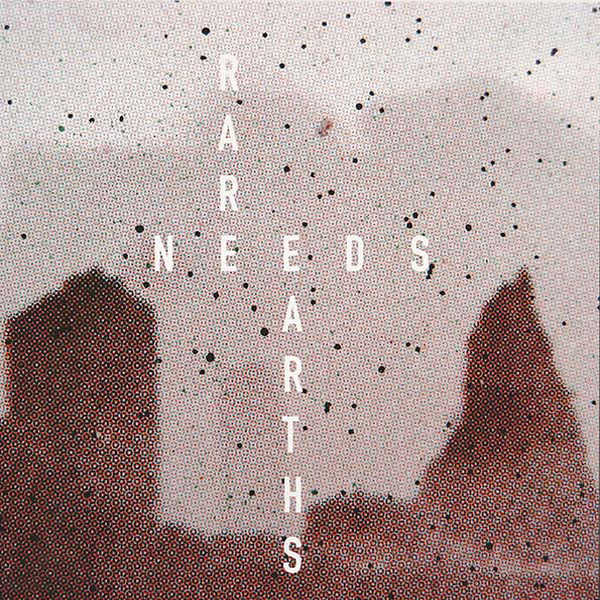 NEEDS
Rare Earths
(Self Released)
Vancouver, BC
From the distorted front of Kyle Valade:
NEEDS' Rare Earths 7" presents a distorted front that is spacious and extremely visceral, fading any lines that exist between guitar, bass, and cymbals. It is a "fuck you" to instrumental essentialism. The crash forms a layer of grain which the rest of the band fills in, building a sound wave as close to solid as possible. Sean Orr's shrieks and shouts seem to be directed inwards, back towards the maelstrom from which it originates, rather than out towards the microphones. The resulting implosions and explosions give way to a droning, self-sustaining energy to create a fission unattainable by science.
De la facette déformée de Kyle Valade:
(Traduit par l'oreille distendue de Jessica Grenier)
Spacieuse et profondément viscérale, la facette déformée que nous offre Rare Earths, le vinyle 7 pouces de Needs, efface toutes les limites existant entre la guitare, la basse et les cymbales. C'est un majeur levé vers l'existentialisme instrumental. Tout se percute en une couche de grains que le reste du groupe vient recouvrir, construisant une vague de son solide, presque tangible. Sean Orr semble diriger ses cris et ses hurlements vers l'intérieur de lui-même – un retour vers leur maelström originel – plutôt que vers les micros. Les implosions/explosions engendrées laissent place à une énergie bourdonnante constamment renouvelée qui permet une fission inaccessible même par la science.

NEEDS – Rilke Wrote Not to Write Above Love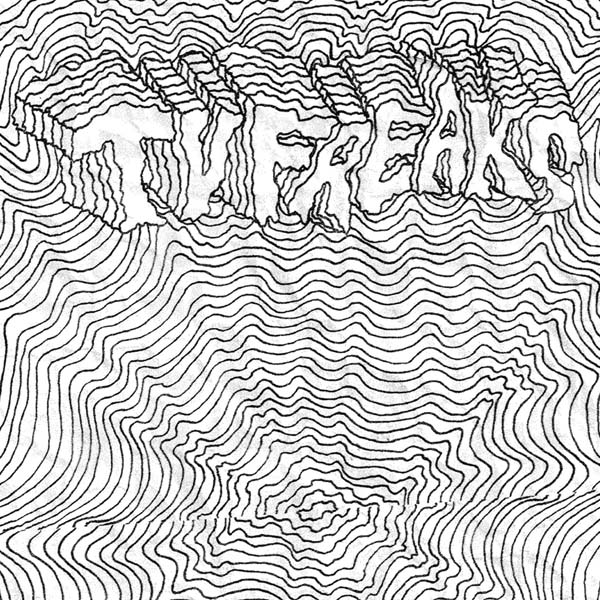 TV Freaks
Leeches 7″
Hamilton, ON
From the freak scene of Joel French:
The Freaks have never let me down. Beer. Blood. Sweat. Tears. Ponchos. Mayhem in underground parking garages. They party like maniacs and bring an energy everywhere they go. Their music hits hard and carries with it everything they are. No exceptions. Hosehead did a killer job in picking up this three-song banger of a 7".
De la scène freak de Joel French:
(Traduit par l'affolement de Julie Forget)
The Freaks ne m'ont jamais laissé tomber. Bière. Sang. Sueur. Larmes. Ponchos. Le désordre dans des stationnements souterrains. Ils fêtent comme des fous et débordent d'énergie partout où ils vont. Leur musique frappe fort et transporte avec elle tout ce que le groupe représente. Sans exception. Hosehead a fait un travail du tonnerre en sortant ce vinyle 7" de trois morceaux qui déchire.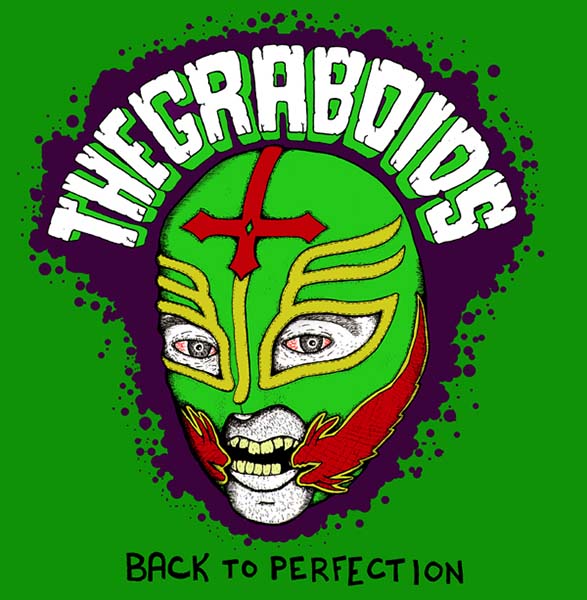 The Graboids
Back to Perfection
(Self Released)
Halifax, NS
From the luchador mask of Joel French:
Get in the ring for four short rounds with these self-loathing East Coast pop-punkers and you'll be sure to come out pogoing and smelling like hacked darts. The A-side gets the party started but B-sides "Your Mom's New Boyfriend" and "Bad Ramones" pin you down for the win.
Du masque de *luchador* de Joel French:
(Traduit par Jessica Grenier)
Saute sur le ring pour quatre rounds contre ces pop-punks de la côte est asphyxiés par leur haine d'eux-mêmes – c'est certain que tu vas ressortir en faisant le pogo et en sentant le cendrier. La face A lance le bal, mais « Your Mom's New Boyfriend » et « Bad Ramones » de la face B t'écrasent par terre, leur assurant ainsi la victoire.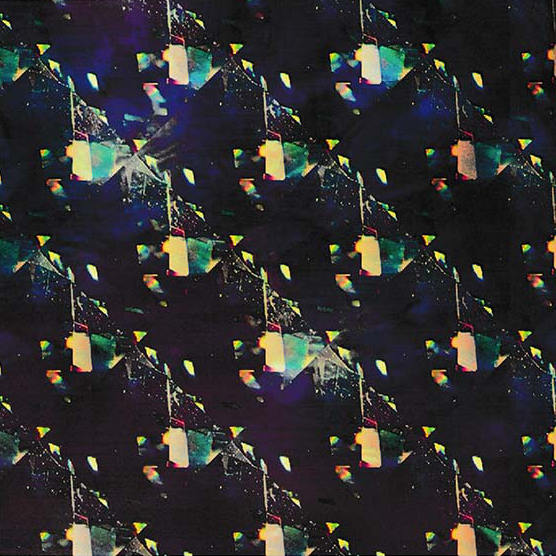 Village
Stranger Thoughts
Vancouver, BC
From the mental absorption of Kyle Valade:
On Stranger Thoughts, Village takes self-imposed isolation and wraps it in a warm and pleasant riff. We hear portions of a thought process as drone, the words playing and replaying, building until a fully formulated desire finally becomes vocalized. The Passenger's remix appropriates Village's mental absorption, shifting it to the body instead. The sampled vocals sound like breathing over a heartbeat and washed out guitar, each beat isolated from the other, fading in and out like blood pumping through your ears.
De l'absorption mentale de Kyle Valade:
(Traduit par l'osmose cérébrale de Louis-Félix Pellerin de Chevigny)
Avec Stranger Thoughts, Village enrobe d'un riff chaud et chaleureux une isolation auto-imposée. Un bourdonnement, cache des bribes d'un mécanisme de pensée, les mots se répétant sans cesse jusqu'à la vocalisation d'un désir totalement formulé. Le remix de The Passenger s'approprie l'absorption mentale de Village, le faisant plutôt se manifester au niveau physique. Les paroles sonnent comme une respiration accompagnée d'un battement de coeur et d'une guitare usée, chaque battement isolé de l'autre, s'estompant comme le sang pompant à travers vos oreilles.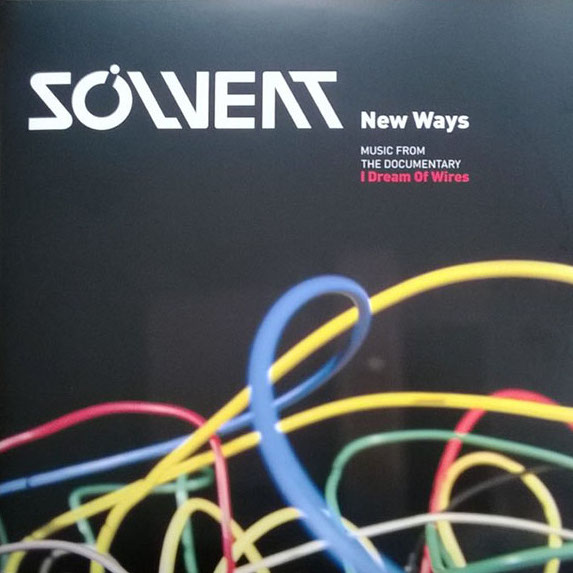 Solvent
New Ways: Music from the documentary I Dream of Wires
Toronto, ON
From the flangy frontispiece of Nick Smith:
I Dream of Wires connects your guzintas to the history and current state of modular synthesis. Solvent's Jason Amm has created the soundtrack, a gurgling-and-sputtering showcase of the synthesized diaspora in its sequenced and modulated forms. Hooked-On melodies share the upper-spectrum with white noise clouds, while the ping-pong motorik of bass and VCBeats provide the infinite-possibility landscape. Basking in a transistor sun with a bucket of patch cables on the wavetable never sounded so good.
Du frontispice taraudé de Nick Smith:
(Traduit par Andréanne Dion)
I Dream of Wires connecte vos appareils à l'histoire et à l'état actuel de la synthèse modulaire. Jason Amm de Solvent a crée une bande-son, une diaspora synthétique présentée sous forme de séquences modulées. Des mélodies accrocheuses se partagent le paysage avec des nuages de bruits de fond, alors que le motorik rebondissant de la basse et des VCBeats fournit un arrière-plan aux possibilités infinies. Se prélasser sous un soleil-transistor avec un seau de câbles à nos côtés ne nous a jamais semblé aussi attirant.

Solvent – Themogene (I Dream of Wires Theme)
---