Category: 7″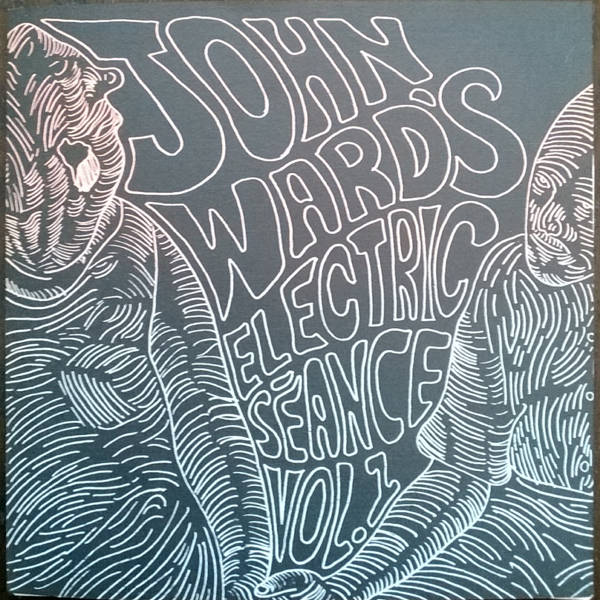 John Ward's Electric Séance – Vol. 1 (Self Released) :: These are songs that reflect the big city environments most of us live in, where urban decay is a background to tender sweet nothings, and daylight reveries double as conscious nightmares. It's the neon glow of the 24-hour corner store where you buy Zappa Snax and Beach Boy brownies.
John Ward's Electric Séance
Vol. 1
(Self Released)
Montréal, QC
From the paisley plume of Nick Smith:
John Ward's presence can be felt all around. His graphic design dots the digital landscape, his posters adorn Montréal's concert halls and streetlamps, and his music is/will soon be playing in your waking and dreaming brain. These are songs that reflect the big city environments most of us live in, where urban decay is a background to tender sweet nothings, and daylight reveries double as conscious nightmares. It's the neon glow of the 24-hour corner store where you buy Zappa Snax and Beach Boy brownies. Hungry freaks, Daddy!
De la plume à motif cachemire de Nick Smith:
(Traduit par Andréanne Dion)
On ressent la présence de John Ward partout. Ses designs graphiques parsèment le paysage numérique, ses posters ornent les salles de spectacles et les lampadaires de Montréal, et sa musique joue/jouera bientôt dans votre tête, que vous soyez éveillé ou endormi. Ce sont des chansons qui reflètent la grande ville dans laquelle la plupart d'entre nous vivent, où les mots tendres ont pour arrière-plan le pourrissement urbain et où les rêves éveillés sont cauchemardesques. C'est l'éclat des néons du dépanneur où vous achetez des collations Zappa et des brownies Beach Boy. Vous avez faim?

John Ward's Electric Séance – Old Hag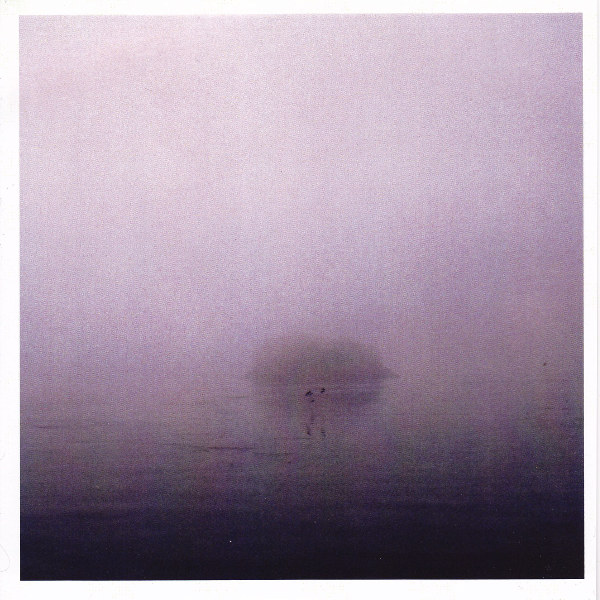 Student Teacher
Left For Dead
Vancouver, BC
From the magnetic contribution of Penny Clark:
Student Teacher dredges in discordant, mournful isolation and indents it on plastic vinyl. Baleful bass guitar paddles the song on a doomed journey, portended by cold iron guitar and omnisciently detached vocals. Kingfisher Bluez continues its run of concisely poignant releases with this magnetic contribution to the label's single-sided singles series.
De la contribution magnétique de Penny Clark:
(Traduit par la dissonante, funèbre isolation de Hugo Hyart)
Student Teacher drague une dissonante, funèbre isolation, et la projette sur le plastique vinyle. Une guitare basse sinistre pagaie la chanson sur un voyage condamné, annoncé par une froide guitare d'acier et un chant détaché de façon omnisciente. Kingfisher Bluez continue ses sorties poignantes et concises avec cette contribution magnétique à la série de singles à une face de l'étiquette.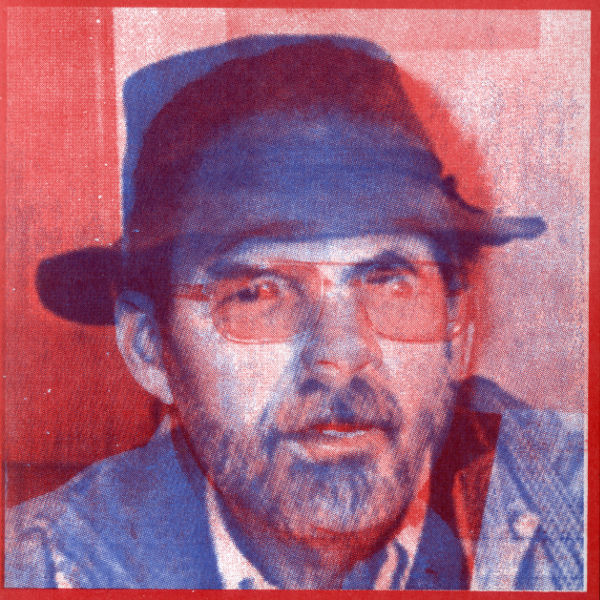 Michael Horwood
Musique Concrète Realizations by Michael S. Horwood of Two Poems by Robert Creeley
Toronto, ON
Originally Recorded 1968
From the patterned dimensions of Kevin Hainey:
Michael Horwood is a 20th century composer who began recording in the late '60s. Horwood composes multi-instrumental works and is particularly interested in percussion. One of his apples didn't fall too far from the tree, and son Jacob Horwood (Gastric Female Reflex, Claudio, sole proprietor of avant imprint extraordinaire Beniffer Editions) opened up his label's gates to his father's vaults back in 2007. That began with a live cassette dose of Music Gallery goodness from the percussion-led free-jazz quartet Convergence that Horwood Sr. served with during the late '70s and early '80s. An unforgettable Convergence LP followed.
This time around we have nearly 13 minutes of prime wax in white 7" form, wrapped in an eye-popping silkscreened gatefold executed to the max by Horwood Jr. "The Pattern" and "Dimensions" might be inspired by Robert Creeley's poems, but for 1968 these skewed chamber pieces for tapes, voices and alarming sounds were wonderfully contemporary when you consider the like-minded back-room madness being recorded at the time. In fact, you could compare the cut-up, spliced, re-arranged and flipped sensibilities at play within this EP's tight confines to be part and parcel of the same culture-chopping insanity that brought us the warped visions behind cut-up art-noise frontiersmen Gastric Female Reflex. Heady generational goodness!
Des dimensions modèles de Kevin Hainey:
(Traduit dans une ambiance feutrée par Geneviève Simard)
Michael Horwood est un compositeur du 20e siècle ayant commencé à enregistrer à la fin des années 60. Horwood compose des oeuvres multi-instrumentales et s'intéresse particulièrement aux percussions. Puisqu'on n'échappe pas facilement à sa descendance, son fils Jacob Horwood (Gastric Female Reflex, Claudio, unique propriétaire de l'extraordinaire étiquette de disque avant-gardiste Éditions Beniffer, a ouvert ses portes aux archives de son père en 2007, commençant par une cassette d'un divin enregistrement en direct de la Music Gallery du quartet percussionniste free-jazz Convergence dans lequel Horwood père a joué à la fin des années 70 et au début des années 80. Un inoubliable LP de Convergence a suivi.
Cette fois-ci, nous avons près de 13 excellentes minutes gravées sur un vinyle 7 pouces, emballé dans une époustouflante couverture en sérigraphie exécutée par Horwood fils. « The Pattern » et « Dimensions », ces morceaux de chambre distordus sur cassettes, ces voix et ces sons alarmants, bien qu'inspirés de poèmes de Robert Creeley, étaient magnifiquement contemporains en 1968 quand on considère la folie similaire qui était enregistrée à l'époque. En fait, on peut comparer la coupe, le collage, le réarrangement et les différentes sensibilités qui entrent en jeu dans les limites étroites du EP comme faisant partie intégrante de ces démentes coupes en culture qui nous ont aussi amenés les visions tordues du groupe art-noise, Gastric Female Reflex. Divine offrande générationnelle !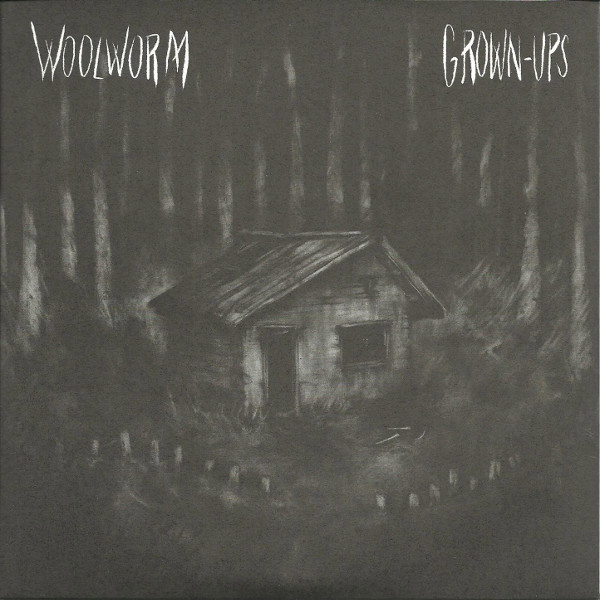 Woolworm // Grown-Ups
Split 7"
Vancouver, BC // Calgary, AB
From the pigpen hoedown of Kevin Stebner:
Solid split from two of the West's punk-pedigree — but on their home turf essentially contemporary-less — bands. Woolworm forgo the emo of their namesake (I see you, angry son) for some more jangle styles via hardcore past, squeezed into two songs of frustrated/held-back indie-pop. Distortion pedal dreams. On the flip, Grown-Ups dish-up their farewell swan song(s). Curiously, "Pigpen" could very well be the slickest and possibly strongest song from their robust output. Mid-fi button the whole way through. Insert lazy rock-journalist pun about growing up here.
Du bal porchère de Kevin Stebner :
(Traduit par Natalie Binda)
Une solide rupture de deux groupes au pedigree punk — mais essentiellement non-contemporain à domicile — de l'ouest. Woolworm renonce à la tendance emo de leur homonyme (Je te vois, Angry Son) pour un style agité de musique tirant d'un passé hardcore, le tout entassé entre deux chansons regorgeant d'un style indie-pop de frustrations contenues. De vrais rêves remplis de pédales à distorsion. En revanche, Grown-Ups font ressortir des chants de cygne d'adieu. Curieusement, « Pigpen » pourrait bien être la meilleure et possiblement la chanson la plus forte de leur robuste production. Le bouton « moyen régime » utilisé durant toute la séquence. Insérez ici un jeu de mots qui parle de grandir de la part d'un journaliste de rock paresseux.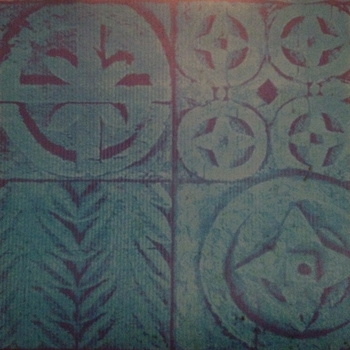 Crystal Swells
HarshSide/SludgeFreaks
(Self Released)
Vancouver, BC
From the flippant beach-combing of David Ferris:
This 7" find the freaks in heat thrashing in the surf. After the unruly throes and in-the-red Wray-blasts of the harsh side — with its 10/10 tremolo, shredding and bank heists — the band just has to hurl themselves under the perfect wave that is "Pacific Center Sludge." It's a fitting conclusion for eight-ish minutes of pure reverb-drenched bliss, creating something vital from a familiar framework of rapidly alternating string picks and bleeding fingers.
De la chasse aux trésors balnéaires désinvolte de David Ferris:
(Traduction issue de la caboche bronzée de Louis-Félix Pellerin)
Ce vinyle retrouve ces dingues en chaleur en train de s'éclater sur les vagues du surf. Après les turbulences et les Wray-blasts intenses de HarshSide avec son impeccable trémolo, son shred sublime et ses vols de banque parfaits, le groupe n'a plus qu'à attraper la vague parfaite qu'est « Pacific Center Sludge ». C'est une conclusion des plus adéquates d'environ huit minutes d'extase noyée d'écho qui crée, à l'aide de la méthode bien connue de l'alternance rapide entre des doigts écorchés et le plectre, quelque chose de vital.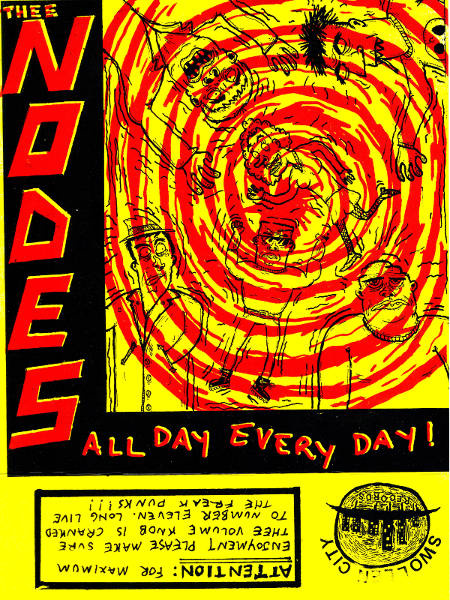 Thee Nodes
All Day Every Day!
Montréal, QC
From the paranoid sewage of Eamon Quinn:
The first release from Swollen City Records is already beyond sold out. Thee Nodes infect a mutant strain of performance-arty hardcore recalling the early '80s output of ROIR, with Mr. Node a misanthropic stand-in for HR, and the Brains' PMA swapped for the kinda furious paranoid sewage Flipper or Killdozer oozed over similarly confused/enthused audiences way back when.
Each of the six tunes, spread over "side dumb" and "side dumber", feature hilarious anti-social rants about hating the hip, smashing your head, breaking glass, and body issues — set over falling-over-itself high-gain riffage. The occasional panoramic dub vocal pops up, proving these dodes are savvier than the batstew of primitivist Dictators/Gizmos no-brain logic might imply.
It's tough to think of anything this side of the Butthole Surfers that can compete with Thee Nodes' gonzo live set for sheer menacing commitment to freaky R'n'R intensity. If you can't swing that, don't miss James "Uncle Sandy" Watts' bleak black & white depiction of our heroes roaming their depopulated concrete jungle home.
Des eaux usées paranoïaques d'Eamon Quinn:
(Traduit par l'arythmie de Geneviève Faubert)
Les exemplaires du premier album de l'étiquette Swollen City Records sont déjà tous écoulés depuis longtemps. La formation Thee Nodes, qui nous transmet une souche mutante de hardcore alliant art et prestation, rappelle l'univers du début des années 1980 de ROIR : Mr. Node agit à titre de doublure misanthrope d'HR, Flipper remplace les égouts paranoïaques et furieux de PMA (the Brains) et l'auditoire confus et enthousiaste évoque celui de Killdozer il y a de cela bien longtemps.
Les six chansons, réparties sur les deux faces « idiot » et « encore plus idiot » (« side dumb » et « side dumber ») contiennent des propos antisociaux hilarants qui traitent de haine envers le hip, du fait de vous cogner la tête, de briser des verres ou d'autres ennuis corporels, le tout orchestré au cœur de riffs ultrarapides à grand gain. On entend à l'occasion des voix panoramiques dub, preuve que les gars sont encore plus futés que le batstew des primitifs Dictators/Gizmos – aucune logique requise ici.
Depuis Butthole Surfers, difficile de penser à une formation pouvant rivaliser avec la folie scénique de Thee Nodes et son engagement brut et menaçant à rendre l'intensité dérangée du rock 'n' roll. Impossible d'assister à une prestation du groupe? Ne manquez pas le portrait glauque en noir et blanc que présente James « Uncle Sandy » Watts de nos héros vagabondant au cœur de leur jungle urbaine désertée.
From the fried extension cords of Javier Fuentes:
The first (and last) recording from the Stoopid Idiots runs just over five minutes, about half the time their sets usually lasted. The frenetic power pop of "Want You Dead" takes the cacophonous sugar rush of their live performances and uses the remaining energy to power some killer synth lines. "Cambridge Creep" gathers the danced-out mosh pit in a fuzzy arcade drone until it decides to disentangle itself from the fried extension cords. A fading voice reminds us of the daily grind that awaits once the record stops. Don't let it.
Des rallonges électiques grillées de Javier Fuentes:
(Traduit par Jacinthe Laplante)
Le premier (et dernier) enregistrement des Stoopid Idiots dure un peu plus de cinq minutes, soit environ la moitié du temps de leur prestations habituelles. La power pop frénétique de « Want You Dead » prend l'euphorie cacophonique de leurs prestations en direct et utilise l'énergie qui reste pour alimenter des lignes de synthétiseurs formidables. « Cambridge Creep » ramène le mosh pit exténué en un drone d'arcade flou jusqu'à ce qu'il décide de se libérer des rallonges électriques grillées. Une voix qui s'affaiblit nous rappelle train-train quotidien qui nous attend à la fin du disque. Ne le laissez pas s'arrêter.

Stoopid Idiots – Want You Dead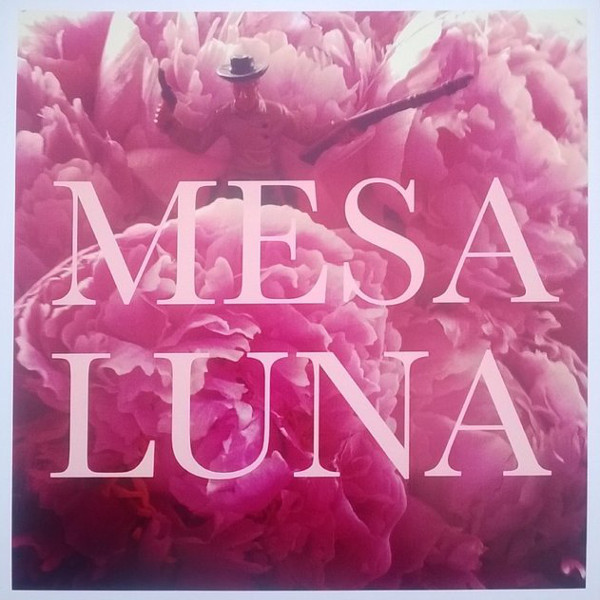 Mesa Luna
Shutting Down b/w Get Going
Vancouver, BC
From the meteorological oddity of Nick Smith:
The Mesa Luna is a now defunct Vancouver salsathèque/weekday all-ages venue, which was the cradle for many up and coming show-goers. "Shutting Down" is a pan-temporal ode to everything about the place (sans the hardcore edge), where the now empty dancehall drips with reverb, echoes of previous drum thuds, and spectral figures socializing in and out of the mist. Kinda like the devotional/self-deprecating feelings we get when fledgling relationships are started then left to fizzle. This is another one of Kingfisher Bluez' excellent sonic slates of sunshower pop, those weird/fun moments when everything and nothing become the same amount.
De l'étrangeté météorologique de Nick Smith:
(Traduit par la plume orageuse de Julie Forget)
The Mesa Luna est un ancien club de salsa et lieu qui accueillait des gens de tous âges pendant la semaine, en plus de servir de berceau pour de nombreux nouveaux spectateurs. « Shutting Down » est une ode intemporelle à tout ce qui touche l'endroit (sans le côté hardcore), à cette salle de danse vide qui transpire maintenant la réverbération, les échos des bruits sourds de batterie disparus et les silhouettes spectrales socialisant en se déplaçant dans un brouillard. Un peu comme les sentiments de dévotion/d'autodénigrement d'un début de relation qui se termine. Voici un autre excellent tableau de sons pop de pluie sous le soleil par Kingfisher Bluez, ces moments étranges/divertissants où tout et rien deviennent égaux.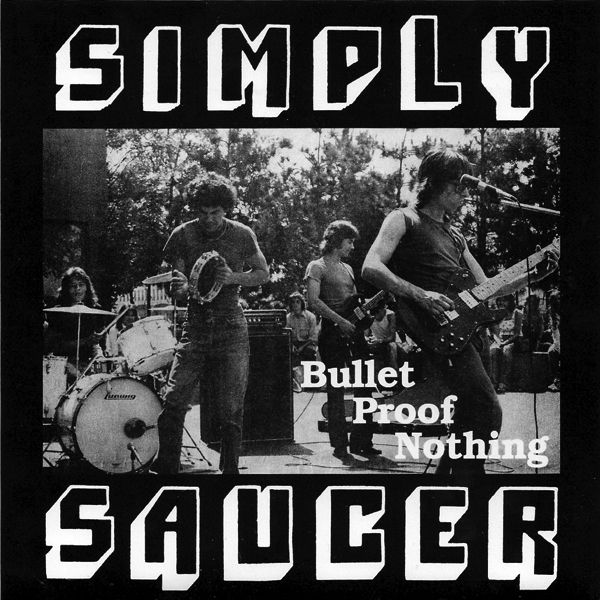 Simply Saucer
Bullet Proof Nothing
Hamilton, ON
From the point blank target of James Lindsay:
Here's a fantasy 7" that never was, but should have been, from Hamilton's once lost but now found golden sons, Simply Saucer. This song and its notorious chorus, from the group's legendary posthumous LP Cyborgs Revisited, finds the Steeltown cosmic-punks phasing out of their usual MC5 interstellar overdrive and basking in the warm glow of a big star. The b-side delivers a revved up live version that makes you want to add a date to your time machine's itinerary. Many thanks to Mammoth Cave for making this happen, and to Ugly Pop for coming up with the "what if" single concept.
De la cible à bout portant de James Lindsay:
(Traduit avec la plume enchantée de Geneviève Simard)
Voici un disque vinyle 7 pouces qui n'a jamais été fantasmé, mais qui aurait dû l'être, de la part des précieux fils d'Hamilton Simply Saucer, autrefois perdus, mais maintenant retrouvés. Cette chanson des membres célèbres du légendaire LP posthume Cyborgs Revisited montre les punks cosmiques de Steeltown qui abandonnent leur habituel MC5 interstellar overdrive pour se délecter de l'éclat chaleureux de Big star. La face B comprend une version en spectacle survoltée qui donne envie d'ajouter une date à l'itinéraire de sa machine à remonter le temps. Un grand merci à Mammoth Cave pour avoir permis à ce vinyle de voir le jour, et à Ugly Pop pour avoir trouvé le concept du single « what if ».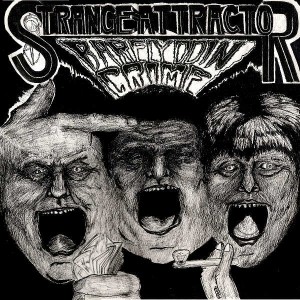 Strange Attractor
Barely Doin' Crime
Sudbury, ON
From the personal cheque of Brendan Lehman:
With the coals of Back To The Cruel World still warm, Strange Attractor gas the fire again with an equally raucous EP. Probably cooked in the same lab as the infamous Noise Tape, these six jams crammed into a 7" run the gamut from a dangerous trip to a dangerous trip and a press release. Mental corruption runs thick through these driving bangers, rife with breach of trust and altered documents: the seedy underbelly of a drunken façade. We're burning down the walls of conservative values, one screaming riff at a time. Sounds like my kind of party.
Du chèque personnel de Brendan Lehman:
(Traduit par le doux murmure d'Anaïs Njike)
De la braise encore chaude de Back To The Cruel World, Strange Attractor rallume le feu avec un EP tout aussi tapageur. Probablement conçu dans le même labo que la notoire Noise Tape, cet ensemble de 6 morceaux condensés sur un 7 po vous fait voyager d'un danger à l'autre en passant par un communiqué de presse. La corruption mentale tourne à fond dans ces débris à roulettes, blindés d'abus de confiance et de faux documents : la face cachée miteuse d'un ivrogne. On fait tomber les barrières du conservatisme, un riff criant après l'autre. Ça c'est mon genre de fête.

Strange Attractor – I Need to Kill My Neighbours
---