Category: 7″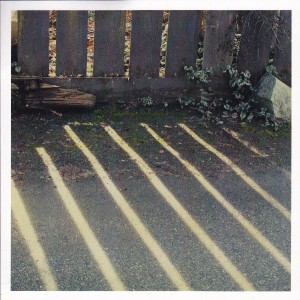 Rose Melberg
Distant Ships
Vancouver, BC
From the glittering prizes of Penny Clark:
Rose Melberg's striding drums and sunny melodies pedal her song like a bicycle through a bright green day. Recorded as part of the Kingfisher Bluez Single Sided Singles club, this 7" has the hazy, warm quality of a projection film reel. Her vivid guitar tone and calm-breeze vocals sail across the horizon, while the song disappears over the glittering waves just as abruptly as it begins. Melberg offers a brief memory of summer, the scent of the rich earth and gentle salt air.
Des récompenses étincelantes de Penny Clark:
(Traduit par la hâte du printemps de Catherine Gaucher)
Grâce à ses percussions marquantes et à ses mélodies ensoleillées, Rose Melberg pédale sur ses chansons comme sur une bicyclette défilant lors d'une radieuse journée. Enregistré pour Kingfisher Bluez et sa collection Single Sided Singles, ce 7 pouces possède une qualité diffuse, chaleureuse et comparable à celle même d'une bobine de projection de film. Ses tonalités vives de guitares et sa voix légère comme la brise voguent à l'horizon, tandis que ses chansons disparaissent tout aussi soudainement qu'elles étaient apparues, parmi les vagues scintillantes. Melberg nous livre un bref souvenir de l'été, un riche parfum de terre et d'air salin léger.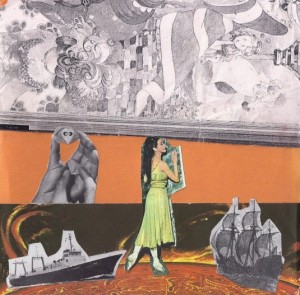 The Pink Noise // Man Made Hill
Split 7"
(Inyrdisk)
Montréal, QC // Toronto, ON
From the cryptic decisions of Jesse Locke:
This split disk surpasses expectations with a pair of institutions in peak form. The three-piece Pink Noise lurches like a post-punk Prometheus juiced on daisy-chained FX pedals as it wobbles askew and utters its first blasé words. The tightly coiled configuration that arrived on Greedy Heart has never sounded more menacing. Meanwhile, the man made mystery known as Randy Gagne shows off his vocal mutations with the burbling kiss and tell "Sweeter Than Ice" and ghoulish synth-pomp falsetto of "Cryptic Decision." Available with risograph cover art or 50 unique collages, like the fever dream scene up above.
Des décisions cryptiques de Jesse Locke:
(Traduit par les contorsions spiraloïdes de Nicolas Coutlée)
Ce split réunissant deux institutions en pleine possession de leurs moyens surpasse toutes les attentes. Le trio Pink Noise titube comme un Prométhée post-punk fou raide de pédales à effets interconnectées, alors qu'il gigote dangereusement et prononce ses premières paroles désenchantées. Les arrangements ficelés serrés de « Greedy Heart » n'auront jamais sonné aussi menaçants. Pendant ce temps, le mystère érigé de main d'homme, connu sous le nom de Randy Gagne, fait étalage de ses mutations vocales sur le secret d'alcôve guttural « Sweeter Than Ice » et de son fausset macabre aux accents de synthé cérémonieux sur « Cryptic Decision ». Offert avec une pochette imprimée sur risographe ou cinquante collages uniques, comme la scène de rêve fiévreux ci-dessus.
Man Made Hill – Cryptic Decision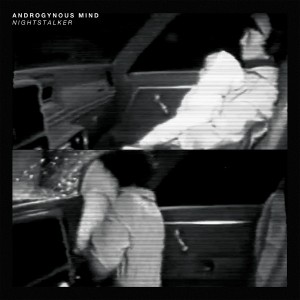 Androgynous Mind
Nightstalker
Vancouver, BC
From the molten tar of Javier Fuentes:
Patrick Flegel and Morgan Cook set their instruments to panic mode on this proto-Cindy Lee project. Every bit as moving as the songs on Tatlashea, this is a band that sounds like it's living in the present year, melting icecaps and all. Pulling no punches, the fast parts are heavy and the slow sections are crushing. Flegel shears and tears his guitar as he tries to grip the molten tar stuck by the neck, while Cook's destroyed drumset responds to these terrorizing calls with one last gasp. Mutant shrieks travel through plexiglass to reach the ears of some condo boss counting cheques by the pool. His attention is diverted by a knock on the door — someone's looking to make a deal. The jam continues on through the bitter cold of a winter's night, working through storm and stress. These transmissions travel from the west coast, so keep an eye out for distractions and make sure you don't miss them.
Du goudron en fusion de Javier Fuentes:
(Traduit par l'effet de serre de Catherine Gaucher)
Sur ce projet proto-Cindy Lee, Patrick Flegel et Morgan Cook ont mis leurs instruments en mode panique. Toujours aussi émouvant qu'avec leurs chansons de Tatlashea, ce groupe semble vivre dans l'époque actuelle, celle même de la fonte des calottes glaciaires et de tout le reste. Faites sans cachotterie, les parties rapides sont lourdes et les sections lentes sont écrasantes. La guitare de Flegel cisaille et déchire pendant que ce dernier tente de saisir du goudron en fusion et tandis que dans un dernier soupir, la batterie détruite de Cook répond à des appels terrifiants. Au-delà du plexiglas traversent des cris de mutants atteignant les oreilles d'un quelconque propriétaire de condos qui compte les chèques au bord de la piscine. Son attention est détournée par quelqu'un cognant à la porte — on cherche à conclure une entente. Affrontant tempêtes et anxiété, ce jam traverse le froid cinglant d'une nuit hivernale. Gardez l'œil ouvert et assurez-vous de ne pas rater ces transmissions qui nous viennent de la côte Ouest.
Androgynous Mind – Knock On My Door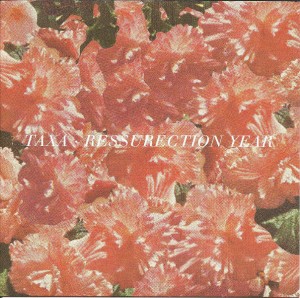 TAXA
Resurrection Year
Vancouver, BC
From the imminent explosion of Kevin Stebner:
Initially, you may think these burly rhythms come from worshippers of the old Great American Steak Religion, yet Taxa take a soul-searching journey to the Valhalla that is Chapel Hill. Imagining mechanic button-ups with embroidered names like "Dale" or "Hank", you wonder if they intend to heal the damage. Instead, you climb the mountain of history and past, feeling a scarily imminent explosion from the Pacific rim. Do you crest the peak, or fall headlong in?
De l'explosion imminente de Kevin Stebner:
(Traduit du sommet de la vague de Justine Gabias)
Au premier abord, on pourrait penser que ces rythmes costauds sont l'oeuvre de fidèles de The Great American Steak Religion, mais les membres de Taxa entreprennent plutôt un voyage spirituel jusqu'au Valhalla qu'est Chapel Hill. Les imaginant portant des chemises de mécanos avec des noms comme « Dale » ou « Hank » brodés sur la poitrine, on se demande s'ils ont l'intention de réparer les dommages. Ils nous font plutôt gravir la montagne de l'histoire et du passé avec le pressentiment d'une explosion horriblement imminente de la ceinture du Pacifique. On touche le sommet de la vague ou on y tombe la tête la première ?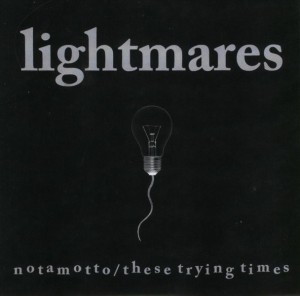 Lightmares
Notamotto b/w These Trying Times
(Self Released)
Sudbury, ON
From the trying times of Joel French:
It must have been seven or eight years now since I first saw Lightmares play a show. These three dudes weren't old enough to stay in the bar after their set, but that didn't stop them from giving out an insanely captivating and raw performance — or from handing out their demos to everyone as we went out to smoke. Since then they've tightened up their live show, songwriting and banter quite a bit, yet they seem just as hungry every time I see them play. This pair of weirdo pop-rock songs is a great representation of what these boys are capable of.
Des temps difficiles de Joel French:
(Traduit avec fébrilité par Andréanne Dion)
Ça doit maintenant faire sept ou huit ans que j'ai vu Lightmares en spectacle pour la première fois. Ces trois gars n'étaient pas assez vieux pour rester dans le bar après leur prestation, mais ça ne les avait pas empêchés de donner une performance extrêmement captivante et brut, ou de distribuer leur démo à tous ceux qui sortaient fumer. Depuis, ils ont pas mal amélioré leur spectacle, la composition de leurs chansons et leurs plaisanteries, mais ils semblent toujours aussi avides à chaque fois que je les vois jouer. Cette paire de chansons pop-rock étranges représente bien de quoi ces gars sont capables.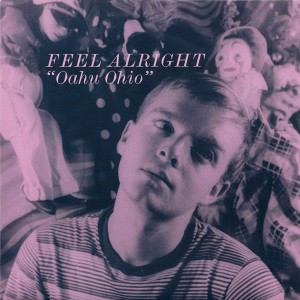 Feel Alright
Oahu Ohio
Calgary, AB
From the fevered dance of Javier Fuentes:
The thermostat may be telling you to drag out your warmest attire, but one spin of this Feel Alright 7" will start the search for your palm printed shirts and sand soaked shorts. Memories of winter goths get cast to the side under the melting vocal spells of Craig Fahner. Giddy guitars tickle you out of your static stance and into a fevered dance. Take your sled out for a spin on the snowy hill and watch as it turns into a slick surfboard. Shorter days call for an action plan to get the most of your time, so take these songs as your first step.
De la danse fiévreuse de Javier Fuentes:
(Traduit par le thermomètre de Catherine Gaucher)
Même si votre thermostat semble vous indiquer qu'il vous faut revêtir vos vêtements les plus chauds, une seule écoute de ce 7 pouces de Feel Alright déclenchera en vous la recherche pour retrouver vos chemises aux imprimés de palmiers et vos shorts couverts de sable. Sous les sorts vocaux envoûtants de Craig Fahner, les souvenirs de Winter Goths sont mis de côté. Des guitares vertigineuses vous balancent en dehors de votre statisme et vous jettent dans une danse fiévreuse. Sortez votre traîneau pour une glissade sur une colline enneigée et voilà que ce dernier se transforme soudainement en une belle planche de surf. Parce que les journées écourtées exigent un plan d'action pour tirer le meilleur parti de votre temps possible, prenez ces chansons comme une première étape.
Feel Alright – Dark Incantations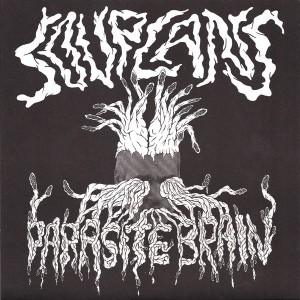 The Soupcans
Parasite Brain EP
Toronto, ON
From the substantia nigra of Brendan Lehman:
Enter the Soupcans. Enter the Soupcans into a world of dystopian chaos, one of grinding distortions and impenetrable walls of sound. Manic screams guide you through dim-lit alleyways vaguely remembered. Living here, it sometimes calms down into a groove, but more days than not it's the unceasing noise of your state oppressor, eating away at your once-sane consciousness. It's hard to tell if it's the cocktail your guy down the street cooked up for you or if that's just the way it has become. Thoughts are fleeting, and you begin to wonder if anyone could ever help. Until you re-emerge, standing in the crowd of your local punk bar, listening to the Soupcans blow your mind. Thankfully it's not the brain-oozing hell you thought it would be, just really good punk.
De la substantia nigra de Brendan Lehman:
(Traduit de la contre-utopie effrayante de Catherine Debard)
Entrez dans Soupcans. Entrez dans Soupcans, dans un monde dystopique, un cauchemar chaotique de distortion écrasante et de murs du son impénétrables. Des cris déments vous guident le long de sombres ruelles vaguement familières. Ici, parfois, ça se calme dans une sorte de groove, mais la majorité du temps, les journées sont imprégnées du bruit incessant de votre oppresseur, qui bouffe tranquillement votre conscience jadis intacte. C'est assez nébuleux, à savoir si c'est le cocktail que ce type en bas de la rue a cuisiné pour vous ou si c'est juste ce que les choses sont devenues maintenant. Les pensées s'enfuient et vous vous demandez si quelqu'un pourra un jour vous aider. Jusqu'à ce que vous émergiez debout dans une foule, dans votre bar punk local, en écoutant Soupcans et en hallucinant carrément. Heureusement, ce n'est pas l'enfer cérébral suintant que vous imaginiez, c'est juste du punk vraiment bon.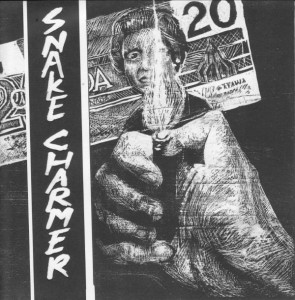 Snake Charmer
7"
(Self Released)
Hamilton, ON
From the heralded cacophony of Liam Kennedy:
Dateline: Hardcore Hamilton. What's audible is a powerful energy release manifesting in squealing feedback and blast beats. What's apparent from the cover art and lyrics is an anger with Canada's militarism contrasted with an internationally promoted peacemaker image. This cacophony may herald the welcome return of political hardcore. The relative lack of political music in general leaves the impression of generational apathy towards how much and how quickly our country has changed. When the sky bled and nature screamed for Edvard Munch he knew the world was alive. At the very least, this strident frustration feels like it cares. Consider both sides of Snake Charmer's 7" a rival national anthem.
De la proclamation cacophonique de Liam Kennedy:
(Traduit des signes avant-coureurs de Catherine Gaucher)
Lieu de rédaction : Hardcore Hamilton. Ce qui est audible, c'est une puissante libération d'énergie se manifestant par de grinçantes réverbérations et des rythmes explosifs. Ce qui ressort de l'imagerie de la pochette et des paroles des chansons est une colère contre le militarisme du Canada contrastant avec la prédication de son image pacificatrice mondialement. Cette cacophonie peut annoncer le retour bienvenu d'un hardcore conscient politiquement. L'absence globale de musique à contenu politique laisse une impression d'apathie générationnelle par rapport à combien notre pays a changé et à quel point il l'a fait rapidement. Quand le ciel saigna et quand la nature cria pour Edvard Munch, il eut conscience que le monde était vivant. À tout le moins, cette stridente sensation de frustration lui donne le sentiment que l'univers est attentif. Considérez chaque côté du 7 pouces de Snake Charmer comme le rival d'un hymne national.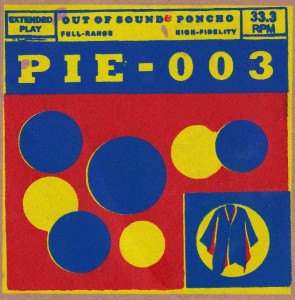 Various Artists
PIE-003
Halifax, NS
From the diffuse afternoonism of Joshua Robinson:
Halifax is a uniquely magnificent place. Masquerading as the second coming of the disparate and displaced flower power generation, its local musicians hold the innate ability to transcend the barriers of time and space. Out Of Sound and Poncho's collaborative 7" split release fulfills this promise, culling the tenants of the past's fascination with folklore and infusing it with a reinvigorated proletarian ethic that instantly validates its DIY aesthetic.
Walrus, the Haligonian embodiment of James Mercer with a tinge of Ray Davies, spin a wavy yarn, replacing the cold proximity of the Atlantic with the spirited percussive pulse of drum circle bongos that masterfully belie the alt-rock underpinnings of this ode to diffuse afternoonism. Shadow Folk reimagine the bubblegum-pop of the early '60s, rich with warm backing vocal 'oohs' and 'ahhs' that designate this as music from a bygone era of adolescent infatuation. With the immutable spirit of an alt-Americana spaghetti gunslinger, Gnarwhalz rip and run across the red lacquer terra firma of PIE-003 with the clamorous reckoning of party infused recklessness. Lastly, Sheepman exude a slew of musical stylings with origins likely traceable to the lysergic daydreams of their incorporeal predecessors, a primordial conglomeration of marvelously crafted unicellular elevator folk with the vocal stylings of a cheerful Morrissey. This four-way split is the four-course meal that serves to fill the insatiable appetite of our Canadian longing for music that reminds us of our past.
De l'après-midi diffus de Joshua Robinson:
(Traduit de la grasse matinée de Catherine Gaucher)
Halifax est un endroit magnifiquement unique. Se faisant passer pour des membres de la nouvelle génération flower power disparate et déplacée, ses musiciens locaux détiennent une capacité innée à transcender les barrières du temps et de l'espace. La collaboration d'Out of Sound et de Poncho sur ce split 7 pouces remplit cette promesse grâce à une fervente fascination pour le folklore infusé d'une éthique prolétaire revigorée, validant instantanément l'esthétique DIY du EP.
Walrus, l'incarnation haligonienne de James Mercer avec une teinte de Ray Davies, remplace la froide proximité de l'Atlantique par le pouls fougueux et percutant d'un cercle de tambours qui dément magistralement les fondations du rock alternatif de cette ode aux après-midis diffus. Shadow Folk réimagine la pop gomme balloune du début des années 60, riche de par ses chaleureux choeurs composés de « oohs » et de « ahhs » qui désignent la musique d'une époque révolue et remplie d'engouements juvéniles. Avec l'esprit immuable d'un flingueur de Western spaghetti, Gnarwhalz traverse la terre ferme de PIE-003 tel le souvenir bruyant d'une fête infusée d'insouciance. Finalement, Sheepman puise dans un tas de styles musicaux dont les origines probables prennent racine dans les rêveries diurnes lysergiques de leurs prédécesseurs disparus, un rassemblement de folk merveilleusement conçu accompagné d'un style vocal évoquant l'allégresse de Morrissey. Ce split est tel un repas quatre services comblant l'appétit insatiable de notre nostalgie canadienne pour la musique évoquant notre passé.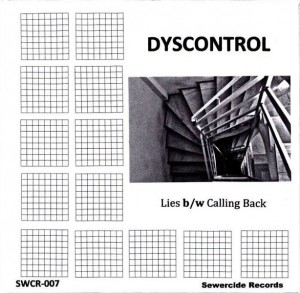 Dyscontrol
Lies b/w Calling Back
Halifax, NS
From the disapproving dirge of Mark Streeter:
Dyscontrol's songs are soaked with urgency. They grab me by the collar, pull me up to eye level and demand to know if am living my life to the best and fullest of my abilities. "Sure I am," I reply, dropping the needle on "Lies." Sweat beads on my brow as a telecaster unsheathes itself, its clear tone gleaming through the speakers. By the time the band has pummeled through to its disapproving dirge chorus, I am thinking that it's time I took a long look in the mirror about a few things.
That should be enough, but the band's not done yelling at me. "Calling Back" is all defiant resolve, rising to a gotta-go-I-got-something-in-my-eye quaver by the end. Sometimes I look back on my life and see only one set of footprints. Those are the moments when Dyscontrol is carrying me. They could've left me behind with all the other lying liars who don't call back, but they care about me and they want me to stop wasting my life right now. So many lies, indeed. I am going to the gym now.
Du chant funèbre désapprobateur de Mark Streeter:
(Traduit par Claudine Maclure)
Les chansons de Dyscontrol sont imbibées d'urgence. Elles m'attrapent par le collet, me tirent à la hauteur des yeux et me demandent si, dans ma vie, j'exploite au maximum le meilleur de mes capacités. Je réponds « bien sûr » en déposant le bras de lecture sur « Lies ». Des perles de sueur glissent sur mon sourcil quand la chaîne se dégaine; sa sonorité cristalline brille à travers les haut-parleurs. Au moment où le groupe roue de coups son funèbre refrain désapprobateur, je me dis qu'il est temps d'examiner longuement mon reflet dans le miroir pour réévaluer certaines choses.
Tout cela pourrait suffir, mais le groupe n'a pas fini de me crier après. « Calling back » est un rebelle déterminé qui soulève, vers la fin, une croche « je-dois-partir-j'ai-quelque-chose-dans-mon-œil ». Parfois, je regarde le chemin que j'ai mené et je ne vois qu'une paire d'empreintes. C'est dans ces moments que Dyscontrol me transporte. Il aurait pu me laisser derrière avec tous les autres menteurs menteurs qui ne rappellent jamais, mais il se soucie de moi et il veut que j'arrête de gaspiller ma vie. Trop de mensonges, en effet. Je vais m'entraîner au gym.
---