Category: New Canadiana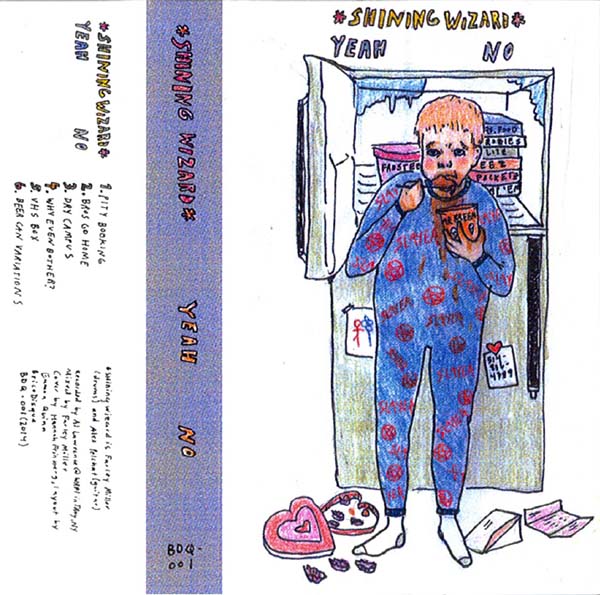 * Shining Wizard *
Yeah No
(BricoDisque)
Montréal, QC
From the basement kitchen tapes of Talia Jacob:
Big & brazen, Yeah No stirs up a fine ruckus of sublimely collapsing construction. Shining Wizard invites you to dance clumsily, flailing on the fringe of coherence where Alex Pelchat electric slides like wildcat sandpaper & Farley Miller taps out a beat so nimble it always seems frustratingly, beautifully, out of reach. Hearken! Here is noise that will devour you whole & spit you out, red-faced & panting.
Shining Wizard – Beer Can Variations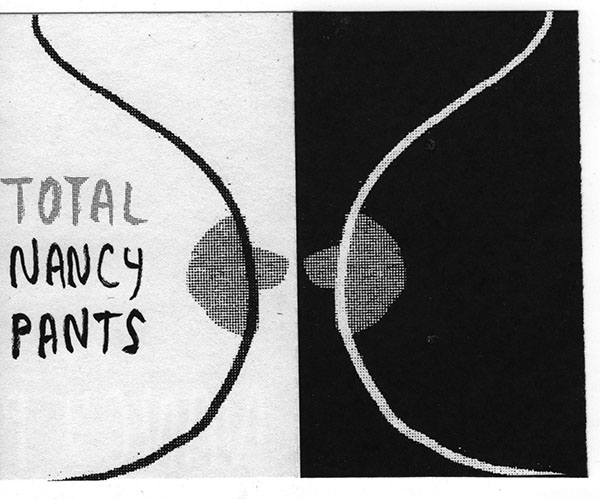 Nancy Pants
Total Nancy Pants
(Self Released)
Montréal, QC
De l'univers cosmique de Mailis Rodrigues:
(Traduit par le regain de 16h de Nicolas Coutée)
Mettez un peu de lumière dans votre journée et exorcisez tous les problèmes à l'horizon. Total Nancy Pants se partage entre douces chansons d'amour tendre et surf rock épique vous forçant à danser jusqu'à ce que vous ne sentiez plus vos jambes. Parfois seule ou accompagnée d'Adam Waito, la chaude et excentrique voix d'Ohara Hale détend vos ondes cérébrales. Enfin, la téléportation est possible!
Milksnake
Vanilla
(Self Released)
Brookfield, NS
From the melted brain of Luke Mumford:
From the deep dark forests of Nova Scotia lies a small town called Brookfield. When not rippin' the mini ramp, he's making demented music under the name Milksnake. This is halifax-pops challenged but more interesting brethren. Self-deprecating rock at its lowest-fi finest. Thankfully you can make out every word. Maybe someday we will see a live show but right now this is all we have. Enjoy the music.
Du cerveau fondu de Luke Mumford:
(Traduit par Jessica Grenier)
…quelque part dans l'obscurité des épaisses forêts de la Nouvelle-Écosse se terre une petite ville appelée brookfield… quand il n'est pas sur la mini rampe, il fait de la musique démente sous le nom milksnake… c'est comme un cousin des halifax-pops, mais en plus intéressant; du rock autocritique lo-fi, à son meilleur… on peut heureusement comprendre toutes les paroles… il y aura peut-être un jour des spectacles, mais pour l'instant, il n'y a que cette musique… profite s'en…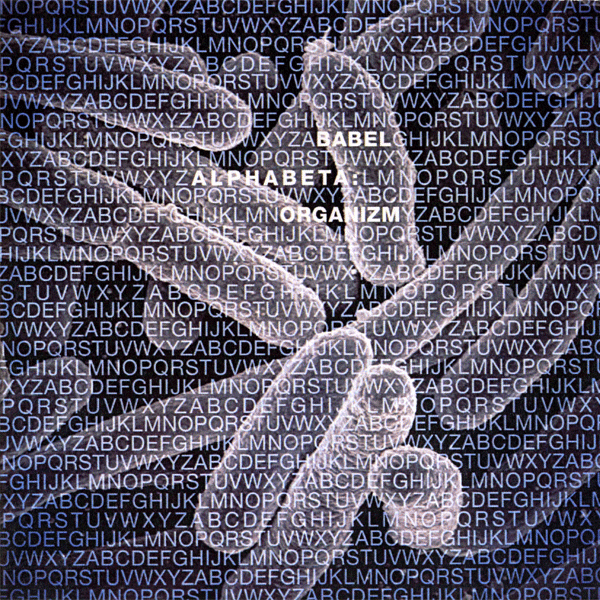 BABEL
Alphabeta 2: Outskirts / Alphabeta 3: Organizm
Toronto, ON
From the ABC-123 of Johnnie Regalado:
So many great poets exercise in form; the subtle limitations account for limitless variations on a theme. Toronto's BABEL apply similar sensibilities to experimental ambiences and continues a prolific legacy. These two discs complete an Alphabeta trilogy where form meets concept and words become instrumental music. Outskirts, a collection of original demos and sketches, is an honest look at an artist itching an idea to blissful satisfaction. On Organizm, BABEL has embraced the inevitable drone of this mad experiment and allowed a brilliant idea to take control of the creation. This series of recordings is pure synthetic authenticity.
De l'ABC-123 de Johnnie Regalado:
(Traduit par la comptine tournant dans la tête de Jessica Grenier)
Beaucoup d'excellents poètes travaillent sur la forme; et ses contraintes subtiles expliquent les variations infinies sur le thème. BABEL, de Toronto, s'intéresse aux ambiances expérimentales avec une sensibilité similaire, augmentant un héritage déjà considérable. Ces deux disques complètent la trilogie d'Alphabeta, où forme, concept et mots deviennent un même instrument de musique. Outskirts, une collection de démos et de croquis originaux, offre un regard honnête sur l'idée qui démange un artiste; le soulagement n'arrivant qu'avec son accomplissement. Sur Organizm, BABEL s'est abandonné au drone inévitable de cette folle expérimentation en laissant une idée brillante diriger la création. Une série d'enregistrements faite d'authenticité synthétique pure.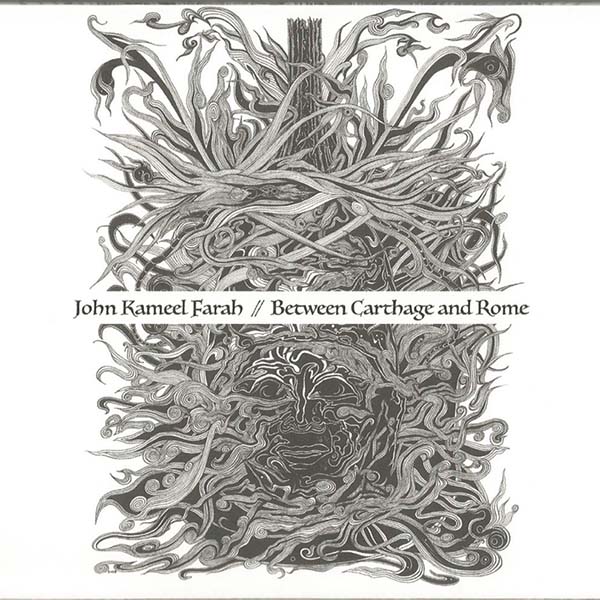 John Kameel Farah
Between Carthage and Rome
(Self Released)
Toronto, ON
From the purloined prognostications of Mark Anthony Brennan:
Zephyr is the name. Its breath gently blows through Constantinople on its way to the Eastern lands. From its dusty beginnings in the desert the sirocco slowly builds up its rage, sweeping up Hannibal in its surge, before finally touching down with the force of a hurricane. For the wind that lashes out in destruction on its way westward there is no name, for it is a lie. It is zephyr in disguise. It will return.
Des prédictions dérobées de Mark Anthony Brennan:
(Traduit par Jessica Grenier)
Zéphyr est son nom, et son souffle dirigé vers les terres orientales traverse doucement Constantinople. Depuis le désert poussiéreux où il est né, le sirocco attise lentement sa rage, jusqu'à pouvoir renverser Hannibal d'une seule poussée, pâle avant-goût de la puissance tumultueuse qu'il atteindra bientôt. Il n'y a pas de nom pour le vent destructeur qui chemine vers l'Ouest parce que c'est un mirage. C'est le zéphyr déguisé : un jour, il reviendra.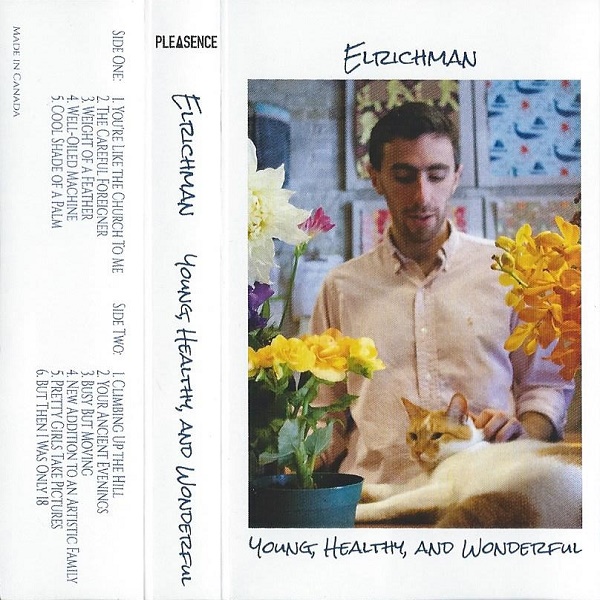 Elrichman
Young, Healthy, and Wonderful
Toronto, ON
From the dirty shades of Shawna Naklicki:
Known for his part in fearless fun-havers Gay, Paul Erlichman shifts to his inner crooner, beach bum and romantic with this side project. While maintaining his signature guitar twang, he switches group vocals for a spotlight on one, driving drums for simple strings. That's not to say he's taking life too seriously. It just means he'll be spending lots of time in the cool shade of a palm singing psychedelic love songs.
Des lunettes de soleil sales de Shawna Naklicki:
(Traduit par Jessica Grenier)
Connu en tant que membre du groupe d'audacieux joyeux lurons Gay, Paul Erlichman profite de ce projet solo pour laisser sortir son crooner intérieur; un beach bum romantique. Il conserve sa façon très personnelle de jouer de la guitare, mais remplace les ensembles vocaux par une seule voix et les puissantes percussions par de simples cordes. Mais il ne prend pas la vie trop au sérieux pour autant : il va simplement passer beaucoup de temps à l'ombre fraîche d'un palmier, en fredonnant des chansons d'amour psychédéliques.
Elrichman – Cool Shade of a Palm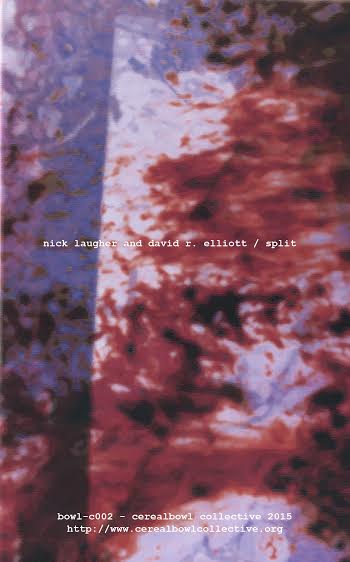 David R. Elliott & Nick Laugher
Split
Halifax, NS
From the misled blues of Mike Roy:
The bell for last call shakes your temples. You fumble in your pocket for a couple of quarters to slide into the tired jukebox huddled in the corner. A boozey, lo-fi melody answers your 2 AM call for companionship as another whiskey sour catches your hand. The fuzzy howls and sliding acoustics warm you before the liquor reaches your blood stream. Is this belligerence or retrospection?
Du blues floué de Mike Roy:
(Traduit par Jessica Grenier)
La cloche du last call déchire tes tympans. Tu fouilles dans tes poches pour trouver un vingt-cinq sous à glisser dans le jukebox fatigué blotti dans un coin. Une ivresse de lo-fi mélodique répond à ta demande de compagnie nocturne pendant qu'un autre whiskey sour vient occuper ta main. Les cris indistincts et les glissements de la guitare te réchauffent avant même que l'alcool n'ait atteint ton système sanguin. Est-ce hostile ou rétrospectif?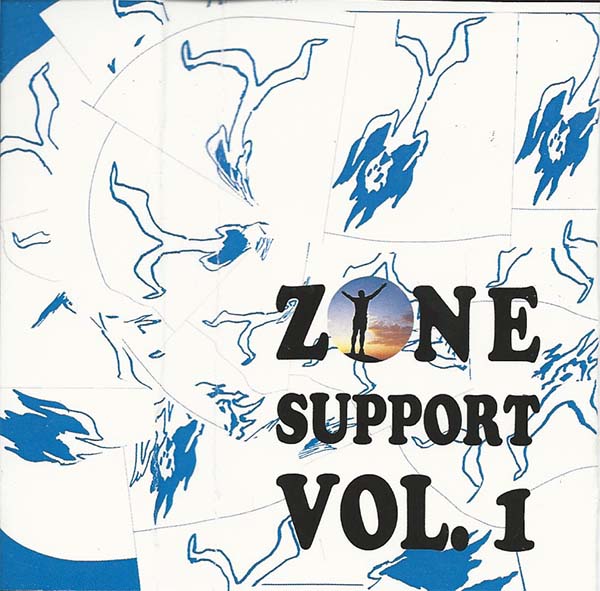 Zone Support
Vol. 1
Toronto, ON
From the truuuuuue feeeelings of Adam Bradley:
Trail close behind your gurus, Kevin Hainey and Randy Gagne as they hover, eyes closed, toward the pale green light of deepest inner repose. Touch with awe the sheer crystalline facets of your true being. Lie placid in a pool of ASMR dyed New Age self-hypnosis, diamonds trickling slowly all around. At the heart of this recording, you are told that you do not neeeed sandwiches, but if you are hungry you should make a light sandwich. To meditate on an empty stomach is not good for your chakras. Heed these wise words and come to know the core of your truuuuue feeeeelings.
Des sandwichs au chakra d'Adam Bradley:
(Traduit par Jessica Grenie)
Suis de près les gourous Kevin Hainey et Randy Gagne alors qu'ils lévitent les yeux fermés vers la pâle lumière verdâtre du repos intérieur profond. Effleure avec émerveillement les facettes cristallines pures de ton moi authentique. Étends-toi dans une mare d'ASMR aux couleurs d'autohypnose New Age pendant que des diamants tombent lentement tout autour de toi. Au cœur de cet enregistrement, on te dit que tu n'as pas vraiiiiment besoin d'un sandwich, mais que si tu as faim, tu pourrais t'en faire un petit. Méditer l'estomac vide n'est pas bon pour les chakras. Écoute ces judicieux conseils pour en venir à connaitre tes véritables sentiments.
Zone Support Vol. 1 – Side 1 (excerpt)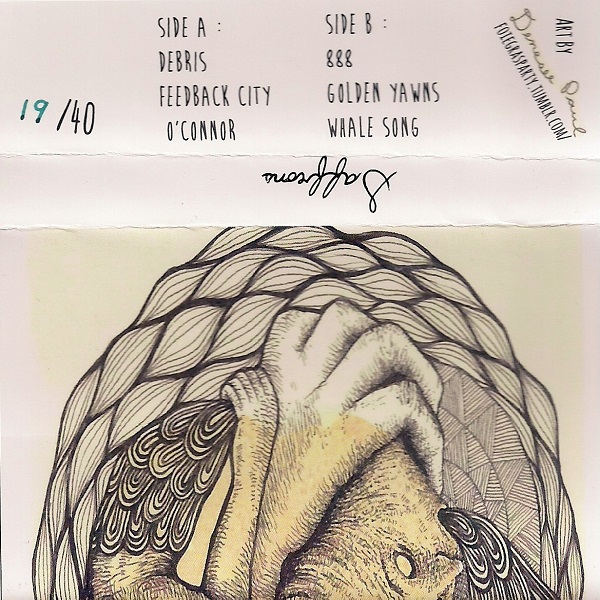 Saffrons
Saffrons
(Self-Released)
Halifax, NS
From the fruit looped spoons of Eleanor Wearing:
What are you waiting for? Plunge headfirst into a muddy whirlpool of bone-jangling reverbs until you are fully immersed in a cavern of swamp rock. A voice speaks to you through an invisible answering machine. It loops and echoes off the walls of the cave's rough interior, drawing you further into its depths. Twangy syllables bang around you, over you, through you. Your pulse increases, trying to match the capricious pattern. Slowly, the voice gets quieter. The whirlpool slows. Was it a dream?
De la cuillère fruitée bouclée d'Eleanor Wearing:
(Traduit par Mylène Moi Quevillon)
Qu'attendez-vous? Plongez tête première dans un obscur vortex de réverbérations [pétaradantes] jusqu'à ce que vous soyez complètement immergé dans une caverne de swamp rock. Une voix s'adresse à vous à partir d'un répondeur invisible. Elle tourne en boucle et son écho se répercute sur les parois inégales de la caverne, vous aspirant dans ses profondeurs. Les syllabes nasillardes se bousculent autour de vous, par-dessus vous, à travers vous. Votre pouls augmente, essayant de s'accorder à ce rythme fantasque. Et tout doucement, la voix se calme. Le tourbillon s'atténue. Était-ce un rêve?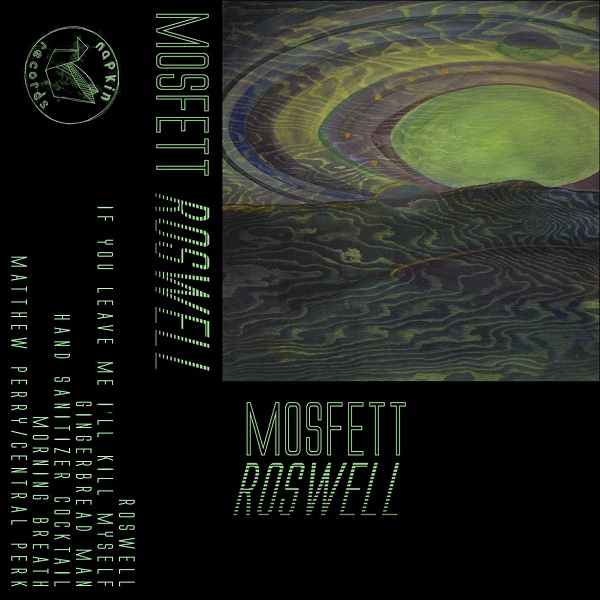 MOSFETT
Roswell
Vancouver, BC
From the metal–oxide–semiconductor field-effect transistor of Bryce Warnes:
MOSFETT (née Hemogoblin)'s name is a bastardization of the acronym for a type of transistor that, if you believe science, can make stuff louder. And rest assured, the Vancouver three-piece has arrayed their components to produce maximum hesh. It's like someone spiked Sleep's weed butter with bathsalts. The titular track is an extraterrestrial head trip laced with naked tenderness. The closer, "Matthew Perry/Central Perk," could play in the background of that lost episode of Friends where Chandler finally just, like, snaps. And between these two wailers? Plenty of greasy, freaked-out crunch. Get amped.
Du transistor à effet de champ métal-oxyde semi-conducteur de Bryce Warnes:
(Traduit par Jessica Grenier)
Le nom MOSFETT (anciennement Hemogoblin vient de l'acronyme dénaturé d'un type de transistor qui, si on en croit la science, permet d'amplifier les choses. Et c'est certain que le triptyque de Vancouver a arrangé ses composantes pour produire un maximum de hesh. C'est comme si quelqu'un avait ajouté des bathsalts dans le beurre au pot de Sleep. La piste éponyme de l'album est un trip extraterrestre hallucinant rempli de tendresse pure. La dernière, « Matthew Perry/Central Perk », pourrait servir de trame sonore pour l'épisode perdu de Friends où Chandler pète enfin sa coche. Et entre ces deux gueulards? C'est follement croquant et graisseux. Soyez prêts.
MOSFETT – Hand Sanitizer Cocktail
---