Category: New Canadiana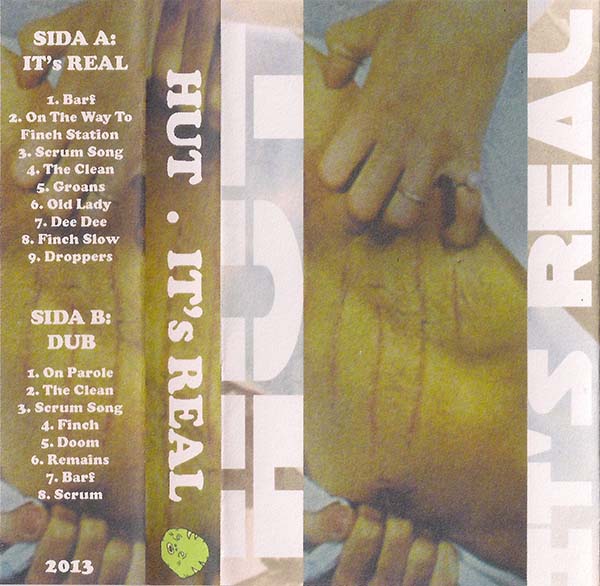 HUT
It's Real
(Daps)
Toronto, ON
From the crater cone of Katie Jensen:
This is what happens when bleach eats its way into a surfer's brain.
Amorphous bimbos sprinkle the dunes like fleshy beach fenceposts. No one is watching the skywriter spell out dirty words in a puff of warm pastel fudge.
A young man is stumbling towards you with a picnic basket filled with translucent water guns sloshing with saliva. He gestures for you to help him, but watch out. He'll pick your pockets and fill them with garbage from behind the washroom.
You have permission to fold yourself in half, to untwist your bowels, to smack your pink, shining gums against anything that moves. Everyone is waiting for you to show them how it's done.
Du cratère béant de Katie Jensen:
(Traduit par Jessica Grenier)
C'est ce qui arrive quand le décolorant réussit à gruger son chemin jusqu'au cerveau d'un surfeur.
Des potiches amorphes qui parsèment une plage comme les piquets de chair d'une clôture. Personne ne porte attention au pilote qui écrit des gros mots en nuages aux couleurs de chocolat chaud.
Un jeune homme avance vers toi en trainant difficilement un panier de pique-niques rempli de fusils à eaux débordants de salive. Il te fait signe de l'aider, mais fais attention. Il va te faire les poches, puis les remplir de cochonneries qu'il a trouvées derrière les toilettes.
Tu as le droit de te plier en deux, de défaire le nœud dans ton ventre, d'écraser tes gencives roses et brillantes sur tout ce qui bouge. Les gens attendent : montre-leur comment ça se fait.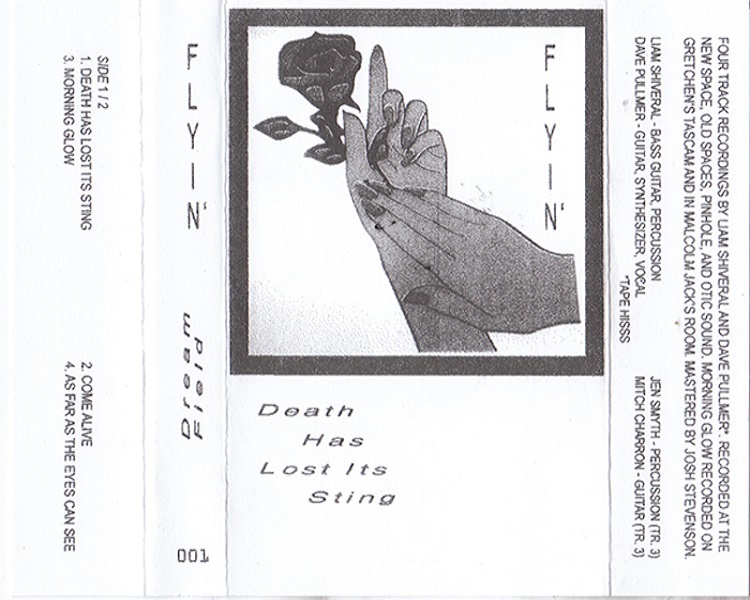 FLYIN'
Death Has Lost its Sting
(Dream Field)
Vancouver , BC
From the hand of Morgan Cook:
Soft and undulating like the light of the moon, Death has lost its sting and become a velvety space for one's sobless tears. Pitter-pats and janglies as far as the eye can see. Feedback and organ fuse and transform into the hum of heat and the cicada . Everything is fine, everything is divine.
De la main de Morgan Cook:
(Traduit du bout des doigts de Marie-Pier Chevrier)
Doux et ondulatoire comme la lumière de la lune, la Mort a perdu son dard et se fait refuge velouté pour les larmes qu'on ne pleure pas. Tapotements et tintements aussi loin que porte le regard. Feedback et orgue se fusionnent et se transforment en bourdonnement de chaleur et de cigales. Tout va bien, tout est divin.
Flyin' – Death Has Lost its Sting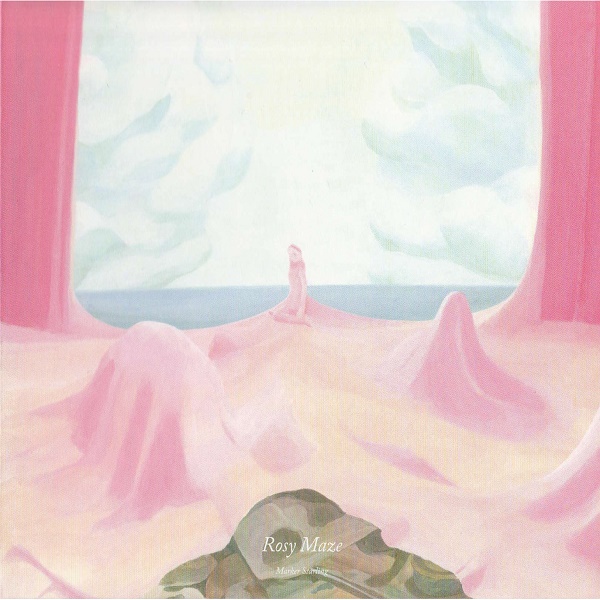 Marker Starling
Rosy Maze
Toronto, ON
From the Bodacious Bod of Bobby Andrews:
"Rosy Maze" is a soft fusion of noise brought together by a voice that evokes a plethora of emotional response. Toronto's Marker Starling gently shakes the morning with the incredibly diverse soundscapes found within this album. A provocative collection of free-flowing songs effectively create an atmospheric realm that challenges the limits of lounge music. Incorporating tremendously reflective lyrical composition sung out with timeless melodies creating a terminally-chill album perfect for relaxation, meditation and reflection.
Du corps fabuleux de Bobby Andrews:
(Traduit par la fusion en douceur de Virginie Langlois)
« Rosy Maze » est une fusion en douceur de musique bruitiste portée par une voix évoquant une pléthore de réponses émotionnelles. Marker Starling, de Toronto , secoue gentiment le matin avec des sonorités incroyablement diverses. Ce recueil provocateur de chansons libres arrive à créer un espace atmosphérique qui repousse les limites de la musique lounge. En combinant compositions lyriques extrêmement réfléchies et mélodies intemporelles, Starline a construit un album ultimement zen idéal pour la relaxation, la méditation et la réflexion.
Marker Starling – Flower of Laughter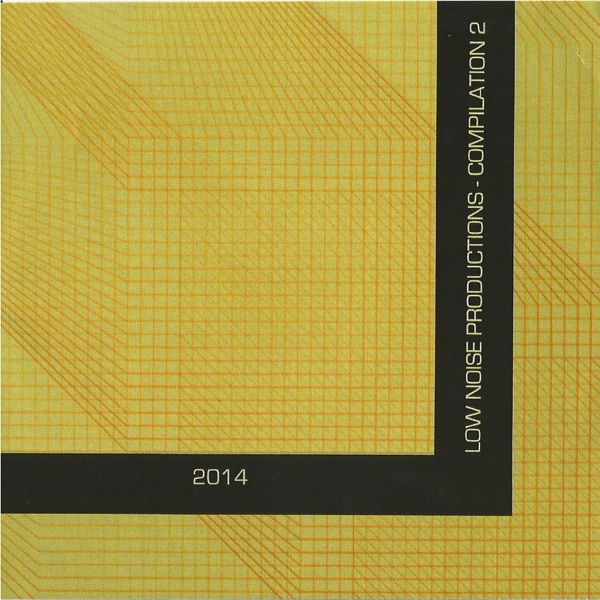 Various
LNP – Compilation 2
Ottawa , ON
From the motorik metabolism of Mark Anthony Brennan:
White. A cavernous room bathed in light. When you make your selection a drawer suddenly juts out from the infinite whiteness. Some selections gleam, like a brand-new super-efficient Porsche. Others are more clunky, but intriguing in their analogue peculiarity. Some remind you of sweaty nights on the techno dance-floors of Chicago. Then there's the one that brings back memories of the time in Berlin.
So many synths, so many styles. Finally, you decide. Yes, that one is perfect for your Terminator vs. Bladerunner flick.
Du métabolisme motorik de Mark Anthony Brennan:
(Traduit depuis la rutilante dystopie de Nicolas Coutlée)
Blanc. Une salle caverneuse baignée de lumière. Au moment de faire votre choix, un tiroir jaillit de la blancheur infinie. Certaines sélections brillent, comme une Porsche neuve et incroyablement performante. D'autres, moins rutilantes, vous intriguent par leur bizarrerie analogue. Quelques-unes vous rappellent ces nuits humides sur les pistes de danse techno de Chicago. Sans oublier cette dernière au contact de laquelle refont surface vos souvenirs du temps à Berlin.
Tant de synthés, tant de styles. Finalement , vous vous décidez. Oui, celle-ci sera parfaite pour votre prochain film, Terminator vs. Bladerunner.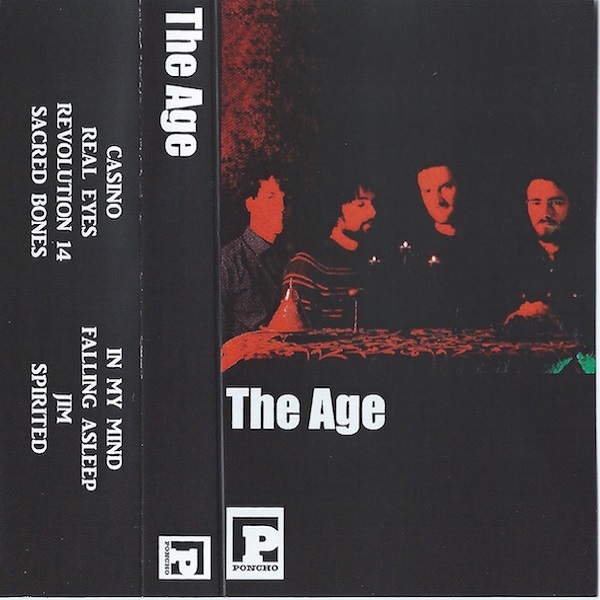 The Age
The Age
Halifax , NS
From the rock and roll disco of Mike Roy:
The vintage rock sounds of Halifax are alive and well in 2015 thanks to the sweet, sweet melodies of The Age. Like their municipal brethren of musical past, The Age don the well-worn, patched-up leather jacket of their retro influences to craft eight finely tuned rock gems that bounce and bob at all the right measures. Each half of the tape is bookended with an instrumental jam, where the group prove their charisma extends beyond catchy hooks into a melodic maelstrom of pure rock-n-roll energy.
Du disco rock'n'roll de Mike Roy:
(Traduit par le bariolé d' Aliké Harel)
En 2015, le son rock vintage vit et bat son plein à Halifax grâce aux belles et jolies mélodies de The Age. Au même titre que leurs compatriotes d'une époque musicale révolue, The Age affiche ouvertement ses influences rétro telle une veste de cuir usée et rapiécée sur ces huit pistes bien fignolées, huit joyaux de rock qui bondissent, cabriolent et battent toutes la bonne mesure. Chaque côté de la cassette se clôt par un jam instrumental, un mélodieux maelström d'énergie purement rock'n'roll prouvant que le charisme du groupe ne se limite pas à ses refrains accrocheurs.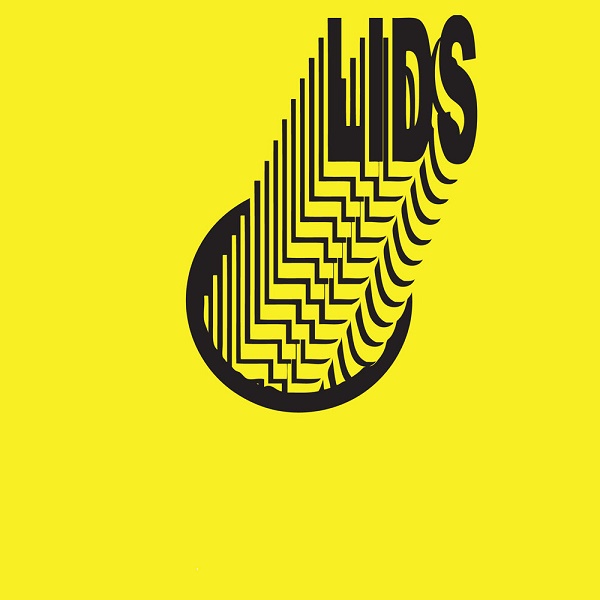 LIDS
SARSFEST B/W BLANK FLAG
Toronto, ON
From the hellish belles of Kevin Hainey:
Lids are rolling thunder, pouring rain. Lids are coming on like a hurricane. Lids' lightning's flashing across the sky. Lids are only young but they're gonna die. Lids won't take no prisoners, won't spare no lives. Lids are putting up a fight. Lids gotta kill, they're gonna take you to hell. Lids gonna get ya, these sides will get ya. Lids kills!
Lids gives ya three sensations from up and down the scene. If you're into METZ then you're a friend of thee. See a fine guy from Constantines who hits notes right. Holy Fuck's Brian Borcherdt's picking it out right. Lids won't take no prisoners, won't spare no lives. Lids are putting up a fight. Lids gotta kill, they're gonna take you to hell. Lids gonna get ya, these sides will get ya. Lids kills!
Des cloches infernales de Kevin Hainey:
(Traduit par le poète mort de Nicolas Coutlée)
Lids est tonnerre et pluie battante. Lids s'amène dans la tourmente. Lids strie le ciel de ses éclairs. Lids est jeune, mais finira sous terre. Lids ne fait pas de prisonnier, personne ne sera épargné. Lids est prêt pour la bataille. Lids, c'est la mort, prépare-toi pour le croque-mort. Lids aura ta peau, ces chansons auront ta peau. Lids, c'est la mort!
Lids te donne trois sensations de haut en bas de la scène musicale. Si tu aimes METZ, prépare-toi à un régal. Un chic type qui joue dans les temps. Brian Borcherdt de Holy Fuck a tout un talent. Lids ne fait pas de prisonnier, personne ne sera épargné. Lids est prêt pour la bataille. Lids, c'est la mort, prépare-toi pour le croque-mort. Lids aura ta peau, ces chansons auront ta peau. Lids, c'est la mort!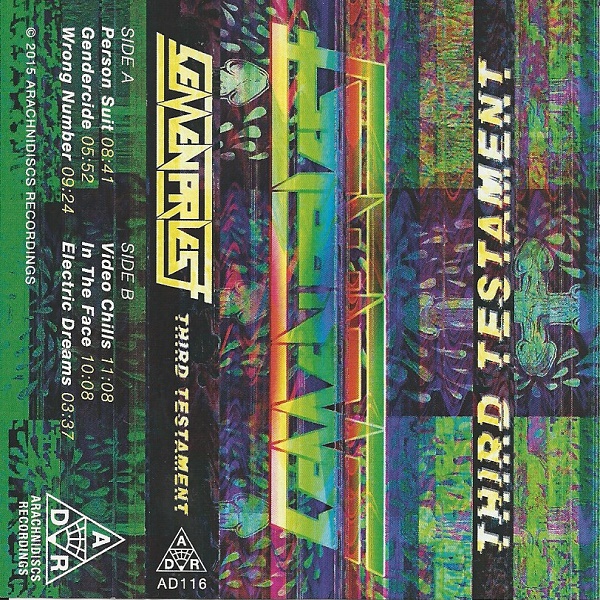 Semen Priest
Third Testament
Toronto, ON
From the masterful sleaze of Adam Bradley:
A grinning, skeletonized and sunglass-eyed Right Said Fred strutting through strobe lit hell-waste, lava sloshing to the groovy thrust. Rowland S. Howard rolled up in a rug made of disco ball shards, thwacked with sticks by little gremlin versions of A Certain Ratio. Masterful sleaze drips viscous. Fat cherry lips pout in the darkness and lick salaciously. Clammy palms rub together. Teeth gnash anticipation. The air is sulphur and cigarette.
De la savante débauche d' Adam Bradley:
(Traduit à grosses gouttes par Nicolas Coutlée)
Lunettes fumées et sourire aux lèvres, les squelettes des membres de Right Said Fred défilent dans une décharge infernale illuminée au stroboscope tandis que clapote la lave au rythme du groove. Rowland S. Howard enroulé dans un tapis de tessons de boule disco, fracassée à coups de bâton par les musiciens de A Certain Ratio version Gremlin. Savante débauche qui tombe en gouttes visqueuses. De pulpeuses lèvres rouge font la moue dans le noir et se pourlèchent d'un air salace. Des mains moites se frottent l'une contre l'autre. Des dents qui grincent d'anticipation. L'air n'est que souffre et cigarette.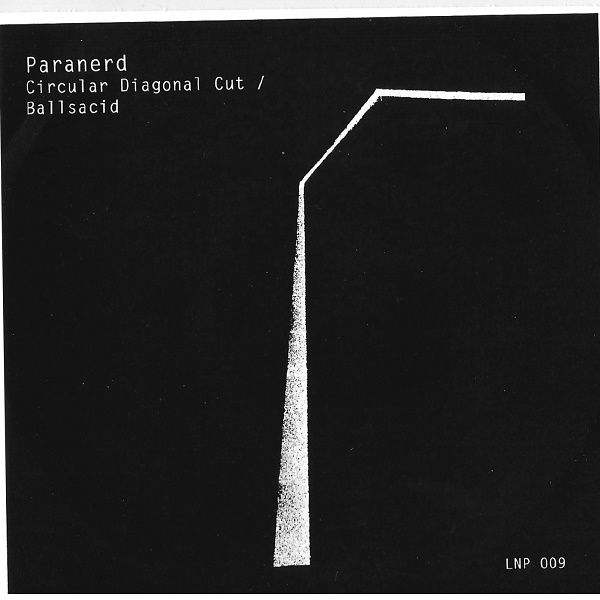 Paranerd
Circular Diagonal Cut
Ottawa, ON
From the terminal timeline of Mark Anthony Brennan:
Run. Run through the warehouse. Dark as the furthest corner of the bedroom closet. Mechanical sounds all around. Never sure which one is him.
I know this scene – we're in a club. But that's not shitty '80s dance, it's dark techno. People are dancing in slo-mo. So strange, so distant. That's him! He's following me in the crowd.
Back outside. Keep running. Things grab at me from all sides. Unseen, unfelt, but they are there. He's still there. Forever chasing. No one will ever call "cut", will they? This scene will last forever. And he will never stop.
De la ligne du temps terminale de Mark Anthony Brennan:
(Traduit au noir par Nicolas Coutlée)
Cours. Cours à travers l'entrepôt. Sombre comme le coin le plus reculé du placard de la chambre. Des sons mécaniques tout autour. Lequel d'entre eux est-ce?
Je connais cette scène – nous sommes dans un club. Mais le dance de merde est remplacé par du techno sombre. Les gens dansent au ralenti. Si étrange, si distant. C'est lui! Il me suit dans la foule.
De retour dehors. Cours encore. Des choses s'agrippent à moi de tous côtés. Invisibles, inaperçues, mais elles sont là. Lui aussi. Perpétuellement à mes trousses. Jamais personne ne s'écrira « Coupez! », pas vrai? Cette scène se poursuivra toujours. Et lui ne cessera jamais.
Paranerd – Circular Diagonal Cut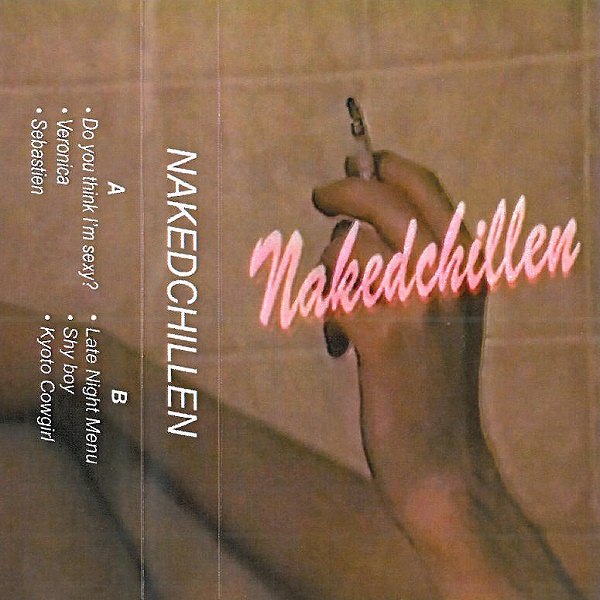 Naked Chillen
Man Dog Love
(Self-Released)
Victoria, BC
From the gilded horse's ass of Sam Joseph:
Another welcome addition to the Victoria DIY bedroom-jazz movement (See: Jons), the musings of Naked Chillen are an ode to fuzzy, booze-soaked memories forged in the sodium vapour-fueled delirium of the concrete jungle after sundown. Man Dog Love is an after-dark hop-skip-jump-and-stumble into a booth at your favourite greasy spoon after one too many libations. What item will you have off of the late-night menu?
Du cul de cheval en or de Sam Joseph:
(Traduit depuis la tête-de-cheval de Nicolas Coutlée)
Autre heureuse addition à la scène « jazz de chambre à coucher » de Victoria (voir Jons), les rêveries de Naked Chillen rendent hommage aux souvenirs flous, imbibés d'alcool, forgés à même les vapeurs de sodium illuminant la jungle de béton nocturne. Man Dog Love est un saut de nuit rapide à votre casse-croûte favori après de trop nombreuses libations. Qu'est-ce que vous prendrez sur le menu de fin de soirée?
Naked Chillen – Do You Think I'm Sexy?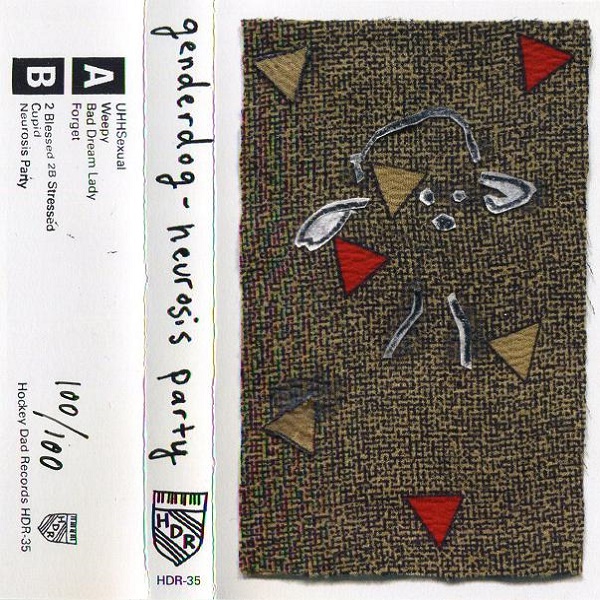 Genderdog
Neurosis Party
Vancouver, BC
From the permanent delirium of Trevor Angst:
Genderdog's waggish debut under Hockey Dad Records is an introvert's anthem for the neurotic masses. Worry-warted in nature but contemplative of self-doubt, Neurosis Party is a social train wreck's weeping cry out for help. With a mirthful insanity exacerbated by a failure to cope with life's stresses; it closes with abrupt, comical, apathetic chatter between split personalities. Transpiring into a neurosis party is beyond the breaking point. It's surpassing the despondent, unfocused gaze of the thousand yard stare; and insidiously emerges into a permanent delirium of full blown hallucination.
Du délire permanent de Trevor Angst:
(snorty rant is a bell)
Les débuts facétieux de Genderdog avec « Hockey Dad Records» sont l'hymne d'un introvertie pour les masses névrosées. De sa nature inquiète, mais contemplative dans son 'incertitude, * Neurosis Party* est le cri à l'aide désespéré d'une catastrophe sociale. Le groupe possède une folie insouciante qui est exacerbée par l'échec d'affronter les stress de la vie. La cassette se termine avec un bavardage brusque, comique et apathique entre des doubles personnalités. Se concoctant en une fête de névrosés et allant bien au-delà du point de rupture. Elle dépasse un regard flou et découragé de mille mètres et sort insidieusement dans un délire d'hallucinogène permanent.
---