Category: New Canadiana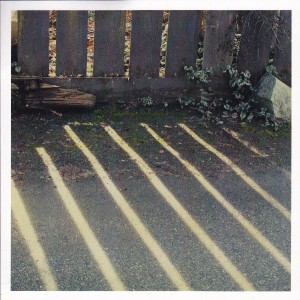 Rose Melberg
Distant Ships
Vancouver, BC
From the glittering prizes of Penny Clark:
Rose Melberg's striding drums and sunny melodies pedal her song like a bicycle through a bright green day. Recorded as part of the Kingfisher Bluez Single Sided Singles club, this 7" has the hazy, warm quality of a projection film reel. Her vivid guitar tone and calm-breeze vocals sail across the horizon, while the song disappears over the glittering waves just as abruptly as it begins. Melberg offers a brief memory of summer, the scent of the rich earth and gentle salt air.
Des récompenses étincelantes de Penny Clark:
(Traduit par la hâte du printemps de Catherine Gaucher)
Grâce à ses percussions marquantes et à ses mélodies ensoleillées, Rose Melberg pédale sur ses chansons comme sur une bicyclette défilant lors d'une radieuse journée. Enregistré pour Kingfisher Bluez et sa collection Single Sided Singles, ce 7 pouces possède une qualité diffuse, chaleureuse et comparable à celle même d'une bobine de projection de film. Ses tonalités vives de guitares et sa voix légère comme la brise voguent à l'horizon, tandis que ses chansons disparaissent tout aussi soudainement qu'elles étaient apparues, parmi les vagues scintillantes. Melberg nous livre un bref souvenir de l'été, un riche parfum de terre et d'air salin léger.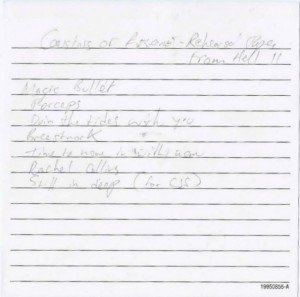 Cousins of Reggae
Rehearsal Tapes From Hell II
(Self Released)
Ottawa, ON
From the summa slamma of Javier Fuentes:
Blake Hargreaves has been a key conspirator in several mind-warping outfits, with an output that extends across all formats. One of his longest running projects is the fuzz-fried collaboration with Liam Thurston as Cousins of Reggae. The latest document to leak out from the duo's cavernous jam space lets us in on an inspired session of wasteland ballads and damaged zones. Stripping away pieces of the exterior chaos to entangle themselves further inside our cerebral vacuum, the disjointed melodies spin into glorious burnout. It sounds like the theme music for an old western taking place in a post-nuclear desert. On those vaporized plains, the only voice you can hear is the phantom sun. A proposition to enter the coolness of a shadowy ledge is rebuffed in favour of a walk back into the heat. Another masterful negotiation of abrasion and abandonment, and a crucial addition to the Cousins' canon.
Cousins of Reggae – Still In Deep (for CJS)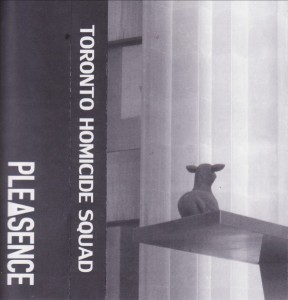 Toronto Homicide Squad
Nein Bullets
Toronto, ON
From the megacity delirium of Liam Kennedy:
This drum and bass combo brings an uneasy rhythmic counterweight to songs perfect for a dystopian French Connection in downtown Toronto, let's say, 2035. Fully setting the scene for Nein Bullets will require co-channeling William Gibson and Phillip K. Dick, an experiment they would probably both be up for.
You're a cop, and not some replicant-hunter eating soba in the rain. You're a beat cop rubbing shoulders with the day-traders turned nuke-junkies in TTC corridors. Your life is zur tshong khang (Tibetan corner store)-fueled all-night stakeouts, shaking down derelict Queen West hipsters, and losing perps in the dark alley birdsnest of MetaScarborough.
Another day bleeds into night and you're searching for him, your flagitious Moby Dick. Every step you take closer to him the further away you end up. Tonight, you're aimlessly rolling through cracked Annex side streets, Lakeshore ruins, and Toronto's leaky ventricle, the DVP – like Conrad's Congo snaking through the GTA's own fattened and sluggishly opaque myocardium. Nein Bullets is the soundtrack to the sodium-vapour tinted pallet of your megacity delirium.
Du délire de mégapole de Liam Kennedy:
(Traduit par le calot rayé en cavale de Julie Mayer)
Cette combinaison basse/batterie apporte un contrepoids rythmique inconfortable à des morceaux parfaits pour une French Connection contre-utopique au cœur d'un Toronto situé, disons, en 2035. Pour réaliser la mise en scène de Nein Bullet, il faudrait brancher William Gibson et Phillip K. Dick sur la même longueur d'onde, une expérience à laquelle tous deux auraient sans doute participé. Vous êtes flic, et non pas un chasseur de réplicants qui mange des soba sous la pluie. Vous êtes un flic de quartier qui se frotte aux spéculateurs sur séance devenus accros à la nuke dans les corridors de la TTC. Votre vie carbure au zur tshong khang (dépanneur tibétain). Vous passez vos veilles à secouer des hipsters, épaves de Queen West, et à vous faire semer par des malfrats dans le réseau de sombres allées qu'est Meta-Scarborough. Un autre crépuscule sanglant coule vers la nuit alors que vous êtes à la recherche de votre Moby Dick infâme. Chaque pas qui vous rapproche de lui vous mène de plus en plus loin. Cette nuit, vous roulez sans but à travers les petites rues fissurées de l'Annex, les ruines de Lakeshore et le ventricule suintant de la Ville Reine. Le DVP, similaire au Congo de Conrad,serpente dans le myocarde opaque, empâté et léthargique du Grand Toronto. Nein Bullets est la bande sonore originale de la palette teintée de vapeur de sodium de votre délire de mégapole.
Toronto Homicide Squad – Cold Eggs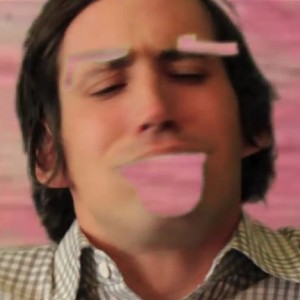 Soupcans
"Parasite Brain"
(Directed by Lindsay Cavanaugh)
Toronto, ON
From the callused knuckles of Farah Barakat:
Three guys walk into a bar and are met by a mischievous bartender who serves them a concoction of green-screened neon colour. They turn into zombie cannibals who turn on the bartender. It's perfect because it comes from the psychotropic minds of The Soupcans.
The Toronto punk patrons' brain-melting fury has recently unleashed itself onto our eyes and ears with a video from the title track on their latest EP. The concept is a mixture between a day spent in front of Photobooth on your laptop, playing a sadistic game of Operation and psychedelics. None of this sound bad to you? It's not. It's awesome.
Rather than using too much fake blood, a major element in the video, they opt for post-production special effects. Splotches are hastily drawn all over the characters and filled-in with film footage close-ups of raw meat, organs and actual blood. It's an inventive alternative that adds to the ethereal state of the video. Handheld cameras and gore elements parallel the chaotic, lo-fi track which is aptly titled ''Parasite Brain''.
De la corne des jointures de Farah Barakat:
(Traduit par l'hémoglobine de Catherine Gaucher)
Trois gars entrent dans un bar et sont accueillis par un malicieux barman qui leur sert une mixture de couleur écran-vert néon. Ils se transforment en zombies cannibales et se retournent contre le barman. Le tout est parfait, car cela arrive tout droit de l'esprit sous influence de The Soupcans.
Avec une vidéo pour la chanson-titre de leur dernier EP, ces parrains torontois de la scène punk ont récemment déchaîné leur fureur devant nos yeux et dans nos oreilles. Le concept est un mélange entre une journée passée devant le « Photobooth » de votre ordinateur, à s'adonner au jeu sadique Opération et de psychédélisme. Rien de tout cela ne sonne horrible? C'est parce que ce ne l'est pas. C'est génial.
Plutôt que d'utiliser trop de faux sang, un élément central dans cette vidéo, ils ont opté pour des effets spéciaux créés en post-production. Les éclaboussures hâtivement barbouillées partout sur les personnages sont remplacées par des séquences filmées de gros plans de viande crue, d'organes et de vrai sang. Il s'agit d'une alternative inventive qui ajoute à l'état éthéré de cette vidéo. La caméra à la main ainsi que les éléments « gore » se joignent en parallèle à la chaotique pièce lo-fi judicieusement intitulée « Parasite Brain ».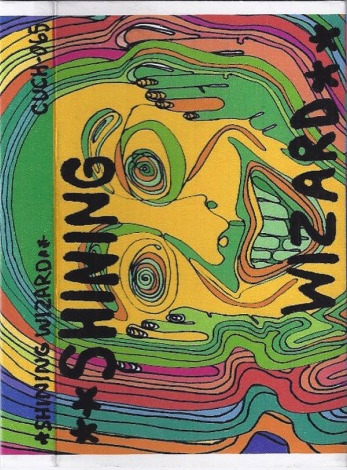 Shining Wizard
No Room For
Montréal, QC
From the barred hyphenation of Javier Fuentes:
A walk into Shining Wizard's world quickly turns into a perpetual stumble and slip. Headspinning shifts that mirror the spectrum-melting artwork courtesy of the Pink Noise's Tara Desmond. Raw tunes hit the burnt pile after filtering through the new-normal radiation levels courtesy of their fellow Montreal tenants. Rogue fuzz pedals conjure up a cloud of tumultuous dust while flangers extend their reach in every direction. A barely standing kit topples to ground level while the drummer gleefully digs into the wreckage to bury the remaining sounds. This is morning music for waking up in a bizarro world.
De la césure interdite de Javier Fuentes:
(Traduit de la tête d'arc-en-ciel de Catherine Debard)
Une promenade dans l'univers de Shining Wizard tourne rapidement en un enchaînement de pas vacillants, c'est tituber et glisser perpétuellement. Les changements de directions abruptes miroitent le visuel de Tara Desmond de the Pink Noise, un spectre de couleurs fondant étourdissant. Des chansons brutes aboutissent sur la pile de sons mutants après être filtrées dans le nouveau niveau de radiation musicale, courtoisie de leurs compères Montréalais. Des pédales de fuzz de voyous font apparaître un nuage de poussière tumultueux tandis que le flanger s'étire dans toutes les directions. Un kit de drum qui se tient à peine s'écrase sur le sol, le batteur fouille dans les décombres en jubilant. Il veut enterrer les débris de son restants. C'est une musique de matin pour se réveiller dans un monde bizarro.
Shining Wizard – Roosevelt Bars the Hyphenated
Shining Wizard – Hollywood Ponders Movie on Book About Snowden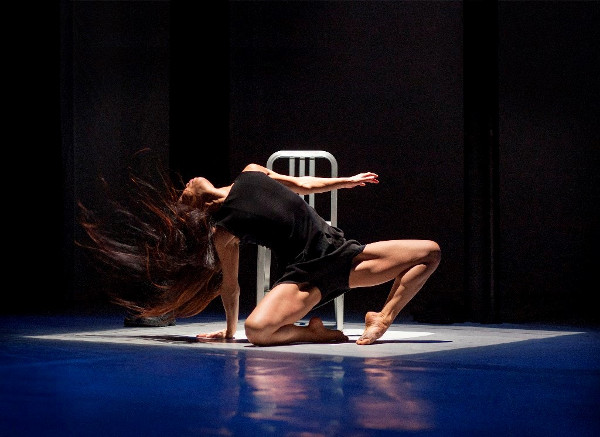 Forgiveness: A Theatrical Poem
Modern Times Stage Company
Toronto, ON
From the memory box of Fouad Oveisy:
Image one: I glimpse the face of Her father in the midst of the audience. Just the glimpse is enough for the trauma, Her trauma, to bubble up to the surface once more. And here I am, about to review Forgiveness: A Theatrical Poem. How could I ever forgive fate for such poetic injustice?
Image two: There is an empty chair on the stage with a recorder placed on top of the seat. A microphone descends from the ceiling, hovering on top of the recorder, giving voice to its recorded memories. The recorder recalls a separation, its memories, and its traumas. Kristoffer Louis Andrup Pedersen, one of the two Danish performers, grabs on to the recorder, trying, seemingly, to take the box of memories away. Where to?
Nowhere: Stavroula Logothettis is holding on to the cord from the other end of the stage, never letting go. Of who? Of the memories, or of Kristoffer? It is difficult to determine who is, indeed, holding on to what. In my head I keep urging Kristoffer to let go of the box, but he won't. He is struggling to let go of what he is holding on to, clinging to what he appears to detest.
This struggle seems to embody the attitude of Forgiveness toward forgiveness. I can relate to the ambivalence. Ever since She left, She has tried every year, in vain, to ask for my forgiveness. I even did forgive Her once, only to relapse into rage once more.
Image three: The memory box whispers on. It tells the story of a father who wiped out a village, and of a daughter who hung herself for the guilt of her father's crime. How could she not forgive herself for his crimes? I see her on the stage floor, just before she hangs herself. Andrea Nann's body convulses in choreographic rhythms; her neck twists in hysterics fits of guilt.
Juxtapose this image with the scene of a group therapy session. The actors discuss kitsch questions about forgiveness. The discussion is tantamount to the sleazy blog posts in the social media on the nature of forgiveness – in particular, those asked by Peter Farbridge, who is doing a fantastic job of portraying the annoying asshole: is refusing to forgive a manifestation of selfishness? Is forgiveness an act? Is there anything to forgive in the first place? Do you feel, inside your body, a harm done to you, which you must then forgive? Soheil Parsa, the director, has a twisted sense of humor. I laugh, quite hard and quite guiltily. The juxtaposition has already siphoned both the kitsch and the cuddly down the crapper.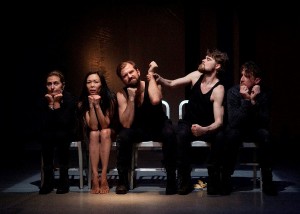 Image four: Field hospital circumstances. They bring in a body on a stretcher. The body is dying. The microphone descends from the ceiling. The body barely lifts from the stretcher, and whispers into the microphone: "Water! Water!" I think in my head: Get this body some damn water! The nurse reads the body's medical file aloud. The name mixes with the memories, signifiers, and the traumas that it recalls: Asadollah Lajevardi, the warden, the interrogator, torturer, the butcher of the Evin Prison in Tehran, Iran. I can't forgive the voices in my head: Don't get this man any water! Let him die! Rot!
Somewhere else, the memory box whispers on: "I was just doing my job." "I just did my duty." It sounds familiar. It is from Hannah Arendt's report on the trial of Adolf Eichmann, the bureaucrat behind the Final Solution. According to the evidence, Eichmann had displayed no traces of anti-Semitism or pathological damage while carrying out the 'Solution,' and, moreover, his attitude toward his own friends and family was described as "highly desirable." He was simply a cog in the Nazi bureaucratic machine – and a very well-oiled one at that. Arendt calls this, famously or infamously, depending on your take on the essence of creative evil, a manifestation of banal evil. Nonetheless, she refuses to see it as proof to a lack of moral choice under dire circumstances:
Under conditions of terror most people will comply but some people will not, just as the lesson of the countries to which the Final Solution was proposed is that 'it could happen' in most places but it did not happen everywhere. Humanly speaking, no more is required, and no more can reasonably be asked, for this planet to remain a place fit for human habitation.
Image five: The play ends on, I suspect, a note that celebrates the freedom in letting go of rage, in forgiving, etc., etc. And frankly, I cannot agree more?? It is indeed good to let go of the memory box, of the visceral spasms, of the voices condemning helpless bodies to eternal thirst. Forgiveness: A Theatrical Poem, with its symbolic dances, smart staging, bitter humor, and memorable acting, image after image complicates my relationship to forgiveness, and in doing so, provides that necessary reflective distance between me, my pain, and subject of my wrath. And it manages this without waxing kitsch.
When my relationship with Her ended the way it did, I cried all the way to work, during the lunch break, on the way back home, when I went for a run in the evening, and before going to bed, day after day for three months. Years later, I leave the theatre on a more mature note, but, nevertheless, while still trying to avoid Her father's face. I think one of the points that Forgiveness tries to make is that one should not enforce the virtues of forgiveness as moral injunctions, turning forgiveness into an unforgiving super-ego. Try to comprehend the complexities, but then, move on. After all, as T.S. Elliot remarks, "after such knowledge, what forgiveness?"
De la boîte à souvenirs de Fouad Oveisy:
(Traduit par les songes de Joannie Pharand)
J'aperçois le visage de Son père parmi les spectateurs. Cette brève apparition suffit pour que le traumatisme, Son traumatisme, remonte à la surface une fois de plus. Et me voici, sur le point d'écrire une critique de Forgiveness : A Theatrical Poem. Comment pourrais-je pardonner au destin d'offrir une telle injustice immanente?
Deuxième image : Une chaise vide sur la scène avec un enregistreur sur le siège. Un micro descend du plafond, rôdant au-dessus de l'enregistreur, donnant voix aux souvenirs enregistrés. L'enregistreur se souvient d'une séparation, de pensées, de traumatismes. Kristoffer Louis Andrup Pedersen, l'un des deux interprètes danois, essayant visiblement de saisir la boîte aux souvenirs, attrape l'enregistreur. Pour l'amener où?
Nulle part : Stavroula Logothettis retient le fil de l'autre bout de la scène, sans jamais renoncer. Renoncer à qui, à quoi? Aux souvenirs, ou à Kristoffer? Difficile de répondre, difficile de déterminer qui retient quoi. Dans ma tête, j'insiste pour que Kristoffer lâche la boîte, mais il ne la lâche pas. Il lutte pour lâcher ce à quoi il essaie de s'accrocher, absorbé par ce qu'il semble détester.
Cette lutte semble refléter la position de Forgiveness par rapport au pardon. Je peux comprendre cette ambivalence. Depuis Son départ, Elle a tenté chaque année, en vain, de me demander pardon. Je Lui ai même déjà pardonné, pour mieux rechuter vers la rage une fois de plus.
Troisième image : La boîte aux souvenirs continue de chuchoter. Elle raconte l'histoire d'un père ayant anéanti un village et de sa fille qui s'est pendue, se sentant coupable des actes de son père. Comment ne pouvait-elle se pardonner à elle-même pour les crimes de son père? Je la vois sur le plancher de la scène, juste avant qu'elle ne se pende. Le corps d'Andrea Nann convulse selon des formes rythmiques chorégraphiées : son cou se tortille sous l'effet de crises hystériques de culpabilité.
Juxtaposez cette image avec une scène de séance de thérapie de groupe. Les acteurs débattent de questions kitsch sur le pardon. La discussion fait penser aux publications sordides sur les blogues et les réseaux sociaux par rapport au pardon, surtout celles où Peter Farbridge (qui fait un travail remarquable en dressant le portrait de cet enfoiré irritant) pose ces questions : le refus de pardonner est-il une manifestation d'égoïsme? Le pardon est-il réel? Y a-t-il quelque chose à pardonner de prime abord? Ressentez-vous qu'un mal physique vous a été fait et que vous devez pardonner? Soheil Parsa, le metteur en scène, a un sens de l'humour tordu. Je ris, très fort, de façon coupable. La juxtaposition a déjà réduit à néant le kitsch et la douceur.
Quatrième image : Une situation dans un hôpital de campagne. Ils transportent un corps sur une civière. Le corps est à l'agonie. Le micro descend du plafond. Le corps se soulève à peine assez pour chuchoter : « Water, Water » (de l'eau, de l'eau.) Je me dis : mais donnez de l'eau à ce corps, merde. L'infirmière lit le dossier médical du corps à voix haute. Le nom se mélange aux souvenirs, à des indicateurs et au traumatisme qu'il a en mémoire : Asadollah Lajevardi, le gardien, l'interrogateur, le bourreau, le boucher de la Prison du Mal de Téhéran, en Iran. Je ne peux pardonner les voix dans ma tête : ne lui donnez aucune eau, laissez-le mourir. Pourrir!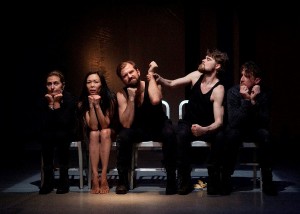 Ailleurs, la boîte aux souvenirs chuchote : « I was just doing my job. » « I just did my duty. » (« Je ne faisais que mon boulot ». « Je ne faisais que mon devoir »). Cela semble familier. Cela provient de la publication de Hannah Arendt sur le procès d'Adolf Eichmann, le bureaucrate derrière la Solution finale. Selon les preuves, Eichmann n'avait démontré aucune trace d'antisémitisme ou de dégâts pathologiques lorsqu'il appliquait la « Solution »; de plus, son comportement envers ses propres amis et sa famille était qualifié de « hautement désirable ». Il n'était qu'un rouage de la machine bureaucratique du nazisme, une machine franchement bien huilée. Dans une position tristement célèbre, Arendt estime qu'il y a là une manifestation de la « banalité du mal ». Toutefois, elle refuse d'y voir la preuve d'un manque d'éthique dans ces terribles circonstances :
(Under conditions of terror most people will comply but some people will not, just as the lesson of the countries to which the Final Solution was proposed is that 'it could happen' in most places but it did not happen everywhere. Humanly speaking, no more is required, and no more can reasonably be asked, for this planet to remain a place fit for human habitation.)
Dans des circonstances de terreur, la plupart des gens obéissent, mais certaines personnes n'obéiront pas. Ce sont aussi les enseignements qui ont été tirés dans les pays où la Solution finale fut proposée : cela pourrait arriver dans la plupart des endroits, mais ça n'est pas arrivé partout. Sur le plan humain, on ne demande rien de plus et rien de raisonnable ne peut être demandé, car cette planète demeure un endroit apte à la vie humaine.
Cinquième image : La pièce se termine, je suppose, sur une note qui célèbre la libération de la rage, le pardon, etc. Et honnêtement, je ne peux pas être plus d'accord ?? Il est en effet rassurant de laisser aller la boîte aux souvenirs, les spasmes viscéraux, les voix condamnant des corps impuissants à la soif éternelle. Avec les chorégraphies symboliques de Forgiveness : A Theatrical Poem, la mise en scène bien pensée, l'humour amer, la formidable performance d'acteur, d'image en image, ma relation au pardon se complique, et de ce fait, m'assure une réflexion éclairée et nécessaire entre moi, ma douleur et la cause de ma colère. Elle accomplit tout cela sans devenir kitsch.
Lorsque ma relation avec Elle s'est ainsi terminée, j'ai pleuré tout le long pour me rendre au travail, pendant la pause dîner, sur le chemin du retour à la maison, en allant courir le soir et avant d'aller me coucher, jour après jour, pendant trois mois. Plusieurs années plus tard, je quitte le théâtre sur une note plus mature, mais toujours en essayant d'éviter le visage de Son père. Un des points importants que la pièce tente de démontrer est que personne ne doit faire respecter les vertus du pardon comme des injonctions morales, en transformant le pardon en un surmoi qui ne pardonne pas. Essayez de comprendre les complexités, puis passez à autre chose. Après tout, comme T.S. Elliot le remarquait : « Après un tel savoir, quel pardon?».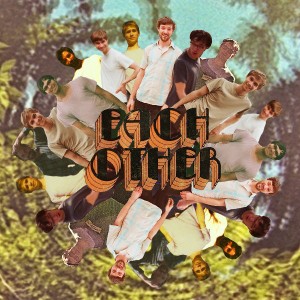 Each Other
Being Elastic
Montréal, QC
From the exploding elastic inevitable of Kevin Stebner:
These boys have been pumping out the jams for years with near unrivaled pedigree, and are now off on a tangent of Beatlesisms warring with Womenisms. Monotone harmonies reverberate atop plucky guitar lines and cracked cymbal, tambo-heavy percussion. Each Other hold sway over the mountains of kids mining the past. You can take the boys outta Halifax, but you can't stop them from pop exploding.
De l'inévitable explosion élastique de Kevin Stebner:
(Traduit par l'onomatopée percussive de Catherine Debard)
Durant des années, ces garçons ont jammé leur son avec un pedigree presque sans rival. Aujourd'hui, ils entament une bataille sonore entre Beatlesisme et Womenisme. Des harmonies monotones réverbèrent sur de courageuses mélodies de guitares, cymbales craquées et percussions lourdement tambourinées. Each Other ont de l'emprise sur la montagne de gamins qui déterrent le passé. Vous pouvez sortir ces types d'Halifax, mais ne pourrez les empêcher d'exploser dans la pop.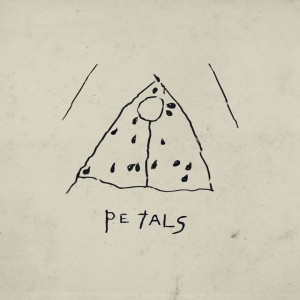 Josh Furey
Petals
Calgary, AB
From the ceramic outpouring of Joshua Robinson:
Found somewhere in that lurid boundary beyond the commonplace, Nocturne Records founder Josh Furey exists as an angelic force. His hip-hop-influenced samples and electronic dirges coalesce to smother one in the rich overtones of a hushed and quilted enculturation. Petals, the follow-up to 2008's successful Archaeology, bears the same sort of imminently professed profundity, a ceramic outpouring of creation. This music is molded and fire-hardened from the clays of the underground, shaped to resemble the vestiges of blues and jazz-inspired infusions of early '90s fame. Furey's collaboration with Khalik Allah is evidence of his kinetic momentum. There is motion herein, deliberate yet subdued; intentional yet understated. The nonverbal refrain, inferred rather than implied, is one of a slow calm ruling the day. A pulsing, surging, enlivened crawl to the apex of these artefactual firmaments housing slow-motion scrawls written on asphalt in terracotta cursive.
Du déversement en céramique de Joshua Robinson:
(Traduit par les couleurs fraîches de Julie Forget)
Se trouvant quelque part dans cette limite macabre au-delà de l'ordinaire, Josh Furey, fondateur de Nocturne Records existe en tant que force angélique. Ses samples influencés par le hip-hop et ses chants funèbres électroniques s'unissent pour nous faire suffoquer dans les connotations riches d'une enculturation étouffée et capitonnée. Petals, qui suit l'excellent album Archaeology (2008), comporte le même genre de profondeur déclarée de façon imminente, un déversement de création en céramique. Cette musique est modelée et durcie à partir d'argile souterraine, façonnée afin de ressembler aux vestiges des infusions inspirées du blues et du jazz de la gloire du début des années 90. La collaboration de Furey et de Khalik Allah prouve l'élan cinétique du producteur. Nous y trouvons un mouvement délibéré mais silencieux ; intentionnel mais discret. Le refrain non-verbal, déduit plutôt qu'insinué, se voit être un calme lent régnant sur le jour. Un lent pas animé battant et déferlant vers le sommet de ces firmaments d'artéfacts logeant des gribouillages au ralenti écrits sur l'asphalte en cursive couleur ocre brun.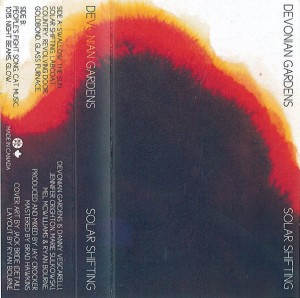 Devonian Gardens
Solar Shifting
(Self Released)
Calgary, AB
From the badland fog of Jared Majeski:
When we embrace our psychotic freedom, our world ceases to be pedestrian. Calgary's Devonian Gardens (ex-Deadhorse) are five of the sublimely experienced, and with Solar Shifting they exhibit the laid back devotion of a group that has done its own for years. The tools and accents are many, swarming the waves and sines with harp fuzz, gnarly 12-string twang, joyous reverb coil vibrations and divine five-part vocal harmonies (just to name a few). Deceivingly loose in its technicality, the pastel psychedelia preached here may very well iterate the decades of past, present and (!?) future. Devonian Gardens have found their sea legs.
Du brouillard des badlands de Jared Majeski:
(Traduit par le rythme de croisière de Virginie Langlois)
Lorsqu'on épouse notre liberté psychotique, notre monde cesse d'être prosaïque. Les cinq membres de Devonian Gardens de Calgary (ex-Deadhorse) sont sublimement expérimentés et avec Solar Shifting, ils affichent la dévotion décontractée d'un groupe qui fait cavalier seul depuis des années. Les effets y sont nombreux : l'harmonica qui envahit les ondes et les sinusoïdes, le son nasillard de la guitare à 12 cordes, les vibrations joyeuses de la reverb à ressort et les divines harmonies vocales à cinq voix (pour n'en citer que quelques-uns). Avec ses détails techniques faussement approximatifs, l'univers psychédélique aux tons pastel prôné ici pourrait fort bien être la bande son des décennies passées, du présent et du futur. Devonian Gardens a trouvé son rythme de croisière.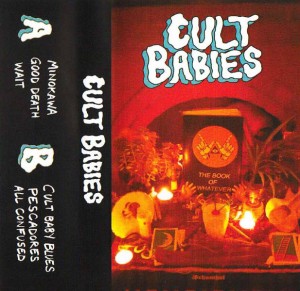 Cult Babies
Cult Babies EP
(Self Released)
Vancouver, BC
From the western gothica of Kyle Valade:
Cult Babies' self released EP threads metric tonnes of instrumentation and vocals into one magnetic strip. These sounds roll between the permutations on top of the steady and droning crashes of the drummer, whose name is strangely difficult to find. Where some bands might gladly jam into the double digits with melodies as hypnotic as these, Cult Babies keep their songs nice and concise, making for some of the most stylized restraint I've ever heard. The lush instrumentation and vaguely repetitive lyrics create an almost cinematic atmosphere where everything disappears at times into the underlying (and almost danceable) Western-Gothic dirge so that it's a shock when the album ends. Makes you wish you could just — I don't know — join a cult and never go back to the real world.
Du western gothique de Kyle Valade:
(Traduit par les oubliettes de Catherine Gaucher)
Sur une seule bande magnétique, ce EP auto-produit de Cult Babies renferme des tonnes métriques d'instrumentation et de mélodies vocales. Les sons flottent entre les permutations et au-dessus du drone constant de leur batteur, dont le nom est étrangement difficile à retracer. Là où certains groupes font volontiers durer leur jam dans les doubles chiffres grâce à des mélodies hypnotiques, Cult Babies garde ses chansons agréables et concises, usant de la contrainte avec style comme j'ai rarement entendu. L'instrumentation luxuriante et les paroles vaguement répétitives créent une atmosphère presque cinématographique où tout disparaît par moments à l'intérieur d'un latent (et quasi dansant) hymne funèbre western-gothique ; c'est donc un choc lorsque l'album se termine. Vous souhaiterez pouvoir — je ne sais trop — joindre un culte et ne jamais réintégrer le monde réel.
---