Category: New Canadiana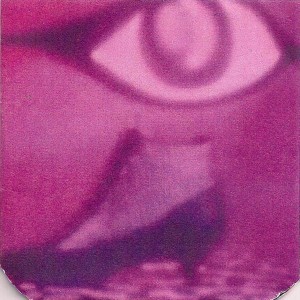 Wolfcow
Bad to the Rhinestone
(Inyrdisk)
Toronto, ON
From the heatpeepers of Alexander Moskos:
Roollin' uptee with Guy Les Lunettes (aka Michael Caffrey) and Beach Seat Black (aka Doominiq Alexander) aka the ROYAL HUZZLE CYPHER = PURPLE CAPE + HUSH PUPPIES x SLIME GREEN LACES + DOOM's COTTON PORTI-TENT and MAROONBERRY BERET, though, laying in the cut tight, inside VADER aka Caffer's 740 Swede Maheen Brick and natch'l blues DOOM is hipping the older gods (who need some hipping de temps en temps) on early NEW ROMANCE, even some proto-Ital-NEW ROMANCE (City, dude, try Googling that s/t lp -Dom) as well as some UK-Eighty-whatevers ish that sounds like basement 'tronics with USA-70 loner-folk vox o'ertoops. Fit right into my new curiosity-style; Shaps be waking the grumps cuz the Wizard of Kozz is zonetoning early Simple Minds with only thin-walled St. Henri shipwright construction separating his nug and Jim Kerr's not-so-ruff-hewn croon out the broown Tecnics, late.
If you've ever hit the weirdcan BBS message board archives you know I've lit Christmas with Wolfcow before, playbs. "No sheet, meeester". So stoked was the kozzmoobowl when Greydyn reminded her that Tones had sold him a sweet German tropi-sco side, summertime, debt unpaid, now paid, the greenside of which went to Snaps, the 3" of NEW CANADIAN OLD ROMANCE went directly into me Wolf Coow section. Because romance ripens, rather have it grown and warmed than young-blood cooled. Wolfcow is romantic like Sibelius (the Finnish composer not the software) is Romantic, not in some uptoon-yoothman-croon-wrapped-in microkoorg-hooz-that-sounds-like-a-hoockey-bag-spray-painted-black-filled-with-black-hand-sanitizer sense.
These are no mere mild wonders; the songs here are stunners, or no, more like putting on stunners you bought for five zones in Kensington Market in order to shade your little ninja eyes from the huge shards of hot light that reflects off the salmon pink Royal Bank Tower at Bay and King, whose source is the two suns setting out across great Lake Ontario, glowing nuclear red on The Hammer, late-day pink on Goderich, motarded fuchsia on Oshawa, a glorious blown out gold on Caledon and, natürlich, or should I say natürlicht, an almost neon hue, nearly topaz in the far corners of the sky but decidedly hot amber and PURPLE on the GO Bus traced streets of Newmarket…And the crew salaciously awaits Wolfcow wax. Who's stepping up? Greydyn's hot light genius can't be crammed onto 3" forever.
Your Pal,
Tones
Ps: Contains guest vocalists. In the case of these cuts below, Dave Evans of the Soopcans and on the lush crooz-lit "Bad To The Rhinestone", some randoo named Jon.
Pps: Mid-period CANTORRecs WCBBSMB record porn is SFW unless Fern Ledouce in the cubes next to you is deeply offended by Ikea shelves adorned with Albertan Folk-lones… find yourself in conflict resolution, Fern spinning his pen Chinese-math student style, the mediator rippin' a Tims, you resolute with a MacDos free grip feelin the only way out is to ADMIT to your addiction, hell, when you log in as USERNAME: HEATPEEPER the desktop image is a seductively cropped close-up of a Swede Pressing of Bo Hansson's "El-ahrairah" lp.
Wolfcow – Exsanguination, I Presume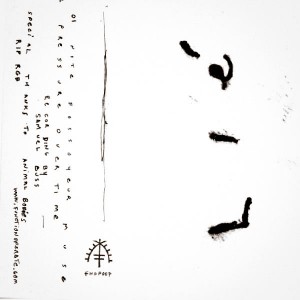 From the nic-fit of Bryce Warnes:
No lies: the first physical testament from all-female trio Lié is a slab of midwinter permafrost. The temperature in Vancouver rarely drops below freezing; Lié compensate with blackened punk aggression and icy gothic elegance. "Fossoyeur"'s bassline grabs your pelvic bones and shakes them to a rhythm banged out by shovels on casket lids. And if the Delphic Oracle broke curfew, started painting her nails black and formed a band, she would sing lead on "Muse." It all ends with the nicotine-jittery "Pressure" followed by "Overtime"'s feedback loop of paranoia. Word is that the Vancouver edition of this tape is sold out, so if you want a meatspace copy you'll have to order it from Lié's US label. But it's totally worth it for a trip into the heart of the darkness this trio conjures. Beware of black ice.
Du besoin de nicotine de Bryce Warnes:
(Traduit par le cerveau splitté de Justine Gabias)
Pas de mensonges : le premier testament musical tangible du trio féminin Lié est un bloc de permafrost en plein coeur de l'hiver. La température de Vancouver tombe rarement sous zéro, mais Lié compense avec une agression punk noircie et une élégance gothique verglacée. La basse sur « Fossoyeur » s'empare de ton pelvis et le secoue à un rythme qui frappe comme des coups de pelle sur des cercueils. Et si l'oracle de Delphes manquait le couvre-feu, peinturait ses ongles d'une couche de vernis noir et partait un band, elle serait assurément la chanteuse principale sur « Muse ». L'album se termine avec la tremblotte de nicotine de « Pressure » suivie par le feedback paranoïaque en boucle de « Overtime ». Le bruit court que toutes les copies de l'édition vancouvéroise seraient déjà toutes vendues, alors si tu veux une copie physique, tu devras la commander de l'étiquette américaine de Lié. Mais le voyage au coeur de la noirceur avec ce trio en vaut vachement la peine. Attention à la glace noire.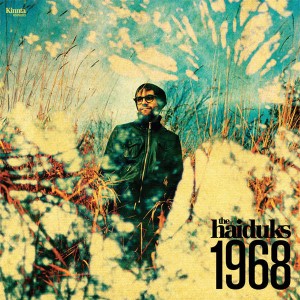 The Haiduks
1968
Montréal, QC
From the sunflare stare of Jesse Locke:
Christian Richer's inaugural sunshine-pop solo statement has been years in the making, lingering between labels, cooling on a windowsill, and patiently waiting for this scribe to find the right words. With the feather-light fingertips of a wizened sage, he hovers from the library to Canterbury with nary a care. Now that the Haiduks have multiplied into High Dukes, this caravan can pick up speed once again.
Du regard ensoleillé de Jesse Locke:
(Traduit par la plume éclatante de Dominic Mpilé)
Passant d'une boîte de production à une autre, patientant sur le rebord d'une fenêtre ou dans l'attente des paroles justes, l'album pop ensoleillé de Christian Richer en solo a pris des années à voir le jour. Avec la main légère d'un vieux sage, le musicien passe sans effort de la bibliothèque à Canterbury. Maintenant que The Haiduks sont devenus High Dukes, le groupe peut à nouveau accélérer en vitesse de croisière.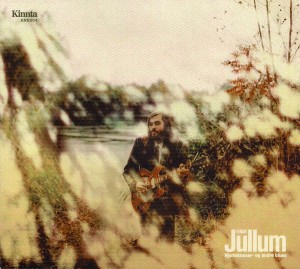 Einar Jullum
Hjerteknuser – og andre blues
Montréal, QC
From the heartworn highway of Harriet Wild:
These are blues for halcyon days, sky-blues and sea-blues that rent apart a grey status quo, revealing and revelling in melodic twangs and prairie noodling not dissimilar to Arthur Russell's folksier offerings. Jullum's guitar meanders, pulsates and jitters along a heartworn highway, filtered through feathered drumlines, 12-bar blues sewn to husky Norwegian annunciations. Pastoral pop contemporaries notwithstanding, Jullum is countrified without being Kentucky-fried.
De l'autoroute des coeurs usés de Harriet Wild:
(Traduit par le brin d'herbe à la bouche de Nicolas Coutlée)
Du blues pour les jours heureux, un ciel blues et une mer blues qui fendent la grisaille et font jaillir dans la joie des gerbes de mélodies des prairies qui rappellent les offrandes plus folk d'un Arthur Russell. La guitare de Jullum déambule, se démène et bat pareil aux coeurs usés d'autoroute, accompagnée d'une batterie poids plume, cousue de prophéties norvégiennes enrouées. Au-delà de ses accointances pop pastorales, Jullum se fait country sans tomber dans le frit Kentucky.
Einar Jullum – Hjerteknuser – blues
Einar Jullum – Er det for mye å kreve at det å leve er mer enn å streve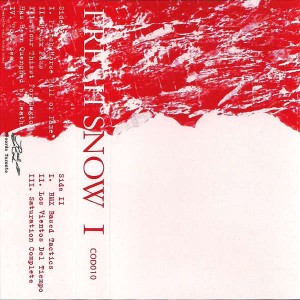 From the methadone serenity of Trevor Blumas:
I'm unsure whether the dudes in Fresh Snow conceived of an over-arching narrative for their debut album, but I certainly read it that way. Cassette-exclusive opener "French Horse Hall of Fame" lets you know immediately what kind of wild ride you'll be embarking on. Upon my first listen, I suddenly felt a sensation similar to that moment in the dentist chair, when the wonderfully numbing drugs begin to take over your body and the instruments of destruction start to mangle your teeth like a demolition site. The blissful screaming of the feedback symphony, which unrelentingly churns like an infinitely hollow stomach, only dissipated at moments to allow some genuinely groovy rhythms to carry me into a buzzsaw of enlightenment. I found myself in Nirvana, and it actually happened to look a lot like '70s era Berlin. Methadone serenity at times, stick-up at Checkpoint Charlie the rest.
De la sérénité de méthadone de Trevor Blumas:
(Traduit par les instruments de la destruction de Vincent Rondeau)
Je ne sais pas si les gars de Fresh Snow ont pensé à une histoire centrale pour leur premier album, mais c'est comme ça que je l'interprète. Le premier morceau (format cassette seulement) « French Horse Hall of Fame » donne immédiatement le ton de l'aventure effrénée qui suit. En l'écoutant pour la première fois, je me suis senti comme dans la chaise du dentiste, quand les analgésiques enveloppent peu à peu le corps tandis que les instruments de la destruction commencent à broyer les dents. Le cri bienheureux du feed-back symphonique bouillonnant comme un estomac infiniment creux se dissipe momentanément et des rythmes accrocheurs vous mènent vers le nirvâna des scies mécaniques. Oui, j'ai connu l'illumination, et ça ressemblait beaucoup à Berlin dans les années 70. Un peu de sérénité à la méthadone, beaucoup de hold-up à Checkpoint Charlie.
Fresh Snow – Your Thirst For Magic Has Been Quenched By Death!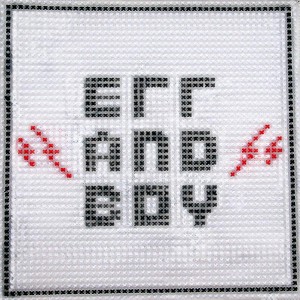 Errand Boy
Errand Boy
(Self Released)
St. John's, NL
Originally Released: 2007
From the knotted thoughts of Adam Bradley:
Over the four years I spent in St. John's plodding through my degree, I rarely went to shows or involved myself directly with the local music scene. While Newfoundland's capital city is flush with talent and a hearty love of music, I never really found myself drawn to the dominant themes of hard rock, trad and hardcore, among other styles that then held sway. However, Bryan Melanson's self-titled 2007 release as Errand Boy rose meekly yet bravely to my attention like a shy kid's hand at the back of a classroom.
This music is boldly vulnerable but retains a sense of wonder, scoring the knotted thoughts of someone ambling over rocky Newfoundland hills hungover, full of regret and fascination jointly. The tones and tone can at any time resemble the jangly guitar work of Do Make Say Think or fade to the patient, crunchy ambience of Múm. Spastic drum loops barrel under many tracks, and in place of vocals, Melanson makes liberal use of sampled dialogue to build themes from disparate elements, following the breadcrumbs of Illinois' emo breakcore forbear and quoted influence, Stunt Rock. On this record, impression gives way to pop mutation, and sees Errand Boy's calculation of so many forms draw together as a shimmering, emotive, mechanical mixture.
Adam Bradley is a concert programmer for Wavelength Music Arts Projects and production manager at The Music Gallery. He designs hand drawn show posters and, among other publications, has contributed to Exclaim! and Offerings.
Des pensées nouées de Adam Bradley:
(Traduit par les fourmis musicales de Stéphanie Trottier)
Durant mes quatre ans à St. John's et ayant bûché pendant mon bac, rares étaient les fois où je fréquentais des shows, où je m'impliquais directement dans la scène musicale locale. Même si la capitale de Terre-Neuve était bourrée de talent et d'un amour fourmillant pour la musique, je n'ai jamais été tant attiré par les thèmes dominants du hard rock, traditionnel et hardcore, parmi d'autres styles régnants. Toutefois, l'album éponyme de Bryan Melanson, lancé en 2007 sous le nom de Errand Boy, a humblement, mais courageusement soulevé mon attention, tel un garçon timide qui lève le doigt du fond de la classe.
Cette musique est audacieusement vulnérable, mais conserve l'essence de l'émerveillement, marquant les pensées nouées d'un tel avec la gueule de bois, s'égarant parmi les collines rocheuses terre-neuviennes, rempli de regrets et de fascination. La tonalité et le ton peuvent à tout moment ressembler à la guitare grinçante de Do Make Say Think, ou flétrir jusqu'à l'ambiance patiente et croquante de Múm. La batterie spasmodique en boucle défile sous plusieurs pistes et, au lieu du chant, Melanson utilise ouvertement des dialogues abrégés, construisant des thématiques à partir d'éléments disparates et suivant les miettes de pain du groupe emo breakcore illinoisais tant cité Stunt Rock. Sur cet enregistrement, l'impression ouvre la voie vers une mutation pop et les maints calculs de Errand Boy se regroupent pour former un mélange mécanique, luisant et émotif.
Adam Bradley est un programmeur de concert pour Wavelength Music Arts Projects et gérant de production chez The Music Gallery. Il conçoit des affiches de concert à la main et a contribué, entre autres, à Exclaim! et à Offerings.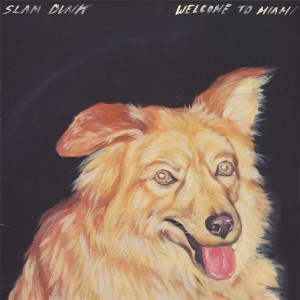 Slam Dunk
Welcome to Miami
Victoria, BC
From the score sheet of Johnnie Regalado:
You'll find one in every town. That rock and roll workhorse that plays so goddamn hard you want to keep it a secret. That band you never want to stop or leave. In Victoria, that band is called Slam Dunk. On their sophomore album Welcome to Miami, Slam Dunk deliver rollicking pop songs about the shortage of scabies cream in pharmacies, their good friends' very average grades, and just about every other demented whim they've ever had a good laugh over. This album is a compilation of all those beautiful things that crowds of sweaty drunks are ready to pump their fists to. Strip away the silliness and you're left with a tight and technical perfection of pop rock that's sure to leave you with a sore neck from excessive thrashing. This album isn't just a two-pointer. It's an all-out, 360, through the legs NBA jam of unprecedented awesomeness.
De la feuille de pointage de Johnnie Regalado:
(Traduit par le culte rodmanien de Nicolas Coutlée)
Il y en a un dans chaque ville. Ce cheval de trait du rock'n'roll qui bûche tellement fuckin' fort que vous aimeriez garder le secret juste pour vous; ce groupe que vous souhaiteriez ne jamais voir arrêter ou disparaître. À Victoria, il s'appelle Slam Dunk. Sur leur deuxième album intitulé Welcome to Miami, Slam Dunk parle dans ses chansons pop-noise de pénuries de crème contre les morpions, des notes plus que moyennes de leurs bons amis et d'à peu près n'importe quelle connerie démente dont ils ont pu rire un jour. Il s'agit d'une compilation de toutes ces belles choses qui font brandir le poing des foules d'ivrognes en sueur. Mais enlevez les pitreries, et vous vous retrouverez avec un petit joyau de pop-rock technique bien taillé sûr de vous donner le torticolis à force de trop mosher. Cet album n'est pas qu'un simple deux-points. C'est un 360 complet de pur brio entre les jambes.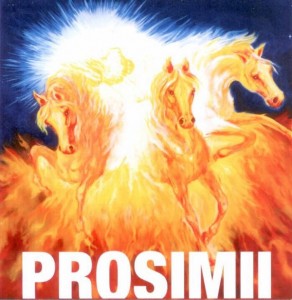 Prosimii
Supreme Truth
(Self Released)
Toronto, ON
From the burnt boreal of Andrew JBS Clark:
Adder stole the Golden Axe and that shit ain't right. First he defeated the one-million-guitar live monstrosity of Lunchmeat and now he's formed the perfect economy of evil with Prosimii. Delivered in loomingly fun drunken smears, Supreme Truth finds our heroes Adam Boyle and Kevin Barnhorst putting their heads down to try and dull Adder's razor sharp hooks by covering them with pounding thunder and open handed fretboard abuse. Just listen to their unhinged back-up vocals at the end of "Borg" to know they're doing their best. Alas, even when buried in no-fi tape-hiss, the boys cannot stop Adder from landing his two-minute helicopter-songs on the poor unsuspecting village people.
Du boréal brûlé de Andrew JBS Clark:
(Traduit de l'oreille cramée de Catherine Debard)
Adder a volé la hache de Golden Axe, pis ça, c'est mal, sérieux. Il a d'abord défait le monstre à un-million-de-guitares de Lunchmeat et forme maintenant l'économie parfaite du mal avec Prosimii. Exécuté dans un plaisir brouillon alcoolisé, Supreme Truth voit nos héros Adam Boyle et Kevin Barnhorst faire des pieds et des mains pour émousser les riffs tranchants d'Adder en les couvrant de tonnerre assourdissant et d'abus de frettes. Juste à écouter les choeurs dérangés à la fin de « Borg » pour comprendre qu'ils font de leur mieux. Hélas, même enterrés sous le grésillement no-fi de la bande, les gars ne peuvent empêcher Adder et ses chansons-hélicoptère éclair de fondre sur les pauvres villageois innocents.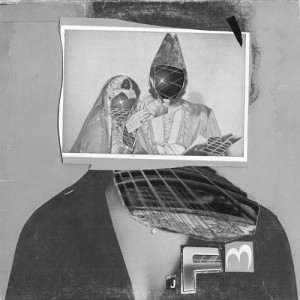 From the mental mosaic of James Lindsay:
Like a bike ride through downtown in August, JFM's s/t LP is a safari of sounds and styles. These moments only stay with you long enough to make their point, as if they were wafting from the windows of cars and clubs, bars and backyard parties, before you pedal past and the next one gets a hold of your head. Less spasmodic and more sample-based than Black Dice but coming from a similar urban zoo, Jesse Frank Matthews is a radio anthropologist as collage artist, collecting critical bits to make a mosaic in your mind that feels at once nostalgic and immediate, metropolitan and organic.
De la mosaïque mentale de James Lindsay:
(Traduit par Vincent Rondeau)
Comme une promenade en vélo au centre-ville en août, l'album éponyme de JFM est un safari de sons et de styles éphémères qui semblent sortis des fenêtres des voitures, des bars, des partys dans les arrière-cours, et que l'on n'entend que quelques secondes, le temps d'apprécier chacun avant de pédaler jusqu'au prochain. Issu d'un zoo urbain, tout comme Black Dice, mais au son moins spasmodique et plus axé sur l'échantillonnage, Jesse Frank Matthews est un anthropologue de la radio qui s'amuse à faire des collages artistiques en assemblant des retailles critiques en mosaïques de l'esprit qui sont à la fois nostalgiques et immédiates, métropolitaines et organiques.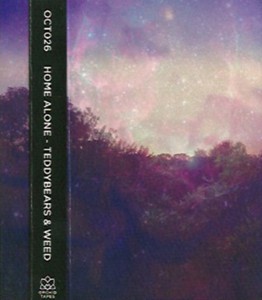 Home Alone
Teddybears & Weed
Mississauga, ON
From the terminal suburbia of Pavan Brar:
Home Alone's Teddybears & Weed moves with a hazy fluidity through the cycles of sleep. Soundwaves map out like shifting EEG patterns throughout the tape's progression, each song emanating a synesthesiastic glow as every neural pulse reverberates with warm splashes of vibrant colors. Shoegazery and dream-pop tendencies collide and construct soundscapes of obscured vocals and delicate melodic riffs. A soundtrack equally suitable for sleeping in, or deprivation thereof.
De l'angoisse banlieusarde en phase terminale de Pavan Brar:
(Traduit par la synesthésie qui pique du nez de Hugo Hyart-Dauvergne)
Teddybears & Weed de Home Alone se glisse avec une fluidité brumeuse à travers les cycles du sommeil. Les ondes sonores oscillent comme des tracés d'EEG tout au long de la progression de la bande, chaque chanson émettant son aura synesthétique d'impulsions nerveuses résonnant en touches chaudes de vibrantes couleurs. Les tendances dream pop et shoegazières se rencontrent et construisent des paysages sonores de voix obscurcies et des riffs mélodiques délicats. Une bande-son aussi adéquate pour la grasse matinée que pour le manque de sommeil.
---