Category: New Canadiana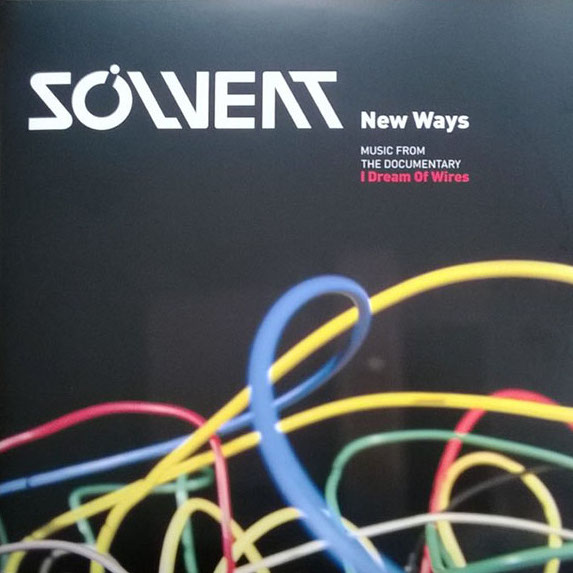 Solvent
New Ways: Music from the documentary I Dream of Wires
Toronto, ON
From the flangy frontispiece of Nick Smith:
I Dream of Wires connects your guzintas to the history and current state of modular synthesis. Solvent's Jason Amm has created the soundtrack, a gurgling-and-sputtering showcase of the synthesized diaspora in its sequenced and modulated forms. Hooked-On melodies share the upper-spectrum with white noise clouds, while the ping-pong motorik of bass and VCBeats provide the infinite-possibility landscape. Basking in a transistor sun with a bucket of patch cables on the wavetable never sounded so good.
Du frontispice taraudé de Nick Smith:
(Traduit par Andréanne Dion)
I Dream of Wires connecte vos appareils à l'histoire et à l'état actuel de la synthèse modulaire. Jason Amm de Solvent a crée une bande-son, une diaspora synthétique présentée sous forme de séquences modulées. Des mélodies accrocheuses se partagent le paysage avec des nuages de bruits de fond, alors que le motorik rebondissant de la basse et des VCBeats fournit un arrière-plan aux possibilités infinies. Se prélasser sous un soleil-transistor avec un seau de câbles à nos côtés ne nous a jamais semblé aussi attirant.

Solvent – Themogene (I Dream of Wires Theme)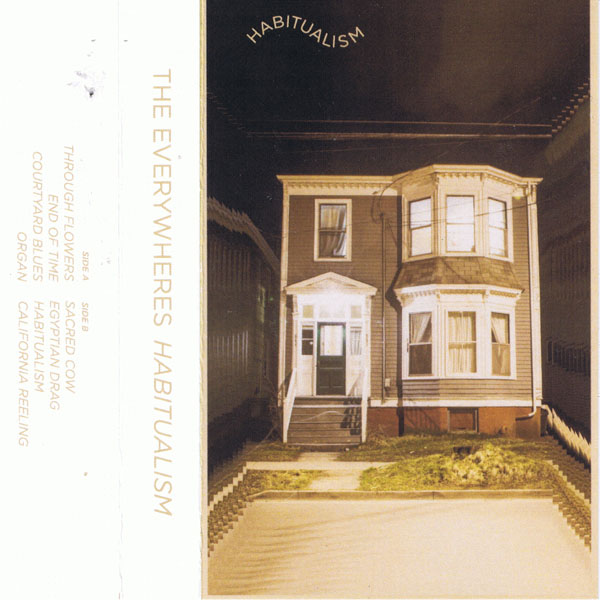 The Everywheres
HABITUALISM
Halifax, NS
From the distinct melancholy of Benjamin Anderson:
The Everywheres have been busy, with their freshman and sophomore albums both released in 2013. Each has the potency to put even the most sullen of listeners into a psychotropic trance, tongue lolling and head banging (albeit in slow-motion). With HABITUALISM, the Halifax-based four piece show consistency, sticking with sleepy vocals courtesy of Samuel Hill, shimmering guitar leads, and meditative drumming. While on the surface the album appears to be unrelentingly effulgent, further inspection reveals a distinct melancholy seeping through. It's a reminder that lazy summer days filled with sunburns, ferry rides, and second hand highs turn into chilly summer nights (and you forgot your sweater on the ferry).
De la mélancolie distincte de Benjamin Anderson:
(Traduit par le retour à la normale de Louis-Félix Pellerin)
The Everywheres étaient bien occupés récemment avec leur premier et deuxième albums tous deux sortis en 2013. Les deux ont le potentiel de mettre le plus maussade des auditeurs dans une transe psychotropique, la langue pendante et la tête en plein headbang (au ralenti, toutefois). Avec HABITUALISM, le quatuor de Halifax se montre cohérent et s'en tient aux paroles endormies de Samuel Hill, à une guitare d'avant-plan éclatante et à une batterie méditative. Bien qu'à première vue l'album semble s'acharner dans sa radiance, un second regard révèle une mélancolie distincte qui s'infiltre. Celle-ci sert à nous rappeler que ces jours d'été bien relax remplis de coups de soleil, de balades en traversier et de délires d'occasion se transforment en fraîches nuits d'été (et que vous avez oublié votre veste sur le traversier).

The Everywheres – Through Flowers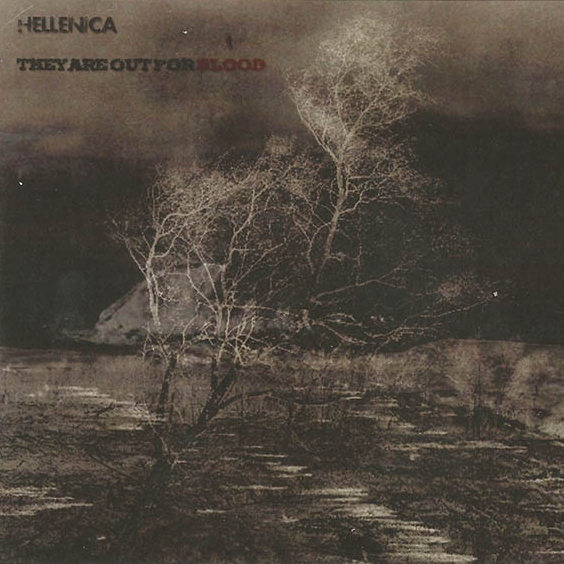 Hellenica
They Are Out For Blood
(Self Released)
Montréal, QC
From the rural routes of Kelly MacNeil:
Astride the horses of a bleak apocalyptic future Hellenica rides, six shooters strapped to their side. They blend and craft the sounds of a deep February depression with a tense yet apathetic Wild West showdown. They Are Out For Blood is the drone and ambiance of a grey cloudy sky wrote to music. A Morricone-ian bus trip across the overcast prairies, through snow drifts, during a perpetual dusk.
Des chemins de gravelle de Kelly MacNeil:
(Traduit par les gros sabots de Benoit Arcand)
Montant les chevaux d'un sombre avenir apocalyptique, Hellenica cavale, six-coups au flanc. Ils fusionnent et martèlent les sonorités d'une dépression hivernale et la tension apathique d'un duel au Far West. They Are Out For Blood, c'est le drone et l'ambiance d'un ciel obscur fait musique. Un voyage d'autobus Morriconesque à travers les prairies sous une chape de nuages, les bancs de neige, l'aurore à perpétuité.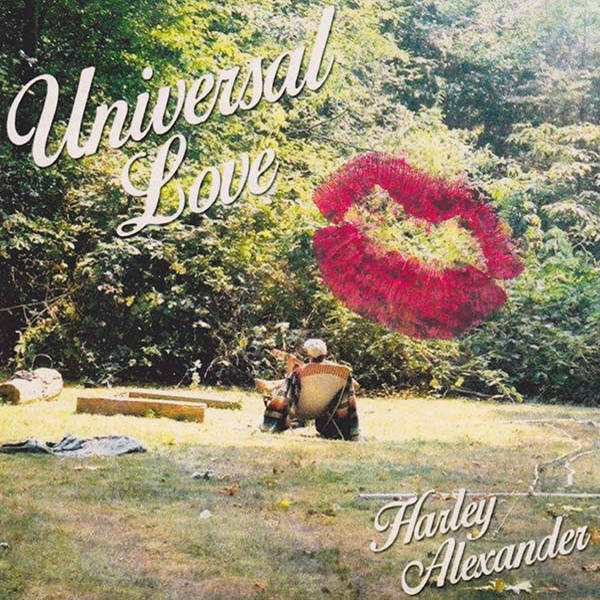 Harley Alexander
Universal Love
Halifax, NS
From the side-chested patois of Joshua Robinson:
With the thick patois of a digispheric cleric, Harley Alexander's conversationally topical magnum opus breaks free from the slight-of-hand conceit of politically charged love to invoke the universal magnanimity of sonically imbued idiosyncratic absolutes. With tumbling turnabouts of tongue-in-cheek invective, he gives it to the man in subtly crass fashion, lamenting the evolution of love and life within the stifling hegemony of bureaucratically inept self-preservationism. Revolution is nigh, its movability high, and its timbre that of cosmically ordained ardour.
Du fourbe patois de Joshua Robinson:
(Traduit par le dialecte naïf de Louis-Félix Pellerin)
Avec le fort patois d'un prêtre digisphérique, l'oeuvre maitresse conversationellement pertinente de Harley Alexander se libère de la vanité fourbe qui vient avec l'amour politiquement chargé pour invoquer la magnanimité universelle d'absolus idiosyncrasiques imprégnés d'acoustiques. À l'aide de renversants volte-faces d'insultes goguenardes, il se rebelle contre le système de façon subtilement grossière, se lamentant sur l'évolution de l'amour et de la vie à l'intérieur d'une hégémonie étouffante guidée par un instinct de préservation bureaucratiquement inepte. La révolution est proche, sa mobilité élevée et son timbre celui d'une ardeur ordonnée cosmiquement.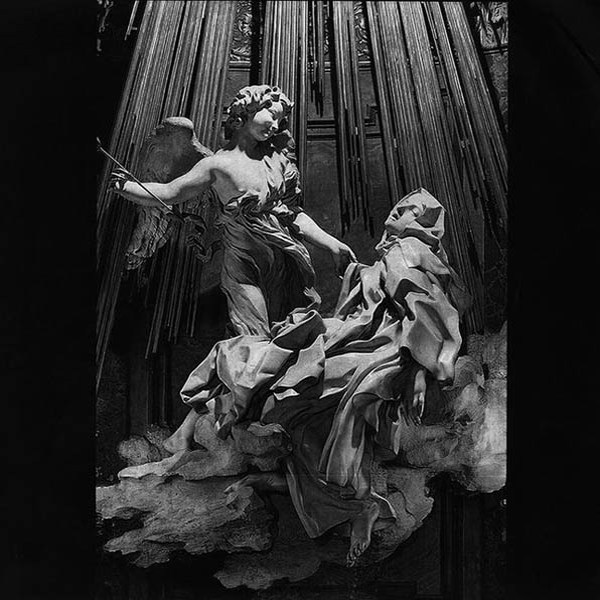 Birds of Paradise
The Little Death
Montréal, QC
From the glossy mantle of Jesse Locke:
The inexhaustible Roy Vucino (Red Mass, PyPy,and don't forget about Puke Eyes) swirls on another cloak for this smoked out folk/psych collaboration with Hannah Lewis. Plowing the same ground as Red Mass's split with Cindy Lee, this single-sided 7" digs in deep with mournful strings, harmonica and even mandolin. Wild roses grow in the most unexpected places.
Du manteau brillant de Jesse Locke:
(Traduit par Roy Vucino)
L'inépuisable Roy Vucino (Red Mass, PyPy, et sans oublier Puke Eyes) change sa direction musicale sur cette collaboration folk/psychédélique avec Hannah Lewis. Le premier 7" de Birds of Paradise, qui n'a qu'une seule face, est dans le même esprit que le 7" de Red Mass avec Cindy Lee. Les arrangements de violons, l'harmonica et la mandoline lui donnent une certaine profondeur qui nous plonge dans la tristesse. Les roses sauvages continuent de pousser dans les endroits les plus inattendus.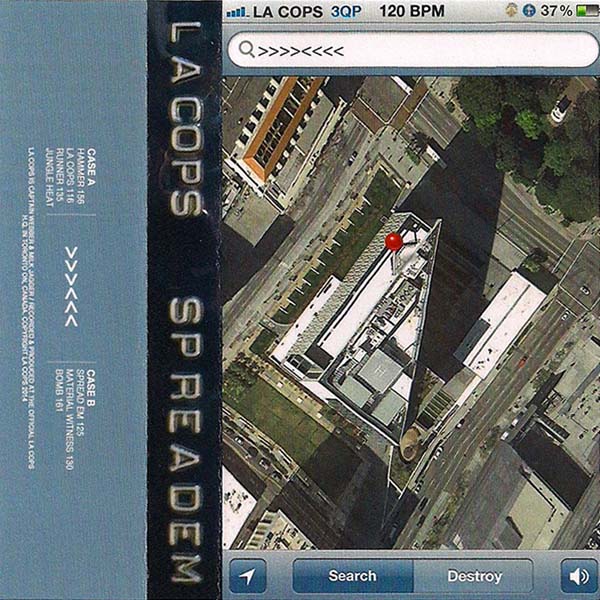 LA Cops
Spread 'Em
(Self Released)
Calgary, AB // Toronto, ON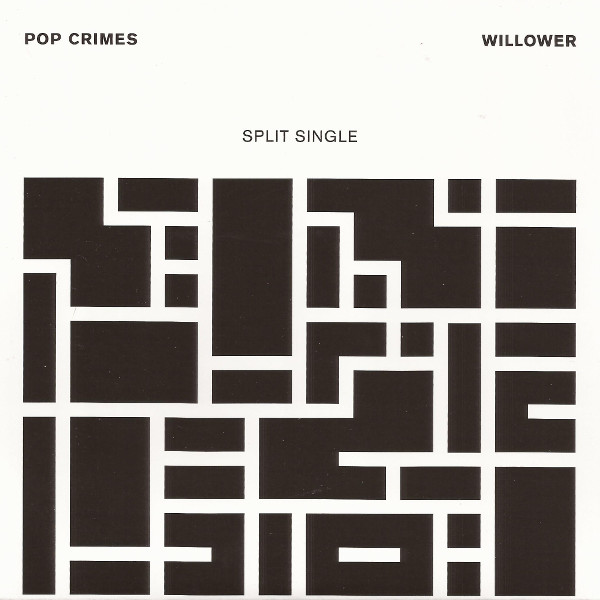 Pop Crimes // Willower
Split
Winnipeg, MB // Toronto, ON,
From the antennae occupation of Taylor Burgess:
This split is a slow, six-legged pull of your belly over the static and hum — before the RGB detonates and sends you into antennae-occupied space. Pop Crimes are brandishing buzzsaws while singer/guitarist Stefan Braun delivers a maniacal monologue of some sick Cronenberg persuasion; Long live the new flesh, and keep running around. Willower is on a modal meditation of what was once west, which winds can be commanded up, and whose waves will wind up on empty shores. The medieval script's source has yet to be unearthed, but Crosss' Andy March conjures the b-side all by his lonesome.
De l'occupation par les antennes de Taylor Burgess:
(Traduit par Jessica Grenier)
Ce split se fait sentir lentement, ses six pattes vous tirant par le ventre au-dessus des parasites vrombissants – juste avant que le RVB n'explose et vous envoie dans l'espace occupé par des d'antennes. Pop Crimes brandissent des scies mécaniques pendant que le chanteur-guitariste hystérique, Stefan Braun, se livre à un monologue tordu à la Cronenberg. Longue vie à la nouvelle chair, qu'elle poursuive son œuvre. Willower s'adonne à une méditation modale sur ce qu'était jadis l'Ouest, sur quels vents peuvent être commandés et sur quelles vagues viendront s'abattre sur le rivage désert. La source de l'écriture médiévale demeure enfouie, mais Andy March, de Crosss, sait évoquer la face B seul.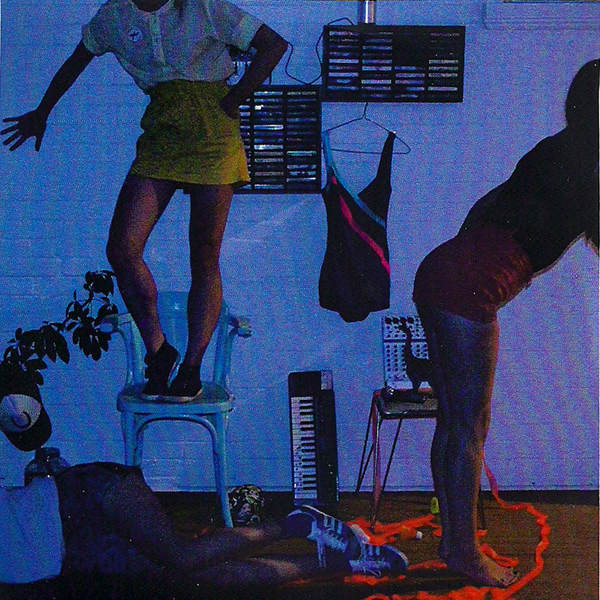 R U Real
R U Real
(Inyrdisk)
Montréal, QC
From the mécanique movement of Jesse Locke:
R U Real is a daydream in fluorescent from the flickering minds of JLK, YlangYlang and one half of Square. The trio's pitch-shifted sass-raps bounce from chipmunk Quasimoto to 'luded-out Olsen Twins as sputtering beatscapes and amorphous samples liquefy into neon cream soda. Real talk…
Du mouvement mécanique de Jesse Locke:
(Traduit par le pseudonyme inquiétant de Mata Hari)
R U Real c'est la rêverie fluorescente provenant des cerveaux grésillants de JLK, YlangYlang et de la moitié de Square. Le rap désinvolte pitch-shifté passe du chipmunk à-la-Quasimoto aux jumelles Olsen sur la drogue tandis que des bulles de rythmes éthérés et de samples amorphes se liquéfient dans un crème soda néon. Real talk…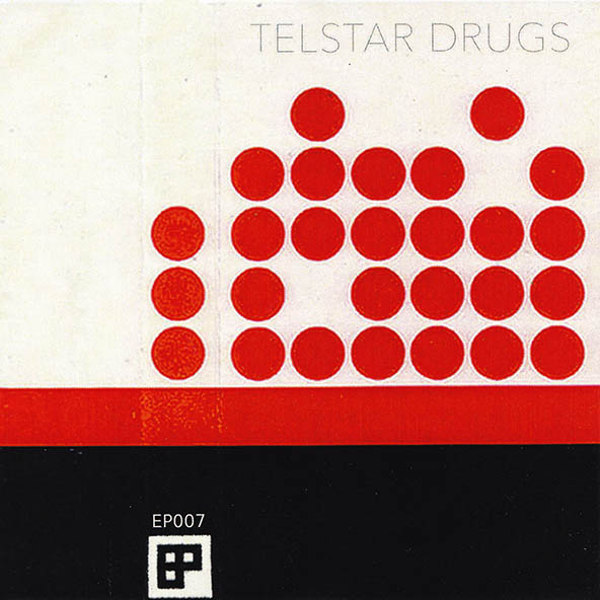 Telstar Drugs
Weather Underground
Montréal, QC
From the window seat of Josh Silver:
Under the weather: raindrops streak down the window, beginning as parallel lines then intertwining, agglomerating and sometimes playfully skipping over each other. Slow welling vibrations play off arrhythmic free tones, one after the other, navigating between extended emergent phenomena. One moment, the fluctuating surface of rain. The next, an explosion of lightning as wind picks up in a flurry of leaves on a sunny day. Moments of order decay into disorder while, elsewhere, new orders are aggregated in a constant shuffle.
Du siège côté fenêtre de Josh Silver:
(Traduit par Kevin Godbout)
Un temps maussade. Les gouttes de pluie descendent le long de la fenêtre; elles commencent en lignes parallèles pour ensuite s'entremêler, s'agglomérer, et parfois sauter les unes sur les autres de façon espiègle. De lentes vibrations jaillissantes jouent des tonalités arythmiques les unes après les autres; elles naviguent entre des phénomènes émergents. Un instant, c'est la surface fluctuante de la pluie, l'instant d'après, une explosion d'éclairs alors qu'une bourrasque se déchaîne dans les feuilles d'un jour ensoleillé. Des moments ordonnés se décomposent en un désordre pendant qu'ailleurs, de nouveaux ordres sont rassemblés dans un mélange continuel.

Telstar Drugs – Endless Straight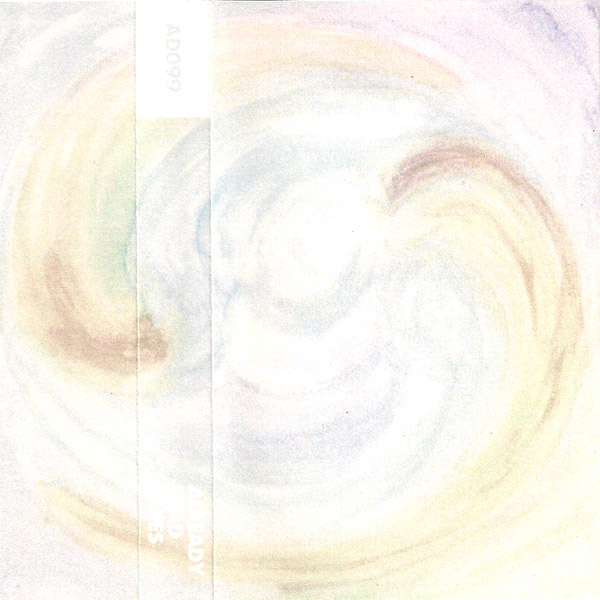 Tired Wires
Hark
Toronto, ON
From the heart murmurs of Jesse Locke:
The shivering ambience of Tired Wires' Hark illuminates a portal into a pastel cave where sonic stalactites sparkle like chandeliers. Tranquilized tone floats guide the ear into ever-deeper corridors, as whispers and hums hover in the gem-light with a glacial pace approaching -200 KBD. One soft-footed turn reveals a haunted piano with no hands at its keys, twinkling along to a tune older than time itself.
Du souffle au coeur de Jesse Locke:
(Traduit par Jacinthe Laplante)
L'atmosphère frissonnante de Hark de Tired Wires illumine une porte vers une grotte couleur pastel où des stalactites soniques brillent comme des chandeliers. Des flots de sonorité apaisés guident l'oreille vers des corridors toujours plus profonds, pendant que des chuchotements et des bourdonnements flottent dans la lumière brillante à une vitesse glaciale approchant les -200 KBD. En se tournant tranquillement, on voit un piano hanté – il n'y a aucun doigt sur le clavier – jouant un air plus vieux que le temps.
---