Category: New Canadiana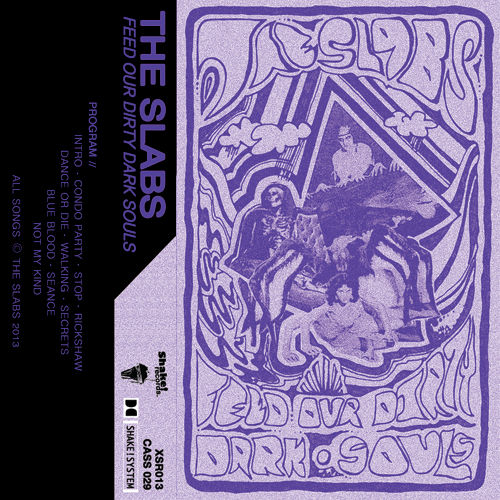 The Slabs
Feed Our Dirty Dark Souls
Calgary, AB
From the coffee-stained mug of Josh Silver:
A sunset stroll down 17th avenue, past condo towers in the East Village. As the Rockies rise in the west above suburban wasteland, something wicked this way comes. The Slabs are a composite, melding diversity of members into something new. This mix of overt, subversive punk and melodic, otherworldly psych-rock leads to a singularly Calgary sound: riff-laden, rough, and uncensored. Feed Our Dirty Dark Souls is then one translation of the city, in all its strangeness and multiplicity, to the ears of the listeners.
De la tasse tachée de café de Josh Silver:
(Traduit par l'énergie de Julie Forget)
Une promenade au coucher du soleil sur la 17e Avenue, après les tours à condo du East Village. Alors que les Rocheuses se dressent dans l'ouest au-dessus d'un terrain vague de banlieue, quelque chose de fou fait son apparition. The Slabs est une diversité composite de membres qui s'associent pour constituer quelque chose de nouveau. La combinaison de punk manifeste et révolutionnaire et de rock psychédélique mélodique et mystique fait naître un son singulièrement calgarien : chargé de riffs, râpeux et non censuré. Feed Our Dirty Dark Souls est donc une traduction de la ville dans toute son étrangeté et sa multiplicité destinée aux oreilles de ceux qui l'écoutent.
Marriage
Sun Start / Waterboard
(Self Released)
Toronto, ON
From the basement tape deck of Brennan McCracken:
These beaming transmissions – the first from Toronto's Marriage – show a band fluent in many melodious languages. "Sun Start" and "Waterboard" interlock like aria and recitative or water and ice; two sides of the same kaleidoscopic, oxidized coin. A foggy prelude and an underwater dirge, a double shot of tin can transcendence from the belly of the beast. Dig (in).
Du magnétophone de sous-sol de Brennan McCracken:
(Traduit par le temps de Julie Forget)
Ces transmissions rayonnantes ­– les premières de Marriage (Toronto) – dévoilent un groupe qui parle couramment de nombreuses langues mélodiques. « Sun Start » et « Waterboard » s'imbriquent comme une aria et un récitatif ou comme l'eau et la glace; deux côtés de la même pièce de monnaie kaléidoscopique et oxydée. Un prélude brumeux et un chant funèbre subaquatique, un doublé de transcendance en conserve directement du ventre de la bête. Plongez(-y).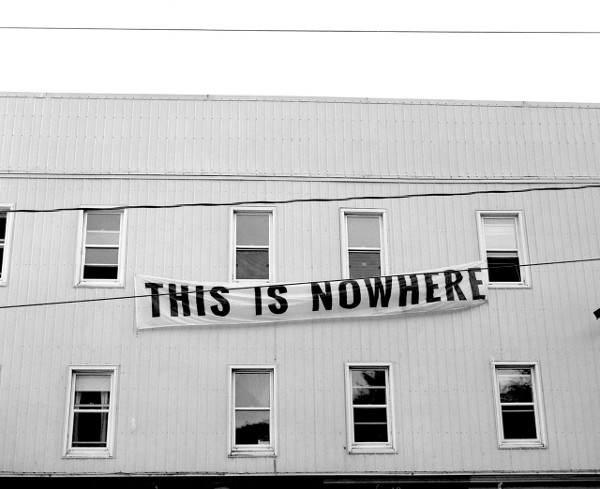 Sappy Fest 9
Various Artists
(August 1-3, 2014)
Sackville, NB
From the swamp-fever of Kevin Brasier:
SappyFest is a little music festival in the heart of the heart of the Maritimes: Sackville, NB. Sporting the tagline "Bring it on Home," expect to find a dreamy line-up made of old SappyFest friends like PS I Love You, Shotgun and Jaybird, Baby Eagle, Julie Doiron, Spencer Burton, Rae Spoon, Michael Feurstack, and the mighty Constantines. Stay up late enough and you might see the local punks do their thing on the outskirts of town. This compilation features a song from every artist playing SappyFest 9, and might contain some new and unreleased tracks (but don't get your hopes up).
Download the SappyFest 9 Sampler here.
Photo Credit – This is Nowhere by Colin Medley
De la fièvre des marais de Kevin Brasier:
(Traduit en solidarité par Nadine Tkatchevskaia)
Sappy Fest est un tout petit festival de musique au coeur des Maritimes, à Sackville au Nouveau-Brunswick. Avec le slogan "Rammenez-le chez nous" (Bring it on Home), attendez-vous à retrouver une programmation remplie d'anciens amis de SappyFest comme PS I Love You, Shotgun and Jaybird, Baby Eagle, Julie Doiron, Spencer Burton, Rae Spoon, Michael Feurstack, et les fameux Constantines. Restez debout suffisamment longtemps et vous pourrez voir les trucs des punks locaux. Cette compilation contient une piste de chaque artiste qui participe à SappyFest 9 et pourrait contenir de nouvelles pistes qui ne sont pas encore sorties (mais ne vous faites pas trop d'espoir).
Téléchargez le Sappy Fest 9 Sampler ici.
Photo – This is Nowhere par Colin Medley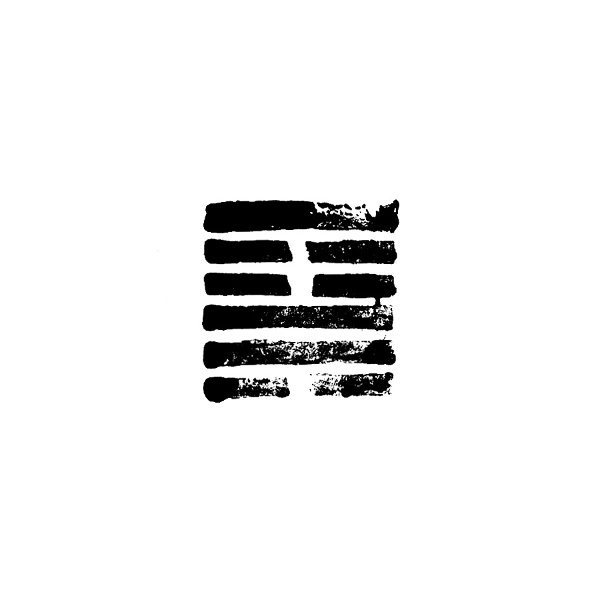 Old Haunt
Empty Heart
Montréal, QC
From the wild blue yonder of Joshua Robinson:
Folk and electric elements whisk within reach, swaying precipitously in time to the breaking of leaves from tree-arms. These interlock to form the canopies through which hushed lullabies creep to find cupped hands clasping for the song that falls from the ether of cumulous mirrors in the sky; welkin as passage to the echos of the wilted recompense that lingers in pockets full of cedar ash apologues.
With pens emptied and pencils stubbed on fraying parchment, the paraphrasing of etched sentiment is sewn into the worn fabrics of a quilted shadow-heavy embrace, keeping warm the inner stirrings of throat lorne singalongs that carry the sentiment of the wild blue yonder. Arms opened, chests heavy and full of leaves, we stir the cindered churns of glyphs worn and frayed by the distances travelled to find interlaced hands in the form of tree-arms that bud anew.
Du grand inconnu azur de Joshua Robinson:
(Traduit des cendres presque phoenix de Catherine Debard)
Des éléments folks et électriques s'agitent à portée de main, se balançant précipitemment à temps pour la chute des feuilles de l'arbre-bras. Ils s'assemblent pour former des pirogues à l'intérieur desquelles des berceuses se glissent pour trouver des mains aux paumes ouvertes, prêtes à y étreindre une chanson qui tombe de l'ether de miroirs cumulus dans le ciel; une voûte céleste passage pour les échos de récompenses qui traînent au fond de poches de pantalon remplies de cendres de cèdres apologues.
À l'aide de stylos vidés et de crayons écrasés comme des mégots sur de frêles parchemins, paraphraser le sentiment ancré, cousu au tissu usé d'une étreinte molletonnée d'ombre pesante. Se tenir au chaud au creux d'une gorge dans laquelle est murmurée une chanson à l'unison porteuse du grand inconnu azur. Les bras ouverts, la poitrine lourde et remplie de feuilles, nous retournons les cendres de glyphes érodés par les distances parcourues, à la recherche de mains enlacées en forme d'arbres-bras en éclosion.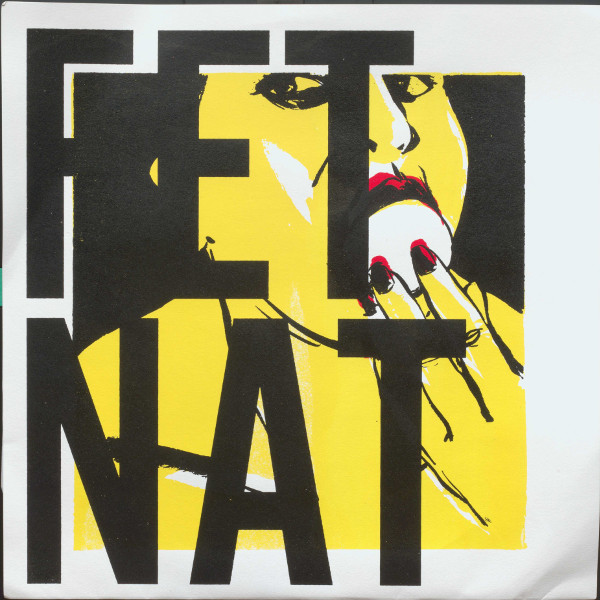 FET.NAT.
Poule mange poule
(E-Tron)
Hull, QC
From the banks of Jordan of Benoit Arcand:
(Translated by Emily Estelle Belanger)
FET.NAT. is a rock before the storm, with good manners but mud in his eyes — in the street, in the backyard, in the gut. Poule mange poule calls for another flood to come muck out the stables. Less eschatologist than charitable counter-culturalist, he shoulders the ark of the aberrant and carries it through a night in hell. He's either Atlas or the invisible man, shying from the beat, channeling the "free" in rock and oozing truth from his pores, even as hope is lost in the decline of poetic resistance.
Des rives du Jourdain de Benoit Arcand:
Rock avant-déluge plein de savoir-vivre avec de la boue dans les yeux, dans la rue, dans la basse-cour, dans ses tripes; en Poule mange poule est réitérée la nécessité de l'ondée nettoyant les écuries. Pas eschatologique, plutôt contre-culturiste charitable, FET.NAT. accepte de porter sur ses épaules l'arche des atypiques, le temps d'une nuit en enfer. Qu'il soit Atlas ou homme invisible, renâclant le beat, sublimant le free du rock, la vérité exsude de ses pores, à bout d'espoir, dans le repli de la résistance poétique.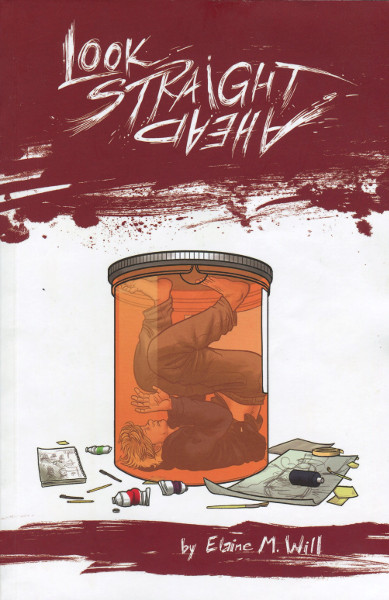 Look Straight Ahead
Elaine M. Will
(Cuckoo's Nest Press)
Saskatoon, SK
2013
perfect bound, 6.875" x 10.5"
colour matte finish cover
black and white / mixed colour interior
256 pages
From the dissatisfied visions of Jordan Voith:
Between schoolyard bullies, schizophrenic visions, and dissatisfaction with his art, 17-year old Jeremy Knowles is experiencing a difficult adolescence. Structured as contemporary Künstlerroman, Elaine M. Will's Look Straight Ahead documents Jeremy's struggles with acute mental breakdown exacerbated by teen angst (or perhaps vice-versa) and his experience with art as therapy.
Will situates Look Straight Ahead firmly in the imagery and narrative of timeless adolescence: the story itself is centrally concerned with the process of growing up, and her characters bear uncanny resemblance to a similarly teen-minded classic. Other than the physical likeness, though, Will's steers clear from anything so middle-American: drawn in black and white (except for a few bursts of colour in Jeremy's hallucinations), Look Straight Ahead alternates between frigid asceticism and manic psychedelia as Jeremy navigates the vicissitudes of recovery.
The familiarity of Will's characterization imbues Look Straight Ahead with a distinctly human verisimilitude. Despite the metaphysical scope of his hallucinations, Jeremy's struggles never venture beyond the relatable and they suggest an autobiographical intimacy with their content – Will herself suffered a mental breakdown in 2002. And, just as Will created Look Straight Ahead in the decade after her illness, Jeremy's ultimate recovery confirms the restorative power of art and the inextricable link between creative and personal growth.
Des visions insatisfaites de Jordan Voith:
(Traduit par la lecture entre les lignes de Julie Forget)
Entre des tyrans de la cour de récréation, des visions schizophréniques et une insatisfaction par rapport à son art, Jeremy Knowles, 17 ans, vit une adolescence difficile. Structuré à la manière d'un Künstlerroman contemporain, le récit Look Straight Ahead de Elaine M. Will décrit les périodes de dépression sévère de Jeremy, exacerbées par les angoisses d'adolescent (ou peut-être est-ce l'inverse) et de son expérience avec l'art comme forme de thérapie. Will place Look Straight Ahead de manière ferme dans l'imagerie et la narration d'une adolescence intemporelle : l'histoire même s'intéresse essentiellement au processus de passer de l'enfant à l'âge adulte et ses personnages comportent des ressemblances troublantes avec un classique similaire orienté vers les adolescents. Toutefois, à part les ressemblances physiques, Will reste loin des caractéristiques américaines traditionnelles : dessiné en noir et blanc (sauf pour les quelques éclats de couleurs dans les hallucinations de Jeremy), Look Straight Ahead alterne entre ascétisme frigide et psychédélisme maniaque en suivant le personnage principal qui subit les vicissitudes de la guérison.
La familiarité de la caractérisation de Will imprègne Look Straight Ahead d'une vraisemblance distinctement humaine. Malgré la portée métaphysique de ses hallucinations, Jeremy affronte des épreuves qui se lisent bien et qui suggèrent une intimité autobiographique avec leur contenu – Will a elle-même souffert de dépression en 2002. Et, de la même manière que l'auteure a créé Look Straight Ahead dans la décennie après sa maladie, la guérison de Jeremy confirme le pouvoir réparateur de l'art et le lien inextricable entre croissance créative et croissance personnelle.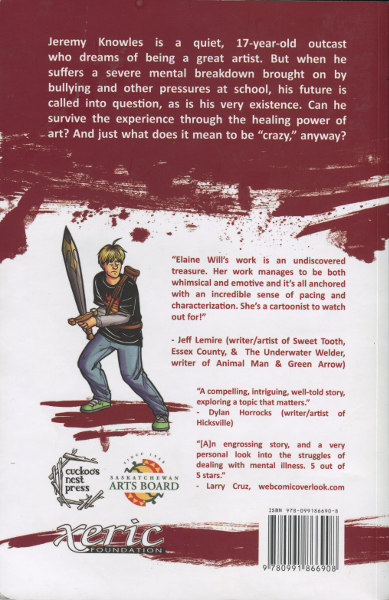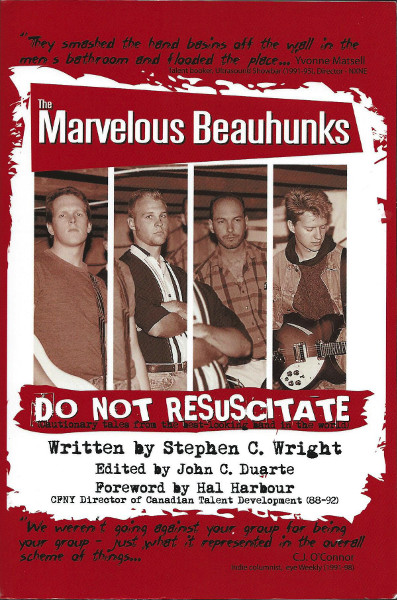 Do Not Resuscitate: The Marvelous Beauhunks
Stephen C. Wright
(iUniverse)
Bloomington, IN
softcover, perfect bound
404 pages
From the ticket-strewn floors of Alexandra Jaworiwsky:
The Marvelous Beauhunks barely existed. What did exist was a full speed coaster of loop-di-loops, corkscrews and break-neck turns into the early nineties during the era of CFNY's The Spirit of Radio. Amplifiers buzz on the pages where words exist like lyrics detailing the story of The Marvelous Beauhunks, "the best looking band in the world." The best friends of misfits, the Beauhunks were powerful pop infused with the soul of their british icons. They inhaled cigarette smoke and exhaled a passion that almost took Toronto by storm. Almost. Stephen Wright, drummer of the Beauhunks past and present, curates the autobiography with a strange beat, illustrating the short-lived span of the Marvelous Beauhunks with first hand accounts, set lists, and press clippings from the time that they were almost the next big thing. The music scene is detailed in true rock and roll fashion, the Toronto venues of the present, gracing the pages of the past.
The Beauhunks climbed quickly and fell hard. The book is a crash of cymbals, a fight to the finish, but a passionate pop-rock performance and a memoir of the band you wish you had heard. Do not resuscitate.
Des planchers couverts de billets d'Alexandra Jaworiwsky:
(Traduit par Andréanne Dion)
Les Marvelous Beauhunks ont à peine existé. Leur existence a été une montagne russe de boucles, de vrilles et de virages à toute allure au début des années 90, à l'époque de l'émission The Spirit of Radio sur la station CFNY. Le bourdonnement des amplificateurs retentit dans les pages où des mots qui ressemblent à des paroles de chansons racontent l'histoire des Marvelous Beauhunks, « le plus beau groupe du monde ». Meilleurs amis des marginaux, les Beauhunks jouaient du pop percutant infusé de l'âme de leurs héros britanniques. Ils respiraient de la fumée de cigarette et expiraient une passion qui a presque pris Toronto d'assaut. Presque. Batteur passé et présent des Beauhunks, Stephen Wright produit l'autobiographie sur un rythme étrange et illustre la courte vie des Marvelous Beauhunks avec des récits de première main, des set lists et des découpures de journaux du temps où ils ont presque été les prochaines stars. La scène musicale est décrite dans un genre fidèle au rock'n'roll, et les salles de spectacle torontoises du présent ornent les pages du passé.
Les Beauhunks ont atteint rapidement le sommet et sont redescendus brutalement. Ce livre est une collision de cymbales, une lutte pour atteindre la ligne d'arrivée, mais une performance pop-rock passionnée et les mémoires d'un groupe que vous auriez aimé connaître. Ne pas réanimer.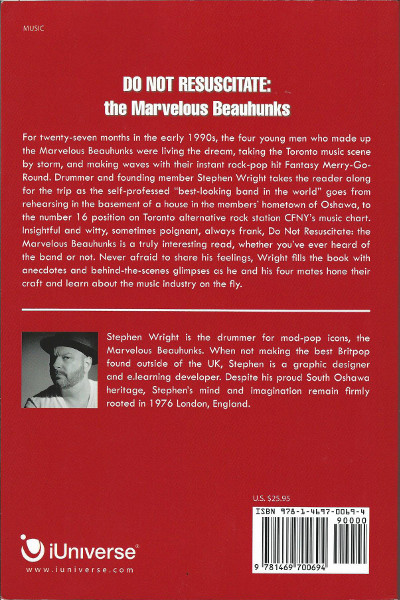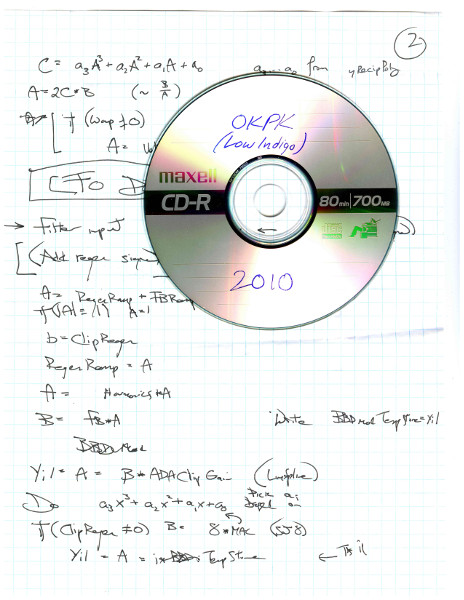 From the four season rotation of Johnnie Regalado:
A years always seem to start off at its darkest. Life mostly lived under blacklight. White winter fallacy and an overdose of halogen. Arms outstretched to stumble until you're once again voyaging down that unseen pathway. A spring that propels you out of the stream and into a pursuit of light. Where things can be different. Where things can be alright. Squint in your pursuit of spectral seasons past. The search for the perfect summer. When was the last time weather lived up to your bone memory? We can keep doing laps of the sun until we get things right. Luckily life's spirals are just another kind of loop on which you can build beats.
Des quatre saisons de Johnnie Regalado:
(Traduit par Virginie Langlois)
On dirait qu'une année commence toujours à son niveau le plus sombre. Que l'on a passé la majeure partie de son temps sous la lumière noire. Hiver blanc fallacieux et overdose d'halogène. Les bras tendus pour avancer de façon hésitante jusqu'à emprunter de nouveau ce sentier dissimulé. Un ressort qui nous propulse hors du courant et nous lance à la poursuite de la lumière. Là où les choses peuvent se passer différemment. Où elles sont à leur place. Réfléchissez un peu à votre expérience des saisons spectrales. La quête de l'été parfait. La dernière fois que le temps vous a marqué dans la chair, c'était quand? On peut toujours attendre les prochaines rotations autour du soleil jusqu'à ce que les choses aillent mieux. Heureusement les spirales de la vie sont elles aussi des sortes de boucles qui nous permettent de bâtir des rythmes.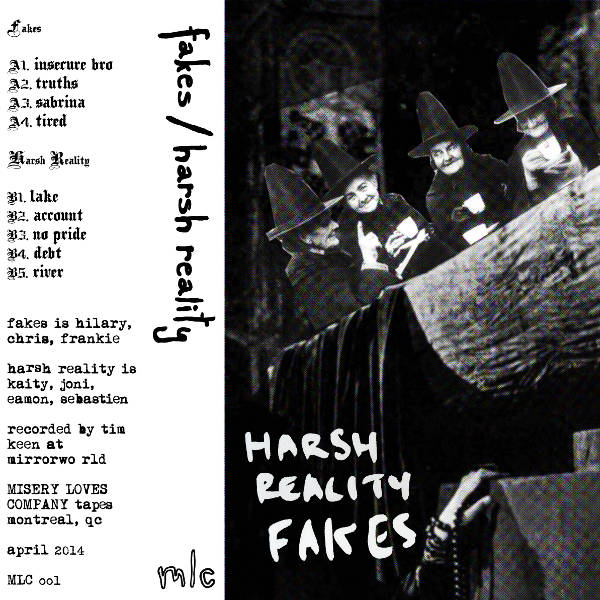 Fakes // Harsh Reality
Split
Montréal, QC
From the gravelly punk playgrounds of Cassilou Landra:
Newly christened Montreal collective Misery Loves Company packs a vicious split of grainy punk pastures and noise rock destruction. Side one has Fakes asserting a charged jolt of weirdo primitive punk held up by a simple trifecta of fuzzy guitar, pounding drums, and a voice that either sounds like shuffling feet on gravel or the sky splitting open during a particularly harsh rainstorm. Speaking of harsh, side two comes fully stocked for the feedback-fanatics thanks to Harsh Reality. Bringing to mind The Dead C's free post-punk approach to composition, this four-piece sets their amps to 111 and never stops to make sure their (or our) ear drums haven't burst.
Des terrains de jeux gravement punk de Cassilou Landra:
(Traduit par Peter Particule)
Le collectif montréalais fraîchement baptisé Misery Loves Company livre un split vicieux fait de pâturage punk granuleux et de destruction noise rock. Sur la face A, Fakes envoie une secousse chargée de punk primitif étrange soutenue par un tiercé simple : des guitares fuzzy, une batterie fracassante et une voix qui oscille entre le bruit des pas sur du gravier et le déchirement du ciel lors d'un orage particulièrement violent. En parlant de violence, Harsh Reality entasse de quoi ravir les fans de feedback tout le long de la face B. Avec une composition qui rappelle l'approche free post punk de The Dead C, ce groupe de quatre musiciens aux amplis réglés à 111 ne s'arrête pas un seul instant pour vérifier si leurs (ou nos) tympans ont explosé.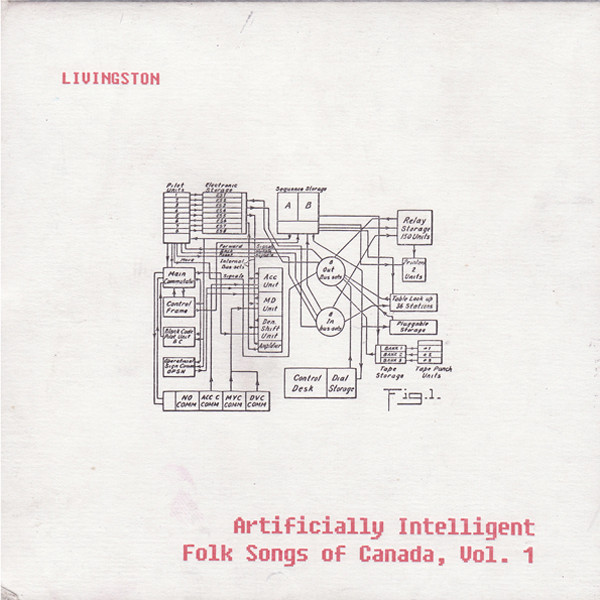 Livingston
Artificially Intelligent Folk Songs of Canada, Vol. 1
London, ON
From the unnerved automatism of Eileen Wennekers:
Livingston, the metadata analysis program that composed these songs, brings to our attention the statistical overrepresentation of weary melancholy in Canadian folk. Each classic form is algorithmically reconfigured – the lonesome ballad, the kiss-off, the tavern drinking song, the road anthem*, the love confessional – but an entirely human-seeming blues tints the songwater.
The surface, uncanny authenticity, is disturbed at rhythmic intervals by the sound of its cracking logic. Repetitions appear instead of rhymes. Arrangements seem somehow not quite right. In the place of the crowd, or Stompin' Tom, a machine stamps through the sing-along of "I Am a Weary Immaterial Labourer in a Post-Industrial Wasteland". Dr. Henry Svec's faithful renderings of Livingston's compositions throw a wrench into the folk scene, delivering both a punch and a puncture. What we imagine to be singular and personal is projected onto a perfectly reflective screen bounded by forces that far exceed us: "Somebody with the great lovemaking manual/Knows what I'm going to do/Knows it and has seen it in pictures/My route to you."
*To our amusement, Livingston has performed a deliciously Borgesian function: Generating by purely mathematical functions an exact copy of the Eagles' "Take it Easy" – although the title it generated is slightly different.
De l'automatisme perturbé d'Eileen Wennekers:
(Traduit par l'esprit machinal de Louis-Félix Pellerin)
Livingston, le programme d'analyses de métadonnées qui a composé ces chansons, porte notre attention sur la surreprésentation statistique de la mélancolie lasse du folk canadien. Chaque archétype classique est reconfiguré algorithmiquement; la balade solitaire, l'adieu d'un amoureux, la toune de taverne, l'hymne de la route*, la confession d'amour… Mais un blues d'entière apparence humaine les habite. À première vue, l'étrange authenticité de la machine est troublée par le son de sa logique craquelée à intervalles rythmés. Au lieu de rimes, ce sont des répétitions qui apparaissent. En plus, il semble manquer un je-ne-sais-quoi aux arrangements. Au lieu de la foule, ou de Stompin' Tom, une machine s'active au rythme de « I Am a Weary Immaterial Labourer in a Post-Industrial Wasteland ». L'adaptation fidèle des compositions de Livingston par Dr Henry Svec met des bâtons dans les roues de la scène folk, l'ébranlant et la perforant un brin. Ce qu'on imagine être singulier et personnel se retrouve projeté sur un écran maintenu en place par des forces qui nous échappent : « Somebody with the great lovemaking manual/Knows what I'm going to do/Knows it and has seen it in pictures/My route to you. »
*À notre grand amusement, Livingston a accompli quelque chose de merveilleusement borgésien : en utilisant des fonctions purement mathématiques, il a pu générer une copie exacte de la chanson « Take it Easy » par The Eagles, quoique le titre créé soit légèrement différent.

Livingston – Instructions to Your Integrated Circuits
---