Category: New Canadiana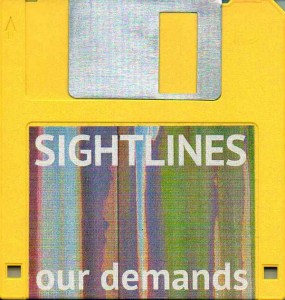 Sightlines
Our Demands
(Alarum Records)
Vancouver, BC
From the frustrated shotgun calls of Kyle Valade:
Kicking the nostalgia up to 11, Sightlines' Our Demands is a cover of The New Fever released on a 3.5" floppy disk. For the uninitiated, The New Fever was a project manned by Vancouver producer and local legend Jesse Gander of D.B.S., a band that was active at a time when "floppies" were only slightly less obsolete.
It's easy to focus on the back story of this release, but the actual content rocks pretty hard in its own right. I like this one-song disk a lot, partly because 21% of it is essentially a drum solo where Chris Martell sounds like he's trying to force his stick through his snare. The rest is Eric Axen reminding you (or implanting memories) of how cool you used to be, and the fun you had going to shows, driving around the city with your friends, and not giving a fuck. In the end, the song slows down to let you savour the last few moments of briefly resurrected '90s sincerity.
Des appels à shotgun frustrés de Kyle Valade:
(Traduit mélancoliquement par David Kohler)
On pousse la nostalgie à 11, Sightlines' Our Demands est une reprise de The New Fever sorti en disquette. Pour les non-initiés, The New Fever était un projet dirigé par le producteur vancouvérois et légende locale Jesse Gander de D.B.S., un groupe qui était actif à une époque où les disquettes étaient un tout petit peu moins obsolètes.
Il est facile de se focaliser sur les antécédents de cette version, mais son contenu en soi casse la baraque. J'aime beaucoup cette chanson-disquette, en partie car 21 % consiste essentiellement en un solo de batterie où Chris Martell semble être en train d'essayer de faire passer ses baguettes au travers de sa caisse claire. Le reste, c'est Eric Axen qui te rappelle (ou t'en implante le souvenir) comment tu étais cool avant et le plaisir que tu avais à aller en concert, à rouler en ville avec tes potes, et à n'en avoir jamais rien à foutre. À la fin, la chanson ralentit pour te laisser savourer les derniers moments de la sincérité des années 90, si brièvement ressuscitée.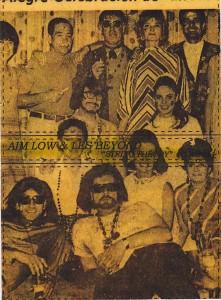 Aim Low & Les Beyond
String Theory
Montréal, QC
From the tiny, tiny particles of Johnnie Regalado:
This collaboration is an innerspace alarm clock that will wake the tiniest specks of your being. Drone-stars team up with a precision picker to create the soundtrack to an eternity in a jettisonned escape pod. These orchestral bellows will vibrate your brain, making you explicitly aware of the existence of your eardrums.
Des minuscules, infimes particules de Johnnie Regalado:
(Traduit par l'orbite de Catherine Gaucher)
Cette collaboration est telle une alarme programmée pour réveiller les particules les plus infimes de votre espace intérieur. Ces vedettes du drone font équipe avec un choix précis afin de créer la bande sonore d'une éternité passée à la dérive, dans un nacelle de sauvetage. Ces souffles orchestraux feront vibrer votre cerveau, vous mettant explicitement au courant de l'existence de vos tympans.

Aim Low & Les Beyond – String Theory (excerpt)

Aim Low & Les Beyond – Guitar Trio (Rhys Chatham cover) (excerpt)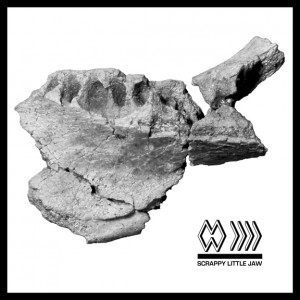 The Band Whose Name is a Symbol
Scrappy Little Jaw
(Self Released)
Ottawa, ON
From the tapered pants of Christopher Laramee:
Y'know the joy you get when you FINALLY check out a band that friends have been telling you to give a listen to for quite a while, then said band blows your head off? Ladies and gents, welcome to the pleasuredome, courtesy of Ottawa's THE BAND WHOSE NAME IS A SYMBOL (wicked nom de plume). These self-described "free psych rockers" achieve intense lift­off akin to some MAGIC LANTERN chatter, albeit sprayed with some noised boogie also reminding me of ETERNAL TAPESTRY. "Neu Sedan" goes quite a way to giving up the ghost as regards to the above inspiration. Hot spiral abounds here, sub­-metal riffage grabbing collars and shaking hard. TBWNIAS have released five albums in the last few years — vinyl only affairs, and whatever's on the Bandcamp. Sizzle away TBWNIAS, SIZZLE AWAY. Canada's best kept secret? No longer, folks. Also, any band that names jamz "Sask." and "Blues in Goddamn" has got their arrows pointed straight at my cold prairie heart. They should get together with Edmo's KRANG and trade eyeballs, NOW!!!
From the tapered pants of Christopher Laramee:
(Traduit avec la plume enthousiaste de Geneviève Simard)
Vous connaissez cette joie lorsque vous écoutez FINALEMENT un groupe de musique dont vos amis vous parlent depuis un bon moment et que leur musique vous jette par terre? Mesdames et messieurs, bienvenue dans ce lieu du plaisir, gracieuseté d'un groupe d'Ottawa, THE BAND WHOSE NAME IS A SYMBOL (super nom de plume). Ceux-ci, qui s'autoproclament des rockers « free psych », réussissent un décollage intense qui ressemble à du MAGIC LANTERN avec des mots, mais parsemé de quelques bruyants boogie qui font aussi penser à ETERNAL TAPESTRY. « Neu Sedan » fait beaucoup de chemin pour abandonner la ressemblance aux inspirations ci-dessus. De puissantes spirales abondent, des riffs sub-métal qui vous agrippent par le collet et vous tirent avec force. TBWNIAS ont sorti cinq albums au cours des dernières années, exclusivement sur vinyle, en plus de tout ce qui se trouve sur Bandcamp. Continue TBWNIAS, CONTINUE. Le secret le mieux gardé au Canada? Plus maintenant. En plus, un groupe de musique qui nomme ses chansons « Sask. » et « Blues in Goddamn », c'est comme une flèche pointée directement sur mon cœur froid des Prairies. Ils devraient rencontrer KRANG d'Edmonton et échanger leurs globes oculaires IMMÉDIATEMENT!!!

The Band Whose Name is a Symbol – Berlin, Ont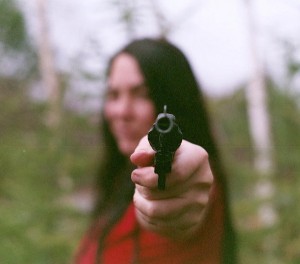 The Almighty Rhombus
Lucid Living
Sudbury, ON
From the big basement of Brendan Lehman:
The Almighty Rhombus is unabashedly a pop band. One has but to experience them, however, to realize that a thing boils beneath their collective surface. What is that thing? Maybe it is something born of a remote lodge filled with a smokey haze emanating from everywhere but the fireplace. You can feel it percolating in the toned stoner pop of songs like "Fluorescent". Perhaps it's the smoke from the superstack seeping its way into the dive bars, causing mayhem as it flows, transforming ridiculously catchy hooks to crescendos of sounds past. One thing you can count on though, is the precision with which this chess game of an album will catch your ear and not let go. Coffee?
De la chaise confortable de Brendan Lehman:
(Traduit par Kristen Lavallee)
The Almighty Rhombus est, sans honte, un groupe de pop. On n'a qu'à éprouver l'expérience pour se rendre compte que quelque chose mijote sous leur surface collective. Quel est ce truc? Peut-être c'est quelque chose né d'un chalet isolé rempli d'un brouillard de fumée émanant de partout sauf de la cheminée. Vous pouvez le sentir se répandre dans les mélodies sublimes, comme par exemple, dans la chanson « Fluorescent ». C'est peut-être la brume du Superstack s'écoulant son chemin dans les bars miteux qui sème la pagaille pendant que les musiciens joues, transformant les crochets ridiculement entraînants et les crescendos de sons passés. Une chose que vous pouvez compter, c'est la précision avec laquelle ce jeu d'échecs d'un album qui va réussir à attraper votre oreille, et la garder! Café?

The Almighty Rhombus – Fluorescent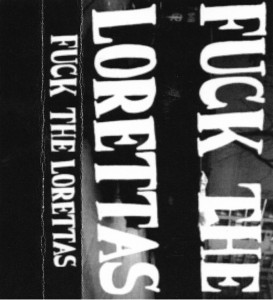 The Lorettas
Fuck The Lorettas
(Self Released)
Winnipeg, MB // Toronto, ON
From the clutch pencil of Josh Silver:
Grimy guitars drone to distorted drums while vocals squeal against overloaded mic circuits; this is unrestricted expression born in the bedroom studio of Erica Young. Her first release as the Lorettas embodies the DIY punk ethos of spontaneous creation, using only a four-track, her hands, feet, mouth and attitude. The product of this endeavour is a hard-hitting album that speaks for itself. Ready your ears, turn it up to 11, and smash the system.
Du pousse-mine de Josh Silver:
(Traduit par Jan Karza)
Des guitares sales planent au-dessus des batteries ronflées pendant que les voix crissent à travers des circuits de micros surchargés : ceci est une expression libre qui est née dans le studio d'Erica Young. Son premier disque en tant que The Lorettas évoque l'esprit DIY punk de la création spontanée, utilisant juste un enregistreur 4 pistes, ses mains, ses pieds, sa bouche et son attitude. Le produit de cet effort est un album percutant qui parle pour lui-même. Prépare tes oreilles, monte le son jusqu'à 11, et fracasse le système.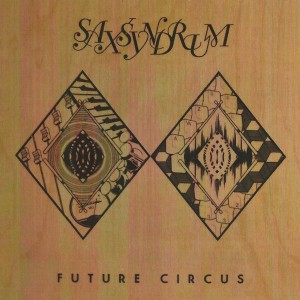 Saxsyndrum
Future Circus
(Self Released)
Montréal, QC
From the all night discotheque of Matt Lazenby:
Saxsyndrum have created a collection of electro-jazz bangers that would be equally at home on a packed dance floor as they would providing the soundtrack to your journey home in the wee hours. For this album, Nick Schofield (drums and synth) and David Switchenko (tenor sax) have enlisted a wealth of Montreal stalwarts such as Sea Oleena, Holobody and Akua Carson to provide lush vocal textures over their signature onslaught. But what makes Future Circus jump isn't just the duo's drive, it's the melodic intricacies mixed so seamlessly within the grooves. This is ever-present in tracks such as "Heartstrings" and "Yoyo Wah", walking the tightrope between full-on dance music and dreamy atmospherics.
De la traversée nocturne à la discothèque de Matt Lazenby:
(Traduit par la course diurne d'Aliké Harel)
Saxsyndrum a créé un album d'électro-jazz rythmé qui convient autant à une piste de danse pleine à craquer à la maison que dans la voiture sur la route du retour aux petites heures du matin. Pour cet album, Nick Schofield (batterie et synthé) et David Switchenko (saxophone ténor) se sont entourés d'inconditionnels de la scène montréalaise, tels que Sea Oleena, Holobody et Akua Carson pour donner une texture vocale riche à leur déchaînement consacré. Le duo ne se démarque pas seulement par l'énergie insufflée à Future Circus; en plus, le détail des mélodies s'harmonise sans heurts au groove. Délice des plus palpables sur les pistes comme « Heartstrings » et « Yoyo Wah », où les artistes jouent aux funambules entre la musique dance à fond la caisse et l'ambiance onirique.

Saxsyndrum – Heartstrings (feat. Holobody)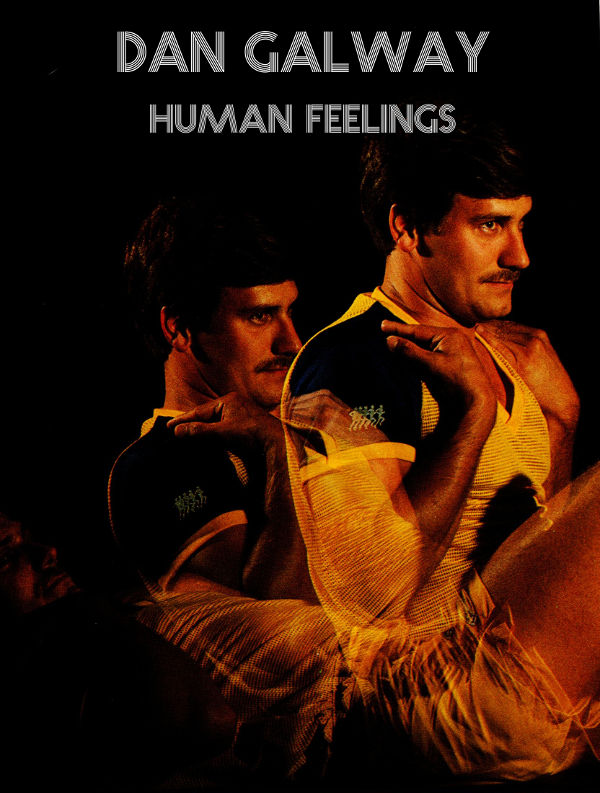 Dan Galway
Human Feelings
(Self Released)
Iqaluit, NU
From the stunned phasers of Eric Rumble:
Submerged. A yawp from the deep, bubbling up to tundra. Time-lapse low tones and light tracers that liquefy the day under cover of night. A droning from the planet's tipping point, coloured by the murky daydream of some suburban gymnasium slow dance.
Dan Galway unpacks the space between anxiety and intent – the tricky idea that "being human is difficult because we have to feel" – with the riddled atmospherics of his remote outpost: a single bulb in an uncluttered room; his stored motorbike's dormant heat; sled dogs howling at the abyss of snow and sky outside; trans-zen-dental single notes and strong cadences decoded through a pair of headphones; his family sleeping down the hall. Galway says his four-month-old likes watching the computer screen but is startled by loud noises, "so he is a harsh critic."
The Iqaluit-based artist gives the scoop on his song titles and what they grapple with.
This song is one of Galway's favourites and the CD-R's title track because it speaks to the prevailing theme of his music: the complexity of emotions. "Human interaction is difficult. We are unable to express ourselves save for a setting in which that is implied. This is resolved by being honest to ourselves and others."
Galway: "This track speaks to the inherent tension within true happiness. The dissonant low tones sound both in opposition to and in harmony with each other. Feeling truly happy is a miracle, but it is not free from self doubt and anxiety."
"Music is a natural process for me – I generally build on an idea I have in my head for how I want a track to flow. This track, like a lot of my music, is based on the layering and manipulation of repetitive rhythms and melodies. At what point does this no longer challenge the listener? Is that the purpose of this music? If it isn't, then what is? This must be something all creative types feel – the nagging idea that what you produce is not special, merely mediocre."
The "slow, lumbering and uncomfortable" jam set against a 7/8 beat that repped Nunavut on the Wyrd Distro coast-to-coast-to-coast launch comp cassette. Galway calls it an experiment with "the juxtaposition of what we say versus how we really feel. Behind the facade we are people who may never truly know each other. The reason this is so troubling is because we need to exist outside of ourselves. But how well can we really know anyone?"
Des lasers stupéfiés d'Eric Rumble:
(Traduit par l'incapacité de Vincent Rondeau à traduire des jeux de mots)
Submersion. Un gémissement venu des profondeurs bouillonne dans la toundra. Des basses en accéléré, des traînées de lumière qui liquéfient le jour à la faveur de l'obscurité. Un ronflement issu du pivot de la planète, coloré par la fantaisie glauque d'un slow de gymnase en banlieue.
Dan Galway déploie l'espace entre l'angoisse et l'intention, l'idée retorse selon laquelle « être humain, c'est difficile parce qu'il faut tout ressentir », à l'aide des atmosphères déchirées de son emplacement reculé : une ampoule seule dans une pièce épurée, la tiédeur latente de sa moto rangée, le jappement des chiens de traîneau dans l'abîme de neige et de ciel, des cadences fortes et des notes solitaires transcendantales décodées par une paire d'écouteurs, sa famille endormie au bout du couloir. Galway mentionne que son fils de quatre mois aime regarder l'écran de l'ordinateur mais que les bruits forts l'effraient : « c'est un critique impitoyable ».
L'artiste et résident d'Iqaluit nous explique les titres de ses chansons et leur signification.

"Human Feelings" (« Sentiments humains »)
C'est une des chansons favorites de Galway et la chanson-titre du CD-R parce qu'elle traite du thème principal de sa musique : la complexité des émotions. « L'interaction entre êtres humains est difficile. On est incapable de s'exprimer en dehors de certains contextes où cette difficulté est sous-entendue. La solution, c'est d'être honnête avec nous-mêmes et avec les autres ».

"Latest Triumphs" (« Triomphes récents »)
Galway : « Cette pièce parle de la tension inhérente au vrai bonheur. Les basses dissonantes sonnent à la fois en opposition et en harmonie entre elles. Le sentiment du bonheur réel est un miracle, mais il ne nous libère ni du doute que l'on ressent à propos de soi ni de l'angoisse ».
« Pour moi, la musique est un processus naturel. D'habitude, je commence à partir d'une idée générale du mouvement de la pièce. Celle-ci, comme plusieurs de mes autres pièces, manipule des mélodies et des rythmes répétitifs et les dispose en couches. Mais jusqu'à quel point est-ce stimulant pour l'auditeur? Est-ce le but de cette musique? Sinon, quel est-il? J'imagine que tous les créateurs ont le même sentiment, la même idée tenace que ce que l'on produit n'est pas spécial, mais médiocre ».

"Real Talk" (« Paroles vraies »)
Ce morceau « lent, lourd et inconfortable » sur un rythme en 7/8 a représenté le Nunavut sur la cassette compilation du lancement de la Wyrd Distro aux quatre coins du pays. Pour Galway, c'est une expérience qui joue avec « la juxtaposition de ce que l'on dit et de ce que l'on ressent vraiment. Derrière la façade, nous ne nous connaîtrons peut-être jamais réellement. C'est troublant parce qu'on ressent le besoin d'exister hors de nous-mêmes, mais à quel point peut-on vraiment connaître qui que ce soit? ».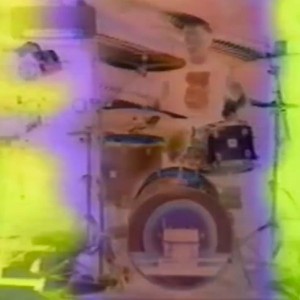 Shooting Guns
"No Fans"
(Directed by Tyler Baptist)
Saskatoon, SK
From the kaleidoscope eyes of Doreen Girard:
Inspired by '80s public access variety TV, Saskatoon's Tyler Baptist hatches a kaleidoscopic Beat Club-style video out of middle Canada's favourite psych-rock pentangle's anti-hit, "No Fans." Things get hammy with a generous use of greenscreen, broadcast switcher and video feedback overlay effects. Not to mention a prototypically listless introduction from the glacial host and actual news footage from the Martensville, SK Satanic ritual abuse daycare scandal, for which the album is named.
Des yeux kaléidoscopiques de Doreen Girard:
(Traduit par LL Francus)
Inspiré par la télévision communautaire de variétés des années 80s, Tyler Baptist de Saskatoon accouche d'une vidéo kaléidoscopique dans le style « Beat Club » pour l'anti-succès « No Fans » du pentagramme psych-rock favori du Canada central. Le ton devient théâtral avec l'utilisation généreuse d'un fond vert, d'un mélangeur vidéo et des effets de rétroaction-superposition. Sans compter l'introduction prototypiquement indifférente par une animatrice glaciale, accompagnée d'images réelles d'un reportage sur le scandale des abus rituels sataniques dans une garderie de Martensville (SK), d'où le titre de l'album.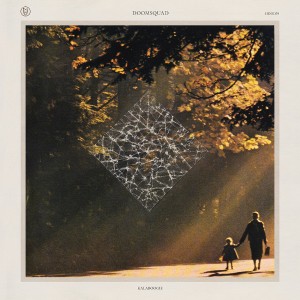 Doomsquad
Kalaboogie
Toronto, ON // Montréal, QC
From the heard terminus of Adam Bradley:
Born from the marriage of Moon and Crocodile, they emerge fully formed from the holy soil of eroded aeons. The bones of all beings rattle, their cells vibrating, muscles trembling. Skies heathered dark, lighting explodes across the earth as these three beings, contrived of the same infinite blood, rise higher, higher. Six iridescent eyes penetrate the minds of every man, woman, child. Their mouths move in union, with words heard heavily and forever: "Hear. The Terminus Approaches. So Now. Dance."
Du terminus entendu d'Adam Bradley:
(Traduit par Vincent Rondeau)
Nés de la rencontre de la lune et du crocodile, ils jaillissent à l'état adulte hors du sol sanctifié des éternités corrompues. Chaque créature sent ses os tressaillir, ses cellules vibrer, ses muscles trembler. Sous la bruyère sombre des cieux, une explosion d'éclairs parcourt la terre et ces trois êtres, engendrés du même sang infini, s'élèvent toujours plus haut. Six yeux irisés pénètrent l'esprit de chaque homme, femme et enfant. Leurs bouches prononcent à l'unisson ces mots, qui résonnent pesamment et perpétuellement : « Hear. The Terminus Approaches. So Now. Dance. » (« Entendez. Le terminus approche. Alors maintenant. Dansez. »)

Doomsquad – Head Spirit (for our Mechanical Time)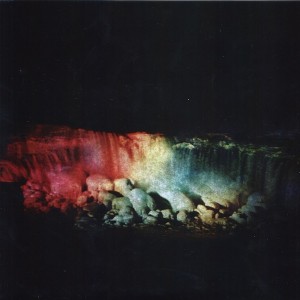 The Lad Mags
Trick
(Self Released)
Edmonton, AB
From the trickbag of Jibril Yassin:
The Lad Mags have always commandeered a dirty streak, but they've never sounded more in control of their otherworldly abilities, conjuring up fierce sound waves of soul-indebted scuzz rock . A-side "Trick" seems beamed from an alternate universe directly to the dark corners of your cerebral cortex with its sweet harmonies, lyrics of caustic kiss-offs, and indelible organ liftoffs. Yet b-side "You Stole My Mind" takes a different route entirely. Opting for an afterhours vibe, it's a sonic invitation taking you into a groovy ghoulie bash. Dig in, but take heed!
De la poche à malice de Jibril Yassin:
(Traduit lors d'une fête macabre par Hugo Hyart)
The Lad Mags font de la grosse musique sale depuis toujours, mais ils n'ont jamais été aussi en contrôle de leur capacités surnaturelles, invoquant des oscillations rock scuzz imprégnées de soul. La face A « Trick » semble rayonner d'un univers alternatif directement vers les coins sombres de ton cortex cérébral avec ses douces harmonies, ses paroles d'adieux caustiques et ses orgues indélébiles planants. La face B « You Stole My Mind » prend une direction complètement différente. Optant pour une ambiance de fin de soirée, on te lance une invitation sonore à une fête macabre qui groove. Bon appétit, mais fais gaffe!
---