Category: New Canadiana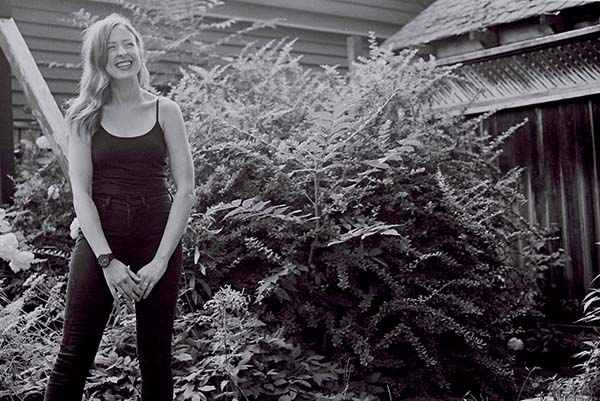 Ephemera of: Brooke Manning
Existing during the recording of: LOOM's Epyllion
Toronto, ON
Photos by: Brad Casey
From Brad Casey:
There is something incredibly delicate at the core of the music made by LOOM, like the ache that follows falling in love or the floating feeling of falling out of it. Brooke Manning, who is the main songwriter and driving force of LOOM, released a quiet, swirling EP in 2009. It was recorded in her living room with Thom Gill as well as Dan and Matt Pencer who improvised behind the songs on subtle, sweet keyboards and horns. A meditative collection with a strong focus on songwriting, it laid the foundation for what would become her full length, Epyllion, recorded on Toronto Islands. Made up of new songs and reworked songs from her EP, Epyllion featured a heavier, darker side of LOOM brought out with tunnel-reverb harps, frightening, distortion soaked synths and, at times, war-like percussion. Since Epyllion's release LOOM has expanded into a backing band with members of Silver Pools and Gates to work on a follow up. LOOM's words, her slow ease into a vibe, create a settling. Sit and breathe.
Weird Canada asked Brooke to show us objects that she holds sacred. She allowed us into her Toronto home and showed us things nostalgic, painful and held dear, all of which contribute to the words and music made by her slow and gentle hand.
Feel free to listen to these two songs from Epyllion as you view these photos. All words were dictated by Brooke, recorded and transcribed by Brad Casey.
Loom – There is Blood in My Body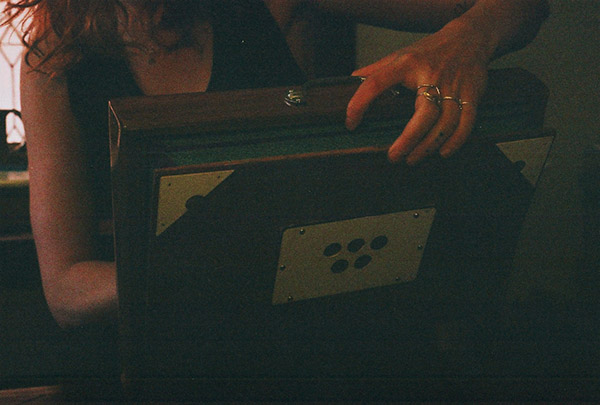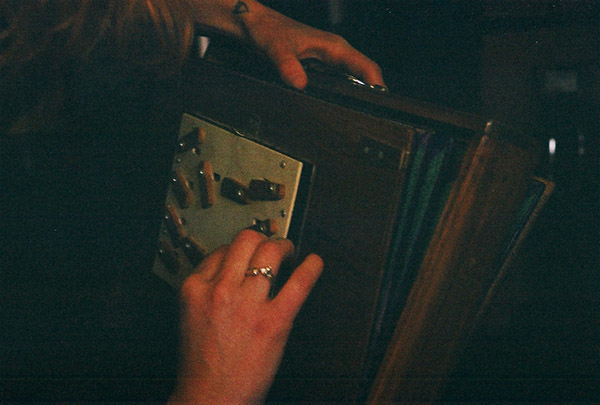 Shruti box
Sometimes if I'm feeling a block I sit with this for a while. It's like a drone machine. I bought it at the Musideum in the Richmond building back in 2008. A friend also gave me another one in different key 5 months ago. I find them really nice to sing to.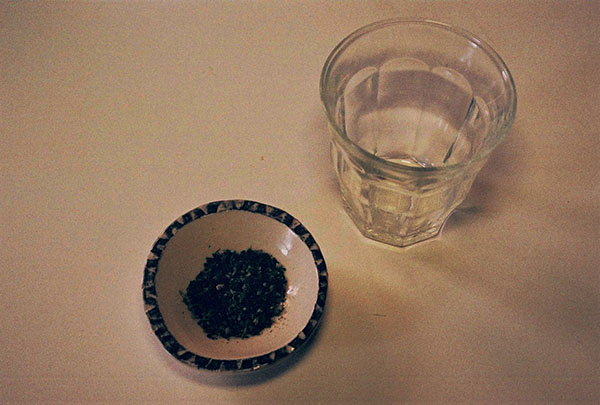 Uninhibitors
When I'm writing, if I feel nervous, I have some smokables and some wine. I don't have any wine right now but I drink it out of this cup.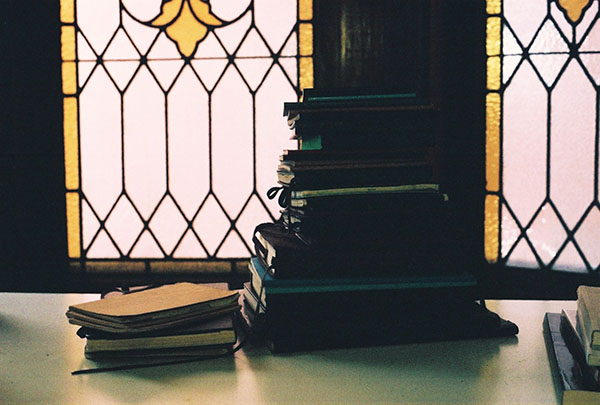 Journals
If I'm having problems lyrically, which rarely happens, I flip through old journals and old books of poetry that I wrote. I try to channel what's happening in that moment but sometimes if I'm wishing to speak about a certain moment or thing or cause or idea and I can't get there I'll go to my books.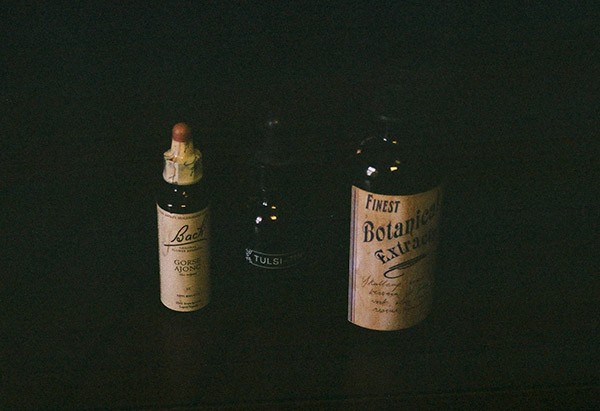 Tinctures
Sometimes my anxiety gets in the way. It used to more when I was younger. I had a hard time performing knowing that someone was in my house, like my Mom or roommates, so I'd cloister myself in small spaces. Now things are better but when my anxiety comes back I take these tinctures and I swear they work. I know this older woman, she's this amazing mystic, she makes this tulsi tincture for women.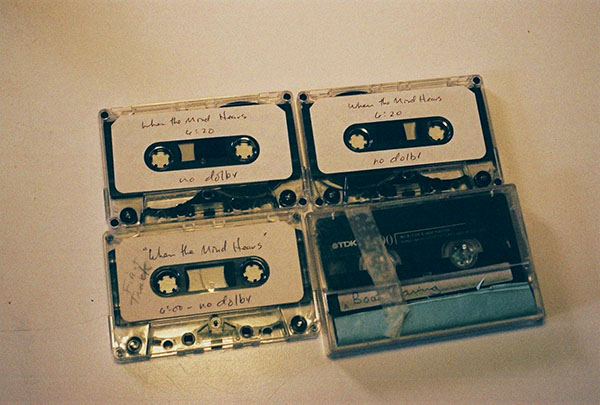 Deaf Recordings
A teacher of mine gave me these tapes. They're recordings of her daughter, who is deaf, just being around the house playing. They were part of a project she did and she thought I could use these. I grew up around a lot of deaf people because my parents worked at a school for the deaf. I went to kindergarten with a lot of deaf kids. I feel like there's a different, more mindful way of listening to them. I use these tapes for inspiration. It's good to hear that sense of silence when you're trying to create something with sound.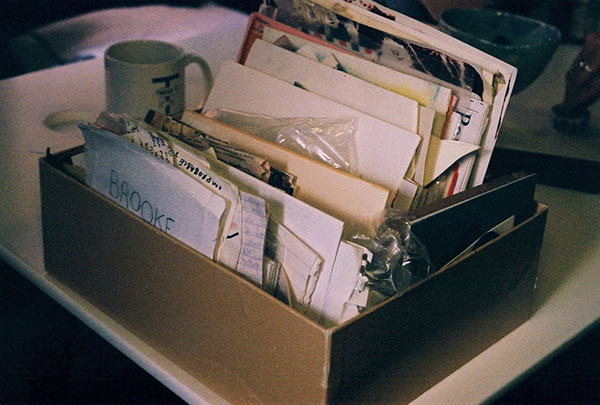 Love Letters
This is a box of notes from friends, family, lovers and people who have deeply influenced me. Sometimes I look through it but very rarely.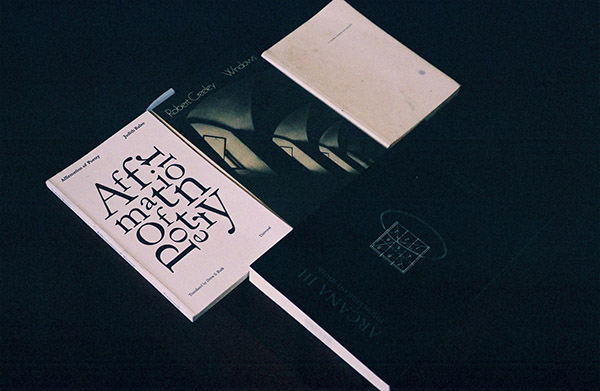 Books
These are my favourite books. Sometimes I open it up and read a page and try to place myself on that page, with the idea. I try to envision what's written about and it sets the tone for awareness in my body. It's a great thing for visualizing.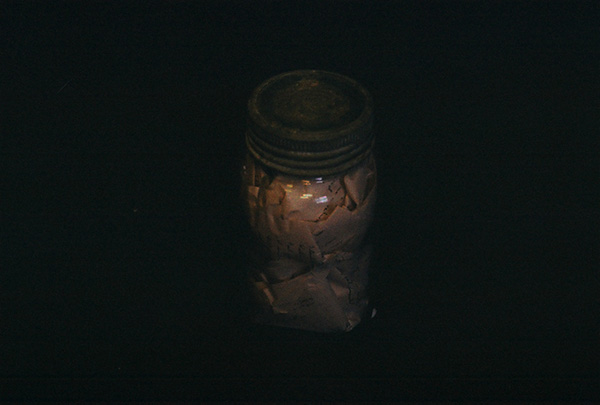 Jar of Souls
This is something I've had since I started playing and I'd bring it to shows. I did this funny project where I'd ask people if they could imagine their soul as something in a vessel, what would it be? I put an ad on craigslist and I got people to send them to me, these pieces of paper, and held them for a year and cared for them. I was never allowed to open the vessels because the vessels would release the soul. I've never opened it.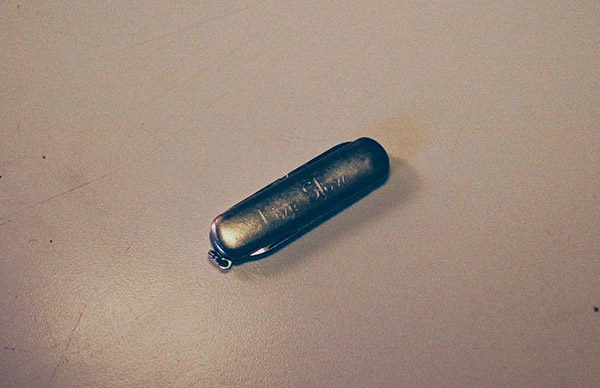 Live Slow Knife
This was my Grandpa's. Right before he died he was watching boats and I think he knew he was going to pass away. There a boat that kept travelling back and forth past the harbour and he would call me whenever he saw it and on the back it said 'Live Slow.' We had a lot of conversations then about what it meant to live slow and how he wished he had lived slower. Sometimes I lose it but it always gets sent back to me.
De Brad Casey:
(Traduit par Chantale Renée)
Il y a quelque chose d'incroyablement délicat au cœur de la musique de LOOM, comme la douleur qui suit le sentiment de tomber en amour ou la sensation de flottement lorsqu'on ne l'est plus. Brooke Manning, compositrice et force motrice de LOOM, a publié un EP calme et tourbillonnant en 2009. Il a été enregistré dans son salon avec Thom Gill ainsi que Dan et Matt Pencer, qui ont improvisé derrière les chansons avec des claviers subtiles et de douces cornes. Une collection méditative avec un fort accent mis sur ​​l'écriture, il a jeté les bases de ce qui allait devenir son album, Epyllion, enregistré sur les îles de Toronto. En constituant de nouvelles chansons et des chansons retravaillées de son EP, Epyllion présente un côté plus lourd et sombre que LOOM, avec des réverbérations de harpes, des synthés imbibés de distorsion, et, parfois, des percussions aussi effrayantes que la guerre. Depuis la sortie d'Epyllion, LOOM est devenu un back up band avec des membres de Silver Pools et Gates pour travailler sur un autre album. Les mots de LOOM, ainsi que sa facilité à créer une atmosphère, vous convient de vous Asseoir et de Respirer.
Weird Canada a demandé à Brooke de nous montrer des objets qui lui sont sacrés. Elle nous a permis de la rencontrer dans sa maison de Toronto et nous a presenté des choses qui pour elle sont nostalgiques et douloureuses, des objets qui lui tiennent à cœur et qui contribuent aux paroles et à la musique établi par sa tendresse.
N'hésitez pas à écouter les deux chansons de Epyllion pendant que vous regardez ces photos. Ce texte a été dicté par Brooke, et enregistré et transcrit par Brad Casey.
Boite Shruti
Parfois, si je me sens comme un bloc, je m'assois avec ça pour un moment . C'est comme une machine de drone. Je l'ai acheté au Musideum dans le bâtiment Richmond en 2008. Un ami m'en a aussi donné un autre, il y a cinq mois. Ils sont vraiment agréables à utiliser en chantant.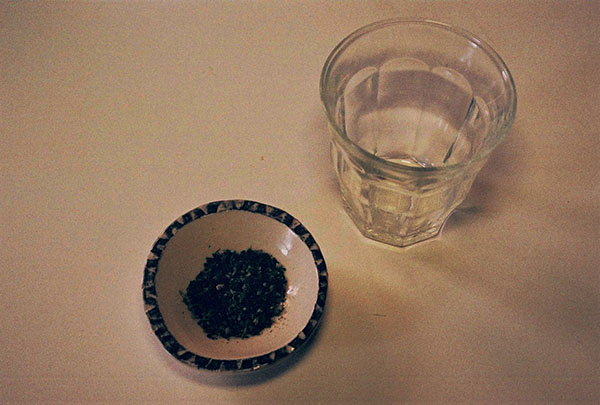 Uninhibitors
Quand j'écris, si je me sens nerveuse, je fume quelques cigarettes et bois du vin. Je n'ai pas de vin en ce moment, mais je le bois de cette tasse.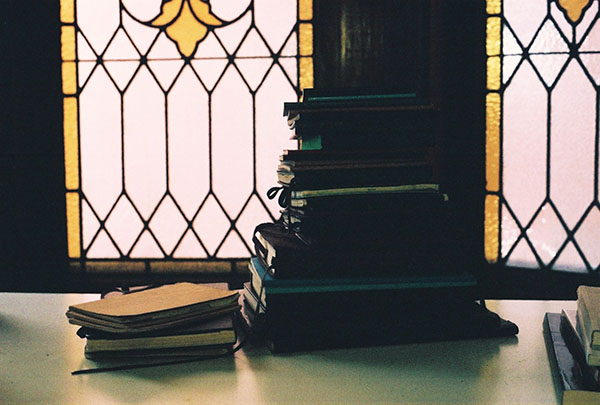 Journals
Si j'ai des problèmes à trouver des paroles, ce qui arrive rarement, je feuillette mes anciens journaux et vieux livres de poésie. J'essaie de canaliser ce qui se passe dans ce moment précis, mais parfois si je désire parler d'un certain moment, d'un objet, d'une cause ou d'une idée et que je ne peux pas y arriver, je retourne à mes livres.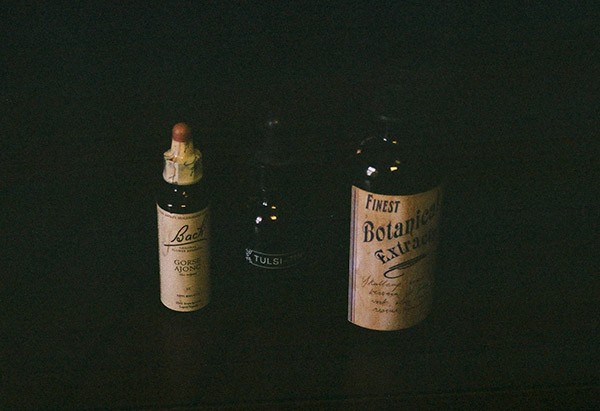 Tinctures
Parfois, mon anxiété prend trop de place. Elle était souvent présente quand j'étais plus jeune. C'était difficile de pratiquer sachant que quelqu'un était dans la maison, soit ma mère ou mes colocataires, donc je me cloitrais dans des petites espaces. Maintenant, les choses vont mieux, mais quand mon anxiété fait surface, je prends ces teintures et je jure qu'elles fonctionnent. Je connais une femme plus âgée, elle est incroyable et mystique, elle fabrique cette teinture Tulsi pour les femmes.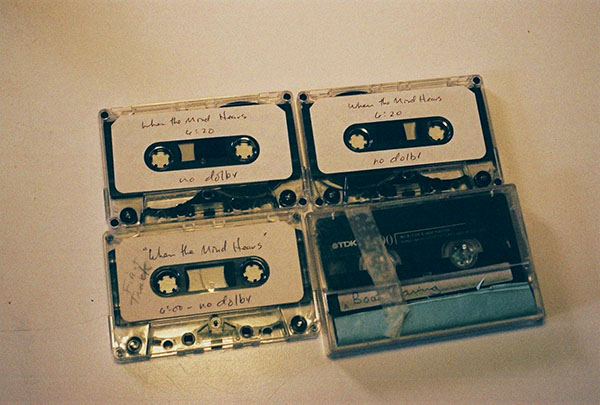 Deaf Recordings
Ceci appartenait à mon grand-père. Juste avant sa mort, il regardait attentivement des bateaux et j'imagine qu'il se doutait que sa vie s'achevait. Il y avait un bateau en particulier qui passait souvent dans le port. À l'arrière du bateau, on pouvait lire les mots "Vivez Lentement". Nous avons eu beaucoup de discussions à ce sujet, car mon grand-père souhaitait avoir pris plus son temps pour vivre. Parfois, je perds cet objet, mais il me revient toujours de nouveau.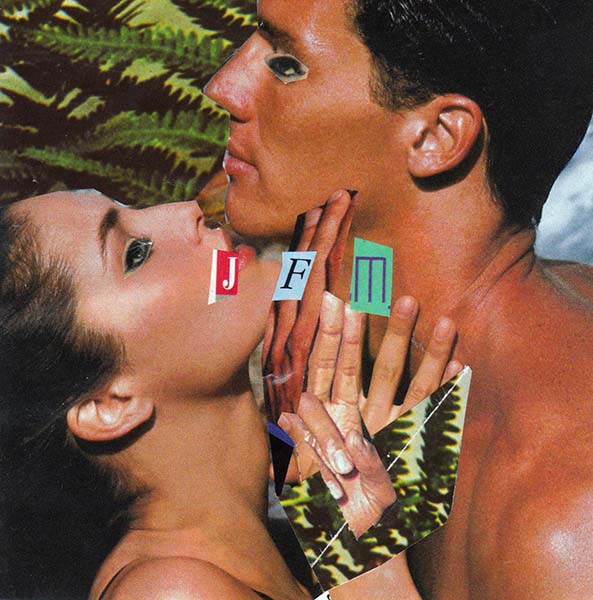 From the cloaked time of Jesse Locke:
On his second release of 2014, Maritime wavejumper Jesse Frank Matthews stretches bugged-out beatscapes into new shapes of fractured FX expressionism. From the hop 'n' bounce of "101 Dimensions" to the warbling dreams of "Flesh It Out" to the flickering flutes and ragga rhythms of "Fall Asleep With Candles Lit", Moult serves up a JFM buffet. At its core, "Eeenuff" delivers a tribute to an early inspiration with sorrowful strings bumped up to dance far beyond curfew.
Du temps voilé de Jesse Locke:
(Traduit par Jessica Grenier)
Sur son deuxième album sorti en 2014, lewavejumper maritime Jesse Frank Matthews étire des paysages rythmés délirants pour en faire de nouvelles formes fracturées d'effets expressionnistes. Des bonds de « 101 Dimensions » aux rêves gazouillants de « Flesh It Out » en passant par les flutes défaillantes et les ragga-rythmes de « Fall Asleep With Candles Lit », Moult de JFM est un véritable buffet. La pièce centrale, « Eeenuff », rend hommage à une de ses premières influences avec des cordes mélancoliques de plus en plus intenses, prêtes à danser bien plus tard que le couvre-feu.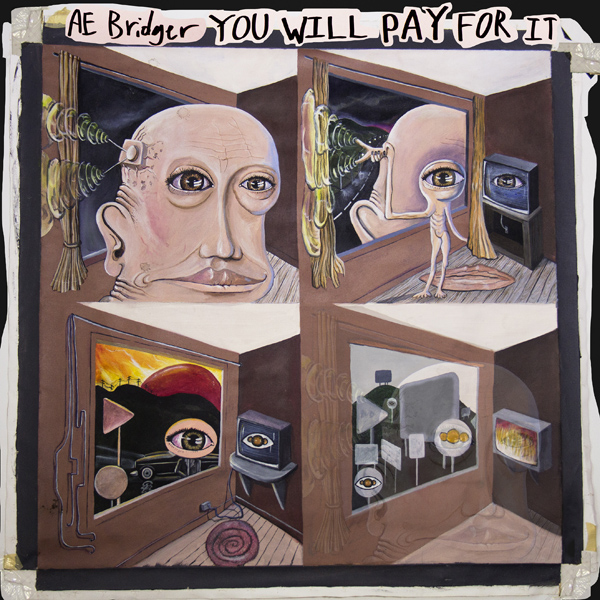 AE Bridger
You Will Pay For It
(Self Released)
Montreal, QC
From the steeping goji berry mind of つづく:
AE Bridger. In a Canada without DD/MM/YYYY – where the Mars Volta is now a faded dream – one insane Montréal-via-Newfoundland force has crafted wildly mind-bending craze-rock. This is soul music for someone who grew up in small Canadian towns believing in the love stories wrote by Tera Melos, listening to At the Drive-In and heavy/destructo/surf/salsa breakdowns. Can you glean the subtle Unicorn hints? These are the songs of my childhood.
De l'esprit imbibé de baie de goji d'つづく:
(Traduit par l'élastique de pouliche de Jessica Grenier)
AE Bridger : dans un Canada sans DD/MM/YYYY – et où Mars Volta n'est plus qu'un vieux rêve – une force démente de Montréal via Terre-Neuve a créé un phénomène rock incroyablement hallucinant. C'est de la musique soul pour ceux ayant grandi dans une petite ville canadienne en croyant aux histoires d'amour de Tera Melos et en écoutant du At the Drive-In et des sautages de coche de style lourd/destructeur/surf/salsa. Sens-tu les subtils effluves de licornes? Ce sont les chansons de mon enfance.
AE Bridger – E.L.I.P.S.I.S. ("Two Birds, One Stone!")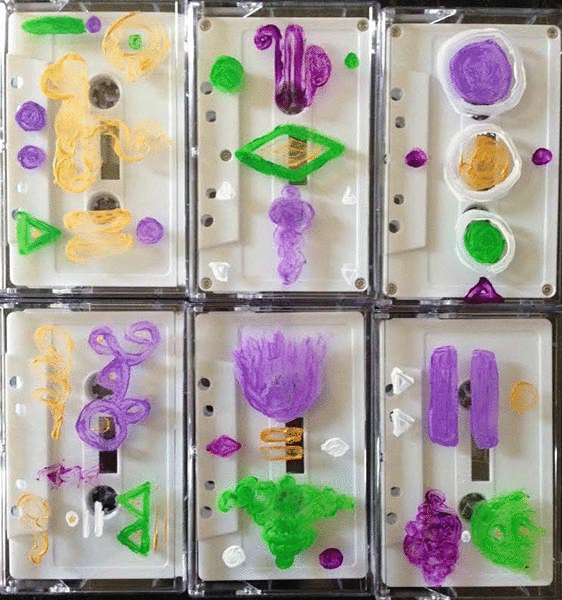 Matthew 'Doc' Dunn
Dance Me to the Light // Inner World Blues // The Floating Realm
(Cosmic Range // Medusa Editions)
Toronto, ON
From the expanding head of Kevin Hainey:
A trilogy of new tapes from the ever-present psychedelic fingers of Matthew "Doc" Dunn comes on strong in follow-up to the All Is LP. Released by the kind courtesy of his own Cosmic Range and soul brother #1 Ayal Senior's Medusa Editions, these six suite-like sides flow through the expanding channels of Dunn's endless rivers of psychedelic altruism, freaked out electronic primitivism, soulful lonesome folk, and spirit jazz grooving. A multi-instrumentalist at the top of his game, this trilogy expands on the promise his All Is and Tecumseh LPs demonstrated, and presents an elaborate auditory glimpse into the mindful capabilities of this alarmingly talented and worthy sonic journeyman. May these tapes fuel Dunn's growing legend as a radical at the forefront of Canada's underground like a gallon of gasoline on a campfire.
De la tête en expansion de Kevin Hainey:
(Traduit par Jessica Grenier)
Les doigts psychédéliques de l'éternel Matthew « Doc » Dunn reviennent en force avec une trilogie de cassettes faisant suite à All Is LP. Ces six côté continus, une gracieuseté de Cosmic Range et de son âme frère #1, Medusa Editions de Ayal Senior, suivent les canaux grandissant des rivières infinies de Dunn, passant par un altruisme psychédélique, un primitivisme électronique complètement fou, un folk aérien solitaire et des rythmes spirituels de jazz. Venant d'un multi-instrumentaliste qui n'a plus rien à apprendre, cette trilogie élargit la promesse manifestée dans ses All Is et Tecumseh et laisse apercevoir une parcelle détaillée des capacités conscientes de ce compagnon acoustique dangereusement talentueux. Que ces cassettes alimentent la légende grandissante de Dunn en tant qu'avant-gardiste radical de l'underground canadien, tels des galons de gaz dans un feu de camp.
Matthew 'Doc' Dunn – Dance Me To The Light [side 1]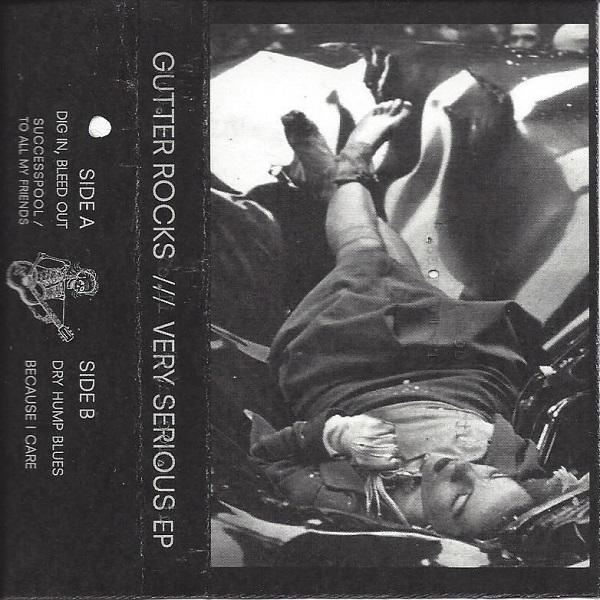 The Gutter Rocks
Very Serious
(Self Released)
Ottawa, ON
The Gutter Rocks – Dig In Bleed Out
The Gutter Rocks – Successpool
Successpool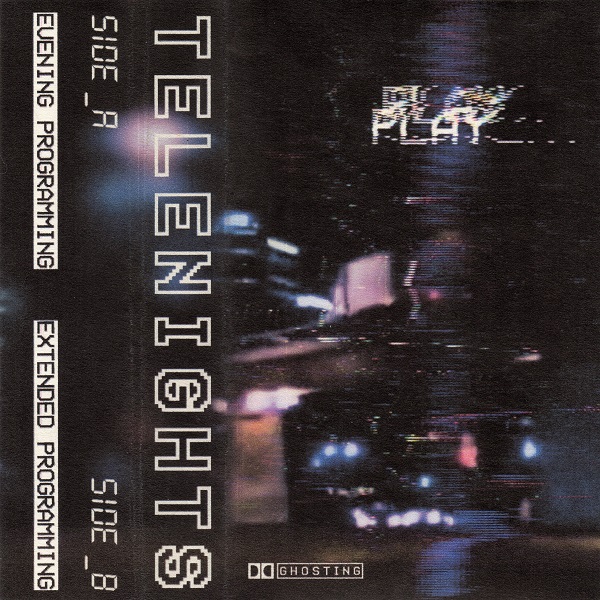 g h o s t i n g
Telenights
Vancouver, BC
From the cheap sales pitch of Mark Gillis:
Memories of late night static transmissions from the television invade your conscious. Your eyes begin to feel heavy, the invasive mantras of cheap salespeople meld with your somnolent brain as reality is engulfed by reverie. A sliver of sunlight cascades over the dim glow of warped reality as the incommodious voices and plastic melodies pry at your consciousness, digging their way to the deepest levels possible. Eventually you rouse from this hypnotic state, the voices stop, there is no static, all of your memories fade into black.
Du baratin publicitaire de Mark Gillis:
(Traduit par l'encyclopédie en 52 tomes de Jessica Grenier)
Un souvenir nocturne de statique provenant de la télévision envahie ton esprit. Tu sens tes paupières s'alourdir, les mantras invasifs de vendeurs à rabais façonnent ton cerveau somnolent alors que la rêverie engloutit la réalité. Un mince rayon de soleil se répand sur la lueur de la réalité tordue à mesure que les voix incommodantes et les mélodies artificielles s'immiscent dans ta conscience, creusant jusqu'à atteindre les niveaux les plus profonds. À un moment tu sors de cet état hypnotique : les voix cessent, il n'y plus de statique, tous tes souvenirs s'évanouissent.
g h o s t i n g – Brought To You By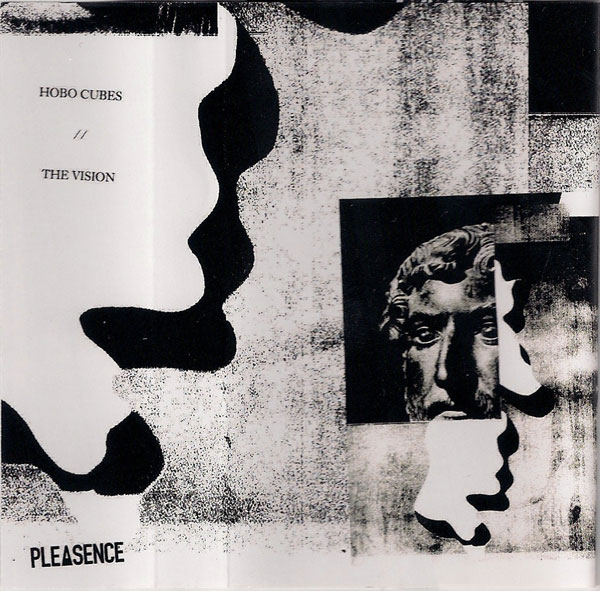 Hobo Cubes
The Vision
Montreal, QC
From the home drone of Josh Silver:
The standard puzzle is made up of a regularized series of pieces. Each piece severed from its greater system takes on a life of its own: a sail fragment becomes a patch of cloudy sky or a ship's mast is mistaken for a window frame. The undulating drones of The Vision construct an assemblage of puzzle pieces, slicing up jazz solos and excess takes to be recombined and morphed. Here a saxophone becomes a sweeping wave of sound and a drum section becomes a mountainous accent breaking through the formal drone-zone patina.
Du drone personnel de Josh Silver:
(Traduit par Jessica Grenier)
Un casse-tête se compose généralement d'une série de pièces de base. Chaque pièce séparée de l'ensemble devient une forme de vie autonome : un fragment de voile peut devenir une parcelle d'un ciel nuageux, ou le mat d'un navire être pris pour le cadre d'une fenêtre. Le drone ondulant de The Vision assemble les pièces d'un casse-tête, sectionnant des solos de jazz pour en refondre/métamorphoser les excès. Ici, un saxophone devient une vague de son déferlante, une batterie, un accent colossal défonçant la surface de la drone-zone.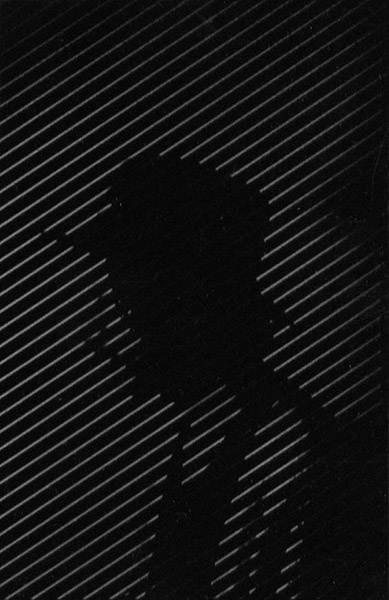 Hobo Cubes
Untitled C.90
Montréal, QC
From the formless perception of Jonathan Park:
Our headmaster dwells in a cement palace called Sewer Club. Bugs crack through our toes as we are sent to the meeting point. Dripping pipes scratch our fetish of morbidity and churn our soul. The sullen beats of our rat ancestors become more audible and weave in and out of our sensory perception. Six-foot tall cockroaches are dancing in the middle of the sewer to the bass drum's pulse. Let us be formless in this dark, scum-covered cave once the sacrifice has commenced.
De la perception informe de Jonathan Park:
(Traduit par les antennes de Jessica Grenier)
Notre chef habite un palace de ciment appelé le Sewer Club. Nos orteils écrasent des bestioles en cheminant vers le point de rencontre. Les tuyaux dégoulinants chatouillent nos fétiches morbides et barattent notre âme. Les bêtes solennelles, nos ancêtres rats, se font entendre de plus en plus, ondulant à la limite de notre perception sensorielle. Des coquerelles de six pieds dansent au milieu des égouts, suivant les pulsations de la grosse caisse. Laissons-nous devenir informes, dès que le sacrifice commence, dans cette cave crasseuse et obscure.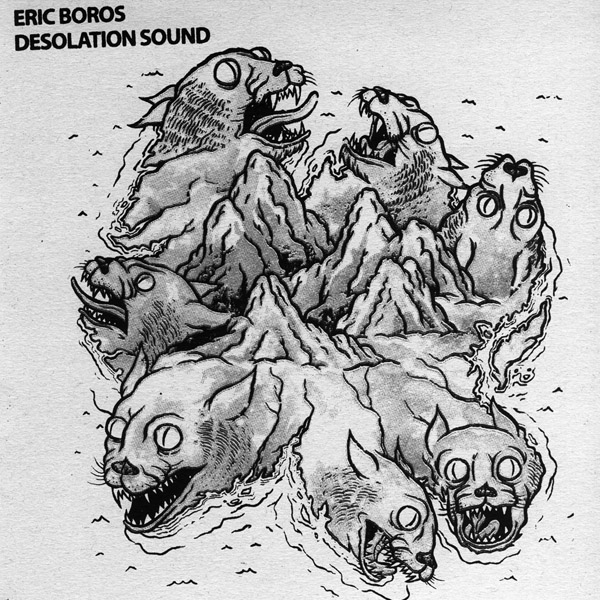 Eric Boros
Desolation Sound
Nanaimo, BC
From the desolate rifles of Joshua Robinson:
Desolation breaks the pitter patter of quiet thoughts from quiet minds. Punk legionnaires with sounds-as-rifles stick it to the overlords with crass wit and sharp retort; pin pricks in the soft cushions of light-headed indulgences. These ramblings breathe ashen flame, decisive in their delivery and impressive in their ability to stir the pot. Take shelter, presiders of force and fame. This one's out to get ya.
Des fusils désespérés de Joshua Robinson:
(Traduit par Jessica Grenier)
Le désespoir interrompt le bruissement des pensées calmes des esprits tranquilles. Ces légionnaires punks attaquent les grands patrons à coup de son-fusil, d'esprit crasse et de répartie cinglante; trous minuscules dans le doux coussin des gâteries étourdies. Ces marmonnements, cracheurs de flammes cendreuses, ont une livraison décisive et une impressionnante facilité à brasser la cage. Que ceux célébrant la force et la reconnaissance se cachent : cet album veut votre peau.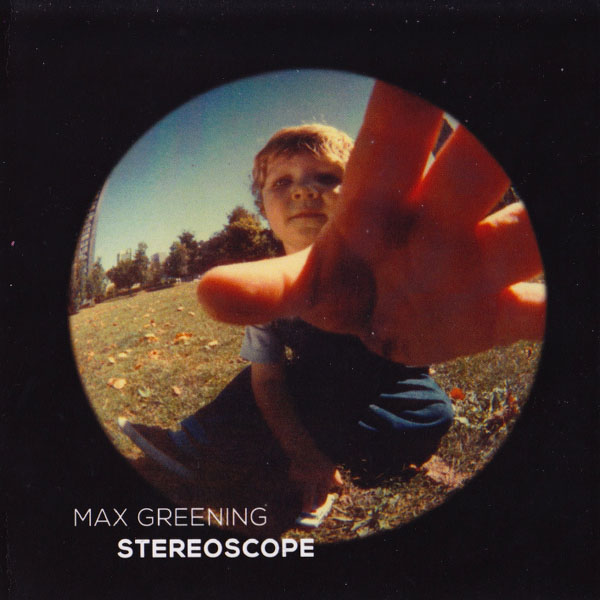 Max Greening
Stereoscope
Vancouver, BC
From the reverberating metallurgy of Jake Bornheimer:
A stone submarine sinking to the depths of the ocean. A pitch black dome with all the sky's constellations laid out upon it. A still pool of water with a single shining coin at the centre. At times it seems like Stereoscope is a film in auditory form. It's a collection of moments, captured in thick rippling sound. Speaking voices arise from the surface of the music, wreathed in crackles and pops. It is at once richly organic & precisely synthetic, with Heckish clouds of static noise revolving stereoscopically around the observer.
Des réverbérations métallurgiques de Jake Bornheimer:
(Traduit par l'insularité frileuse de Marie-Pier Chevrier)
Un paquebot de pierre coulant vers les profondeurs de l'océan. Un dôme noir de jais où s'étend chaque constellation. Une pièce d'or scintillante au coeur d'une flaque d'eau immobile. Stereoscope a des allures de film se prenant pour une chanson. Comme une collection de moments encastrés dans un son épais et houleux. Des dialogues en émergent, couronnés de crépitements et cliquetis. Le tout est à la fois d'un vivant palpable et d'une précision mécanique, avec des nuages de bruit statique à la Hecker en révolution stéréoscopique autour de l'observateur.
Max Greening – Introduction Sun
---