Category: New Canadiana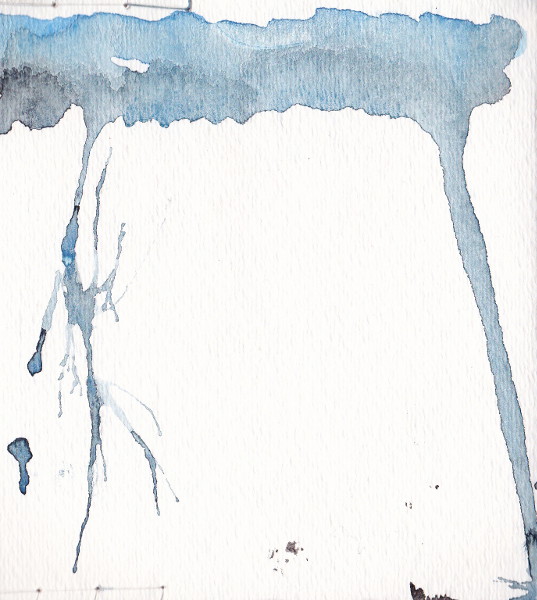 Poler Bear
The Winter At Your Ears
(Self Released)
Saskatoon, SK
From the crystalline nights of Tyler Butler:
Stare out the warm window: the roads are plowed to the pavement and the streetlights shimmer orange across piled up snow. The darting tale of a snowshoe hare is told in bounding tracks across the lawn. The wind howls. The house elicits a terrible shiver; the long-suffering groan of Atlas shaking the shelter's wooden bones. Once, there were no houses here. What a terrible sight this must have been, this wind-burned prairie. Poler Bear – Saskatoon's Josh Robinson – sings to the stillness of the winter night, the diamonds studded in a hard crust of snow, the thin pane of insulated glass.
Des nuits cristallines de Tyler Butler:
(Traduit par les sentiers perdus de Julie Forget)
Regardez par la chaleureuse fenêtre : les routes sont marquées dans la chaussée et les lumières orange des lampadaires scintillent sur les bancs de neige. Le récit précipité d'un lièvre d'Amérique est raconté dans des traces de sauts dans la pelouse. Le vent hurle. La maison provoque un terrible frisson; le gémissement durement éprouvé d'Atlas secouant les os de bois du refuge. Jadis, il n'y avait pas de maisons ici. Quelle terrible vue cela devait être, cette prairie brûlée par le vent. Poler Bear – Josh Robinson, de Saskatoon – chante la tranquillité de la nuit hivernale, les diamants qui parsèment l'épaisse neige, la mince vitre de verre isolant.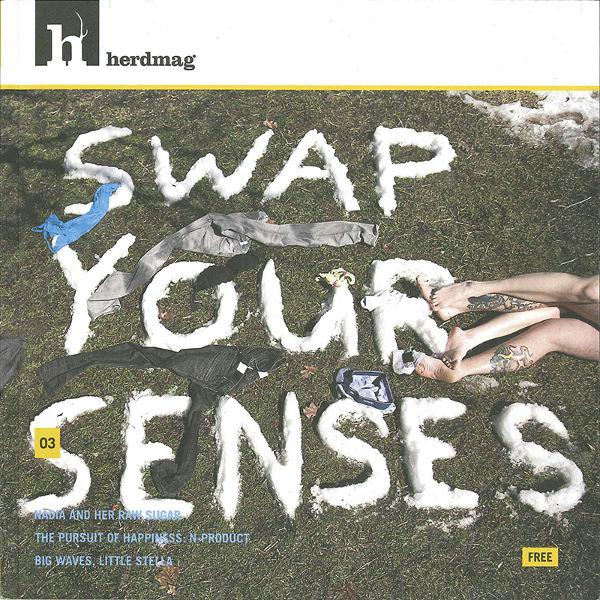 Herd Magazine
Issues 01-03
01: pp. 74 // 02: pp. 82 // 03: pp. 78
glue/adhesive bound
Ottawa, ON
Editor: Stephanie Vicente
From the grassroots of Brian Fauteux:
Communities are built and sustained through documentation, collaboration, participation.
Herdmag, free and published independently on a quarterly basis, begins its inaugural issue with a personal letter that offers itself to the city of Ottawa, its home. Herd is a platform for local cultural institutions, musicians, artists, chefs, and writers to make their presence known. With the turn of each page, the idea that one's creative trajectory must include moving to a larger metropolis (nearby Montreal or Toronto, for instance) is challenged.
"You're not looking hard enough." Here is a vibrant roster of groups and individuals who are making things happen. Locally.
In a gripping story about the closure of a historic downtown nightclub, an onlooker imagines what a typical night during the club's heyday might have been like. Ghosts and figments of the past are recalled alongside the old, discarded carpet that once caught the broken glass of flashbulbs. Herdmag is a collection of these glass shards. Only it is alive and active right now, reflecting, sharing, and documenting cultural activity so that one will never have to wonder about how the city might have looked, sounded, and moved.
Du mouvement Grassroots de Brian Fauteux:
(Traduit par la soif du passé de Louis-Félix Pellerin)
Pour faire rouler une communauté, il faut combiner ces trois choses : documentation, collaboration et participation. Herdmag, un trimestriel indépendant gratuit, ouvre son premier numéro avec une lettre personnelle adressée à sa ville d'origine, Ottawa. Herd est une plateforme sur laquelle des musiciens, des artistes, des chefs cuisiniers, des écrivains et des organismes culturels peuvent se faire connaître. La notion que tout cheminement créatif doit passer par les plus grandes agglomérations (comme Montréal ou Toronto, par exemple) est remise en question à chaque page.
« Tu ne cherches pas assez loin. » Voici un vibrant catalogue d'artistes et de groupes qui font brasser la scène locale. Dans une histoire poignante à propos de la fermeture d'un club du centre-ville, un observateur imagine ce qui devait être une soirée typique lorsque l'établissement était à son apogée. Spectres et bribes du passé sont retrouvés aux côtés du vieux tapis qui a naguère attrapé les fragments d'ampoules cassées. Herdmag est une collection de ces mêmes morceaux de vitre. Contrairement à la vieille bâtisse, le magazine est toujours actif en ce moment, remémorant, partageant et documentant l'activité culturelle pour que personne n'ait plus jamais à se demander de quoi la ville avait l'air dans le temps.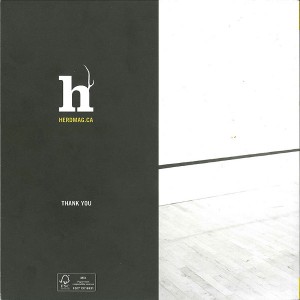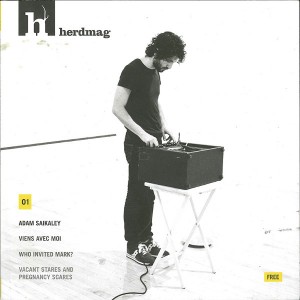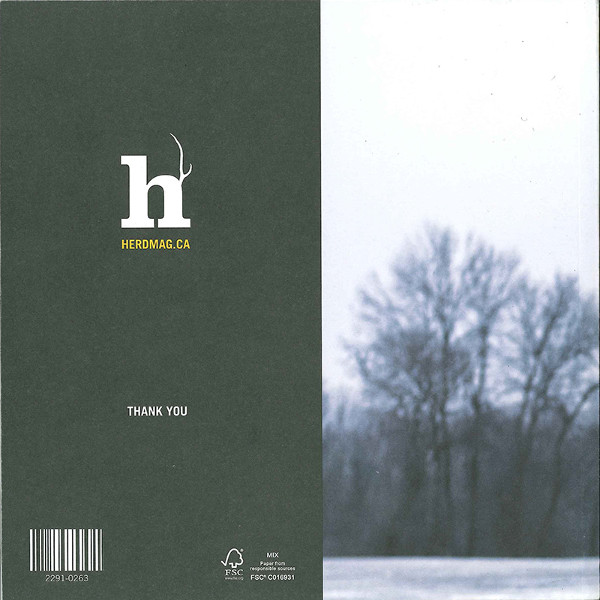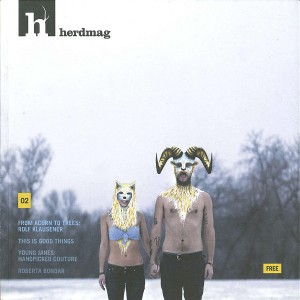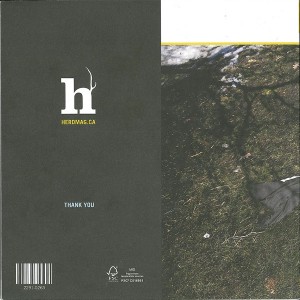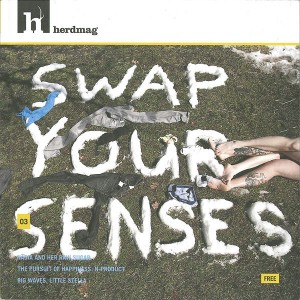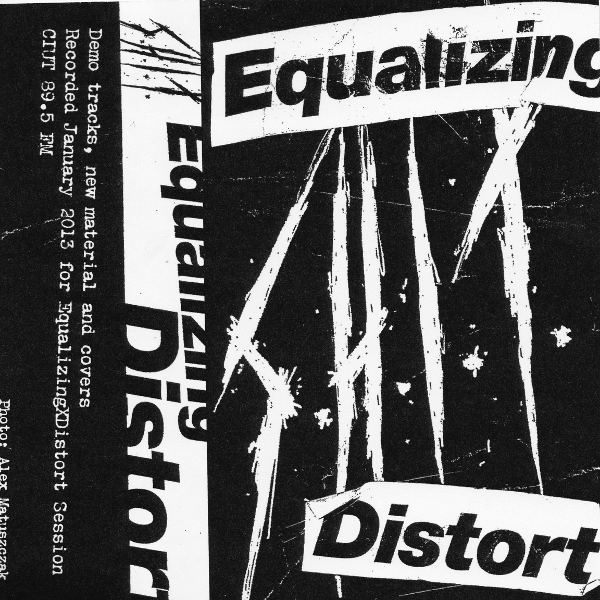 S.H.I.T.
Equalizing Distort Radio Session
(Self Released)
Toronto, ON
From the human kindness of Josh Silver:
In a trance, mechanically moving against other bodies, sweat and blood mixed with intense explosions of energy: the natural habitat of S.H.I.T. These Toronto hardcore punks inject their music with grittiness in a violent explosion of guttural screams and tube-blowing guitars against the backdrop of skin-busting drums and bone-vibrating bass. The songs gain life, with an imitation of the crowd shoving and punching in the sonic mosh pit. S.H.I.T. destroys their own genre and rebuilds it from the bottom up: harder, better, faster, gnarlier.
De la gentillesse humaine de Josh Silver:
(Traduit par la tonalité colorée de Julie Forget)
En transe, bougeant de façon mécanique contre d'autres corps, de la sueur et du sang mélangés à d'intenses explosions d'énergie : tel est l'habitat naturel de S.H.I.T.. Ces punks hardcore de Toronto injectent leur musique de solide détermination dans une explosion violente de cris gutturaux et de guitares soufflant les tubes dans un décor de batterie qui abîme la peau et de basse qui fait vibrer les os. Les chansons prennent vie avec une imitation de la foule qui pousse et qui cogne dans le mosh pit acoustique. S.H.I.T. détruit son propre genre et le reconstruit de fond en comble : plus dur, meilleur, plus rapide, plus exceptionnel.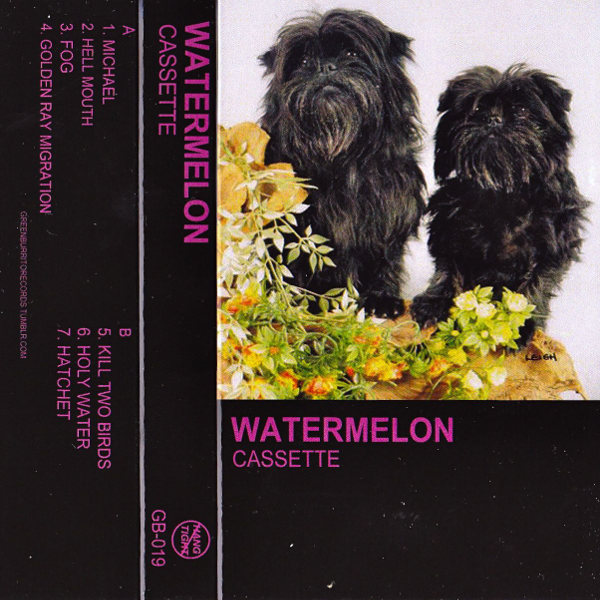 Watermelon
Watermelon
Vancouver, BC
From the golden ray migration of Penny Clark:
Watermelon's self-titled tape absolves like a new day, taking in anxieties and insecurities, then banishing them with an unqualified eyebrow raise. The guitar tone pricks and soothes like icy rain, as skulking basslines tread darkly over rotting leaves. Reverb-drenched vocals drip with stolid apathy towards the manifold bruises that are consequentially human. Steady drums provide an underlying sense of serene optimism, a reliability that signals the continuation of life going on and of you being pretty much okay. Anesthetic music for lovers who don't love anybody and for misanthropes who do. The most Pacific Northwest surf.
De la migration au rayon doré de Penny Clark:
(Traduit par les secrets de Julie Forget)
La cassette éponyme de Watermelon absout comme un nouveau jour en saisissant les angoisses et les insécurités, les chassant ensuite d'un haussement de sourcils sans réserve. Le ton de la guitare perce et apaise comme une pluie glaciale pendant que les lignes de basse discrètes marchent mélancoliquement sur des feuilles en décomposition. Des voix trempées de réverbération ruissellent avec une impassible apathie vers les multiples contusions qui sont donc humaines. La batterie constante procure une impression sous-jacente d'optimisme serein, une fiabilité qui indique que la vie continue et que tu t'en sors plutôt bien. De la musique anesthésiante pour les amoureux qui n'aiment personne et pour les misanthropes qui aiment quelqu'un. Le surf le plus Nord-Ouest Pacifique.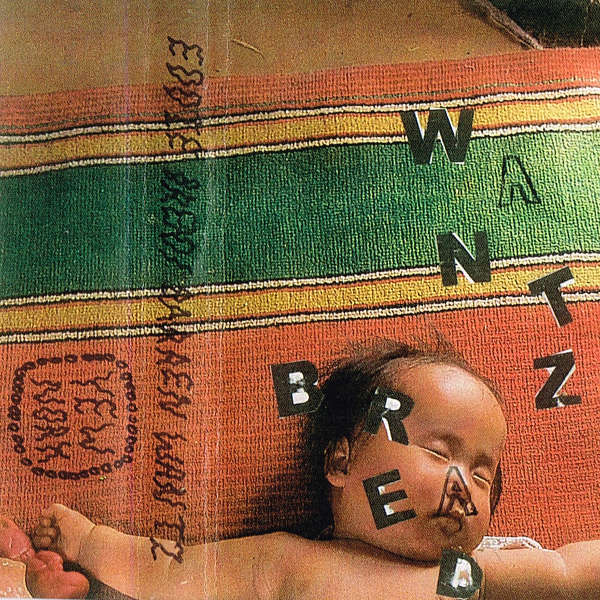 Edie Bread // Darren Wantz
Split Tape
(Yew Nork)
Calgary, AB // Montréal, QC
From the bargain bin of Javier Fuentes:
Frequent collaborators Raff McMahan and Jean Sebastien Audet take turns staring into paisley coloured pastures as they assemble strips of magnetic lysergia. Jean's turn as Darren Wantz plays out under dimmed lights with bargain bin VHS tapes rolling in the background. Memories of summer flash by as we become lost in the disarming melodies. Edie Bread lifts the melancholic mood with a touch of fuzz and a warbling set of hooks that is sure to turn a soft crush into an all out gripper's obsession. Dig in to another golden entry from these two prolific minds.
Du bac de liquidation de Javier Fuentes:
(Traduit par les encouragements méthodiques de Julie Forget)
Les collaborateurs habituels Raff McMahan et Jean Sebastien Audet se relaient pour contempler les pâturages à motifs cachemire en assemblant des bandes de lysergide magnétique. Sous le pseudonyme de Darren Wantz, Jean s'exécute sous les lumières tamisées au son de cassettes VHS en liquidation. Des souvenirs d'été jaillissent alors que nous nous perdons dans les mélodies désarmantes. Edie Bread égaie l'atmosphère mélancolique d'une touche de fuzz et de trilles accrocheuses qui transformeront à coup sûr votre doux béguin en une obsession pure et simple. Laissez-vous entraîner par cette nouvelle proposition en or de ces deux esprits prolifiques.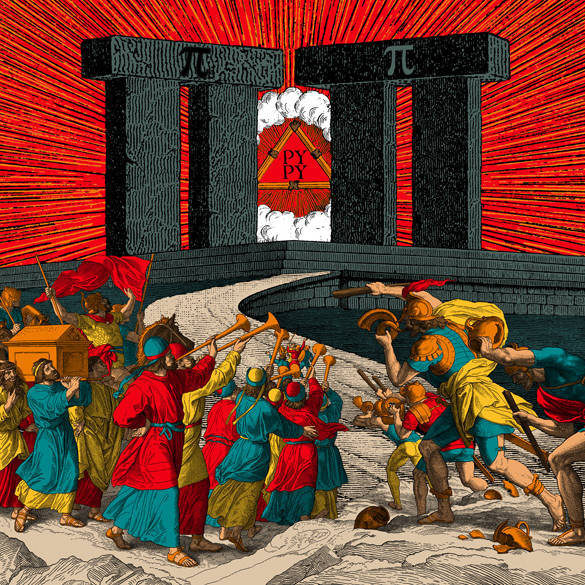 PyPy
Pagan Day
Montréal, QC
From the nuclear puke-sing of Adam Bradley:
The heads of CPC Gangbangs, Red Mass and Duchess Says grow malignant from a monstrous body; shambling, twitching, thrashing. Nuclear bass fallout and psychonaut shredding wrap too-tight around the puke-sing of Annie-Claude Deschênes. 'High'-concept bomber, "Too Much Cocaine" drags us through a strung out night out in real time while "New York" sounds like a flamethrower scorching up a munitions factory. Curdled dance-punk for dirty saints.
Des giclées vocales radioactives d'Adam Bradley:
(Traduit par le dégel de Nicolas Coutlée)
Juchées sur un corps monstrueux, les têtes de CPC Gangbangs, Red Mass et Duchess Says deviennent incontrôlables; l'hydre titube, s'excite, se débat. Retombées de basse radioactive et shreds psychonautiques cernent les giclées vocales d'Annie-Claude Deschênes. Vraie bombe au visage, « Too Much Cocaine » nous fait vivre en temps réel une virée de camé tandis que « New York » pétarade comme un lance-flamme carbonisant un entrepôt de munitions. Dance-punk suri pour saints impurs.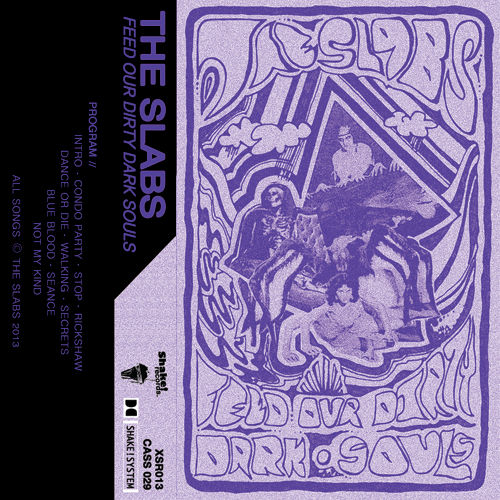 The Slabs
Feed Our Dirty Dark Souls
Calgary, AB
From the coffee-stained mug of Josh Silver:
A sunset stroll down 17th avenue, past condo towers in the East Village. As the Rockies rise in the west above suburban wasteland, something wicked this way comes. The Slabs are a composite, melding diversity of members into something new. This mix of overt, subversive punk and melodic, otherworldly psych-rock leads to a singularly Calgary sound: riff-laden, rough, and uncensored. Feed Our Dirty Dark Souls is then one translation of the city, in all its strangeness and multiplicity, to the ears of the listeners.
De la tasse tachée de café de Josh Silver:
(Traduit par l'énergie de Julie Forget)
Une promenade au coucher du soleil sur la 17e Avenue, après les tours à condo du East Village. Alors que les Rocheuses se dressent dans l'ouest au-dessus d'un terrain vague de banlieue, quelque chose de fou fait son apparition. The Slabs est une diversité composite de membres qui s'associent pour constituer quelque chose de nouveau. La combinaison de punk manifeste et révolutionnaire et de rock psychédélique mélodique et mystique fait naître un son singulièrement calgarien : chargé de riffs, râpeux et non censuré. Feed Our Dirty Dark Souls est donc une traduction de la ville dans toute son étrangeté et sa multiplicité destinée aux oreilles de ceux qui l'écoutent.
Marriage
Sun Start / Waterboard
(Self Released)
Toronto, ON
From the basement tape deck of Brennan McCracken:
These beaming transmissions – the first from Toronto's Marriage – show a band fluent in many melodious languages. "Sun Start" and "Waterboard" interlock like aria and recitative or water and ice; two sides of the same kaleidoscopic, oxidized coin. A foggy prelude and an underwater dirge, a double shot of tin can transcendence from the belly of the beast. Dig (in).
Du magnétophone de sous-sol de Brennan McCracken:
(Traduit par le temps de Julie Forget)
Ces transmissions rayonnantes ­– les premières de Marriage (Toronto) – dévoilent un groupe qui parle couramment de nombreuses langues mélodiques. « Sun Start » et « Waterboard » s'imbriquent comme une aria et un récitatif ou comme l'eau et la glace; deux côtés de la même pièce de monnaie kaléidoscopique et oxydée. Un prélude brumeux et un chant funèbre subaquatique, un doublé de transcendance en conserve directement du ventre de la bête. Plongez(-y).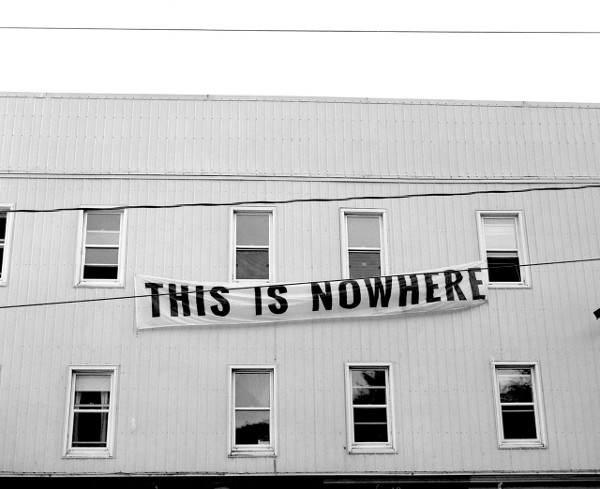 Sappy Fest 9
Various Artists
(August 1-3, 2014)
Sackville, NB
From the swamp-fever of Kevin Brasier:
SappyFest is a little music festival in the heart of the heart of the Maritimes: Sackville, NB. Sporting the tagline "Bring it on Home," expect to find a dreamy line-up made of old SappyFest friends like PS I Love You, Shotgun and Jaybird, Baby Eagle, Julie Doiron, Spencer Burton, Rae Spoon, Michael Feurstack, and the mighty Constantines. Stay up late enough and you might see the local punks do their thing on the outskirts of town. This compilation features a song from every artist playing SappyFest 9, and might contain some new and unreleased tracks (but don't get your hopes up).
Photo Credit – This is Nowhere by Colin Medley
De la fièvre des marais de Kevin Brasier:
(Traduit en solidarité par Nadine Tkatchevskaia)
Sappy Fest est un tout petit festival de musique au coeur des Maritimes, à Sackville au Nouveau-Brunswick. Avec le slogan "Rammenez-le chez nous" (Bring it on Home), attendez-vous à retrouver une programmation remplie d'anciens amis de SappyFest comme PS I Love You, Shotgun and Jaybird, Baby Eagle, Julie Doiron, Spencer Burton, Rae Spoon, Michael Feurstack, et les fameux Constantines. Restez debout suffisamment longtemps et vous pourrez voir les trucs des punks locaux. Cette compilation contient une piste de chaque artiste qui participe à SappyFest 9 et pourrait contenir de nouvelles pistes qui ne sont pas encore sorties (mais ne vous faites pas trop d'espoir).
Photo – This is Nowhere par Colin Medley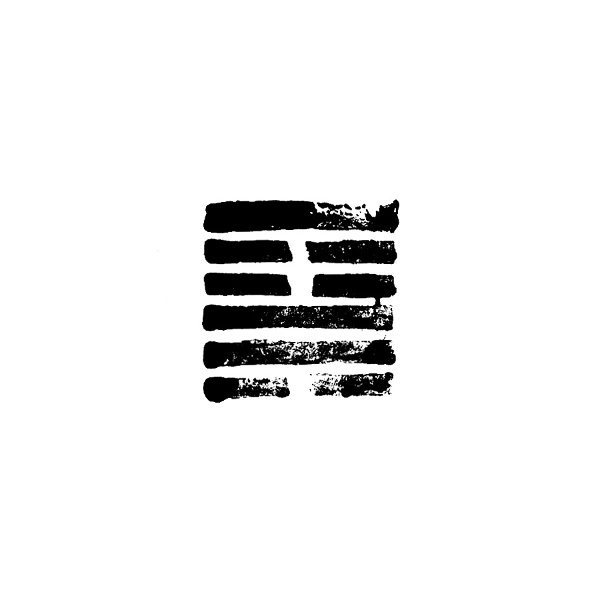 Old Haunt
Empty Heart
Montréal, QC
From the wild blue yonder of Joshua Robinson:
Folk and electric elements whisk within reach, swaying precipitously in time to the breaking of leaves from tree-arms. These interlock to form the canopies through which hushed lullabies creep to find cupped hands clasping for the song that falls from the ether of cumulous mirrors in the sky; welkin as passage to the echos of the wilted recompense that lingers in pockets full of cedar ash apologues.
With pens emptied and pencils stubbed on fraying parchment, the paraphrasing of etched sentiment is sewn into the worn fabrics of a quilted shadow-heavy embrace, keeping warm the inner stirrings of throat lorne singalongs that carry the sentiment of the wild blue yonder. Arms opened, chests heavy and full of leaves, we stir the cindered churns of glyphs worn and frayed by the distances travelled to find interlaced hands in the form of tree-arms that bud anew.
Du grand inconnu azur de Joshua Robinson:
(Traduit des cendres presque phoenix de Catherine Debard)
Des éléments folks et électriques s'agitent à portée de main, se balançant précipitemment à temps pour la chute des feuilles de l'arbre-bras. Ils s'assemblent pour former des pirogues à l'intérieur desquelles des berceuses se glissent pour trouver des mains aux paumes ouvertes, prêtes à y étreindre une chanson qui tombe de l'ether de miroirs cumulus dans le ciel; une voûte céleste passage pour les échos de récompenses qui traînent au fond de poches de pantalon remplies de cendres de cèdres apologues.
À l'aide de stylos vidés et de crayons écrasés comme des mégots sur de frêles parchemins, paraphraser le sentiment ancré, cousu au tissu usé d'une étreinte molletonnée d'ombre pesante. Se tenir au chaud au creux d'une gorge dans laquelle est murmurée une chanson à l'unison porteuse du grand inconnu azur. Les bras ouverts, la poitrine lourde et remplie de feuilles, nous retournons les cendres de glyphes érodés par les distances parcourues, à la recherche de mains enlacées en forme d'arbres-bras en éclosion.
---