Category: New Canadiana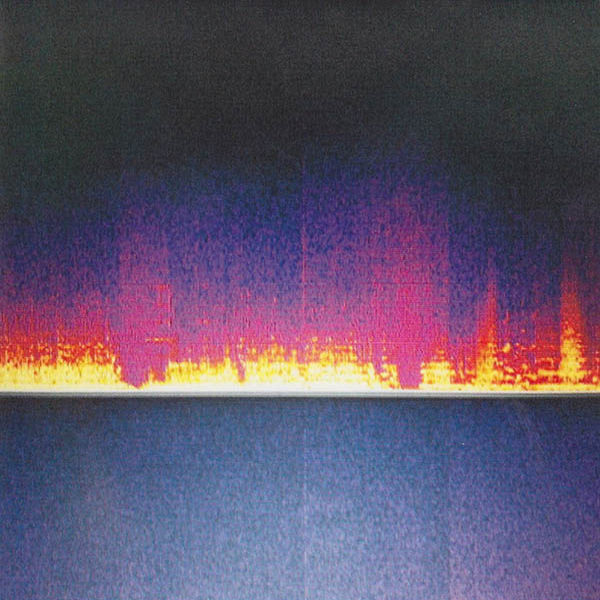 Spycam
Midnight in November
Timmins, ON
From the asymptotic squalors of Joshua Robinson:
Springing forth from the grandiose squallor sleep of the greying eye of the tempest storm, these lamentations of the calm heights of our sublunary world quiet the gales that stirr along synaptic asymptotes, slowly droning away from the edge of everything to return us to familiar landscapes where voices echo the northernly inflections of somnambulists caught in composite flux. These are architecturally vibrant lullabies, creaking in the frost with the fury of a temperance that colours and flows through our moodform afferents.
De l'immondice asymptotique de Joshua Robinson:
(Traduit par Jessica Grenier)
Surgissant de l'immonde sommeil grandiose de l'œil vieillissant d'une tempête orageuse, ces lamentations des hauteurs sereines de notre monde sublunaire calment les vents qui se déchainent le long des asymptotes synaptiques. Elles vont mourir lentement à la limite des choses, nous ramenant vers des paysages familiers où les voix font résonner les inflexions nordiques des somnambules prisonniers du flux composite. Ces berceuses à l'architecture vibrante font crisser le givre avec toute la furie de la modération qui colore en traversant nos afférents tempéramentaux.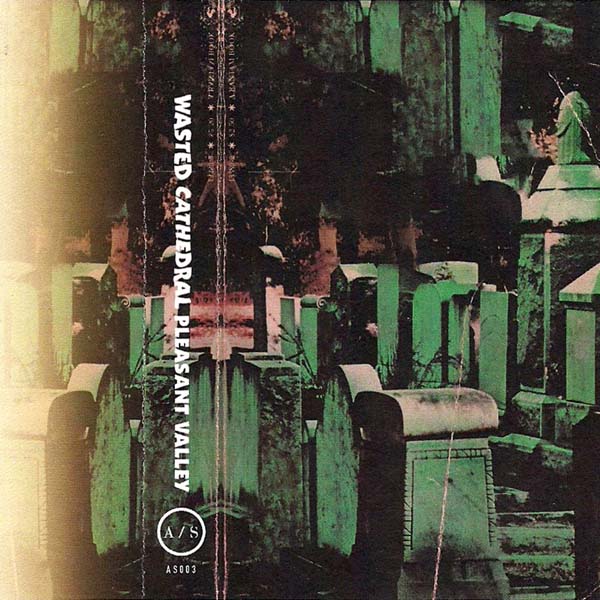 Wasted Cathedral
Pleasant Valley
Saskatoon, SK
From the plastered piety of Jesse Locke:
Toon Town toiler Chris Laramee of Shooting Guns renown wafts out another late nite smoke ring from his solo-tripper guise. Woozing organs, twinkling synths and strange strings drift under a dense fog of disintegrating drone, but the real side-steps are the blown breaks of opener "Munroe and 17th". The flip is a sidelong tone-float joined by fellow SK journeyman Chad Munson. Pleasant indeed…
De la piété emplâtrée de Jesse Locke:
(Traduit par Jessica Grenier)
Le travailleur infatigable de Shooting Guns, Chris Laramee, de Saskatoon, expulse un nouvel anneau de fumée nocturne sous le couvert de son trip solo. Instruments suintants, cordes étranges et synthétiseurs scintillants dérivent sous un épais brouillard de drone désintégré, mais les fractures éclatées de « Munroe and 17th » se démarquent particulièrement. Le revers est un long surf tonal auquel se joint un autre voyageur de Saskatoon, Chad Munson. C'est très plaisant à entendre.

Wasted Cathedral – Pleasant Valley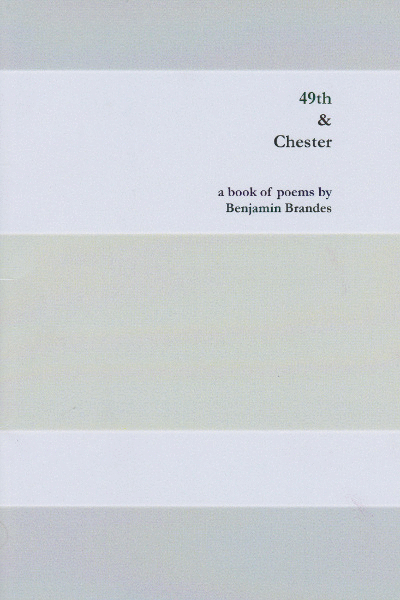 Benjamin Brandes, Daniel Brandes & Andrea Young
49th & Chester // Through the Window & the Wood
(Self Published // Released)
Esquimalt, BC
From the ideophonic terrene of Joshua Robinson:
This binate work of words and sounds is hermeneutically intoned through aural glyphs. The poetry of Benjamin Brandes seems to be comprised of component phrases that are rooted to fundamental truths as poetic phonemes painted from the palette of the moth's wings: the penchant of auricular stillness. Coupled with the (in)audible compositional stirrings of Daniel Brandes and the musical whispers of Andrea Young, this poetry becomes embedded in an attenuated ideophonic terrene where both subject and medium are one and the same; presentational amorphisms structured by syntax and let loose to conquer the vast stillness in the space behind our eyes and between our ears.
Des idéophones terreux de Joshua Robinson:
(Traduit par Jessica Grenier)
Ce travail binaire combinant les mots et les sons est entonné herméneutiquement par des glyphes oraux. La poésie de Benjamin Brandes semble composée de fragments de phrases qui prennent racine dans des vérités fondamentales comme des phonèmes poétiques peints depuis une palette d'ailes de phalènes, révélant un penchant pour l'immobilité auditive. Cette poésie, jointe aux vibrations composées (in)audibles de Daniel Brandes et aux murmures musicaux d'Andrea Young, se retrouve dans un mince écrin d'idéophones terreux où sujet et médium se confondent : l'amorphisme présenté est structuré syntaxiquement avant d'être libéré pour envahir l'immobilité étendue dans l'espace derrière nos yeux et entre nos oreilles.

Andrea Young, Daniel Brandes, and Benjamin Brandes – Dwelling 2 (excerpt)

Andrea Young, Daniel Brandes, and Benjamin Brandes – Dwelling 11 (excerpt)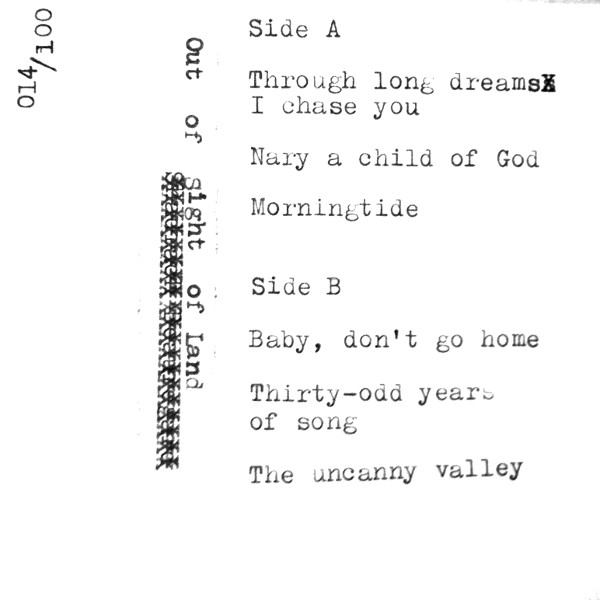 Out of Sight of Land
Out of Sight of Land
(Self Released)
Montréal, QC
From the cyclopean landform of Jake Bornheimer:
Out of Sight of Land trundles along like a weary traveler in a boreal forest. Accordion textures grind and shift against each other in slow and odd-time. Flat-sounding but very beautiful double-tracked vocals sing disjointed melodic lines and blend into the hypnotic music with ease. The lyrics slide by. On songs like "Morningtide" a sense of darkness creeps in with an interplay of dissonance, conjuring Wyrd Visions. These songs dually encapsulate great landscapes and private-evening-cups-of-tea. When an unprecedented shift or a peppering of percussion appears, it is a revelation.
Du paysage cyclopéen de Jake Bornheimer:
(Traduit par la prunelle aérienne de Jessica Grenier)
Out of Sight of Land est comme un voyageur fatigué cheminant lentement dans une forêt boréale. Les textures en accordéons bougent et se broient lentement les unes contre les autres, par à-coup. Une musique hypnotique où se fondent deux voix faussant joliment et chantant des lignes mélodiques décousues. Les paroles suivent leurs cours. Dans les chansons comme « Morningtide », une sensation envahissante d'obscurité dissonante s'installe, conjurant des Visions Étranges. Ces chansons encapsulent la dualité de gigantesques paysages et de soirées-intimes-à-boire-du-thé. Chaque changement impromptu ou percussion spontanée est une révélation.

Out of Sight of Land – Through Long Dreams I Chase You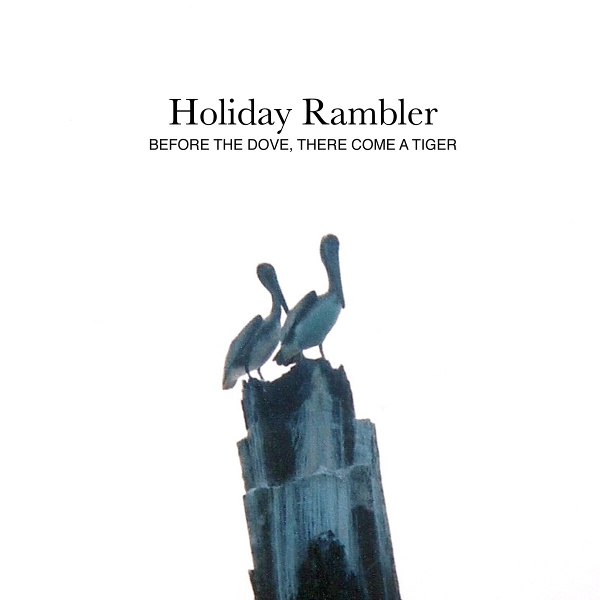 Holiday Rambler
Before the Dove, There Comes a Tiger
Toronto, ON
From the rusted shut chest of Adam Bradley:
From a humid country fog the Holiday Rambler comes. Will-o'-the-wisps gather and trail behind a missioning man of firm countenance and calculated composure, suitcase in hand, hat brim low. The songs of relic found here are of a dark alchemy. Each tune was sung and archived to tape in the belly of a great farm silo. Gems this way crystallized. The brightest of which is "Florida", a hallowed cover of the late and missed Vic Chesnutt. Before the Dove… is a rusted shut chest of ashen memory.
Du coffre scellé par la rouille d'Adam Bradley:
(Traduit par le familier festif de Jessica Grenier)
Holiday Rambler sort d'un humide brouillard de campagne. Les feux follets se sont regroupés à la suite de l'homme en mission, mallette à la main et chapeau enfoncé sur la tête, exhalant un calme composé et une contenance résolue. Les reliques se trouvant ici produisent le son d'une sombre alchimie. Chaque mélodie a été chantée et gravée sur une pellicule dans le ventre d'un gigantesque silo à grain – des gemmes cristallisées dont la plus scintillante est « Florida »; une reprise bénie du regretté Vic Chesnutt. Before the Dove… est un coffre scellé par la rouille qui renferme des souvenirs cendreux.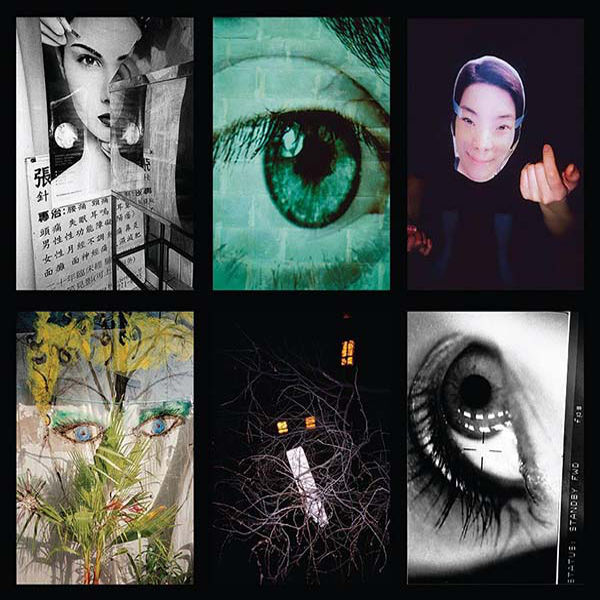 From the diner talk of Brad Casey:
There's this one boy in your class. He doesn't make eye contact with anyone. His hair is like a black rooster's comb. His jawline is so defined it's almost monstrous. He's thin but his skin is so tight he's vacuum sealed. Sometimes you glance across the expanse of bodies at their desks, hoping he'll look back, but he's casually drawing faces with a copycat Egon Schiele grotesqueness. His headphones drape around his neck like a dead animal. The bell will ring, and he'll walk out of the room shrouding the sides of his face with those same dead animal headphones while you wonder what he's listening to. You'll fantasize about telling him about Lee Paradise, how you'll put the needle to the record in his room. Everything smells like summer and he smiles and you could die like this. Just like this.
Du souper-causerie de Brad Casey:
(Traduit par Jessica Grenier)
Il y a ce garçon dans ta classe. Il ne croise jamais le regard des autres. Ses cheveux ressemblent à une crête de coq noire. Sa mâchoire est tellement bien dessinée qu'elle en est presque monstrueuse. Il est maigre – la peau étirée au point où il a l'air emballé sous vide. Parfois, tu jettes un regard sur l'étendue de corps assis à leur bureau en espérant croiser le sien, mais il est généralement en train de griffonner des visages grotesques à la Egon Schiele. Ses écouteurs pendent à son cou comme un animal mort. La cloche va sonner et il va se lever pour quitter la pièce, ensevelissant au passage les côtés de son visage dans ses écouteurs-animaux-morts pendant que tu vas te demander ce qu'il peut bien écouter. Tu t'imagineras lui parler de Lee Paradise. Déposer l'aiguille sur le disque dans sa chambre. On dirait l'été. Il sourit, et tu pourrais mourir à cet instant. Exactement comme ça.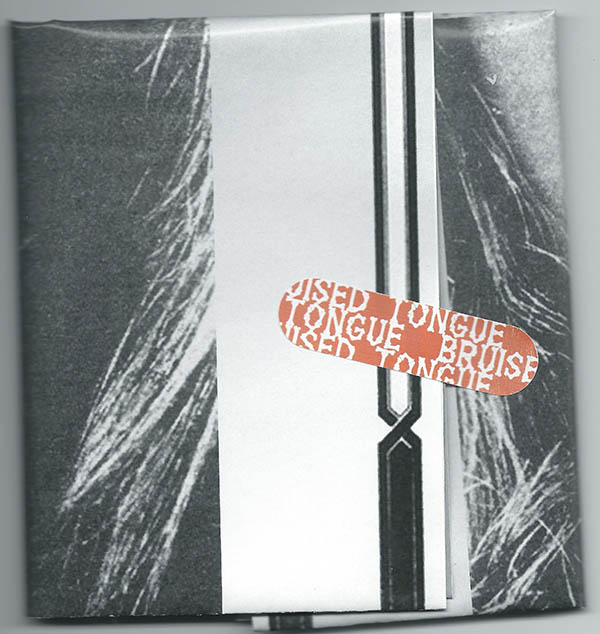 Various Artists
Afterburners Vol. 4
Ottawa, ON
From the free lunch stamp card of Alanna Yaraskavitch:
The fourth instalment of Bruised Tongue's post-Ottawa Explosion comp kicks off with a phone call from The Yips: Can you do dinner tonight at an inter-provincial, all-you-can-listen buffet of sonic delicacies? Call the sitter and clear your schedule, it's time to sip dandelion homebrew with Boyhood and sample wild game with Mark Alexander McIntyre. Look over there in the corner! Neck's eating mashed potatoes with their hands down their pants while Bonnie Doon devour $2 slices. It's time to pay, but the price is free – my compliments to the chef.
De la carte à tampon pour lunch gratuit complément d' Alanna Yaraskavitch:
(Traduit par la carte de fidélité certifiée Louis-Félix Pellerin)
Le quatrième tome de la compé post-Ottawa Explosion de Bruised Tongue commence avec un appel téléphonique de The Yips: Pouvez-vous vous occuper du souper ce soir, à un fin buffet sonique à volonté interprovincial? Appelez la gardienne et libérez-vous, c'est le temps d'aller siroter de la liqueur de pissenlit artisanale avec Boyhood et de déguster du gibier sauvage avec Mark Alexander McIntyre. Mais regardez qui est dans le coin! Neck se gavent de patates pilées les mains dans les pantalons tandis que Bonnie Doon dévorent des pointes à 2$. Il est venu le temps de payer l'addition, un gros GRATUIT est inscrit à la place du montant final; mes compliments au chef.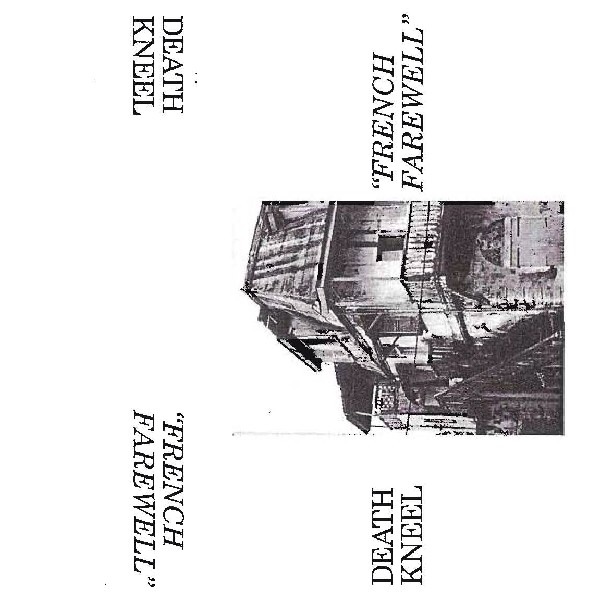 Death Kneel
French Farewell
Toronto, ON
From the cold, naked body of Griffin Martell:
There is a suffocating sense of abandon that pervades the power noise Max Klebanoff crafts as Death Kneel. 'French Farewell', the first release on Klebanoff's newly inaugurated Summer Isle label, encloses you in a chamber of predatory drones before abruptly thrusting your cold, naked body up to the panoptic surface. Not far off from the harsh industrial pummelings of early Tesco Organization releases, the A-side's throbbing low-end frequencies evoke the bracing spectacle of a precarious helicopter landing. On the B-side, Klebanoff douses the throaty vociferations he howls with New Armour in an acid wash of prickly noise. As this chaos subsides and you re-orient your senses, a somber send-off reminds you that someone's always watching.
Du corps nu et glacial de Griffin Martell:
(Traduit par le lavage de cerveau zombificateur de Louis-Félix Pellerin)
Il y a un sens de l'abandon suffocant imbibé dans le power noise que crée Max Klebanoff à travers Death Kneel. "French Farewell", la première sortie de Summer Isle, le label nouvellement-inauguré de Max Klebanoff vous enferme dans une chambre remplie de drones menaçants de avant de pousser soudainement votre corps froid et dénudé vers la surface panoptique. Non loin des martèlements industriels des premiers temps de Tesco Organization, les fréquences rythmiques bas de gamme du côté A évoquent toutes les sensations fortes qui viennent avec un atterrissage d'hélicoptère risqué. Sur le côté B, Klebanoff arrose ses vociférations rauques d'un torrent acide de bruit épineux à la New Armour. Alors que le chaos s'estompe et vous réorientez vos sens, un adieu sombre vous rappelle qu'il y a toujours quelqu'un qui vous observe.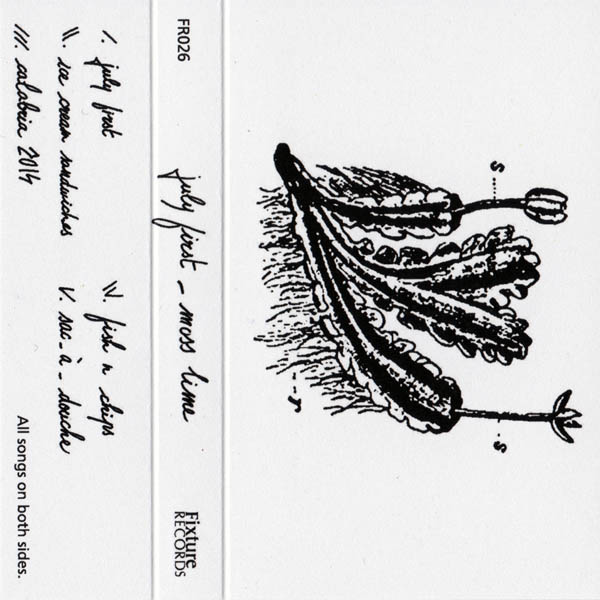 Moss Lime
July First
Montréal, QC
From the lounging sprawl of Evan Matthews:
Moss Lime are a characteristicly cosmopolitan Montreal crew, formed in spare time while hanging through the city's playground summer. Murmuring chants calling back and forth over angle-surfing guitars and an ESG-sensible rhythm section recall double dutch tall cans in a parc before a late night swim in someone else's pool. These songs have an influence-honest, naturalistic vibe. From the call & response lilt of "Ice Cream Sandwiches" to the tape-delay drone of "Fish N Chips" to the reimagining/improvement of Euro-pop song "Calabria", each one will charm you with a shared memory of wet heat, cutoffs and iced coffee.
Du divan où est avachi Evan Matthews:
(Traduit par l'orteil étiré vers la télécommande de Jessica Grenier)
Moss Lime est un groupe montréalais typiquement cosmopolite, formé lors des temps libres passés à profiter des terrains de jeu urbains durant l'été : des murmures se répondent par-dessus des guitares qui surfent en équilibre ainsi qu'une section rythmique rappelant ESG évoquent une soirée dans un parc à boire des grosses cannettes de Double Dutch avant d'aller squatter la piscine de quelqu'un d'autre. Ces chansons exhalent des ondes de naturalisme et d'honnêteté. De la cadence question-réponse de « Ice Cream Sandwiches » au drone en boucle de « Fish N Chips » en passant par la reprise/amélioration de la chanson pop européenne « Calabria », chaque pièce vous séduira en partageant un souvenir de chaleur humide, de shorts en jean et de cafés glacés.

Moss Lime – Ice Cream Sandwiches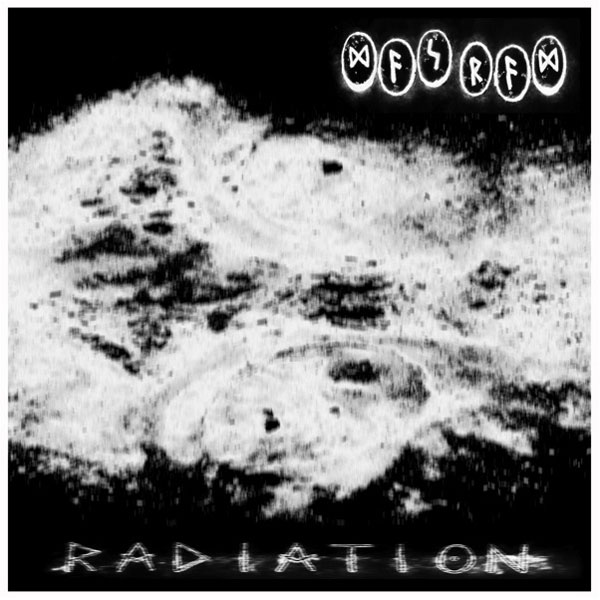 Das Rad
Radiation
Toronto, ON
From the drummed ears of Andy Clark:
The first two times I turned on Radiation, I immediately turned it down. After the initial blast of feedback subsided, the music became a wild expression of fuzz destruction: a truck driver drives their truck into the fog, later waking to find that they've arrived in a town where they are not the only visitor. "1331", "Sake of Sound" and "Afterbang" play like a gekiga comic: unassuming at first, until deep evil threads itself into reality. Beware the fog… was it a self-inflicted manifestation of guilt after all?
Des oreilles martelées d' Andy Clark:
(Traduit par Jessica Grenier)
Les deux premières fois que j'ai voulu écouter Radiation, j'ai immédiatement baissé le son. Mais une fois que la première explosion de feedback est passée, la musique devient l'expression sauvage d'un fuzz destructeur. Un camionneur conduit dans le brouillard, il est réveillé plus tard par la découverte qu'il est arrivé dans une ville où il n'est pas le seul visiteur. « 1331 », « Sake of Sound » et « Afterbang » ressemblent à un manga gekiga : des débuts sans prétention jusqu'à ce qu'une profonde noirceur se superpose à la réalité. Méfiez-vous du brouillard… est-ce qu'il s'agissait finalement depuis le début d'une culpabilité auto-infligée?
---