Category: New Canadiana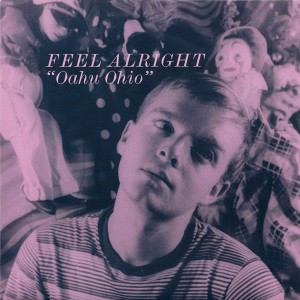 Feel Alright
Oahu Ohio
Calgary, AB
From the fevered dance of Javier Fuentes:
The thermostat may be telling you to drag out your warmest attire, but one spin of this Feel Alright 7" will start the search for your palm printed shirts and sand soaked shorts. Memories of winter goths get cast to the side under the melting vocal spells of Craig Fahner. Giddy guitars tickle you out of your static stance and into a fevered dance. Take your sled out for a spin on the snowy hill and watch as it turns into a slick surfboard. Shorter days call for an action plan to get the most of your time, so take these songs as your first step.
De la danse fiévreuse de Javier Fuentes:
(Traduit par le thermomètre de Catherine Gaucher)
Même si votre thermostat semble vous indiquer qu'il vous faut revêtir vos vêtements les plus chauds, une seule écoute de ce 7 pouces de Feel Alright déclenchera en vous la recherche pour retrouver vos chemises aux imprimés de palmiers et vos shorts couverts de sable. Sous les sorts vocaux envoûtants de Craig Fahner, les souvenirs de Winter Goths sont mis de côté. Des guitares vertigineuses vous balancent en dehors de votre statisme et vous jettent dans une danse fiévreuse. Sortez votre traîneau pour une glissade sur une colline enneigée et voilà que ce dernier se transforme soudainement en une belle planche de surf. Parce que les journées écourtées exigent un plan d'action pour tirer le meilleur parti de votre temps possible, prenez ces chansons comme une première étape.
Feel Alright – Dark Incantations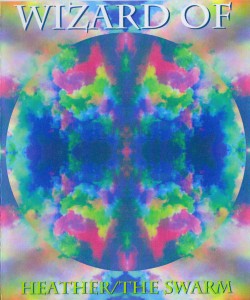 Wizard Of
Heather / The Swarm
(Inyrdisk)
Toronto, ON
From the caffeine rush of Catherine Debard:
(Translated by Catherine Debard)
Ravers from a new era unite and bounce to Wizard Of's multicoloured spells. Loud hip-hop flavored basslines are syncopated at the speed of sound. His music fits perfectly in today's revival (or let's say re-work) of the almost forgotten (and truly exciting) world of IDM. Breakbeat, broken beat, acid dreams, running fast (runlolarun), breathless videogame heartbeats, psychedelic handbang, hardcore electronica, braindance revolution. The dark experimental side of dance music is mesmerizing, dangerously catchy, and meaty like a rare steak. Wizard Of expends the "techno" frontiers into the realms of $wag beats, deep samplin' and never lets you take a break. Gotta fight like high-speed positive warriors, dance like there's no future, create magic.
Du tremblement cafféiné de Catherine Debard:
Ravers d'une ère nouvelle, unissez-vous et déchaînez-vous sur les incantations multicolores de Wizard Of. De lourdes lignes de basse saveur hip hop sont syncopées à la vitesse du son. Sa musique s'inscrit assurément dans le regain actuel (ou plutôt la réappropriation) du monde presque oublié (et extrêmement excitant) de l'IDM. Breakbeat, rythme brisé, rêves acides, courir en malade (courslolacours), à bout de souffle, rythme cardiaque jeux vidéos, psychédélique headbang, hardcore électronica, braindance révolution. Le côté obscur expérimental du mouvement dance est dangereusement aguichant, consistant comme un bon steak bleu. Wizard Of repousse les frontières de la musique techno dans le royaume du $wag Beats et du sampling profond et vous garde captifs, en sueurs, tout le long de cet album. Il faut se battre en guerriers positifs, danser sans lendemain et créer la magie.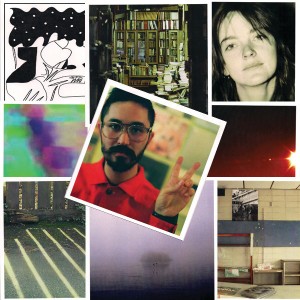 Kingfisher Bluez
Vancouver, BC
From the vibrant plumage of Kyle Valade:
If there is anyone who can testify to the vibrancy of Vancouver's music scene, it is surely Tim Clapp (a.k.a. Tim the Mute). Since 2008, he's released 33 records from his one-man label, Kingfisher Bluez. Those releases have been exclusively on vinyl — generally 7-inches — and mostly made up of local artists. The sounds of the KFB discography range from the sweet-sounding melodies of The Albertans to the haunted croons of Dirty Beaches and the power-punk of the B-Lines. With another release appearing every time I go to the record store, it's hard to keep up with Kingfisher Bluez's prolific blast of activity. Thankfully, Tim was nice enough to tell us how he does it.
Kyle Valade: Does Kingfisher Bluez sell out of a lot of pressings?
Tim Clapp: No, not really. If mean, if I wanted to sell out of records, I'd just press 200 or whatever. The goal is to have the records, you know what I mean? I don't want to sell out of records. It's nice to sell records, but if I'm going to sell a thousand records I'll print 2,000. If I'm going to sell 200 records I'll print 300-400. I usually do 300 of my 7-inches and 500 of my LPs. The idea is that I'm building a label that I want to be running for the rest of my life. So I want to have enough records so that I don't have to repress them.
I am sold out of that Xiu Xiu record I did. I've got like maybe 10 copies left, so I've just sort of hoarded them, really. I usually stash like five copies of every record I do, so when it gets down to 10 copies, I tell my distributor it's sold out.
How did you get the idea to do a singles club?
I just thought "I wonder if there's a project I could to do to show my love of the city?" I looked at compilations like the Vancouver Complication, the Vancouver Independent and the Emergency Room comp. These are compilations that mean a lot to the people that were in those scenes, you know what I mean, like Emergency Room is these old fogeys that are like 30 years old now or whatever. And Vancouver Complication, I don't know when that was, like 1980 or something [Ed's Note: 1979]. But you look at these records and you just think "It's so cool that there's a document of that scene", you know what I mean, and there's always at least one band that just snuck on there. And that could be your new favourite band. So I thought, I want to do a compilation of all my favourite bands in Vancouver. I could just do a record, like a compilation record, but I thought "I want to do something big", you know? "I want to do a singles club and just have one song from each band" or whatever. So I chose the most expensive way to do it.
People were sayin' "you should do splits" or whatever. And I fuckin' hate splits. Like, how do you file a split? You just think "Oh, what band do I put this under?" The worst is when you have two covers and you don't know what one to face.
<<< read more >>>
The better band?
Yeah, but then you're telling the other band that they don't sound good enough. You want to listen to the other record and you don't know where to find it. So I thought I'd just make one-sided records so each of the singles club records is one side, one song, or whatever. And the other side's just blank. It costs the same amount as pressing two sides. But I thought it's better, you know? Each band deserves their own cover, their own side. I'd always rather press a single-sided record than a split.
The singles club is 80 bucks. You get 15 records. Well, it's 12 records and then three bonus records. If you sign up now — the bonus records are for people that are signed up at the time — so there's still one more bonus record. But really I've been chuckin' in the other records if I have a couple left. The first bonus record was Zen Mystery Fogg.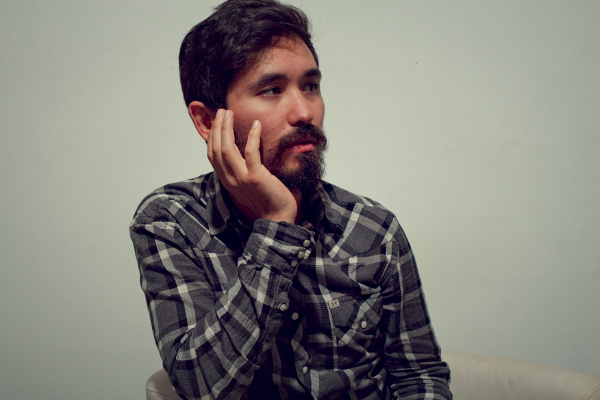 A lot of the artists you've released are from Vancouver. How do you choose them?
It's a lot of my friends' bands. I want to put out records by people that I really like. Music is available all the time, so I want to curate a really specific selection. I feel like people are going to remember Kingfisher Bluez as a Vancouver label, so I want to put out a lot of Vancouver bands, or whatever. And it sort of helps me give back to the community. I've been enjoying Vancouver music for so long. It's nice to be able to help out these bands in any way I can, even if it's just a little bit.
What made you decide to start the label?
I started the label in 2008 as a blog where I would post my friends' songs — like mp3s or whatever. In 2011, I was just feelin' a bit depressed and I thought "I should just kill myself, my life is so shitty." And I thought if I'm gonna do that I might as well just sell all my shit and then start that record label I've always wanted to do, you know what I mean? Cuz what's the point? "I'm so sad", or whatever. I've got so many fuckin' records and books and amps and stuff, I should just sell off this shit and have enough money to do all the things that I want to do — just give it a shot. I thought "What's stopping me from doing this?" What do I really need this shit for? The records of myself, Tim the Mute, will only cost me like a thousand bucks to make, so I'll just sell a thousand bucks worth of my shit. So I thought fuck it. Let's just do it. I mean, I guess people just go through weird periods of their life where they just think "What am I doin'?" Especially when they're 23. So I thought, "I'll just do it."
Do you do all of the work for the label yourself?
Yeah, I do everything myself. Except for a lot of the design — that's Ryan from Hockey Dad Records. The artists will choose images and then I'll vet them or whatever. All these records have sort of trees or outdoor stuff. I want to show a lot of what we see in our normal lives: Instagram photos, that sort of chillwave, hazy, summery stuff. I feel like that represents the current musical climate well. So I want something that looks like 2013. I want it to look like the records came out in 2013.
I try not to pick out stuff that looks tacky. I hate black and white collage. A lot of bands are doing it — it's sort of retro. I want something that's new. I don't use photos of dead animals or mangled limbs or dicks or anything like that. I don't want some grotesque drawing. I want everything to look really nice. And it's not because I want them to be easy to look at. I just want them to be nice looking, beautiful records. That's important to me. I just don't want to release anything that's mean-spirited.
Would you recommend starting a label?
Not as a business, I wouldn't recommend that. But I think it's great that more labels are starting up. It's a great community. A lot of people I know have record labels — I know people because they have record labels. We all hang out and talk shop and stuff. And it's fun, you know? We all compare. We all think we're givin' a better rate than the next guy. We're really tryin' to make the best stuff. And no one does it to make money. There's part of you that wants to curate this great selection of records. I wouldn't recommend that anyone does it to make money, but I would recommend that everyone just put out a record and start a label or whatever. Why not? It's as easy as doing it. As long you have a credit card you can do it. Just make a great collection of music.
Do you have any regrets?
No, but If I put out a band's record, I don't want them to break up right after. It's a little annoying. So usually I won't do a record for a band that has no other records. I want there to be a Discogs page for the band. I want there to be a history of the band. A band like Village with no records out is okay. I was there at the beginning of that band, so when they wanted to do a record, I thought that those guys were in for the long haul. And now I'm doing their second record, and hopefully doing their LP next year. And I hope they get signed to a bigger label than me.
Do you have any favorite records that you've released?
Oh yeah. I mean, anything where I get to play with the physicality of the medium. Like the record where you hear the sound of yourself turning it over. It's a bit wanky or whatever, but it's fun to do stuff like that. On my new record, Song, I say [singing] "I made this record for a girl / I put my number in the run-out groove / So call me if you think it's you." And my phone number is in the run-out groove for that record. If you hold the record up you can see my phone number written out. So anything where I get to play with that, you know? There's no way to get that unless you have one of 300 physical records, which is cool.
All of my records have little messages etched into them. The Zen Mystery Fogg record says "Everytime I listen to music I think I'm a bride." That line is from Nightwood by Djuna Barnes. I use a lot of books — a lot of weird queer lit and sort of alternative classic books. It's nice. It's fun. I get to reference my favourite books, my favourite songs, and stuff. Sometimes I just make them up, and sometimes I take something out of a song or whatever. All of my records also have a B-side message on the label as well. The Eeek record says "Something inside so strong." The Zen Mystery Fogg record says "Everything is meaningful right now." I just put these sweet little earnest messages on the label. As a record collector and a curator you're really hyper-aware. You want to reference things, and you want to have your spot in record history.
What do you think is the role of the record label?
Like I was saying before, in an age where all music is available on demand, the role of the record label is curation. There are labels that I will buy literally everything they put out without even listening to it, because I know it's gonna be good. Because I trust the people that run them. Labels like Shelflife, Mississippi or Neon Gold — I buy everything those guys put out. I want people to buy KFB releases knowing that I've chosen these records, and the way they're designed, like the white border around the 7-inches. I want people to see the way I've curated the label to be my favourite stuff without bias towards genre or any of that stuff. And all that. I'm really happy with it. I just put out stuff that I like and I don't worry about it.
KFB is a project made through sampling other music and making a bigger thing out of it. This is the one thing that I'm doing. I'm taking all of musical history and everything that songs and records and images stand for and making one thing out of all of it. It's a powerful tool, you know what I mean? The record label lets you say so much with just one thing.
Kingfisher Bluez Discography (To Date)
7"s:
KFB001 – Sebastian Fleet + Count Oak – Sun 7"
KFB002 – Teen Plaque – Teen Plaque Text Message / Fuck The Revolution!!!
KFB003 – Tim The Mute – Anything You Want
KFB004 – Eeek! – Potential
KFB005 – The Shiny Diamonds – Such A Sucker
KFB006 – Village – Nowhere
KFB007 – Zen Mystery Fogg – Raccoon
KFB008 – Xiu Xiu – Quagga
KFB009 – Tim The Mute / Old Phoebe – Kingfisher Bluez Christmas Single 2012
KFB010 – White Poppy – Mirage Man
KFB011 – Dirty Beaches – Elizabeth's Theme
KFB012 – Apollo Ghosts – Night Witch
KFB013 – Capitol 6 – No One Came
KFB014 – B-Lines – Tell Me
KFB015 – Dead Ghosts – 1000 Joints
KFB016 – Student Teacher – Left For Dead
KFB017 – Korean Gut – Lava Flow
KFB018 – Rose Melberg – Distant Ships
KFB019 – Love Cuts – Back To You
KFB020 – Wee'd – I Think I Just Wee'd Myself
KFB021 – Needles//Pins – Polaroid
KFB022 – Jungle Green – The One I Love
KFB023 – Tim The Mute – Song
KFB024 – The Albertans – Casual Encounters
KFB025 – Standard Fare – Rumours
KFB026 – Reverter – No More Haircuts
KFB027 – Village – Stranger Thoughts
KFB028 – Let's Talk About Space – Luna Oscillators
KFB029 – Laura Veirs – July Flame
KFB030 – Rose Melberg and Gregory Webster – Kingfisher Bluez Christmas Single 2013
KFB031 – Nice Try – Convinced
KFB032 – Tim The Mute – Doctor Who Cosplay
KFB033 – Mesa Luna – Shutting Down
KFB034 – The Stevens – The EP
KFB035 – The Passenger – jxpg
LPs:
KFB6001 – Eeek! – Move Real Slow
KFB6002 – OK Vancouver OK – Food. Shelter. Water.
KFB6003 – The Albertans – Dangerous Anything
KFB6004 – Adam Stafford – Imaginary Walls Collapse
KFB6005 – Bad Channels – Bad Channels
Du plumage vibrant de Kyle Valade:
(Traduit par Virginie Langlois)
S'il y a quelqu'un qui peut témoigner du dynamisme de la scène musicale de Vancouver, c'est bien Tim Clapp (plus connu sous le nom Tim the Mute). Depuis 2008, il a sorti 33 disques sur le label qu'il gère seul, Kingfisher Bluez. Ces disques sont sortis exclusivement sur vinyle – généralement des 7 pouces – et sont la plupart du temps l'œuvre d'artistes locaux. Les sons de la discographie de KFB sont très variés : cela va des douces mélodies de The Albertans aux fredonnements hantés de Dirty Beaches en passant par le power-punk de B-Lines. Comme à chaque fois que je vais chez le disquaire, on dirait qu'un nouveau disque est sorti, difficile de suivre le rythme prolifique de Kingfisher Bluez. Heureusement, Tim a eu la gentillesse de nous expliquer comment il fait.
Kyle Valade : Est-ce que beaucoup de disques sortis chez Kingfisher Bluez sont épuisés?
Tim Clapp : Non, pas vraiment. Ceci dit, si je voulais que des disques soient épuisés, j'en tirerais 200 exemplaires ou quelque chose du genre. Le but, c'est de sortir les disques, tu vois ce que je veux dire? Ce n'est pas qu'ils soient en rupture de stock. C'est bien de vendre des disques mais si je dois en vendre un millier, je vais en tirer 2 000 exemplaires. Si je dois en vendre 200, je vais en tirer 300 ou 400. En général je tire les 7 pouces à 300 exemplaires et les LP à 500. L'idée est de bâtir un label qui fonctionne pour le reste de ma vie. Alors je veux disposer de suffisamment de disques pour ne pas avoir à faire de retirage.
Ce disque de Xiu Xiu que j'ai sorti, il est en rupture de stock. Il me reste peut-être 10 exemplaires alors j'en ai fait des provisions, vraiment. En général je garde cinq exemplaires de chaque disque que je sors, alors quand on arrive au seuil de 10 exemplaires, je dis à mon distributeur que le disque est en rupture de stock.
Comment t'est venue l'idée de faire une collection de singles?
Je me suis juste dit « Je me demande s'il y a un projet que je pourrais faire pour montrer à quel point j'aime cette ville ». J'ai regardé les compilations comme Vancouver Complication, Vancouver Independent et the Emergency Room comp. Ce sont des compilations qui sont très importantes pour les personnes qui étaient sur ces scènes, Emergency Room par exemple, des types qui doivent bien avoir 30 ans aujourd'hui. Et Vancouver Complication, je ne sais pas de quand ça date, 1980 ou quelque chose dans le genre [Note de la rédaction : 1979]. Mais tu regardes ces enregistrements et tu te dis : « C'est tellement cool qu'il reste une trace de cette scène », et il y a toujours eu au moins un groupe qui s'est démarqué. Et ça pourrait très bien être ton nouveau groupe préféré. Alors je me suis dit que je voulais réunir tous mes groupes de Vancouver préférés. J'aurais pu tout simplement faire un disque, comme une compilation, mais je me suis dit : « Je veux faire un gros coup, je veux faire une collection de singles, avec juste une chanson pour chaque groupe ». J'ai donc choisi le moyen le plus cher de le faire.
Les gens me disaient : « tu devrais faire des split-disque ». Et moi je déteste les splits. Comment tu fais par exemple pour ranger un split? Tu dois te demander « Ah, à quel groupe est-ce que je mets ça? » Le pire, c'est quand tu as deux couvertures et que tu ne sais pas quoi mettre en évidence.
<<< read more >>>
Le meilleur groupe?
Ouais, mais après tu dois dire à l'autre groupe que leur son n'est pas assez bon. Tu veux écouter l'autre disque mais tu ne sais pas où le trouver. Alors je me suis dit que je sortirais des disques d'une face pour que chaque disque de la collection de singles ne comporte qu'une seule face ou une seule chanson. Et l'autre face est vierge. Ça coûte le même prix que de faire imprimer deux faces. Mais j'ai trouvé que c'était mieux. Chaque groupe mérite d'avoir sa propre couverture, sa face pour lui tout seul. Je préférerai toujours sortir un disque à une seule face plutôt qu'un split.
La collection de singles coûte 80 dollars. Pour ce prix-là tu as 15 disques. Enfin, 12 disques et ensuite trois disques bonus. Si tu t'inscris maintenant – les disques bonus sont pour les personnes qui s'étaient inscrites – il reste encore un disque bonus. Mais vraiment, j'en ai mis des deux autres quand j'en avait en rabe. Le premier disque bonus était Zen Mystery Fogg.
Beaucoup des artistes qui sont sortis sur ton label sont de Vancouver. Comment tu les choisis?
Ce sont souvent les groupes de mes amis. Je veux sortir les disques de gens que j'aime vraiment. La musique est disponible en permanence alors je veux documenter une sélection bien spécifique. J'ai le sentiment que les gens vont se souvenir de Kingfisher Bluez comme d'un label de Vancouver alors je veux sortir un maximum de groupes de cette ville. Et puis ça m'aide à redonner à la collectivité. J'apprécie la musique de Vancouver depuis tellement longtemps. C'est bien de pouvoir aider ces groupes comme je peux, même si ce n'est pas grand chose.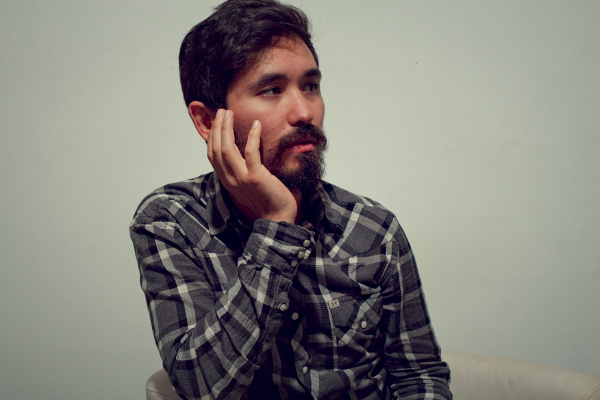 Qu'est-ce qui t'a décidé à créer le label?
J'ai lancé le label en 2008 sous forme de blogue sur lequel je postais les chansons de mes amis – des mp3 ou autres. En 2011, je me sentais un peu déprimé et je pensais « Je devrais me suicider, ma vie est tellement merdique ». Et je me suis dit que tant qu'à faire ça, autant vendre tout mon bordel et créer ce label que j'ai toujours voulu créer, tu comprends? Quel intérêt de te répéter « Qu'est-ce que je suis triste… ». Je possède tellement de putain de disques, de livres, d'amplis et tout le reste, je n'ai qu'à tout vendre et j'aurai alors assez d'argent pour faire toutes les choses que j'ai envie de faire – il faut juste essayer. Qu'est-ce qui m'en empêchait? À quoi ça me sert tout ce bordel? Pour faire mes propres disques, ceux de Tim the Mute, je n'aurai besoin que d'un millier de dollars, alors je vais juste vendre mes affaires de façon à récupérer 1 000 dollars. Allez! J'imagine que les gens passent par des périodes bizarres où ils se disent : « Qu'est-ce que je fous… ». Surtout à 23 ans. Alors je me suis dit « Vas-y, lance-toi ».
Est-ce que tu fais tout le travail du label toi-même?
Ouais, je fais tout moi-même. Sauf une grosse partie du design – ça c'est Ryan de Hockey Dad Records qui s'en occupe. Les artistes vont choisir des images et je donne mon accord ou pas. Tous ces disques ont des images d'arbres ou des vues en extérieur, ce genre de choses. Je veux montrer un peu ce qu'on voit dans nos vies normales : des photos Instagram, ce style de truc vaporeux, brumeux et estival. J'ai l'impression que cela représente bien le climat musical actuel. Je veux quelque chose qui reflète 2013. Je veux qu'on ait le sentiment que les disques sont sortis en 2013.
J'essaie de ne pas choisir des trucs qui ont l'air démodés. Je déteste les collages noir et blanc. Beaucoup de groupes font ça, c'est un peu rétro. Je veux quelque chose de neuf. Je n'utilise pas de photos d'animaux morts ou de membres estropiés ou de bites ou quoi que ce soit du genre. Je ne veux pas de dessins grotesques. Je veux que tout soit vraiment beau. Et ce n'est parce que je veux que soit facile à regarder. Je veux juste que ce soient de beaux disques. C'est important pour moi. Je ne veux rien sortir qui soit mal intentionné.
Est-ce que tu conseillerais de créer un label?
Pas pour en faire un négoce. Mais je trouve que c'est bien que de nouveaux labels se créent. C'est une communauté géniale. Je connais beaucoup de gens qui ont des maisons de disques – en fait je connais des gens parce qu'ils ont des maisons de disques. On sort tous ensemble et on parle boutique. On compare. On pense tous qu'on a des tarifs plus intéressants que les autres. On essaie sincèrement de faire le meilleur truc possible. Et personne ne le fait pour l'argent. Il y a une partie de toi qui veut inventorier cette belle sélection de disques. Je ne recommanderais à personne de le faire pour gagner de l'argent, par contre je recommande à tout le monde de se lancer et de créer son label. Pourquoi pas? Rien de plus simple. Du moment que tu as une carte de crédit, pas de problème. Vas-y, crée une belle collection de musique.
Des regrets?
Non mais si je sors le disque d'un groupe, je n'ai pas envie que les mecs se séparent juste après. C'est un peu pénible. Alors, en général, je ne vais pas faire le disque d'un groupe qui n'a pas d'autres disques. Je veux qu'il y ait une page Discogs pour le groupe. Je veux que le groupe ait une histoire. Un groupe comme Village qui n'a pas de disque à son actif, ça va. J'étais là au tout début du groupe, alors lorsqu'ils ont voulu faire un disque, j'ai pensé que ces mecs iraient jusqu'au bout. Maintenant je sors leur deuxième disque et peut-être leur album l'année prochaine. Et j'espère qu'ils signeront avec un plus gros label que le mien.
Parmi les disques que tu as sortis, il y en a que tu préfères?
Ah ouais. En fait, tous ceux où je peux vraiment jouer avec l'aspect physique de l'objet en lui-même. Comme le disque où tu entends le bruit que tu fais toi-même en le retournant. Cela ne sert pas à grand chose mais c'est marrant à faire. Sur mon nouveau disque, Song, je dis [il chante] « J'ai fait ce disque pour une fille / J'ai mis mon numéro dans le sillon intérieur / Alors appelle-moi si tu penses que c'est toi ». Et effectivement mon numéro est dans le sillon intérieur sur ce disque. Si tu regardes bien le disque, tu peux voir mon numéro de téléphone écrit. Donc tous les disques où je peux jouer de cette manière, tu vois? Il n'y a pas moyen d'avoir ça sauf si tu as l'un des 300 disques physiques, c'est ça qui est super.
Tous mes disques ont des petits messages gravés dessus. Le disque Zen Mystery Fogg dit : « À chaque fois que j'écoute de la musique je pense que je suis une mariée ». Cette phrase est tirée de Nightwood by Djuna Barnes. J'utilise beaucoup de livres – beaucoup de litté queer étrange et des livres classiques alternatifs. J'aime bien ça. Je fais souvent des références à mes livres préférés, à mes chansons favorites, etc. Parfois je les invente, et parfois je récupère quelque chose dans une chanson ou autre. Tous mes disques ont aussi un message de face B sur l'étiquette aussi. Le disque Eeek dit : « Quelque chose de si fort à l'intérieur ». Le disque Zen Mystery Fogg dit « Tout a un sens en ce moment ». Je mets juste ces petits messages sur l'étiquette. En tant que collectionneur de disques et curateur, tu es forcément très à l'affût de ce type de choses. Tu veux faire référence à de choses et tu veux avoir ta place dans l'histoire du disque.
D'après toi, quel est le rôle d'une maison de disques?
Comme je l'ai déjà dit, à une période où toute la musique est disponible à la demande, le rôle de la maison de disques, c'est la documentation soignée. Il y a certains labels auxquels je vais acheter tout ce qu'ils sortent, sans même écouter la musique, parce que je sais que ce sera bien. Parce que je fais confiance aux gens qui s'en occupent. Des labels comme Shelflife, Mississippi ou Neon Gold — j'achète tout ce que font ces mecs. Je veux que les gens achètent des disques du label KFB en sachant que j'ai choisi ces disques, et la façon dont ils sont conçus, y compris la bordure blanche autour des 7 pouces. Je veux que les gens voient la façon dont j'ai bâti le label pour mettre en avant tout ce que je préfère, sans préjugé vis-à-vis d'un genre ou autre. Je suis vraiment content de ça. Je sors ce qui me plaît et je ne me fais pas de souci. KFB est un projet réalisé grâce à l'échantillonnage d'autres musiques pour en faire un truc plus gros. C'est la chose que je fais. Je prends tout le bagage musical et tout ce que les chansons, les disques et les images représentent et je crée un nouveau produit à partir de tout ça. C'est un outil puissant, tu sais. Avec une maison de disques, tu peux exprimer tellement de choses avec seulement un élément.
Kingfisher Bluez Discography (To Date)
7"s:
KFB001 – Sebastian Fleet + Count Oak – Sun 7"
KFB002 – Teen Plaque – Teen Plaque Text Message / Fuck The Revolution!!!
KFB003 – Tim The Mute – Anything You Want
KFB004 – Eeek! – Potential
KFB005 – The Shiny Diamonds – Such A Sucker
KFB006 – Village – Nowhere
KFB007 – Zen Mystery Fogg – Raccoon
KFB008 – Xiu Xiu – Quagga
KFB009 – Tim The Mute / Old Phoebe – Kingfisher Bluez Christmas Single 2012
KFB010 – White Poppy – Mirage Man
KFB011 – Dirty Beaches – Elizabeth's Theme
KFB012 – Apollo Ghosts – Night Witch
KFB013 – Capitol 6 – No One Came
KFB014 – B-Lines – Tell Me
KFB015 – Dead Ghosts – 1000 Joints
KFB016 – Student Teacher – Left For Dead
KFB017 – Korean Gut – Lava Flow
KFB018 – Rose Melberg – Distant Ships
KFB019 – Love Cuts – Back To You
KFB020 – Wee'd – I Think I Just Wee'd Myself
KFB021 – Needles//Pins – Polaroid
KFB022 – Jungle Green – The One I Love
KFB023 – Tim The Mute – Song
KFB024 – The Albertans – Casual Encounters
KFB025 – Standard Fare – Rumours
KFB026 – Reverter – No More Haircuts
KFB027 – Village – Stranger Thoughts
KFB028 – Let's Talk About Space – Luna Oscillators
KFB029 – Laura Veirs – July Flame
KFB030 – Rose Melberg and Gregory Webster – Kingfisher Bluez Christmas Single 2013
KFB031 – Nice Try – Convinced
KFB032 – Tim The Mute – Doctor Who Cosplay
KFB033 – Mesa Luna – Shutting Down
KFB034 – The Stevens – The EP
KFB035 – The Passenger – jxpg
LPs:
KFB6001 – Eeek! – Move Real Slow
KFB6002 – OK Vancouver OK – Food. Shelter. Water.
KFB6003 – The Albertans – Dangerous Anything
KFB6004 – Adam Stafford – Imaginary Walls Collapse
KFB6005 – Bad Channels – Bad Channels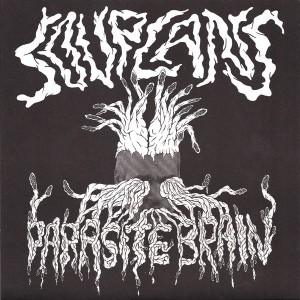 The Soupcans
Parasite Brain EP
Toronto, ON
From the substantia nigra of Brendan Lehman:
Enter the Soupcans. Enter the Soupcans into a world of dystopian chaos, one of grinding distortions and impenetrable walls of sound. Manic screams guide you through dim-lit alleyways vaguely remembered. Living here, it sometimes calms down into a groove, but more days than not it's the unceasing noise of your state oppressor, eating away at your once-sane consciousness. It's hard to tell if it's the cocktail your guy down the street cooked up for you or if that's just the way it has become. Thoughts are fleeting, and you begin to wonder if anyone could ever help. Until you re-emerge, standing in the crowd of your local punk bar, listening to the Soupcans blow your mind. Thankfully it's not the brain-oozing hell you thought it would be, just really good punk.
De la substantia nigra de Brendan Lehman:
(Traduit de la contre-utopie effrayante de Catherine Debard)
Entrez dans Soupcans. Entrez dans Soupcans, dans un monde dystopique, un cauchemar chaotique de distortion écrasante et de murs du son impénétrables. Des cris déments vous guident le long de sombres ruelles vaguement familières. Ici, parfois, ça se calme dans une sorte de groove, mais la majorité du temps, les journées sont imprégnées du bruit incessant de votre oppresseur, qui bouffe tranquillement votre conscience jadis intacte. C'est assez nébuleux, à savoir si c'est le cocktail que ce type en bas de la rue a cuisiné pour vous ou si c'est juste ce que les choses sont devenues maintenant. Les pensées s'enfuient et vous vous demandez si quelqu'un pourra un jour vous aider. Jusqu'à ce que vous émergiez debout dans une foule, dans votre bar punk local, en écoutant Soupcans et en hallucinant carrément. Heureusement, ce n'est pas l'enfer cérébral suintant que vous imaginiez, c'est juste du punk vraiment bon.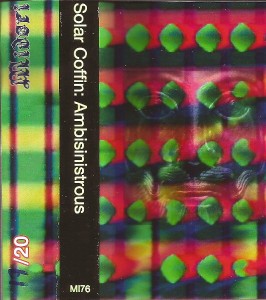 Solar Coffin
Ambisinistrous
Winnipeg, MB
From the time-lapse cocoon of Taylor Burgess:
Clicking in this cassette will be your final nail. It shall shunt you off into deep, lifeless space. No prospect of a return trip. And as you drift further, so does Ambisinistrous; it's a time-lapse cocoon, building the oscillating void around and within you. The duo makes use of all oscillations, creating rapt crowds in their great audiovisual din. It should be no surprise that Fletcher Pratt is half of the droning bliss behind this small-run cassette, with Erik Larsen taking the rest of the knob-twisting to the stars.
Du moment de cocon de Taylor Burgess:
(Traduit par Jacinthe Laplante)
Cliquer sur cette cassette sera votre coup de grâce. Elle vous mènera aux confins d'un espace sans vie. Sans possibilité de retour. Comme vous, Ambisinistrous dérive plus loin, un moment dans un cocon, créant un vide vibrant autour et à l'intérieur de vous. Ce duo utilise toutes les oscillations, captivant les foules avec leur grand boucan audiovisuel. Il n'est pas surprenant que Fletcher Pratt soit derrière le bonheur bourdonnant de cette courte cassette avec Erik Larsen qui nous porte jusqu'aux étoiles en jouant avec les boutons de réglage.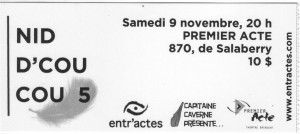 Nid d'Coucou 5
Created and directed by: Dominic Lapointe et Jean-François Lessard
(Entr'actes // Capitaine Caverne)
Québec, QC
From the comfortable insanity of AnneMarie Papillon:
(Translated by AnneMarie Papillon)
"It would be the maddest thing, wanting to be sane in this crazy world" – Didier Erasme
Please tell me, am I crazy? Very few people could state that they never asked themselves this very question. As complex as it can be. After all, what defines madness? Who is mad, who is not? What 'proves' your madness and what 'treats' it? What might seem completely insane to one might be normal to another. If the violation of the social norms with ones' thoughts and actions defines madness, then is it easy to feign insanity to obtain what we desire? By the way, who gives themselves the right to dictate those social norms? A quest for answers.
Point a microscope at our misconceptions about mental illness and at our arbitrary social constructs and generate uneasiness. Using the cabalistic brains of six improv comedians, some of whom are living with disabilities, the cast of Entr'actes forces us to question the preconceived ideas that live within ourselves. And very few experiences are as sincere as an improv game. Nid d'Coucou, through 'treatments' prescribed to those willing to play, explores topics like perception, childhood, confidence. The host puts on an oldish smock and a friendly patronizing smile and becomes the 'psychiatrist'. Eloquent and well-paced, he guides the audience through the realm of their perceptions. Dispenses the utopian quotes from the wise men of our world. Prescribes, as part of his 'treatment' a particularly intriguing musical reference, one that is deeply rooted in Quebec's pop culture.
Of course there will be jokes that crack the audience up with laughter, light-hearted puns, typical side-effects of the speed which improv comedians have to deal with. A less obvious side effect of speed is that the cast is forced to get fiercely personal. Like a child's bond with his teddy, each reaction and the interpretation of an image projected on the screen is uniquely intimate. Now this is where it is interesting to notice which elements manage to get a reaction from the audience. Everything that is part of Nid d'Coucou, from the brilliant pianist to the broken down white venetian blinds acting as the set to the complicity between the comedians, is of a touching authenticity. All is left to chance, all is possible. The purpose isn't to find answers after all, but to come out full of an experience to feed our thoughts.
De la saine folie d' AnneMarie Papillon:
"C'est bien la pire folie que de vouloir être sage dans un monde de fou" – Didier Erasme
Dites-moi, serais-je fou? En assumant une réponse honnête, rares sont ceux qui ne se sont pas posé la question. Si complexe soit-elle. Après tout, comment définir la folie? Qui est fou? Qui ne l'est pas? Qu'est-ce qui « prouverait » la folie et dans le cas échant, qu'est-ce qui la « guérirait »? Certainement, ce qui parait fou pour un sera totalement sain d'esprit pour un autre. Puisque le fait de, par ses actions et pensées, violer les « normes » sociales représenterait la folie, on pourrait aussi la feindre pour avoir ce que l'on désire? Après tout, qui se donne le droit de dicter ses normes-là? Quête de réponses.
Une telle introspection dans la complexité de nos conceptions crée peut-être un malaise; le regard que l'on pose sur les autres et sur nous, sur la maladie mentale, n'est pas chose facile. En utilisant l'esprit cabalistique d'un groupe de six improvisateurs, vivant ou non avec un handicap, Entr'actes force à remettre en question les idées préconçues qui nous habitent. Et bien peu de choses sont aussi sincères qu'un jeu d'improvisation. La pièce Nid d'Coucou, à travers des défis présentés aux comédiens sous forme de « traitements », explore la perception, l'enfance, la confidence, etc. L'animateur revêt son vieux sarrau et son sourire sympathique pour s'improviser « psychiatre » et, avec éloquence, amène ses spectateurs à redéfinir leurs perceptions. Il le fait, entre autres, en passant à qui veut bien quelques citations utopiques d'un artiste/savant/beau parleur de ce monde. Il utilise aussi, pour inspirer les improvisateurs dans un traitement, une référence musicale particulièrement intrigante, mais surtout bien ancrée dans la culture populaire.
Certes, des blagues à faire éclater la salle de rire, des blagues de premier degré, conséquence typique de la rapidité à laquelle l'improvisateur doit se prêter. Mais aussi des réflexions plus personnelles percent : la relation complexe de l'enfant avec son animal en peluche favori, les réactions qu'engendre l'interprétation d'images projetées sur un écran où il est intéressant de remarquer quels éléments provoquent une réaction. Tout ce qui fait partie de Nid d'Coucou; l'excellent pianiste, les vieux vénitiens blancs qui font office de décor, la complicité entre les comédiens, semblent être d'une authenticité touchante. Tout est laissé au hasard, tout est possible. Le but n'est vraisemblablement pas d'en sortir avec des réponses, mais plutôt de s'être prêté à une expérience qui alimentera nos réflexions.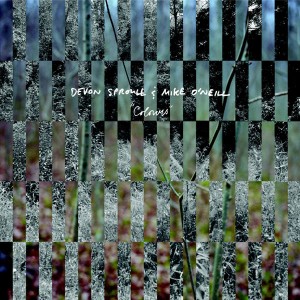 Devon Sproule and Mike O'Neill
Colours
Toronto, ON
From the cottage fireplace of Gabe Girard:
Devon Sproule has one of those genuine voices that sounds like talking and singing at the same time. Colours finds Sproule joined by Mike O'Neill of The Inbreds, who provides tasteful guitar accompaniment to the well travelled singer/songwriter, plus ringers Thom Gill, Ryan Driver and the rhythm section from Bernice. The record goes through a wide variety of moods and feels, but always comes back to the soft, warm, folky sound Sproule is known for. Like sitting by a cottage fireplace with your slippers on. Opener "You Can Come Home" really draws you in with sly hooks and a beautiful chorus. The vocals and harmonies on "Walking In The Folly" are especially noteworthy, even reminiscent of Emmylou Harris. Exuding warmth and innocence, the artists' thoughtful chord choices, sincere lyrics and lighthearted approach coalesce, creating a pleasurable and calming album. Best served with a cold winter evening and a cup of tea.
Du foyer de maison de campagne de Gabe Girard:
(Traduit par les pantoufles de Julie Forget)
Devon Sproule possède une de ces voix authentiques qui sonne comme du parlé et du chant en même temps. Colours voit Sproule rejoint par Mike O'Neill de The Inbreds, ce dernier apportant un accompagnement de guitare de bon goût à l'auteur-compositeur ayant beaucoup voyagé, par Thom Gill, Ryan Driver et par la section rythmique de Bernice. L'album passe par une grande variété d'émotions et de sensations, mais revient toujours au son doux, chaleureux et folky qui fait la marque de Sproule. C'est comme être devant un foyer, dans une maison de campagne, en pantoufles. Le premier morceau, « You Can Come Home », vous attire à l'aide de hooks malins et d'un superbe refrain. Les voix et les harmonies de « Walking In The Folly » sont particulièrement remarquables et évoquent même Emmylou Harris. La chaleur et l'innocence des artistes ainsi que les choix d'accords réfléchis, les paroles sincères et l'approche lègère s'unissent pour former un album plaisant et calmant. Il est mieux servi lors d'une froide soirée d'hiver avec une tasse de thé.
Devon Sproule and Mike O'Neill – You Can Come Home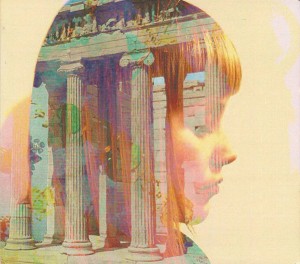 White Poppy
White Poppy
Vancouver, BC
From the post-existential reverie of Adam Bradley:
For White Poppy's eponymous Not Not Fun LP, Crystal Dorval transmutes the soft, grey clay of her shimmering ambience into sparkling, etch-textured gold. A splendorous idol aloft an ionic column, she looms down and imparts the power to dance upon its worshipers through the fog of a post-existential reverie. An impermanent rave in purgatory. The air becomes honey, sparks crackle from footfalls and the stirring clouds whorl with a pastel palette. Here, there is a distant joy and an eternal promise of beautiful things.
De la rêverie post-existentielle d' Adam Bradley:
(Traduit par l'instruction éphébique de Nicolas Coutlée)
Sur l'album homonyme de White Poppy paru chez Not Not Fun, Crystal Dorval transmue l'argile grise et friable de ses ambiances chatoyantes en lingots d'or ciselés et étincelants. Telle une idole sublime perchée sur une colonne ionique, elle pose son regard sur ses adorateurs et leur accorde le pouvoir de danser à travers le brouillard de cette rêverie post-existentielle. Un rave éphémère au purgatoire. L'air devient miel, des étincelles jaillissent de sous les pieds nus et des nuages s'élèvent en tourbillons pastels. Ici, le bonheur n'est jamais loin et promet à jamais la beauté infinie.
White Poppy – Darkness Turns To Light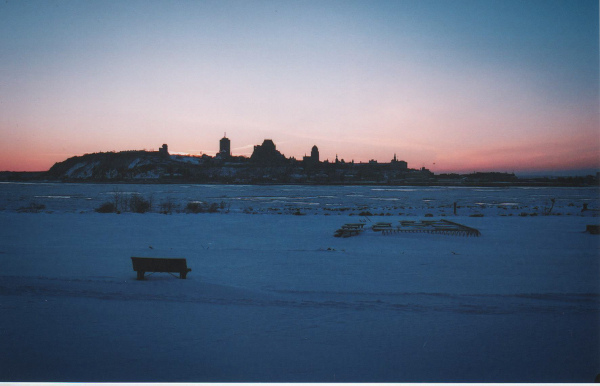 From the hometown haunts of AnneMarie Papillon:
(Translated by AnneMarie Papillon)
Perhaps it is the dramatic, daunting effect of its massive ramparts, the multicoloured facades of St-Jean-Baptiste's brickwall buildings. Maybe it is the tendency I have to burst into a lively conversation whenever someone asks where I am from. Whatever the reason, Québec warms my heart in the best of ways. Winter seems endless and summer is over in a short breath, but there is a poetic bravery in the abdication to such harsh weather. There is a meaningful sense of self found in witnessing the drastic changes of my favourite landscapes every season. A similar ever-changing scheme to the one I noticed in its art scene: impulsive and reckless yet tender and sensible. Québec has a peculiar spirit: a young adult with an old soul, fighting for both personal identity and inclusiveness. The province's capital shows off its daring local art scene within the intimacy of house shows, chummy venues, inviting book/record stores and idiosyncratic art projects. There are an extensive number of them, so here's a tour of the ones I dig.
Oromocto Diamond – Three Sisters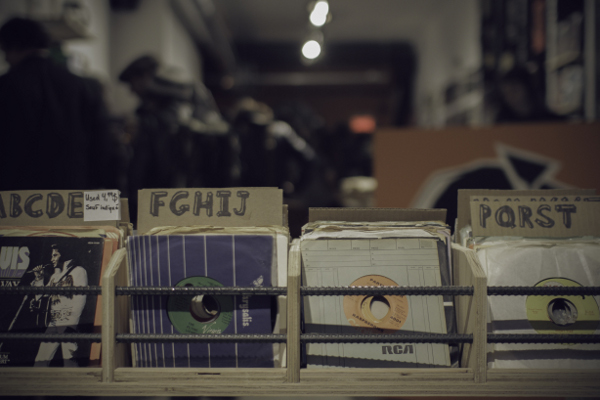 (Vinyl, local CDs/cassettes, shows)
832, rue St-Joseph Ouest, G1K 3C9
Contact: leknockout@gmail.com
[LGBTQ-friendly, wheelchair accessible.]
In St-Roch's new hip and chic boutique area, a bright and loud newborn record store has set up camp. It's not very chic and only vaguely hip but it certainly is everything I need in a record store. Its main area of expertise is punk, noise, grunge, metal and indie-rock coolness pressed on vinyl with a special love for local acts. Inspired by a record store they visited during SXSW in Austin, TX and a desperate need to stock physical copies of what they could only find online, owners Jean-Philippe and Rox (Machinegun Suzie) turned their will to promote and shake up Québec's scene into this dream space. I am particularly fond of the knowledgeable and helpful staff and their engaging in-store gigs.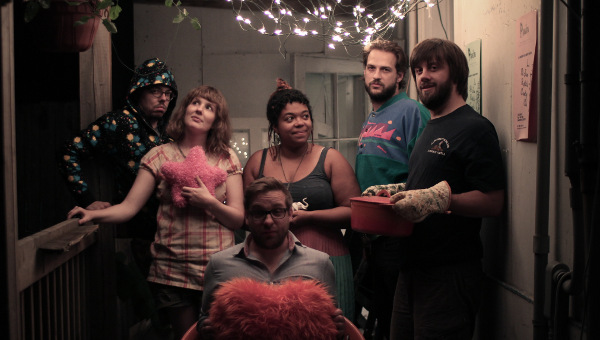 I remember a chilly night last spring when the music of Gianna Lauren and her musicians washed all over me, in a tiny cathedral ceiling attic. Sitting on the hardwood floor of the small, twinkle-lighted setup, the experience was spellbinding. This was my first time in one of the homes of DIY label 'La Palette'. Not only are their concert nights magnificently intimate, but they also brew joyous ideas. Six friends recording folky tunes on different formats, writing zines and jamming together as Le St-Jean-Baptiste Country Club. I have a sweet spot for music collectives (especially ones with such a rad band name); the way they take turns at being 'center stage'; the way they genuinely seem to make music for the sheer fun of it. It blends perfectly. Bandcrush
<<< read more >>>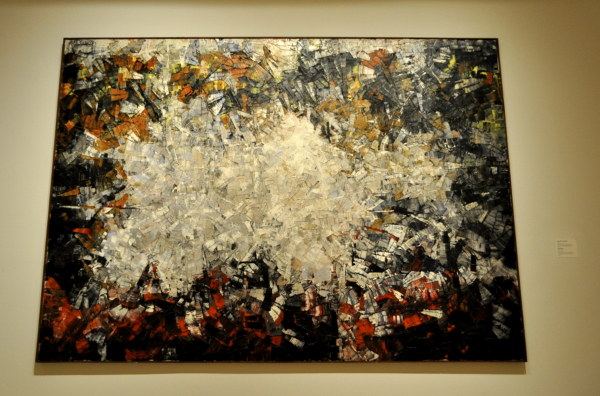 My love and appreciation for museums came at an early age, before I was in a position to vocalise why I was in awe in front of a piece of art. It comes from the splendour of the great rooms, from the enchantment of the climbable structures and the tiny nooks in the corners, the ones I felt were made just for me to play in. MNBAQ is part of where I grew up and shaped my little self. In and around it. It's set in the heart of Plains of Abraham, surrounded by hills, green (or white) land, numerous trees and an impressive view of the St Lawrence River. I can rarely resist the temptation to walk in and sit by Riopelle's Poussiere de Soleil, contemplating. Or hike up the old prison's tower to its lookout that oversees my city. It is in these very rooms that I stood still, gazing at the first Frida Kahlo piece I ever saw. The museum's room and surroundings are free to enjoy, except for travelling exhibits. Its content is spread through three very different buildings but equally majestic. Another one is on the way.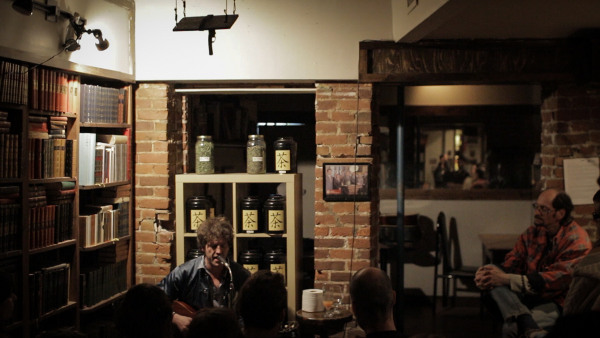 Meandering around the Quartier St-Jean Baptiste, I often stop by the library of the same name. A little flight of stairs brings me to this apartment converted into a bookstore. The building is old, it smells musty and the walls are lined with a superabundance of books. French and Quebecois fiction, a few translated classics, philosophical essays and politically flavoured zines. It has the comfort of a friend's living room; they serve beer, coffee, they have local artists exhibiting on their walls, and they host intimate gigs/book launches, etc. The owner, David Tranche-Montagne, is not shy to say that what he offers is ''an alternative to the surrounding idiocy ''. It's a place to share, debate, laugh and learn. I have to say I am always surprised to notice this establishment isn't the home of cats. I never asked why. (*Photo: Al Tuck)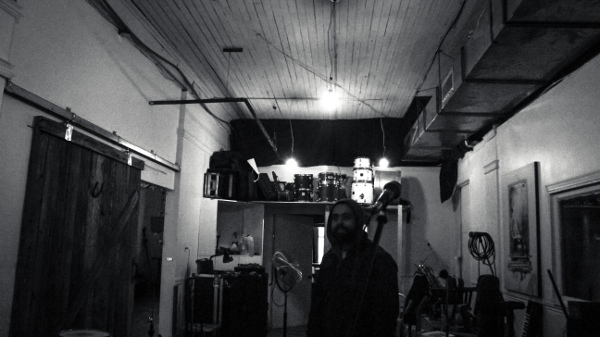 In another, more rugged part of town, musicians Jean-Michel and Jean-Etienne turned their apartment into a hotbed of musical creation and it's safe to say I'll be eternally grateful. It's called Pantoum-LePhoque. It's a label, a recording studio, a jam space, and a venue. It has screenprinting equipment, grilled cheese sandwiches and a BYOB policy. The catalytic venture, inspired by other semi-clandestine spaces, invites expertise sharing; several music projects burst into life within these very walls in the last year. This speed-punk retch is my favourite.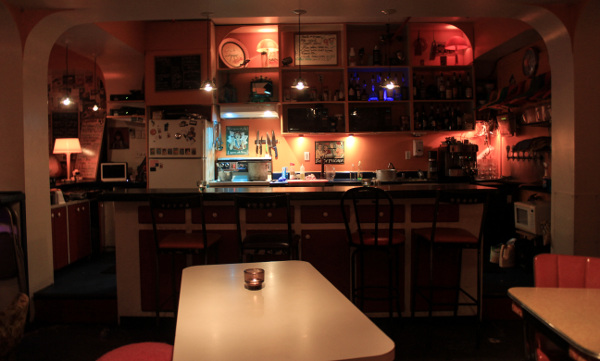 I'll admit I get excited effortlessly. The smell of home-cooked shepherd's pie. Brightly coloured lamps. First and second generation Nintendo consoles. Choosing the best chair at a table of odd ones. Dancing to catchy old tunes in that no-one-is-watching (but-they-should-definitely-join-in) fashion. It's slightly strange how La Cuisine combines a quirky decor and delicious smells in the same way my grandmother Fleurette used to. It has the same comfort as her apartment. Think handicrafted luminaires, DIY tapestry, potted plants aplenty, and parties with all of the household comforts.

I remember the gruesome bass of Drogue pounding through the stairs as I first walked in for a show. A cloying sense of claustrophobia tinged with unfamiliar sounds. One of Quebec's most established venues holds a space within its lair-ish basement for gloomier, louder shows. An initiative of phenomenal full time booker Jean-Claude Anto and Max Chiasson (Ponctuation), the idea of turning the barely used basement of Le Cercle came from a desire to showcase unconventional projects, in a DIY manner, at a low cost. The result is performances and gigs with obscure lineups that can only rival your haziest dreams of musical discoveries. (*Photo: Leafer, Sean Nicholas Savage, TONSTARTSSBANDHT, Olenka & The Autumn Lovers)
Des repaires bien-aimés d' AnneMarie Papillon:
Peut-être est-ce l'effet dramatique et intimidant de ses massifs remparts ou les façades aux multiples couleurs des murs de briques du quartier St-Jean-Baptiste. Peut-être est-ce cette manie que j'ai à déraper dans une conversation animée chaque fois que quelqu'un m'interroge sur ma ville natale. Peu importe la raison, Québec a le don de me réchauffer le coeur. L'hiver semble ne jamais vouloir se terminer et l'été, ne durer que le temps d'une chaude brise mais il y a une bravoure poétique à abdiquer face à de si pénibles températures. Il y a une conscience de soi significative à être témoin des changements si drastiques dans la composition de mes paysages favoris. Une évolution constante similaire à celle que je perçois dans sa scène artistique; impulsive et téméraire mais tendre et sensible. Québec possède un esprit particulier: un jeune adulte doté d'une vieille âme, se battant autant pour l'inclusivité que pour sa propre identité. La Capitale Nationale fait valoir sa scène artistique locale à travers l'intimité de concerts de salon, de salles de spectacles confortables, de librairies/boutiques de disques invitantes et de projets artistiques idiosyncratiques. Il y a une foule de trucs intéressants: en voici quelques-uns qui me plaisent:
Oromocto Diamond – Three Sisters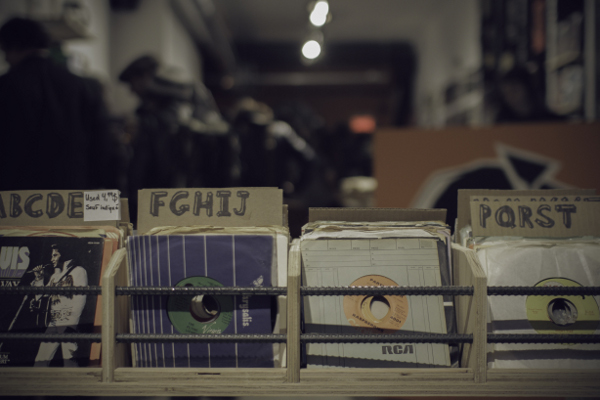 (Vinyles, disques et cassettes, concerts)
832, rue St-Joseph Ouest, G1K 3C9
Contact: leknockout@gmail.com
[Les gens s'identifiant comme LGBTQ sont bienvenues, accessible en chaise roulante.]
Au travers de tout le mélange de nouvelles boutique super-chic-et-à-la-mode que St-Roch offre, un nouveau-né orange "pétant" et vraiment bruyant a ouvert ses portes. C'est vaguement à la mode, ce n'est pas vraiment chic et c'est certainement tout ce dont j'ai besoin d'une boutique de disques. Ses domaines d'expertise sont le punk, le noise, le grunge, le métal et le rock 'indie' pressés sur vinyles avec une attention toute spéciale pour les groupes locaux. Les proprios Jean-Philippe et Rox (Machinegun Suzie) se sont inspirés d'une boutique qu'ils ont visitée lors d'un voyage au SXSW à Austin TX, et du besoin flagrant d'approvisionner la ville en copies physiques de ce qu'ils ne trouvaient qu'en ligne. Ils ont concentré leur envie de promouvoir et de 'réveiller' la scène musicale de Québec pour créer cet espace de rêve. Je suis particulièrement friande des employés avenants et connaisseurs et de leurs concerts de boutique super personnels.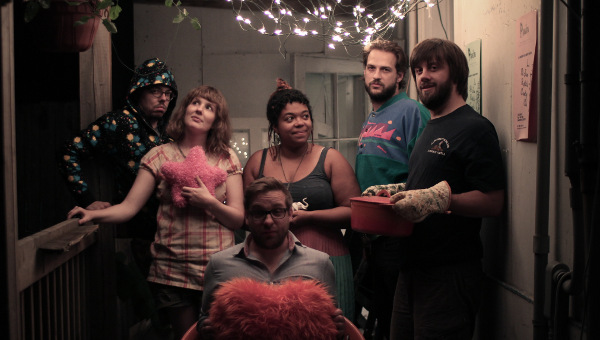 (Studio d'enregistrement, fanzines, concerts)
Contact: sebastien@lapalettemusique.com
[Les gens s'identifiant comme LGBTQ sont bienvenues, plusieurs marches à monter pour accéder au grenier.]
Je me souviens d'une froide soirée du printemps dernier, où la musique de Gianna Lauren et de ses musiciens m'a complètement engloutie, dans un petit grenier au plafond cathédrale. Assise sur un plancher de bois, entourée de lumières de fêtes blanches, l'expérience était magique. C'était ma première fois dans une des maisons de l'étiquette DIY ''La Palette''. Non seulement leur soirées de concerts sont magnifiquement intimes, mais ils mijotent d'allègres idées. Six copains qui composent et enregistrent, sur différents formats, leurs chansons folks, qui écrivent des fanzines et qui jouent ensemble dans Le St-Jean-Baptiste Country Club. J'ai un petit faible pour les collectifs musicaux(spécialement ceux avec un nom de groupe si chouette; la manière dont ils ont de se prêter le tour à l'avant-scène, le fait qu'ils laissent vraiment l'impression de jouer par pur plaisir, ça donne un mélange harmonieux. ''Béguin''
<<< read more >>>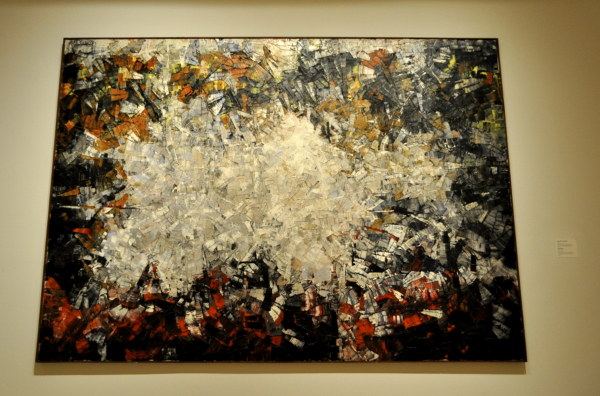 (Art visuel, histoire, concerts, bouffe)
Parc des Champs-de-Batailles, G1R 5H3
[Les gens s'identifiant comme LGBTQ sont bienvenues, accessible en chaise roulante.]
Mon appréciation et amour pour le monde muséal me sont venus très tôt, avant même que je sois dans une position où mes connaissances me permettaient de vocaliser pourquoi j'étais en admiration devant une pièce d'art. Cet amour vient de la splendeur des grandes salles, de l'enchantement que procurent les structures que l'on grimpe, les petits recoins dans les murs, ceux qui semblaient avoir été construits spécialement pour que je m'y amuse. Le MNBAQ fait partie des endroits où j'ai grandi et façonné ma petite personne. Son intérieur et ses alentours. Il est construit au beau milieu des plaines D'Abraham, entouré de collines vertes(ou blanches), de nombreux arbres et entouré d'une vue impressionnante sur le St-Laurent. Je peux difficilement résister à l'envie d'y entrer et d'aller m'asseoir devant Poussière de Soleil de Riopelle. Ou de monter les escaliers jusqu'à la tour de l'ancienne prison d'où je peux admirer la quasi entièreté de ma ville. C'est dans ces salles que je suis restée debout à admirer la première oeuvre de Frida Kahlo que j'aurai vue. Les alentours du musée, comme ses salles d'expositions, sont accessibles gratuitement sauf pour les expositions non permanentes. Son contenu est partagé entre trois édifices très différents mais également majestueux. Un autre est en construction.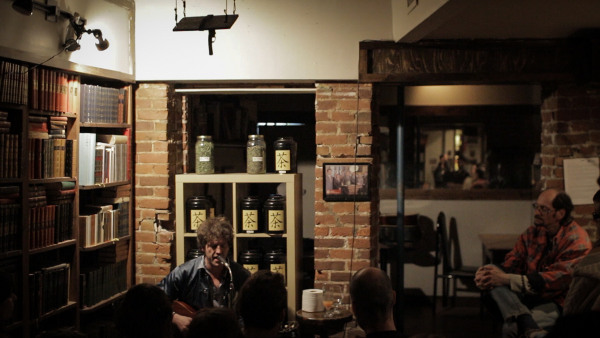 (Livres, coupe-soifs, sièges confortables)
565, rue St-Jean, G1R 1P5
Contact: librairesjb@gmail.com
[Les gens s'identifiant comme LGBTQ sont bienvenues, cinq marches à monter pour accéder à la librairie.]
En serpentant les rues du Quartier St-Jean-Baptiste, souvent je m'arrête à la Librairie du même nom. Un petit escalier me mène à cet appartement converti en magasin de livres. L'édifice est vieux, ça sent un brin l'humidité et les murs sont littéralement couverts de livres. De la fiction française et québécoise, quelques classiques traduits, des essais philosophiques et des fanzines à saveur politique. L'endroit est confortable comme le salon d'un ami; on y sert de la bière, du café, des toiles d'artistes locaux sont exposées sur les murs et on y présente des concerts intimes, des lancements de livres/projets, etc. Le proprio, David Tranche-Montagne, ne se gêne pas pour dire que ce qu'il offre est «une alternative à la débilité ambiante». C'est un lieu pour partager, débattre, rire et apprendre. Je suis à chaque fois surprise de réaliser qu'aucun chat ne règne en maitre dans ce lieu. Je n'ai jamais demandé pourquoi. (*Photo: Al Tuck)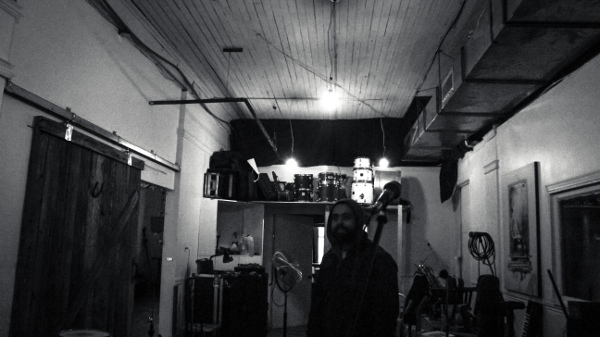 (Ouvert à tous les soirs d'évènements, studio d'enregistrement, locaux de pratique, sérigraphie, concerts)
Contact/booking: pantoum@gmail.com
[Les gens s'identifiant comme LGBTQ sont bienvenues]
[plusieurs marches à monter pour accéder à la salle de spectacle.]
Dans une différente partie du centre-ville, un coin un peu plus glauque, les musiciens Jean-Michel et Jean-Étienne ont fait de leur appartement un lieu rassembleur de création musicale et c'est le cas de dire que je leur en serai éternellement reconnaissante. Ça s'appelle Pantoum-LePhoque. C'est une étiquette, un studio d'enregistrement, un lieu de pratique et de concerts. Il y a sur place de l'équipement de sérigraphie, des grilled-cheeses et un concept 'Apportez votre boire'. L'endroit catalyseur, inspiré d'autres lieux semi-clandestins, invite le partage d'expertises; dans la dernière année, plusieurs projets musicaux sont nés entre ses murs. Ce vomissement punk ultrarapide est mon favori.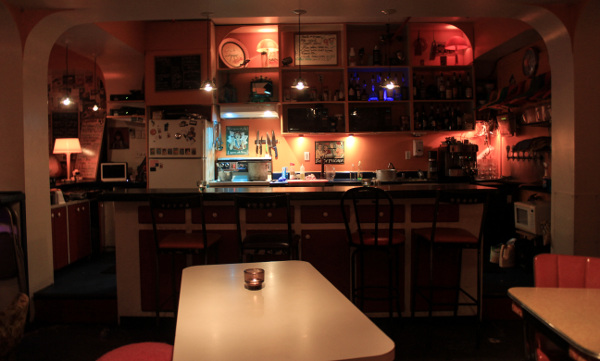 (Bouffe géniale, coupe-soifs, soirées DJ, concerts)
205, rue St-Vallier Est G1K 3P2
Contact: barlacuisine@hotmail.com
[Les gens s'identifiant comme LGBTQ sont bienvenues, une marche à monter pour accéder au lieu.]
Je dois admettre qu'il m'en faut peu pour m'émerveiller. L'odeur du pâté chinois dans le four. Des lampes aux couleurs vives. Une console nintendo et/ou super nintendo. Choisir la meilleure chaise à une table où elles sont dépareillées. Danser sur des vieilles chansons 'catchy' à la manière j'en-ai-rien-à-foutre-de-ce-que-les-gens-pensent. C'est un peu étrange la façon dont La Cuisine combine un décor excentrique et des odeurs délicieuses de la même manière que le faisait ma grand-mère Fleurette. L'endroit a le même confort que son appartement, dans le temps. Des luminaires faits à la main, de la tapisserie DIY et des plantes vertes en veux-tu, en v'la. Et le party y prend facilement.

(Ouvert les soirs d'évènements, coupe-soifs, concerts et performances, soirées DJ)
228, rue St-Joseph, G1K 3A9
Contact/booking: booking@le-cercle.ca
[Les gens s'identifiant comme LGBTQ sont bienvenues, plusieurs marches à descendre pour accéder au sous-sol.]
La première fois que j'y suis descendue pour un concert, je me souviens de la ligne de basse terrifiante de Drogue qui faisait vibrer la cage d'escalier. Un sentiment de claustrophobie envahissant, teinté de sons peu familiers. Une des salles de spectacles les plus établies de la ville possède un espace presque caché pour les trucs lugubres et bruyants. Une initiative de leur extraordinaire 'booker' à temps plein Jean-Claude Anto et de Max Chiasson, l'idée d'utiliser l'espace pratiquement inoccupé du sous-sol du Cercle est venue du besoin de trouver un endroit où présenter et faire jouer les projets de musique pas trop conventionnels, ceux qui ne cadrent pas dans les 'vraies' salles de spectacles. Tout en le faisant le plus DIY possible, à faible coût. Le résultat: des performances et des concerts avec des programmations obscures qui ne peuvent que rivaliser avec vos rêves les plus f(l)ous de découvertes musicales. (*Photo: Leafer, Sean Nicholas Savage, TONSTARTSSBANDHT, Olenka & The Autumn Lovers)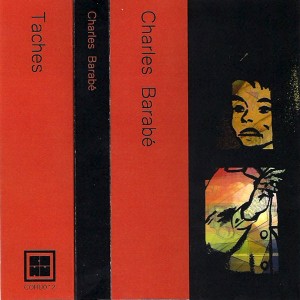 Charles Barabé
Taches
(La Cohu)
Victoriaville, QC
From the digressions and paintbrushes of Hugo Hyart:
(Translated by Hugo Hyart)
Charles Barabé filled 2013 with relentless discoveries and mind trips through his La Cohu imprint, including this standout solo release. High frequencies conjure an endless fall that makes you think you're moving forward, as deserted souls of all shapes welcome you to an Elysian field, going round this multi-coloured star at the speed of a tranquil rollercoaster wagon. Sometimes you meet hikers rambling on mountains with no top or base. On the eardrum canvas, the "taches" made by his aural paintbrushes shape a flow to help you find meaning or just contemplate in ataraxia. Much like everything in existence, huh? But beware, for the traps of generalization are numerous. Your mind is in space, yet your ears still hear bits from where you're sitting. Faraway places in our cranial box are right here. Look! This tape is yet another pair of glasses, showing us once again how the experimental music that seems to resonate so much in Quebec can be bewitchingly evocative. This one is sadly sold out, but we should be hearing more from Barabé in 2014. Dope!
Des digressions et pinceaux de Hugo Hyart:
Charles Barabé ne s'est pas épargné pour truffer 2013 de découvertes et de voyages de l'esprit à travers sa marque La Cohu, dont cette remarquable sortie solo. De hautes fréquences te portent dans une chute sans fin qui te fait penser que tu vas en avançant, tandis que des âmes désertées de toutes formes t'accueillent dans un Champ Elyséen faisant le tour de cette étoile multicolore à la vitesse d'un wagon de montagnes russes calme. Parfois tu rencontres des randonneurs se promenant sur des montagnes sans sommet ni base. Sur le canevas du tympan, les « tâches » laissées par des pinceaux auriculaires forment un courant qui t'aide à trouver un sens ou que tu peux contempler en ataraxie. Un peu comme tout dans l'existence, non? Mais prends garde, car les pièges de la généralisation sont nombreux. Ta tête est dans l'espace, mais tes oreilles entendent encore des bribes de là où tu es assis. Les endroits reculés dans notre boîte crânienne sont juste là. Regarde! Ce tape est encore une autre paire de lunettes, nous montrant une fois de plus comment la musique expérimentale qui semble tant résonner au Québec peut être aussi évocatrice et ensorcelante. Celui-là est malheureusement épuisé, mais on devrait entendre à nouveau parler de Barabé en 2014. Cool !
Charles Barabé – Taches A (extrait)
---