Category: Ex Libris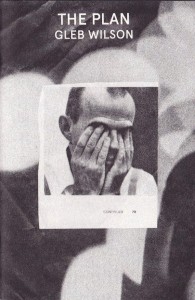 The Plan
Written by: Gleb Wilson
Montreal, QC
From the internal struggle of Alex Bourque:
Despondent Soviet soldiers. Directionless Hollywood hacks. Status-seeking high school burnouts. In The Plan, Gleb Wilson collects heart-wrenching stories of boys and men alike, trying and failing to fulfill goals shaped by their own skewed sense of self. Hopelessness. Decay. Dissatisfaction. The subtly humorous and melancholic dialogue between characters exposes their lack of empathy as they attempt to play their part. The inability to communicate and relate reveals a facade embedded in our understanding of happiness, success, and masculinity. Facades of life, social media superficiality personified, appearances on top of appearances on top of appearances, with personality, expression, and internality buried so deep, it's hardly there; and so their struggle continues.
Du combat interne d' Alex Bourque:
(Traduit par la déprime soviétique de Vincent Rondeau)
Des soldats soviétiques déprimés. Des écrivains médiocres de Hollywood sans direction. Des burnouts d'école secondaire en quête de statut social. Dans The Plan, Gleb Wilson recueille les histoires déchirantes de garçons et d'hommes qui tentent sans succès d'atteindre des objectifs dictés par une vision déformée d'eux-mêmes. Le désespoir, la décadence, le mécontentement. Le dialogue subtilement comique et mélancolique révèle le manque d'empathie des personnages qui tentent de jouer leur rôle. Cette incapacité à communiquer et à s'identifier aux autres trahit un blocage inhérent à notre compréhension du bonheur, du succès et de la masculinité : les apparences des apparences des apparences, la superficialité des médias sociaux, les façades de la vie, tandis que la personnalité, l'expression de soi, la subjectivité sont reléguées si profond qu'elles sont à peine présentes, et le combat continue.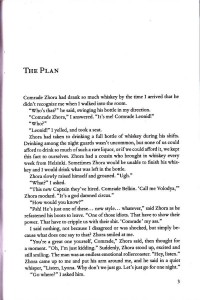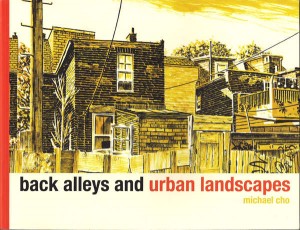 Back Alleys and Urban Landscapes
Illustrated by: Michael Cho
[80 pp., paperback, 9.75" x 7.5", full colour]
Toronto, ON
From the alleyways and avenues of James Lindsay:
There are always two ways to walk a city. The first is its obvious face, efficient and fair, presented to citizen and tourist alike. The second is for those who don't want to be seen, forgoing sidewalks in favour of the shadow streets that maze in back, as if an afterthought, but really a functional necessity. For many who have lived most of their lives in Toronto, Michael Cho's drawings are as iconic as anything you might find on a postcard bought at the base of the CN Tower, yet have a dreamlike quality that's at once instantly familiar but also unplaceable. You know you've been in some of these images, but couldn't say when. You were only passing through to somewhere more apparent, more populated, and decided to take a shortcut where the planners didn't intend for us to walk. But we do, and often at night.
Des ruelles et avenues de James Lindsay:
(Traduit par les pérégrinations de Dominic Mpilé)
Il y a toujours deux façons de découvrir une ville à pied. La première est de parcourir son côté visible, fonctionnel et attrayant, présenté autant aux citoyens qu'aux touristes. La seconde est pour ceux qui ne veulent pas être vus, ceux qui renoncent à emprunter les trottoirs en faveur du labyrinthe de ruelles sombres qui se déploie derrière, telle une arrière-pensée, mais pourtant essentiel d'un point de vue fonctionnel. Pour beaucoup qui ont vécu la majeure partie de leur vie à Toronto, les dessins de Michael Cho sont aussi iconiques que n'importe quelle carte postale achetée au pied de la Tour CN, mais présentent un caractère onirique, endroits instantanément familiers mais insituables. Vous savez vous être trouvé dans quelques-unes de ces images, mais vous ne pourriez dire quand — vous ne faisiez que passer en direction d'un lieu plus lumineux, plus populeux, et vous avez décidé de prendre un raccourci, là où les planificateurs urbains ne nous attendaient pas, mais nous y marchons, et souvent la nuit.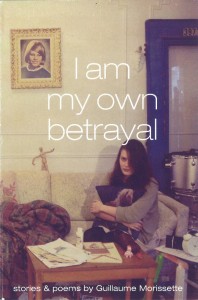 I Am My Own Betrayal
Written by: Guillaume Morissette
[102 pp., paperback, perfect bound]
Montreal, QC
From the resignation and resurrection of David Steinberg:
Sleepwalking through pop culture lugubriousnesses, avoidable faux-paux, and intentional bridge-burning, Guillaume Morissette's I Am My Own Betrayal rubs the dust from its eyes, confused, and with a bloody nose, but grinning upon the light of the new morning. Post-mortem, dream analysis, hung-over last-night-puzzle-piece configuring, the stories and poems within try to make sense of events, painful or pleasant, in the context of transitional analysis and Wrestlemania video games, though neither one more successful than the other. However, it would not be fair to paint too blue a picture of Morissette; you will find no self-pitying apathy here. There is pain and hope: "If life is a minefield, then happiness was probably running in it."
De la résignation et la résurrection de David Steinberg:
(Traduit par l'analyse des rêves de Vincent Rondeau)
Avançant à tâtons parmi la culture pop lugubre, les faux-pas faciles à éviter et les ponts brûlés, « I Am My Own Betrayal » de Guillaume Morrissette se frotte les yeux pour en ôter la poussière, confus et saignant du nez, mais souriant dans la lumière du matin. Post-mortem, à la manière de l'analyse des rêves ou d'un casse-tête intérieur de lendemain de brosse, les histoires et les poèmes de ce recueil tentent de donner un sens à des événements douloureux ou joyeux dans un contexte d'analyse transactionnelle et de jeux vidéo de Wrestlemania, même si ni l'un ni l'autre n'ont de succès. Mais il ne serait pas juste de montrer Morissette comme quelqu'un de trop las ou mélancolique : vous ne trouverez aucune apathie ni apitoiement ici. Il y a de la douleur comme de l'espoir : « si la vie est un champ de mines, le bonheur c'est de courir à travers ».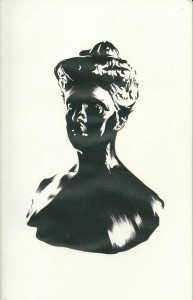 Women
Illustrated By: Shawn Kuruneru
(Bsviv)
[38 pages, 5" by 8", laser print, perfect bound]
Montreal, QC
From the phenomenological vacuum of Pavan Brar:
Though beginning with a reworking of Gustav Courbet's L'origine du monde, Shawn Kuruneru's Women subsequently departs from realist representation, moving instead towards the conveying of moods by means of altered configurations of the body. Not quite in the realm of psychedelia, nor schizophrenia, Kuruneru instead wields mixtures of delicate hues and monochromaticity to forge a kind of vivid imagery accessible at the more subterranean tiers of consciousness. Hypnopompic illustrations exist in a space composed of linear patterns, simple shapes, and (at times fractured) bodily forms. Other pieces, composed entirely of ink dots, form no discernible patterns or figures, but are reminiscent to the contrasts in color density one could observe when looking at cells under a microscope.
Kuruneru's visual language serves both to emphasize and extend the intrinsic beauty of the subjects in his illustrations by partially abstracting them from reality, adding dimensions of raw feels to obscured female forms.
Du vacuum phénoménologique de Pavan Brar:
(Traduit par la philosophie d'ascenseur de Nicolas Coutlée)
Partant d'une réinterprétation de L'origine du monde de Gustave Courbet, Women de Shawn Kuruneru délaisse toutefois le réalisme et cherche plutôt à dépeindre des états d'âme par des configurations altérées du corps. Ne logeant pas tout à fait à l'enseigne du psychédélisme ni plus qu'à celle de la schizophrénie, Kuruneru manie les mixtures de teintes délicates et de monochromie pour concocter une sorte d'imagerie pénétrante accessible uniquement par les souterrains de la conscience. Les illustrations hypnopompiques se trouvent dans un espace composé de motifs linéaires, de formes simples et de silhouettes (à l'occasion fracturées). D'autres, composées entièrement de petits points d'encre, n'offrent aucune forme ou figure discernable, mais rappellent les contrastes de densité de couleur que donnent à voir des cellules au microscope.
Le langage visuel de Kuruneru souligne et renforce la beauté intrinsèque de ses sujets en les rendant partiellement abstraits à la réalité, en ajoutant des dimensions de sensations brutes à ces silhouettes féminines obscurcies.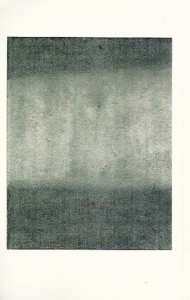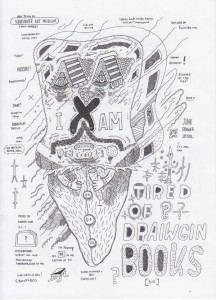 I Am Tired of Draiwgin Books [sic]
Illustrated By: Marc Bell and Guests
[12pp. staple-bound]
London, ON
From the surreal obscenities of Bryce Warnes:
With a gang of Canadian talent in his grips, Marc Bell compiles nine collaborative pen-and-ink visions in zine format. Ranging from single mutant forms (exquisite corpses, minus horizontal border-lines) to roiling crowd scenes, the pages of I Am Tired of Draiwgin Books [sic] spew and sputter with texture and movement. The elusive Owen Plummer offers up fierce totemic figures; animator Amy Lockhart contributes outsider art deformities; Keith Jones throws his explosive mini-murals into the mix. Snatches of text bulge and dribble throughout, and light jabs are taken at the VAG, Julian Schnabel, and dog-owners who fail to poop scoop. The perfect coffee table zine to pass around at your next beer and pizza potluck.
Des obscénités surréalistes de Bryce Warnes:
(Traduit par le furoncle invincible de Nicolas Coutlée)
Avec un groupe de talents canadiens entre ses serres, Marc Bell compile en un zine neuf visions collaboratives encre-et-stylo. Allant des formes mutantes en solo (cadavres exquis sans les lignes de séparation horizontales) aux scènes de foule turbulente, les pages de « I Am Tired of Draiwgin Books (sic) » giclent et jutent de texture et de mouvement. L'insaisissable Owen Plummer nous offre de féroces figures totémiques; l'animatrice Amy Lockhart y va de ses déformations décalées; Keith Jones ajoute au mélange ses mini-murales explosives. Des bribes de texte boursouflent les pages et en suppurent, tandis que quelques flèches émoussées sont lancées à la VAG, à Julian Schnabel, aux propriétaires de chiens incapables de ramasser leur merde. Le parfait zine de table à café à faire circuler lors de votre prochain potluck bière et pizza.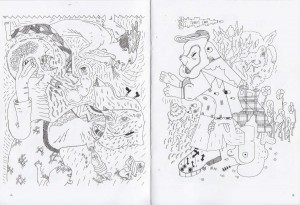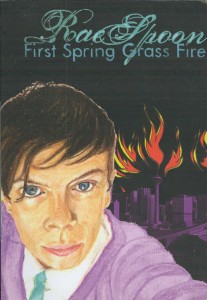 First Spring Grass Fire
Written By: Rae Spoon
[137 pp., paperback, perfect bound]
Montreal, QC
From the meta antics of Jessica Faulds:
Rae Spoon's debut novel (Fictionalized memoir? Personalized fiction? Diaristic mindfuck?) reads like a series of postcards from a profoundly painful adolescence. For those of us who didn't grow up Calgarian evangelicals, it also serves as a tour of fundamentalist strangeness, featuring faith healings, speaking in tongues, and (perhaps most frightening of all) trips to Christian summer camp. It is hard not to experience First Spring Grass Fire as a pyramid of hurt, stacked on a foundation of doubt and fear. But this series of vignettes succeeds because Spoon is absolutely unflinching in staring down the fucking monsters of their youth. Mental illness, queer-phobia, loss, humiliation, self-doubt: all are splayed on the autopsy table under the pathologist's blinding light. Like mortality, it is… uncomfortable.
Yet Spoon's narrative approach lures even the squeamish. Despite having shed their country-music image, Spoon nevertheless retains the cowboy's plain-spokenness, and a golden haze of nostalgia hovers around even the most brutal scenarios. Also, the meta antics of author-as-character/memoir-as-fiction act as a nice foil to the squirm-inducing honesty displayed on almost every page. Yes, junior-high-school gymnastic routines happened to all of us, but Spoon's treatment reconstructs them as fictions. Still harrowing, but possible to isolate as stories, and to extract as tumours of humiliation.
This is a book about the redemptive power of art in general, and music in particular. This is Spoon's wellspring of hope. It is a parable about being saved, not by a deity, but by a guitar. It is, at heart, the story of how the creator of this video grew from the person who once resolved, "I will never play music in front of people again."
Des méta-espiègleries de Jessica Faulds:
(Métamorphosé par Vincent Rondeau)
Le premier roman de Rae Spoon (autobiographie romancée? fiction personnelle? journal intime hallucinant?) se lit un peu comme une série de cartes postales venues d'une adolescence terriblement douloureuse. Pour ceux qui n'auraient pas grandi dans la communauté évangélique de Calgary, il dépeint également toutes les bizarreries du fondamentalisme, entre autres la guérison par la foi, la glossolalie et peut-être la plus effrayante de toutes, les camps d'été chrétiens. First Spring Grass Fire se présente comme une pyramide de douleur fondée sur le doute et la peur. Néanmoins, cette série de vignettes est un succès puisque Spoon, imperturbable, ne cède pas devant tous les monstres de son enfance : les troubles mentaux, la queer-phobie, la défaite, l'humiliation, le doute de soi-même sont tous écartés sur la table d'autopsie sous la lumière aveuglante du médecin légiste. C'est inconfortable… comme la mort.
Pourtant, l'approche narrative de Spoon est susceptible d'attirer même les esprits délicats. Ayant délaissé son image country-western, Spoon en garde toutefois le parler franc du cowboy et on remarque comme une aura dorée de nostalgie même autour des scénarios les plus durs. Les méta-espiègleries narratives (auteur-personnage / auto-bio-fiction) complémentent agréablement l'honnêteté dérangeante présente sur presque chaque page du livre. Oui, nous avons tous fait de la gymnastique au secondaire, mais le traitement de Spoon réinvente la situation comme une fiction. Cette approche nous permet d'isoler ces événements, quoiqu'ils restent extrêmement pénibles, comme autant de récits ponctuels, de tumeurs d'humiliation à extraire.
C'est un livre qui parle des pouvoirs de rédemption de l'art en général et de la musique en particulier : c'est la source de tout l'espoir de Spoon. C'est une parabole qui montre qu'on peut trouver le salut, non pas en un dieu, mais en une guitare. C'est un livre qui raconte, au fond, comment quelqu'un qui a déjà déclaré « Je ne jouerai plus jamais de musique devant les gens » en est venu à créer ce vidéo.
The North Yorker
Written By: Alain Mercieca
[86pp. perfect bound]
Montreal, QC
From the underground notes of Jordan Voith:
These are bizarro world visions: TVs with assholes, post-apocalyptic condo developments, spoon manufacturers who refuse to make forks. Somehow, miraculously, Mercieca makes them resonate. Staring at a cement block, the narrator reflects that "whorehouses should change their names to Energy Exchange Bureaus or Hormonal Release Societies", a foreign thought perhaps, but not an entirely unrelatable one; city dwellers spend a lot of time staring at concrete. The North Yorker is about intentional weirdness, quiet confusion vs. screaming boredom, and the perils of unchecked introspection. Spend too much time inside yourself and everything gets strange.
Des carnets souterrains de Jordan Voith:
(Transmuté par Vincent Rondeau)
Voilà des scènes dignes du monde de Bizarro : des télévisions avec des anus, des condos post-apocalyptiques, des fabricants de cuillères qui refusent de faire des fourchettes… mais comme par miracle, Mercieca les fait résonner. En regardant un bloc de ciment, le narrateur pense que « les bordels devraient être rebaptisés "bureaux d'échange de l'énergie" ou "sociétés de libération des hormones" », pensée certes inhabituelle, mais à laquelle on peut tout de même s'identifier : après tout, les citadins passent beaucoup de temps à regarder le béton. The North Yorker parle de bizarrerie délibérée, de confusion silencieuse et d'ennui criant, et des dangers de l'introspection excessive. Quand on passe trop de temps à l'intérieur de soi-même, tout devient étrange.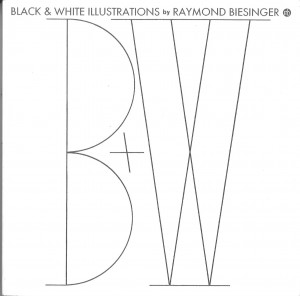 Black & White Illustrations
Illustrated by: Raymond Biesinger
[208pp. perfect bound; 70lb lynx paper interior]
Montreal, QC
From the facts & anecdotes of David Steinberg:
A surreal diary, scribed in cryptic hieroglyphs, bound in a beautifully embossed cheek-soft cover, Raymond Biesinger's Black and White Illustrations is an intricate network of intersecting histories. See: the editorial cartoons. See: the Wolfnote/Operators/7 And 7 Is poster. See: the New Year's Eve party invitations. The integration of personal, professional, and political is seamless. Encasing this complex cultural culicid is an amber cortex of endnotes, preserving facts and anecdotes, lending a sanguine human element to the chiseled illustrations. Excavate this book of relics. Bring it back to the lab and grip.
Des faits et anecdotes de David Steinberg:
(Traduit par Vincent Rondeau)
Un journal intime surréaliste, gravé en hiéroglyphes cryptiques et relié dans une superbe couverture gaufrée douce comme la joue d'un bébé : « Black and White Illustrations » de Raymond Biesinger est un réseau multidimensionnel d'histoires croisées. Des bandes dessinées, une affiche pour un concert de Wolfnote/Operators/7 and 7 Is, des invitations pour un party du jour de l'An… l'intégration du personnel, du professionnel, du culturel et du politique est entièrement cohérente. Cette bestiole culturelle complexe est enveloppée d'un cortex ambré de notes explicatives relatant faits et anecdotes qui confèrent un élément vital et sanguin aux illustrations finement ciselées. Excavez sans plus tarder ce grimoire de reliques et ramenez-le au laboratoire pour le saisir.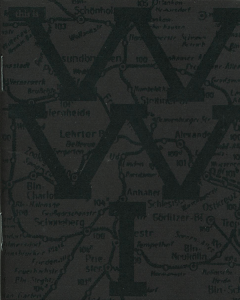 This is WWI
Illustrated by: Raymond Biesinger
[20pp. silkscreened; stapleback]
Montreal, QC
From the screen-printed gasmask of David Steinberg:
From the efficient, utilitarian, Hemmingway-adorned Plateau studio of Raymond Beisinger comes a cordial invitation for you to think for yourself, do your own research, make your own conclusions, and construct your own meaning of World War I. His paradoxically titled "This is WWI" is less a presentation of the Great War and more the physical manifestation of his gentle intellectual push encouraging you to learn about one of history's most pivotal conflicts. The push is strong in this one: See and feel the beautifully silk-screened gas masks, tanks, and zeppelins in satisfying fifteen aesthetic; maps and infographics abound. Let the push in. Grip and be pushed. In conclusion, a list of words that I had to look up while reading: Gavrilo Princip, Schieffen plan, Howitzer, Entente, Khartoum, Erich Von Falkenheyn, Cambrai, ASDIC, Spanish Flu, Mille Putois.
Le dernier produit du studio efficace, utilitaire et décoré de photos d'Hemingway, de Raymond Biesinger sur le Plateau-Mont-Royal est une invitation cordiale à repenser ses opinions, à chercher pour soi-même, à tirer ses propres conclusions et à donner un sens nouveau à la Première Guerre mondiale. Au titre paradoxal, « This Is WWI » est davantage une manifestation physique de l'incitation intellectuelle de Biesinger à en apprendre plus sur l'un des conflits les plus cruciaux de l'histoire qu'une simple présentation de la Grande Guerre. Les sérigraphies de masques à gaz, de tanks et de dirigeables dans l'esthétique fifteen sont superbes, et les cartes et graphiques ne manquent pas. En terminant, voici une liste des mots que j'ai dû chercher pendant la lecture : Gavrilo Princip, plan Schieffen, Howitzer, « entente », Khartoum, Erich von Falkenheyn, Cambrai, ASDIC, grippe espagnole, Mille Putois.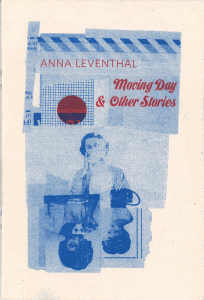 Moving Day & Other Stories
Written by: Anna Leventhal
[36pp. black risograph on newsprint]
Montreal, QC
From the indispossessiveness of David Steinberg:
Change and perseverance. Preposterous and indispensable. Anna Leventhal's "Moving Day & Other Stories," a specular collection from the ordinary out-of-the-ordinary, the familiar fantastic, might well have been titled The Montreal Trilogy. Bombing down the hills, careening through the streets on bikes, optimistic, and naive: It is summer. Moving Day is drinking beer on the patio, sweating in the heat, watching neighbours mow their lawns, catching pieces of others' conversations, not necessarily making sense of what was heard, not necessarily caring one way or the other. It is summer, and Moving Day is in the street jutting out its chin defiantly, in the kitchen preparing pain perdu, in over-alls, in summer dresses, indecipherable, indisposed, in the way. It is summer, and who knows if we're smiling from happiness or smiling from absurdity, but it is summer. And we are smiling.
De l'indispobsession de David Steinberg:
Changement et perséverance. Grotesque et indispensable. « Moving Day & Other Stories » d'Anna Leventhal, une collection spéculaire qui sort l'ordinaire de l'ordinaire et rend le familier fantastique, aurait pu s'appeler la Trilogie montréalaise. C'est l'été, on descend les côtes à toute vitesse, on dévale les rues à vélo, optimistes et naïfs. Le premier juillet, on boit de la bière sur les balcons, suant à grosses gouttes, en regardant les voisins tondre le gazon. On entend des bribes de conversations sans nécéssairement en comprendre quoi que ce soit, mais on s'en fout. C'est l'été et le premier juillet marche dans la rue le menton levé. Il prépare du pain doré dans la cuisine, il porte une salopette ou une robe d'été. Il est indéchiffrable, incommodé. Il fait obstacle. C'est l'été et nos sourires sont peut-être signe de bonheur ou d'absurdité, mais c'est l'été et on sourit.
---