Category: Ex Libris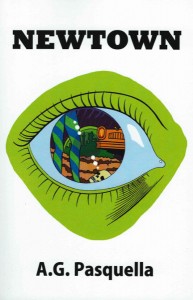 Newtown
A.G. Pasquella
Toronto, ON
From the astral planes of Alexandra Jaworiwsky:
A fascist, incompetent leader. His barely-loyal crew. A girl and her gang of do-gooder misfits. A.G. Pasquella's Newtown is the love child of human history and a fast-paced, late night cartoon sitcom. The characters are in a race against their own human condition: some trying to put a stop to humanity, some trying to save it. It is not a standard reflection of the typical good vs. evil binary, but an exploration of the gray matter that drifts through space and through our very lives. Newtown is a spaceship, filled with sentient, capable machines and is itself a thinking entity. With it, Pasquella exposes the downside to technological determinism and the dangerous belief in a "pure" race of creatures. He strips away the layers of what makes us human, and keeps the serious nature of the message light with witty, telling humour and extravagant characters.
Des plans astraux d' Alexandra Jaworiwsky:
(Traduit par Natalie Binda)
Un chef fasciste et incompétent. Son équipage peu loyal. Une fille et sa bande d'âmes charitables marginaux. Newtown, par A.G. Pasquella, est l'enfant illégitime de l'histoire de l'humanité et un sitcom de dessin animé de fin de soirée au rythme soutenu. Les personnages font partie d'une course contre leur propre condition humaine: quelques-uns tentent de freiner l'humanité, d'autres tentent de la sauver. Ce n'est pas la réverbération habituelle opposant typiquement le bon et le mauvais binaire, mais l'exploration d'une matière grise dérivant dans l'espace et dans nos vies mêmes. Newtown est un vaisseau spatial rempli de machines conscientes et compétentes et constitue une entité pensante en soi. Par l'entremise de ce vaisseau, Pasquella expose l'inconvénient du déterminisme technologique et la croyance dangereuse en une race « pure » de créatures. Il enlève les couches de ce qui nous rend humains et maintient avec légèreté la nature sérieuse du message en utilisant un humour révélateur et plein d'esprit ainsi que des personnages extravagants.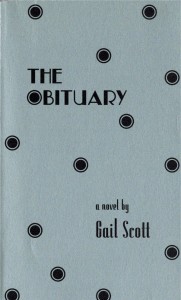 Gail Scott
The Obituary
Montréal, QC
From the kaleidoscopic third eye of David Hobbs:
In one of the footnotes that pepper Gail Scott's The Obituary – marked by little black hearts, rather than asterisks – she writes, "Reader, the past carries a secret index. Little by little revealing why one meandering in speaking". This could be a provisional artist's statement, as Scott's novel flutters through venetian-blinded apartments in Montréal's Mile-End neighbourhood, finding similar topics spoken in the voices of a queer Métis woman, a local gendarme, a therapist (auspiciously named MacBeth), a literal fly on the wall and others. But Scott's is not an ersatz Montréal; at least linguistically, she offers us the pulsing, shifting radiance of her "main port" in brusque descriptions and overheard franglais, connecting her characters with a past made presque neuf.
If readers find themselves struggling with Scott's prose, which in structure and syntax is more Joyce than her beloved Gertrude Stein, it is because The Obituary is a strange novel that demands strange reading. Careful reading gives rise to instances of what Canadian poet Steve McCaffery (Scott's label-mate at Coach House Books) refers to as a "momentary conjunction"– think of two seemingly unrelated stories that end-up beside each other in a newspaper. Read quickly, Scott's deft variations in grammar, slang, and typography are rendered with prismatic brilliance. Combining both approaches, and any and all others, is essential for experiencing the dizzying wonder of The Obituary.
Du troisième oeil kaléidoscopique de David Hobbs:
(Traduit par Natalie Binda)
Dans l'une des notes de bas de page qui parsèment The Obituary de Gail Scott – indiquées par de petits coeurs noirs au lieu d'astérisques – elle écrit : « Cher lecteur, le passé traîne avec lui un index secret. Peu à peu, il révèle ce qui pousse à se perdre en paroles ». Déclaration provisoire de l'artiste? Le roman de Gail Scott s'immisce à travers les stores vénitiens des appartements du Mile End à Montréal et y trouve des sujets similaires exprimés par les voix d'une Métisse homosexuelle, d'un gendarme local, d'un psychologue (convenablement appelé MacBeth), d'une mouche sur un mur et bien d'autres. Toutefois, le Montréal de Scott n'est pas une pâle imitation; d'un point de vue linguistique, elle convie la vibrance et les éclats changeants de son « principal port d'attache » par de brusques descriptions et quelques bribes de franglais, rattachant ses personnages avec un passé remis presque à neuf.
Si les lecteurs éprouvent de la difficulté avec la prose de Scott, dont la structure et la syntaxe ressemblent davantage à Joyce qu'à sa bien-aimée Gertrude Stein, c'est parce que The Obituary est un roman étrange qui se lit de manière étrange. Une lecture méticuleuse donne lieu à ce que le poète canadien Steve McCaffery (également chez Coach House Books, la maison d'édition de Scott) nomme des « connexions momentanées » – imaginez deux histoires sans lien apparent qui se retrouvent côte à côte dans un journal. En revanche, une lecture rapide dévoilera l'éclat prismatique des habiles variations de grammaire, d'argot et de typographie de Scott. Il importe de combiner ces deux approches, ainsi que toutes les autres imaginables, pour découvrir la magnificence étourdissante de The Obituary.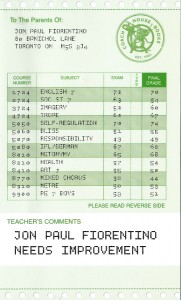 Needs Improvement
Written by: Jon Paul Fiorentino
[88 pp., soft cover, perfect bound]
Montréal, QC
From the needed improvement of Joshua Robinson:
Ethnomethodology is an interesting world: language and interpretation, semiotics and genealogy… the tenants of a socio-communicative dictum that regards speech, understanding, and response as being bound to our experiences and familiarities with what we are absorbing in an institutional context. Jon Paul Fiorentino's 'Needs improvement' is both illuminating and terrifying; an anthropological foray into the qualification of report cards, schematic renderings, and city mottos that are imbued with significance on the pretence of their communicating something meaningful… anything meaningful.
With his poetically phenomenological study of semantics, Fiorentino engages the (post)modern (post)structures representing the contradictions bound in interpretations of the written word. It is here that we find Fiorentino's premise behind 'Needs Improvement': how do we as a culture, having evolved socially to the point where the conveyance and interpretation of content and context should be a relatively simple process, engage with information? How do we choose which information to absorb, which to respond to, and how to respond to it? Language and written word, in this sense, becomes increasingly complicated. Our misunderstandings reveal an asynchronicity between our logocentric pursuit for a universal body and system of thought and our need as individuals to be able to construct our own systems of thought and meaning designation. His poetry holds enormous sociological weight, and we–as the anxiously disillusioned reader–are called to construct an identity of our own, one existing above the mess of the imparted elitist and institutionalized heteronormative conceptualizations of what it means to be 'informed'.
Des améliorations nécéssaires de Joshua Robinson:
(Traduit par le cerveau mis à l'épreuve d'AnneMarie Papillon)
L'ethnométhodologie est un monde intéressant : le langage et l'interprétation, la sémiotique et la généalogie… les partisans d'un dictum socio-communicatif qui considère la parole, la compréhension et la réaction comme étant liées à nos expériences et connaissances de ce que nous assimilons dans un contexte académique. Needs Improvement de Jon Paul Fiorentino est à la fois éclairant et terrifiant ; c'est une intrusion anthropologique dans l'utilisation des bulletins scolaires, des interprétations schématiques et des devises municipales grandement impregnés de leur prétention à communiquer quelque chose qui a du sens… n'importe quoi qui a du sens.
Dans son étude poétiquement phénoménologique de la sémantique, Fiorentino utilise les (post)structures (post)modernes pour représenter les contradictions contenues dans l'interprétation des textes écrits. C'est ici que nous comprenons la prémisse de Fiorentino derrière Needs Improvement ; comment envisageons-nous l'information, nous qui faisons partie d'une culture ayant assez évolué socialement pour faire de la transmission et de l'interprétation du contexte et du contenu un procédé relativement simple ? Comment choisissons-nous les informations à assimiler, celles auxquelles nous devrions réagir et même, la manière d'y réagir ? En ce sens, le langage et les écritures deviennent de plus en plus compliqués. Nos incompréhensions révèlent un manque de synchronisme entre notre poursuite logocentrique d'un système de pensées universel et notre besoin en tant qu'individu de construire nos propres systèmes de pensées et de significations. La poésie de Fiorentino contient un poids sociologique énorme, et nous – les lecteurs anxieusement désillusionés – sommes appelés à construire notre propre identité, identité qui existe malgré les dégâts des conceptualisations institutionnelles élitistes et hétéronormatives qui essaient de nous faire gober ce que c'est que d'être « informé ».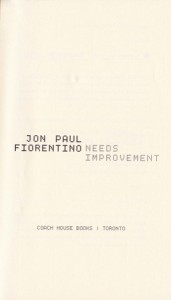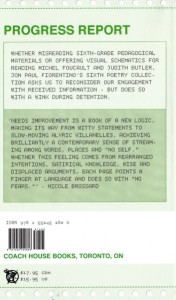 Geoff Berner
Festival Man
Vancouver, BC
From the ale-fueled vigor of Eileen Wennekers:
This particular glory of an abdicated day was a consequence of a mailbox hide-and-seek champion. Geoff Berner's Festival Man waltzes in through your eyetubes*, and, by virtue of the words of a storyteller broadcasting camaraderie from the magical vortex where giving no fucks whatsoever crashes into caring about it so much that it feels like the meat of your belly is actually being harrowed, the self-inflicted obligations that leave us riddled with resentment and a creeping sense of intrinsic inadequacy are conjured away. None of it now. Rather, a jailbreak, marked by a wolfish relish which we perhaps ought to demand more often for the tenor of our daily life.
But, in any case: A rest for a little while, and our friends are here too, in the underground Alberta that Berner has inexplicably nailed, despite not being of the Prairies himself. That is one of his many gifts. Another is his third act: near-Imagist in its precision, making up for functionally concluding what feels like a long night of talking with long-missed and beloved friends by relating something that feels like it's true. And now, on a lone-far-off quarter section of our imagination there is an abandoned farmhouse with sheets of writing blowing around in the wind that we can see in our mind's eye when we need to.
* An operation analogous to the ingestion of the entirely adequate, thank you, draft beer that nourishes most of the decent music in Canada.
[Ed: Check Geoff out right now on his book tour]
De la vigueur houblonnée d'Eileen Wennekers:
(Traduit par les mains gelées d'AnneMarie Papillon)
La gloire particulière de ce jour d'abandon était la conséquence d'un champion de cache-cache de la boîte aux lettres. Festival Man de Geoff Berner valse à travers vos tubes oculaires* et, par vertu des mots d'un conteur diffusant des camaraderies d'un vortex magique où "se foutre carrément de tout" se transforme en "s'en soucier tellement qu'on se sent comme si la viande dans notre ventre se faisait torturer", les obligations auto-infligées qui nous laissent remplis d'indignation et d'un sentiment intrinsèque d'insuffisance sont résolu de nous quitter. Ce n'est rien de tout cela. Plutôt, une évasion, marquée de réjouissances que nous devrions peut être exiger plus souvent pour le ténor de notre vie de tous les jours.
Mais, dans ce cas-ci ; Un repos pour un certain temps, et nos amis sont à nos côtés, dans l'Alberta souterraine que Berner dépeint parfaitement quoique inexplicablement, n'étant pas natif des Prairies. C'est là un de ses nombreux talents. Un autre, dans son troisième acte: quasi-imagiste dans sa précision, pour conclure de façon fonctionnelle ce qui semble être une longue nuit à discuter avec des vieux amis qui nous ont manqués en relatant des choses qui semblent être vraies. Et maintenant, dans une section lointaine de notre imagination, il y a une maison de campagne abandonnée et des pages remplies d'écritures qui volent au vent, que l'on peut voir dans notre esprit quand on en a besoin.
* Une opération similaire à l'ingestion de l'entièrement adéquate bière-en-fût qui nourrit la plupart de la musique intéressante au Canada.
[Ed: Check Geoff out right now on his book tour]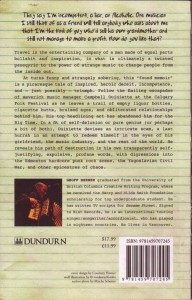 Everything Is So Political
Edited by Sandra McIntyre
Calgary, AB
From the ubiquity of Jenya Doudareva:
Jumping from a story of life during the war in Northern Ireland to a narrative of a young woman selling her body for a water bottle that she can then exchange for money, and then to a tragedy of a man whose job it is to photograph prisoners about to be executed, you might ask: "Is everything around us really so political? Why does everything have to be political?"
Many of us don't think of ourselves as political people, because politics is almost a dirty word with a reputation for being duplicitous and ruthless. For this reason we might be compelled to ignore the political aspects of our everyday experiences, which is easy to do if we avoid dealing with the government, laws, and regulations. And when we do come in contact with these things, we accept them as much as an invasive physical exam – necessary but unpleasant.
Nevertheless, the word politics comes from Greek, where politikos means "of, for, or relating to citizens". In that sense, everything is political. Everything Is So Political – a compilation of short fiction by Canadian authors edited by Sandra McIntyre – is exactly that. This collection is exceptionally Canadian in nature, and highlights one of our nation's most distinctive aspects – that of culture and identity. It can be easy to take Canadian multiculturalism for granted and not to dissect how it has been shaping the country; it is very difficult to make sure that everyone's experience is honoured. Everything Is So Political shows how hauntingly distinct the stories that create the fabric of our society can be. The contrast between each individual narrative is as harsh as a slap in the face, and it must be that way if you want to send a message.
De l'ubiquité de Jenya Doudareva:
(Traduit par Alexandre Allouch-Micati)
Alors que vos yeux virevoltent d'une histoire se déroulant lors de la guerre en Irlande du Nord à une autre tournant autour d'une jeune femme qui vend son corps pour une bouteille d'eau qu'elle échangera ensuite contre de l'argent, en passant par la tragédie qu'éprouve un homme qui photographie des prisonniers sur le point d'être exécutés, vous vous demandez : « Est-ce que toutes les choses qui nous entourent sont à ce point politiques ? Pourquoi doivent-elles l'être ? »
La plupart d'entre nous ne nous considérons pas politiques, car le mot en soi est une quasi-insulte, un terme fourbe et sans pitié. C'est pourquoi nous sommes portés à ignorer les aspects politiques de nos expériences quotidiennes, la manière la plus facile étant d'éviter de s'occuper des affaires gouvernementales, des lois et des règlements. Lorsque nous entrons en contact avec ces éléments, nous les acceptons dans la même perspective qu'un examen physique invasif : nécessaire mais déplaisant.
Cependant, le mot politique provient du mot grec politikos qui signifie « du citoyen, pour le citoyen, relatif au citoyen ». En ce sens, tout est politique. Everything Is So Political, une compilation de courts textes de fiction écrits par des auteurs canadiens et édités par Sandra McIntyre, se situe dans cette optique. La collection de nature tout à fait canadienne jette la lumière sur l'un des aspects les plus significatifs de notre pays : la culture et l'identité. Il peut être facile de tenir le multiculturalisme canadien pour acquis et de ne pas analyser l'influence qu'il a pu avoir sur le pays ; il est très difficile de s'assurer que les expériences de chacun sont honorées. Cet ouvrage montre à quel point les histoires qui créent notre société peuvent différer. Le contraste entre chaque récit est aussi fort qu'une claque en plein visage et c'est la meilleure façon de faire pour passer un message.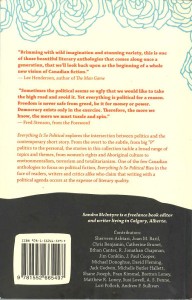 Derivé // The Lifeguard Suite
Written by Trevor Barton
Illustrations for The Lifeguard Suite by Ezra Gray
(Arbutus)
[95 pp., perfect bound, black & white photos and illustrations, paperback]
Montréal, QC
From the flotsam & jetsam of David Steinberg:
The beach.
Look past the insect husks, the empty white windless coast holding the throne is paramount. The Lifeguard Suite projects a subconscious internal dialogue onto your parents' surreal post-war summer holiday, featuring the titular everyman, Death, Death's Wife, unseen teenage ne'er-do-wells, and traditional gender roles. The temporal tension is captured in a tragicomedic mirror, reflecting the skeletons in the reader's closet, prying open a third eye to inspect a self no one wanted to see.
Barton's masterfully written minimal nightmare-collage pushes the reader through the looking glass. Derivé demands the reader to catch up, wake up, get up, paradoxically forcing them to stay down, slow down, climb down, and even when the rooster crows and the rosy-fingered Dawn embraces the sky, even when sleep has ceased, the dreams continue unrelenting. Hustlers of the world, though you may travel far and wide, there is one mark that you cannot beat: the mark inside.
Des déchets flottants de David Steinberg:
(Traduit à grandes lampées d'eau salée par Nicolas Coutlée)
La plage.
Par-delà les carapaces d'insectes desséchées, la côte blanche, déserte, imperturbable règne sur l'horizon. Dialogue intérieur subconscient sur fond de vacances estivales d'après-guerre, The Lifeguard Suite met en scène l'homme de tous les jours, la mort et son épouse, une espèce nouvelle d'adolescents bons à rien, des hommes et des femmes prisonniers de leurs rôles traditionnels. La tension temporelle apparaît dans un miroir tragicomique, reflet des squelettes dans le placard du lecteur, et force l'ouverture d'un troisième œil qui s'abîme dans un pan de soi répudié jusque-là.
Écrit de main de maître, le collage cauchemardesque minimal de Barton pousse le lecteur au-delà du miroir. Dérivé exige de lui qu'il rattrape les nuits perdues, qu'il s'éveille, qu'il se lève, mais l'oblige paradoxalement à rester tapi, à ralentir, à s'enfoncer, et même lorsque que le coq vient à chanter, que l'Aurore aux doigts de rose embrasse les cieux et que le sommeil s'évanouit, les rêves poursuivent leur cours imparable. Arnaqueurs de ce monde, aussi loin pouvez-vous étendre vos tentacules, il demeure une victime qui échappera toujours à votre emprise : la victime en votre cœur.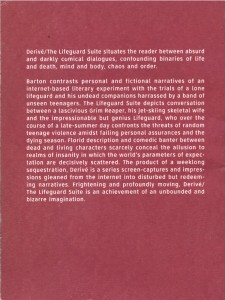 Dumb #1 and #2
Illustrated by: Georgia Webber
(Self Published)
[16 pp., staple bound]
Toronto, ON
From the black, white, and red pages of Christina Bell:
Georgia Webber's new comic series Dumb delightfully documents what happens when your body becomes your enemy and stubbornly refuses to cooperate. Webber uses her literary voice to tell the story of how she physically loses her voice. The first two editions of Dumb are beautifully composed, featuring pristine red, black, and white illustrations. Webber's clean-lined approach is endearingly infused with emotion, perfectly portraying her frustrating situation. Luckily Dumb #2 leaves the story's issue unresolved, allowing comic lovers to gleefully anticipate more of these charming comics to come!
Des pages noires, blanches et rouges de Christina Bell:
(Traduit par la minute de silence de Nicolas Coutlée)
Dumb, la nouvelle série bédé de Georgia Webber, documente avec brio ce qui se produit lorsque votre corps devient votre ennemi et refuse obstinément de coopérer. Weber utilise sa voix littéraire afin de raconter comment elle a perdu l'usage de ses cordes vocales. Avec ses illustrations épurées en rouge, en noir et en blanc, les deux premiers numéros de Dumb présentent une belle composition. Infusés d'émotion, les traits nets de Webber illustrent parfaitement sa frustrante situation. Heureusement, Dumb #2 se termine de manière irrésolue et laisse donc les amoureux du neuvième art anticiper avec joie la suite de cette charmante bande dessinée.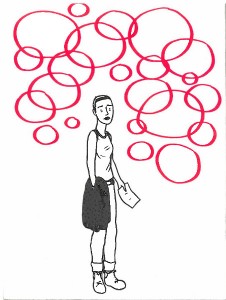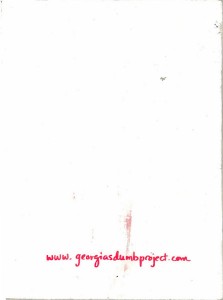 Go Home Magazine (Issue # 1)
Edited by: Emma Sharpe and Shanley Maguire
(Self Published)
[53 pp., staple bound, colour photographs]
Toronto, ON
From the unclickable reveries of Heather Reid:
The exclusively analogue first issue of Go Home Magazine… From the first tart sound of the puckering page, it's toying with the physical moods of images. Minimally captioned. Names. Places. The shiny friction of place and time of each page sinks roots through your eyes: from Edinburgh, Austin, Mumbai, Reykjavik. The pages themselves are weighted with memories and fall heavily into your hands with a look. Recalling a drunken staircase in Scotland you haven't seen yet, an anarchic afternoon on the road between shows, and other unrepeatable experiences. The breaths, the shadows, the sun halos, footprints of real people alive inside the heavy pages of Go Home, leaves that leave just enough space for you to also breathe.
Des rêveries incliquables de Heather Reid:
(Traduit par l'odeur de livre neuf de Patrick Du Tremble)
Le premier numéro exclusivement analogique du magazine Go Home… Dès le premier son râpeux de plissement de page, on joue avec l'atmosphère physique des images. Sous-titres minimes. Noms. Endroits. Le frottement luisant du moment et du lieu de chaque page prend racine sous vos yeux : d'Édimbourg à Austin, Mumbai et Reykjavik. Les pages elles-mêmes sont lourdes de souvenirs et tombent avec pesanteur dans vos mains, d'un regard. Rappelant un escalier ivre d'Écosse que vous n'avez pas encore vue, un après-midi anarchique sur la route entre deux spectacles, et autres expériences inimitables. Les respirations, les ombres, les halos du soleil, les empreintes de vraies personnes vivant parmi les lourdes pages de Go Home, des feuilles qui laissent juste assez d'espace pour que vous puissiez vous aussi respirer.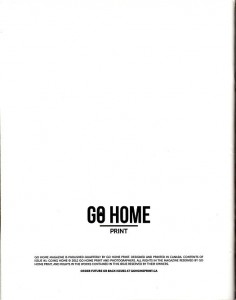 Lose 1-5
Written and Illustrated by: Michael DeForge
[7" x 10", b&w interior, full colour soft-cover]
Toronto, ON
From the honeyseed waterbed of Jesse Locke:
Michael DeForge's one-man anthology is the gateway to a gob-dropping world. Launched in 2009 and currently stretching to issue #5, it showcases the Toronto artist's darkened deadpan and warped imagination through a series of obsessively illustrated tales. Despite a range of narrators, from a sad-dad dog to a leather-skinned punk and zoologists's daughter, there remains a prevailing motif of everyday unsettlement and a desire to escape/transform into something beyond the ordinary in their first-person streams of dream-logic consciousness. Quick-hit strips such as the Abbey Loafer series (also appearing in the hallowed pages of Offerings) are a blast, yet DeForge truly lets his freak flag fly in longer stories such as "It's Chip" (Lose #2), "Someone I Know" (#4) or "Living Outdoors" (#5), following troubled characters through Kafka/Charles Burns-esque mutations. For those who missed out on individual issues, Koyama will bundle them together in the upcoming collection, A Body Beneath. Let's get lost…
Du lit à eau mielleux de Jesse Locke:
(Traduit du crayon feutré qui coule de Dominic Mpilé)
L'anthologie solo de Michael DeForge est une porte d'entrée dans un monde à la gueule qui dégoutte. Lancée en 2009 et publiée en exemplaires de 1 à 5, elle montre le côté sombre inexpressif et l'imagination déformée de l'artiste Torontois dans une série de contes illustrés de façon obsessionnelle. Malgré une variété de narrateurs, allant d'un père dépressif à une fille de zoologistes, punk et vêtue de cuir, il demeure un motif majeur de discorde quotidienne et un désir de s'enfuir ou de se transformer au-delà de soi, au-delà de sa conscience logique onirique. Les illustrations, comme la série des Abbey Loafer (aussi publiées sur les pages bénies d'Offerings) sont une bombe, mais DeForge impose véritablement son style dans des contes plus longs comme « It's Chip » (Lose #2), « Someone I Know » (#4) ou « Living Outdoors » (#5), suivant des personnes tourmentées dans des mutations de Kafka et Charles Burns. Pour ceux qui ont manqué les publications individuelles, Koyama les réunira dans les prochaines collections appelées A Body Beneath. Ça dégage…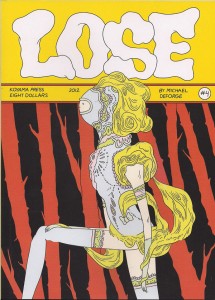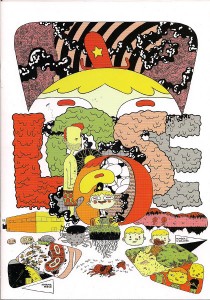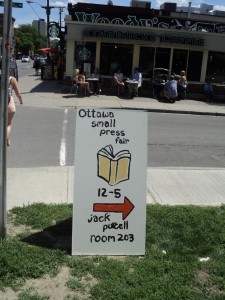 Interview: rob mclennan
From: The Ottawa Small Press Fair
(October 12, Noon – 5 PM. Jack Purcell Centre, RM 203)
(Photo: Christine McNair)
Ottawa, ON
From the confused sports bar of V. Rachel Weldon:
With its nineteenth anniversary this weekend, the Ottawa Small Press Fair has provided a platform for the local literary and DIY publishing community for almost two decades. From year 0, rob mclennan has been the maker and mover of the whole operation, bringing together local publishers year after year. Over a pint in our local confused sports bar, mclennan and I discuss the value of small presses and small press fairs, from micro- to macro-, in our literary community.
mclennan was driven to start a small press fair in the '90s when he observed an abundance of activity in the regional DIY literary community, and nothing set up to pay due attention. '94 was the inaugural year, kicked-off with the help of friend James Spyker. The event was held at the National Archives of Canada.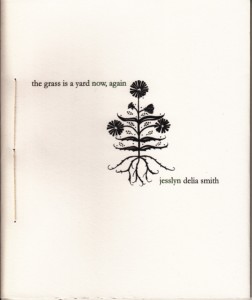 After so long** acting as a platform for small press exhibition (**relative to concurrent Internet-age hyper speed), the OSPF has become a sparkplug for the community, part of what is a mutually perpetuating cycle of production. Simply by drawing together members of the literary community into the same room, the fair can provide purpose and value to all the hard work that DIY publishers put in. Writers and publishers are stimulated and inspired by the talent of their peers, and the cycle continues.
Giving writers and presses a deadline is vital, so says Cameron Anstee, publisher at Apt. 9 Press, who has tabled at the OSPF for four years. Partially completed manuscripts can sit on the back-burner indefinitely, but when a small press commits to the fair, "things actually happen", says Anstee.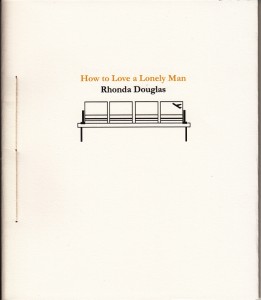 With similar incarnations in Toronto, Montreal, Vancouver and beyond, mclennan's objective in recent years has been to create a network of small press fairs across Canada in an effort to bring together the geographically-disparate literary communities under a shared umbrella blog called (Canadian) Small Press Book Fairs. "It's like pulling teeth," mclennan admits, lamenting the reluctance of other communities to look beyond their city limits. They've been lead to water, but no one's drinking.
I had to ask about the lower case. mclennan prefers it that way, because "it looks better". And because the important part is the work, not his name. "I was actually trying to reduce my footprint," he explains. While his radical approach to typography has ruffled a few feathers in the publishing world, having been disputed because it's just not done, mclennan continues to invite editors to dabble outside the box of rigid language rules. A small press is a free press; free from the constraints of big-boy publishing regulations; free, because doing it out of love rather than money knows no bounds.
The upcoming Ottawa Small Press Book Fair is Saturday, October 12 from noon until 5 PM at the Jack Purcell Centre (320 Jack Purcell Lane, off Elgin). The Factory Reading Series, a pre-fair book reading, will be held Friday, October 11 at 7:30 PM at the Carleton Tavern (223 Armstrong St, at Parkdale), and will include live reading by Rhonda Douglas (Ottawa), Jessica Bebenek (Toronto), Mark Jordan Manner (Toronto), Brian Mihok (Buffalo,) and Jeannie Hoag (Buffalo).
Du cycle de production de V. Rachel Weldon:
(Traduit par Andréanne Dion)
Avec son dix-neuvième anniversaire approchant à grands pas, la foire des petites presses d'Ottawa a fourni une tribune pour la littérature locale et pour la communauté d'édition indépendante depuis près de deux décennies. Dès le départ, rob mclennan a été le créateur et l'homme d'action de toute l'opération, rassemblant les éditeurs locaux années après années. Dans un bar sportif confus, mclennan et moi discutons de la valeur des petites presses et des foires qui leurs sont dédiées, petites ou grandes, dans notre communauté littéraire.
mclennan fut motivé à fonder une foire des petites presses dans les années 90, lorsqu'il remarqua une activité abondante dans la communauté littéraire indépendante de la région, mais rien en place pour accorder à celle-ci l'attention qu'elle méritait. L'inauguration eu lieu en 1994, et le coup d'envoi fut donné avec l'aide de James Spyker, un ami. L'évènement fut tenu aux Archives Nationales du Canada.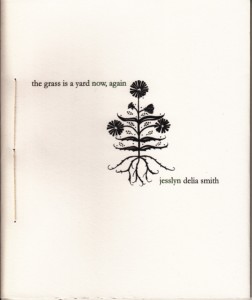 Après tout ce temps** passé à agir en tant que tribune d'exposition pour les petites presses (**relativement à la super-vitesse de l'ère Internet), la foire des petites presses d'Ottawa est devenue la bougie d'allumage de la communauté, faisant partie de ce qui semble être un cycle de production qui se perpétue réciproquement. Simplement en réunissant des membres de la communauté littéraire sous un même toit, la foire peu fournir une raison d'être et de la valeur à tout le travail acharné que les éditeurs indépendants produisent. Les écrivains et les éditeurs sont stimulés et inspirés par le talent de leurs pairs, et le cycle continue.
Donner aux écrivains et aux presses une date butoir est indispensable, d'après Cameron Anstee, l'éditeur de Apt. 9 Press, qui participe à la foire des petites presses d'Ottawa depuis maintenant quatre ans. Les manuscrits à moitié terminés peuvent être mis en veilleuse indéfiniment, mais quand une petite presse s'engage à prendre part à la foire « les choses bougent », selon Anstee.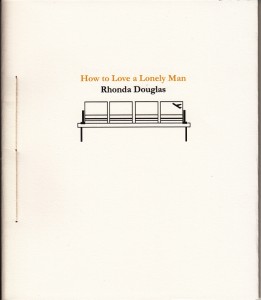 Avec des incarnations similaires à Toronto, Montréal, Vancouver et ailleurs, le but de mclennan au cours des dernières années a été de créer un réseau de foires des petites presses à travers le Canada, afin de rassembler des communautés littéraires géographiquement disparates sous l'ombrelle d'un même blog, intitulé (Canadian) Small Press Book Fairs. « C'est comme arracher des dents », admet mclennan , qui regrette la réticence des autres communautés à explorer au-delà des limites de leurs propres villes. On les a menés à la fontaine, mais personne n'a soif.
Je me devais de l'interroger sur la lettre minuscule. Il préfère cette épellation, parce que « c'est plus joli ». Et parce que l'important est son travail, et pas son nom. « En fait, j'essayais de réduire mon empreinte », explique-t-il. Même si son approche radicale à la typographie en a effarouché plus d'un dans le monde de l'édition, contestée parce que ce n'est pas la norme, mclennan continue à encourager les éditeurs à explorer au-delà des règles rigides qui gouvernent la langue. Une petite presse est une presse libre, libre des contraintes qui régissent les grosses maisons d'édition. Libre, parce qu'un travail fait avec amour plutôt que par souci d'argent n'a pas de limites.
La foire des petites presses d'Ottawa se tiendra le samedi 12 octobre, de midi à 5 pm, au centre Jack Purcell (320 Jack Purcell Lane, près d'Elgin). Une série de lectures, intitulée Factory Reading, se tiendra le vendredi 11 octobre, à 7:30 pm, à la Carleton Tavern (223 Armstrong St, à Parkdale), et inclura des lectures en direct par Rhonda Douglas (Ottawa), Jessica Bebenek (Toronto), Mark Jordan Manner (Toronto), Brian Mihok (Buffalo,) et Jeannie Hoag (Buffalo).
---