Category: Departures Revisited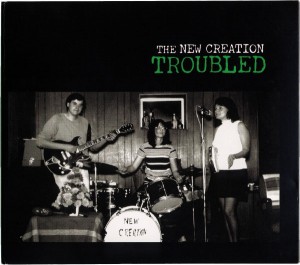 The New Creation
Troubled
(Alphaomega Records // Companion Records)
Vancouver, BC
Originally Released: 1970
From the countdown to revolution of Matthew Swann:
If you ask the average layperson, "Hey! You! What's the best album by a Canadian band in the last half of the 20th century?" Obviously, they're gonna say "Love Tara, by Eric's Trip." Duh, every time. However, ask Jesus the same question, and you're gonna get a different answer; one spoken resolutely in Aramaic, and shouted through an echoplex. Jesus is gonna say… "Troubled, by the New Creation (((((((((((((( !!!!!!!!!!"
And here's why! Originally released in 1970 on Vancouver's Alphomega Records, and finally re-issued on California's Companion Records, Troubled is sloppy, trippy, apocalyptic garage-psych. Imagine the Velvet Underground, Skip Spence, and the Shaggs holed up in a bomb shelter with the Partridge Family, while some loving Quakers homeschool them in Essene eschatology! Now imagine all that in 12 hot tracks. I'm not talking your parent's apocalyptic, Jesus Freak scene (oh wait — it's from the '70's, maybe it is). Anyway, pick this gem up, turn the other cheek (toward the speaker), and get down (((((((((((((( !!!!!!!!!!
Matthew Swann is the mastermind behind Astral Swans and previously haunted ears as Extra Happy Ghost!!!.
Du compte à rebours vers la révolution de Matthew Swann:
(Traduit par le saint-suaire tye dye de Justine Gabias)
Si vous demandez au profane ordinaire, « Hé! Toi! Quel est le meilleur album d'un groupe canadien de la deuxième moitié du XXe siècle? » Immanquablement, il va répliquer: « Love Tara, d'Eric's Trip. » Ça va de soi. Par contre, demande la meme question à Jésus, et tu auras une réponse différente, en araméen bien sûr, et gueulée à travers un Echoplex. Jésus répondra… « Troubled par the New Creation (((((((((((((( !!!!!!!!!! »
Et voici pourquoi! Lancé en 1970 par le label Alphomega Records de Vancouver, et maintenant enfin re-distribué par California's Companion Records, Troubled est du garage-psych bâclé, trippant et apocalyptique. Imagine le Velvet Underground, Skip Spence et les Shaggs terrés dans un abri nucléaire avec la Partridge Family, se faisant enseigner l'eschatologie des Esséniens par de charmants Quakers! Maintenant, imagine tout ça dans 12 chansons du tonnerre. Je ne parle pas des trucs apocalyptiques Jesus freak de tes parents (oh, mais attends… ça date des années '70, alors oui, peut-être.) Qu'importe, empare-toi de cette perle, tends l'autre joue (vers tes haut-parleurs), et laisse-toi aller! (((((((((((((( !!!!!!!!!!
Matthew Swann est le cerveau derrière Astral Swans et a hanté les oreilles dans le passé en tant qu'Extra Happy Ghost!!!.

The New Creation – Countdown To Revolution !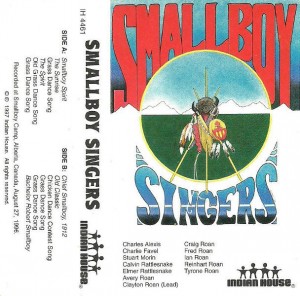 Smallboy Singers
Smallboy Singers
Smallboy Camp, AB
[Originally Released: 1997]
From the complex vortex of Adam Bradley:
In 1967, Chief Robert Smallboy and a group of followers left the socially and politically deteriorating conditions of their allotted Reserve to avoid losing their traditions and language to encroaching outside influence. Upon the Kootenay Plains, in the wilderness of the Albertan Rockies, they established the Smallboy Camp (now known as the Mountain Cree Camp). This settlement of Ne Wi Yow (Cree) followed and still follows the direction of the Natural Law, in honour of their traditional practices and beliefs.
In 1996, Tony Isaacs of the Taos, New Mexico based label Indian House Records traveled to the remote location of the Smallboy Camp to make these recordings. Of the twelve songs on this cassette, sung by twelve singers, some are new and some, like "Chief Smallboy,1912", are quite old. The recording is dedicated to the honour of their elders.
The experience of listening to Smallboy Singers is one characterized by the power of the sound, the burning expression found therein and the beauty of communal hearts coalescing to produce thundering beats and music meant for dancing. Impossibly skilled voices unite in an oscillating, complex vortex of communication, rhythm and intensity. The steady, hammering beat upon the Pow Wow drum is entrancing and conveys urgent tones of respect and reverence. Yet, as it is phrased in the liner notes: "These songs are for your listening and dancing pleasure. Traditionally yours, Smallboy Singers."
Du vortex complexe d'Adam Bradley:
(Traduit par l'intensité de Hugo Hyart-Dauvergne)
En 1967, le Chef Robert Smallboy et un groupe de ses fidèles quittèrent les conditions sociales et politiques de la Réserve qui se dégradaient de plus en plus pour éviter de perdre leurs traditions et leur langue face à l'insinuation rampante de l'influence externe. Sur les plaines de Kootenay, dans la nature sauvage des Rocheuses albertaines, ils ont fondé le camp Smallboy (aujourd'hui connu sous le nom de Camp de Mountain Crees). Ce village de Ne Wi Yow (Cree) a suivi, et suit encore, la direction de la Loi Naturelle, en l'honneur de leurs pratiques et croyances traditionnelles.
En 1996, Tony Isaacs du label [Indian House Records] basé à Taos, Nouveau Mexique, a voyagé jusqu'au lointain camp Smallboy pour faire ces enregistrements. Des 12 chansons de cette cassette, chantées par 12 chanteurs, certaines sont nouvelles et certaines, comme "Chief Smallboy, 1912" sont assez anciennes. Cet enregistrement est dédié à l'honneur de leurs ancêtres.
L'expérience d'écouter les Smallboy Singers est caractérisée par la puissance du son, l'expression brûlante que l'on y trouve et la beauté de coeurs partagés s'unissant pour produire des battements tonitruants et une musique faite pour danser. Des voix extrêmement qualifiées s'unissent en un vortex oscillant et complexe de communication, rythme et intensité. Le battement constant et martelé sur le tambour Pow Wow induit en transe et colore avec urgence l'expérience d'un ton de respect et de révérence. Et pourtant, comme cela est formulé dans les notes d'accompagnement : "These songs are for your listening and dancing pleasure. Traditionally yours, Smallboy Singers." « Ces chansons sont pour votre plaisir d'écoute et de danse. Traditionnellement votre, Smallboy Singers »
Audio clip: Adobe Flash Player (version 9 or above) is required to play this audio clip. Download the latest version here. You also need to have JavaScript enabled in your browser.
Smallboy Singers – The Sunrise
Audio clip: Adobe Flash Player (version 9 or above) is required to play this audio clip. Download the latest version here. You also need to have JavaScript enabled in your browser.
Smallboy Singers – Chicken Dance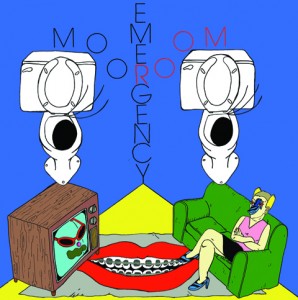 From the Vancouver complication of Janelle Hollyrock:
The Emergency Room was a former fish-processing factory turned back alley recording/performing/practice space in Vancouver's notorious drug- and rat-infested Downtown Eastside. Originally started in 2006 by Keith Wecker of Sex Negatives while hosting shows in Emily Carr University's underground garage with Justin Gradin of Random Cuts and recording engineer Jordan Koop of Twin Crystals, the ER moved to East Hastings in '07 and for a little over a year became the hub of Vancouver's art punk community. When I reviewed this LP for my zine back in 2008 I wrote that the growing popularity of "the ER as a secret, illegal venue is at risk of imploding at any minute" and to get it "before this souvenir becomes an artifact." And sure enough the Emergency Room did end up shutting down soon after this comp was released. But while secret venues and warehouse spaces pop up in East Van just as often as they're closed down, the ER was the first to leave behind a vinyl compilation of what went down.
Optimistically titled "Vol. 1", the comp features eight bands who performed or recorded at the space in its first year including Defektors, Petroleum By-Product, Vapid, White Lung, Mutators, Twin Crystals, Nü Sensae, and Sick Buildings plus a 20-page stitch-bound photo book of bands who played the space like Montreal's AIDS Wolf and others. At the time, Mutators had toured North America and were arguably the most well known outside Vancouver, but that spot's now definitively taken up by the Pitchfork-approved White Lung, who back in 2008 had only released one 7" ("Local Garbage" on Ryan Dyck of B-Lines' label Hockey Dad).
Five years later, I like this comp even more than when it came out. It opens with two straight ahead garage-punk tracks from Defektors (misspelled as Defectors on the sleeve) before offering two more by Petroleum By-Product, who were still going by The Petroleum By-Products at the time and only just beginning to tweak their sound away from a focus on garage-pop towards the minimal-synth-driven New Wave sound they've achieved in the last few years. Side A wraps up with Mish Way screaming over White Lung's raw, frenetic "Therapy" right after Vapid burst off the vinyl with two energetic pop-punk blasts, "Sex Stain" and "Die". After taking a two-year break, Vapid are finally playing shows again, now with The Tranzmitors' Bryce Dunn on drums and a new LP coming out this summer on Nominal / Deranged Records.
On the flipside is Mutators' harsh and experimental "Instinct" and "VVV". Their dark screamo is as intense and confusing as early '80s Vancouver noise band Tunnel Canary. Listening to Twin Crystals and Nü Sensae I can almost taste the cigarette smoke and smell the stale beer and vomit that epitomized shows at the ER. Yet it's the fucked up, scary noise of Sick Buildings' "The Commuter" that tips this LP from just a crazy good compilation of songs to a snapshot of Vancouver's underground DIY ethos.
As important as 1979's Vancouver Complication LP featuring DOA, Subhumans, U-J3RK5 and other seminal Vancouver punk bands, Emergency Room Vol. 1 wasn't just capturing Vancouver's weird punk scene at its pinnacle, it was a jumping off point for a lot of these bands. It's a testament to them that, except for the two sadly defunct noise bands Mutators and Sick Buildings, all are not only still performing but deservedly getting reviewed and approved outside Vancouver. Limited edition vinyl of 924, and I still see this around in record stores. Pick it up if you find it!
Janelle Hollyrock runs Mongrel Zine, a fanzine and record label out of Vancouver, with her partner Bob Scott.
Du fait de la complication vancouvéroise de Janelle Hollyrock:
(Traduit de l'âme vancouvéroise de Dominic MPILÉ)
The Emergency Room était situé dans une ancienne usine d'apprêtage de poisson transformée en lieu d'enregistrement, de spectacle et de pratique dans l'est du centre-ville de Vancouver infesté de rats et où circule de la drogue. Ouvert en 2006 par Keith Wecker de Sex Negatives lorsqu'il animait des spectacles dans un sous-sol de la Emily Carr University aux côtés de Justin Gradin de Random Cuts, et de l'ingénieur aux enregistrements Jordan Koop de Twin Crystals. La ER a ensuite déménagé à East Hastings en 2007 et après un peu plus d'un an, est devenue le lieu par excellence de la communauté punk de Vancouver. Lorsque j'ai écouté ce LP pour mon zine en 2008, j'ai alors écrit que la popularité grandissante de "la ER, un lieu secret, illégal, peut prendre fin à tout moment" et qu'il fallait se procurer le vinyle "avant que ce souvenir ne devienne un artéfact." Évidemment, la Emergency Room a dû fermer ses portes quelques temps après la sortie de cette compilation. Lorsque le lieu gardé secret accueillait des artistes en son sein et gagnait en succès dans l'est de Vancouver juste avant la fermeture, la ER a été le premier lieu de spectacle à accoucher d'une compilation vinyle sur des raisons de sa fermeture.
Titrée avec optimisme "Vol. 1″, la compilation réunit huit groupes qui se sont produits ou qui ont enregistré pendant la première année du studio, dont: Defektors, Petroleum by-Product, Vapid, White Lung, Mutators, Twin Crystals, Nü Sensae et Sick Buildings; de plus a été publié un album photo de 20 pages des groupes qui s'y sont produits, comme le groupe Montréalais AIDS Wolf et bien d'autres. À cette époque, les Mutators étaient en tourné en Amérique du nord et étaient sans doute le groupe le plus connu à l'extérieur de Vancouver, mais cette place est depuis tenu par White Lung, encensé par le site Pitchfork. White Lung, en 2008, avait seulement sorti un tube de 7" ("Local Garbage" sur Ryan Dyck de B-Lines du label Hockey Dad).
En effet, cinq ans plus tard, j'aime encore plus cette compilation qu'à sa sortie. Elle débute avec deux chansons underground d'un son sec punk de Defektors (mal écrit sur l'étui comme ceci : Defectors), suivent deux autres chansons produites par Petroleum By-Product, qui à l'époque s'appelaient encore The Petroleum By-Products et venaient tout juste de sampler leur son (différent de sons pop-garage) par le biais du synthétiseur minimaliste produisant du son new wave qu'ils ont produit les dernières années. La face A emballe par la voix de Mish Way qui crie sur ce cru frénétique de White Lung, "Therapy", qui suit Vapid, lequel fait exploser le vinyl avec deux tubes énergiques pop punk, "Sex Stain" et "Die." Après s'être offert une pause de deux ans, Vapid se produit en spectacle de nouveau, accompagné maintenant du membre de The Tranzmitors, Bryce Dunn au tambour, un nouveau LP sortira cet été sur le label Nominal / Deranged Records. Sur l'autre face de l'album, se trouve Mutators avec respectivement des tubes rigoureux et expérimental "Instinct" et "VVV". Leur cri sinistre est aussi intense que confus comme celui du groupe bruitiste de Vancouver du début des années 1980 Tunnel Canary. En écoutant Twin Crystals et Nü Sensae, je peux presque goûter à la saveur de cigarette et sentir le gout de mauvaise bière et de vomi ressentis lors des spectacles à l'ER, mais c'est le foutu et effrayant bruit de la chanson «The Commuter» de Sick Buildings qui fait basculer ce LP de bonne compilation enthousiasmante vers un éthos fait-le-toi-même de l'underground vancouvérois.
Aussi important que Vancouver Complication de 1979, le LP rassemble DOA, Subhumans, U-J3RK5 et d'autres groupes punk séminaux de Vancouver. Emergency Room Vol. 1 ne rassemblait pas seulement l'étrange genre punk de Vancouver à son sommet, mais permettait à plusieurs de ces groupes de s'exprimer. C'est un souvenir pour ces groupes, à l'exception des deux défunts groupes bruitistes Mutators et Sick Buildings, en ce sens que tous ne faisaient pas que se produire en spectacle mais méritaient à juste titre de se faire connaitre et de se faire acclamer hors de Vancouver. Une édition limitée du vinyl de 924 est toujours disponible, et je la vois souvent dans des magasins de disque. Quand vous la verrez, achetez-la!
Janelle Hollyrock dirige Mongrel Zine, un fanzine et label hors de Vancouver, avec son partenaire Bob Scott.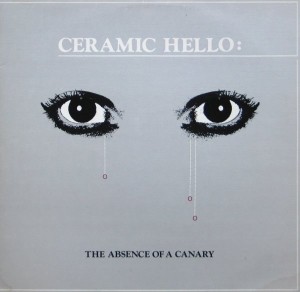 Ceramic Hello
The Absence of a Canary
(Mannequin Records)
Burlington, ON
Originally Released: 1980
From the bedroom breeding ground of Matthew Samways:
My initial instinct to spotlight of one of Canada's most outstanding and unique records was an epic approach, analyzing its prominent contributions to music – cultural and suburban influence, inspirations, aspirations, tools used. I even went to the extent of contacting Brett Wickens – the main songwriter on this truly wonderful masterpiece – to conduct a small interview. Yet as I collected this information, I realized it would prove to be a total contradiction of what makes the album so beautiful: its minimalism.
The Absence of a Canary was originally issued in 1980 by the now defunct Mannequin Records (not to be confused with the great contemporary Italian/German Wave label Mannequin) out of Burlington by-way-of Toronto, Ontario. It has since has seen two comprehensive reissues. The first was a deluxe box set issued by the soon to be legendary boutique label Vinyl on Demand with elaborate, alternate artwork and bonus material. The most recent edition comes from Canadian imprint Suction, whose owner is also the brain behind Solvent and producer of the upcoming modular synth documentary, I Dream Of Wires.
This LP was released in a time where mail order via catalogue was one's only option. You couldn't go to Ceramic Hello's shows, because they never played live. You could find these two young men hiding in their bedrooms at their parents' houses exchanging Kraftwerk LPs, listening to Gary Numan singles on the radio, and of course paying their respects to Brain Eno, whose influence is likely the most prominent, particularly 1974's Taking Tiger Mountain (By Strategy). Wickens later went on to do graphic design for the inimitable Factory Records, notably working on Orchestral Manoeuvers in the Dark's third album Architecture & Morality.
With respect to the up and coming artists chasing a vision based on what was accomplished by groups like Ceramic Hello, I do believe the majority are simply overlooking what makes this music unique – organic creation, naivety, lack of resources – a true dystopia. It's not complicated. Bedrooms were the breeding grounds for the beginning of this era, using affordable pieces of equipment that were available at the time – notably the Korg MS-20, Roland CR-78, Polymoog and Minitmoog. In fact, the whole record was recorded on a borrowed Teac 8-track. Not to sermonize my beliefs, but in my opinion this time was Ground Zero for what is now considered a revived sound. There were no impulses for Brett Wickens and Roger Humphrey to create a groundbreaking sound that would escalate the charts, they were only doing what was natural to them. For that, we will always be grateful for Ceramic Hello's sole LP, which will be celebrated for years to come.
Matthew Samways is the owner and primary operator of Minimal Electronic/Wave imprint Electric Voice Records. He is also the assistant director of Halifax fringe music and arts festival OBEY Convention as well as developing his solo musical endeavour under the moniker Amour Noir.
De la musique de chambre de Matthew Samways:
(Traduit par l'encre minimaliste de Dominic Mpilé)
Ma première idée pour rendre hommage à l'un des plus remarquables et uniques disques canadiens était d'adopter une approche exhaustive à l'extrême et d'analyser ses contributions majeures à la musique – son influence culturelle et banlieusarde, ses inspirations, ses aspirations, les moyens utilisés. Je suis même allé jusqu'à contacter Brett Wickens, le compositeur principal de cet incroyable chef-d'œuvre, pour une petite entrevue. Cependant, alors que je recueillais toute cette information, je me suis rendu compte que ma démarche était en parfaite contradiction avec ce qui faisait la beauté de cet album : le minimalisme.
The Absence of a Canary a été à l'origine lancé en 1980 par la défunte Mannequin Records (à ne pas confondre avec l'étiquette germano-italienne de renom Mannequin) basée à Burlington par l'entremise de Toronto. L'album a depuis fait l'objet de deux rééditions augmentées. Un premier coffret de luxe distribué par le légendaire label à en devenir Vinyl on Demand comprenait une nouvelle pochette et des bonus. On doit la plus récente édition à l'étiquette canadienne Suction, dont le propriétaire est aussi le cerveau derrière Solvent et le producteur du documentaire à paraître I Dream Of Wires sur le synthé modulaire.
Ce LP est paru à une époque où la seule option pour se le procurer était de le commander par catalogue. On ne pouvait pas non plus assister aux concerts du groupe parce qu'il n'en donnait tout simplement pas. Les deux jeunes hommes pouvaient être trouvés dans leur chambre chez leurs parents s'échangeant des albums de Kraftwerk, écoutant du Gary Numan à la radio et bien sûr louangeant Brain Eno, dont l'influence est probablement la plus marquante, en particulier son album de 1974 Taking Tiger Mountain (By Strategy). Plus tard, Wickens travaillerait comme designer graphique pour l'inimitable Factory Records, notamment sur le troisième album de Orchestral Manoeuvers in the Dark Architecture & Morality.
Avec tout le respect que je dois aux artistes de la relève en quête d'une vision s'inspirant de ce que des groupes comme Ceramic Hello ont accompli, je crois que la plupart se méprennent sur ce qui rend cette musique unique : la création organique, l'innocence, les moyens limités – une véritable dystopie. Ce n'est pas compliqué. Les chambres à coucher ont été les terreaux fertiles des débuts de cette ère où on utilisait de l'équipement bon marché disponible à l'époque – notamment le Korg MS-20, le Roland CR-78, le Polymoog et le Minitmoog. D'ailleurs, l'album a été enregistré au complet grâce à un enregistreur à huit pistes Teac emprunté. Je ne voudrais pas porter atteinte à mes convictions, mais à mon avis cette époque était la préhistoire de ce qu'on qualifie aujourd'hui de son remis au goût du jour. Brett Wickens et Roger Humphrey ne cherchaient pas à créer de la musique innovatrice qui gravirait les sommets des palmarès, ils ne faisaient que ce qui leur paraissait naturel. C'est pour cela qu'on aimera toujours l'unique album de Ceramic Hello, lequel sera encore encensé pour bien des années à venir.
Matthew Samways est propriétaire et homme à tout faire de l'étiquette électro minimal Electric Voice Records. Directeur adjoint du festival de musique et d'arts parallèles OBEY Convention, il s'aventure également en des territoires musicaux inexplorés sous le pseudonyme d'Amour Noir.
Ceramic Hello – Climactic Nouveaux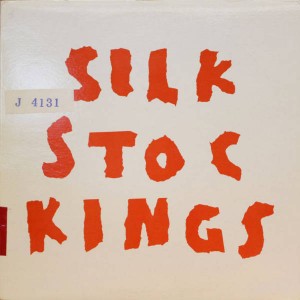 Silk Stockings
A Donde Esta El Mercado?
(BFish)
Toronto, ON
Originally Released: 1987
From the free funk of David Dacks:
I got into jazz through the '80s via Queen St. circa my age of majority. There was a surprising amount of jazz — electric jazz, not Wynton Marsalis clones — in clubs like the Rivoli, Bamboo and the Cameron House. Ornette Coleman's "harmolodic" was the style at the time; a concept of music with no fixed tonal center where rhythm, melody and harmony were equally important. Some called it free funk. Ornette could never truly explain the concept properly, but that didn't stop dozens of bands from trying to figure it out for themselves.
Silk Stockings definitely spoke Ornette's language, although if anything, this records owes more to the Lounge Lizards' work at the time, such as Voice of Chunk. This was a project of prepared guitar sensei Rainer Wiens (then in Toronto, now in Montreal) released on Bill Grove's BFish label. Grove's Whitenoise and Wiens' other band NOMA both owed a heavy debt to free funk, but Silk Stockings' record stands apart. With its careful compositions, bent guitars, extensive free improvisation and globally informed rhythms, A Donde Esta El Mercado? points forward to the next few decades of jazz in Toronto. This record would not sound out of place on either Rat-drifting or Barnyard today.
Mike Murley (of the Shuffle Demons) plays some kind of edgy soprano sax, Rich Bannard grooves hard but slides just as easily into freedom — maybe thanks to his studies from Andrew Cyrille. "Remnants" starts with George Koller's DJ Premier-worthy bass line before the ride gets bumpier. Further outside is "Mirror, No Makeup" where Wiens' trembling, resonant guitar work shines.
David Dacks is the Artistic Director of the Music Gallery in Toronto and writes for Exclaim! and CBC Music.
Inspiré du free funk de David Dacks:
(Traduit par Dominic Mpilé)
A l'approche de ma majorité, j'ai découvert le jazz dans les années 1980 en trainant sur Queen Street. On y jouait un nombre incroyable de musiques jazz (du jazz électrique, différent de celui de Wynton Marsalis) dans certains clubs : Rivoli, Bamboo et the Cameron House. La philosophie musicale harmolodic développée par Ornette Coleman était celle à la mode à cette époque. Il s'agissait d'un concept avant-gardiste : la musique était jouée en l'absence d'un centre tonal, avec une égalité majeure du rythme, de la mélodie et de l'harmonie. Certains l'appelaient alors free funk, concept qu'Ornette Coleman était incapable d'expliquer clairement, ce qui n'a pas empêché plusieurs groupes d'essayer de le découvrir par eux-mêmes.
Silk Stockings avait absolument adopté le style d'Ornette Coleman, bien qu'à l'époque certaines mélodies se rapprochaient davantage du style des Lounge Lizards, comme l'opus Voice of Chunk. Jouée avec une guitare sensei, il s'agissait d'une musique Rainer Wiens (d'abord à Toronto, et maintenant à Montréal) sortie sous le label BFish Bill Grove's. Whitenoise, une mélodie de Grove, et un groupe avec lequel joue Wiens NOMA produisent tous des sons allant du grave au free funk, mais la musique de Silk Stockings est unique. A Donde Esta El Mercado? est le résultat d'une composition minutieuse, avec guitare courbée, improvisation totale et rythme effréné, et annonce l'avenir du jazz à Toronto. Cet enregistrement ne pourrait plus être disponible sur Rat-drifting ou sur Barnyard aujourd'hui.
Mike Murley (the Shuffle Demons) joue une variété de saxophone soprano, Rich Bannard interprète un rythme groovy, mais pouvant être joué en toute liberté— peut être grâce à des cours suivis chez Andrew Cyrille. « Remnants » que George Koller (bass) débute en première ligne avant que les harmoniques ne deviennent plus toniques. « Mirror, No Makeup » est plus différent, Wiens vibre, sa guitare raisonne et rayonne.
David Dacks est le directeur artistique de the Music Gallery à Toronto et rédige des articles pour Exclaim! et pour CBC Music.
Silk Stockings – No Mirror No Makeup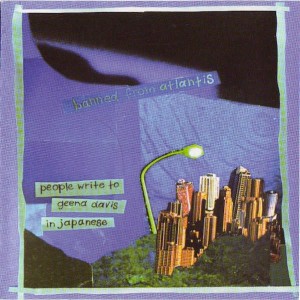 Banned from Atlantis
People Write to Geena Davis in Japanese
(Sister Records)
Winnipeg, MB
Originally Released: 1995
From the prairie myth of Joe Strutt:
Winnipeg makes an effective backdrop for a personal struggle to understand how a benevolent God could have created such a hostile universe.

Kingwell would go on to bestow the name "Plague City" on the town he grew up in, as a not-quite-fond nod to its general hostility toward eking out a comfortable life in any season. It's the sort of place where there's not much to do, so you start a band. I guess that was sort of the case for Banned From Atlantis — I remember reading an interview where they joked that they got together because they were the only Superchunk fans in the city. Starting with some good songs on a decent self-recorded cassette, People Write to Geena Davis in Japanese would emerge as something startlingly transformed, with thunderous drums and aggressively slacker-ish guitars provided by Bob Weston who was brought in to produce the record. The album would be released against the backdrop of the funeral for the Jets (the real Jets, still exiled in Arizona, not the new, fake, militarism-humping Jets). The team would last for one more lame-duck season, but the band would be done by year's end.
Things were grim in Plague City, with an unsavoury right-wing political-correctness ("how did they ever get so good at calling other people names?") establishing a flimsy "Save Our Jets" narrative where we weren't supposed to question the elites' plans to cut a blank cheque for the city's failed and cowardly capitalists. The home I grew up in got sold, and on the cusp of getting my degree (alongside — and this is a true story — no less than Fred Penner) I moved downtown, into my first apartment and quickly learned to recognize the local gang signs. Waving goodbye to all my friends left and leaving, I decided to stay for one more year. I put my polisci courses to work in a dead-end job that involved breathing in other people's cigarette smoke and watching them piss away their paycheques on VLTs. I put my philosophy courses to work by settling into a winter-long existential funk, wondering what the hell I was going to do with my life.
Long story short: the things you don't know about yourself in 1995 are going to be the things you don't know about yourself in 2013. There's a prairie myth of winter stoicism — that it toughens you up, makes things endure — but in the end it simply breaks some things, like the ice on the rivers at the city's heart: solid ground heaved into fragments by remorseless, unseen forces. Long story short: the band would break up (though guitarist Doug McLean would notably move on to The Bonaduces and The Paperbacks), the Jets would leave, and I too would leave. "Because the thing about a Plague City summer is that it's never quite long enough to let you forget that winter."
Joe Strutt blogs at Mechanical Forest Sound, a slow-paced investigation of a wide range of artists — mostly reflecting on concerts as shared experiences, acts of citizenship and a chance to get down. Fuzzy photographs and clear-sounding original live recordings a specialty.
Du mythe des Prairies de Joe Strutt:
(Traduit par la peste urbaine de Vincent Rondeau)
Winnipeg est un endroit particulièrement propice à la crise de conscience de l'individu qui tente de comprendre comment un Dieu bienveillant aurait pu créer un univers aussi hostile.

Kingwell a aussi donné à la ville de son enfance le surnom pas si affectueux de « Plague City » (la ville de la peste), en référence à la difficulté d'y trouver une vie confortable, peu importe la saison. C'est le genre d'endroit où il n'y a pas grand chose à faire, alors on part un band. J'imagine que c'est le cas de Banned From Atlantis : je me rappelle avoir lu une entrevue avec les membres du groupe qui disaient s'être rencontrés parce qu'ils étaient les seuls fans de Superchunk en ville. À partir de quelques bonnes chansons sur une cassette enregistrée maison, People Write to Geena Davis in Japanese s'est métamorphosé en un album surprenant, plein de percussions retentissantes et de guitares slacker agressives offertes par le producteur invité Bob Weston. Le disque a paru pendant les funérailles des Jets (les vrais Jets encore exilés en Arizona, pas la fausse nouvelle équipe aux tendances militaristes). L'équipe a continué de jouer pour une saison pitoyable, mais le groupe s'est dissolu avant la fin de l'année.
Tout allait mal alors à Plague City : des relents déplaisants de rectitude politique de droite alimentaient un point de vue « sauvez nos Jets! » selon lequel on n'était pas supposé remettre en question l'idée des élites de faire un chèque en blanc aux capitalistes ratés et lâches de la ville. La maison de mon enfance a été vendue, et juste au moment où j'allais compléter mon diplôme (en même temps que Fred Penner, sans blague) j'ai emménagé dans mon premier appartement au centre-ville, où j'ai rapidement appris à reconnaître les symboles des gangs locaux. Au moment où tous mes amis partaient, j'ai décidé de rester en ville pour un an de plus. À l'aide de mes cours de science politique, j'ai décroché un emploi sans avenir où je respirais la fumée de cigarette des gens venus gaspiller leurs chèques de paye à la loterie vidéo. À l'aide de mes cours de philosophie, j'ai sombré dans le doute existentiel tout l'hiver en me demandant ce que j'allais faire de ma vie.
Bref, ce qu'on ne connaît pas à propos de soi-même en 1995, on ne le connaît pas plus en 2013. Il y a un mythe du stoïcisme hivernal qui veut que l'hiver des Prairies bâtit le caractère, qu'il permet de mieux endurer toutes sortes de vicissitudes, mais au fond, tout finit par casser comme la glace des rivières au coeur de la ville, un bloc solide fragmenté par des forces invisibles et impitoyables. Bref, le groupe s'est dissolu (toutefois, le guitariste Doug McLean a ensuite fait partie des Bonaduces et des Paperbacks), les Jets sont partis et moi aussi. « Parce que le problème avec l'été à Plague City, c'est qu'il n'est jamais assez long pour oublier l'hiver. »
Joe Strutt écrit pour le blog Mechanical Forest Sound, qui examine en profondeur un large éventail d'artistes en réfléchissant sur la notion du concert en tant qu'expérience partagée, acte de citoyenneté et occasion de s'amuser. Points forts : les photos floues et les enregistrements originaux clairs.
Banned From Atlantis – Sovereign Thug
From the waterfall of Chris Jacques:
I'll jump into the wayback machine for this one. Welcome to 1984. I'm 13 and just heading out of my dumb headbanger phase and tumbling headlong into punk rock. I head downtown every weekend to learn about new sounds at Pyramid Records and Records of Wheels. On a whim or by chance, I come across this local 7″ by Johnny Zhivago. I remember having seen a performance a year or so before on Alternative Rockstand and maybe even a video on Video Video, both great local access shows on the much missed VPW (West of the Red).
I held the record with both interest and mild revulsion. These guys use synths! Blech. It would be another couple of years before I could fully appreciate the damage that could be wrought with a Moog / Korg / Arp, etc. Throwing caution and taste to the wind, I hand over $2 and scurry home with my funny sounding record. I played it all the time — for myself — never for others. It was my guilty pleasure — a truly guilty pleasure — as it was never displayed, often hidden. That all changed a number of years ago when I could comprehend and appreciate the great pop synth wave aktion they had happening.
I don't know anything more about these guys — if they had anything else recorded or what they're doing now. I'd be super down with doing some reissue stuff for certain.
Chris Jacques lives in Winnipeg. He runs Dub Ditch Picnic Records and is a closet New Romantic.
De la cascade de Chris Jacques:
(Traduit par l'attraction morbide de Nicolas Coutlée)
Je vais devoir sauter dans ma machine à voyager dans le temps pour celle-là. Bienvenue en 1984. J'ai 13 ans et m'apprête tout juste à sortir de ma stupide phase de headbanger pour plonger tête première dans le punk rock. Chaque fin de semaine, je me rends au centre-ville pour découvrir de nouveaux sons chez Pyramid Records et Records of Wheels. Sur un coup de tête ou par simple chance, je tombe sur un 7″ du groupe local Johnny Zhivago. Je me rappelle une prestation vue sur Alternative Rockstand il y a à peu près un an et peut-être même un vidéoclip sur Video Video, deux excellentes émissions locales diffusées sur la très regrettée chaîne de télévision publique VPW (West of the Red).
Mi-fasciné, mi-dégoûté, je tenais le disque dans mes mains. Du synthé? Ouache. Il me faudrait encore quelques années avant que je puisse apprécier pleinement les dommages que pouvaient affliger un Moog, un Korg ou autres Arp. Envoyant au diable toute forme de précaution ou de goût artistique, j'ai sorti un 2$ de mes poches et suis retourné en hâte chez moi avec mon disque aux drôles de sonorités. Je le faisais jouer constamment – pour moi-même – jamais pour qui que ce soit d'autre. C'était mon plaisir coupable, un vrai plaisir coupable; jamais je ne le montrais et même je le cachais souvent. Tout cela devait changer des années plus tard lorsque j'apprendrais à comprendre et à apprécier cette magnifique vague de pop synthétique qui avait alors cours.
Je ne sais vraiment rien de plus sur eux – s'ils ont enregistré autre chose ou ce qu'ils font à présent. Je serais toutefois tout à fait disposé à rééditer de leur matériel.
Chris Jacques habite à Winnipeg. Il est à la tête de Dub Ditch Picnic Records et est un Nouveau Romantique inavoué.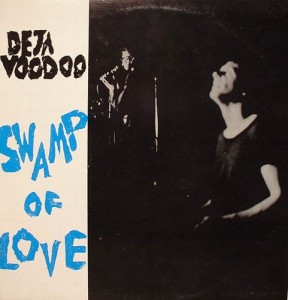 Deja Voodoo
Swamp of Love
(Og Music)
Montreal, QC
Originally Released: 1986
From the greasy gumbo of Steve Guimond:
Tony Dewald (drums) and Gerard van Herk (guitar/voice) were musical men ahead of their time. Born into a Montreal scene — and somewhat reflective of a greater pan-Canadian one — in the early 1980s that offered little or no support to independent bands, Deja Voodoo took control of their careers like no one who came before them. The duo birthed Og Music (home to their six records and the highly influential It Came from Canada compilation series), hosted and curated the annual Voodoo BBQs, and somehow managed to tour the world before calling it a day at the dawn of the next decade. Deja Voodoo's third LP, Swamp of Love, was where it was at for me, a teen growing up sheltered on the South Shore of Montreal. It's a greasy gumbo of rock, sludge, garage, and 'billy. Case in point is the awesome tune "Coelecanth": "I live in the sea, and swim around, the coolest fish, you ever found. A coelacanth…"
Steve Guimond is the booker for Montreal venues Casa del Popolo and La Sala Rossa, and the artistic director of Suoni Per Il Popolo, an annual experimental music festival celebrating its 13th year.
Du ragoût gras de Steve Guimond:
(Traduit par Vincent Rondeau)
Tony Dewald (batterie) et Gerard van Herk (guitare et chant) étaient des musiciens en avance sur leur époque. Laissés pour compte comme tant de groupes indépendants au beau milieu de la scène montréalaise du début des années 1980 (qui n'était pas si différente, à cet égard, de la grande scène pan-canadienne) Deja Voodoo ont pris les rênes de leur carrière comme personne d'autre auparavant. Le duo a ainsi donné naissance à Og Music (qui a mis sur le marché leur six albums ainsi que l'influente série de compilations It Came from Canada), animé et dirigé les événements annuels Voodoo BBQ et réussi à effectuer une tournée mondiale avant de se séparer au début des années 1990. Le troisième album de Deja Voodoo, Swamp of Love, est un ragoût gras de rock, de sludge, de garage et de rockabilly qui a été un événement marquant pour l'adolescent isolé de la Rive-Sud que j'étais à l'époque. Pour la preuve, je cite l'excellente « Coelacanth » : "I live in the sea, and swim around, the coolest fish, you ever found. A coelacanth…" (Je vis dans la mer et je me déplace en nageant, je suis le poisson le plus cool que vous ayez jamais vu : un coelacanthe…).
Steve Guimond organise les concerts des salles montréalaises Casa del Popolo et La Sala Rossa. Il est également directeur artistique du festival annuel de musique expérimentale Suoni Per Il Popolo qui célèbre cette année son treizième anniversaire.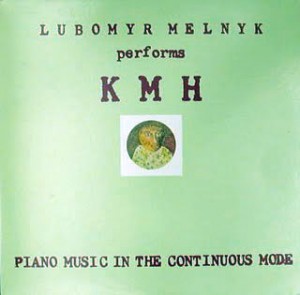 Lubomyr Melnyk
KMH
Winnipeg, MB
Originally Released: 1979
From the astonishing fingers of Darcy Spidle:
In 1979 Manitoba's Lubomyr Melnyk unleashed his "continuous mode" of piano technique with the release of KMH on Toronto's prolific Music Gallery Editions imprint. The "continuous mode" is an extreme exercise in minimalism that involves pounding arpeggios up and down the keyboard at hyper speed. At times he is playing an astonishing 19 notes per second on each hand. According to Melynk, the magnitude of this music and the sonic ghosts that arise from the clashing of notes at such a pace can evoke spiritual experiences for the listener. It is a lofty claim, and one that it is sometimes tossed around too often. But if music of any kind can bring on altered states, this pianist's super-human performances probably can, especially in a live setting.
Writing in the liner notes, Melnyk chastises technology as "a violent yet subtle tearing away from our foundations of peace." He is talking here about his reluctance, at the time, to record this album. Like all of his compositions, KMH is an exercise in physicality, a musical feat that is rooted in a unique space and time. In 1979 Melnyk was barely willing to allow his musical time bending to be recorded, or as he eloquently put it, "handed over to be re-cooked as leftover meat."
A few years back I was fortunate enough to witness Melnyk in concert. And I will say, the enormous wave of sound that washed over the audience that night would certainly not be forgotten by anyone who was in the room. Of course, a record can never quite articulate that level of intimacy and intensity, but KMH is the next best thing. It is a document of potent virtuosity by a musician in his prime who was (and still is) obsessed with exploiting his freakish gifts and affinity for the piano. It is certainly a one-of-a-kind release, and contrary to the artist's concerns, the record's beauty does in fact lay in its ability to capture — however imperfectly — a momentous performance by one of Canada's most unusual talents. Last I heard he still had a few sealed copies of the original 1979 release. So, as they say around here, GRIP OR REGRET.
Darcy Spidle is the founder of Divorce Records, the OBEY Convention festival and recently starred in the film LOWLIFE. He also plays a mean jaw harp as Chik White.
Des doigts étonnantes de Darcy Spidle:
En 1979, Lubomyr Melnyk, originaire du Manitoba, présentait pour la première fois sa technique pianistique du « mode continu » avec l'album KMH, paru sur la prolifique étiquette torontoise Music Gallery Editions. Exercice extrême de minimalisme, le mode continu consiste à jouer des arpèges ascendants et descendants avec force et à vitesse hallucinante, parfois jusqu'à 19 notes par seconde. Selon Melnyk, l'ampleur de cette musique et les fantômes soniques issus du choc constant des notes peuvent mener à des expériences spirituelles chez l'auditeur. Ce genre de déclaration, que l'on entend parfois trop souvent, peut paraître trop ambitieuse, mais si la musique est capable de provoquer des états altérés de conscience, cela s'applique probablement aux performances surhumaines de Melnyk, particulièrement sur scène.
Dans les notes d'accompagnement de l'album, Melnyk accuse la technologie de causer « un déchirement violent et subtil de nos fondements pacifiques ». Il fait ici référence à sa réticence, à l'époque, d'enregistrer cet album. Comme toutes ses compositions, KMH est un exercice physique, une prouesse musicale intimement liée à un point spatio-temporel particulier. En 1979, Melnyk était peu disposé à enregistrer ses exploits musicaux « pour qu'on les réchauffe comme des restants de viande ».
Il y a quelques années, j'ai eu la chance d'assister à un concert de Melnyk. Je dirai ceci : personne qui était présent dans la salle ce soir-là n'oubliera de sitôt l'immense vague de son qui a déferlé sur l'auditoire. Évidemment, un enregistrement ne pourra jamais attester précisément toute l'intimité et l'intensité d'un tel événement, mais KMH est la meilleure alternative. C'est un témoignage de la virtuosité et de la puissance d'un musicien dans la force de l'âge qui était continue d'être voué à l'exploitation de ses dons surnaturels et de son affinité pour le piano. C'est un album unique en son genre, et malgré les inquiétudes de l'artiste, sa beauté vient de sa capacité à capturer, bien qu'imparfaitement, une performance historique d'un des talents canadiens les plus singuliers. Aux dernières nouvelles, Melnyk avait encore quelques copies scellées de l'édition originale de 1979. Comme on dit ici, SAISISSEZ OU REGRETTEZ.
Darcy Spidle est le fondateur de Divorce Records et du festival OBEY Convention et a récemment joué dans le film LOWLIFE. Il est également joueur accompli de guimbarde sous le nom de Chik White.
From the mennonite harvest of Aaron Levin:
Trapped within the ephemeral "top five dead or alive desert island nascent garage punk singles of Canada," few compete with the utter rawness of our unthreaded friends of fibre. From "Mama"'s washboard wranglin' nastiness to "Believe Me"'s hypnotic, dissonant outro, the fybre forged new paths to a continuum of primitive gnarliness. Creative expression by any means necessary. Germinating in St. Clements, Ontario, and recorded in the tiny Mennonite community of St. Jacob's, their lone single received radio play on Kitchener's CHYM before the group quickly disappeared, laying the groundwork for future generations of collector frenzy. Mama!
Audio clip: Adobe Flash Player (version 9 or above) is required to play this audio clip. Download the latest version here. You also need to have JavaScript enabled in your browser.
Audio clip: Adobe Flash Player (version 9 or above) is required to play this audio clip. Download the latest version here. You also need to have JavaScript enabled in your browser.
---